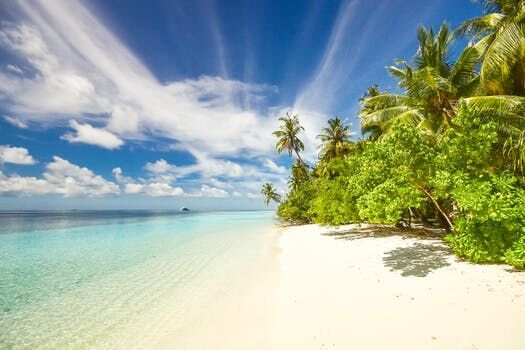 Few things are more rewarding than getting to travel the world and getting to see the ocean arrayed in all its beauty. Whether it's wintertime where you're from and you're looking to take a break from all the cold, or it's the thick of summer and you have vacation time to travel around, the beach is one of the best places to enjoy everything from soft sand to palm trees and glorious sunsets surrounding you. You can find some of the world's best beaches from the shores of Hawaii, the Caribbean and all the way out to Asia and the South Pacific.
St. Thomas's Lindquist Beach And Resorts
One place you can't go wrong when picking for a vacation is the island of St. Thomas. Part of the British Virgin Islands, this place makes the top rankings on the Travel Channel in their Caribbean listings, and one of its best beaches is Lindquist Beach. This beach has that perfect white sand and clear water that you often see when looking at travel brochures, and it's ideal both for swimming as well as sitting back on your recliner or laying out on the towel to soak up the sun. If you want to be close to it, the Ritz-Carlton is where you should stay.
El Nido Beach In The Philippines Palawan Area
The Philippines have many locations for tourists to hit in their beach trips, and one of them is El Nido Beach, a beach located at the northern end of the Palawan island. This beach provides both for personal enjoyment of the white sand and water as well as a close up of some of nature's most beautiful scenes in limestone cliffs. If that wasn't enough, many little islands nearby have fantastic luxury resorts you can stay at both for beach time and for comforting treatments afterward.
Aruba's Palm Beach
Another beach that should be on your beach radar with an honorable mention is Palm Beach in Aruba. Not only is this beach a great white sand paradise to kick up your feet and put on your sunnies in the daytime, you'll also be quite close to a lot of fun after dark. It's definitely a top place to be if you also enjoy rigorous beach activities such as surfing, wakeboarding or underwater activities like snorkeling or scuba diving. It's one of the world's best beaches if you want a good mix of fun on the sand followed by fun in the clubs.
Hawaii's Honokalani Beach In Maui's Wai'anapanapa State Park
A trip around the world to all the top beaches wouldn't be complete without stopping in Hawaii, and one of their top beaches is Honokalani Beach in Maui. This beach is part of one of Hawaii's most exotic nature reserves, the Wai'anapanapa State Park where volcanic activity has taken place over the years. Honokalani Beach itself even has the dark coloring of volcanic rock, though it is soft and comforting to the touch. This beach is also great for those who want to go hiking in the nearby woods or even do some fishing a little offshore.
Bora Bora's Matira Beach
Always on the vacation hot list for those wanting to hit the South Pacific, Bora Bora has plenty of beaches to drop by and one of them is Matira Beach where the water is usually calm and clear blue while the beach has its shady palms and snug areas to camp out. It's not only in a good proximity to resort hotels, it's also a public beach that you can visit no matter which one you stay in. The sunsets are some of the most scenic here, so you won't want to miss this one.