Every female in this world of all ages what dollhouses are, which are small homes intended for dolls. Some people also buy these items as collectibles and displays. Nevertheless, a few only knows that these items were used in the past as a symbol of a good position in the society or richness. They were first made in Europe in the 16th century and were termed baby houses. They were simply just shelves inside wealthy houses that were compartmentalized to look like rooms and were designed and customized with complete furnishings and accessories. Such were considered as trophy collections and were sold at a price similar to a real house. In the 18th century, smaller houses that were made with hands were introduced and were called Tate houses.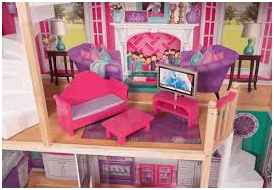 During the Industrial Revolution, Germany, the United States of America (USA), and the United Kingdom (UK) began manufacturing a lot of dollhouses and miniature furniture for them. However, everywhere people will go, they can only find an expensive dollhouse. It was at the end of the Second World War that these products became affordable because of the lowered prices of materials in the market. Similarly, the production of dollhouses also rapidly doubled and even tripled. During such point of time, people were able to find dollhouses made with different materials like sheet metal, plywood, medium-density fiberboard, and hard cast iron. Dollhouse furniture, on the other hand, was available in woo and also plastic types. Likewise, people were given the opportunity to choose from pre-made and custom-built dollhouses. Thus, production uniformity was not common before and no one will be able to identify what company produced such. In the turn of the 20th century, uniform scales were already introduced.
Some of the most famous dollhouses include Sara Rothe, Uppark Baby-house, Nostell Priory Baby-house, The Tate House, and Titania's Palace. People who are interested in looking at the different collections of dollhouses can visit the American history dollhouses. With so much history, dollhouses also evolved in form and style. In the past, dollhouses were made with only one room. They were also designed to fit small and custom-made dolls. As large dolls like Barbie and American Girl became popular, manufacturers also started creating dollhouses that are large. Similarly, products that have partitions or compartments or different rooms started invading the shelves of stores around the world.
With the increasing production of large dollhouses, parents or those who plan to gift children should make sure that they are buying very well made 18 inch doll houses. The My Girl's Dollhouse is one of the sturdiest 18-inch dollhouses in the market. That is because it is made with high-quality pine wood materials. Products from the company KidKraft like the Magnolia Mansion Dollhouse and Elegant 18-inch Doll Manor are also worthy to buy. However, these products are quite pricey for some customers. People who are looking for traditionally-designed dollhouses that are affordable are recommended to buy the Fits American Girl Doll House 18-inch Dollhouse and Bedroom and Kitchen Interchangeable 18-inch Dollhouse Playscape. Both are made from cardboard but will surely tickle the children's creativeness and decision-making skills.