Before I get on to new projects, let me first give you a glimpse of the stuff I've been upto as a kid. The treasured school going days. NOT. School, was not the best time of my life for sure. Why, you may be wondering. It's just because I never was interested in anything. Picture me as the fat, shy, timid kid who barely knew how to have fun. Interaction with other people wasn't my kind of thing. Music, drama, drawing and then of course, studies were most of what the school focused on and which I never cared for. I was Quite a rebel you see. Even though I was this innocent faced angel in the corner, inside my mind, Loki himself loved to reside. Yes, I was mischievous but managed to slip away almost every time. Planning and plotting the naughty was and still is an obsession to me.
Well, let's get on to the camera shall we? This camera was the first ever digital camera to be brought into our home. It was the time where film cameras were on the verge of extinction. Cameras weren't part of a standard phone yet. This was huge. Viewing a photo just after being clicked was fascinating to us Indians. This device so happened to be gifted to us by my paternal uncle to the family. The main intention was that we would be able to capture our special moments and also send them a few via email (Yes, Email. It was that much effort). I was probably in the eighth grade when I laid my hands on this beautiful device. I'm sure you would agree with me that our generation were born to live with tech. Operating the cam with ease without the need for a manual is something we kids could manage. Thus, I became the family photographer. Few years later, once smartphones came into existence, clicking and sharing images became convenient. This camera began collecting dust. The next time it's presence was discovered, it was not functional. It was to be disposed.
At that point of time I was making certain life decisions (Science or Commerce). I said to myself that if I managed to disassemble this camera completely without any broken parts with minimum tools, engineering is what I would pursue. Next thing you know, I'm a mechanical engineer writing a blog.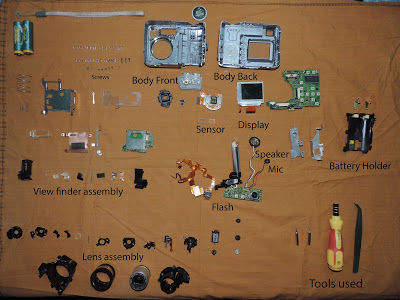 It was a good learning experience on how cameras were built. Functional parts like the speaker, microphone and motors were salvaged. Cool looking parts from the view finder assembly are still with me in memory of the camera. The rest of the evidence of it's presence is on this post.