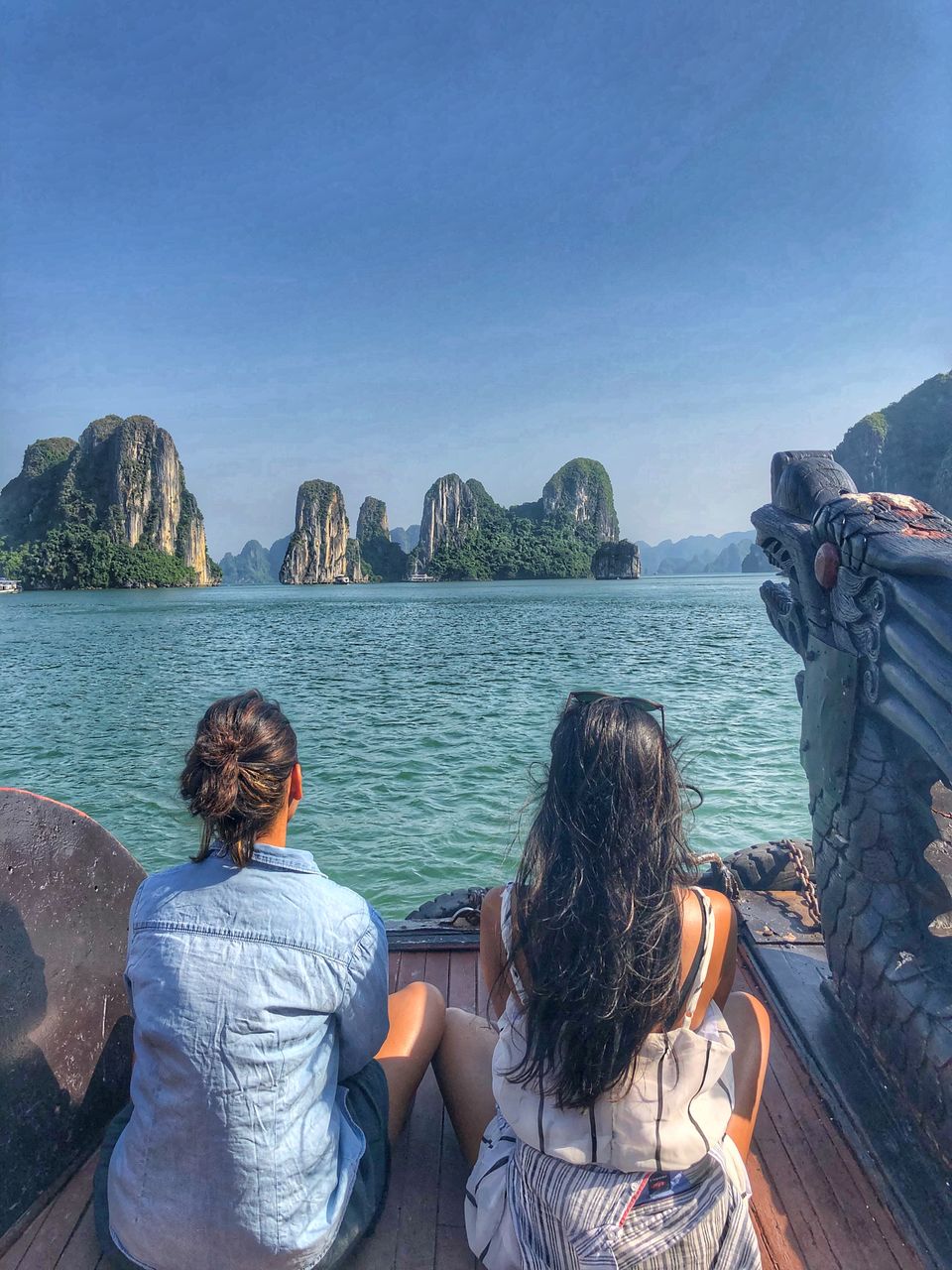 To start off, I had not planned to go to Vietnam until I saw a video of canoeing on Instagram on a random post and was so awe-struck by the beauty of it.
I had just finished my solo trip to Bali and was wondering if I could really manage financially to take another trip. But my feet felt so itchy that I thought let's push the savings to a little further and plan this adventure. Initially I had a plan that I was going to do this solo however my little best friend wanted to join along as she never took any international trip and got her passport done to fly with me.
Taking a flight to Vietnam from Bangalore is a bit crazy with long layovers and waste of time, rather we thought we would stop by at Bangkok for 2 days party a bit and take a flight to Halong which is approximately 2.5-hour journey. We arrived at the Suvarnabhumi airport early in the morning on our 3rd day to take our flight, and guess what happened? The airline staff refused to board us into the plane as we did not have an approval letter to obtain visa on arrival at Vietnam. And there it was a panic attack. We tried to tell the airline that it is 'Visa on Arrival'. But she did not agree and said that I need to talk an agent to get an approval letter.
Just a couple of days before our travel Vietnam changed its visa rules and did not update it anywhere on their government website. Annoying… yes. It is!
Well for Vietnam there's two ways to get a visa:
1. Go to embassy and drop your passport there with all your valid documentation and get a Visa prior. And this will take not less than 5 days.
2. Apply for a visa online and get the approval letter. Then collect your visa on arrival in airport.
The Reason why you should have either of this document before you board plane to Vietnam is it is such a wonderful place; a lot of people end up overstaying their visas/not leaving the country. And suddenly Vietnam has a surge of people who over stay and hence the government needs you to get a visa approval letter prior to you getting into the country.
And, Americans having no visas to Vietnam turning up for a flight and saying "Hey I've got an American passport I don't need visa to go anywhere" turns out they are in for a surprise.
So what did we do next? Well the airline staff provided an agent's contact details and we spoke to him and he got us an emergency visa which costed $200 per person. Yes, that is indeed a lot of money, but we had to complete our trip, so we took it anyway. And all these procedures took us an hour and we dealt with him via phone…
Finally, the sighs boarding the plane with a quick nap we landed at Noi Bai international airport. Keep your google translators ready as no one knows English well and it could be a problem to communicate.
Halong is approximately 4.5-hour drive (i.e. 170km from Hanoi) from Noi Bai international airport and it is close to China border. And it is also a UNESCO heritage site since 1994. We boarded a bus which was convenient, and the journey was smooth, and they even stopped for a quick break for food which was great. If budget is not a problem, you can even board a private helicopter which will just take you to the destination in an hour.
We reached our destination around evening by 4pm and checked into our hotel. We were pretty much tired of the entire hassles that we had since morning, so we choose not to do much that day. We just went out for a quiet dinner and relaxed in our cozy room.
For next day we booked a day tour from 'Get your guide'… it was interesting tour and below was our itinerary. And all of this costed around $50 per person which was not actually bad.
1. Enjoy a cruise on Halong Bay, a UNESCO World Heritage Site Visit Heavenly Palace cave the famous James Bond cave.
2. Relax in the sun on the sundeck and enjoy delicious seafood on board
3. Explore the emerald waters by kayak or bamboo boat.
Considering we were at Halong we did not get picked up, but we had to reach the pier which was 20 mins away from our hotel to take a boat. This was a group tour. We arrived at the Pier and our guide found us and gave us a tag and asked us not to lose it until we completed the entire trip. The tour was for an entire day approximately 8 hours.
The Cruise was great, we were served some amazing dishes. You can let them know in prior if you are allergic to any sea food or if you are vegan, so they can serve only customized dishes.
Having our brunch in the cruise passing by those broken dragon islands was surreal. For the next couple of minutes, we forgot about our food and went to the balcony to get the pictures clicked.
By midafternoon our cruise stopped at Heavenly palace cave called as "Thein Cung Cave" which was discovered very recently in 90's by fishermen. The fishermen accidently came here to escape the storm and found the cave although the entrance of it was hidden. This cave here relates to the dragon kind and it is beautiful to witness the rocks that are hanging which are of different silhouettes that looks like a flying dragon, elephants and many other things. And to enter this cave you must climb steps which is 190 meters and be surprised with some monkeys on the way. You may need a guide if you want to know detailing about rock formations.
After spending some time in cave, we got back to our cruise to take our final adventure which was Kayak.
Kayak at halong is the best way to explore the beauty of Halong, you can get closer to those limestone rocks and enjoy the breathtaking view. Don't worry if you do not know to row a boat. You will get used to it. For some time, my friend and I could not move further and were stuck near the shore as we never did this before, luckily our guide Taught us the technique of how to move forward and row the paddle and enjoy the ride. We even made it inside those little echoing caves which was so beautiful. And the water is not so shallow it is just 3M depth. It is surrounded by Emerald waters and topped by rainforests.
And an extra pair of clothes are necessary as you may get damped by sitting in those bamboo boats.
Post our best adventure of Kayak we boarded our cruise on our way back to the Pier and watched beautiful sunset at the bay sipping some Vietnamese beer. We arrived Pier around 6pm with loads of great memories.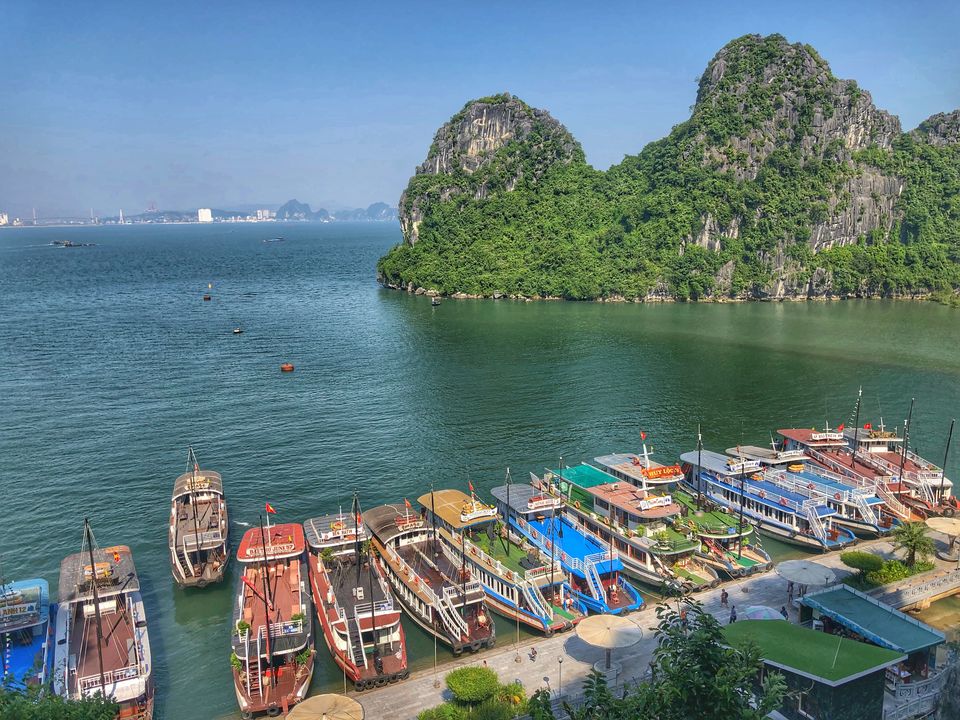 Things to Note:
1. October to April is the best time to visit halong.
2. Food could be a major problem if you are a vegan, so carry some if you don't like to try any new cuisine or allergic to any specific dishes.
3. Communicating can be a lot of problem, so keep your google maps and translators handy.