Driving through the wildernesses of the Leh-Manali Highway . . .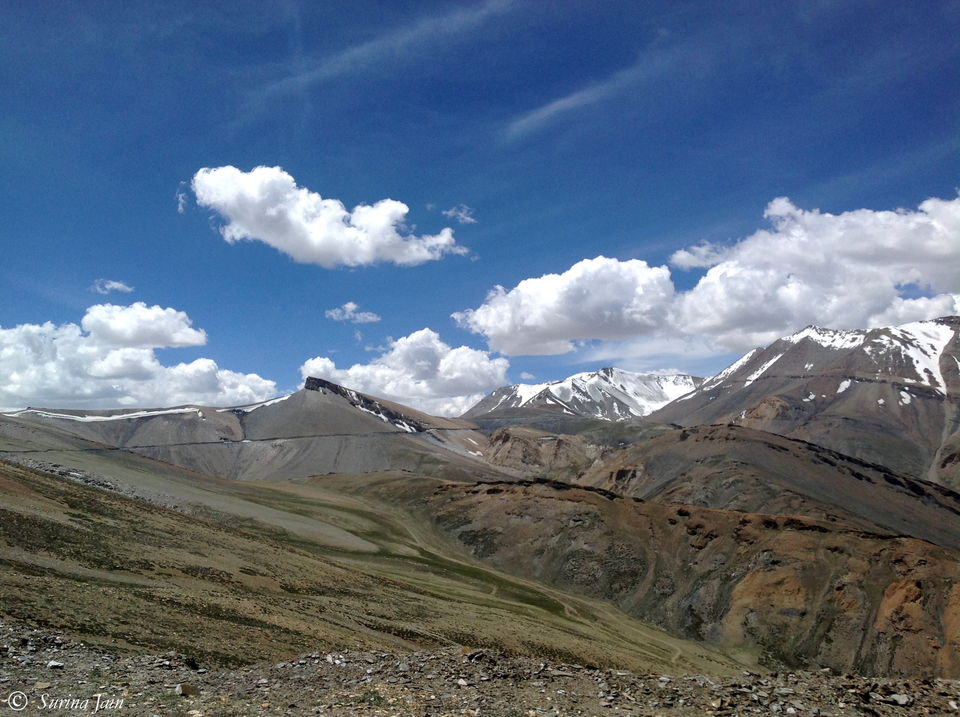 You need to have dreams that seem beyond your reach for you don't know they can come true until they actually do. With an elevation ranging from 13,000ft to 17,500ft, on Leh-Manali highway you can possibly feel that you're driving on the top of the world, and it needs some courage and many crazy dreams to do that. In the uninhabited wilderness of those mountains you can possibly hope to find yourself again or perhaps discover the dream and necessity of adventure to instill life in you. This unparalleled drive from Leh to Manali had been my dream for long now. It is ultimate and offers a view of some of the most breathtaking landscapes. The whole stretch of 475 kms upto Manali offers a wide range of terrains from mountains, plateau, passes, snow clad peaks, craggy cliffs, natural sand and rock formations, valleys, water flowing down from melting glaciers, lakes to plains and meadows. People generally prefer driving up from Manali to Leh in order to gradually acclimatize but I believe it could have a depressing effect on someone who is used to vegetation, to drive from the lush green valleys of Manali to the dry and arid desert of Ladakh. We make it to Manali in two days with a night halt at Keylong.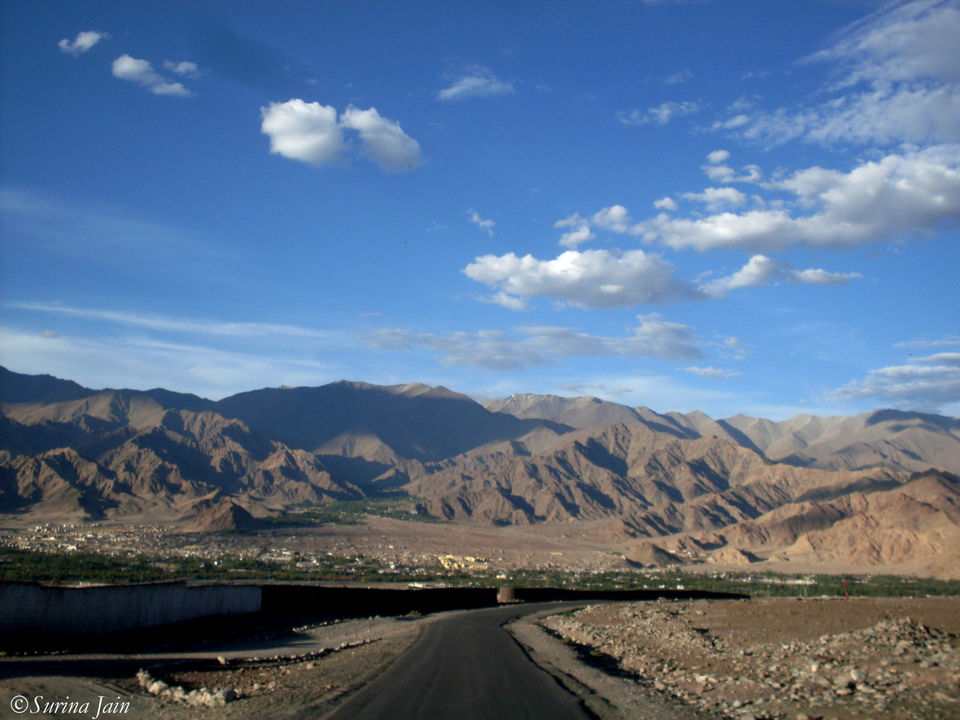 Day 1: Leh to Keylong
Distance covered: 360 kms
Time taken: 12 hours
We set off for Keylong early in the morning. Though it's just 7.30, the sun is up, shining bright. Mornings and evenings have something special about them no matter which place it is. They are calm and peaceful as against the restless cacophonies of the day. And moreover in a place like Leh, where all that you can hear, most of the time, is the sound of the breeze—sometimes soft, sometimes whistling—this morning is just perfect. My phone has not been working for the past four days now and I can't rejoice the fact more. It's a totally different kind of happiness I am experiencing from this simple fact. I realize how much time, energy, and thought we waste by looking at it off and on for absolutely no reason—waiting for someone to send us a message, wanting someone to call, or just checking status updates—something that most of us do throughout the day. For the first time I realize that life is so much better and peaceful without this instrument and there is a beautiful world out there yelling for my attention.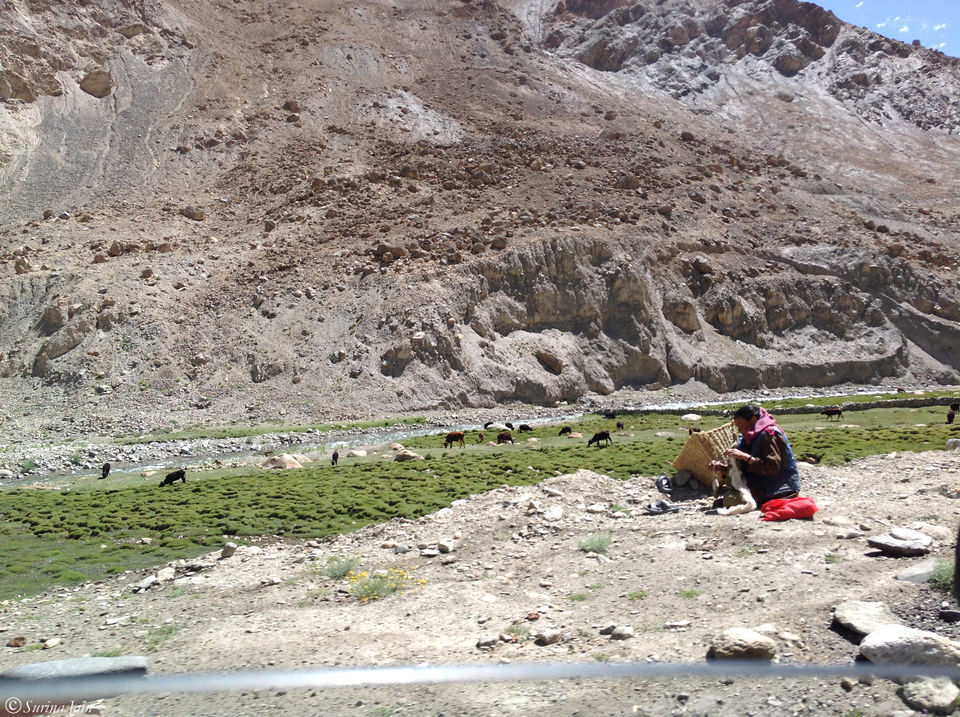 As we drive past the streets of Leh and cross the beautiful town, I recollect memories of the past few days we spent here and wish that I return soon to discover and explore the neighboring regions. We cross the villages of Shey and Thiksey and as we reach Karu it seems like I've woken up in a dream and this just can't be real. I had read articles and seen pictures in travel magazines and here I am finally.
Driving along the Indus we take a diversion from Karu towards the Leh-Manali highway. At Upshi, which is the next village, we stop for breakfast and tea. My mouth is watering as I recall the delightful piping hot Dal Makhni, Aloo parathas, and tea we have at a small dhaba. We set forward on our journey after this delicious meal and take the highway across the Indus River. After passing village Gya we begin our ascent to the Tanglang La. As we go up snaking through the roads maintained by the Border Roads Organization's project Himank we come across many funny road signs put up by them. Some of them read: Be gentle on my curves; Driving faster can cause disaster; This is highway not runway; It is not rally, enjoy the valley; Drive like hell and you will be there.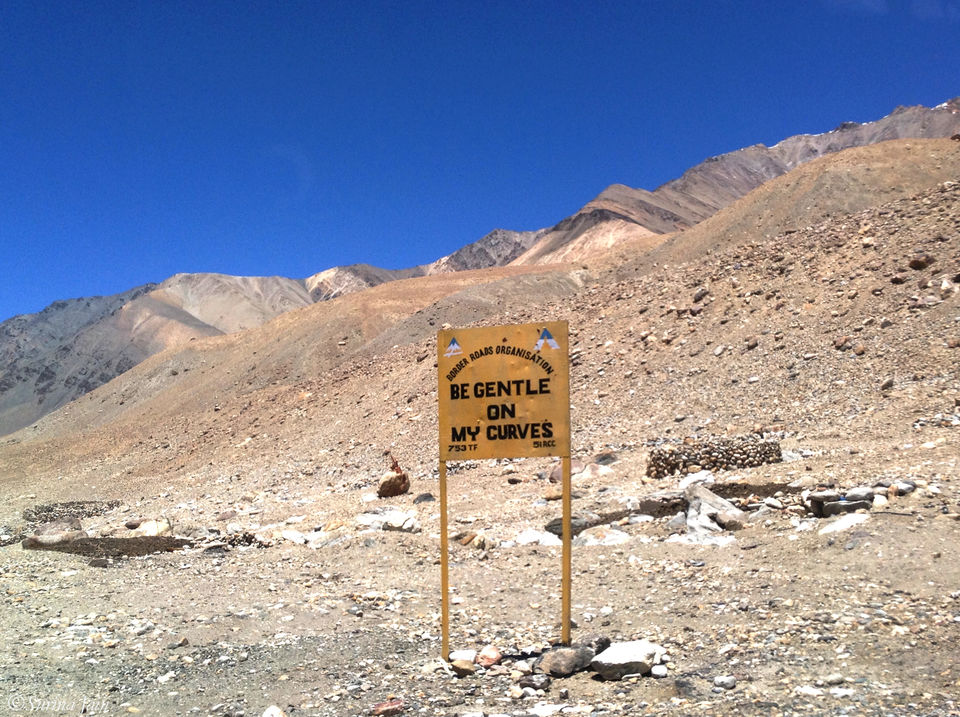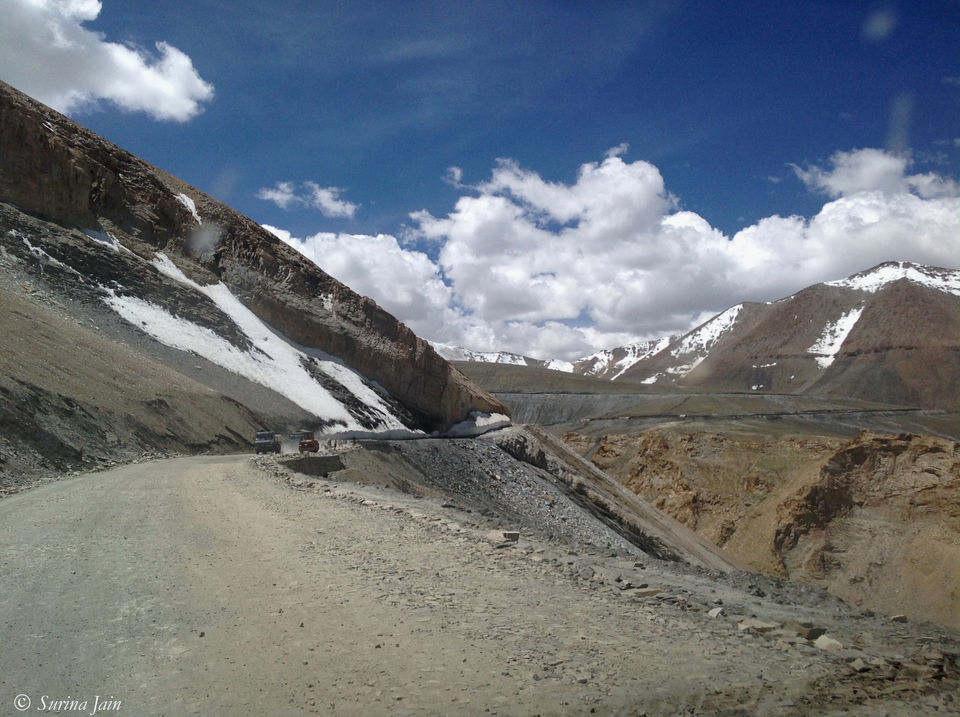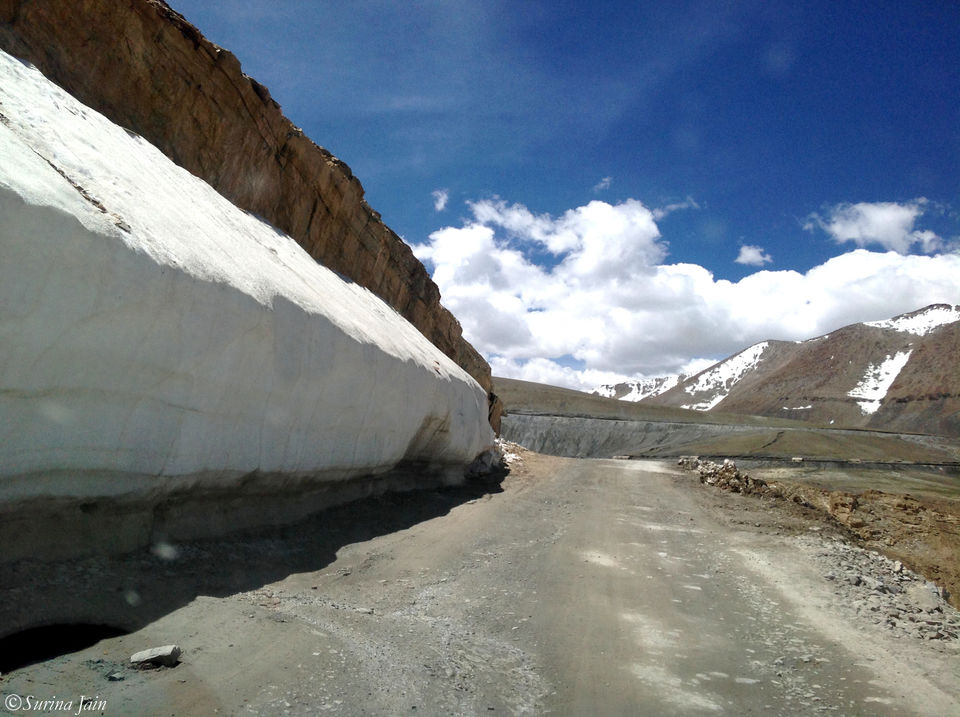 At 17,582ft, as the board says, Tanglang La is the 2nd highest motorable pass in the world. Everything seems to be peaceful and settled at this height amidst the mountains. Snow clad peaks breathe in silence and Tibetan prayer flags flutter in the breeze. I am in a trance as I stand smiling for a picture. Losing all sense of the world that awaits down there somewhere, I wish to remain frozen in this moment.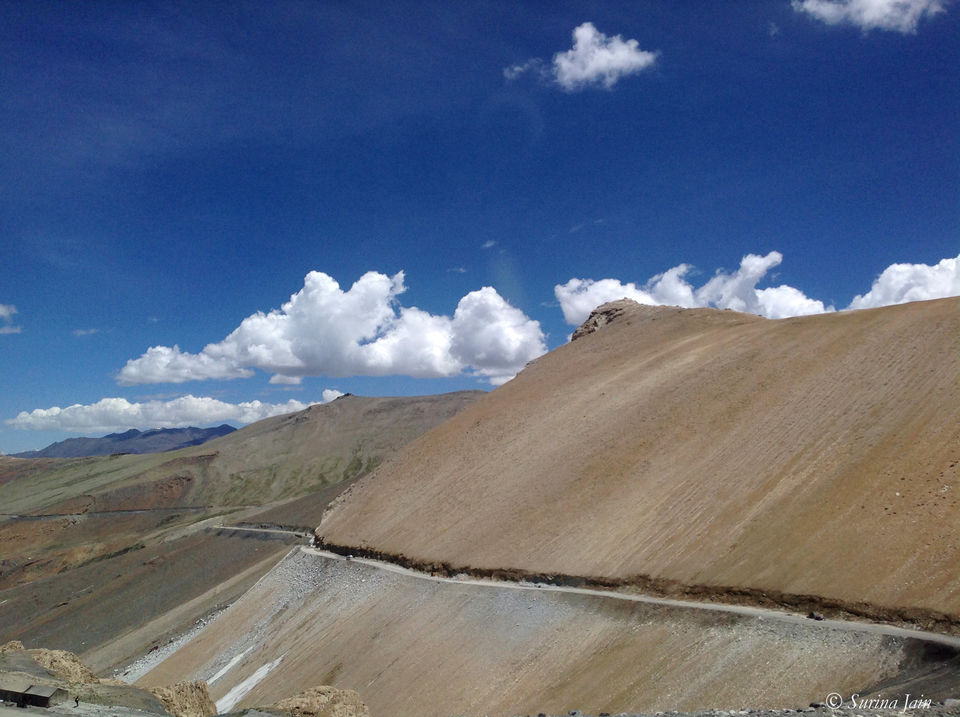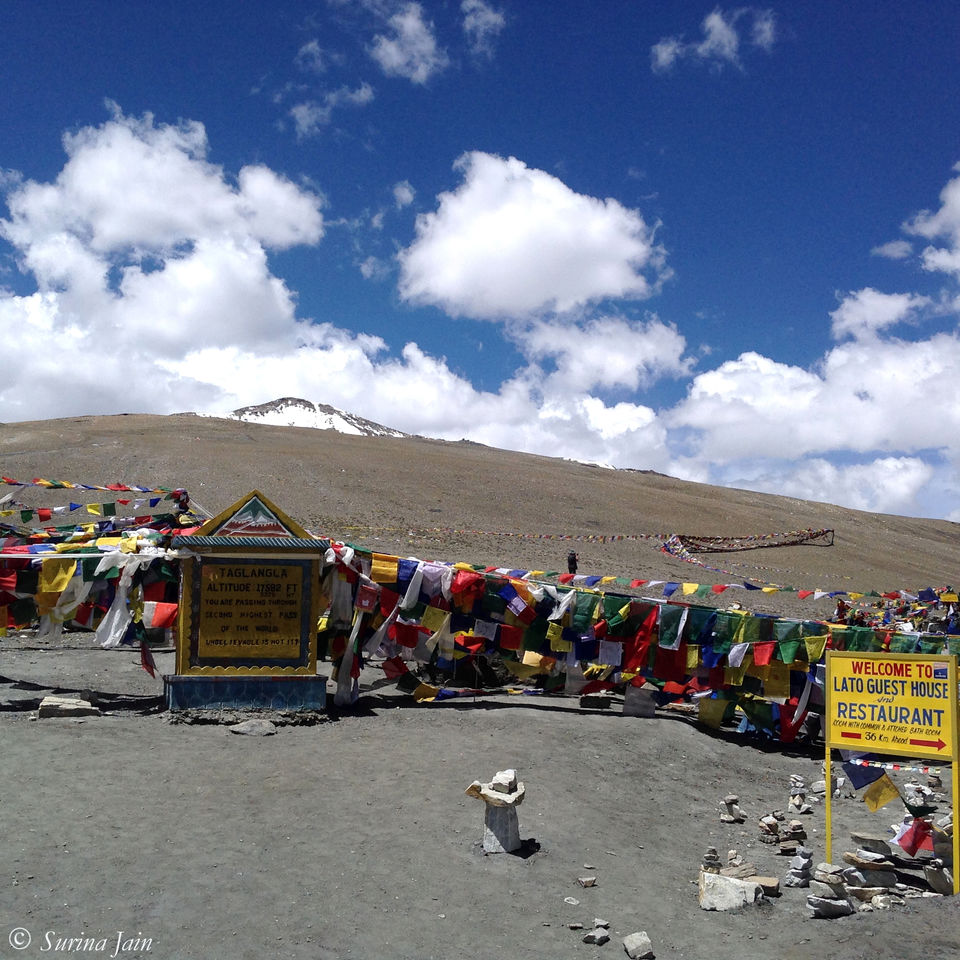 We descend down the dry rugged mountain roads. The sun is shining bright and hot but the cool breeze cuts through as if relieving the thirsty mountains. Before we realize, we are driving through the plateau called Moore plains which is a 40-km stretch.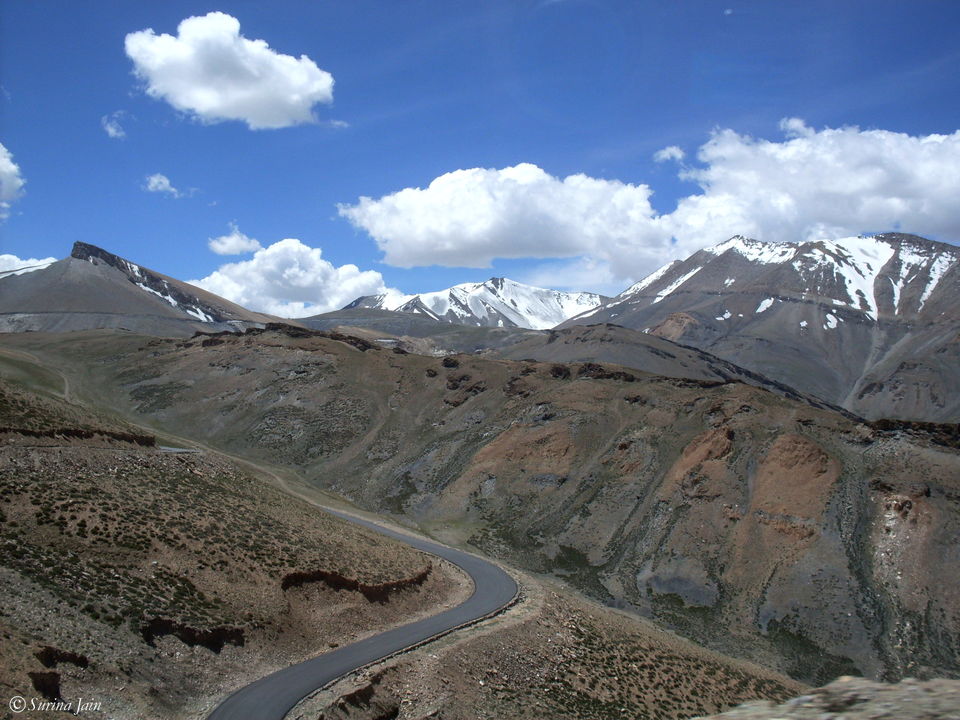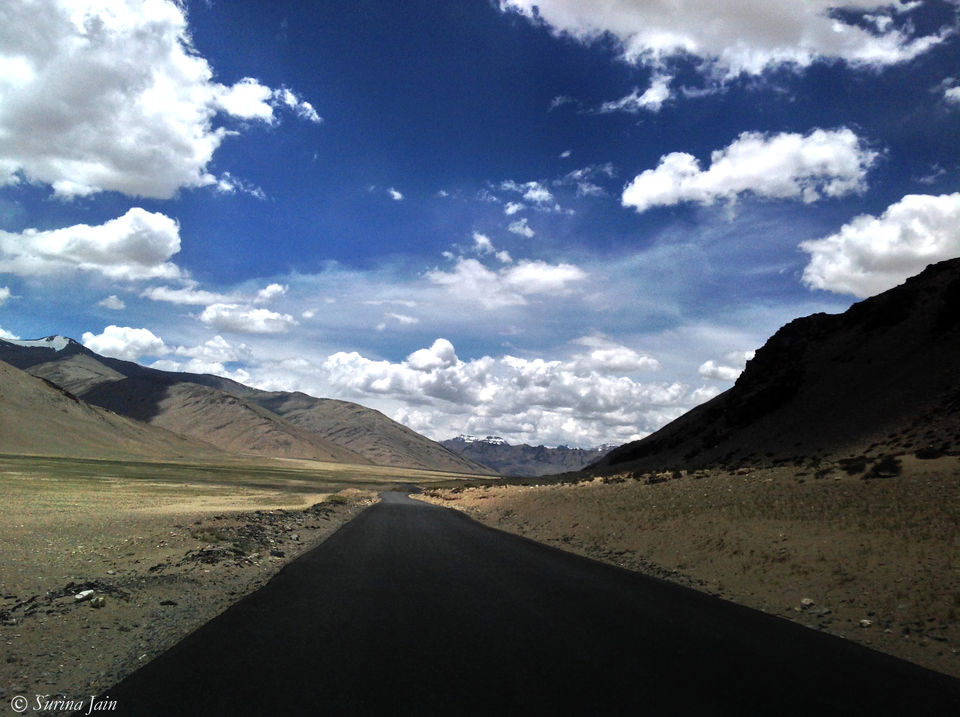 Flanked by mountains on both sides, the road seems to run endlessly. The dramatic massifs stand with open arms protected by the shade of clouds passing by creating a colorful play of light and shadow. Towards the end of the plateau region, the road runs along the Sumkhel Lungpa River featuring some magnificent jagged sand and rock formations and further leads to Pang, a tiny hamlet with just a few roadside eateries and the world's highest army transit camp. We stop by at one of the eateries for tea and Maggi. Apart from the fact that the food they offer is totally inexpensive compared to the conditions in which they live, without any running water and food supply, it is the love and affection with which they serve you and their wide smiles will make you forget the long and tedious stretch that you've just driven through. A slight peep into the hardships they have to face with just these few earning months will make you ponder over the things you think complicate your life and you'll realize they are nothing but simple situations which could be easily worked out. They have classic home remedies for the very common altitude sickness faced by the travellers. My mom starts to feel drowsy with a heavy head as we reach there. The lady quickly gets two-three cloves of peeled garlic and puts them in our bottle of water suggesting Mom to take sips from it. And it works like some magic potion for her. We buy a shawl from them to keep as a souvenir.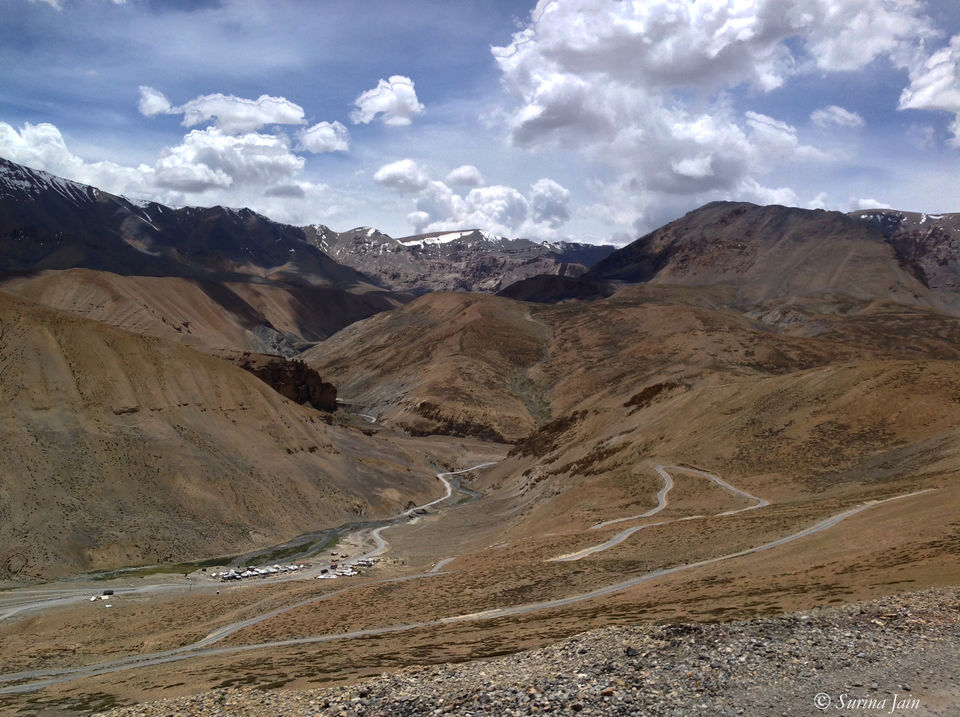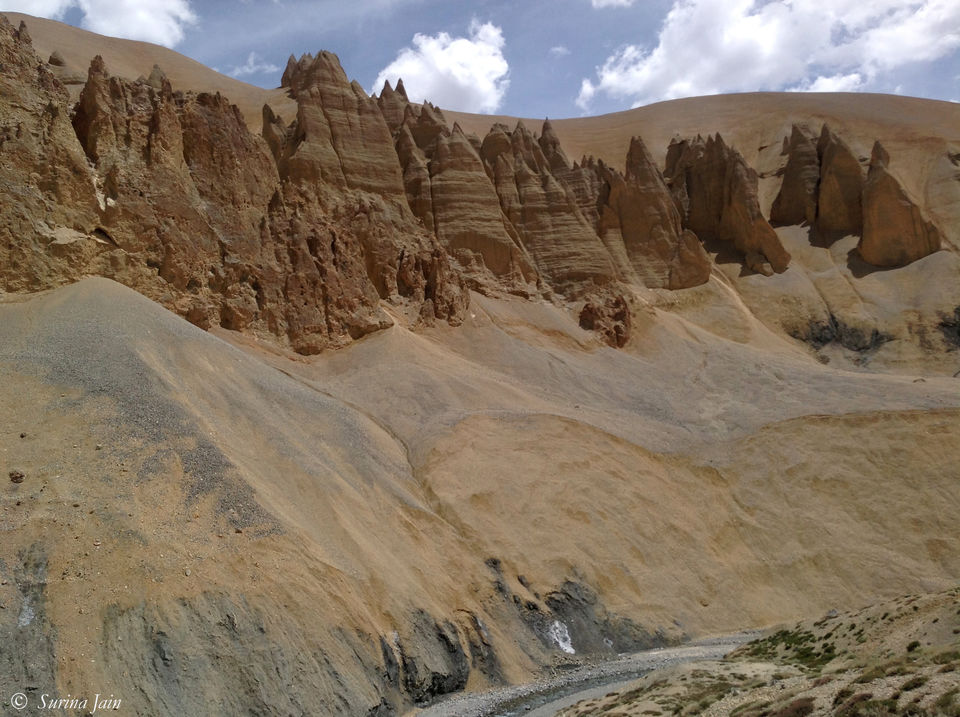 After Pang we begin our drive uphill to the Lachulung La which is 24 kms from here. This unparalleled dry mountainscape with striated rock faces starts to get cold, breezy, and spotted with ice and glaciers as we approach the pass, which, according to the board, is 16,616ft above the sea level. After crossing this pass we make a descent and climb again to cross the Nakee La pass at 15,540ft. All the passes are marked by a board put up by the BRO and strings of prayer flags gently fluttering in the breeze. A symbol of faith in the all-powerful almighty, these flags keep the surroundings blessed. There are also pebbles arranged one up the other forming small heaps. When I ask our driver about them, he say that they symbolize a home and people make it with the faith, wish, and prayer that in their next birth may they be born in a cold and beautiful place like this.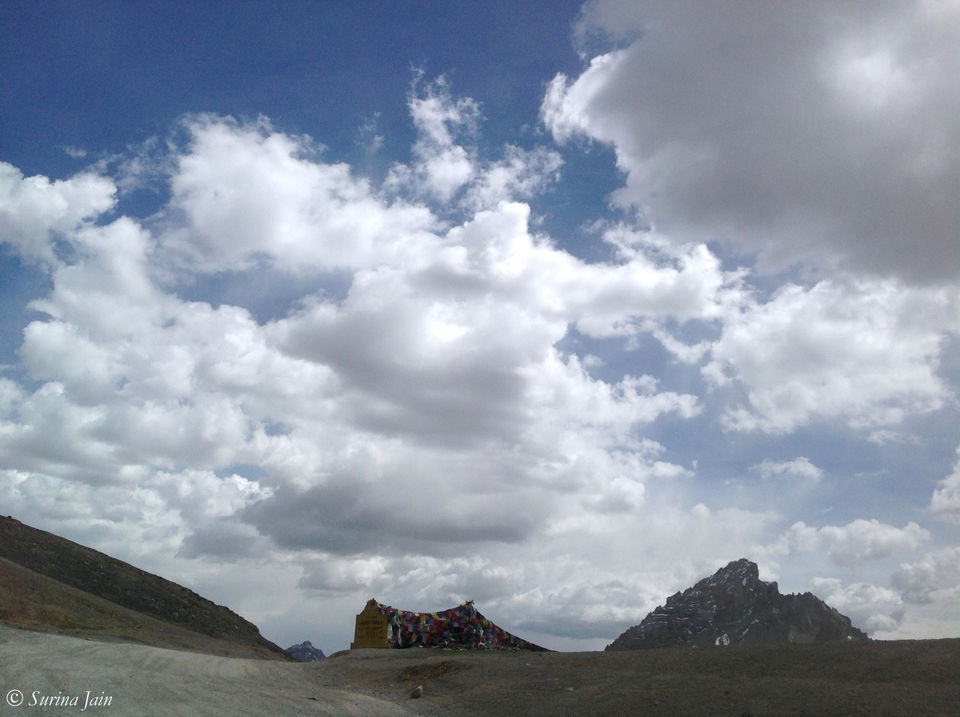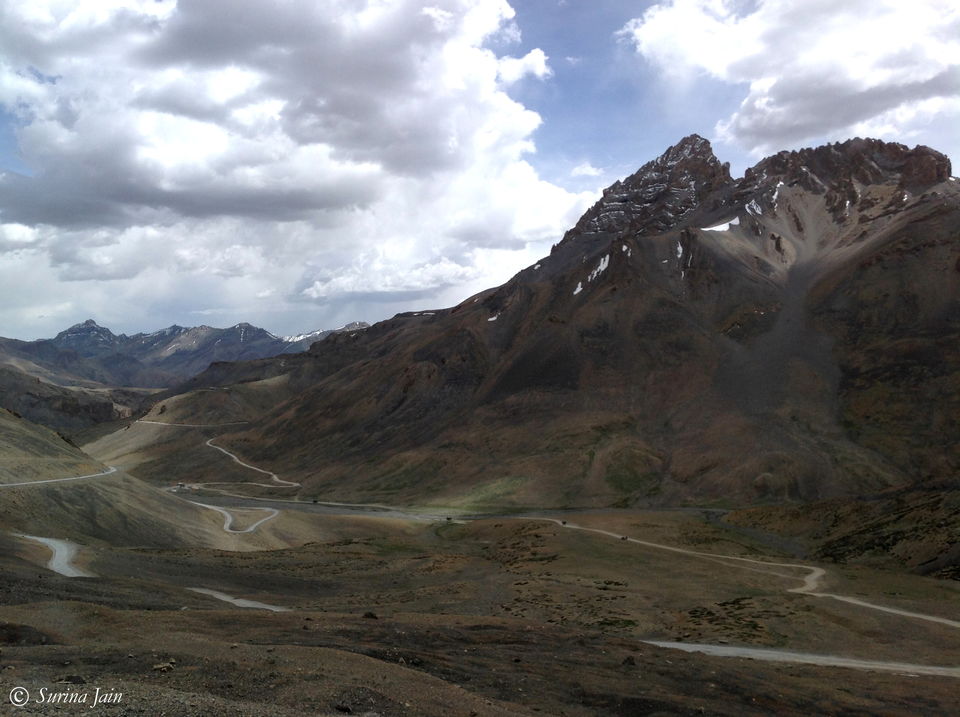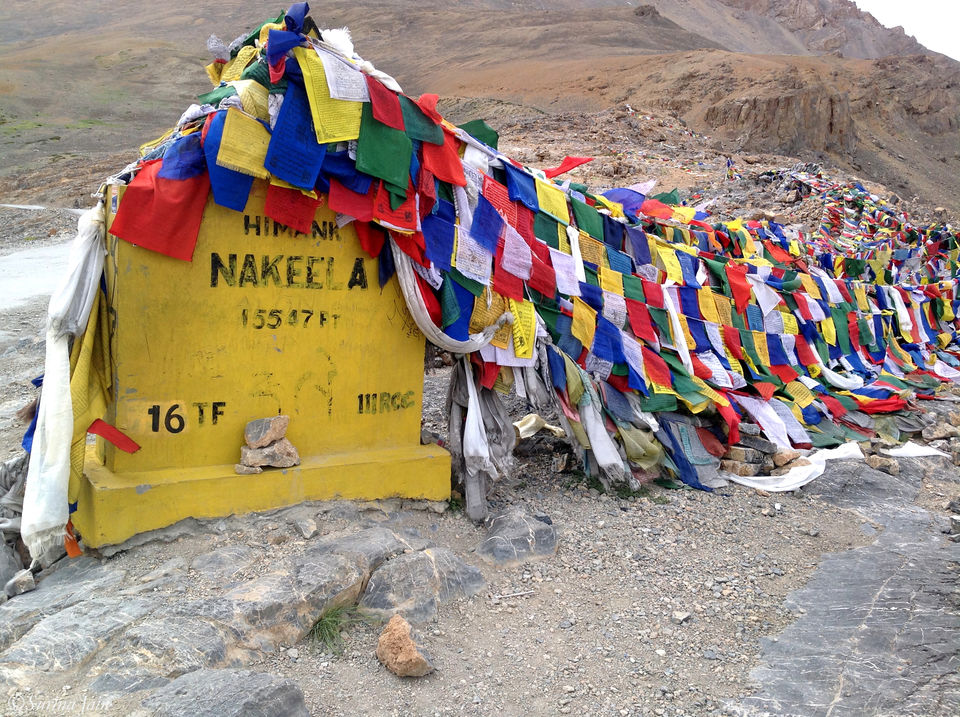 Traversing through these two successive passes we drive down the 21 Ghata Loops (21 haipin bends) towards Sarchu. On one of the bends we find a stack of water bottles dumped. On asking, the driver tells us that one of the truck drivers drove over his Khalasi when he asked for water and the khalasi died on that spot. So in the memory of the Khalasi people leave behind a bottle of water that may his soul rest in peace. After a few kilometers we cross an abandoned truck on the roadside. This truck was carrying supplies and the engine broke down on the way. The driver sent his khalasi to the town assuming he would return in the next two-three days with some mechanic. But when the Khalasi didn't turn up, the driver, too, left. The supplies and many of the truck parts were stolen including its tyres and now it stands staring aimlessly at the valley through the changing seasons, frozen in time.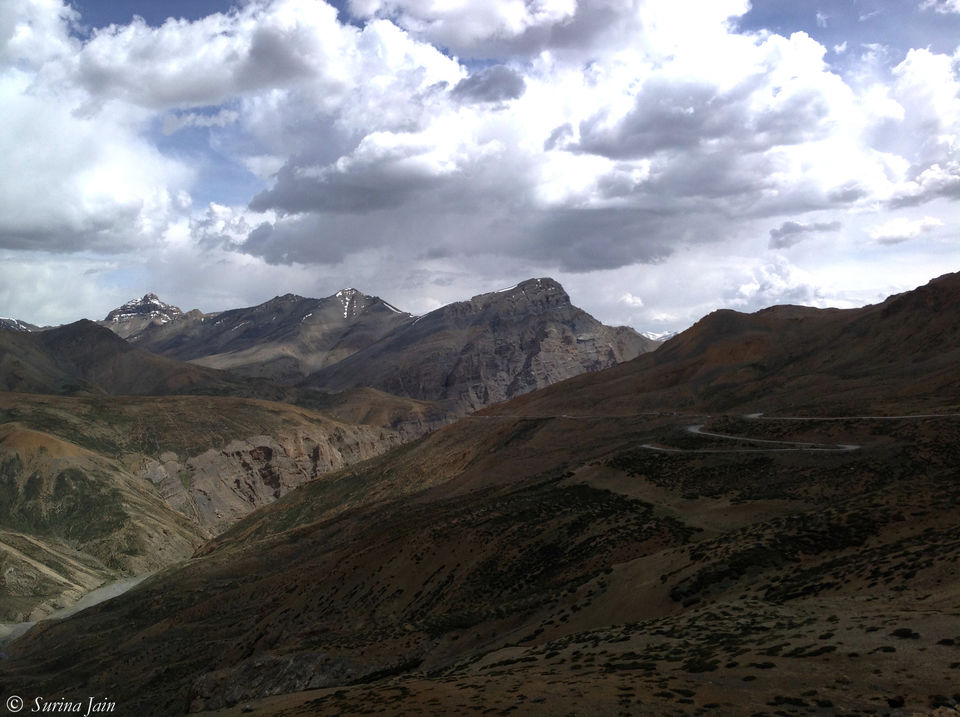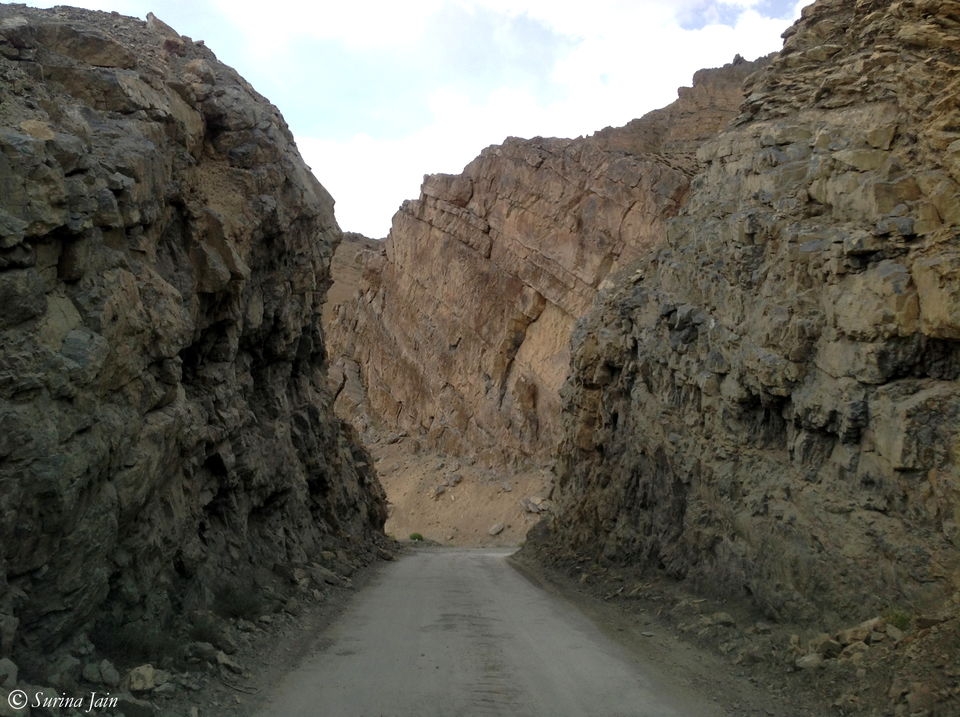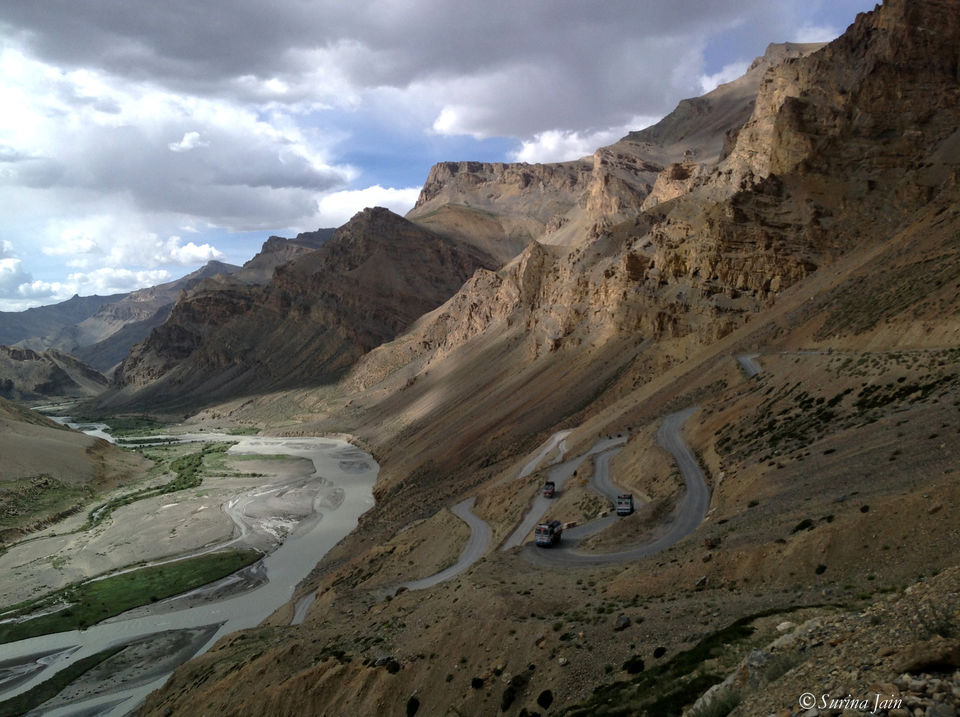 Sarchu lies on the border between Himachal Pradesh and Ladakh (J&K) and has a police check post. It is one of the major halt points on this highway and offers many tent accommodations. In fact on this highway almost all the roadside cafes in every village offer bed and bedding arrangement for the bikers and cyclists. The road runs alongside ridges and escarpments. By the time we reach Sarchu it's over 3.30pm and we still have a whole 100 kms drive left before we reach Keylong. The road ahead, as the driver, says is spotted by water-crossing or nalas from the melting glaciers and since the day was quite warm and sunny the amount of water flowing could increase as the evening approaches. We ought to cross these before it gets dark. The weather is starting to get rainy and we see clouds building up the mountains that we are to climb. We stop at a small dhaba called Sangge Dhaba by Nepali to quickly snack upon something. The aloo parathas and tea we have, one after the other, is no less than a gourmet meal.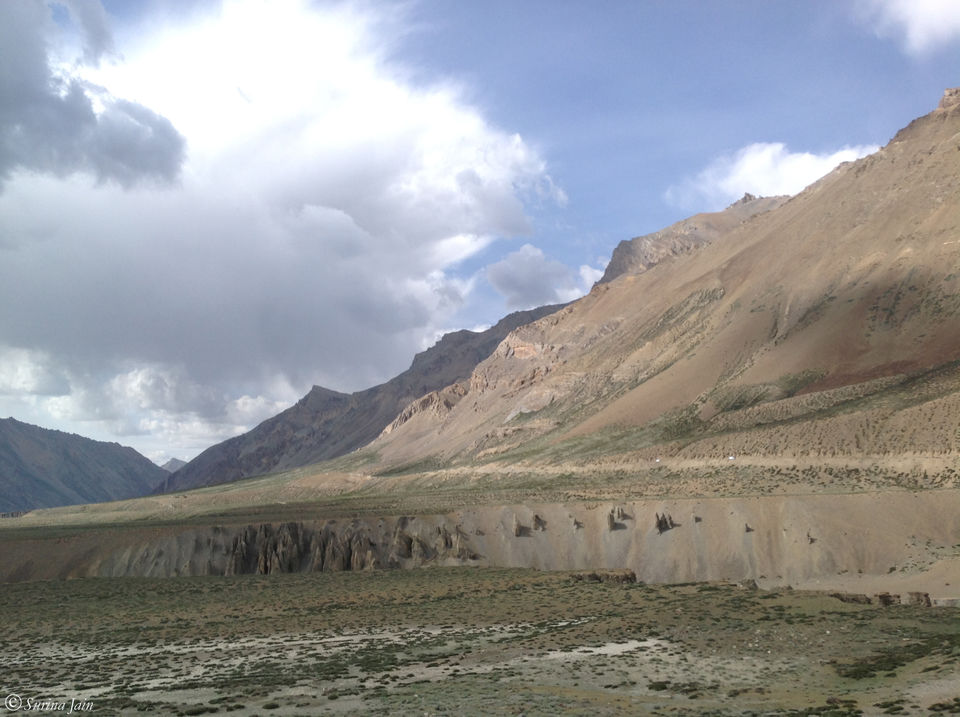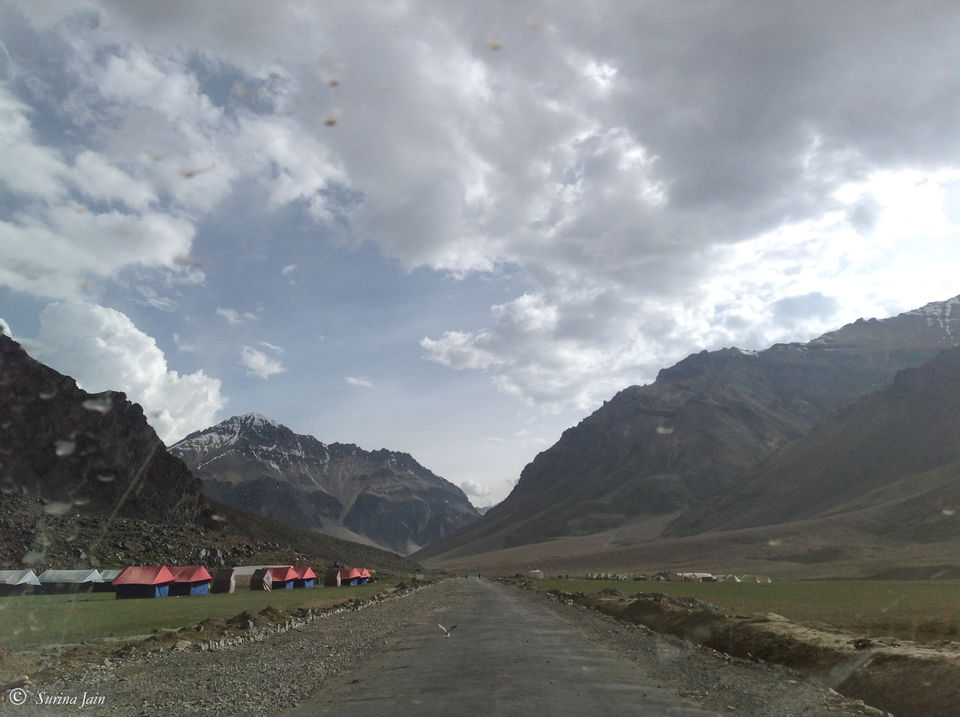 Sarchu to Baralacha la is a steady climb through Bharatpur. As we begin our ascent, the road is flooded with water flowing down from melting glaciers along with mud, cutting the roads and making its way downhill and has even flooded the BRO's base camp. More than the sight of running water it is the sound of the stream that gives me gooseflesh. The driver says that this is nothing and we have a few more dangerous ones to cross before we make it to our destination.
Baralacha La, at an altitude of about 16,040 ft, in the Zanskar Range connects Lahaul district in HP to Ladakh in J&K. A few miles ahead of this pass is the Suraj Taal Lake from which originates River Bhaga, a tributary of Chenab. Literally meaning the Lake of Sun God, this lake is stupendously beautiful. The tender ripples on the turquoise and cyan blue water have a deep elegance about them as they shimmer in the evening twilight. Nestled between the mountains Suraj Taal lay peacefully with a divine potency. Those few moments were enough to memorize its beauty for a lifetime. But as the clouds are building up and we are approaching evening at a pace twice faster than our driving speed, we set forward on our remaining journey after a dekko of this beautiful lake.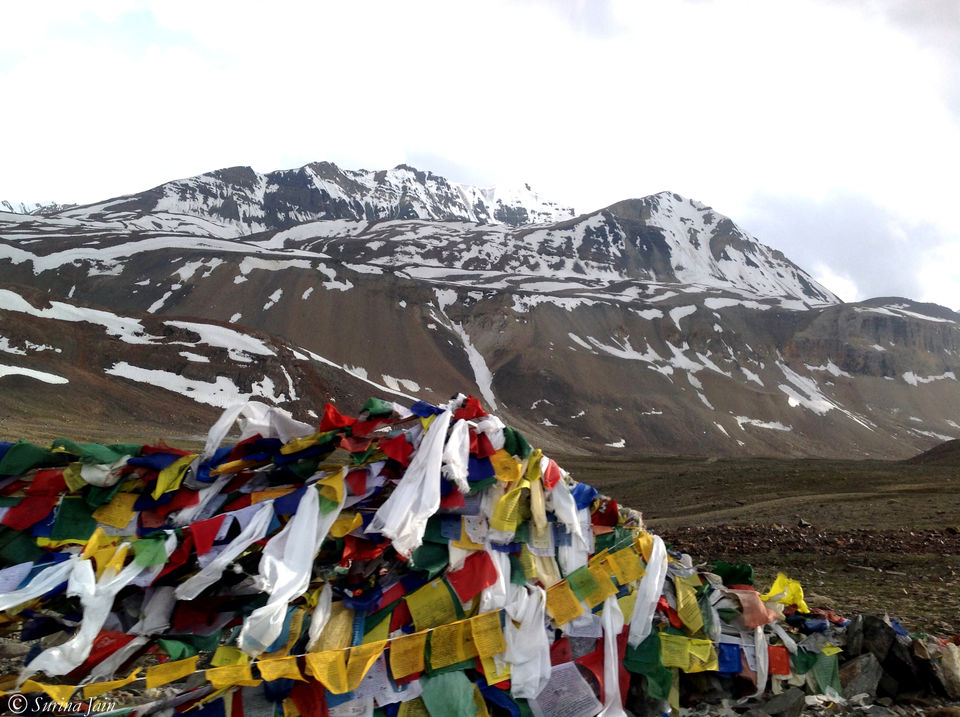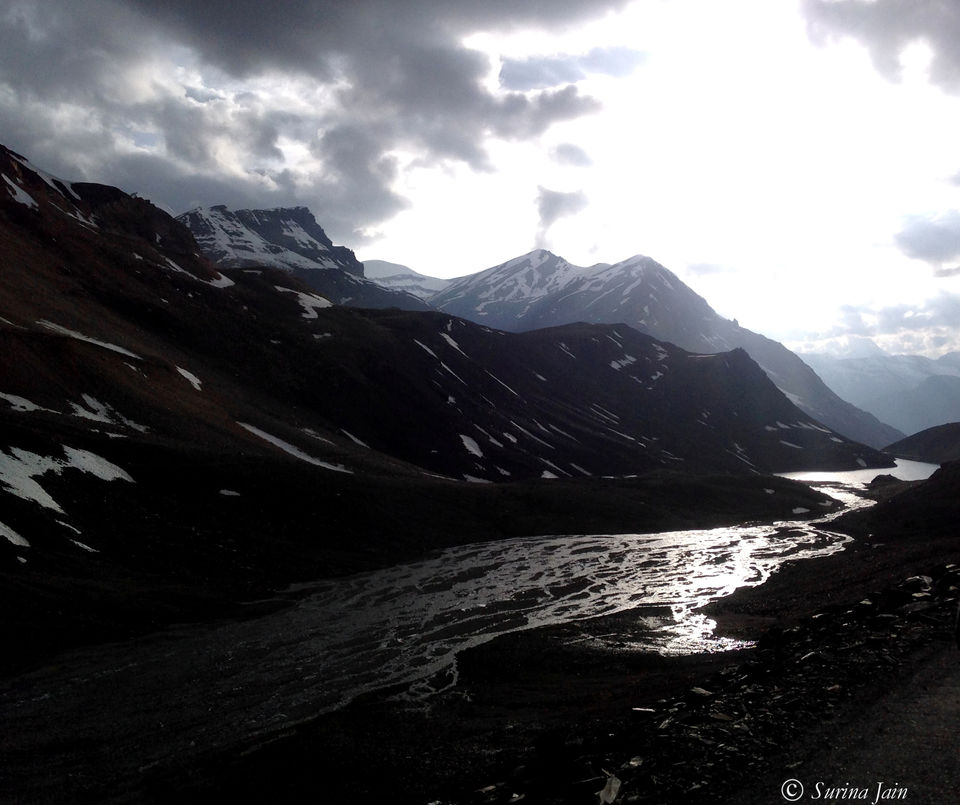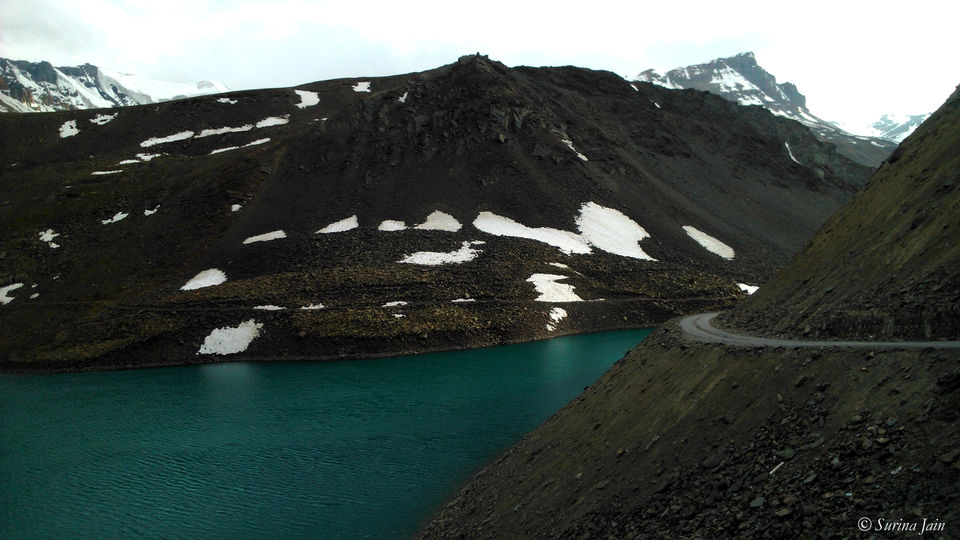 Snaking our way through the roads flanked by glaciers and with the soft evening sunlight falling smoothly on the snow-swathed Himalayas we begin our steady descent towards Zingzingbar. We come across another magnificent lake called the Deepak Taal. The driver keeps reciting his highway stories to us. On the way we cross two dangerous nalas. The water is flowing down cutting the roads as if in defiance of the perfect harmony around. The driver gets down and arranges the pebbles to make way for us to drive through. One of the nala which was once upon a time open but now fortunately has a bridge over it is gushing with water and one of the metal strips of the bridge seems a little out of place. While the driver gets down to arrange the strip I can hear my heart thumping in my chest louder than the sound of water flowing. And it virtually skips a beat when we very slowly make our way through it.
We make a steep descent from Zingzingbar to Darcha and drive to Jispa which has another tourist police check post. The evening sky looks like a spray painting with orange, yellow, red, scarlet, crimson, magenta, violet—all spread violently across the horizon. As I stand outside a small roadside café sipping tea, I see the Bhaga River peacefully gliding and the colours of the sky blending and harmonizing with its flow. I find it hard to convince myself that almost 3/4th of the drive is complete. I soak in the moment as I see the water turn silver in the twilight. A strange companionable silence engulfs me with the breeze and mutes the tailspin of thoughts. It's the last of the twilight as we start back. The mountains have been a witness to my journey and the breeze has been alive to the beating of my heart.
Keylong is 22 kms from Jispa. After almost a week I encounter greenery and mountains with vegetation while driving from Jispa to Keylong. We reach hotel Chandrabhaga around 7.30pm. A major part and the most dangerous part of the drive I had long waited for comes to end with this day and I couldn't have felt more happy and content. As I lie on the bed tired, stretches of the road flash past me and I fall asleep.
Day 2: Keylong to Manali
Distance covered: 115 kms
Time taken: 6.5 hrs
Mountains always have something special about them. Unlike cities, they offer a deep sense of intimacy, a relentless bond with the intricate wilderness. I have always felt a mysterious connection with the snow-swathed Himalayas.
When I stand out in the hotel veranda after breakfast (which was disappointing and I missed the delectable parathas we had at Sarchu), ready to leave, I am stunned by the greenery I witness. Apart from the fact that there is lack of oxygen up there in Leh, it's the sight of no vegetation that can make one go breathless. Perhaps we regulate ourselves psychologically and emotionally apart from the effects it has on us physically and biologically. So after a day long drive through the four passes, snow-clad mounts, dry rugged gradients, we drive amidst clouds. We set off for Manali at 9 a.m. and stop at the first filling station in Tandi to get fuel. On this highway, between Leh and Keylong, there is no filling station. After driving down 365 kms from Leh, this is the first one. Those who travel by bikes, carry extra fuel with them so they don't get stuck on the way.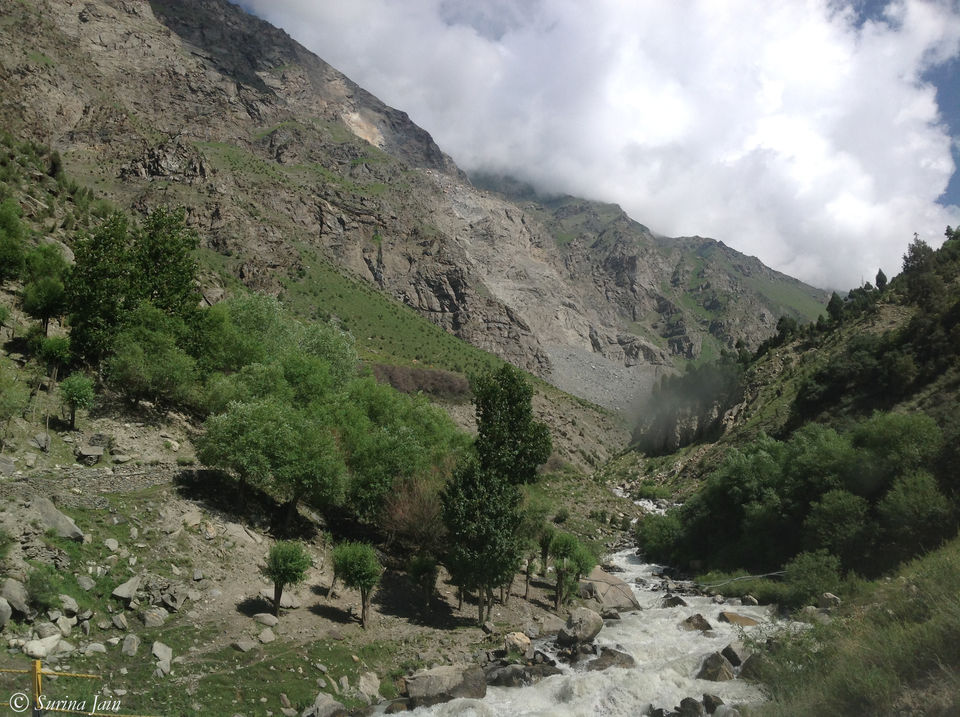 Driving past the streams flowing down, we go snaking our way through the slender curves carved out from the mountains. Men are constantly at work in some stretches where stones occasionally loosen and fall. Water seeping from the mountain dribbles down on the road quenching its thirst. On the other side is the beautiful green valley draped in River Bhaga, breathing in silence, unaware of its own depth.
Tandi, 8 kms from Keylong, is situated at the confluence of River Chandra (originating from Chandratal in Spiti) and River Bhaga (originating from Suraj Taal in Lahaul), the tributaries of Chenab. After Tandi the road runs along River Chandra which gives one company till Gramphu. We reach Sissu, which is the next village after Tandi, where we stop by to meet one of dad's colleagues. He is kind enough to show us around his house: the huge store room for their winter supplies, their heating system, pipes laid down to use the natural spring water. After a cup of delightful tea with him and his mother (who stays there even when the mercury drops below zero and its snow all around) we set forward on our journey.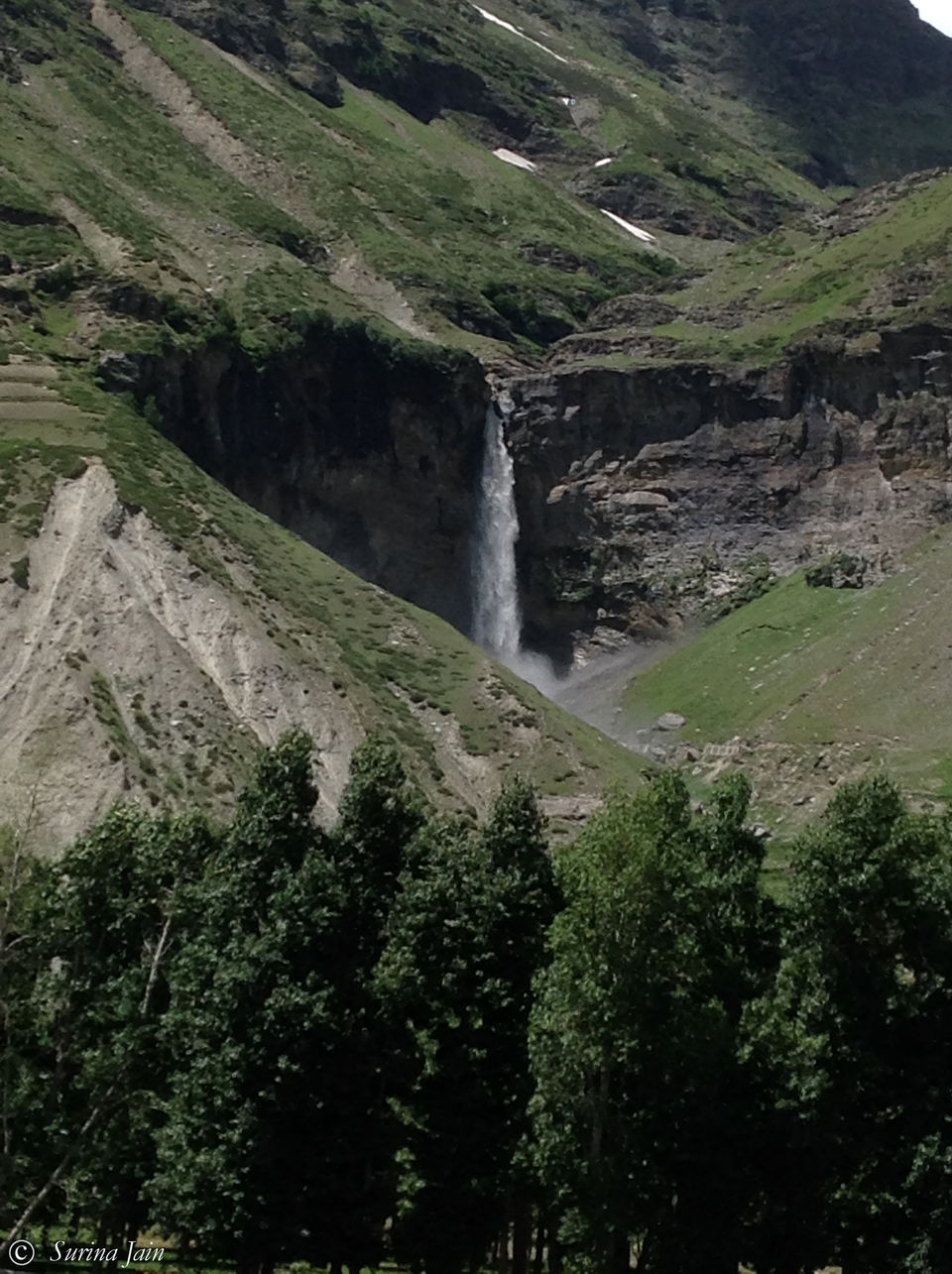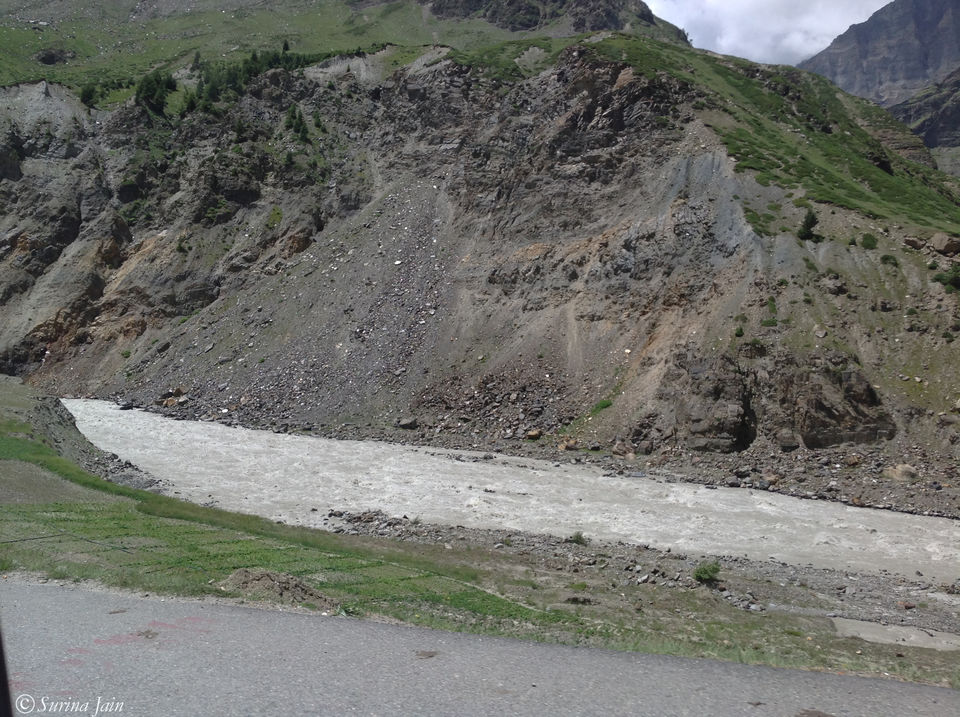 We catch a glimpse of the Rohtang Tunnel Project. Proposed to be one of the longest road tunnels in India with a length of 8.8 kms, it is expected to reduce the distance between Manali and Keylong by about 60 kms. After the completion of this tunnel Keylong and the other villages will be connected to Manali even in winters when the Rohtang is closed because of snow. We cross Kokhsar which is 25 kms from Sissu and reach Gramphu. From Gramphu to Rohtang is a steady climb of 19 kms. As we begin our ascent uphill leaving River Chandra behind we see wreaths of clouds flying down and within no time we are driving amidst them. When we stop on the way to capture a few misty moments, I feel the cold mist blowing right into my face, freezing my nose as I get down.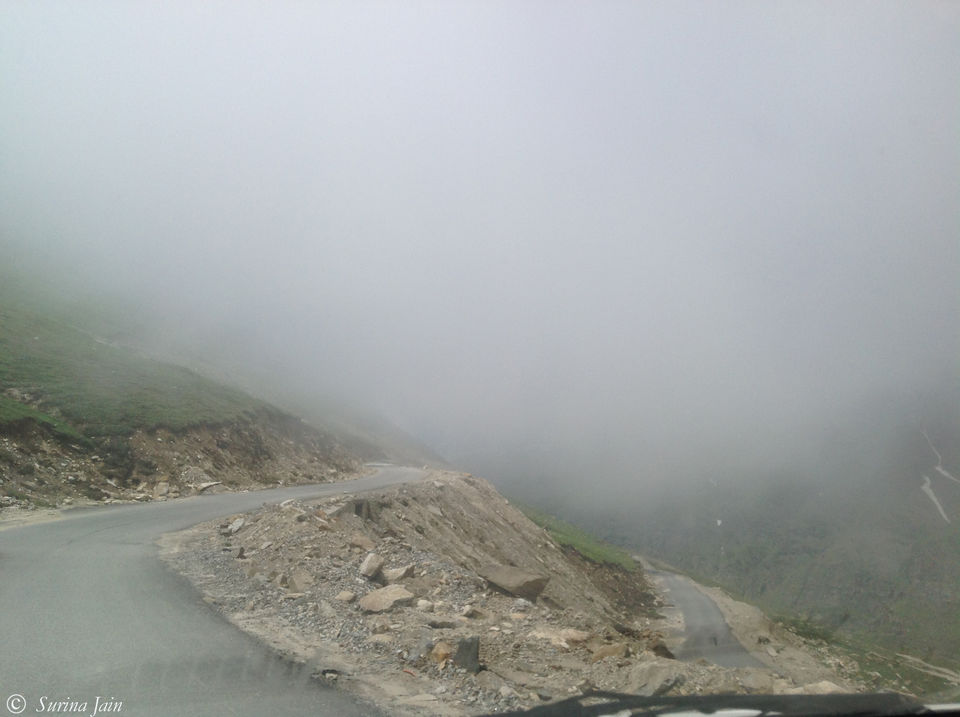 You can imagine yourself in a cold, beautiful, dreamlike fairyland, and you'd know exactly what it is like. After a few quick shots we get back in the car. As we start off, I am startled by a loud whistling sound before realizing that my window is slightly open and it's the strong breeze outside - whistling! We cross many rock-strewn glaciers on our way. While driving amidst thick clouds, the visibility is extremely poor. Rohtang is beautiful but crowded. So we decide to stop at the next hamlet for tea and Maggi.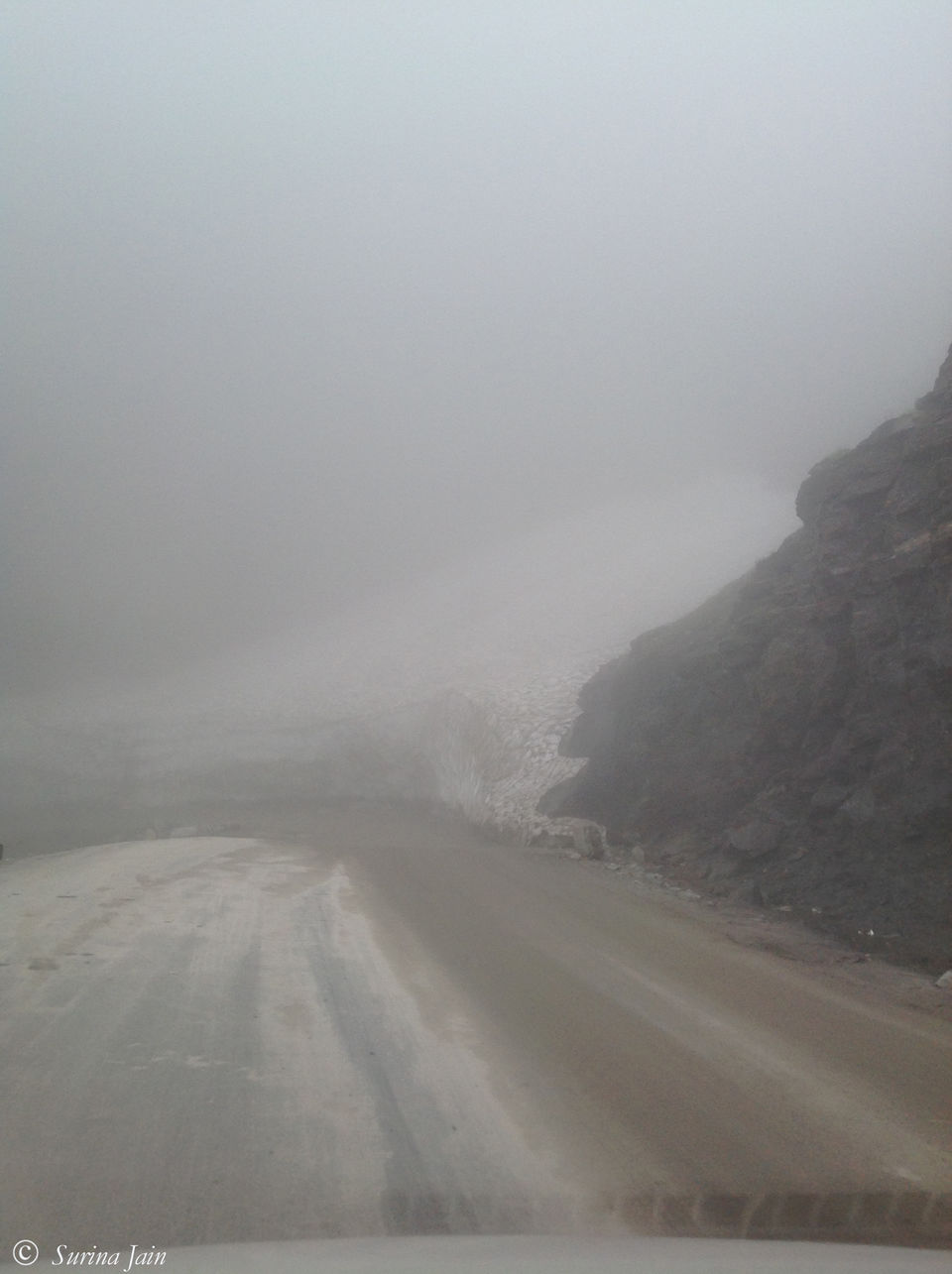 After a steady descent of 18 kms through the culverts veiled in fog, we reach Marhi. We stop at the Chamba Dhaba. The Maggi and Tea we have here, amidst the clouds, is unbeatable. No matter how much you try, you will never get that taste in Maggi on the plains which you get here at this height. I guess it's the smokiness of the clouds garnishing it. I had long waited for this moment, our Maggi moment!!!!!!!
By the time we leave Marhi, it starts raining. Our drive couldn't get any better. When I visited Rohtang the last time, I had stood staring at the road going beyond towards Leh and the army trucks which were carrying winter supplies. I had wished to drive on those roads for they were staring back at me with a lurking emptiness and a spark of hope. I knew, someday, I would be carried away by the distance to those lands far off. So here I am, coming all the way from those lands I had once imagined, completing a road trip I had wished for. I feel content and at peace with myself.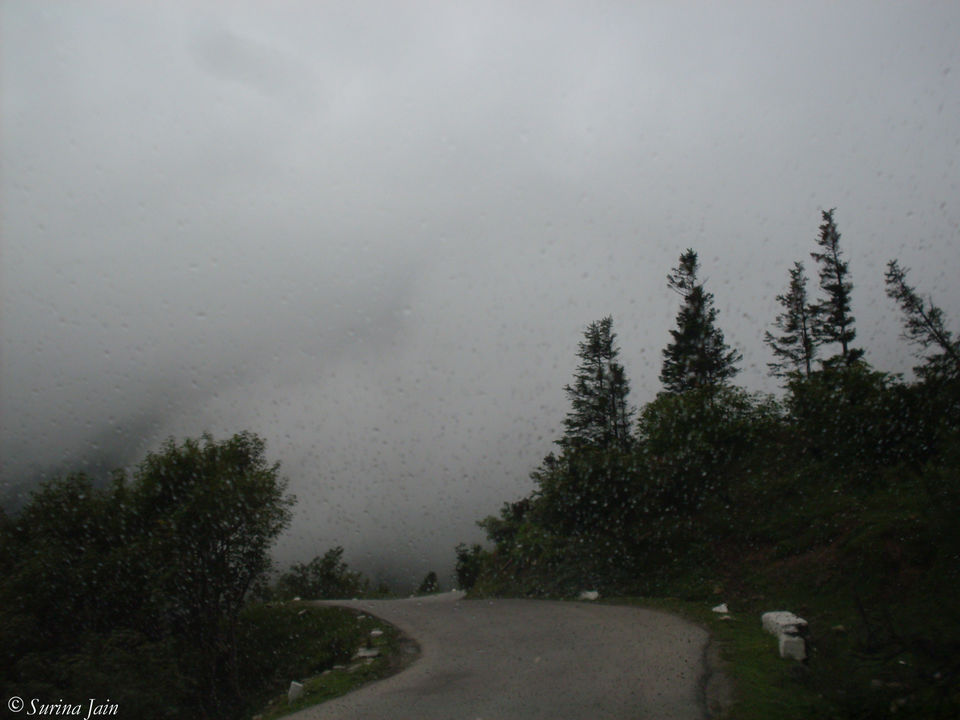 Driving down from Marhi, we cross the Solang nala and as we drive down further towards Manali, River Beas joins us and keeps us alert as it roars down.
Manali! Everything is romantic about this place. It takes over you and by the time you reach the town you are completely lost and soaked in the moment, in its beauty, in the softness of the clouds, in the roars of the river which defy the surrounding peace. There is music in its air, a kind of love and grace that you will find only in these towns which are close to the mounts.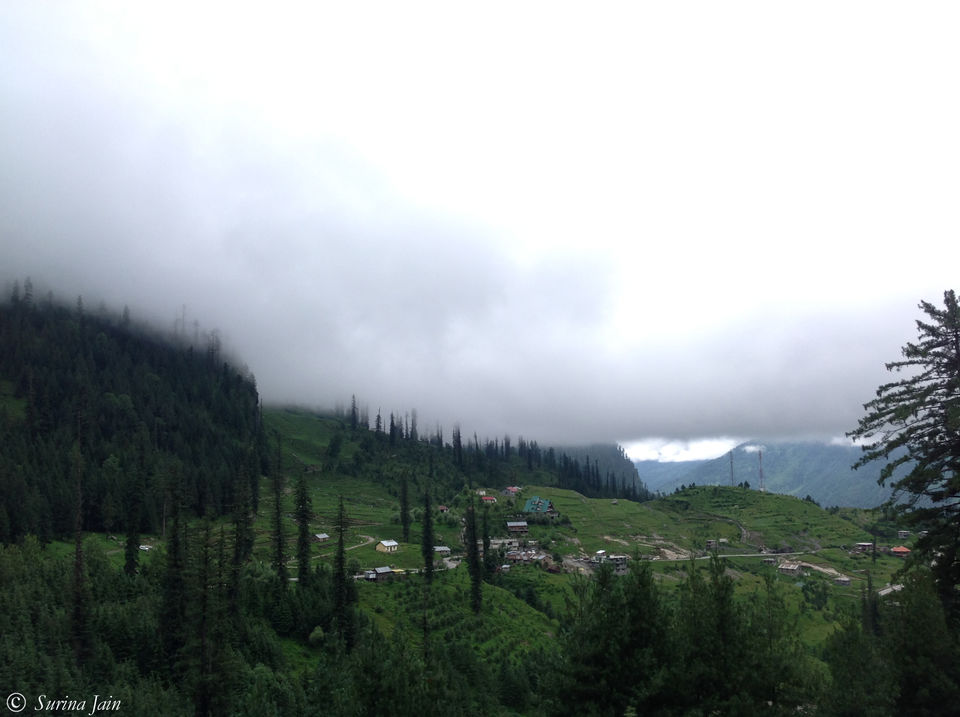 We reach Manali at around 3.30 p.m. At last my road trip from Leh to Manali comes to an end. We visit the Hadimba Devi temple and an apple orchard. Manali seems to be blushing with those yet-to-ripe apples. After a super healthy supper which included farm fresh rajma (kidney beans) curry along with home-grown french beans veg (all garnished with home-made ghee) and seviyan kheer (sweet vermicelli) at one of my uncle's place in Patlikul (a village midway between Kullu and Manali), we reach our hotel dead tired. Though our long awaited drive had come to an end, our road trip would continue tomorrow. Owing to our cancelled flight from Kullu, we now have to drive up to Chandigarh to catch the connecting flight.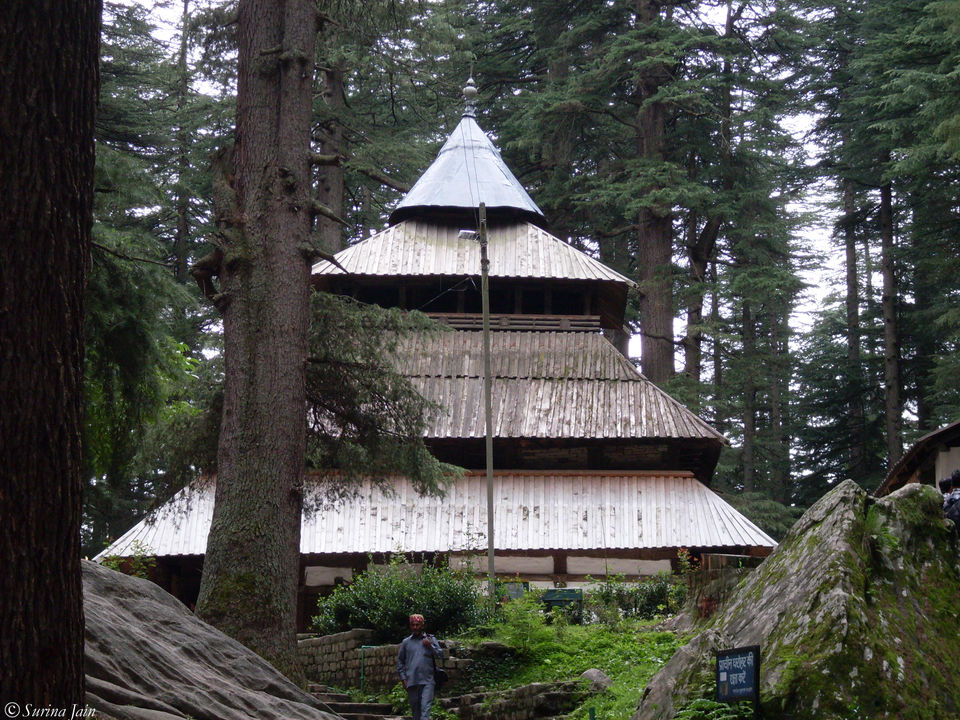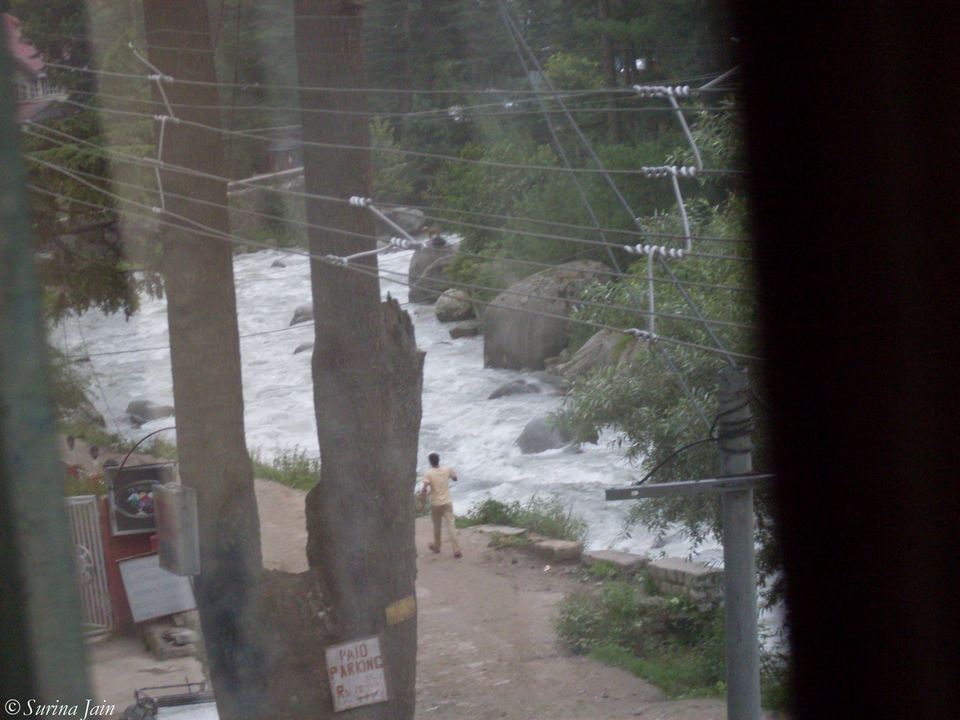 As my senses rest, I feel the calm within and without against the roaring river. This journey has not only affirmed my life but has also instilled into me the courage to believe in my dreams and make them come true. I have lived in every moment and heard my heart thumping in my chest with joy and contentment.
Before I sleep, I make a secret wish: 'For my love for the mountains, I shall come back soon . . .'