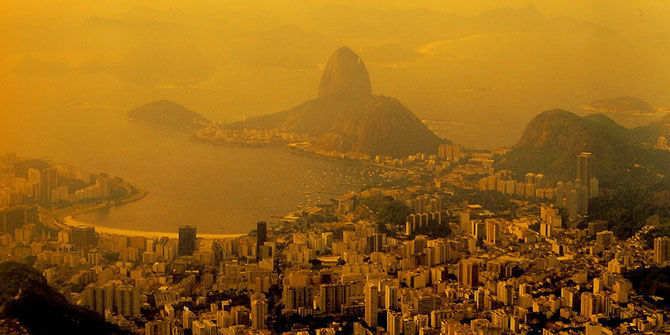 One day, the postman personally rang the doorbell with my parents. He presented my mother with a picture postcard with the motif of the sugarloaf in Rio de Janeiro. He said she was so beautiful that he wanted to deliver her personally.
She had been sent by a roommate in the eight-family house, who worked as a machinist on a merchant ship and saw much of the world.
My parents always said that if you take good care of yourself in school, you can someday make such trips. Professionally, everything went differently later.
But the postcard became the first copy of a large collection. Whenever I got a new one, I picked up the world atlas and sought the position.
This quickly led to me being the best in geography, as it was then called in elementary school.
As an acknowledgment, I was always allowed to go to the classroom before the lesson and fetch the suitable roll-out map, which was then hung on the board stand. It always brought me a few free minutes.
Some classmates told nerds to me, others admired me and always asked, have you ever been there?
No, there I want to go, was always my answer.
Since there were no Gameboys or game consoles back then, we had to deal differently. For me, the ultimate game was: city, land, river ....
For the few readers who do not know it, here is a short description:
A piece of paper on which we draw a small table and a pen are the playground equipment. Minimum players are two, up no limit. A player loudly says "A" and then silently counts the alphabet until a stop says, then he has to name the letter where he arrived, and now everyone fills in the table. City, country, river - you can also expand it with animal and plant etc.
All terms must begin with the letter that was named.
Who finished first says stop!
For individual entries there are 10 points, for multiple entries 5 points. Who has the most points is winner.
At some point I found hardly any opponents who were better, then the game became boring for me, and slowly fell into oblivion.
Then came the first trips:
With my parents a camping holiday at the Edersee. After that, like many Germans like Hanibal, we moved across the Alps, only in a different direction.
Lido di Jesolo near Venice was the destination where I licked my first real gelatti.
As a teenager, I often joined youth groups and traveled to some European countries.
At some point later, I also married a traveling woman. With the first toddler, it was then first on the island of Fehmarn, more was not there, but the holiday was great.
Then followed the first air travel, Bulgaria, Romania and Tunisia and the daughter was always 100% free (that were still times!).
Later, when our son was with us, the money was no longer enough for air travel.
We made the best of it, and we always hit the trunk full of Aldi product, and drove as far south as it went without intermediate overnight in the south of France. We were nine times in a row in Cap d` Agde at Sete.
That could not continue, otherwise we would one day have been appointed Honorary Citizens. We already planned trips, for the time when the children are independent and do not want to go along with the elderly.
One day it was time. Our goal was once to have been on all continents, and to have bathed in all the oceans.
Everybody spends his euro only once. Some for cars and houses, others for travel. We are one of the latter, saving us a lot of travel together.
In 2001, we also made a big tour of South America through four countries, Peru, Bolivia, Argentina and, as a crowning glory, Brazil with Rio de Janeiro.
The trip by coach from the hotel to the airport was a unique experience, now I saw for the first time my "longing", the sugar loaf!
The next day it should go up by cable car. My wife, however, had caught a severe cold in Iguacu and was now 40 degrees Fever in bed. I had my Android tablet with me to watch movies on Showbox in free time but because of her health I quit the idea. She said, "Go up alone, it's the destination of our journey."
I drove alone with our tour group, at the cable car station I saw the first time free-living meerkats. I enjoyed the ride on all trains, an indescribable experience as the gondola door opened and I took the first step to the zenith of my dreams.
An outlook that does not have much competition on this globe, especially with a clear view that is not often here.
Then I stood motionless at the viewpoint over the Copacabana.
There came thoughts, as if life rushes past one.
There it was again, the picture postcard from the sugar loaf that fluttered into our house in the late fifties.
There it was again, the game: city, land, river ............
I went through the alphabet in my head and checked in which countries I was already starting with the letters from A-Z.
Four still lacked Q, X, Y, and Z.