Located two and a half hours from the capital city of Croatia, Zagreb, is this scintillating blue abyss into which the waters of 16 lakes on different levels flow. These natural lakes merge into waterfalls, some tiny, some big, all gushing along the cascading limestone clad walls to flow away into a turquoise-blue pool on the lowest level. To add a tad bit of adventure to such a therapeutic sight, this UNESCO world heritage site has been developed into a national park with wooden walkways that connect the lakes on the top-most level to the small pool at the very bottom. If such a description sounds surreal, then here, take a look for yourself!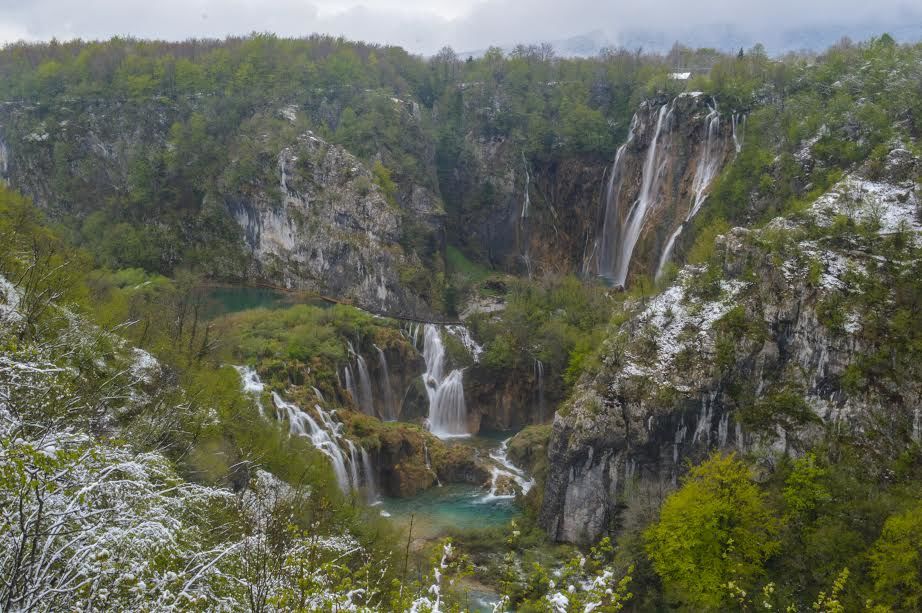 Despite the heavenly picture of the place that I am painting with my words and photographs, there was a good lesson I learnt the hard way. Read on, so you don't have to say later, "But nobody told me so! :("
The day started out all sunny at precisely 12 degrees and this, in the opinion of a Londoner is definitely bearable ;) But by the time I completed about 3/4th of my 8 hour trek, the temperature was down to -8 degrees. Now that is drastic (worse than London where a reading temperature of 14 degree can make you feel like it is 6 degrees)! :X European weather, be the best. *Sarcasm*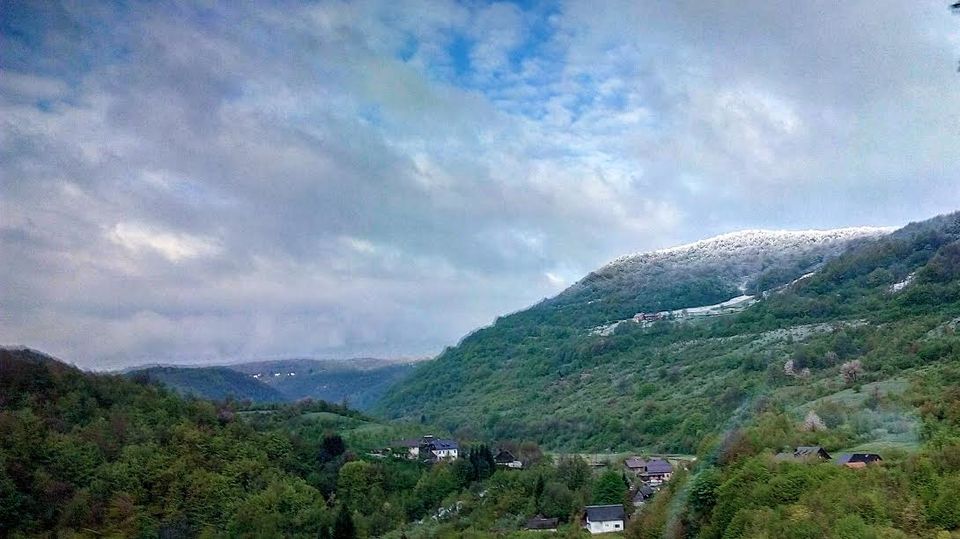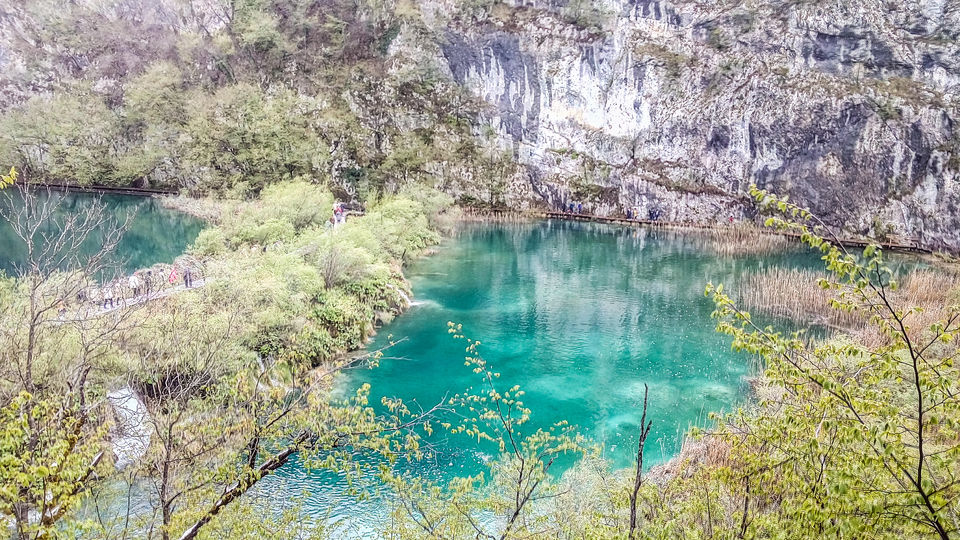 Nevertheless, I strolled peacefully, smitten by the spell that the place cast, gradually becoming attuned to the soothing rhythm of the waterfalls. I happily watched fish swimming in the crystal clear waters even as it started to snow and continued unperturbed, marveling more and more at the serenity. But the bitingly cold weather had to get to me sometime. So all was good only until I reached the point where a sign outside a natural cave nestled in the surrounding hills read, "Enter at your own risk!" Being the adventurous self, I was ready to venture all the way up to the cave for two unknown reasons; another breathtaking perspective of the lower lakes and one more travel lesson to add to my list of useful insights!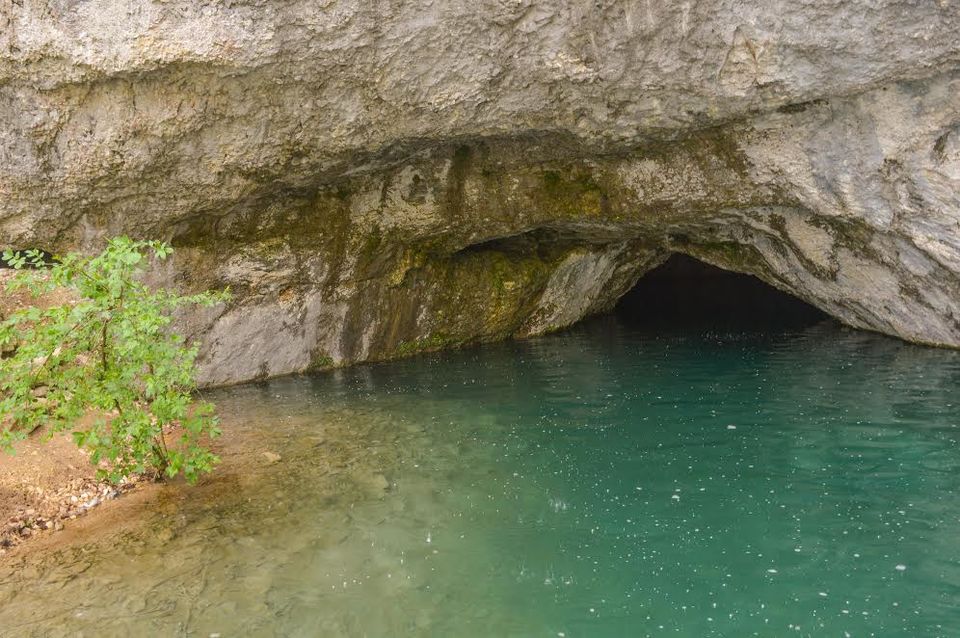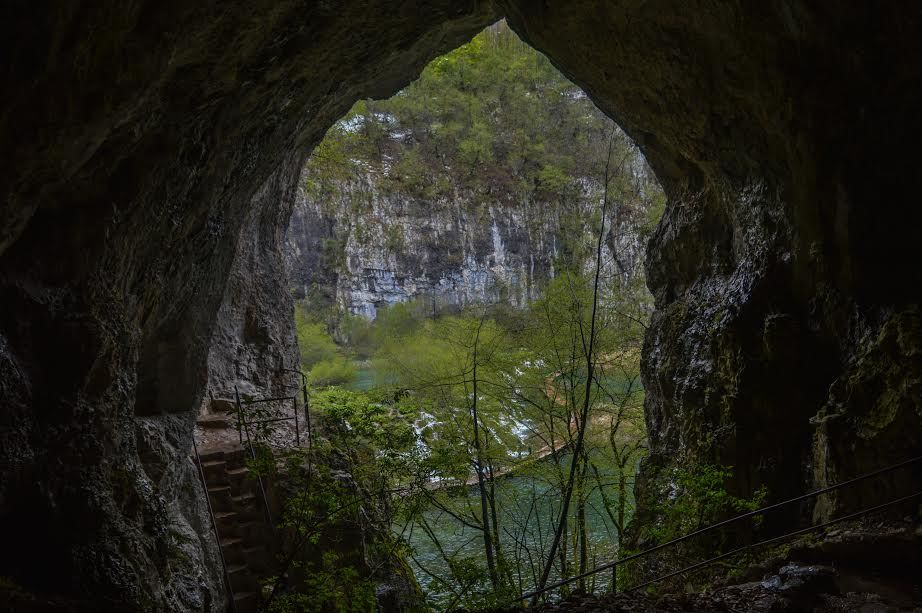 Upon reaching the cave after an arduous 80 meter high climb, the drop in temperature and pressure took a toll on me and gave me a vertigo. Seeing nobody in vicinity, I had no other choice but to go on even as my steps kept faltering. It may sound crazy, but dying in a waterfall in Croatia was the last thing I wanted to do. Or even worse, losing consciousness for sometime and having my passport/belongings stolen! Trust me on conjuring the worst scenario when the going gets tough.
But well, it only seemed reasonable. Imagine a narrow railing-less wooden walkway with lakes and waterfalls gushing underneath and a wobbly man walking on it. Such was my situation. Thanks to the off-peak tourist season, it wasn't bustling with crowds. Stopping several times to steady myself, I finally made it back to the entrance where I sat down to a well deserved chicken burger. Following this, I returned to the bus stop to catch the next bus back to Zagreb :)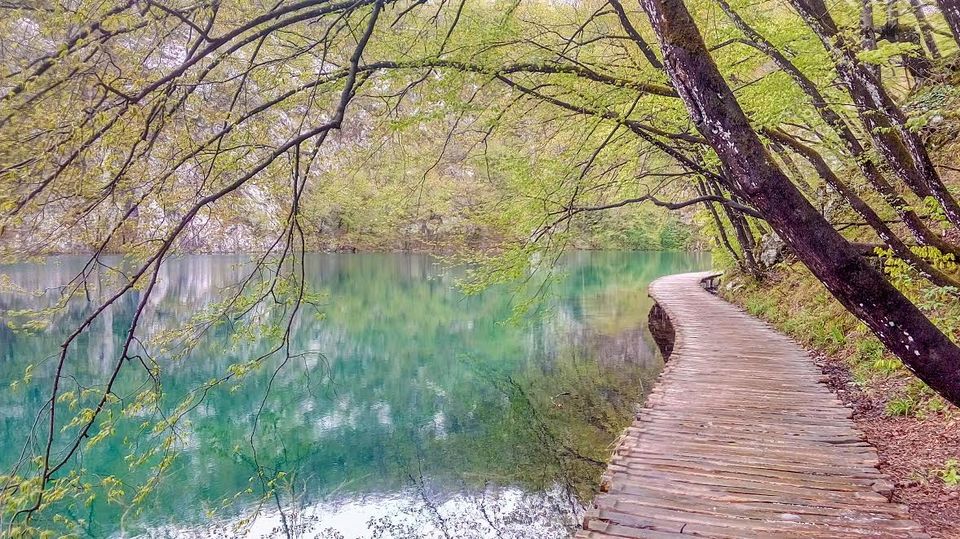 But the story doesn't end here, my friend. The bus stop is where I met a couple from Singapore. Syan and Ailinlim. They had quit their jobs to travel across Europe for 3 months. On noticing how cold I was, they offered to divert my attention by sharing their experience. As we chatted, they also told me how they had started their hike from the other end of the lake and missed out on the cave. Since I was also brooding about why I hadn't made it to the other side of the lake, they assured me that I hadn't missed out on much. Turned out that most of the park's waterfalls and lakes were towards the entrance where I had set off from. Must be true, because I did see the Veliki Slap on my way. It was the biggest waterfall there. I think, Ailinlim also sensed my disappointment at the unpredictable weather and told me this. "Apparently the cool mountain winds from Bosnia and the heat emanating from the Adriatic sea vent heir collision over this poor little country and so, it falls prey to 100+ days of rainfall annually."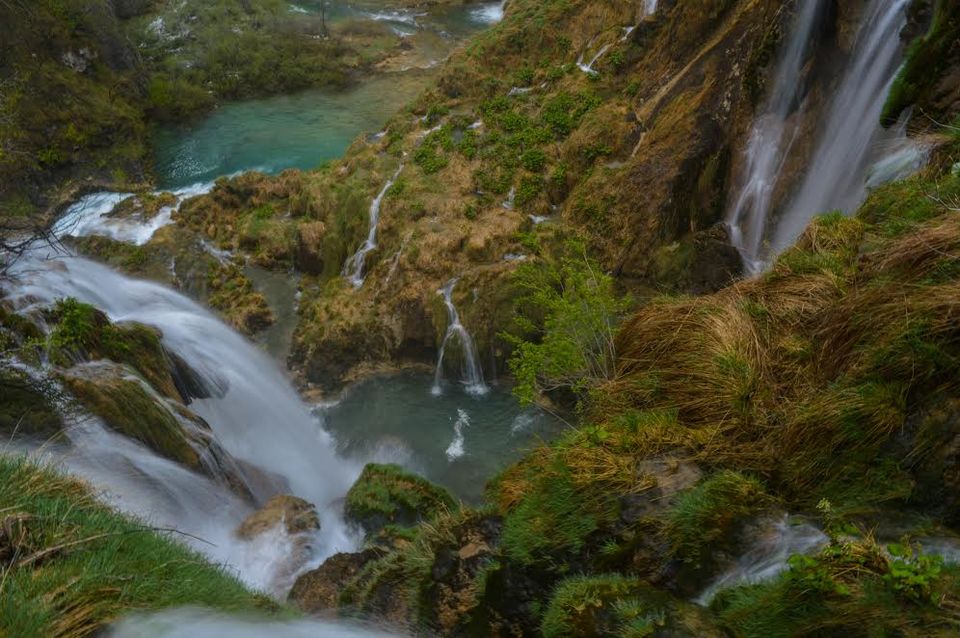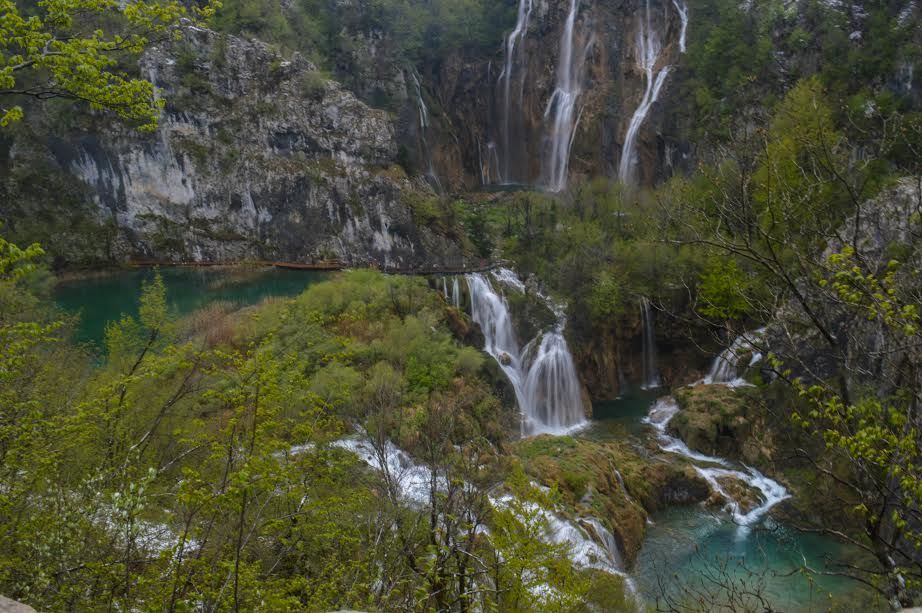 When I heard this, I felt luckier than ever before. It had been sunny, it had snowed and I had almost frozen to death, BUT IT HADN'T RAINED! So it wasn't just about surviving that day. It was about learning to be responsible. And it was about being indebted to the forces of nature that keep you safe and lead you to cross paths with wonderful people who narrate tales that exude the warmth of a forever kind of friendship. :')
Soon after we shared our encounters, it was time to bid goodbye when our buses arrived. I was exhausted when I got back to Zagreb that evening, but I still had a good 4 hours before my bus to Munich. I knew I had the choice to stay in the waiting room at the Zagreb bus terminal. But I had read in THE ALCHEMIST that the heart helps those who seek out their destiny :) I had a few more hours in the beautiful capital of Croatia and the sun was making brief appearances now and then. So the best thing for me to do was to walk around Zagreb and admire little things unique to the city, like its huge easter eggs. They were right outside the Zagreb cathedral, where I found the one person I needed to thank for the wonderful day that I was having! Phew. what an adventure. :) :)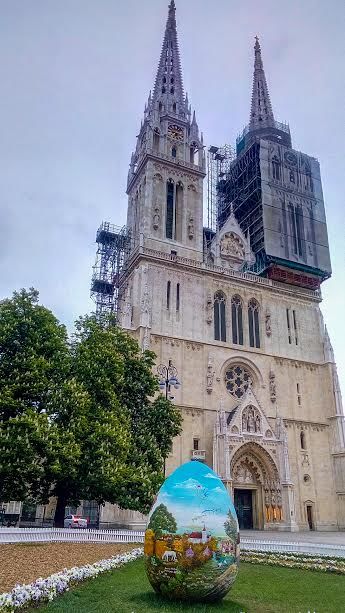 HOW TO REACH PLITVICE LAKES:
Book a return ticket from Zagreb with GetbyBus for just 12 euros.
WHERE TO STAY IN ZAGREB:
I stayed in the Zagreb youth hostel (Booking.com). Great place to stay, in my opinion!
Other expenses:
Park enry ticket- 110 Croaian Kuna (HKR)
Final Note: Do not be taken aback by my adventure. The park is well-maintained and not at all dangerous, except of course if you end up in a situation like mine. Its just a one-off instances and is just to warn you about how weather can change unexpectedly and turn a most delightful experience into something challenging. I am penning this down, so you are prepared for sudden changes in weather. Obviously you wouldn't want such unnecessary events to affect your beautiful experience, would you?! :)