If you want to celebrate Durga Puja, there is no place to do it like Kolkata. The city of joy earns its name from its Durga Puja festivities, with celebrations in every nook and corner of Kolkata. And if you plan on being there for Durga Puja 2017, do not miss out on these 5 things.
The city of joy, Kolkata, is probably the best place to be if you want to experience Durga Puja in all its glory. The festival will start on September 26, 2017 and end on September 30,2017 coinciding with Navratri and Dussehra or Vijayadashami. Many travel back to their city from all over the country, even the world, to experience Durga Puja in Kolkata. And for those who are not from the city, Durga Puja is probably the best time to experience the food, frenzy and fervor of Kolkata. There are, in fact, a few things that you definitely must try if you are traveling to the city.
Photos of Things You Must not Miss in Kolkata during Navratri 1/4 by Vineet Pal Singh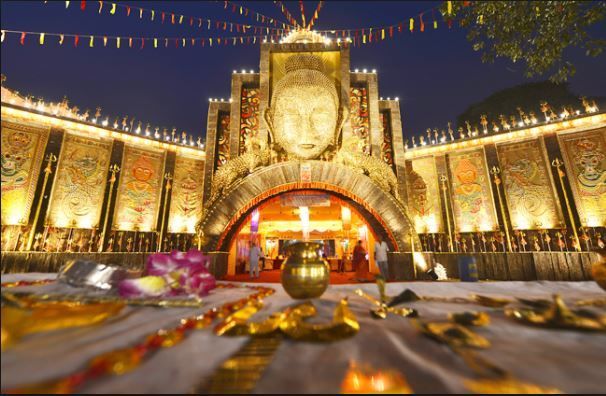 Go Pandal Hopping
For five days, it is said that the goddess Durga stays in the city, at various communities and in the homes of her devotees, until it is time for her to return to the immortal realm. And so it is that you'll find hundreds of Pandals, or temporary structures, set up across Kolkata with brightly decorated and intricate statues of the goddess. Each Pandal is a work of art in itself, so you need to spend some time visiting all the major ones when you are in Kolkata, you'll find yourself surprised at every turn. Jodhpur Park, Kumartuli and Bosepukur are some of the Pandals you have to visit.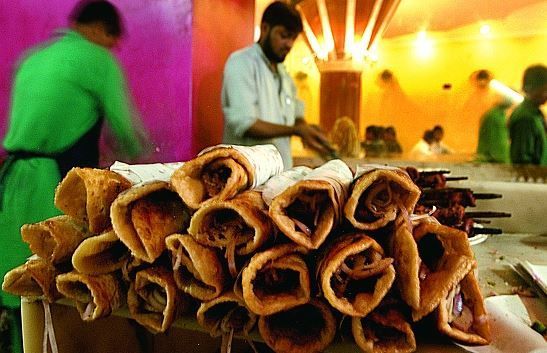 Eat!
There's never a better time to sample Kolkata's famous Bengali cuisine than Durga Puja. The festival isn't considered to be complete without food! You'll find a wide array of it everywhere -- on the streets, at the pandals, and in specialty Bengali restaurants. Pandal hopping does get tiring, so eating while you're out and about is a must. The food served to visitors at the pandals is called bhog (offerings to the god which are distributed). It commonly consists of mixed vegetable curry, a sweet dish, fried item, and chutney. Kolkata's Bengali restaurants have exclusive Durga Puja menus packed full of authentic delicacies -- both buffet and a la carte. Bengali sweets are also consumed in huge quantities during the festival! Do not miss out on eating at 6 Ballygunj Place and Bhojohori Manna when you are in the city.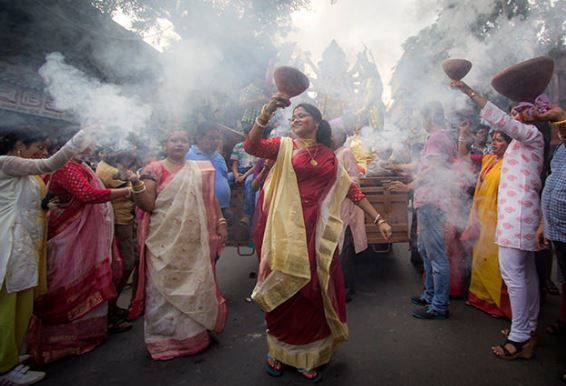 Dance at the Dhunuchi Naach
On the evening of Durga Ashtami, when the prayers are completed, Dhunuchi earthen pots are filled with coconut husk and shells and lit on fire to burn incense. The pots are then used by devotees in the Dhunuchi Naach, a traditional dance performed to the beat of traditional drums called Dhaks, in reverence of the goddess. The performers often go into frenzy when dancing, and you catch these dances at major Durga Puja Pandals across the city. So wear your best sari or dhoti and kurta and head to the dance, and take part if you get the chance.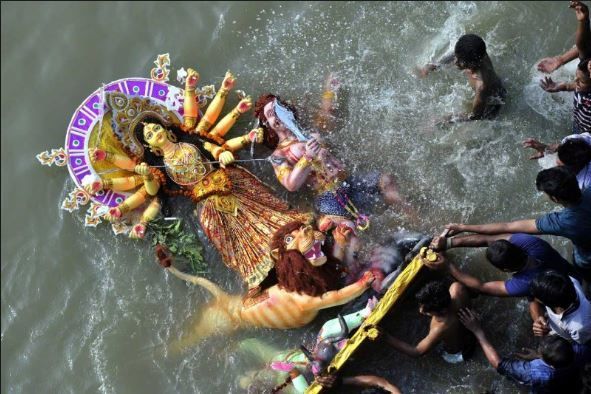 See the Immersion of Durga Idols
On the last day of Durga Puja, known as Dashami, the festivities commence with married women placing red sindoor (powder) on the idols of Goddess Durga. They then smear it on each other. In the evening, the idols are immersed in the water. One of the most popular immersion points is Babu Ghat (centrally located near Eden Garden), although you'll be able to catch the action at any of the ghats along the river. An excellent way of seeing it is by boat.