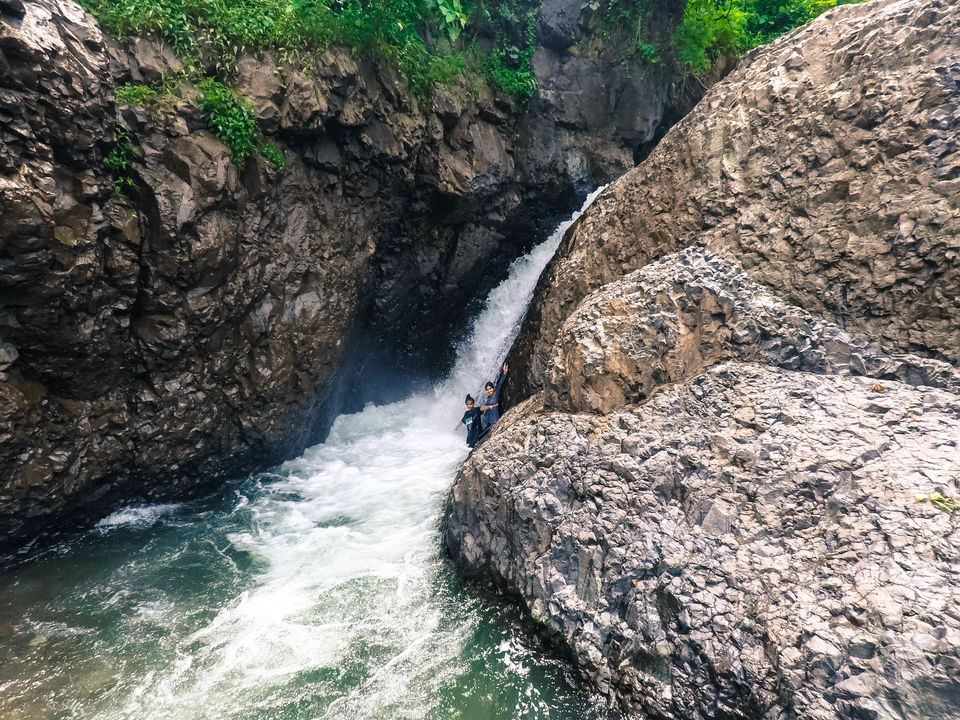 Disclaimer: The author is an avid traveler, having traveled to over 20 countries world-wide and over 20 states in India. This article is not an endorsement and is simply an account of the author's personal experience.
I met Urvish on a trek to Manali in 2013. He was the most rugged trekker in our batch of nearly 50. He would make it through tricky slopes with feet as sure as those of a goat, armed with just a pair of slippers while the rest of us struggled in our branded hiking boots. We christened him 'Topi'. 'Topi', because he was perpetually found with a cap, no matter what the weather.
Fast forward four years to the present, the enterprising Topi is balancing a corporate job in Ahmedabad while running a camping hot-spot in his hometown of Dediapada, a tiny slice of heaven untouched by tourists, on the Gujarat-Maharashtra border. Topi agrees to do a special edition of the trip for a small group of us. I have seen photos of the place on Topi's Facebook page called 'Discover Dediapada'. My excitement is great, and only increases on reading the elaborate food menu that Topi sends across on WhatsApp, four days before the trip.

The top most item in the packing list Topi sends across is - a raincoat. Like several other places in south west India, Dediapada comes out in full bloom post monsoon. I am promised waterfall baths on both days. When Topi asks me if I have any special requests, I can think of only one – music!
Bag packed (raincoat – check!), I board the midnight train from Mumbai to Ankleshwar. After a night of little sleep, I meet up with Topi and Shraddha at the station. We board a crowded ST bus on a one and half hour ride to Dediapada. At Topi's house we are welcomed with a breakfast of crispy hot aloo parathas, curd and pickle made of Bel fruit. Topi and his friends stash whatever we need into the car, from sleeping bags and tents to a frisbee and JBL speaker.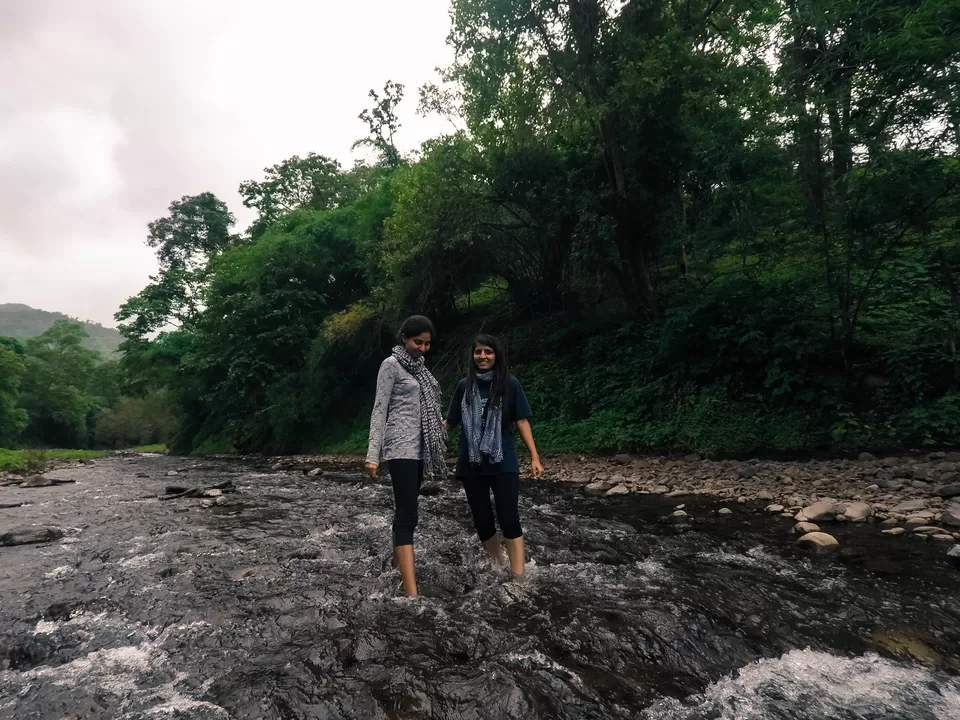 As we drive, the landscape turns increasingly green. The route goes through Shoolpaneshwar Wildlife Sanctuary, passing fresh Paddy and corn fields, and teak plantations. An hour later we arrive at Kokam. Kokam is popular with the locals for its ancient Hanuman mandir. A river runs behind the temple, the Shiva linga continuously bathed by the river waters.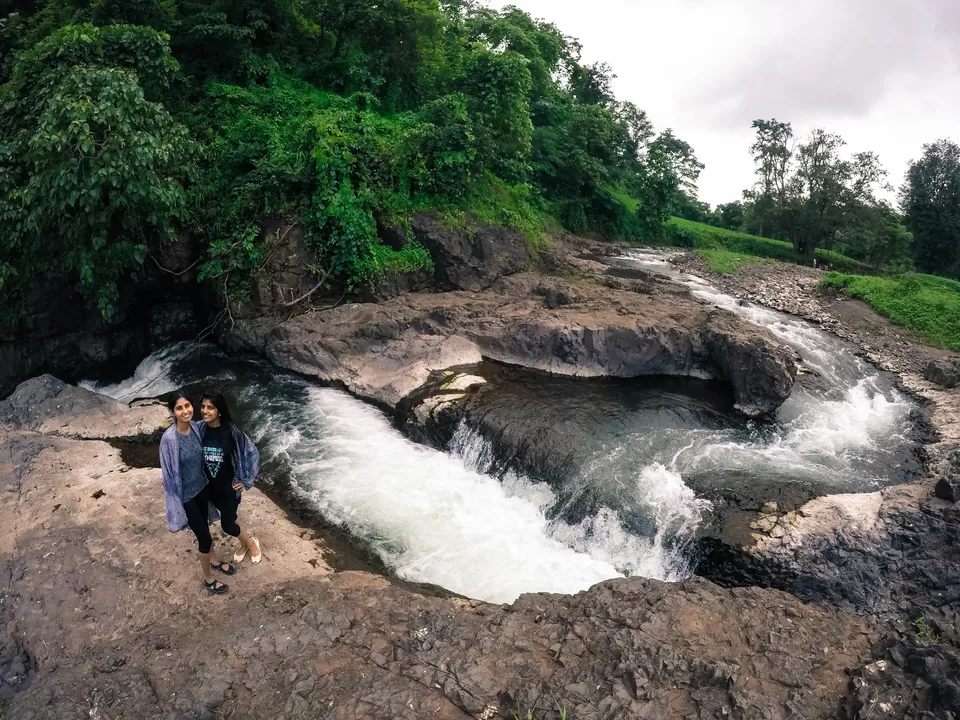 After darshan, we talk a short walk along the river to Kokam waterfall. The waterfall is small but strong, creating strong ripples not unlike a wave pool in a water-park. The current makes it difficult to get under the waterfall. Despite being amateur swimmers, encouraged by Topi, we dive from the rocks straight into the waterfall – an absolutely exhilarating experience. The water is luke warm and perfect for soaking in. With much reluctance, we step out and head for lunch.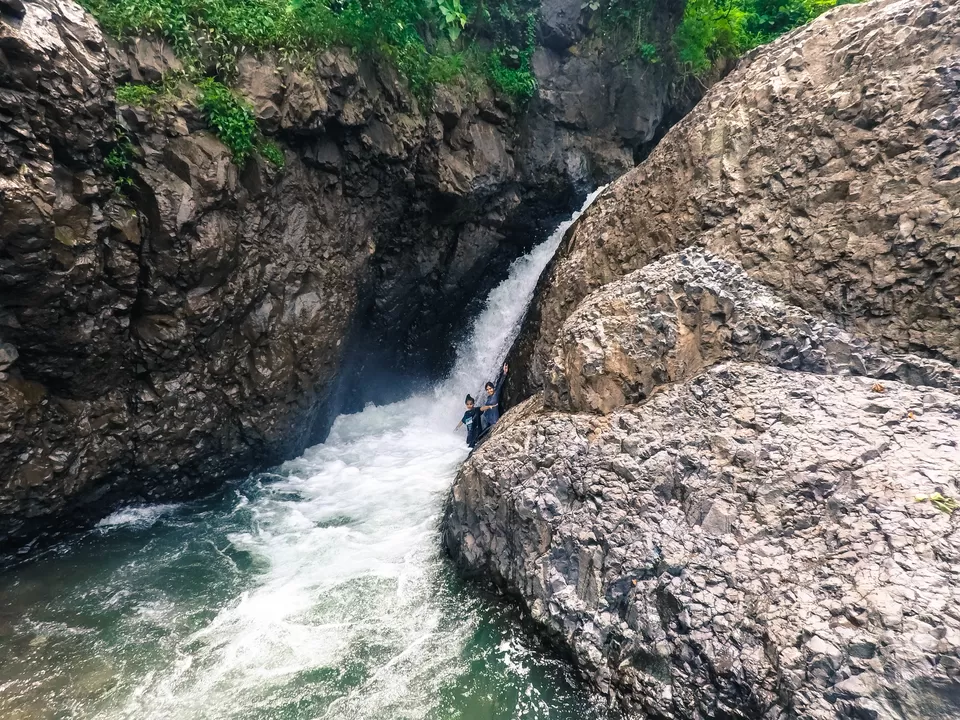 Lunch is a traditional affair in a bamboo and mud hut, with us sitting cross-legged on the floor. We make a stop at Ninai waterfalls after lunch, before reaching the campsite at 4 pm.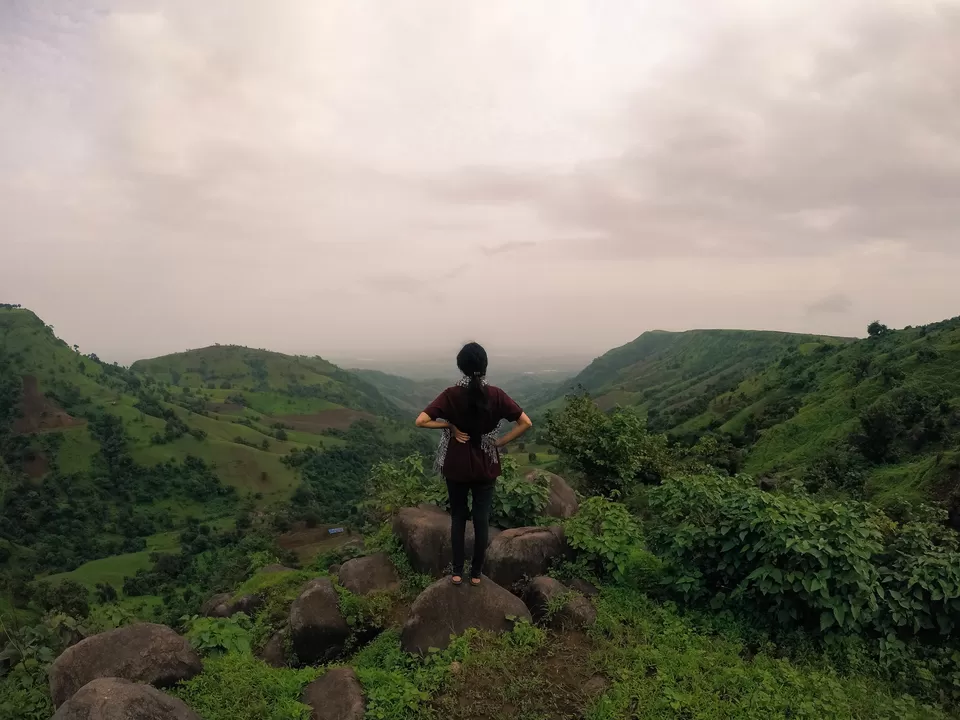 The campsite is in Odhi village in Maharashtra, on a hill top nestled in the majestic Satpura ranges. A half mile walk from the last hut, the site is strategically chosen to give a breathtaking 270 degree view of the valley, with the great Tapti river in the distance. Our three blue tents paint a pretty picture against the green. Hot soup makes the perfect snack while feasting on the view.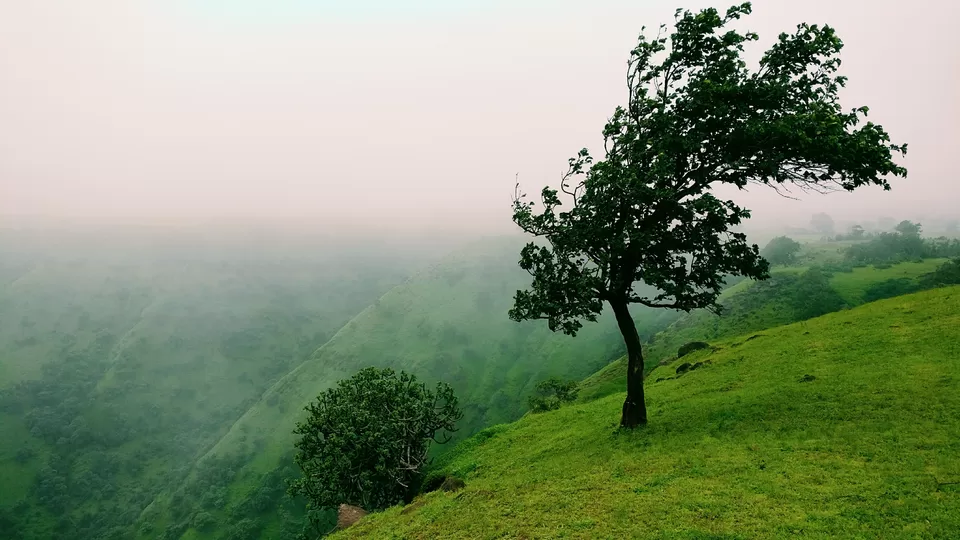 Dinner is at the hut, hot chapatis with chhole and sweet Gujarati kadhi, accompanied by papad. I realize buttermilk is part of every meal here. The effects of a long day and full stomach are felt as we head back to the camp and I can't wait to hit the bed.
A thin mat is spread out for us to sit on the grass. Lying down there, under the open sky I decide this beats sleeping in a tent. The clouds have enveloped the stars, but watching the moon play peek-a-boo among the clouds more than makes up for it. I'm toasty warm inside my sleeping bag and enjoy the cool breeze caressing my face. At around 1 am, I wake up to Topi telling me it's raining and we need to move inside. The rest of the night passes by in sound slumber. I only wake up once to hear the comforting sound of rain pattering on the tent.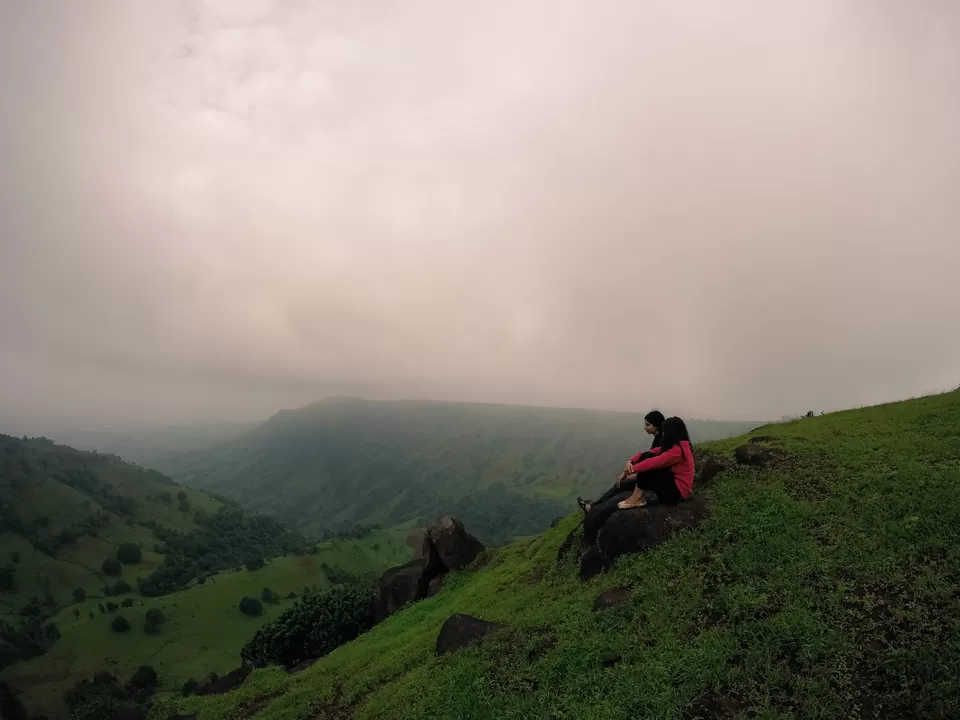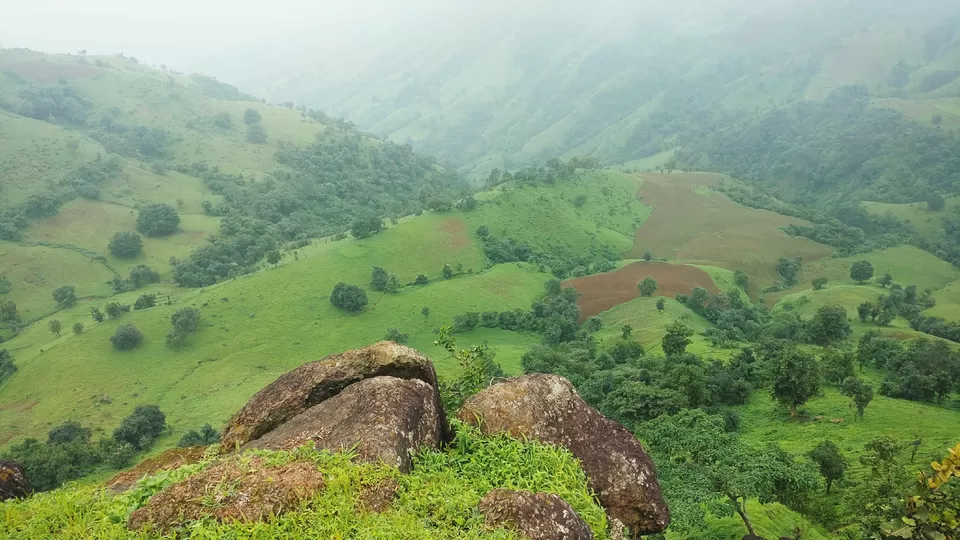 We have a breakfast barbecue the next day because Topi insists that no meals must be skipped. The barbecue is a contraption that Topi has set up himself. A blower makes sure the coals are burning hot. The warm barbecue complements the misty morning perfectly. Sagar barbecues paneer, capsicum and onion while we sit around in a semi circle, gobbling up the hot food. This is followed by the 'actual' breakfast of lemongrass tea accompanied by three varieties of pakodas.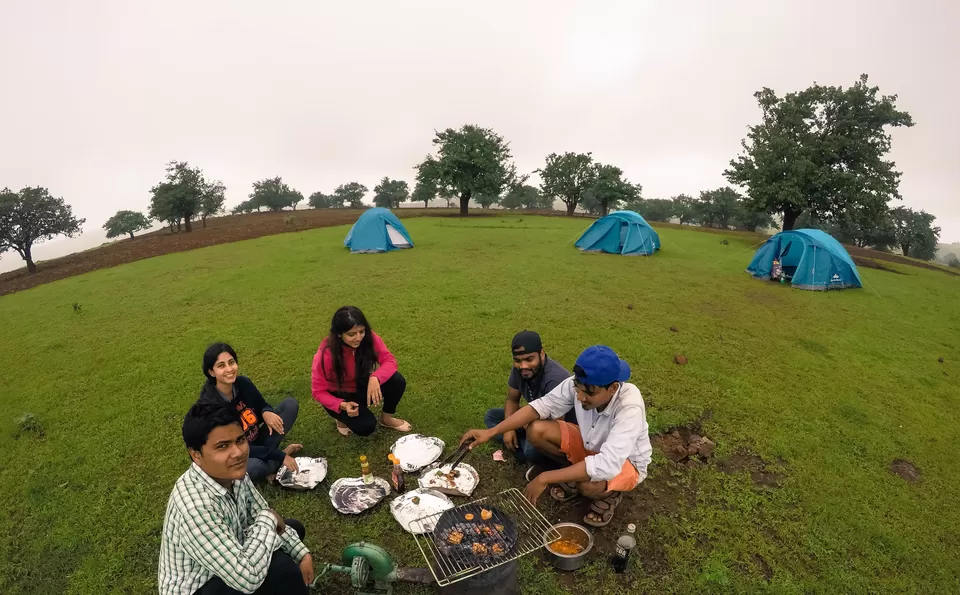 We set out on a pleasant morning drive down the beautiful valley, while I interrogate Topi about the preparation that goes behind setting up camp from scratch in such a remote location. Topi tells me this is his fifth visit to Dediapada this year, before camping season officially begins in mid-August. He wants to experience the campsite in all weather conditions, his biggest fear being a nighttime lightning strike. He and his team brainstorm everything that could possibly go wrong on D-days. This is the third year of the venture, a major milestone for this year being the construction of a toilet on the campsite. He tells me how the villagers laughed as they watched the team lug cement to the site.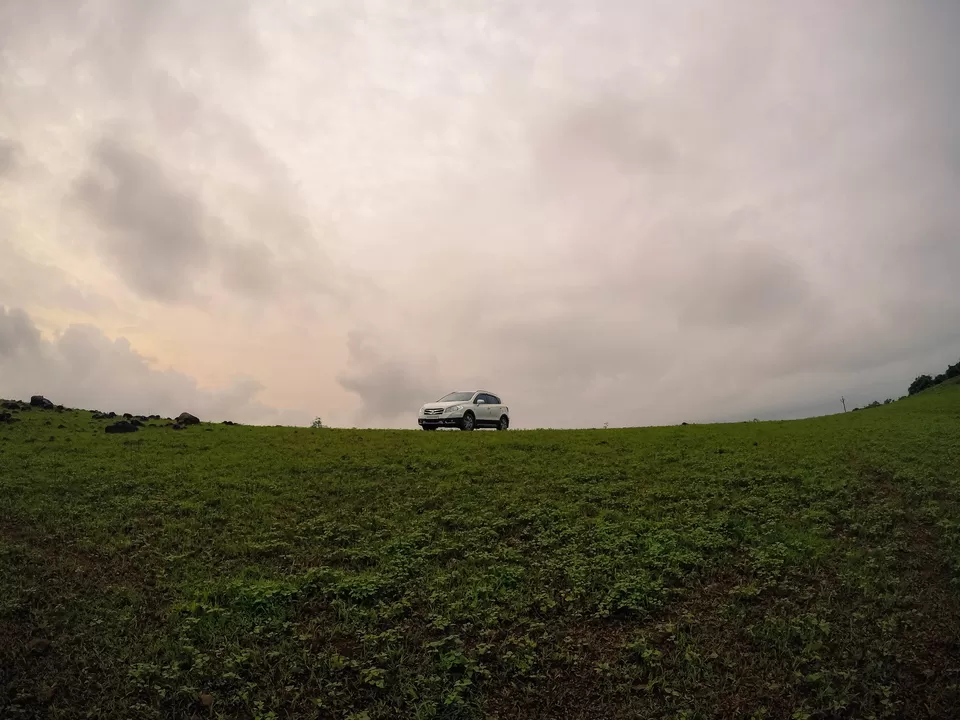 For today's bath, we venture on a short but steep trek down to a waterfall. The route is tricky, requiring several trial and error iterations without a guide. Topi recounts that he gets cursed at all the way down until the first view of the waterfall. Then all is forgiven and all is forgotten except for that expanse of water.
If the Kokam waterfalls were a bathtub, Molgi is a goddamn jacuzzi. Never have I seen a waterfall more tailor-made to bathe in. The water descends in three large showers over natural, square cut rock. The rock is like a set of giant stairs over which the water falls in varying pressure modes. Choose your seat, your desired water pressure and you're good to go.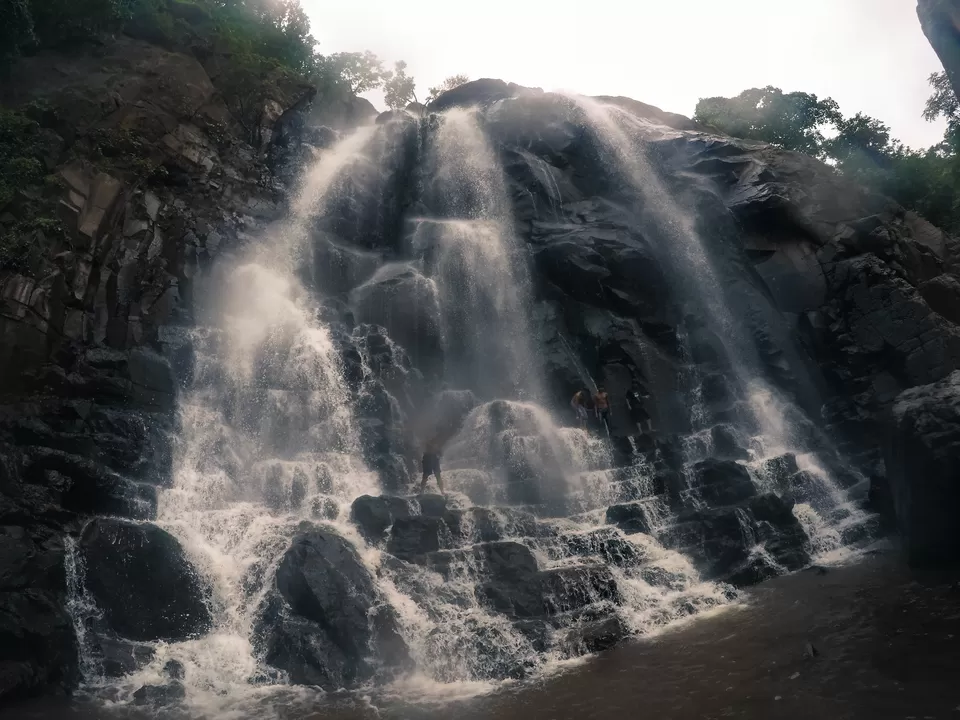 As I settle down in an ideal spot, a rainbow sprouts from nowhere. I've had my fair share of waterfall baths in India, but this has to be the best yet.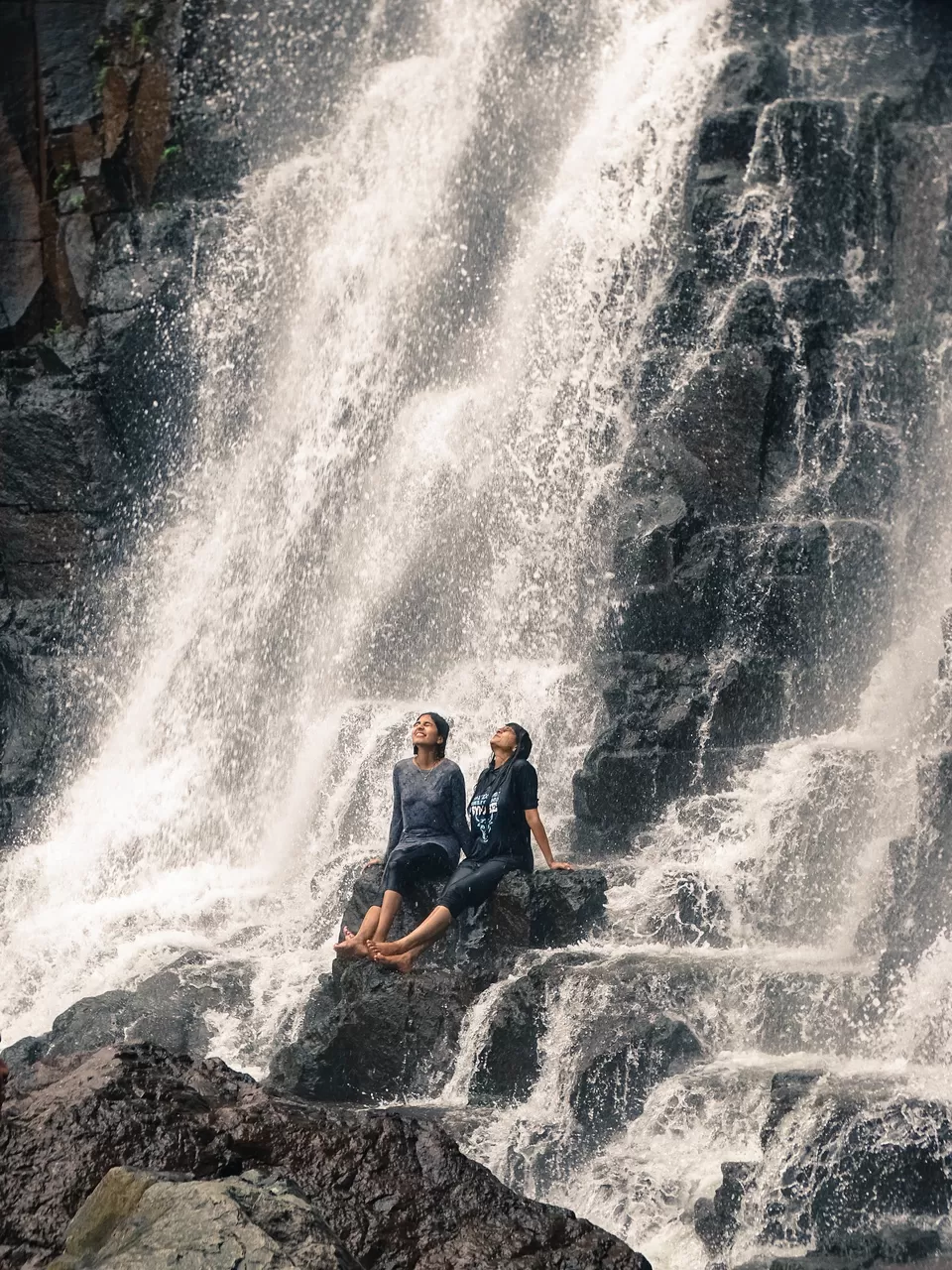 A waterfall bath is the perfect recipe for whetting up the appetite. We halt at Dahel facing another gorgeous waterfall and I'm hoping we have our lunch here. Topi declares the view to be 'not too bad'. We finally drive some way ahead and stop at what has to be one of the most gorgeous places I've picnicked at.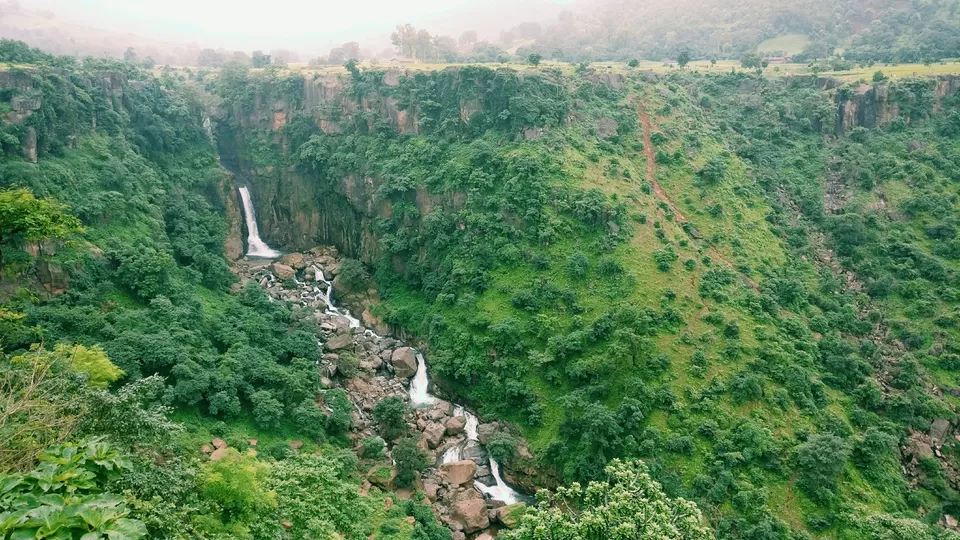 With Gujaratis around, good food is a given. But the Discover Dediapada team takes this a level up. Out of the car boot comes a portable gas cylinder and stove. Topi armed with the 9 kg gas cylinder in his left hand and the 20 liter water canister in his right, nimbly hops over rocks to cross a stream. He airily brushes aside our remonstrating offers of help.
At lunch, I realize all this incremental effort is just to be able to enjoy hot papads with lunch. Topi casually tells us all the extra prep is just for us. When it's only the team, they go full rustic – burning firewood to cook khichdi (which sounds all the more exciting!). We eat our fill and a little extra as Topi maintains that no excuses for refusing food will be tolerated, this being the last meal.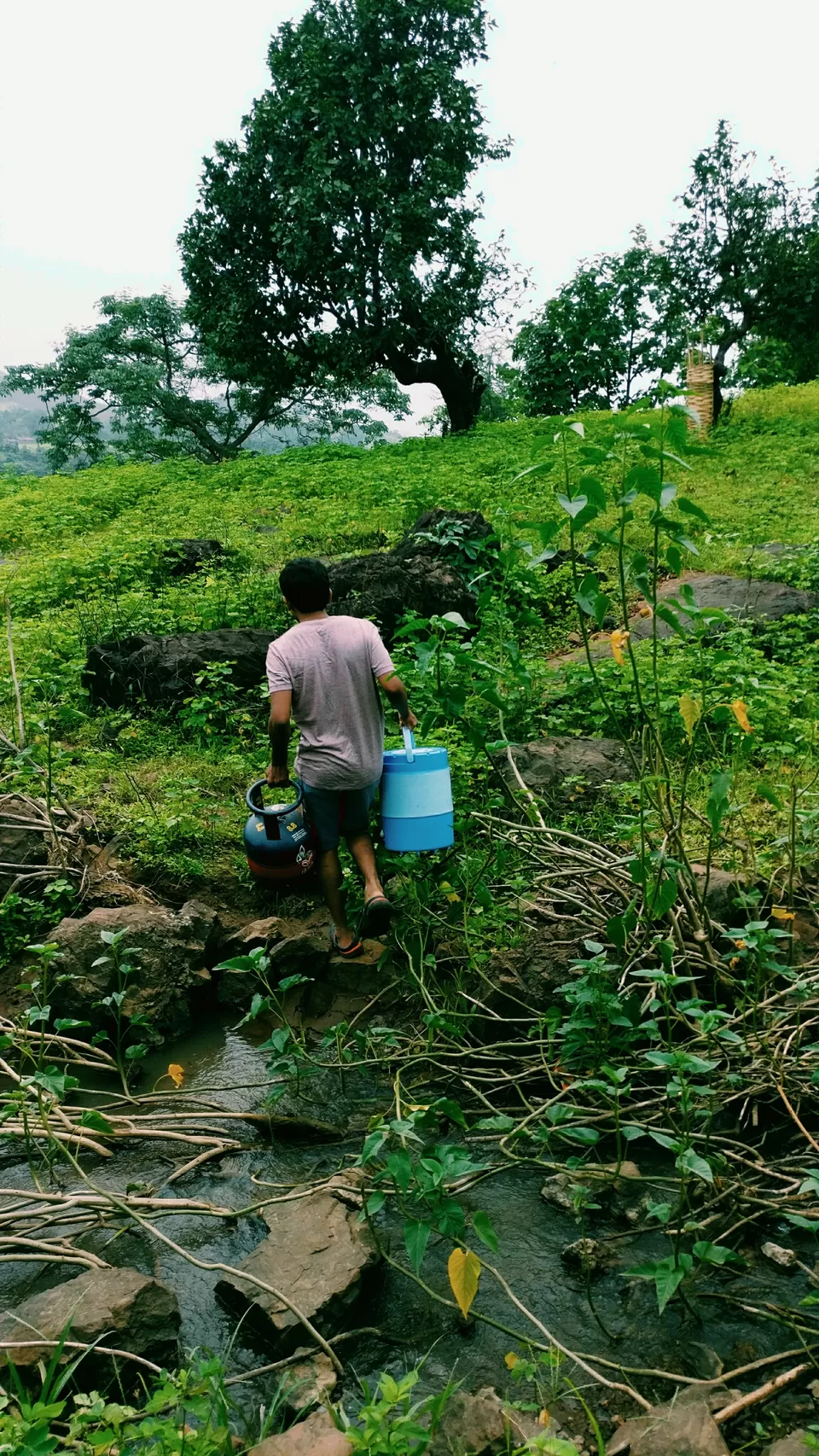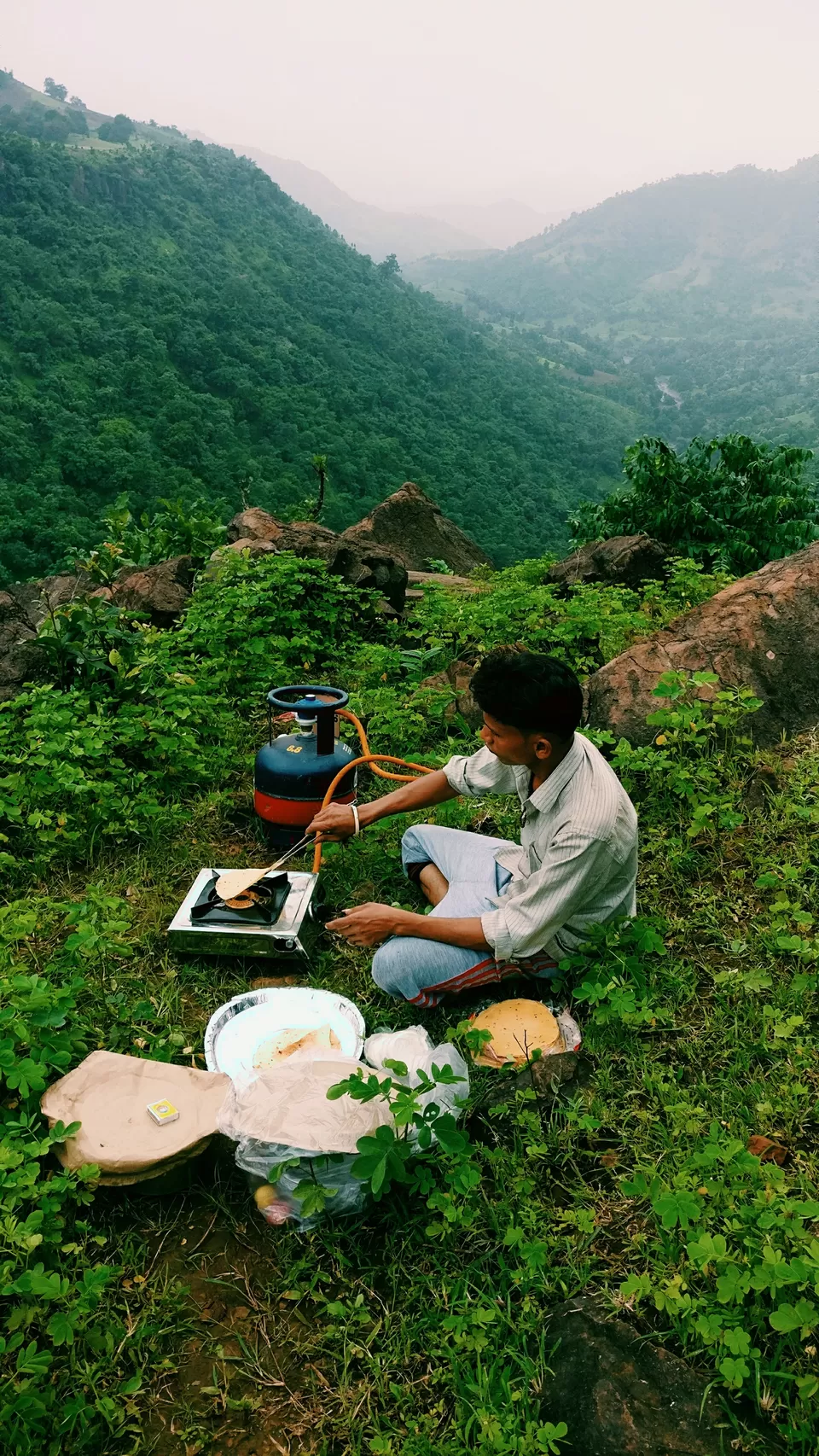 I ask Topi about his bucket list of treks in India. He says he doesn't have one but is always game for anything. Topi will be trekking Everest Base-camp in November. He aspires to become a camp leader some day and pursue his passion full time.
On our drive back to Dediapada, the rain gods bid us farewell. Cozy in the car, I enjoy the sight of the wet concrete road and the countryside in varying shades of green and stick my head out to smell it all better. Little kids abruptly stop their play and openly stare at our car as it passes them by. I wave at them. As they wave back, a tiny selfish part of me wishes that Dediapada remains undiscovered.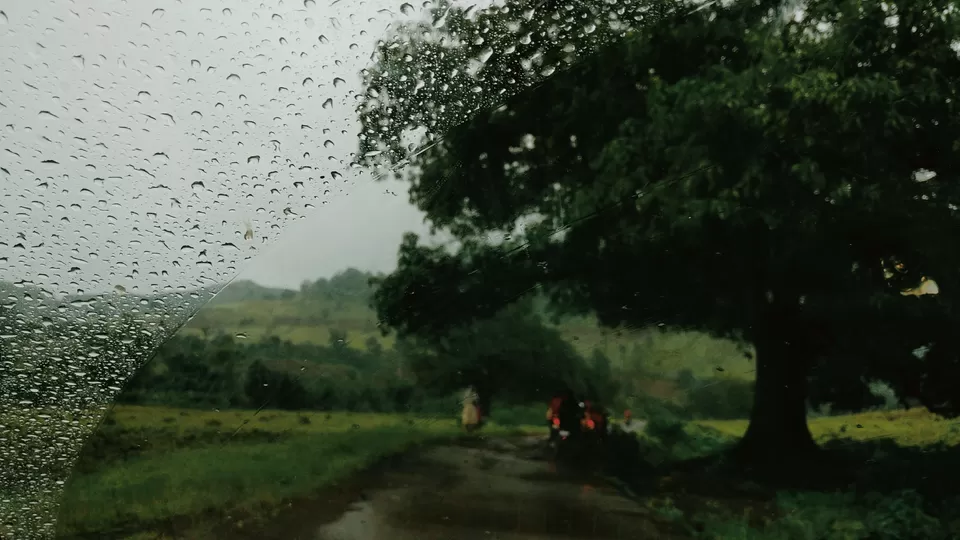 Note: Dediapada is a one and half hour bus ride from the nearest town of Ankleshwar, easily accessible by road from Surat and Baroda or overnight by train/bus/road from Mumbai and Ahmedabad. To know more about Dediapada or for reservations please visit the Facebook page 'Discover Dediapada'.