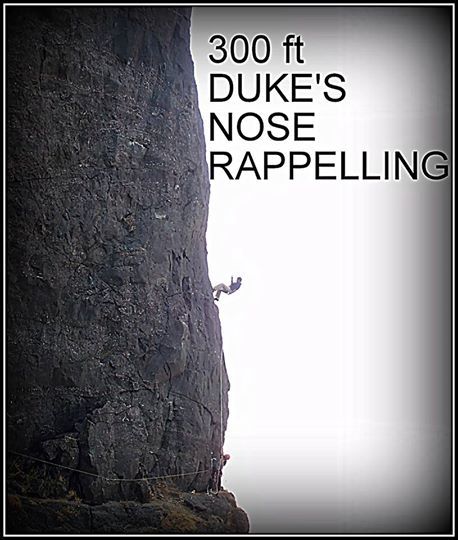 Ascend the Dukes Nose, get all geared up and rappel down 300 ft and traverse 1000 ft! 

Join Team Mapping Journeys on 7th December and get your adventurous dose for the weekend :D

 
Rappelling, (in mountaineering) the act or method of moving down a steep incline or past an overhang by means of a double rope secured above and placed around the body, usually under the left thigh and over the right shoulder, and paid out gradually in the descent.

Place: Duke's nose, Lonavala
Base village: Kurvande
Rappelling Height: 300 ft, Traverse 1000 ft.
Date: Sunday, 7th December, 2014
Grade: Medium

Itinerary

08:00 am: Meet and greet at Lonavala Station.
08:30 am: Reach Dukes Nose base camp and have breakfast.
09:00 am: Start the trek to Dukes Nose.
10:00 am: Training and harnessing followed by the main event.
05:00 pm: Move from base camp towards Lonavala.
06:00 pm: Journey ends at Lonavala.

Mumbai Participants
Catch Indrayani Express and get down at Lonavala station
05.37 am: Mumbai CST
05.46 am: Dadar
06:05 am: Thane
06:30 am: Kalyan
08:00 am: Lonavala

Pune Participants
Catch Pune-Lonavala local and get down at Lonavala station
06.27 am: Pune
06.33 am: Shvaji Nagar
06.55 am: Pimpari
07.04 am: Dehu Road
07.16 am: Talegaon
07.30 am: Kamshet
07.55 am: Lonavala

Cost: Rs. 1,500/- per person

Inclusions
Lonavala to Lonavala transportation by private vehicle (Non-A/c)
Breakfast, Lunch and Refreshments
All Technical gear and equipment
Services of expert instructors

Exclusions
Transport till Lonavala
Meals during travel
Personal expenses
Insurance of any kind  Medical hospitalization, evacuation and related expenses  Any item not covered under "inclusions"
For confirmation of the seat, full amount needs to be deposited prior to the event.
Payment options:
Bank Account Details:
Bank Name:         SBI
Account ID:         20134208861
Account Type:      Saving Account
Account Name:     VEERAL R RAJ
Branch:               SBI PBB CHURCHGATE WEST
Branch Code:       04283
IFSC Code:          SBIN0004283
For payment using credit/debit card/net banking:
townscript.com/dukenoserappelling
For  other payment options, queries and registration, please contact:
+91 9867697306
+91 9867693107
Please read our 
Terms and Conditions and Cancellation Policy
 carefully, before registering for any Mapping Journeys events.
Visit our 
Facebook Page
 for timely updates.