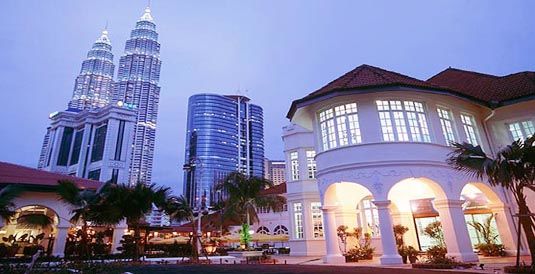 Luxury Hotels in Malaysia have the most premium accommodation options for its most sophisticated guests. Boasting of the most premium luxury rooms, a broad range of luxurious amenities, executive guestrooms, huge swimming pools, fully equipped fitness centers and award winning restaurants that serve global cuisines.
Travel tip-Connecting different cities within and one of the faster ways to reach the different island locations, the most convenient travelling option is to travel by a bus, tickets for Sabah, which you can get from www.redbus.my well in advance. Choose from the wide range of bus types and confirm your ideal seat in just few clicks.
Renaissance
If you find traveling tedious and easy access is one of your top most priorities then Renaissance is the right hotel for you. Located within walking distance of the Monorail Bukit Nenas in the prime territory of the Jalan Sultan Ismail. The hotel also has some of the city's best tourist attractions, KL Tower and Suria KLCC within its vicinity.
The convenience of its guests has been kept in mind while designing this state of the art hotel. The fully equipped gym here has personal trainers to cater to your needs.
Ritz Carlton
Located in one of the best locations in the entertainment center of Malaysia's commercial and transportation hub, the Ritz Carlton hotel is a paradise on Earth.
The Hotel is equipped with all modern amenities ranging from a fully equipped gym to a huge swimming pool to relax and unwind.
Shangri-La's Rasa RIA
One of the most premium luxury hotels of Malaysia is the Shangri-La's Rasa RIA, offers a host of options to its guests ranging from one of the best golf courses to an admirable Nature Reserve.
The options do not end here, it also caters a wide array of rooms in the Garden wing and the Ocean wing with a premium range of interiors. Tourists opting to check into the Garden wing can enjoy views of lush green landscape and tourists opting for the Ocean wing have their very own private swimming pools.
Mandarin Oriental
Standing tall in the vicinity of the twin Petronas Towers is the Mandarin Oriental Hotel. The hotel offers a breathtaking view of the city from the rooftop pool. It offers one of the most captivating Oriental and Cantonese dishes.
The hotel makes it a point to make its guests comfortable compared to the gleaming structures of steel and glass next door.