Kathmandu is one of the most culturally attractive and visually stunning cities in Asia. Populated by stunning Hindu, Buddhist, and Newari temples, it's enough to awe even the most seasoned travelers. Our local insider Jase share his highlights of this diverse and kaleidoscopic city.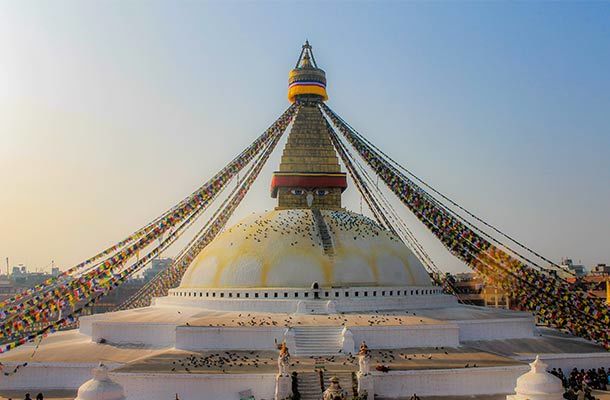 1. Swayambhunath
2. Boudhanath
3. Thamel
4. Pashupatinath
5. Durbar Square
6. Other Fun Things to Experience in Kathmandu
Swayambhunath
Swayambhunath – or the Monkey Temple as it's commonly referred to – is an incredible place to soak up views of the Himalayas and the stretching sea of colorful houses that make you feel like you're in another world.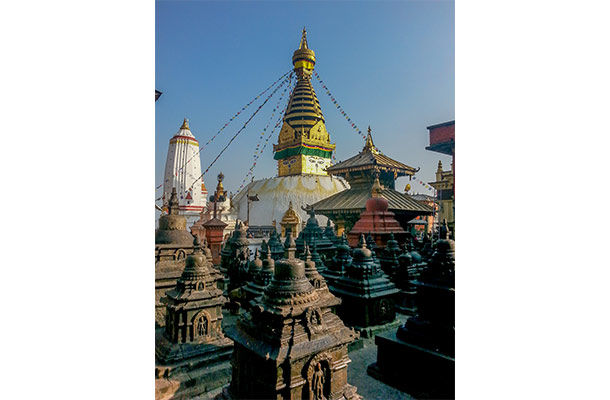 The traditional Buddhist Stupa is second in importance only to Boudhanath in Nepal. It's definitely worth the long walk up the stone-cut staircase!
Boudhanath
Boudhanath is undoubtedly one of the most incredible sites in Nepal, and is arguably one of the most important Buddhist sites in the world.
The entire structure has been designed in the shape of a Mandala, meant to represent a microcosm of the universe.
When you're inside, make sure you walk clockwise – or sunwise as it was originally referred to – around the Stupa. Spin the prayer wheels as such too, as it is somewhat offensive to do the opposite.
Thamel
Thamel is the central tourist district in Kathmandu. Here you'll literally find everything you need for your Nepalese adventure.
If the shopping doesn't interest you, check out the impressive variety of restaurants.
My personal favourite is the vegetarian friendly Places. After a long trek, the chocolate soufflé will blow your mind!
Also, don't be shy – try some Nepali dishes at one of the many traditional restaurants.
Coffee lovers can find incredible coffee and cakes at Himalayan Java.
Inside Thamel, you can find ample amounts of live music, food, clothing, and trekking supplies, all within walking distance.
Pashupatinath
Pashupatinath is one of the most important places in Kathmandu for Hindu people, where many of the city's Hindus are cremated.
Of course, it's important to practice the utmost sensitivity when witnessing the cremations.
For those who visit, you'll find a surprisingly serene and thoughtful atmosphere, populated mostly by men clad entirely in white, with shaved heads, save for a small tuff at the back.
These mourners will spend up to two weeks and sometimes more in the temple to grieve for their loved ones.
Durbar Square
This is one of the best places to see ancient Newari carvings, which are both beautiful and incredibly intricate.
It's a UNESCO heritage site, along with other Newari sites such as Patan and Bhaktapur.
Other Fun Things to Experience in Kathmandu
Get a haircut! Seriously, it's quite the experience and it usually comes with a bonus shoulder massage.
Visit Jazz Upstairs on Wednesday nights—very worthwhile.
Go climbing at Astrek Climbing wall in Thamel.
Take a language class—Nepali is surprisingly easy to learn the basics.