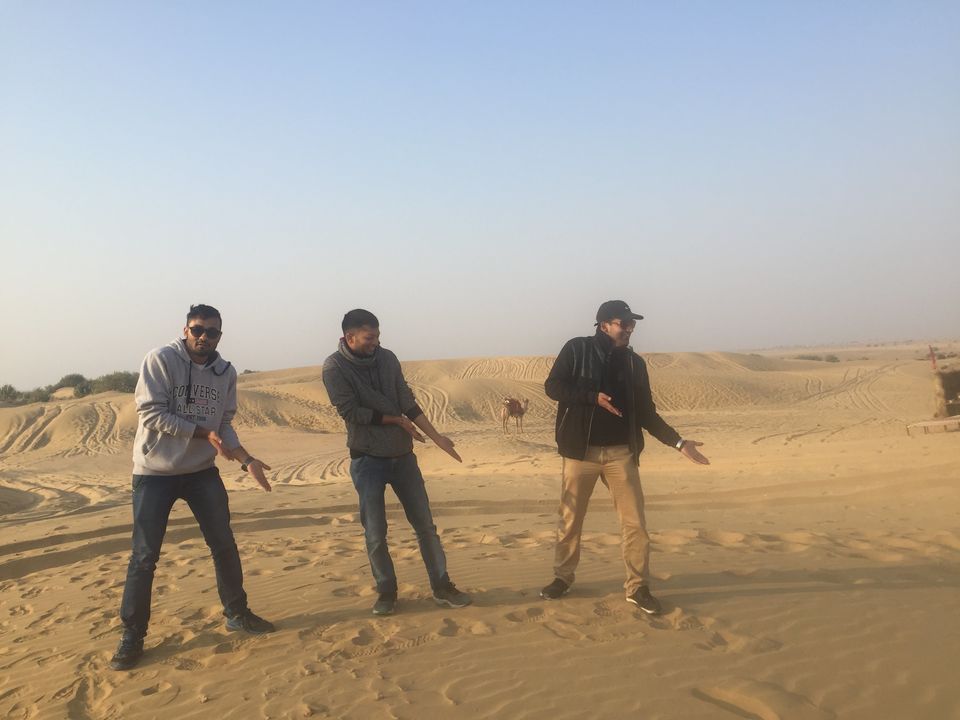 Great start of a perfect day out
So ultimate objective for next day was to explore desert safari. But the first stop was War museum. The Museum displays war exhibits which include vehicles and equipment captured during the course of operations in 1965 and 1971 war. Also, it has an Honour Wall engraved with the names of the Param Vir Chakra and Maha Vir Chakra gallantry award winners. Before watching a documentary on 1965 war we happen to talk with a soldier of BSF. He was aggrieved of the fact that youth of the country is going abroad and not joining army. However, he was hopeful that one day youth will chose army as a career option rather than a measure of last resort.We left the place feeling more patriotic as if it was 26th Jan or 15th August. Well that's when we have to feel patriotic. Isn't it?
Nevertheless, next in line was Kuldhara, an abandoned and so called haunted village. It was abandoned by the early 19th century for unknown reasons, possibly because of dwindling water supply, or as a local legend claims, because of persecution by the Jaisalmer State's minister Salim Singh. According to a legend, Salim Singh was attracted to a beautiful girl from the village. He sent his guards to force the villagers to hand over the girl. The villagers asked the guards to return next morning, and abandoned the village overnight. It is also believed that 83 other villages in the area were also abandoned overnight. The place offers good advantage to play luka chippi which we eventually did.
And the wait ends
We were still waiting for sand dunes to show up but the signs were there. Vegetation getting shorter and scarcer as we moved further towards sam sand dunes, our final stop for the day. Sam is 45 km west from Jaisalmer city, where you can reach by hiring a can from Jaisalmer city and then stay in one of many desert camps, built in 2-3 km radius of sand dunes.The best time to reach Sam sand dunes is around evening (sunset) at around 4-7 PM or early morning, during sunrise time of 4 to 6 am.
Finally, the moment arrived. We reached at 6 pm. Just 15 minutes before sunset. We could not wait to witness life changing event.We hired camels and conquered the sand peaks. Camel race, sleeping on sand, racing on sand dunes and what not. Amazing experience. Again, who want to return from such a place. But equally amazing Dal bati, sangri along with traditional Kalbelia dance and music was waiting for us at the camp site. Sitting around bonfire, sharing each others travel experiences especially with punjabis is a different fun all together. We all were fully tired, so went to our tent, played bluff and nobody knows when others went to sleep.
Next day, we woke up early for the jeep safari. Let me tell you, sitting in an open jeep on ups and downs of desert with a phone which is about to break in pieces by hitting on one of rod on the jeep meant for support is no fun. It is thrill. Added to this, cold winds which has the capacity of spinning a giant windmill were blowing all over our head. We could have produced electricity at that point of time too. Well, we stopped on the top one of the peak and had tea prepared by local kids having camels. This was the last leg of our tour.
Open Spitting Free India-One day
We went back to jaisalmer. We reached at 11 in the morning. Train was at 4:30pm. That's when the poster of a talkies showing Padman comes in handy. We brought the tickets. Last row, 100 bucks. We went inside and the images of me watching 'Hum apke hai kon' in a talkies once re-surfaced. That was the last time when I watched a movie in a talkies. Similar seats, with red floor and walls due to pan spits. It was like I time traveled and went back 15 years in time. When it comes to spitting, no swachh bharat can stop us. When we are rapidly moving towards Open Defecation Free India on a mission mode, I hope one day we will also become Open Spitting Free India.
Train Group Discussions- a hyperloop
After the movie we had lunch and left for the railway station. Train started on time and somehow we got into the discussion of the recent initiatives of Government like GST, Demonetisation, moves to curb corruption and black money etc. A senior citizen sitting on side birth was continuously listening to us. Just when I was expecting a response from him, he did not disappointed me. He not only interrupted but even went to the extent that nothing is good in this country, nothing can happen. I tried my best to end the discussion on a positive note that 'thoda hai thode ki jarurat hai' but I realised that this can only work in answers of civil services examination. Trains are best place to discuss politics in India. You just need a spark and the fire can extend to the whole coach. No matter how hard you try to conclude and end the debate, you can't. Even during GDs for college placements, people fight to conclude to win bounty points, but here nobody is interested in conclusion. That's when you realize it is the right time to play cards and let the fire cool down by itself.
Somebody said that best writers of Delhi were made in coffee house at cannaught place but trains are no way less than a coffee house. And I believe till the time India is moving on wheels, India is moving forward
Part-1: https://www.tripoto.com/trip/travel-blogisode-3-golden-jaisalmer-a-treat-to-heart-part-1-5a8d92bf08f19
Originally published as: http://vishwasjainblog.blogspot.in/2018/02/travel-blogisode-3-golden-jaisalmer.html