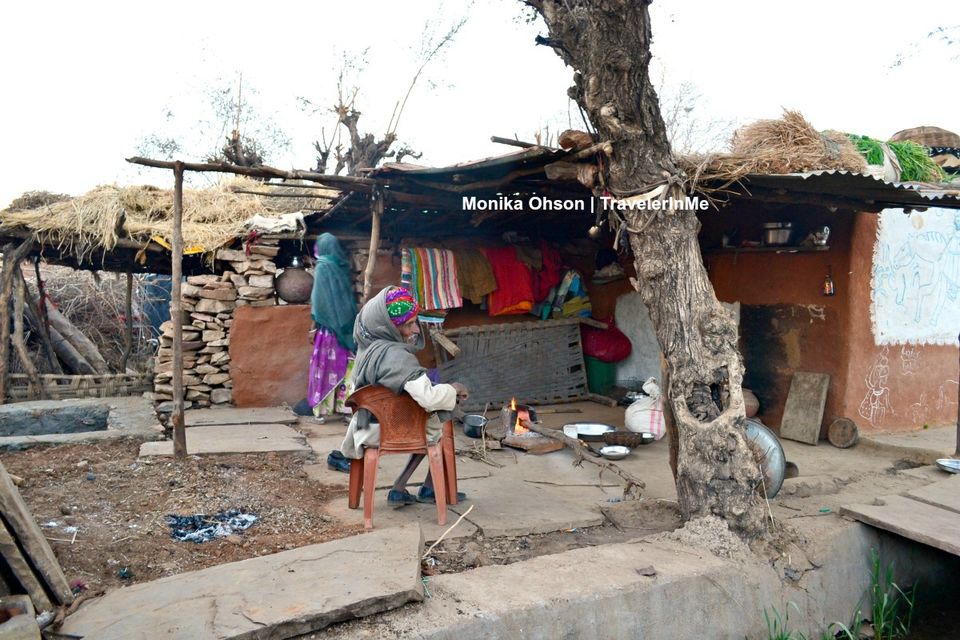 During our Bundi trip we had a day long excursion to Bhimlat & Bijolia. On our way back in the evening we had stopped at one of the Bhil (community/tribe) village for a short while.
The interaction with them was effortless and they definitely loved the camera :-) I restrained myself to a very few clicks, as it seemed like objectifying them.
ABOUT THE BHILS
The word Bhil is derived from a Dravidian word meaning 'bow' thus they are popularly known as the 'bow men'. They are the second largest tribal community of India and mainly found in Madhya Pradesh, Rajasthan, Gujrat, Chattisgarh and Maharashtra.
As per legend, the Bhils trace their ancestry to Eklavya or the Nishada tribe though there are other several hypotheses about there origin. They were known to live in forests & mountains and were good huntsmen. Over many years now, they have either taken to agriculture or have migrated to cities for masonry and other manual labor. Their language is Bhili, which is an Indo Aryan language though now most speak the language of the state they reside in.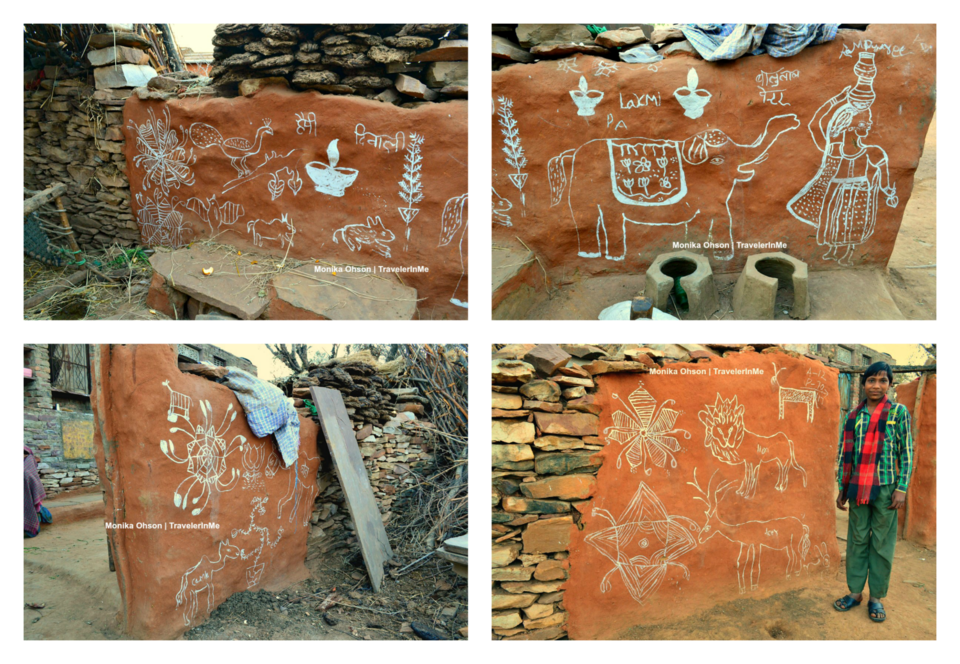 BHIL & TRIBAL ART
Art is integral to the Bhil community. They have rich cultural history and give much importance to dance and music. Ghoomar (traditional folk dance of Rajasthan & Sindh) is the most famous dance among the Bhils while Gair is the religious dance drama performed by the men in the Shravan month of July & August. They use madal and thali-spoon to create music for the same. The Bhils are talented in the sculptured work too, making beautiful horses, elephants, tigers, deities out of clay.
A Bhil's life is expressed through his/her paintings. The Bhils, like all adivasis, live close to nature, so most of their drawings / paintings relate to it. Upon visiting a Bhil household, one will discover a myriad of simple images of everyday life of the tribe adorning their mitti (mud) huts & walls.
Balu Lal, a young Bhil lad, we met at the village, uses his house wall as canvas and proudly calls himself a budding artist. He loves painting and the above photographs are a proof of it :-)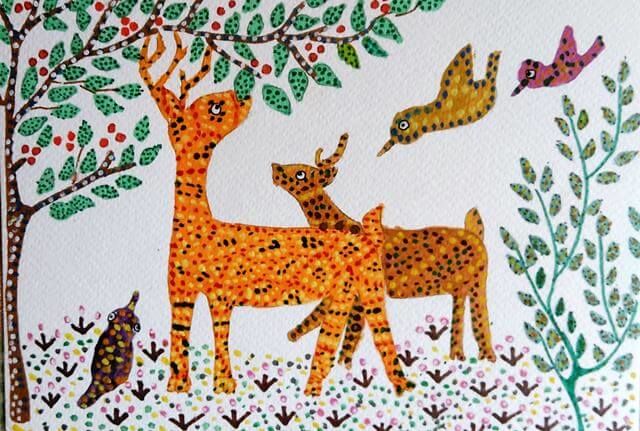 The dots used are the distinct identity of Bhil art and is symbolic. It is inspired by the maize kernels which is their staple food and crop. Each group of dots often represents a particular ancestor or deity. Also every artist composes the dots in distinctive patterns encoding each artwork with their signature visible to the trained eye.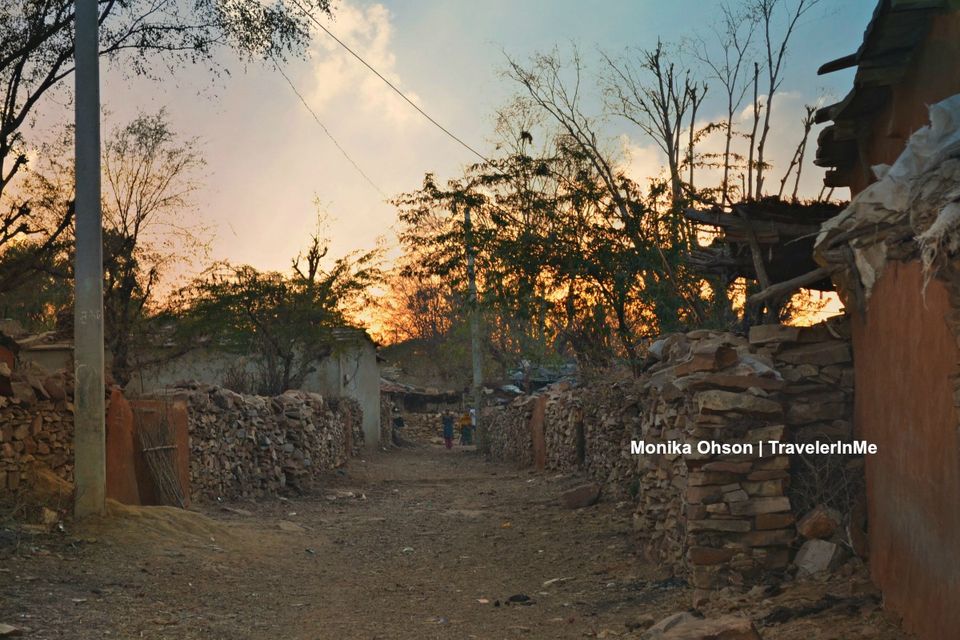 While we chatted with the Bhils we got to see the onset of a beautiful sunset. In fact we witnessed a bright, fiery sunset that day which till date is deeply etched in my mind!
....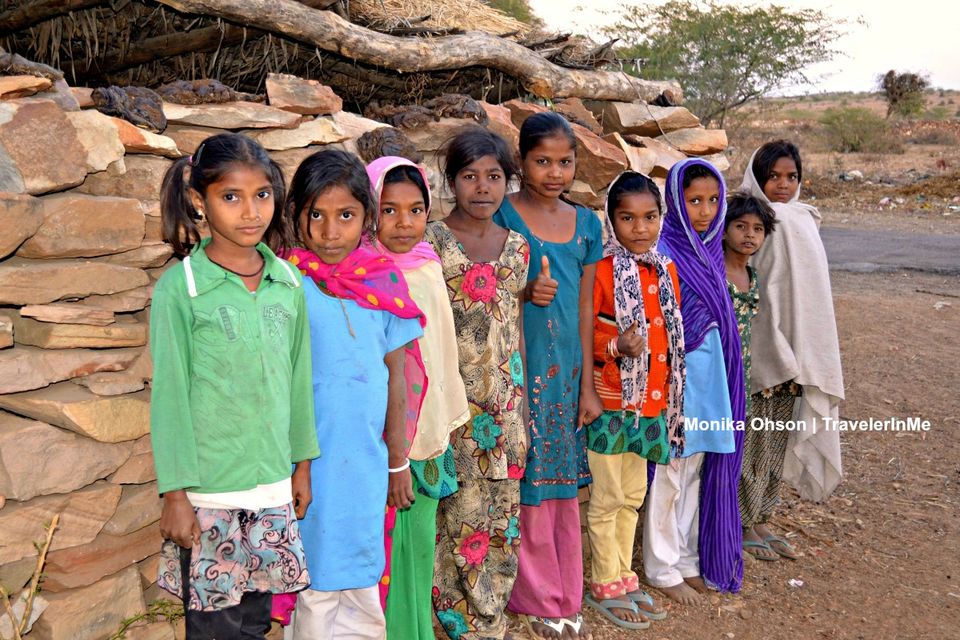 The girls were pretty & chirpy and as we bid them adieu I was happy that I could to capture this wonderful memorable photograph of theirs <3
In Rajasthan, certain cities are named after the Bhil kings who once ruled the region. Kota, for instance got its name from Kotya Bhil; Bansara is derived from Bansiya Bhil; and Dungarpur is named after Dungariya Bhil.
....and, if you like what you just read, do 'like it' & 'share it'. Also do not forget to 'follow' to remain updated about newer posts!
HAPPY TRAVELLING!
Monika Ohson / TravelerInMe
This was first published in TravelerInMe