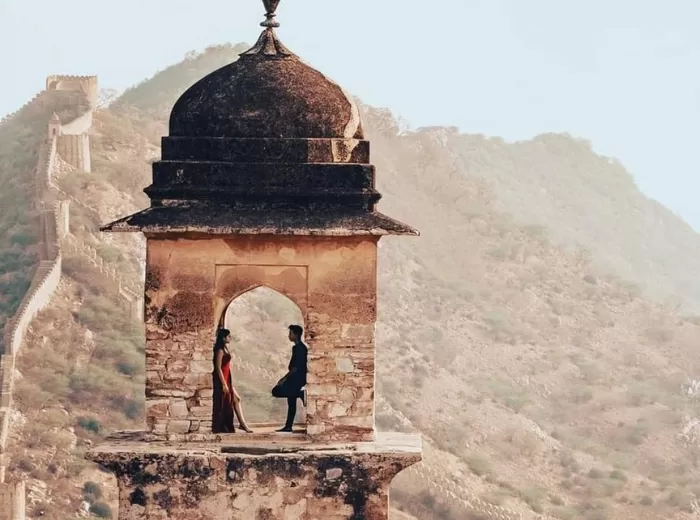 "I have booked tours covering Jaipur and Udaipur; they really have the best drivers and hotel hospitality; thank you for my memorable trip and your superb service. Will come to connect with Travgenix definitely whenever in Jaipur." - My Review
Travgenix travel solutions is a full-service travel agency that provides alluring travel experiences for its clients. Whether you're looking for a romantic getaway, a family vacation, or an adventurous trip, Travgenix can help make it happen.
This travel agency in India provides unique travelling experiences to its clients. They reveal unseen-hidden places with well-informed native guides, book value-to-money stays and much more in their meticulously planned personalised itinerary that includes everything from flights and hotels to activities and dining- all at affordable prices.
The seniors of this travelling company strive to take every client beyond the page and provide luxurious India trekking adventure tours and Rajasthan trip expeditions.
They work shoulder to shoulder in harmony at every level to bring the best for clients. Travgenix's efforts have paid off well. Many of their trekking packages have been reviewed to be exciting and thrilling.
If you're also planning a short new year gateway to Rajasthan or a long tour, Travgenix has customised travel solutions for you at the best affordable rates.
Connect with travel experts now to grab the best discounts and offers.
How are Travgenix Travel Solutions Different from Other Travel Agents?
Travgenix focuses on detailed itineraries. Their guides assist in preparing itineraries based on customer preferences so that you only spend your holidays how you want but with a pinch of good surprises. You can rest assured about good service and 100% safe tours with them. They have been serving well-planned and best-detailed trips for more than 5+ years and have achieved a reputation in the travel, tourism, and recreational sector.
Detailed Itineraries-
Unlike other travel agents who cover only the famous tourist spots in their travel journey, their travel experts try and include hidden spots and locations in the itineraries, providing tourists with a new perspective of the state or the city.
"Where most of your travel agents will take you through renowned restaurants for meals, we include (tried and tested) local dhabas and eateries (Hygienic and safe) options to make your experience more memorable,"- says Travgenix's travel agent
Customisation Options-
Moreover, if you're not satisfied with the provided accommodation or any other included option, their team can help you to switch the same with your preferred ones.
If you are still wondering whether or not they have covered your favourite Rajasthan spot, let's check out cities covered in their Rajasthan tour for a satisfying experience.
Tour Package Facility With Detailed Itinerary
Travgenix makes Rajasthan trips smoother, safer, and memorable for all ages. Travgenix offers fully customised travel requirements where clients can select journey dates and other facilities like booking tickets, hotels, sightseeing and tour duration; the clients can make further bookings related to camping and trekking over the platform.
Rajasthan, also known as the "Land of Kings/Rajputana", is one of the places which have been attracting both the natives as well as tourists; because it holds historical importance, where most nostalgic forts are there for the tourist to venture. The major cities that have been withholding the cultural heritage of Rajasthan are Jaipur, Jodhpur, Udaipur, Jaisalmer, and Bikaner.
Travgenix provides comfortable tours in these major cities of Rajasthan, including sightseeing of Rajasthan's historical places, forts and palaces.
Jaipur
The capital of Rajasthan, earlier known as AMER, is the first planned city of India and is well known now as Pink City all over the world has many historical monuments like Amber Fort, Nahargarh fort, Jaigrh fort, Jantar Mantar, Hawa Mahal, Jal Mahal, City Palace, Garh Ganesh etc.
Udaipur
Known as Lake City, this city has several old monuments and lakes. Its beauty gives a refreshing and nostalgic effect on the people. Places like Saheliyon-ki-Bari and Lake Palace add grandeur to this majestic town of Rajasthan.
Jaisalmer
Known as the Golden City of Rajasthan and Gateway to the BEHEMOTH dune of THAR desert, this fun and vivid city is famous for camel safari, campaigns, Dune bashing, and Maru Mela held during winter.
Jodhpur
Sun City was once the old kingdom of Marwar. The most famous attractions are Mehrangarh Fort, Ummed Bhawan, Jaswant Thada, Ghanta ghar, Kalyan Lake, Balsamand lake, Mahadev temple and others.
Bikaner
The city was established by Rao Bhikhaji, who chose a barren land called Jugal Desh and shaped it into a fantastic town now known as Bikaner. It is famous for the Junagarh fort, Lala Garh palace, Gajner palace, and Karni Mata temple.
Believe us when we say Travgenix can bring the flavour of enthusiasm and adventure to your monotonous life with its tour packages. Luckily, they are throwing away some amazing discounts and offers this weekend, so hurry and book your dates for Rajasthan Winter Tours with the website and grab the never-before discounts and deals.