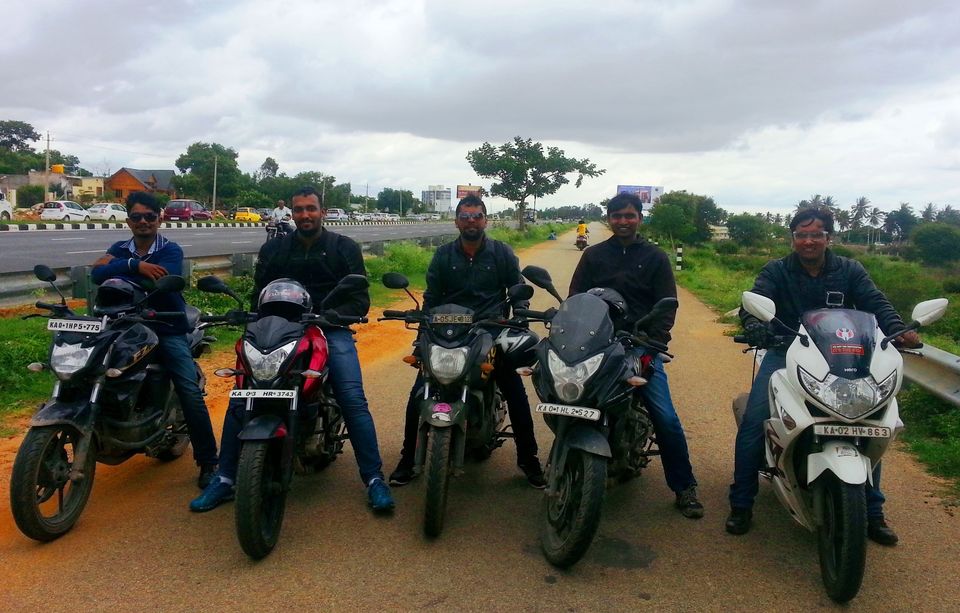 Here's the Trailer Video:-

Riders: Me(Vinay BM), Nithesh Chandra, Pavan Kalsur, Vignesh Shenoy, Chandarakanth Nayak
Distance: 70kms from Bangalore, towards Chikballapur
Trekking Level: Easy
Map Link: https://goo.gl/maps/cS46GgWDd4bRwBNR8
==================================================
Kaurava Kunda is an immensely beautiful but less known trekking destination. It is located around 70 kms from Bangalore in Chikkaballapur district. The Twin hills are named after the Pandavas and the Kauravas from MahaBharatha. This place is more popular for night Treks. Though this grassy hilltop has an altitude of only 250 meters, it offers mesmerizing views of the surroundings. This place is best visited during the Winter months. During december, you can get a view with clouds beneath you, similar to Skandagiri.
Being away from the hustle bustle of the city, and also being less known to travelers, this place still holds the tranquility unlike other well known places these days. The Trail starts from Hariharapura Village and there are some sandy steps which lead you to the Shiva Temple midway up the Hill and Its an easy trek. Since the climb is not so steep, the trek can be a pleasant experience.
===================================================
Part1 of the Vlog: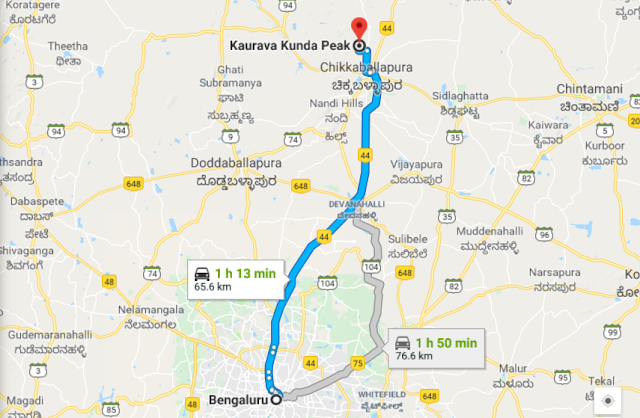 Travelogue
It was a last minute decision to visit this place. 5 of my friends joined the Ride and couple others dropped out. All five of us were classmates in RV college, which made this Ride special and we named it the "RV Bikers Ride". The meeting point was fixed as Hebbal flyover.
I left my home around 5:30a.m and reached the meeting point in no time. It was still dark when I reached there. As usual, my friends were late. All other Bike and Car groups were meeting at the same place and heading towards Nandi Hills one by one. And there I was sitting alone on my Bike, waiting for my friends to arrive. I was literally cursing my friends.. Finally they turned up at 6:30am and started blaming each other for the delay :D Anyways we had some chit chat and then started towards Chikballapur.
We overtook some groups and many other groups overtook us on the Highway. It was a smooth Ride. Because of the popularity of Nandi Hills and also being the route to the International Airport, the traffic is more on weekends and some of the Bike Riders and car guys, specially taxi drivers are reckless. There's one spot below a bridge where I have seen frequent accidents happen specially in the dark. So you need to Ride/drive this stretch carefully.
We took a break near the toll. Nithesh had got a Zoom lens for his Dslr. He's the only guy who is good with photography in our group. So we thought now our profile pics and dps are sorted.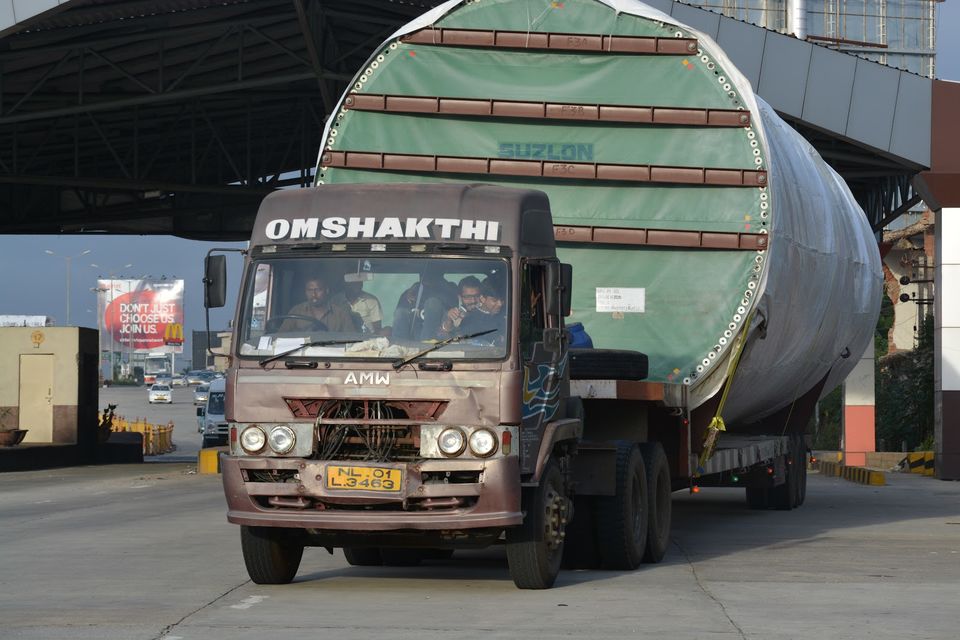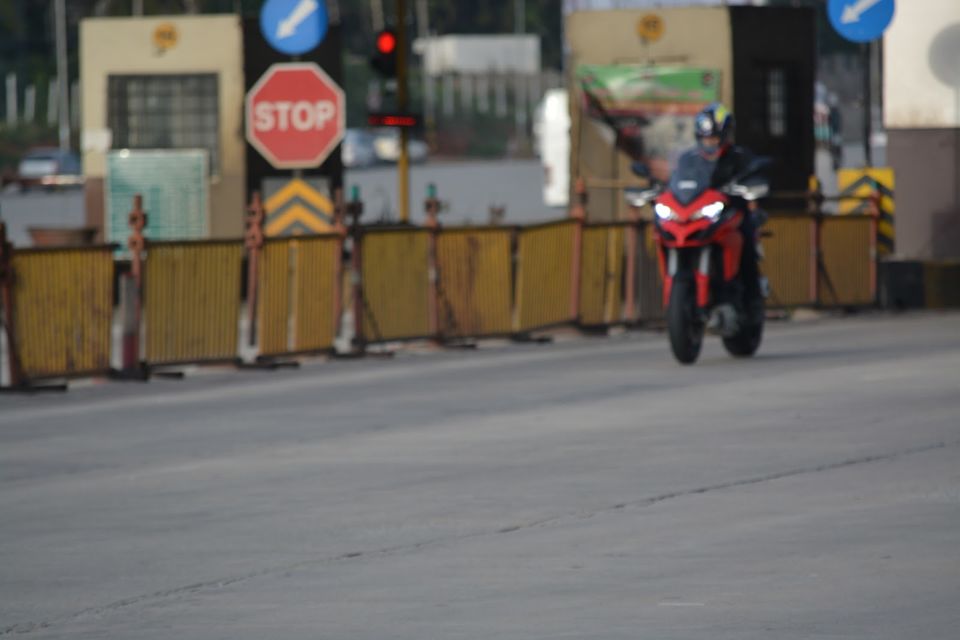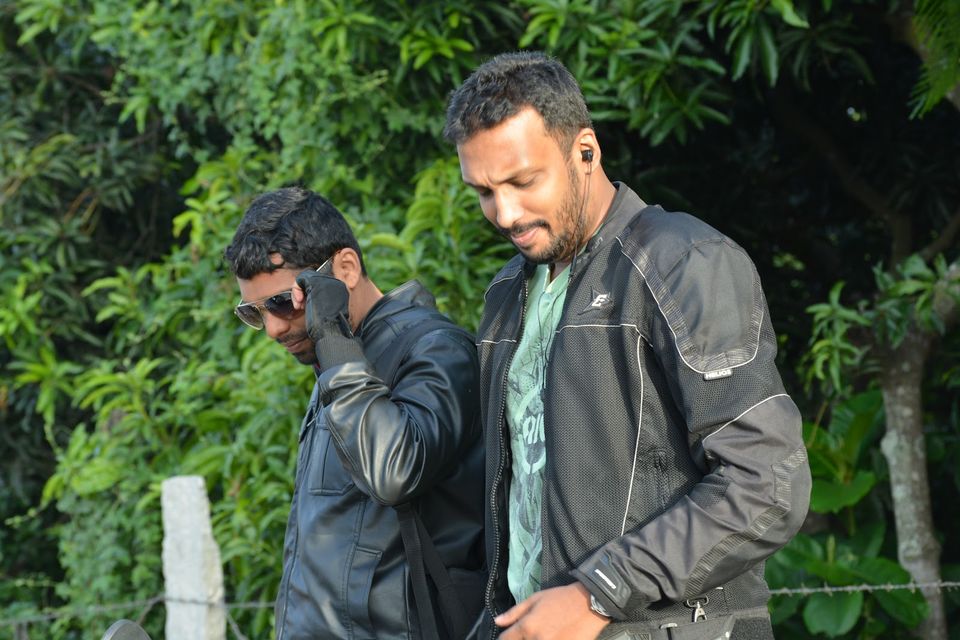 Once we crossed Nandi Hills and neared Chikballapur, we started checking our maps. Took a left turn somewhere near Chikballapur and entered the city. From here we lost the route due to some wrong turns. But somehow we navigated back and reached the HariHaripura Village. There is a big pond near this village. I took some video there and we parked our Bikes beneath some trees.
We were not sure from where to start the Trek and there was nobody around. But looking at the Hill and after asking some locals, we started moving towards the fields and after crossing the fields we reached the base of the Hill and the hike began. We trekked for some time and reached a place from where we got a good view of surroundings. So stopped for some pictures. Also I was carrying some rusk, biscuits and cake. So we finished all that. All through the trek we were chit chatting and relived our college days.We took some portrait images with background blur.
Because we were chatting and taking lots of pictures, I did not record much in my Gopro. The trek invoked hiking on some granite rocks which were quite slippery with sand. Once we climbed to a certain height, there were steps which led to a Shiva temple.When we reached there we did not know it was a temple. We were talking loudly and suddenly heard a strange noise and as we moved closer, we heard a "Om.... Om..." sound.It was actually scary coz we did not see the people who were on the other side. We were surprised to see around 30-40 people on the other side, sitting there and meditating with eyes closed. We did not want to disturb them so switched of the Gopro and silently moved to sit on the Rocks on the other side.
Once you reach the Temple, you can rest for a while and explore the area. This is a Shiva temple where many devotees and localities would gather for a meditation session in the morning. The place is very peaceful and you can sit by the rocks and spend some time. Strangely, we did not find any other monkeys on this hill. We were the only Monkeys :)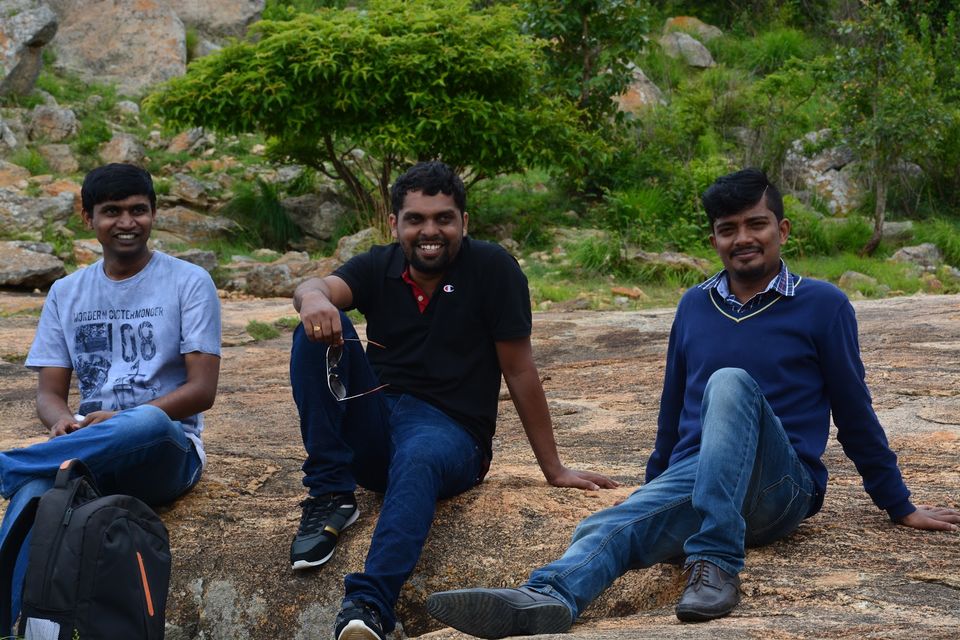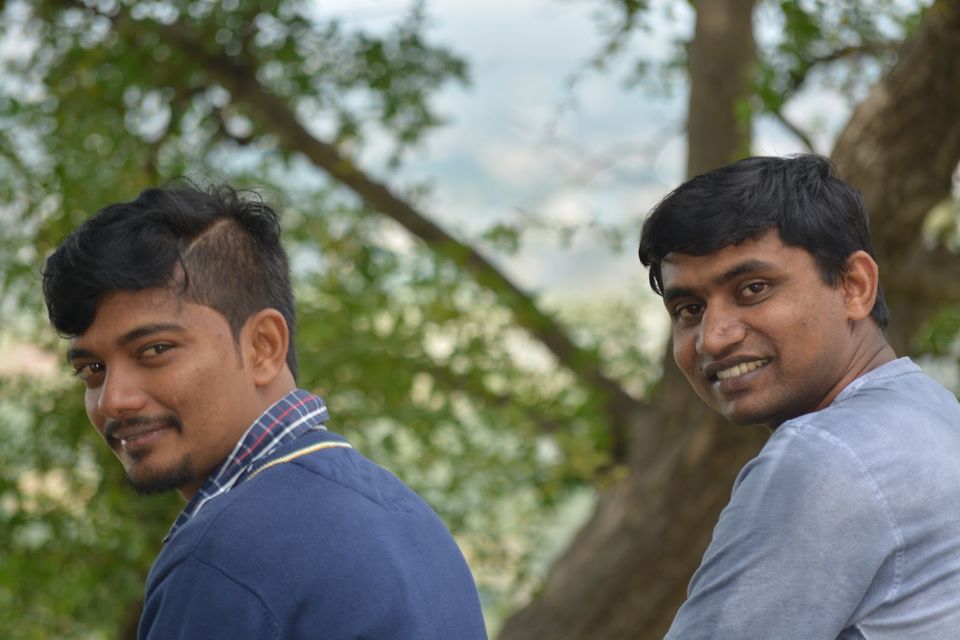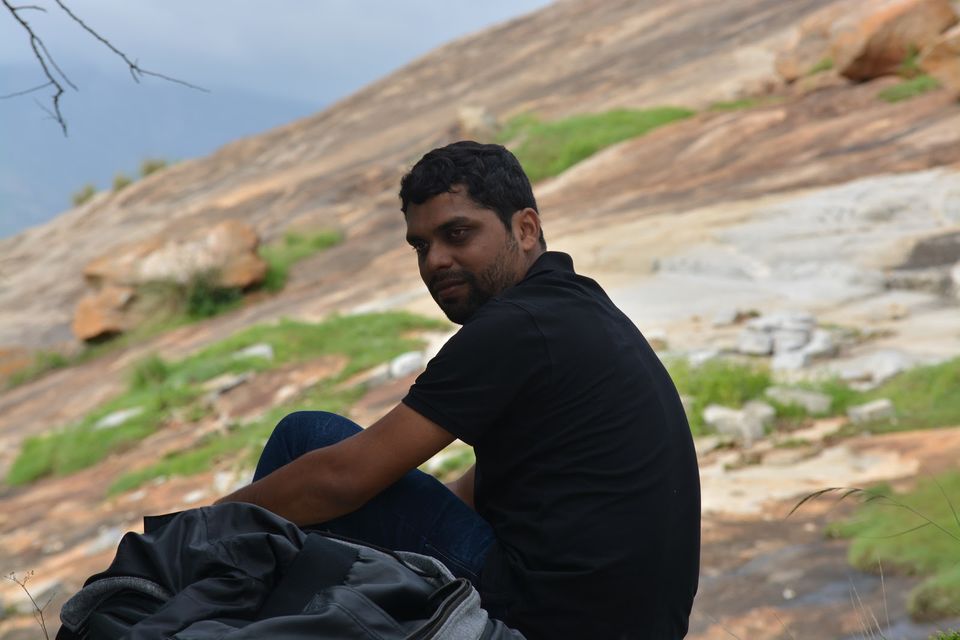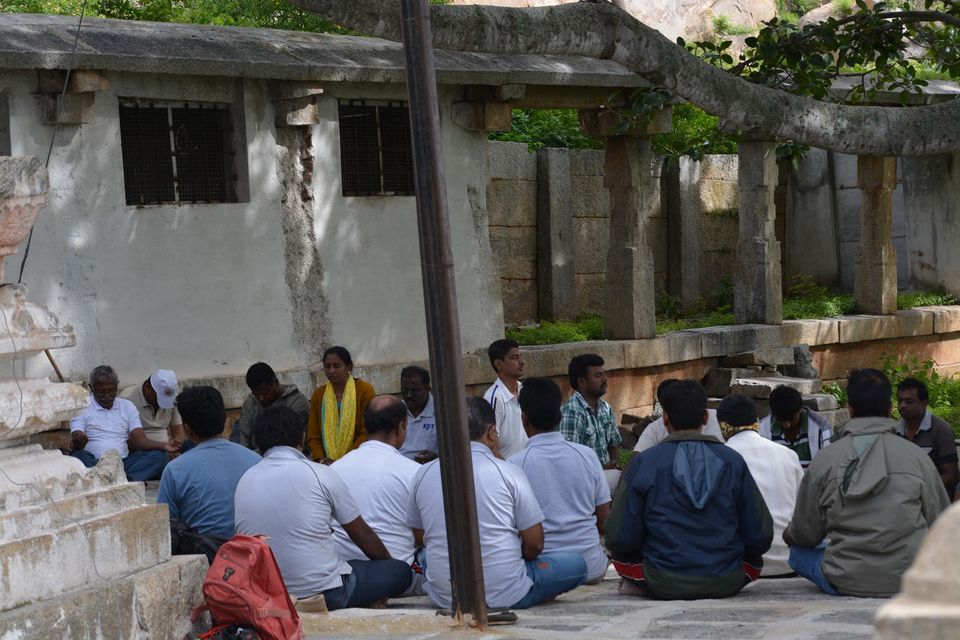 After some time, we spoke to the people there and asked for the route to the top. But they discouraged us from trekking further saying there are leopards, its not safe, its dangerous. Its risky to trek etc etc.They also told drinking and all is prohibited. So we told them we are just nature lovers. We've come here only to enjoy the nature, trek and take some pictures. Thats about it. They said you can go but at your own risk. This was not very encouraging.
From the temple we can go either right or left. But if you go right, its an easier route to reach the top. All the way up, there will be stones, thorns, bushes, shrubs and trees. So you need to trek carefully.
If you see any localites near the Temple, they would tell you that it is not safe to trek further up the Hill. They might scare you saying there are leopards etc. or that whoever has gone there has not come back. This is just to prevent any adverse incidents causing risk and injury to travellers and also to preserve the place as it is. They will not encourage you to trek to the top for the same reason. If you tell them that you are nature lovers and you do not drink/smoke and litter the place and are experienced trekkers, they will tell you to be careful and guide you in the right path.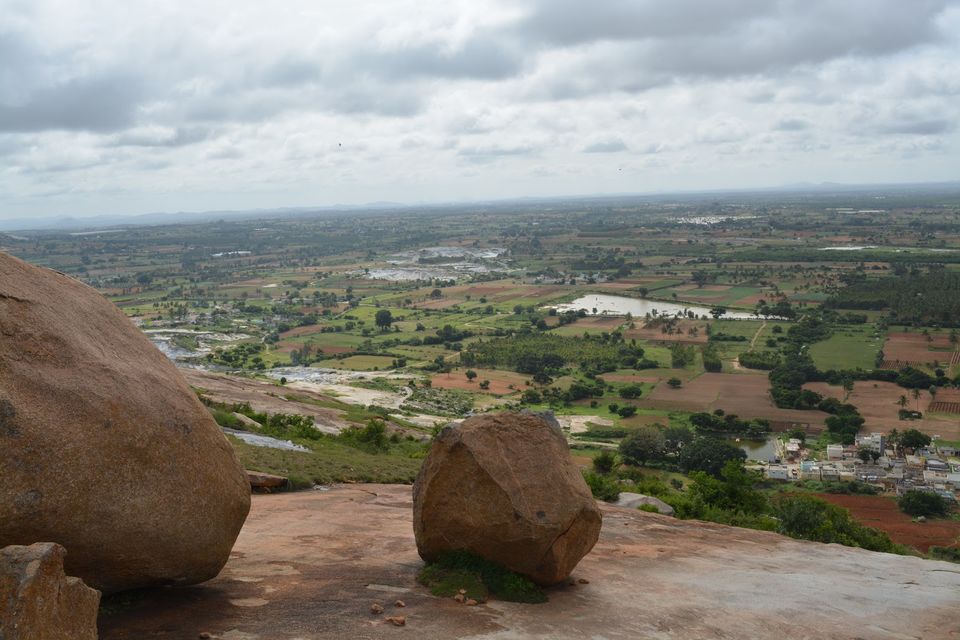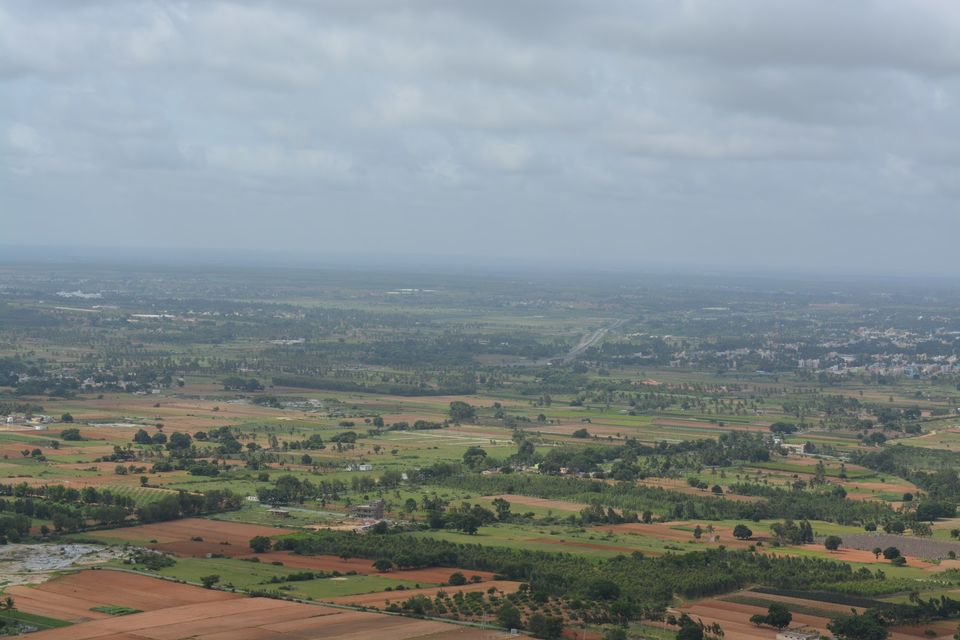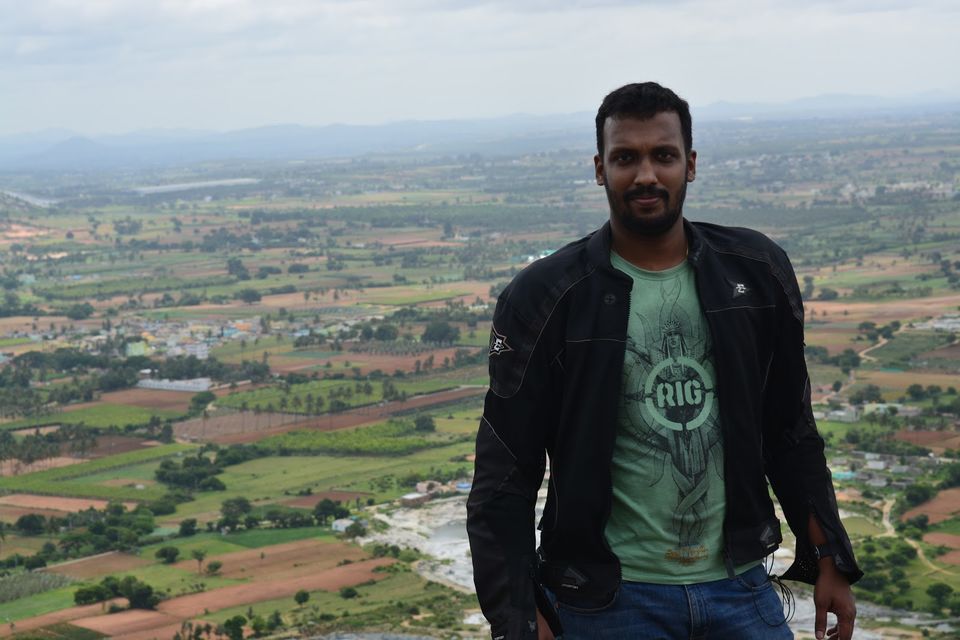 Anyways after exploring the place, we continued the hike from the left side of the temple. But I guess the correct route is from the right side. After hiking for some time, we got stuck and to hike further we had to climb over some rocks through the dense bushes and shrubs. We tried as much as possible to find a route but we did not find a proper one.Our 3 lazy friends decided to return back, but me and another guy(Pavan) were persistent to climb further. Our logic was simple, if we visit any Hill, we should climb till the top and get the 360 deg view. Its like conquering the hill :) Else whats the point in coming so far from our home right?!
The other 3 guys simply refused to join and said you two take the camera and go if you want. We'll wait down here and guide youif you lose your way (In otherwords- 'We're retired hurt. We'll simply laze around and take rest' :D)
The hike was quite difficult since we had to carve our own way through the shrubs and thorns.(not what you see in the video). But somehow we finally made it to the top.There was this plateau from where you get a 360deg view. The view was mesmerizing. Wind was blowing with full force. We took some pictures. We were carrying the Dslr with only the zoom lens(no default 18-55mm) and being inexperienced with that lens we could not capture the landscape well. But we tried our best.Wanted to explore around but since our friends were waiting down, we did not want to take any risk of exploring more and getting lost.
But trust me, it was like a paradise, we just didn't want to leave that place. We started descending down and again we lost track and got stuck. There was no proper route. We somehow descended down and reached our friends who asked us "how was the experience?". We said-"It was mind blowing. Batte harililla aste, but it was worth It"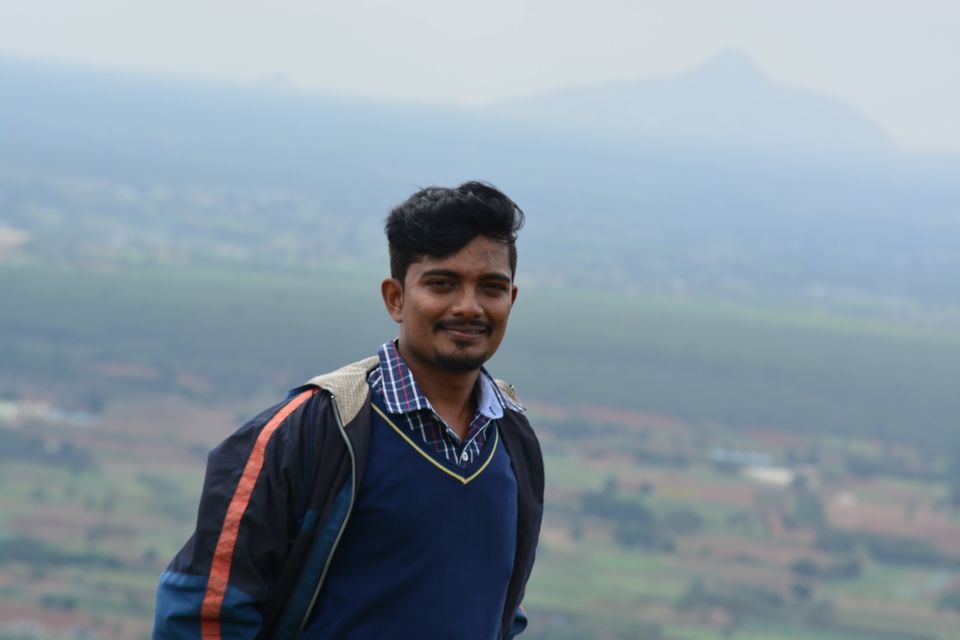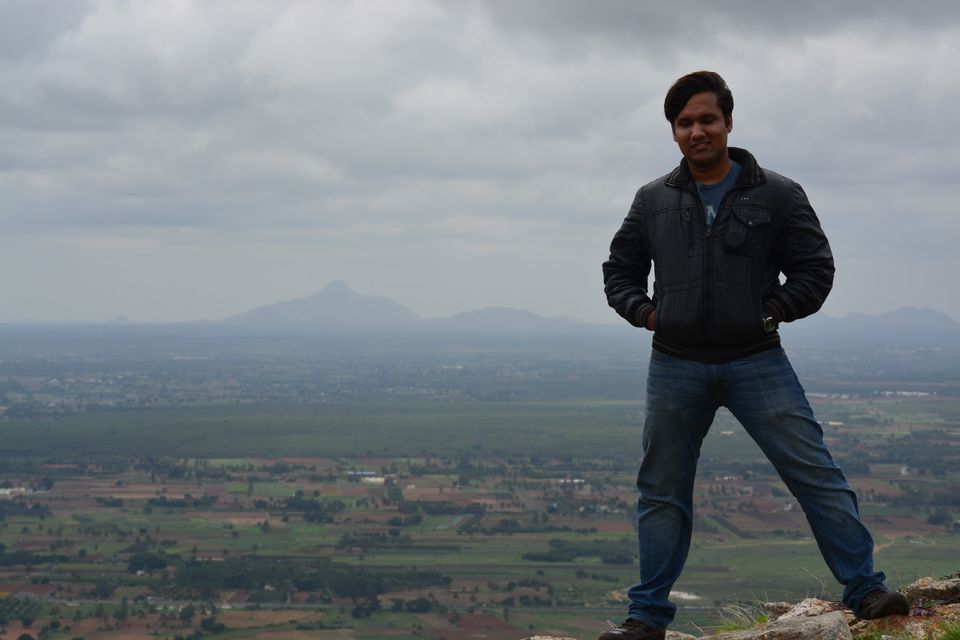 We soon reached the base of the hill and started riding back towards Bangalore. On the way, our Perfect Rider(Vignesh) was randomly giving hand signals to move ahead and then asking us to stop confusing the Riders behind him. He was making fun of me and Nithesh I guess.. :D But It was just hilarious. Once we reached the highway our pace somewhat increased. But still it was a boring Ride. Each of us was Riding at his own pace.
We took break near a bus stop and sat there waiting for others to catch up. Our water bottles were empty. We took a group photo by asking some guy to click our pic with our bikes, just for the memory.
We thought of having lunch somewhere near Nandi Hills. As we neared Nandi hills, we saw a new Restaurant on the left. There are lot of new, big Restaurants that have come up now. Earlier there was hardly any on this stretch.We all were damn hungry and had stomach full. I ordered Veg Biryani which was yum. I asked them to make it a bit spicy and it was just perfect. Tipped the waiter and left for Bangalore. The return ride was uneventful. Police were stopping and catching all other Bikers and two wheelers. But we were within speed limits and with our helmets. So we were not caught. We soon reached Hebbal and then parted ways.
All in all it was a Good Ride! Hope you liked the travelogue and Video. Part1 video was about the Ride, Part2 will cover the Trekking. (There are many more pics, I'll update the post later). Do Subscribe and share if you like the content. Thanks!!
As always- "Its not about the destination, but the journey.. :)" Until next time, "Tata Bye bye Cya.."
You can follow me on Instagram or Facebook.
Frequent Searches Leading To This Page:-
Trekking destination from bangalore, trekking holiday destination near bangalore, treking holiday packages near bangalore, weekend trek holiday from bangalore, weekend getaways from bangalore