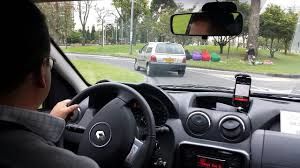 The minds behind Uber absolutely deserves positive accolades for coming up with a brilliant concept. Ride-sharing services provide a perfect and much more laid back alternative to traditional taxi and limo companies. People simply tap on an app and an Uber driver responds without delay. Really, the concept is both simple and astounding. Uber, sadly, has had to deal with a number of problematic operational mishaps.
It is no secret that Uber has lost billions upon billions of dollars. While the company has no shortage of consistent customers and boasts a wide array of solid drivers, Uber hasn't caught on enough to turn a profit. A big change in management has taken place, which surely will be helpful. The right person at the top of the management structure should be able to make smart decisions and implement changes. Yet, Uber has suffered from a lot of bad news lately. Some good news has emerged amidst a host of salacious and naysaying headlines. Uber's self-driving cars seem to be doing very well. Good news and success in any form definitely would be appreciated by those putting money into Uber.
The Value of Self-Driving Cars
Good reason exists why Uber would want to expand its use of self-driving cars. When no driver sits behind the wheel, Uber does not need to pay anyone. Since the company suffers from dire financial losses, eliminating costs definitely makes sense. Self-driving cars, as long as customers have faith in them, could prove very helpful to Uber's bottom line. Unfortunately, publicized crashes involving self-driving cars drag down the public's perception of robotic vehicles. Who can blame these customers? Safety absolutely must be the top concern of any passenger in a vehicle. Drivers should feel job security as long as customers maintain such attitudes.
Drivers and Job Opportunities
Uber owes a lot of its growth to the hard work of its drivers. Uber offers great pay and convenient scheduling, which draws in people looking for full-time and part-time work. As long as customers feel leery about riding in a robotic car, drivers can take advantage of freelance job opportunities. With access to basic cheap auto insurance, drivers don't have too many impediments to working for Uber. The biggest impediment to job opportunities might be Uber's intention to focus on self-driving cars.
The Robotics Plan
Uber's Advanced Technologies Center is located in Pittsburgh, PA. At the location, engineers work hard at perfected the automated cars that might become Uber's fleet of the future. The work being performed at the location takes place in secret. Uber does not exactly broadcast private matters related to its business operations. Inaccuracies in the press and tip-offs to competitors wouldn't help Uber's cause. What has been revealed is Uber wants to produce a less-costly fleet capable of changing its business model to one more supportive of long-term profits.
Automated cars surely will appeal to a decent segment of the public provided the experience gives them something more than what would be beneficial than riding with a freelance driver. That can be a tall order for Uber and its robotic engineers to fill. The company does seem to be sinking a lot of money into its Pittsburgh facility's operations. Uber positively needs a winner from all the money it is putting into the venture. Again, Uber's fortunes have not been the brightest. Concerns about the company's long-term future have been raised. A failure with the automated car strategy could prove troubling from both a fiscal and branding perspective.
Can Uber Survive?
Making predictions about Uber's long-term future can be difficult. A host of variables factor into whether the company can gain its footing and live up to its potential. Perhaps the effective development of reliable automated cars may help. If an automated fleet greatly satisfies enough customers worldwide, Uber's fortunes may take a turn for the better.