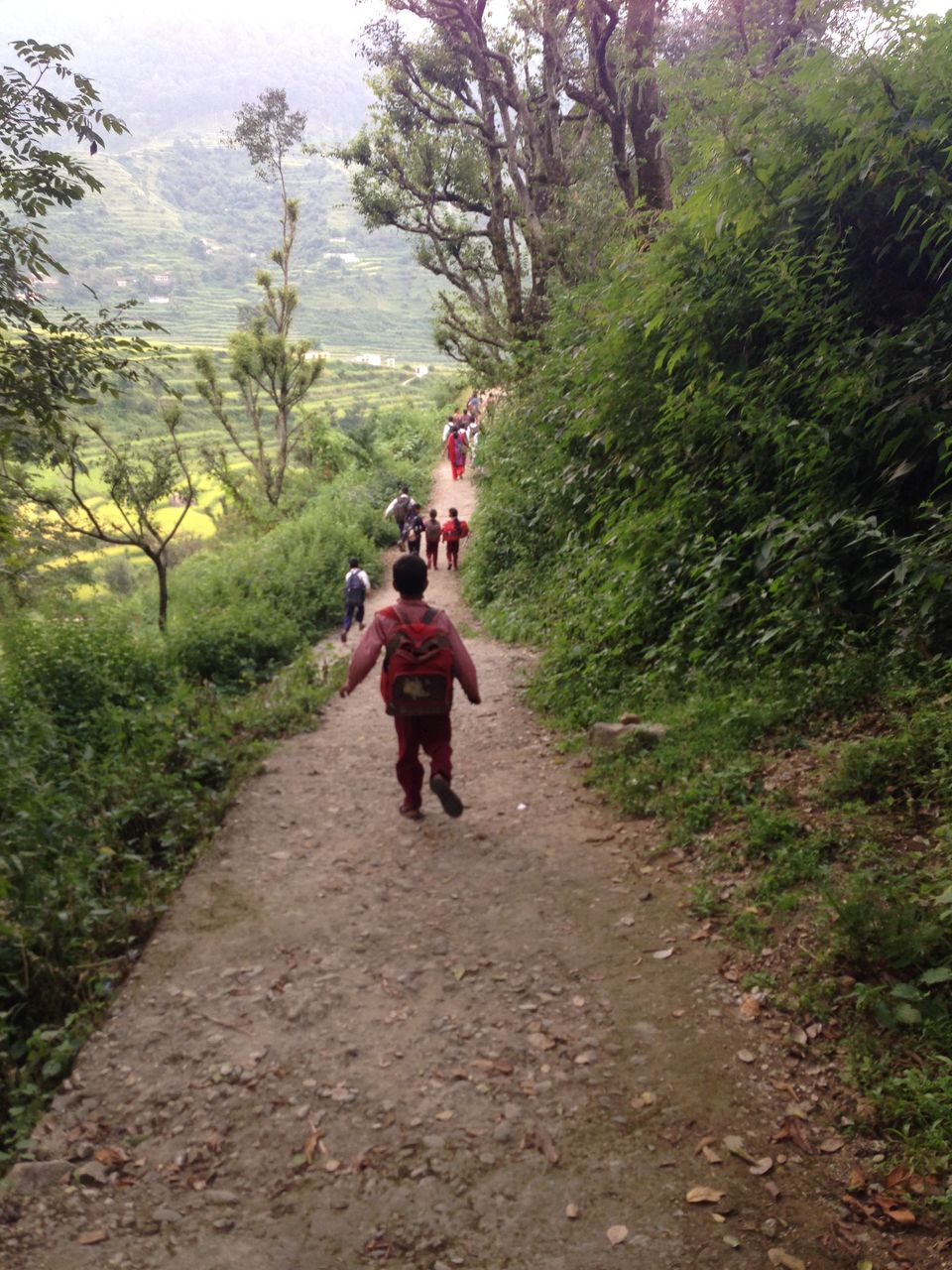 The beginning of this story is fairly regular. Everyone goes through a phase where they feel saturated with their full-time jobs and many tend to question if it's worth going through the daily drill to get to the holy grail – the coveted appraisal at the end of the month. Usually, when struck by these thoughts, I'd check the number of pending leaves, apply for it and book tickets to any place that fits the budget.
On a fairly gloomy work day, I decided that I would plan and book a solo getaway to the mountains. That afternoon, when I was reading a 'how I quit my job to travel full time' blog post, a dear one tagged me on social media to say that his friend had started a portal called little local, that partners with NGOs at various destinations and helps you work with local communities, while you travel.
On impulse, I looked up the website that featured a number of projects including an education based one in Uttarakhand. I would be teaching the basics of the English language, as well as mathematics and science to children of class 1 to 4. I have to admit that the idea of working with kids was both exciting and scary. Besides assisting on a mime workshop for kids, years ago, I couldn't claim to have any prior association with children or teaching. I made a quick call to the team at little local , a few FAQs were answered and I found myself on a train to Dehradun and then hailing a cab to Uttarkashi. After a day of rest at the comfortable Monal Tourist Home, I was finally going to school!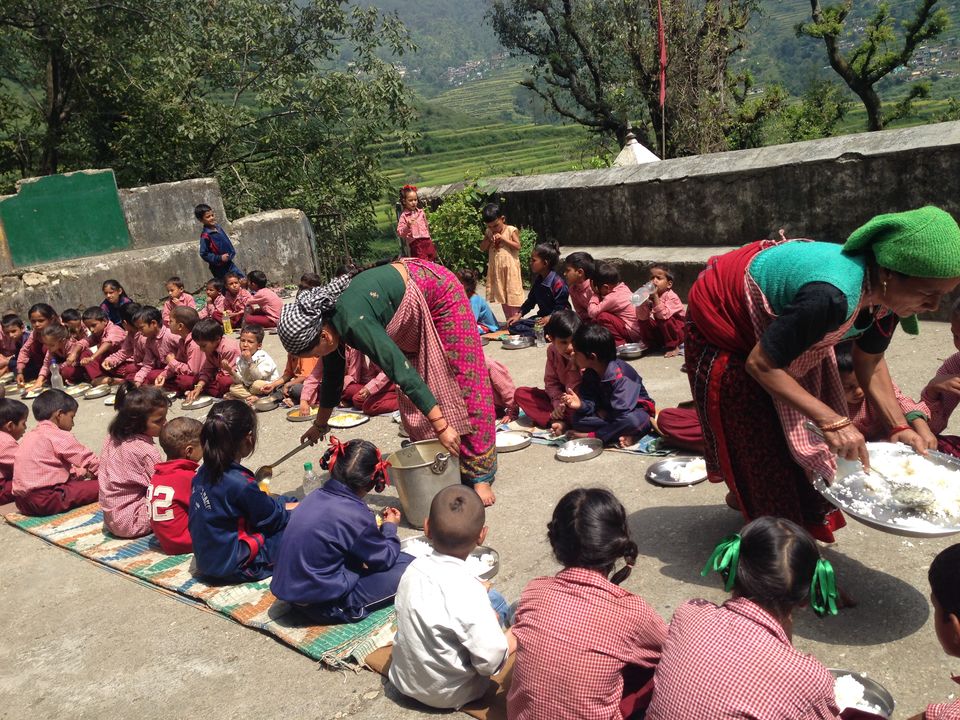 A mountain school
An hour's drive away from the main Uttarkashi town, Boun is a tiny village in Uttarakhand. The Boun Primary School is nestled among hills and greens. A 30-minute climb from the point where the vehicle drops you, the location of the school is bound to overwhelm. The first time I did half the mini-trek to the home I would spend the night in, with my luggage, I made a note to self to ask about the desired fitness levels, the next time I signed up for a trip like this.
Soon I learnt that most teachers at the school did this trek every day. Come rain, sunshine or the chilling cold winds of the hills. It took me about an hour to break the ice with my giggling, shy students, who would whisper to each other, while stealing a sly glance at me.
Who's language is it anyway?!
Sitting through some of their classes revealed that the language of instruction was Hindi and that I wouldn't have been qualified to teach the math and science classes since I struggled to find the Hindi words for terms like addition, subtraction, multiplication and division. I needed Google Translate! Even English was taught in Hindi. For example if you were to talk about concepts such as nouns and pronouns, the children would understand only the Hindi version of the terms such as naam, sarvanaam. The children learnt sentences in English by rote, as did most teachers, and neither had the opportunity to practise it in their daily lives. After a quick meeting with the teachers and a few trial classes later it was decided that I would focus on spoken English for class 3 to 5. We used games, word building blocks and even watched the The Jungle Book as part of exercises to improve vocabulary.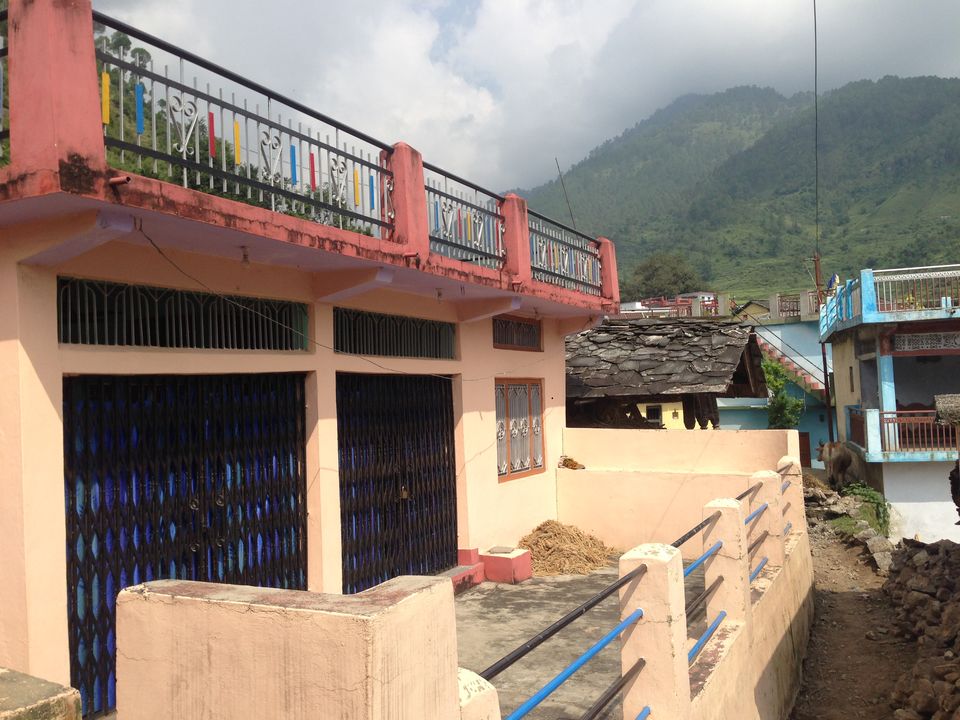 Home is where there's warmth on a chilly night
I spent the first day living with the Padiyars, a local family in the Boun village. They allotted an extended section of their large home to me. Their youngest (of three) daughter stayed in the room next to mine. I did freak out a couple of times during my stay, including the first time I realised that the washroom was quite a walk away and that the bulb inside it was not working. I even screamed when I saw a rat staring at me from a corner under the diwan in the sit out. While several notes to self were made that night, in hindsight, the hitches seemed minor when compared to the warmth that the family showed me. From trying to make me the perfect black tea (just because I preferred it to their milky version), letting me into their kitchen and sharing a meal to simply having two of their adorable younger daughters hang out with me, the simple village home redefined hospitality standards for me.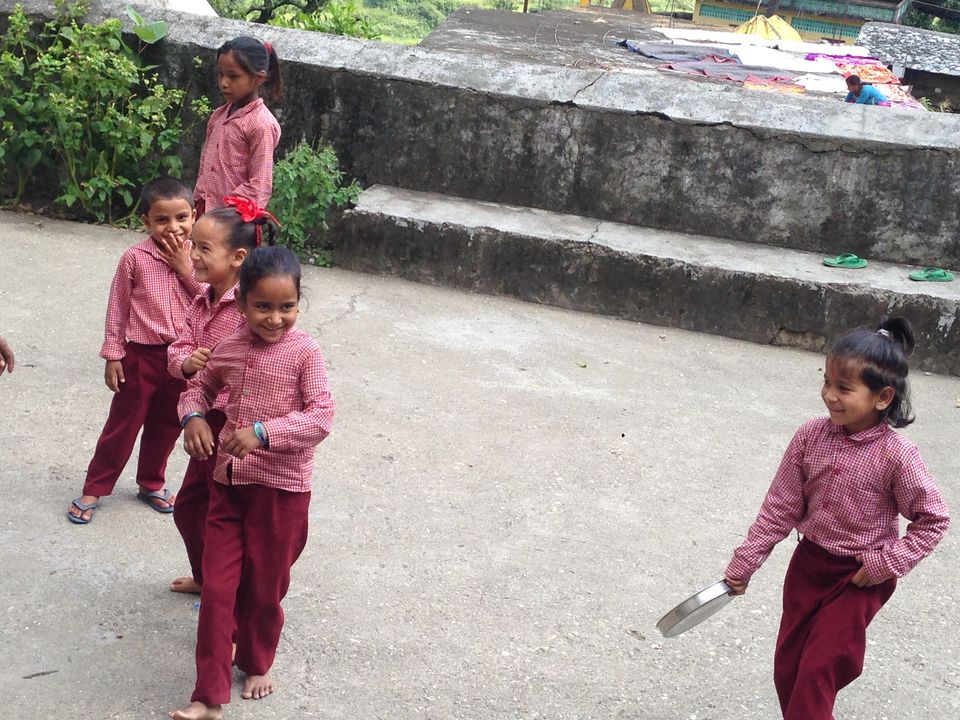 Baby's day out!
Back in school, the students of class 1 and 2 were having the time of their lives. While it had been agreed upon that I would teach them rhymes, the kids took me for a complete ride and I usually found myself physically lifting them off tables and running after them as they strayed outside the class.
The real connection
As my day job in the city required me to stay virtually connected and the non-existent internet connectivity in Boun wouldn't allow that, the principal of the school, Rekha Kotiyal offered to let me stay in her home in the Uttarkashi town (a 40-minute cab ride away from Boun). Her children lived in other cities, and she had a large room, with a separate entrance, to spare. Despite initial reservations, I took them up on their offer and I believe it was one of the best decisions I ever made. From discussing teaching techniques with my host, going grocery shopping, looking at wedding albums of her children, deciding what we'll eat for dinner to chatting away over cups of warm tea or watching the news (sometimes sitting through sermons on religious channels) and daily soaps with her husband and playing with her dog, I felt like a part of their extended family. There were days when I chose to stay in my room and entertain myself with my laptop, but my hosts found that behaviour worrying and insisted that I sit outside, breathe fresh air and of course, chat.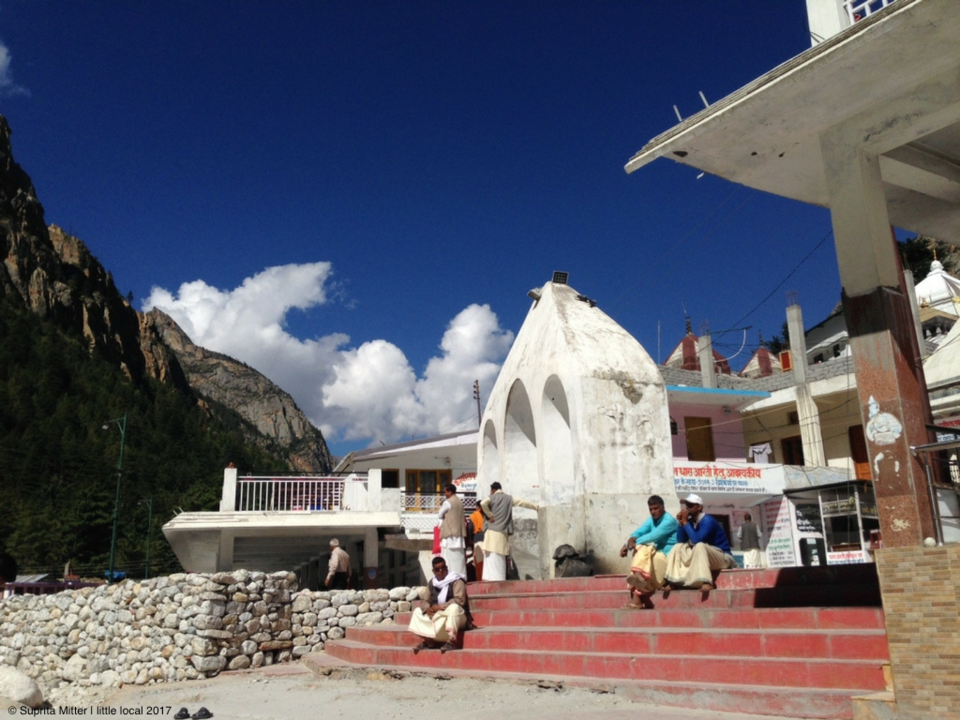 Meanwhile, the members of Shri Bhubaneshwari Mahila Ashram - SBMA (little local's) NGO partners for this project) took it upon themselves to make my post-school hours, productive. I visited their dairy, biogas, pickle-making and various other projects including one that encourages women to form microfinance cooperatives to be financially independent.
From allowing me to join them on early morning walks to taking me along on long bike rides to far away villages to check out various projects and a visit to the revered Gangotri, they made my time off thoroughly enjoyable.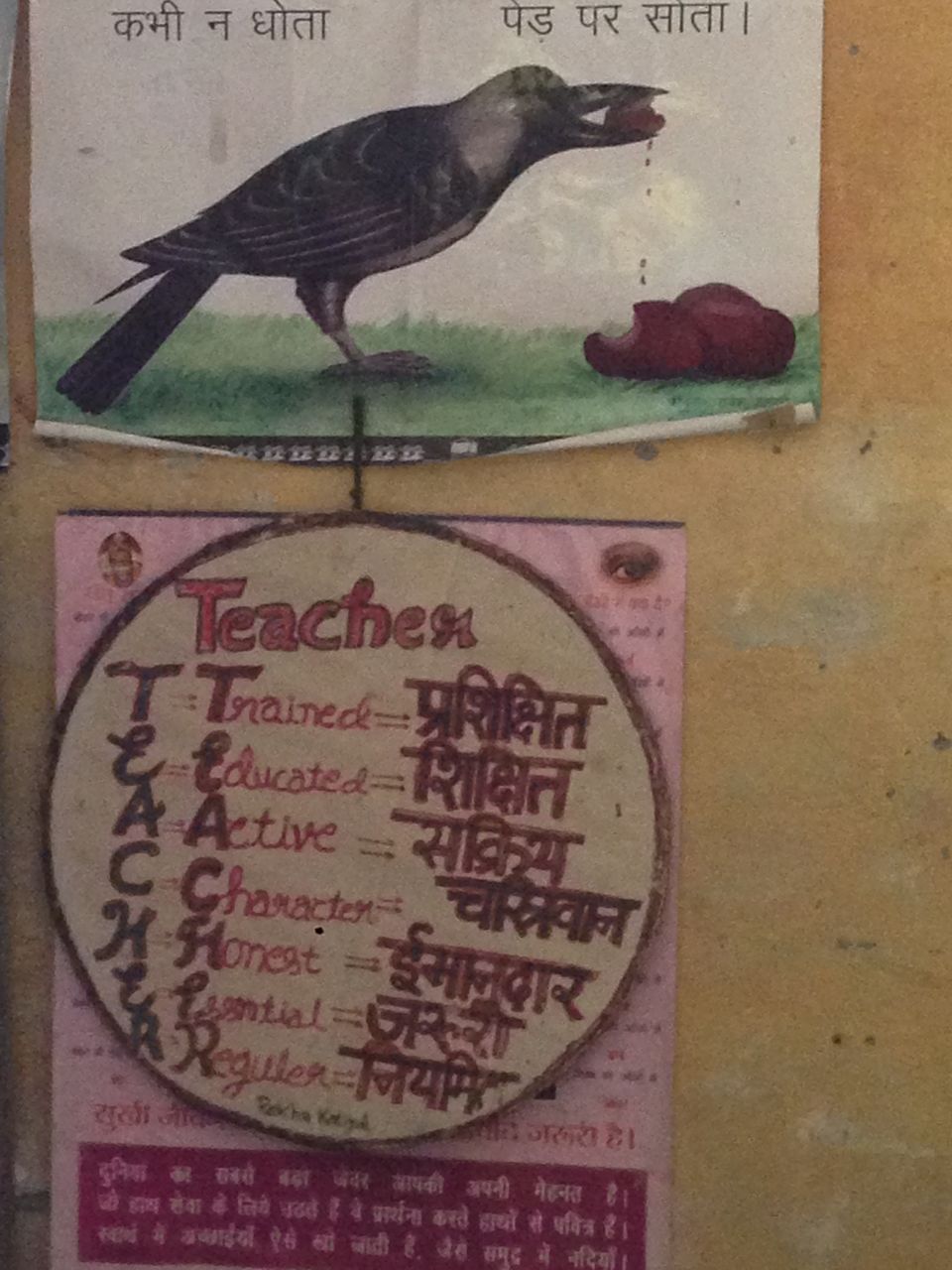 Who's the teacher?
The time spent in the school was most precious. Though I agree that 10 days is a short time, the kids seemed to be a lot more confident while stringing sentences together in English and the teachers beamed. The ones who refused to answer questions in the first few days and only smiled in response to anything I said, were also trying. On my last day in school, each child introduced themselves in English and told us their name, their age, what school they belonged to, what they liked to do in their day and what they wanted to be when they grew up. They threw me a farewell party and performed traditional folk songs and dances and in return I took the opportunity to shake a leg with them too.
As my train from Dehradun to Delhi was late at night, one of the teachers took me to their family home in Dehradun, introduced me to their extended family, fed me and then dropped me to the station. They even discreetly tried to put a little some money in my fist so that I could buy something to eat on the way. "Ashirwaad hai," they argued, when I protested.
It's ironic that at the beginning of this journey I thought I'd be teaching someone something. I've learnt something from every person I've met on this visit. The children, the teachers, the simple and hardworking (not money-minded) people of Boun, the selfless members of the NGO, each capable of giving us, urban folks, a few tips on how to open our hearts. Travel is a great teacher. Immersive travel is an even better one.
If you've volunteered in India or anywhere else in the world, write to us and tell us how much you enjoyed it.