If I could give you only one piece of advice on this website, then it would be NEVER to do all inclusive in Greece. Why? Because you will completely miss out on the whole Greek experience.
Shirley Valentine, Mamma Mia………. what springs to mind when you think of these films? White washed villages, pretty cobbled streets, bougainville flowers hanging beautifully on every corner. This is what springs in to my mind, and if you choose your resorts wisely you will find this.
Forget Falaraki, Malia and Kavos. OK if you are 18 and want to go on a bender for the week but if you want to experience the real Greece, the picture perfect postcard Greece, then here are my tips for you.
The following islands and Mainland resorts offer everything in the way of the true Greek experience and there are many more out there but these are just a few:
Parga, Mainland Greece
Lindos, Dodecanese Islands
Symi, Dodecanese Islands
Skiathos, Northern Sporades
Naxos, Cyclades Islands
Santorini, Cyclades Islands
Mykonos, Cyclades Islands
Kefalonia, Ionian Islands
Again I am only touching the sides of what Greece has to offer with the list above, as there are so many more.
There is nowhere else in the world in my opinion where you can have a dining experience like Greece. To sit in a restaurant in Greece down a cobbled alley way or a roof top terrace is as good as it gets. Without getting carried away it is a breath taking, tingly sensation, life is bloody brilliant kind of feeling, and if you haven't done it yet I suggest you do as you are totally missing out!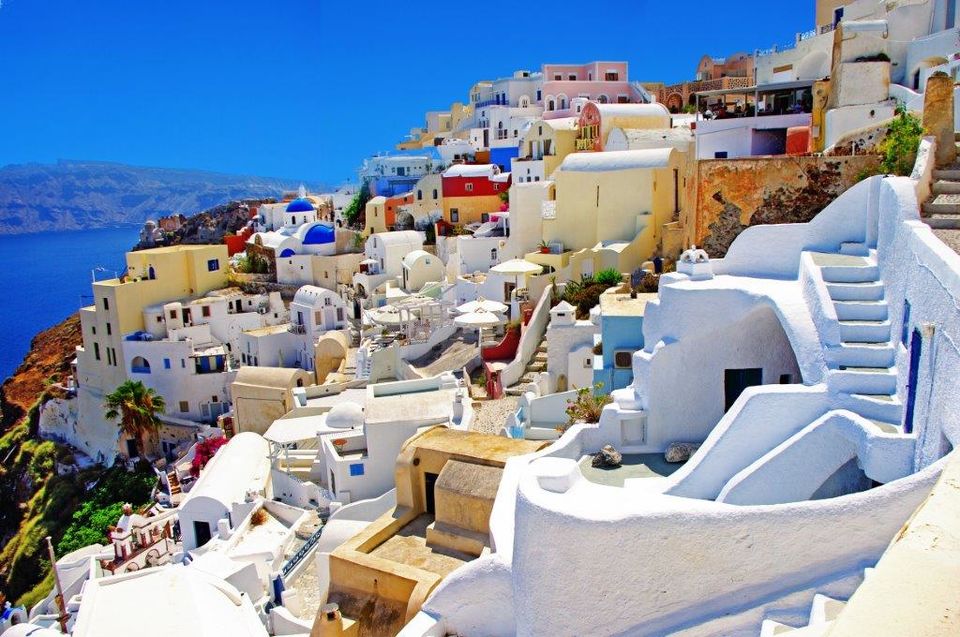 Yes of course, All Inclusive resorts have their place. By all means do your all inclusive in the Caribbean or the Indian ocean that is what they are designed for, but Greece is a life experience not just another place in the sun.
You will never encounter any other hospitality in the world like Greece, …..you must be wondering by now, what is her obsession with the place? But truly I have had the best experiences of my life there. They just get it right without being in your face or over the top. They welcome you with open arms like old friends; they are the friendliest, genuinely nicest people on earth.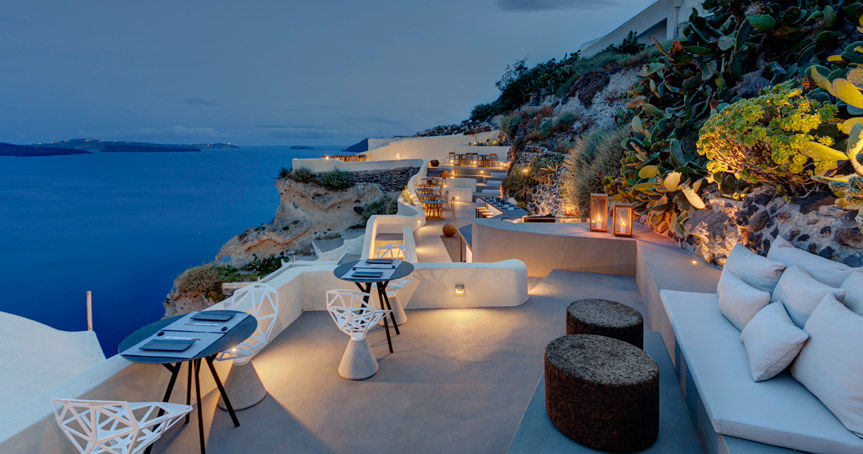 The bad press that Greece was getting a few years ago was shocking to me, how the media and press were scare mongering and trying to put people off an already struggling economy. We went away to Greece in the midst of all that and not one thing had changed, not in the slightest, you would never know anything was happening. Just goes to show how the media works sometimes. I remember someone saying once, that they don't know their Calamari from their Kalimera and how true that was!
One of my most favourite places in Greece, is Lindos, based on Rhodes Island.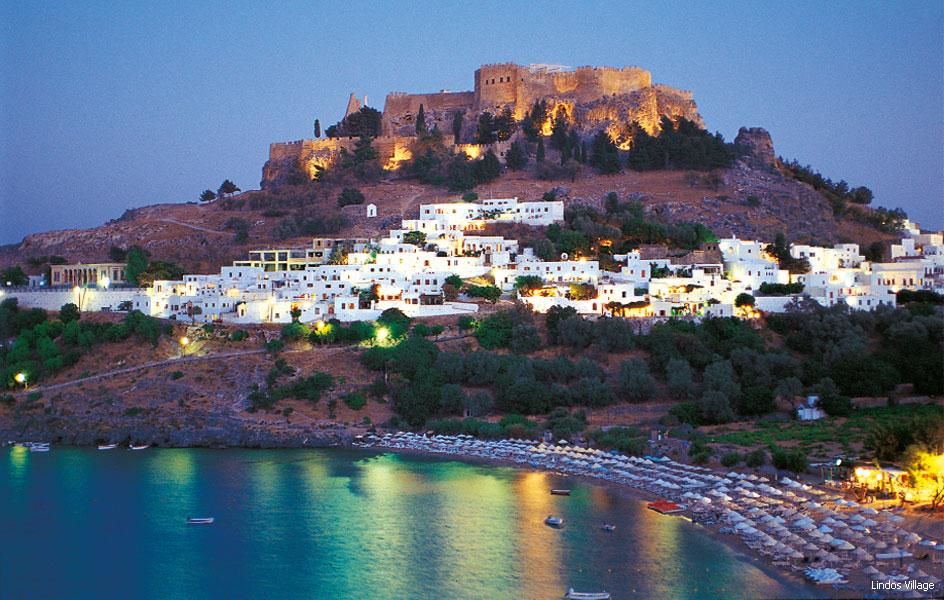 It has a magical atmosphere that pulls you back for more, I have been so many times now that the locals feel like family and it now feels like 'coming home'.
Most of the restaurants here are on situated on the rooftop's overlooking the beautiful white washed village. Watch the sun go down as all the twinkly lights come on and see fellow diners from other rooftops enjoying the magical atmosphere.
The food is beyond amazing and the service is always with a smile. After dinner, you can wonder the beautiful cobbled streets, pop into the many shops or grab a cocktail at either a rooftop bar or sit in a cosy Grecian courtyard. No karaoke bars or lager louts here thankfully! Just music bars with people having friendly banter with the locals.
Some of my favourite bars to mention are The Courtyard Bar which is ran by Jack Koliais with his fantastic barman Dimitris (who may I add makes the best Caipirinhas!!) They have a fantastic set up there, they have a cosy courtyard to sit in and 2 wonderful rooftop terraces that take in the best views across the village and the acropolis! They also offer live music nights which are very popular!
Another favourite of mine is the Red Rose Bar, ran by Manos. I cannot tell you how many fun nights I have had in this bar with him and the friendly staff there! Drinks are amazing, the banter is hilarious and the people watching is so much fun!
It's so difficult as every bar you come across are fantastic, with wonderful hosts. To name but a few are Crazy Moon, Yannis Bar, Captains House and Dreams. But please go and see for yourself you won't regret it!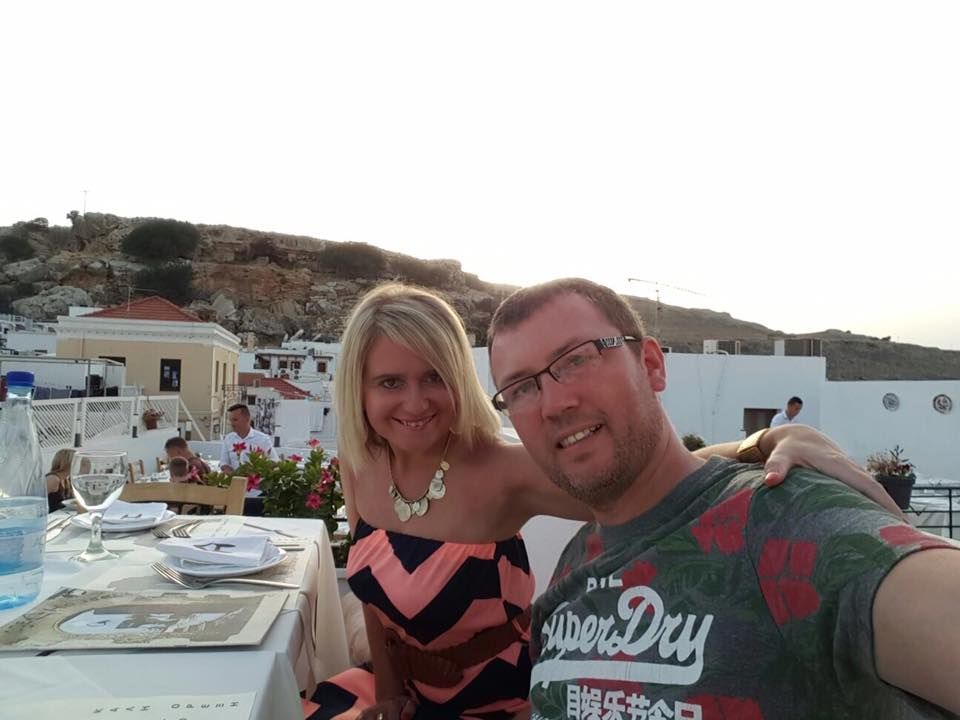 In the day it gets incredibly busy due to day trippers from other parts of the island, that come to take in the splendour of the acropolis that sits on top of the village in all its imposing glory! You can avoid all this by choosing to laze the day away on one of the 3 beautiful sandy beaches. The main beach, Pallas beach (little beach), or St Paul's Bay.
My advice would also be to stay in the village itself, OK so you don't have pool access in the village, but the charm of the place sure does make up for it. Experience it properly and live amongst the locals. You can find some great deals on properties by booking directly with the owners or you can use www.exclusivelyLindos.com which are a fabulous booking agent for Lindos that are based locally and can arrange your flights, accommodation and also give you great advice.
This year in May, I shall be taking in 3 Greek Islands in one week, Santorini, Naxos and Mykonos. So stay posted for tips, advice and photos along the way!
Well don't take my word for it, go and explore Greece for yourself, I know you won't be disappointed!
Yammas!!