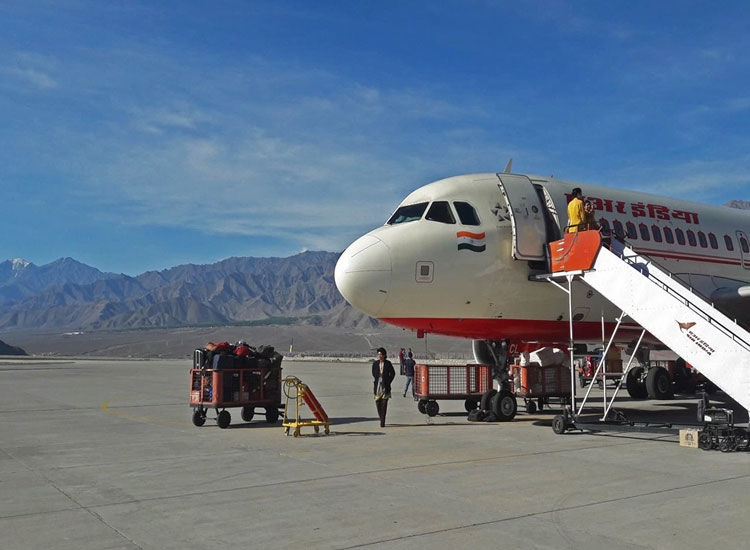 Who has not dream't of going to Ladakh? The beauty of the landscape there verges on the unreal, and the notion of time simply seems to dissipate. Mention the word Ladakh, and the words "bike trip or road trip" pop up almost instantaneously. This is one of the by effects of the prevailing trend, which dictates that the charms of this region are best experienced by hitting the road.
However, there are several good reasons for flying to Ladakh, and as unconventional as it may sound, this mode of travel has its own share of excitement and thrill. Moreover, certain geographical and weather conditions may pose certain hazards and risks while undertaking a road trip.

This is exactly why you should ditch the road and prefer aerial transportation. This blog tells you why you should take a direct flight to visit Ladakh this year. Just catch a flight, and make your Ladakh travel right!
Tension in the Valley
Unless you have been living under a rock, you may have heard of trouble brewing in Kashmir Valley regularly. You should take such news seriously. We often hear reports of tourists being stranded on the Valley due to unforeseen circumstances. Political tensions are known to erupt in the valley at the drop of a hat, and obviously, you would not want to find yourself in the midst of such troubling and often, unpredictable situations.

It's always better to observe precautions and take the aerial route instead. After all, what's the point of renting a bike and embarking on a road trip when you are unable to enjoy yourself? Your care is our concern.
Crowd of Amarnath Yatris
It just so happens that the route you will be taking for your trip to Ladakh will coincide with the route taken by a large number of pilgrims, or Amarnath Yatris, too. Naturally, that is going to cause you a lot of inconvenience, one of which is being stuck in a traffic jam for a long period of time. Not only does being stuck in a crowd mean wastage of time and energy, but it also means, not being able to enjoy the trip in a way you would have liked. After all, isn't the entire point of going to Ladakh about enjoying and having a good time? An alternative way of enjoying your trip while avoiding any hassles is opting for a flight.

You will catch magnificent views of the trans-Himalayas and Ladakh Range from above. So, to avoid the crowds that make you sigh, just fly!
Offers by Airlines on Flight to Leh
Does the thought of flying to Ladakh deter you due to the exorbitant prices charged by various airlines? Well, we won't lie to you. Yes, the fares of flights bound for Ladakh can indeed be expensive. However, do not fear, various offers from airlines are here! Some of the airlines which fly to Leh Ladakh are GoAir flights, Air India flights, Jet Airways flights and Vistara flights. Now, these flights often come up with lucrative offers for the customers, particularly during the summer season.

That is good news for you, because not only will you experience an enjoyable journey, but also, do so at an extremely affordable rate.
Time Saving
This point is quite related to the one above! Traveling by air is not only enjoyable, it is also very convenient. You save a lot of your time by catching a flight than traveling by road. Think about it, it takes a minimum of three days to reach Leh from Delhi via Manali and four days to come back to Delhi from Leh Ladakh via Srinagar. However, catching a flight allows you to reach your destination in a few hours. This gives you more time for acclimatization and sightseeing.

I hope you agree with me when I say that Ladakh is an extremely fascinating destination. With that in mind, I know of a particular travel website www.lehladakhindia.com where I found attractive packages for Ladakh, here you can also check the best deals for yourself.

Enjoy Breathtaking Views of Ladakh Range
Well, this one is best experienced personally rather than described in words. The aerial views of the trans-Himalayas and the Ladakh range can only be described as surreal. The scenery below, with the snowcapped mountain peaks, sprawling valleys and azure lakes, looks nothing less than a paradise. This is reason enough to opt for the aerial route rather than hitting the road.