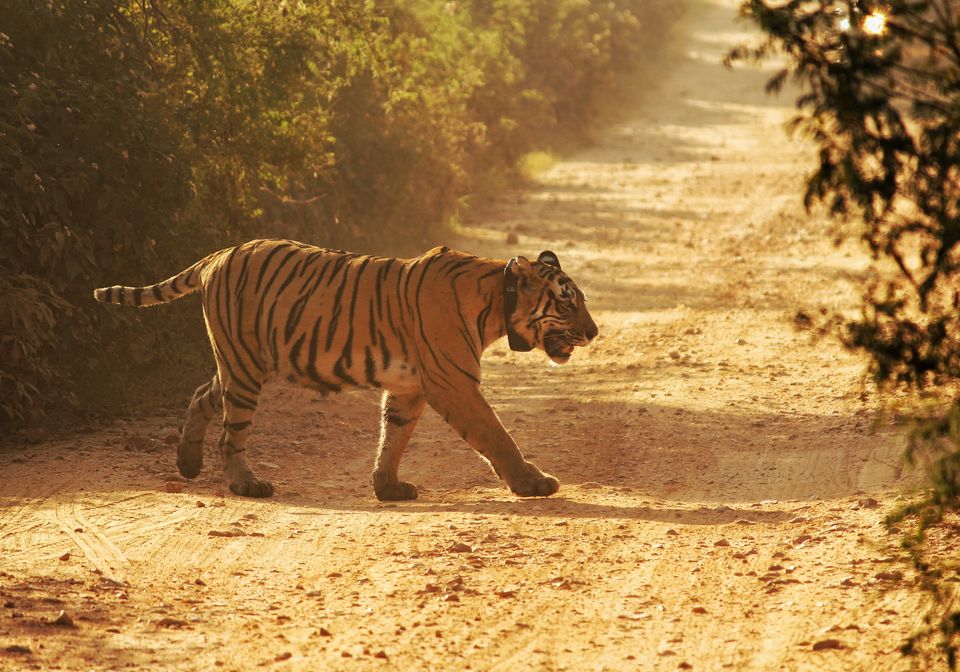 Generally, most of people's will like wildlife tour. But for me it's an energy drink. Need to drink at least 6 months once. After shifted from Chennai to Jaipur, most of days spent inside the home and explored few places at locally.
During Dussarra holiday, my mind had a plan to go nearby wildlife sanctuary.
So I considered Ranthambore and Sariska.
Finally, I choose to go Sariska for 2 days' trip along with family.
Let's go to Sariska Tiger Reserve !
On Friday early morning 3.30 AM we have started our journey from Jegatpura by car. Slowly we reached Jaipur-Delhi Highway and went till Shahpura and took left to reach Sariska via Khatolai and Thanagazi.
Highway road is good and free from traffic due to early morning. Almost 6.45AM we have reached Sariska after traveling 120 km. And hurry up to show online booking to update our presence in ticket counter.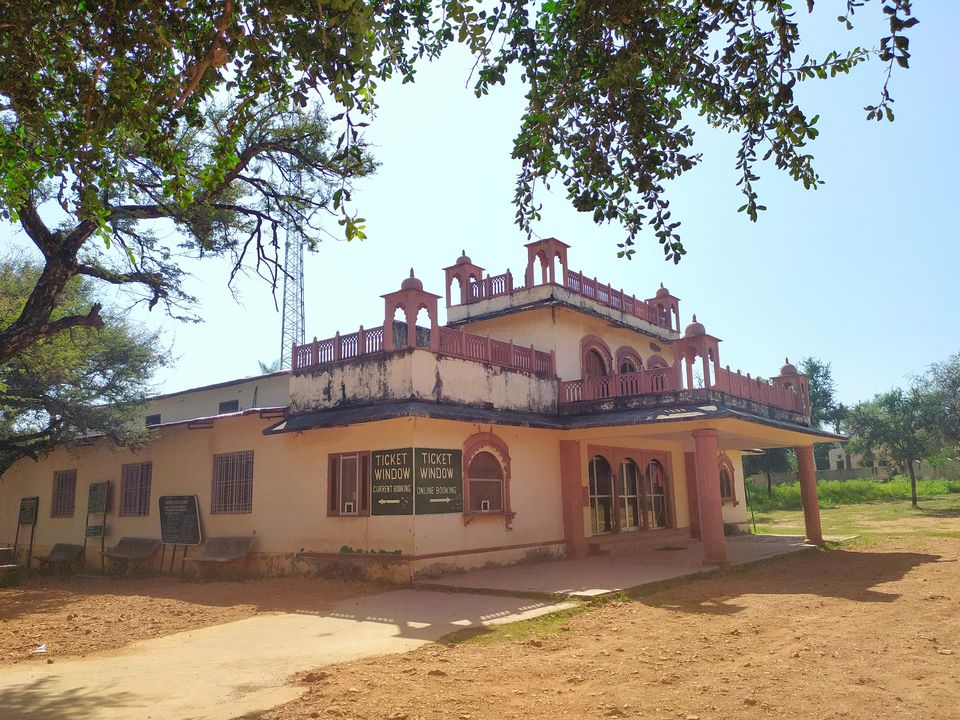 Because Safari starts 6.30AM. I had been already booked safari thru "sso.rajasthan.gov.in".
This is official website to book Sariska and Ranthambore safari. Don't book in some other websites due to fake and additional cost.
Some hotels which is nearby Sariska also book safari along with hotel package. In such case safari vehicle will pick you at hotel. Its best option if you stay nearby but cost look more expensive i.e from Rs 2000-8000.
After getting confirmation from ticket counter, we board the safari canter vehicle.
Actually this Safari starts from 2 gates of forest. One is Sariska gate another one is Tehla gate. Sariska gate is nearby Alwar and best option for the peoples who are from Delhi. This gate has both Gypsy (6person) and Canter Vehicle(20 persons) for safari along with three different zone to roam inside the forest. Tehla gate is 20km from Sariska gate but travel time will be minimum 1 hour due to off road. Here only Gypsy vehicles available for Safari.
Safari cost will be Rs.850 for Gypsy and 500 for Canter per person.
Safari started around 7.15 and we sat on back row of canter. It moves slowly into the reserve forest area.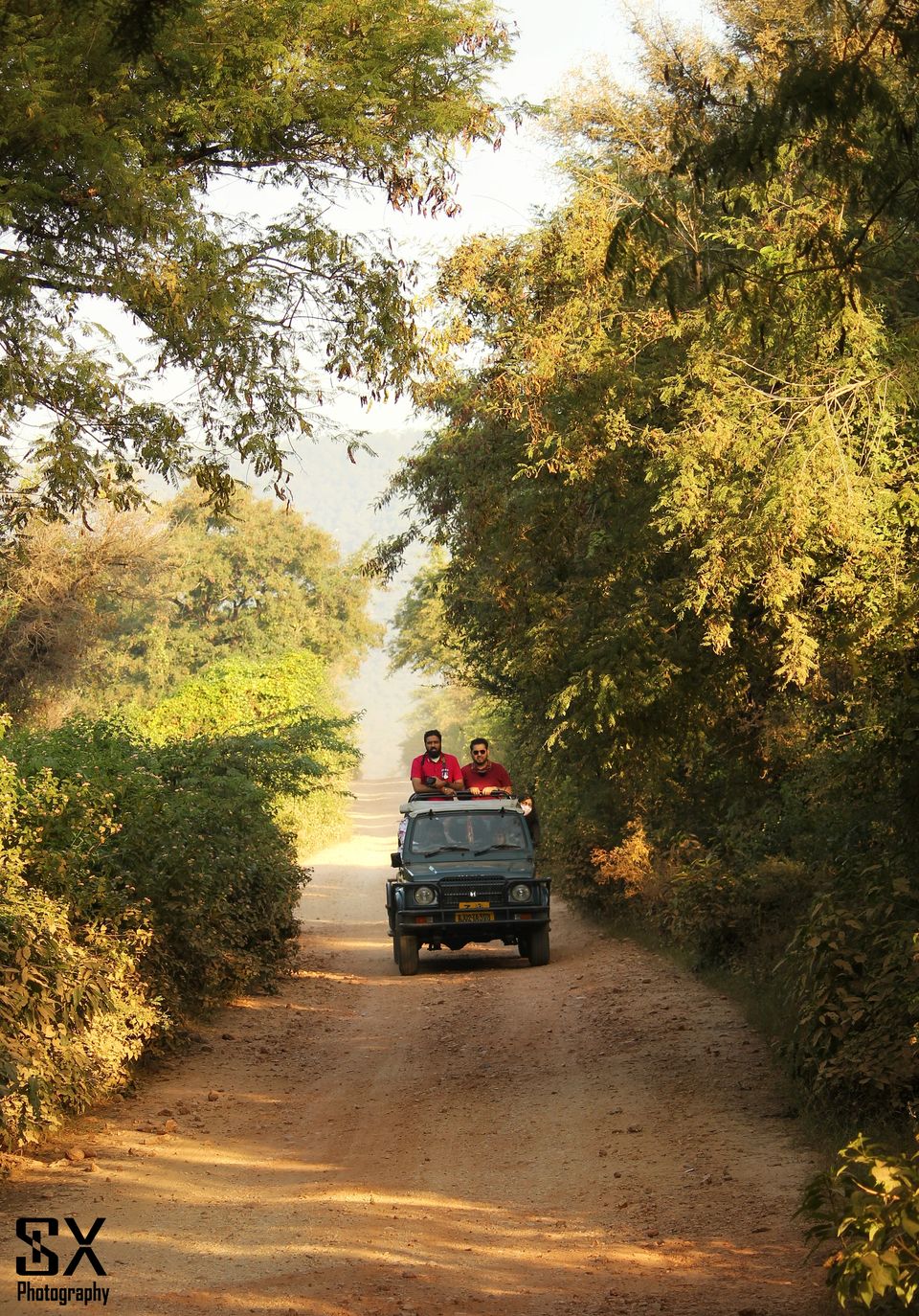 Suddenly one gypsy tries to overtake our vehicle. But there was no space to go. They got information from other drivers about some vehicle spotted the tiger. Then our vehicle also started to move rash manner. They are not take care of traveler's. Rules and regulations are applicable only for travelers not for those safari drivers and guide. Then we have reached the spot and waited more than half an hour.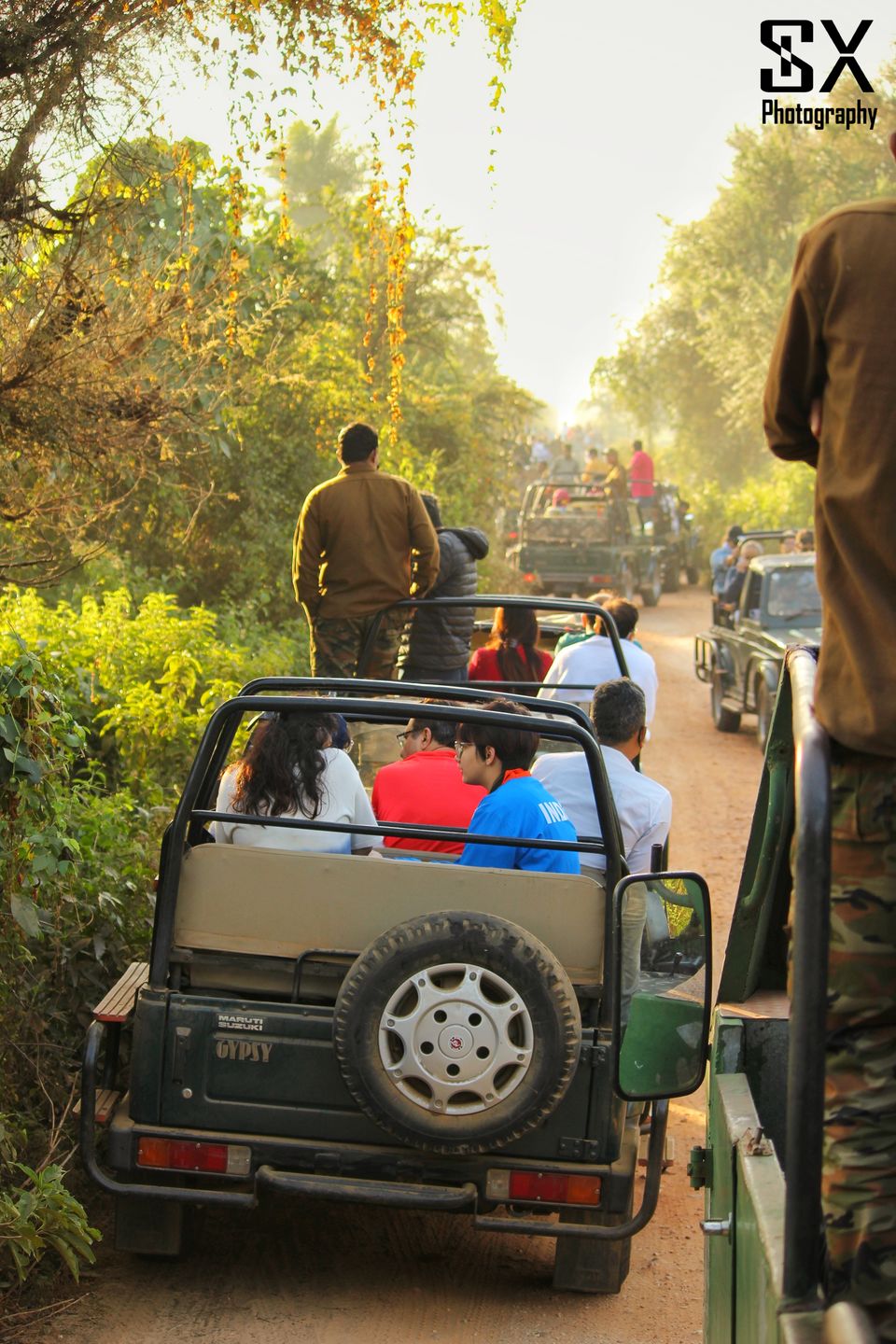 Unfortunately, couldn't find the big cat. Then we requested to move forward.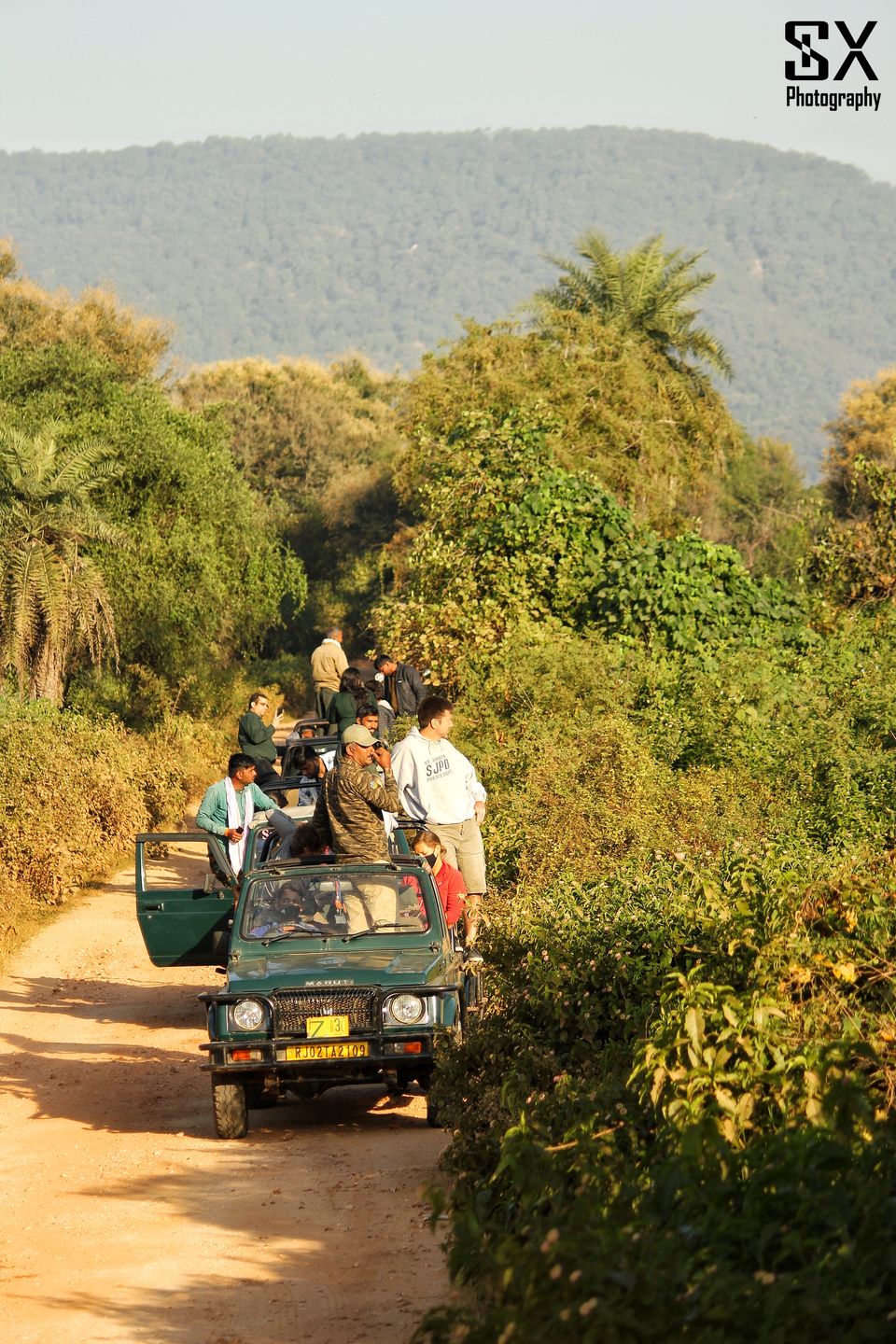 Again one gypsy came and told that tiger came out in some places. We made U turn and reached the spot and stand in last. Finally, tiger came back on the safari lane which was back to our vehicle with 100m distance.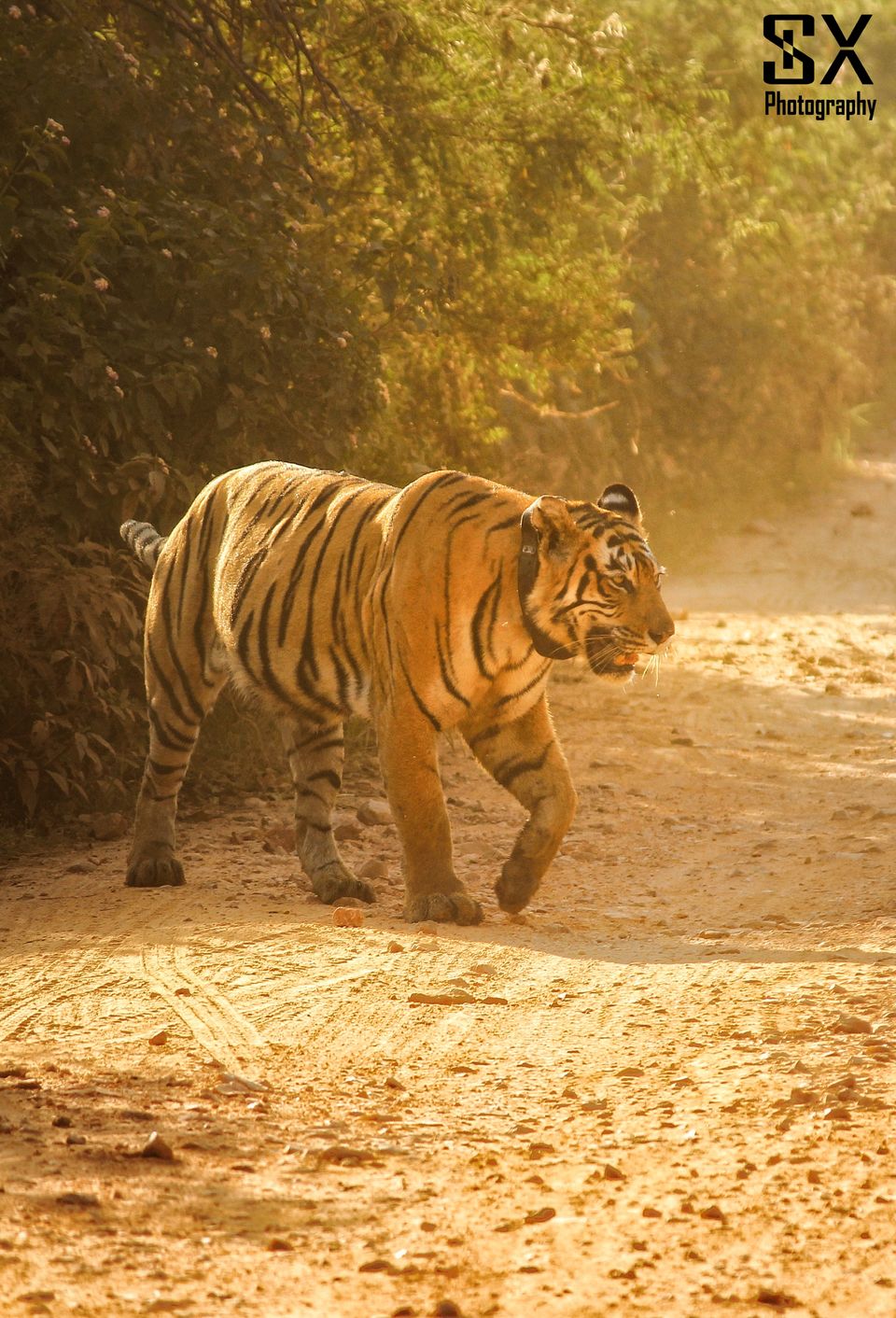 We spotted it first and enjoyed causal walk of it. Its first time for me to spot tiger in reserve forest though already visited Jim Corbett, Periyar and Parambikulam.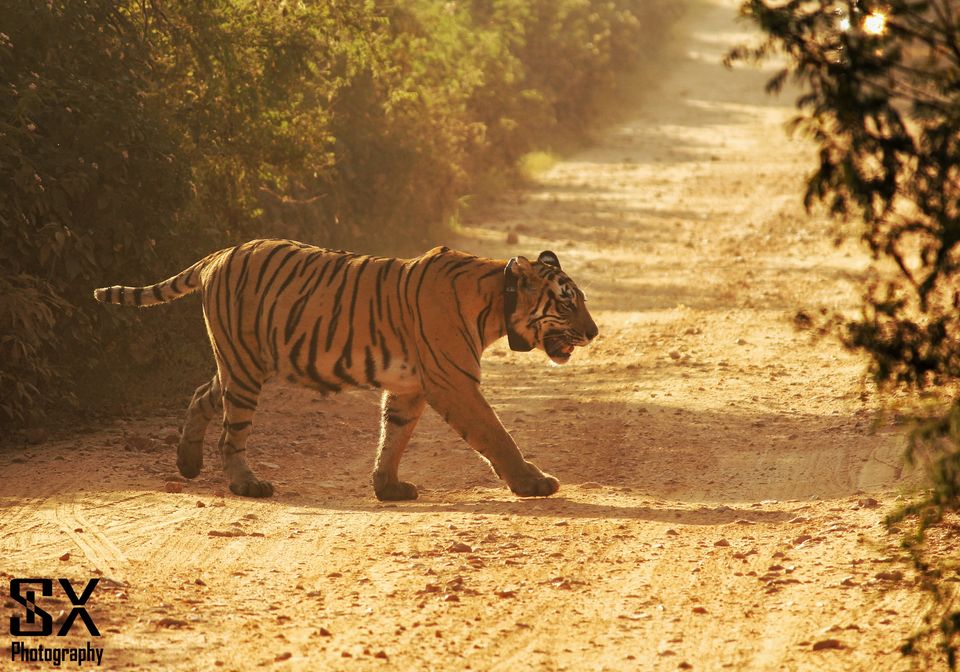 It walked slowly from safari lane from left to right. After few minutes all gypsy rushed to reach very close to tiger.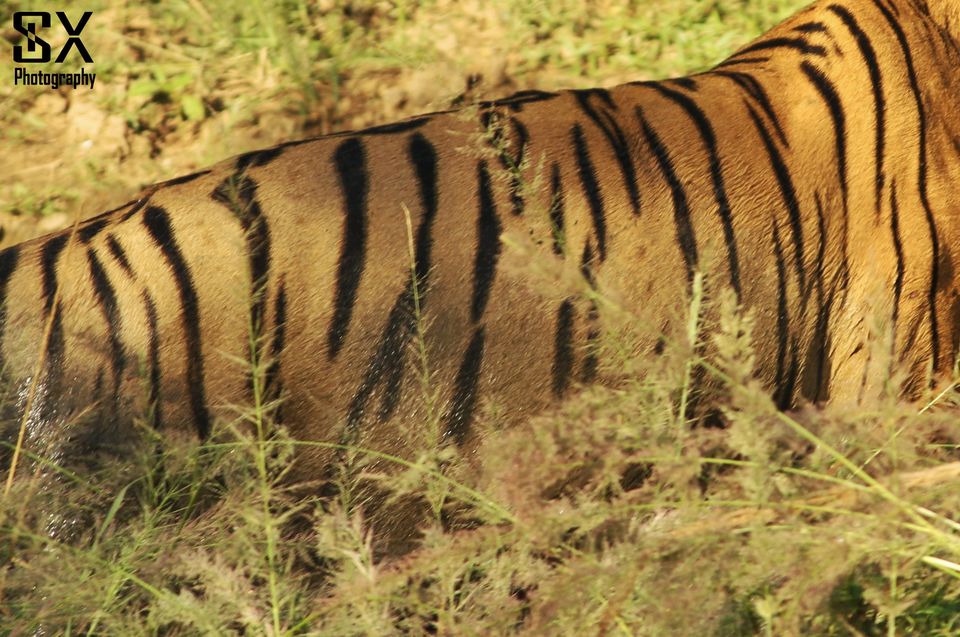 Then it went inside the grass area and try to came nearby our canter vehicle area. We are very close to it and scared. Also there is no proper way to come out. So it went little forward into forest and came to lane. So it's travel was zig Zag manner. Though safari vehicle makes much disturbance to tiger, it handled situation very calm. Then it went again into forest area.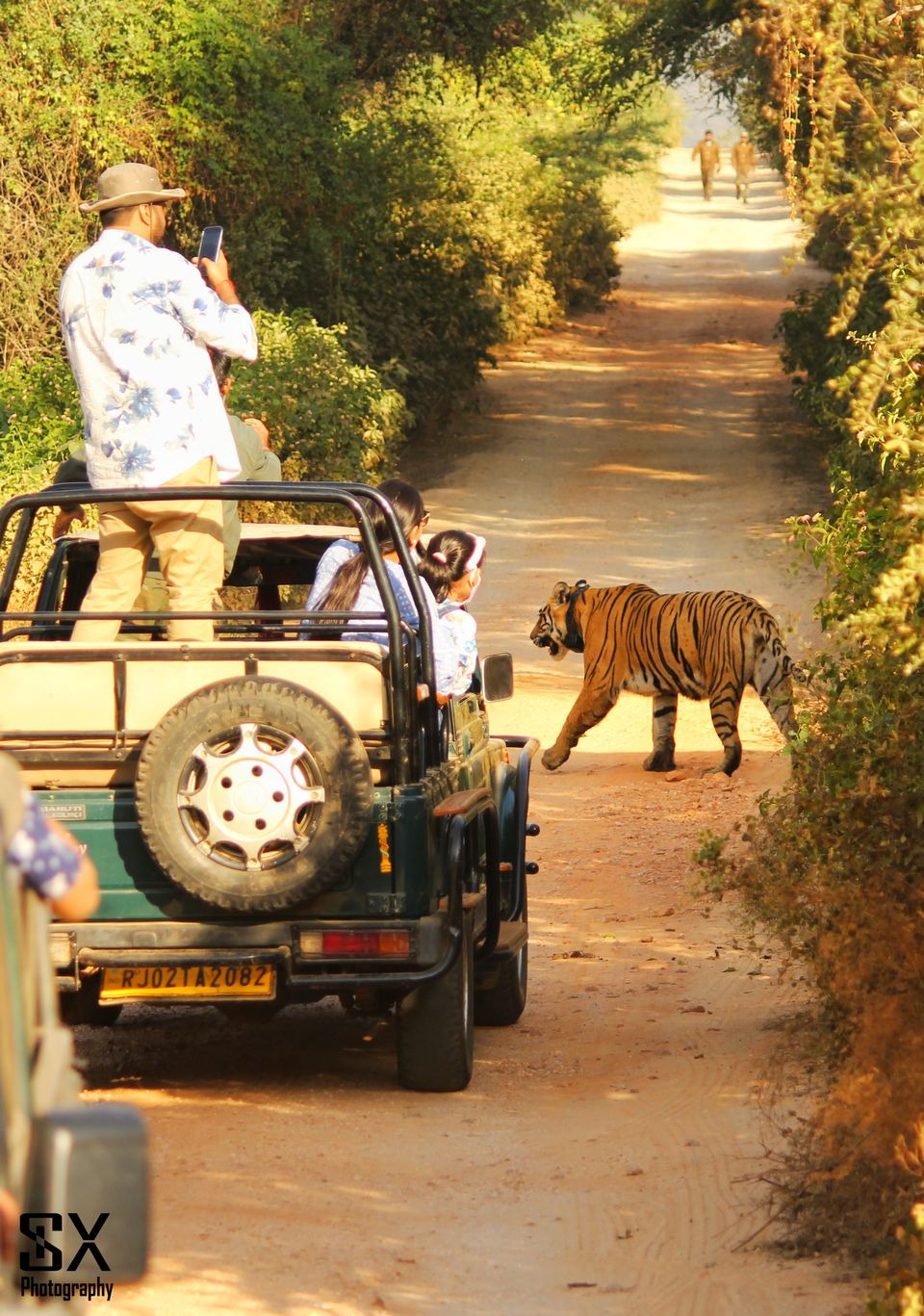 Our vehicle started to explore zone 1 for remaining time. During safari we should be sit carefully because of many tree leaves will hit on our head. Some of co traveler's got minor injury during our safari.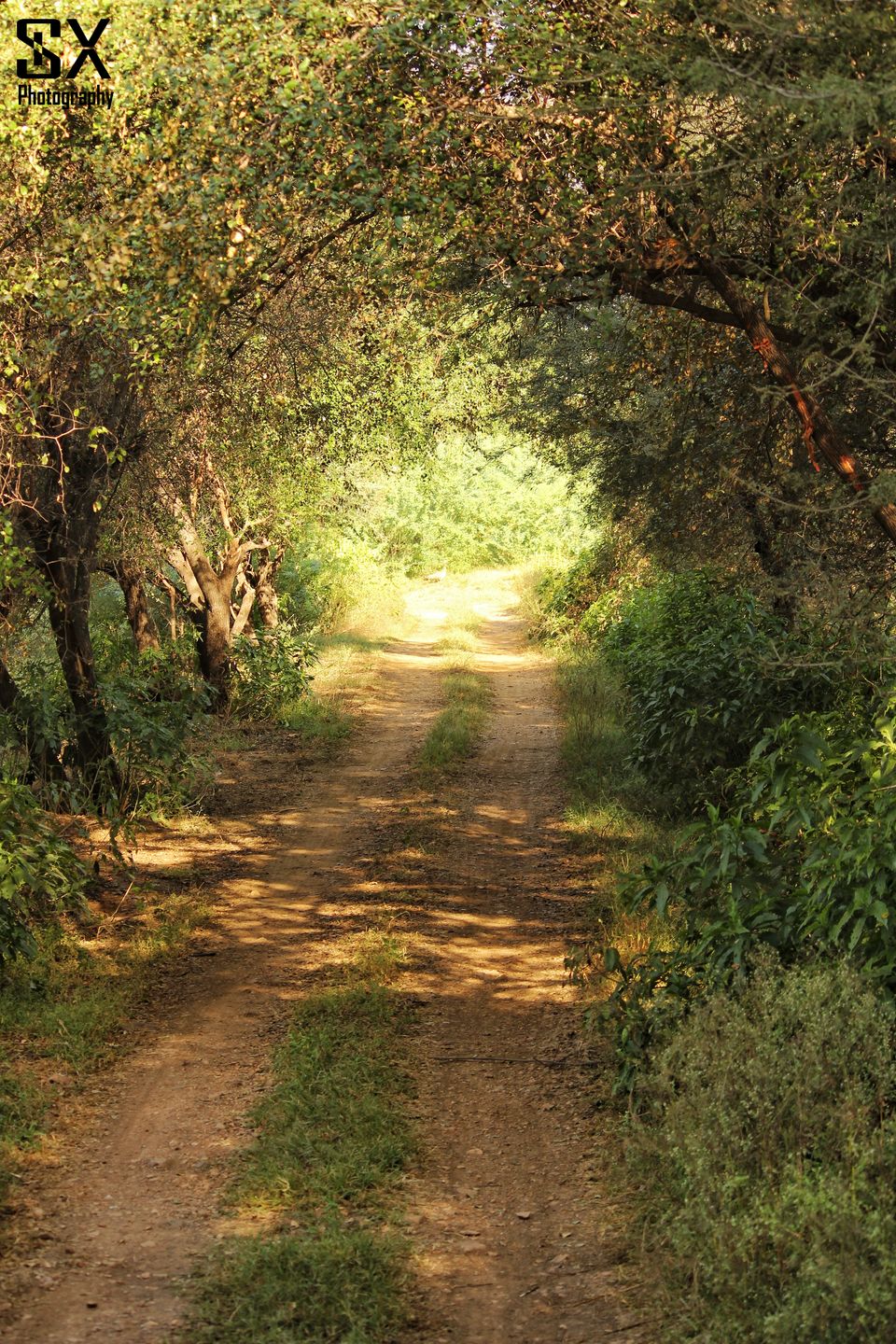 Inside the forest we saw the sambar deer, spotted deer, peacock, birds etc. If we have more luck, possible to spot leopard also on the trees. Many safari lanes are made to explore each area of forest.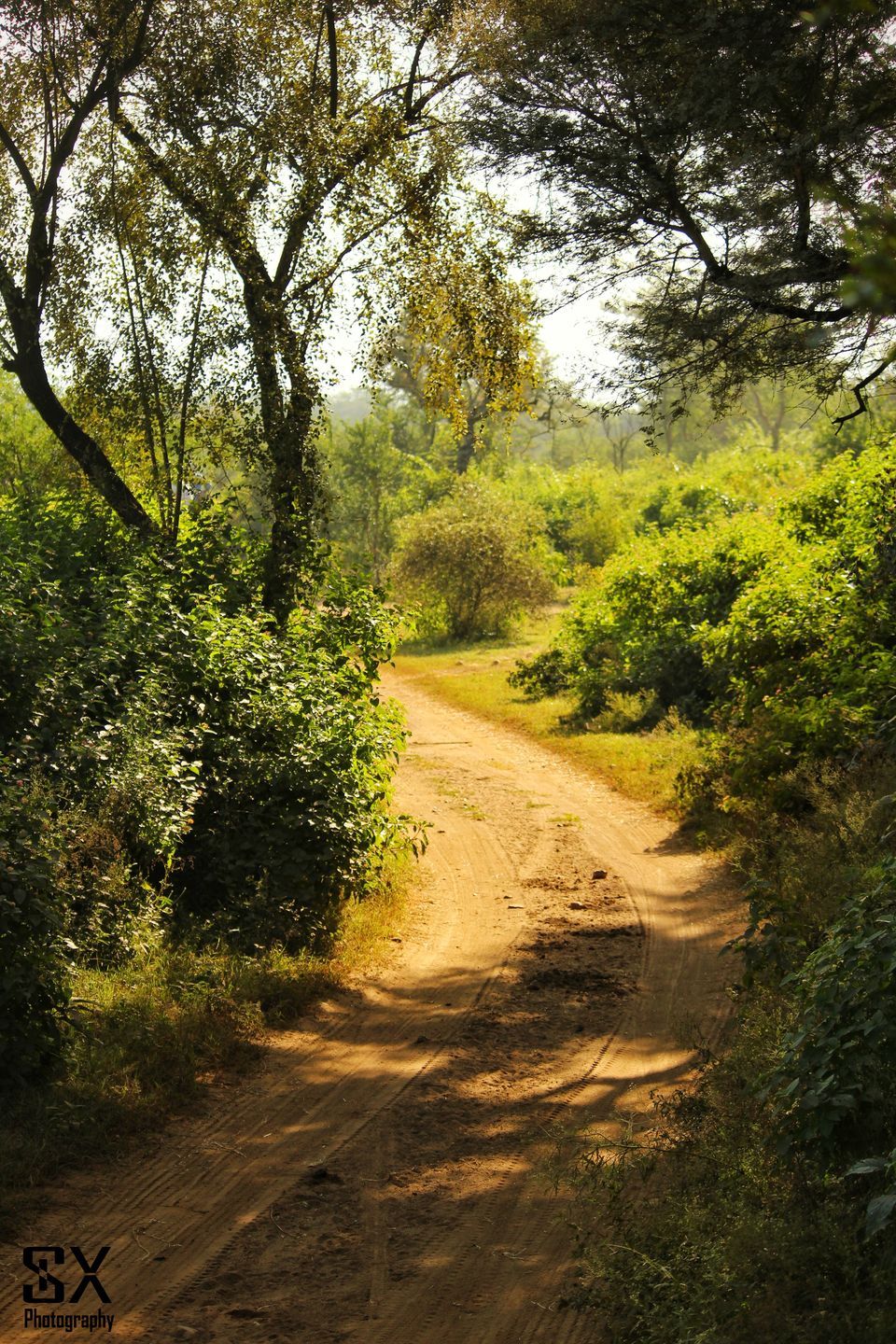 Around 9.30 we have completed the safari. Actual time is from 6.30 to 10.00.
But in our case duration was 2.5 hrs. instead of 3.5 hrs.
Finally, guide asked some tips to shown the tiger. I discussed with him for few minutes.
Then we had breakfast at canteen which is nearby ticket counter. Toilet facility is there but need some improvement in terms of clean.
Slowly we moved towards Alwar to see Siliserh Lake which 30 km from here. Road was bad for few kilometers. After that road is good. And before lake few kilometers are road work under progress. So we have reached around 11.30 to the lake with entry ticket of 100 for each person. Inside tourism hotel also is there to stay overnight. Location is good and maintenance is poor. The same time cost for one-day stay starts from Rs. 2700 which is not worthy!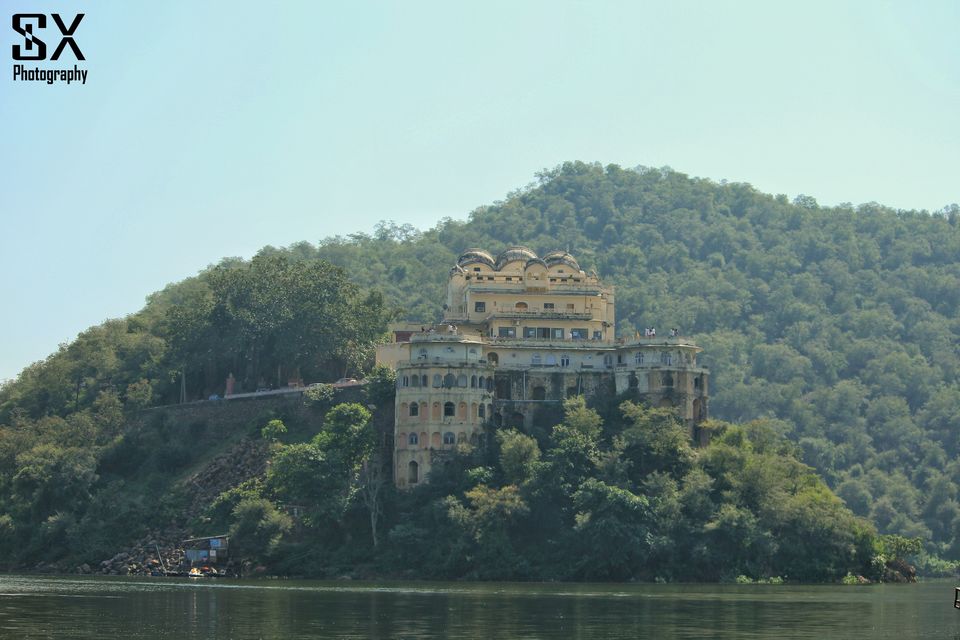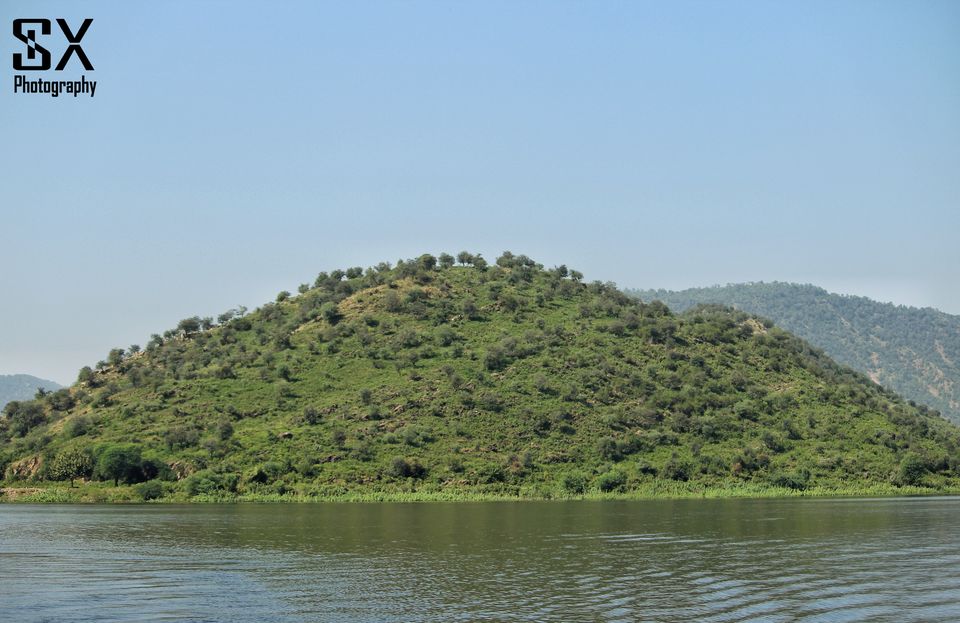 Then had welcome drink which is included in entry ticket. Also I enjoyed boating in the lake which is Rs. 800 for 8 people for a boat. It was 15 minutes' travel inside the lake.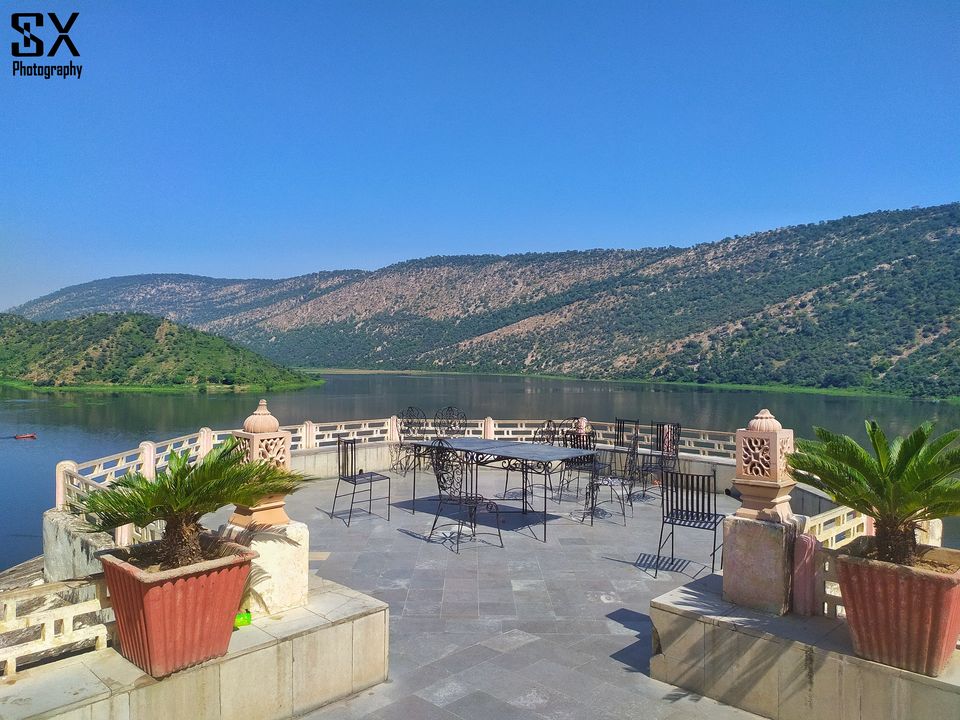 Later we moved to Garwaji water fall which is 9km from here. Roads are moderate level and passed many villages. So we can drive slow manner only. After half an hour we have reached falls area. 200m walkable distance from car parking. Falls area surrounded by huge height of pillior rocks. Very less amount of water comes in the falls at that time. Maximum 1 hr we can have spent here.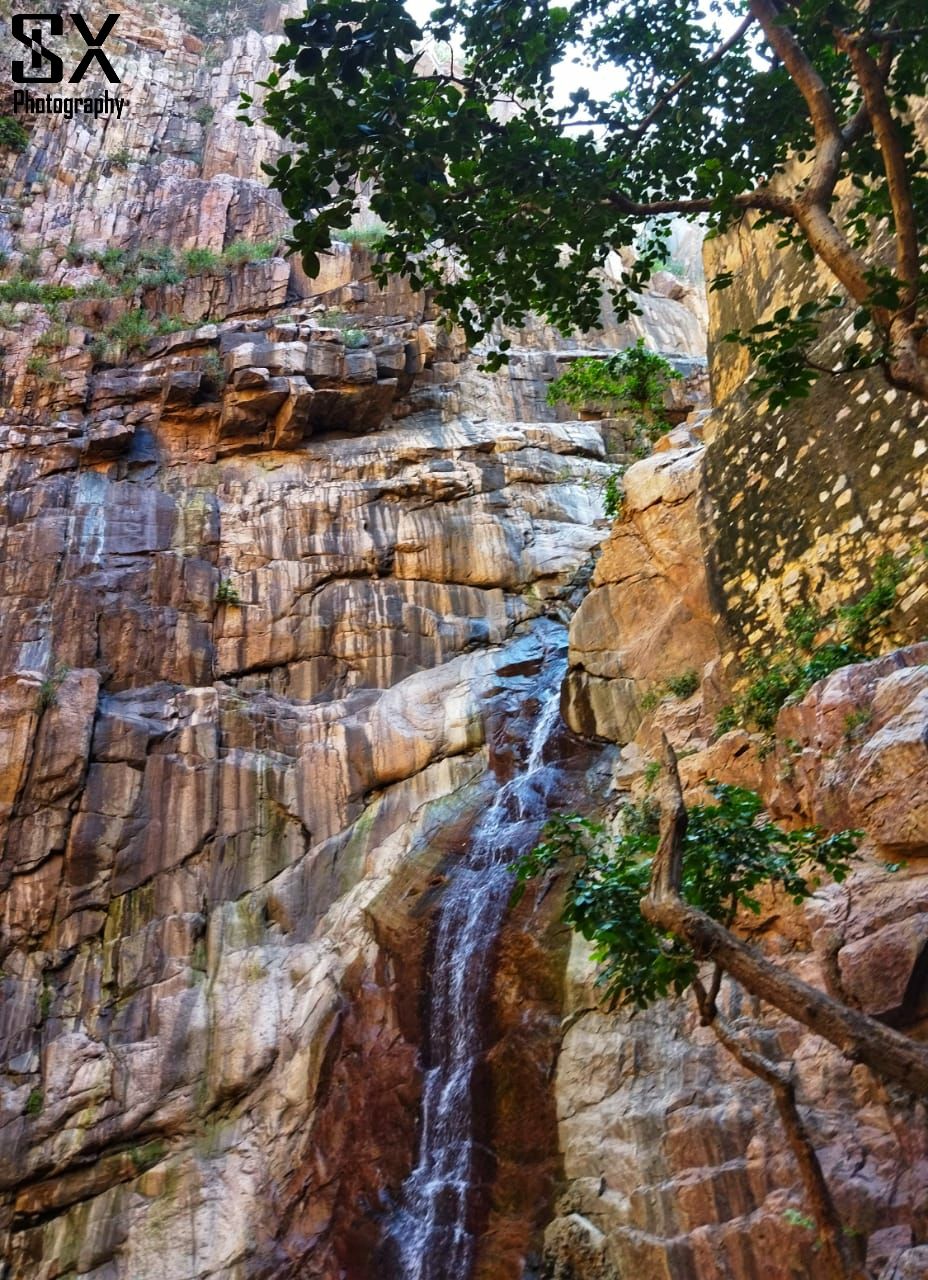 Then moved towards Alwar City and stayed in a hotel for an overnight. We had dinner at Delhi Dharbar hotel and taste was awesome. You should try when go to Alwar next time.
Next day morning we wake up at around 5.30 and started journey again to Sariska Tiger Reserve to see Pandupol Hanuman Temple.
On Tuesday and Saturday, private vehicles allowed inside the forest to go temple only. Entry ticket for this travel is 70, 345 and 540 for Bike, Car and Mini bus respectively.
Maximum we can go 30km/hr speed limit. Better to go slowly to enjoy wildlife and it's beauty.. Road condition is almost off-road type only. More dust will accumulate in our vehicle.
So always window be in closed condition otherwise monkey also will get inside the vehicle for some food.
After 12km travel, one junction will be there. we have been checked by forest authority through entire vehicle. Straight road will connect to go Pandupol Temple and Right side road will connect Tehla gate.
We went straight and enjoyed the wildlife scenery. Road condition little bad but can be manage if we go slowly.
we have reached the temple at 10 am and roamed next 1 hour & had some snacks.
Then we return back to Abhaneri, Chand Boari step well through the Tehla gate. After reach Tehla gate, road condition was good. Almost last 5 hours, speed was 20-30 km/hr with bumpy and dusty.
Smooth road makes pleasant journey but not memorable.
Around 2.30pm we reached Abhaneri village and got refreshed with tea and snack.
Slowly we moved nearby step well area and took entry ticket Rs. 25/ head and entered inside.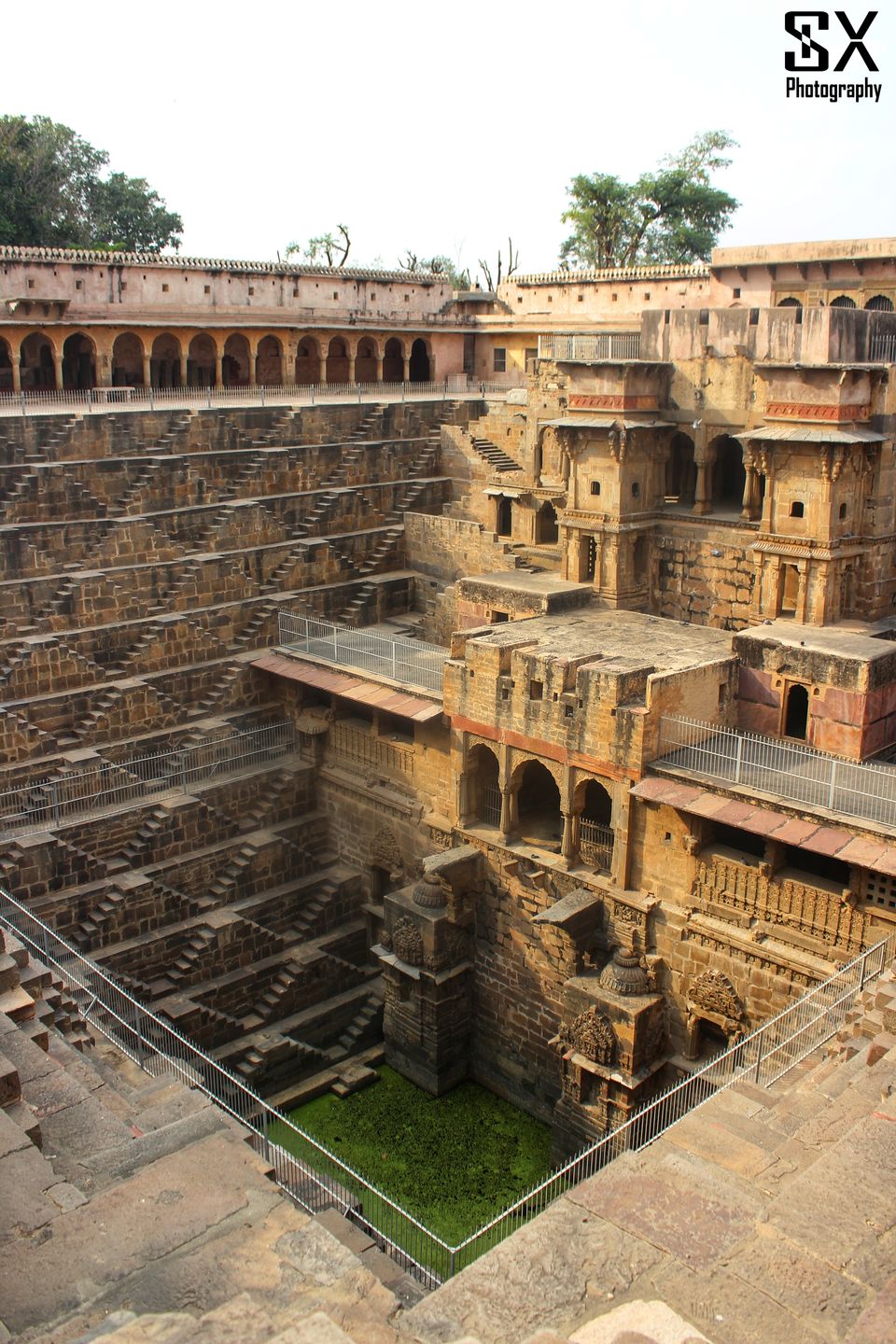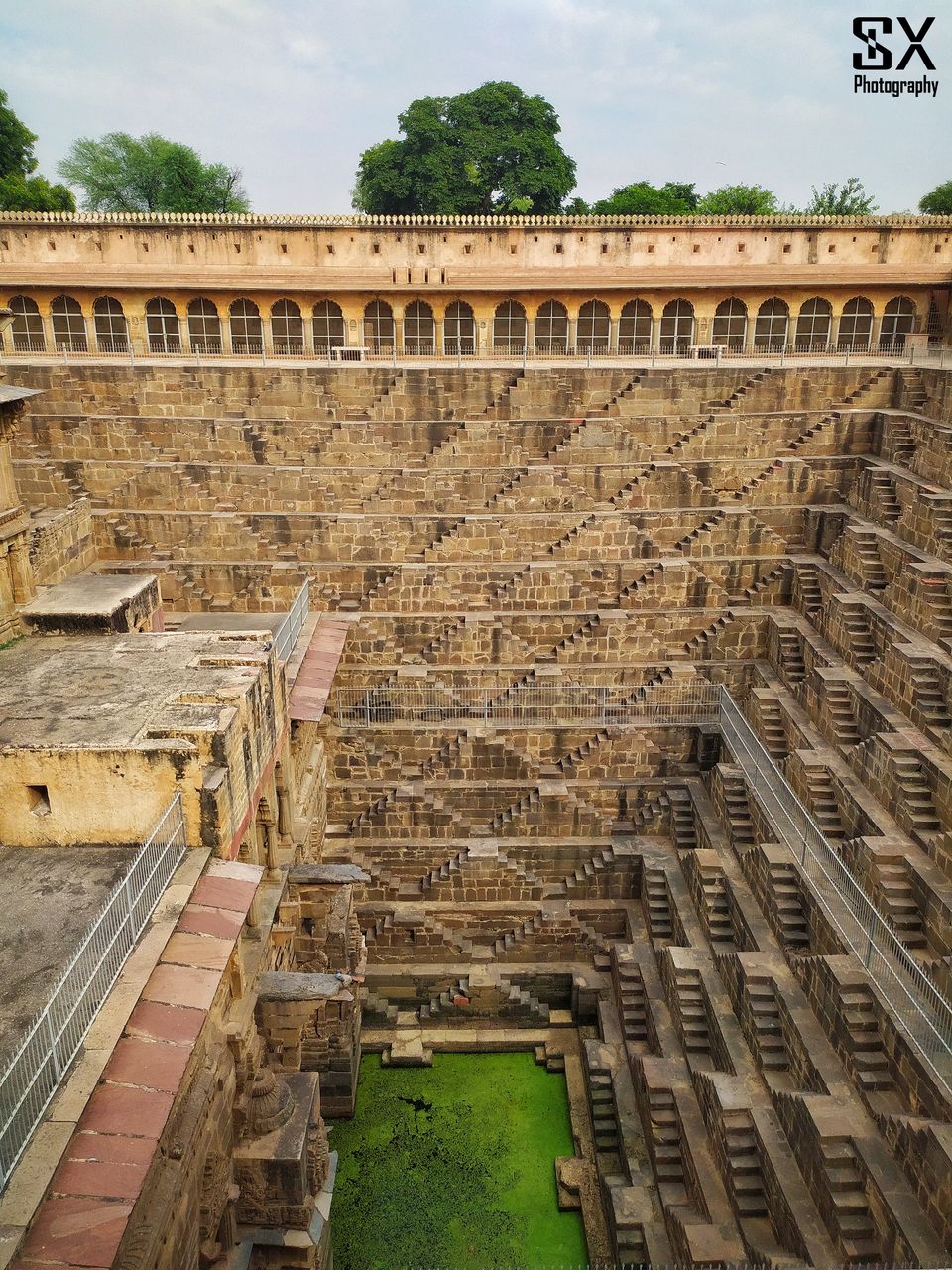 Our eyes say wow feel but our nose will felt some bad smell due to bat waste.
It's 8th century architecture for storing water along with 13 floor and 3500 steps.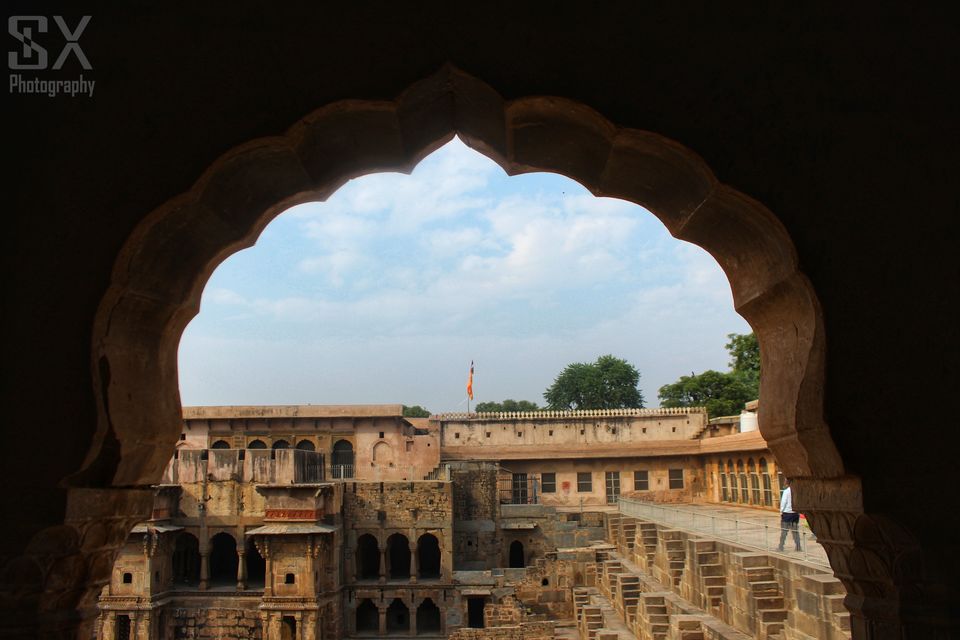 Water body temperature 5° lesser than the atmosphere.
Entry side, palace type of architecture and other 3sides are covered by steps.
Tourist not allowed to enter inside the steps due to safety reasons. Hence, I couldn't focus 3sides of steps in single frame of photo. Atleast they can allow palace area in front side to explore good scene of this well.
Around 4pm we have started to return Jaipur and reached by 7pm.
Highlights of this tour was the tiger spotted by luckily. Otherwise it will not be fulfilled trip. In the Western Ghats even not spotted big cats, greenery will attract much. But here almost flat area and not that's much dense forest. Without expect anything we can go there for weekend gateways.
Hope my travel experience and photos will meet your expectations and enjoyable.
Trip expense for 2peoples as below,
Safari = 1000 (2 people's for canter vehicle)
Food = 600
Petrol = 2000
Hotel = 700
Entry fee and parking = 800
Total =4100
----
Siva