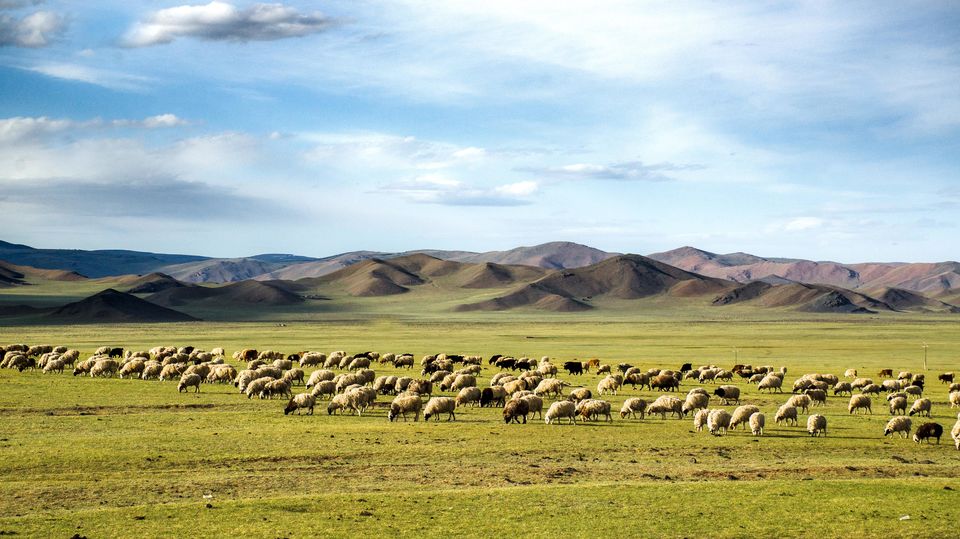 No matter how often people say that travel-for-soul-searching is a cliché, it will always be an in-thing. Destinations will change, but the quest to explore the world outside and within will remain forever. The reason is simple, no matter how much each place is done and dusted, every one of us is on a separate timeline and will always have someplace to go. For someone who has lived all their life in a small town, going to a city and exploring it, will be a new experience. Similarly for someone who has been around the world, going to a new place will still be a new experience. In conclusion, they will always find new places to travel and humanity's quest for traveling and exploring will never end. Mongolia is one such country, where your pursuit of travel will be thoroughly challenged for its virtue.
Initially, when I told people I am going to Mongolia, they looked upon me like I was some kind of lunatic. Funny thing is, that look came from people who didn't even know Mongolia was a country. When I didn't feed their non-sensical humor of mocking me, they went on to ask "Why Mongolia?". Although, back then I simply said, Why not? - here is a more detailed enumeration of that question.
Unheard untouched:
Not much is heard or talked about Mongolia. On social media you will hardly find big accounts, featuring Mongolian beauty. Forget about pages and pages of Google search results and you will seldom find good blogs about it. There aren't many videos either to prepare you for the journey. It is extremely challenging to research about Mongolia via online medium. This isolation describes how much it is traveled. This very untouched nature of the country is what draws you towards it. My hunger especially was fueled by the fact that it is simply beautiful and has unmatched vistas, which I learned from somewhere, back-in-time when I didn't even know traveling was an option for me. My reliance on the book I read about this country, only added to the inquisitiveness. The resulting experience was rawer than anything. The adrenaline to explore the unexplored will surely motivate you to book a Mongolia tour.
Vast beauty:
The rugged vastness of this country has very much shielded it from getting evaded by the mindless travelers. Every single day in Mongolia offers a new challenge. The thought of, sheer distances to cover each day on the roadless landscape is enough to light a fire of wanderlust within each one of us. If that's not enough, then read this, most of the country is carpeted with an even layer of green grass, dotted with white, brown and black cattle grazing on the endless steppes, giving it a look of a giant beautiful rug. Occasionally the pattern is disturbed by nomadic Gers. At first, it is unfathomable, if at all such immense beauty exists, until soon enough it becomes an inseparable part of you. If you ever visit Mongolia make sure to plan for more than two weeks to truly appreciate the immensity. The larger than life landscape, the deafening silence occasionally broke by a neighing stallion, the endless sunsets stretching till the horizon and beyond, millions of twinkling stars each night are just a few pointers I can lure you with. Traveling in Mongolia is almost like an indescribable emotion, one has to just be there, to truly apprehend it.
Sparse population:
Many of us are naturally drawn towards, an untouched wilderness so long it allows us to be civilized just about in the right dosage. Mongolia is no doubt one such country. It is one of the sparsely populated countries in the world, with about half of the population out of the total 3 million living in the cities. Just a few miles outside the cities and you will find yourself, in open steppes stretching till the horizon, undisturbed by modernization. For hours in the journey, you will not come across a soul. No wonder, the soul-searching works best here(pun intended). The only traffic problem here is cattle. Now, who doesn't want that kind of traffic situation?
Monumental history:
If your wanderlust hasn't sparked yet, then it is a good time to remind that the Mongol empire was the largest contiguous land empire in history, that ever existed. Mongolian history is so monumental in shaping the modern world that we live in, it is almost impossible to imagine our world without Genghis khan and his descendants. It pains me immensely to see how underrated Mongolia is on the world history and tourism map. Even though the historical artifacts have not been preserved well, it's hardly their fault. The downfall of the empire due to the greed of Genghis's descendants and invasion by communist-China and Japan, followed by the Soviet Union meddling in the Secret History of Mongolia, all contributed to losing the bits and pieces of the puzzle. Perhaps it is all the more important to visit this country if you are a true history buff, to find out on your own.
Bringing this essay to a conclusion I will only say this; In hindsight what I loved about my journey was, I was clueless of what to expect. There was a surprise waiting at every turn. Every rolling hill and stream we crossed had something unexpected to offer. Be it getting stuck in a ditch or be it getting stuck in snowfall for days, I was ready for it like Marco Polo.
Now, your turn to awake that inner Columbus.