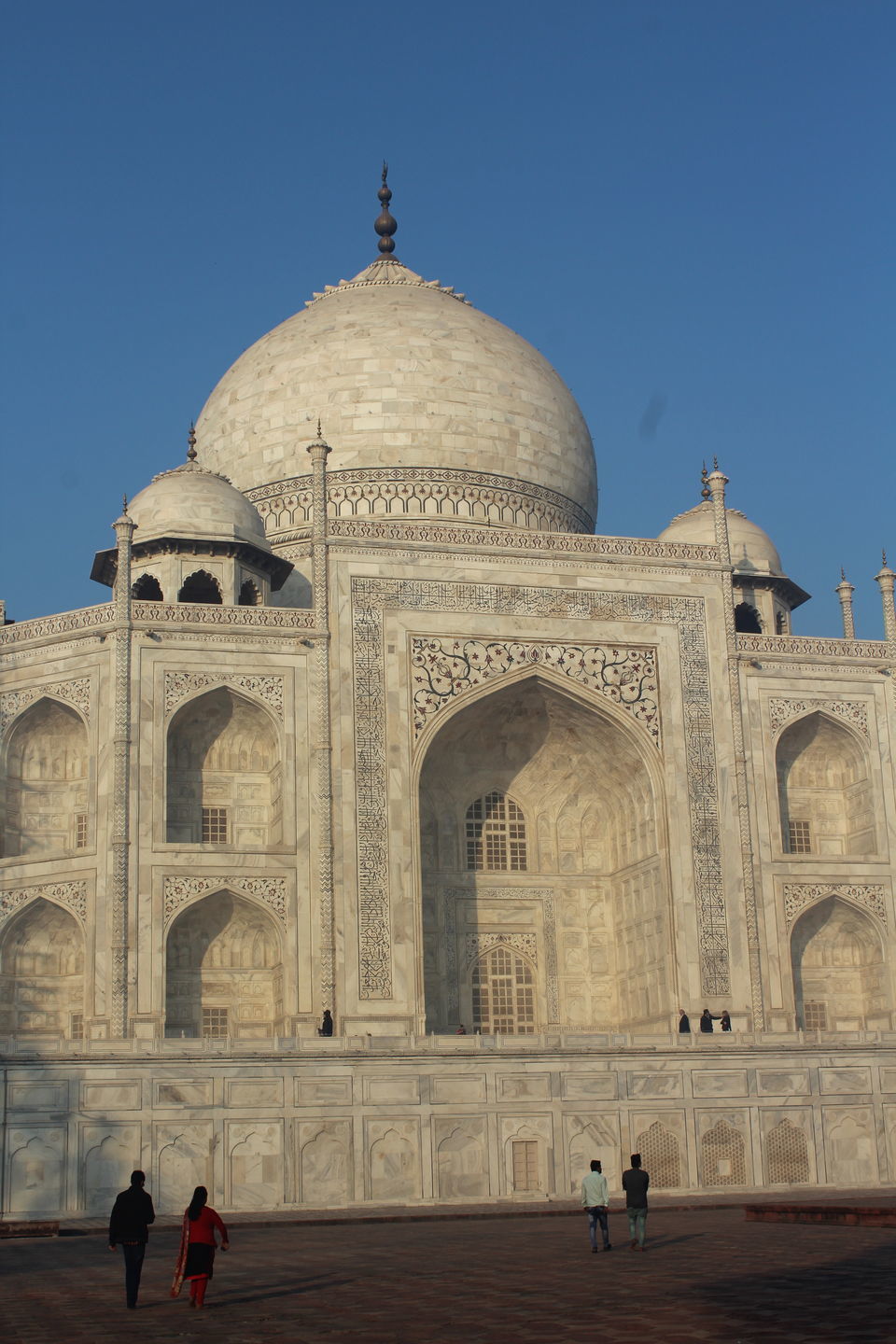 Visiting Taj mahal was a childhood dream for me after reading about it in General Knowledge text books. Taj Mahal meaning the crown of palaces literally fits into the definition as it is the Crown of all the palaces in India. This humongous manmade monument is situated on the banks of river Yamuna in North India. Being in the first page of my bucket list, I planned to visit Taj Mahal in 2016 January along with a big North India trip to Jammu and Kashmir. Taj Mahal was the first place we visited in a twelve day trip through North India. It was a breezy morning at 7:00 a.m. when three of us alighted in Agra Railway Station on 10th of January 2016. After a back breaking 33 hours of journey in Sampark Kranti express we arrived in Agra, the place of Taj Mahal and many other attractions to visit for. After a 30 minute ride in an auto we made it to the entrance of Taj complex. We bought our tickets for 40 rupees per head and entered to the complex through Southern gate after a tea break at a local chai centre.
It was a cloudy morning with many tourists already making their way through the entry gates into the complex. After a small walk of 5 minutes we got into the entry tomb through which we could see the Wonder of the World. And, Yesss Taj Mahal is the Wonder of World, with no doubt. There were many architectural students from China, South East Asia and also other parts of the World on that day who had come to study about this stunning piece of architecture.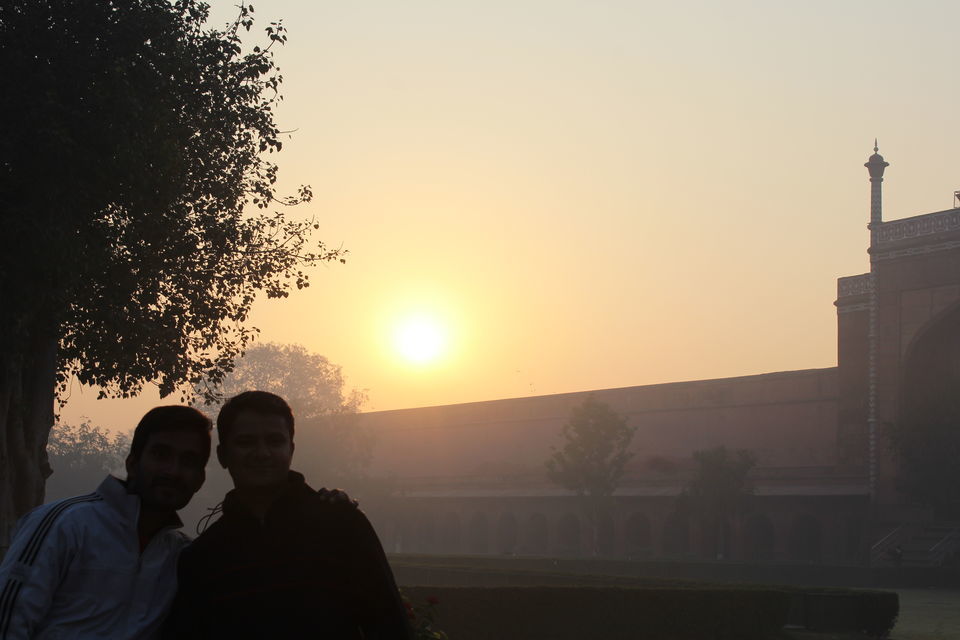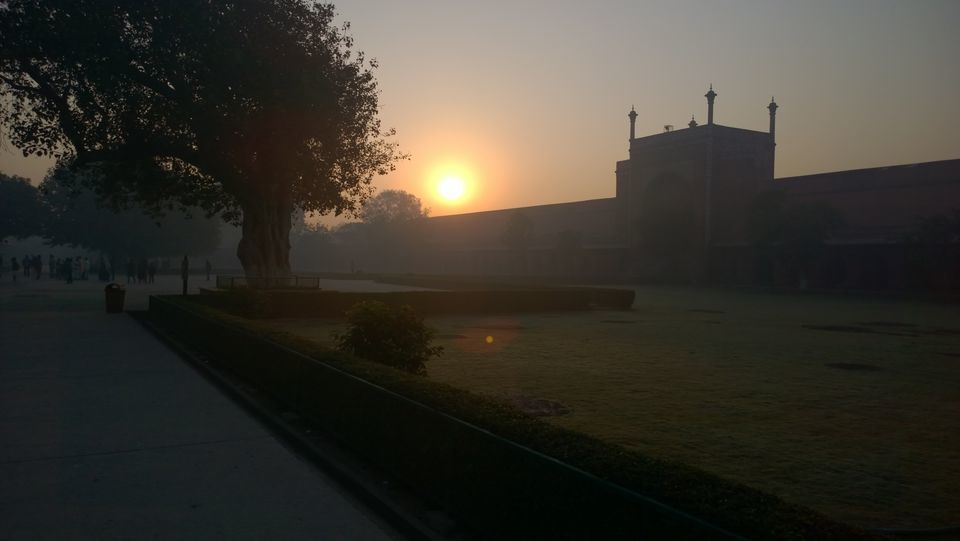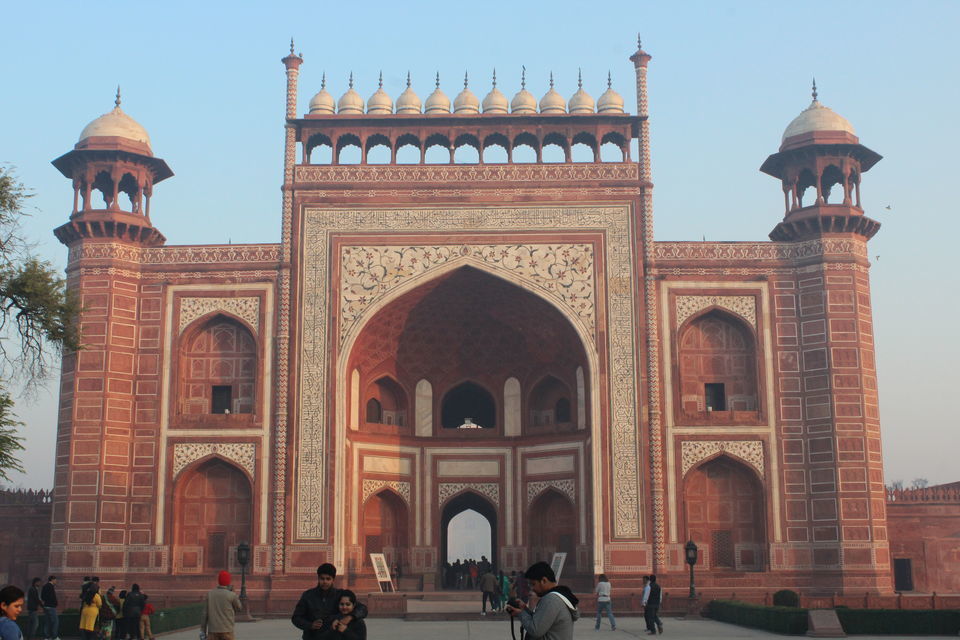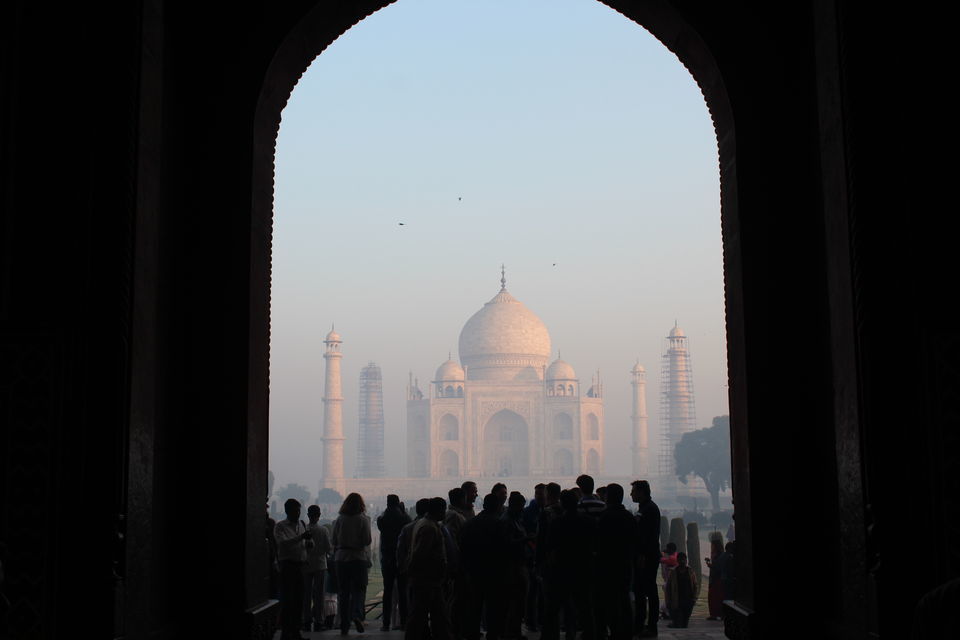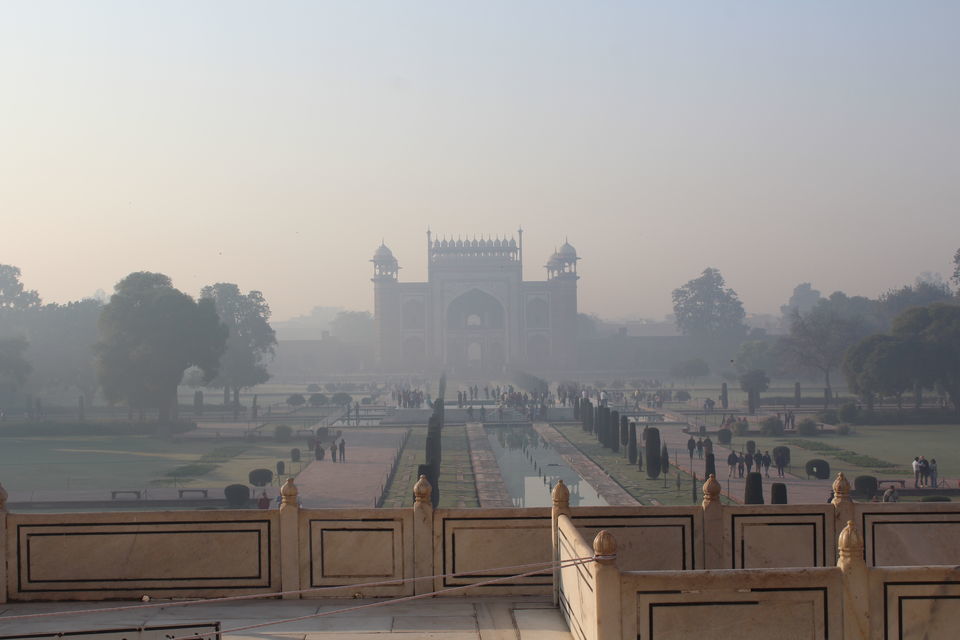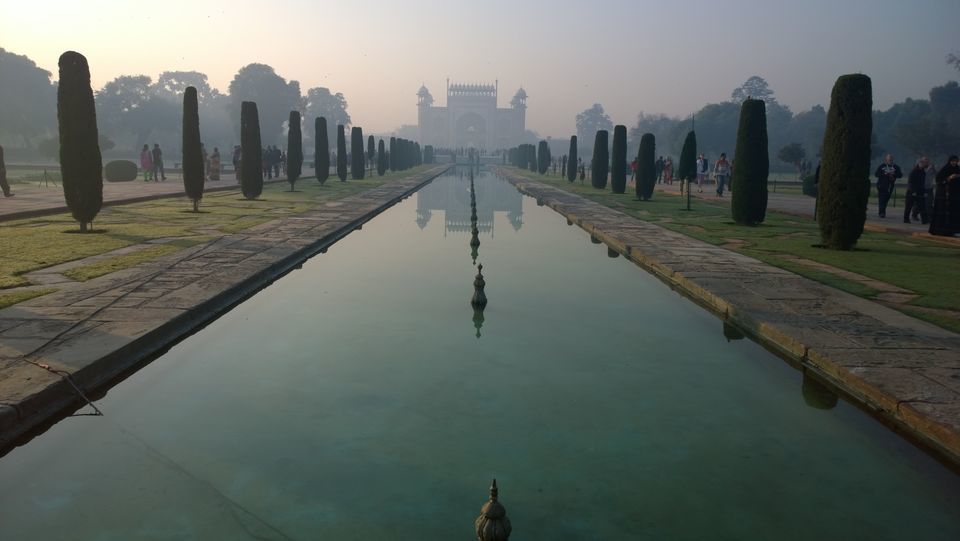 Taj is an ivory-white marble mausoleum constructed in a Mughal architectural style which attracts 7 to 8 million visitors every year. The entire complex is 42 acres with tomb in the centre, the mosque, a guest house and garden with a water flowing in the middle. They don't allow you to walk with shoes and you should buy a cloth cover which is used to stop the scratch marks on the marble floor of Taj. This entire monument is constructed with marbles and white stones. The architect of this monument is Ustad Ahmad Lahauri wit 240 foot high and is opened to public on all days of a week except on Friday. We spent almost two and a half hours here clicking numerous pics of this 350 year old marvel roaming around every nook and corner.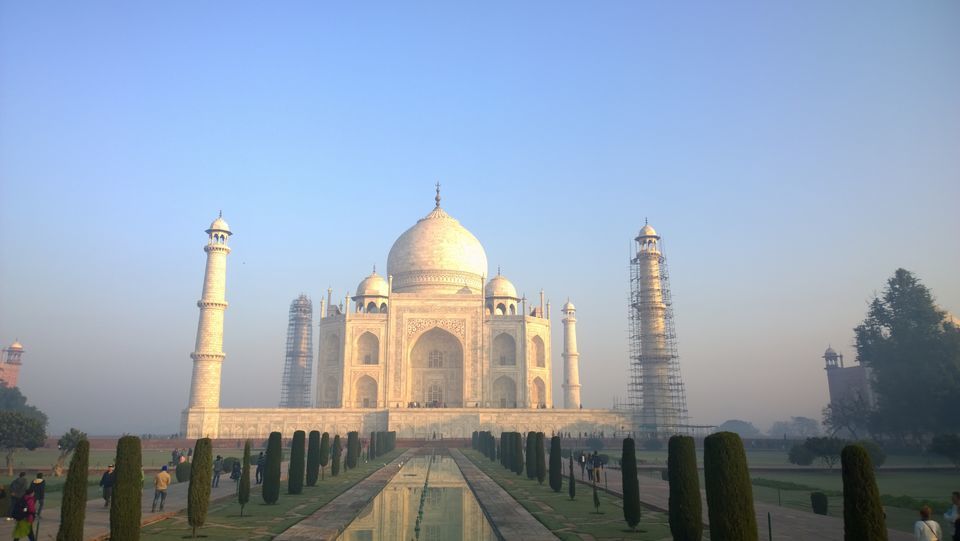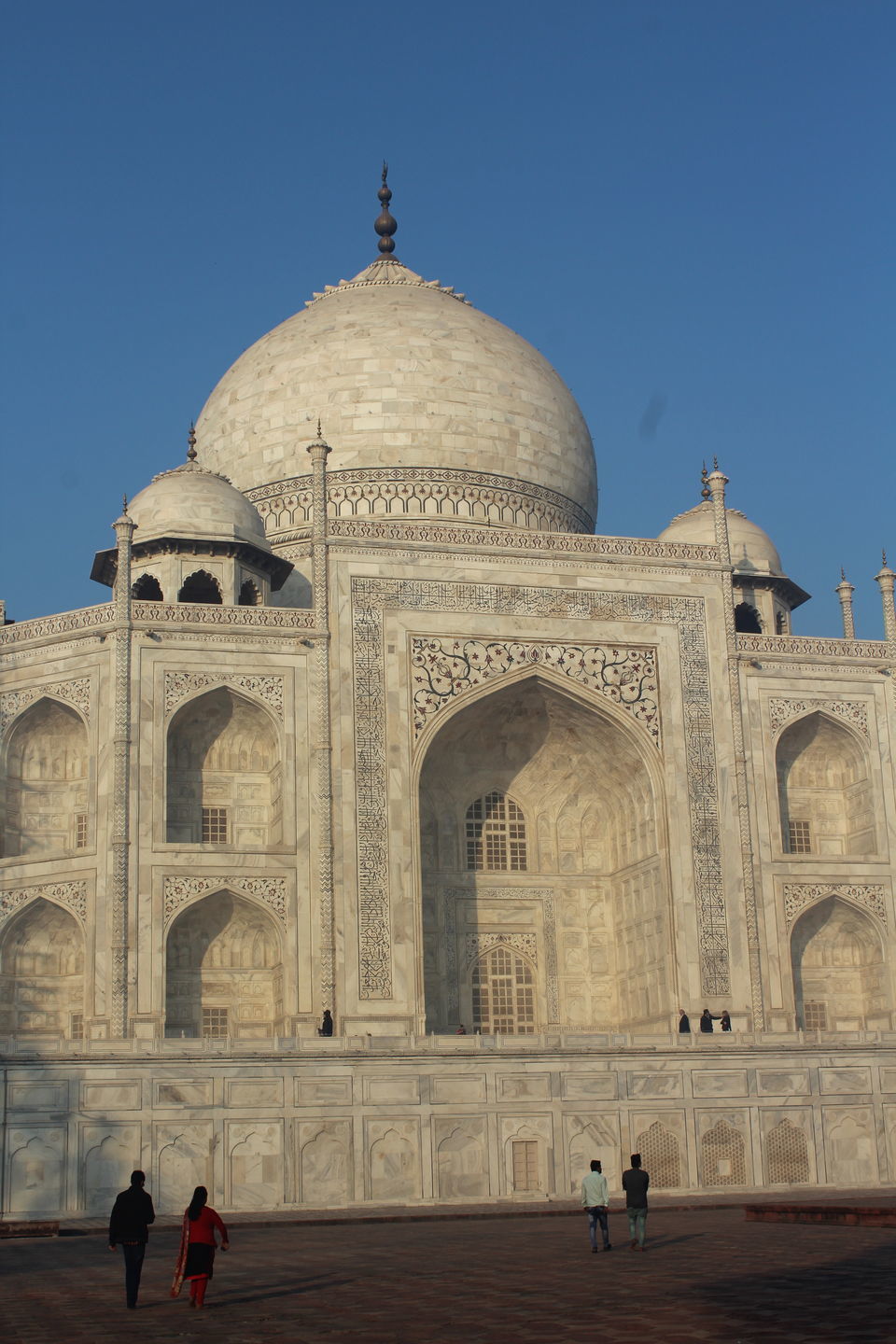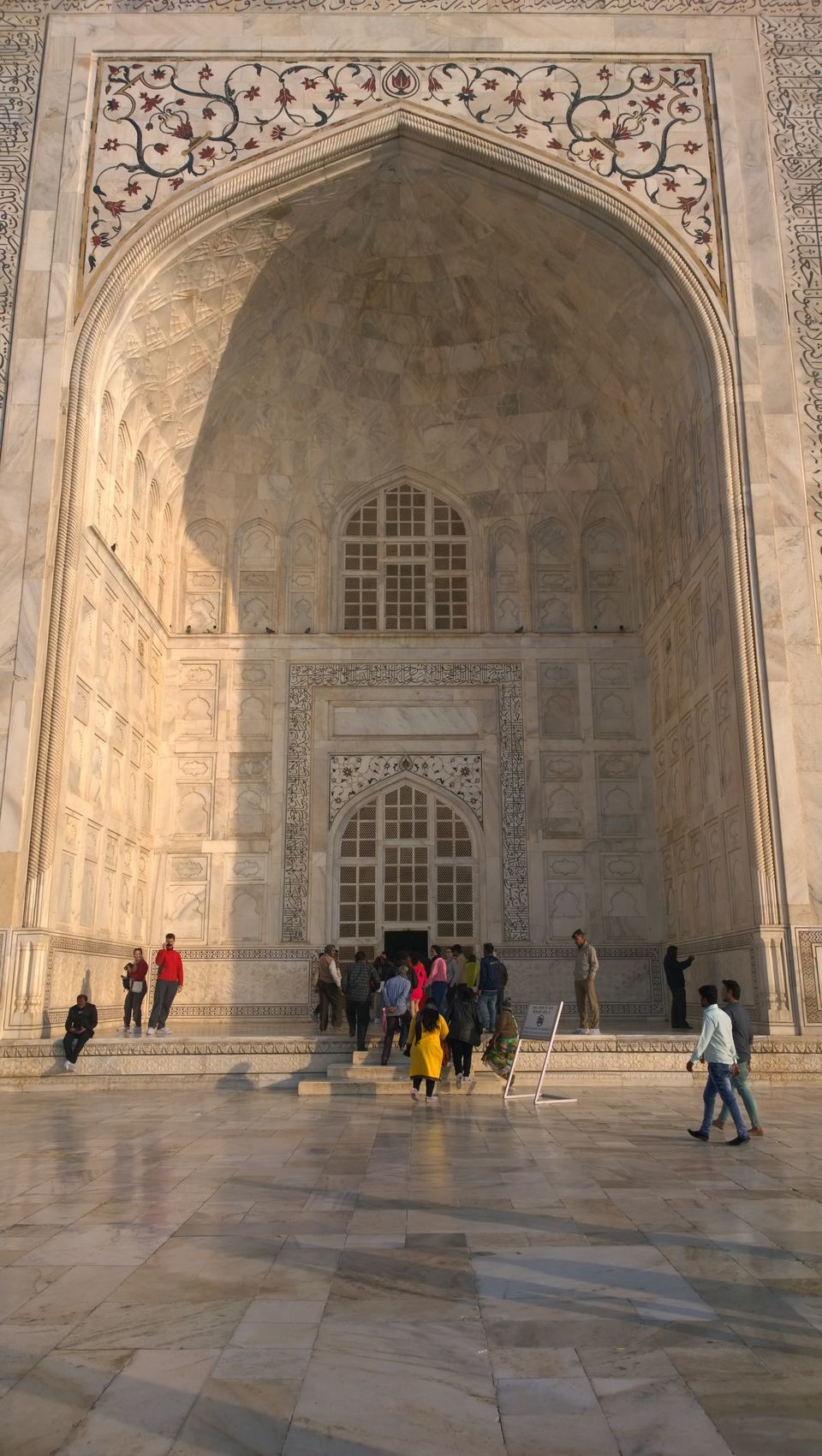 The next visit of this day at Agra was nothing but Agra Fort, one more World Heritage site in Agra and also a must visit place as Taj Mahal. This fort is a classic example of architectural grandeur of Mughal reign in India. This is also an intricate fort as compared to Taj Mahal and also has a name called Lal-Qila, denoting its red colour in Hindi. This is a red sandstone structure situated on the banks of Yamuna River 2.5 kms far from Taj Mahal. We reached Agra fort entrance by 9:30 a.m. and were in no mood to have breakfast before a visit to the fort, as we wanted to avoid hundreds of visitors. It was Saturday and the city was already bustling with tourists on every corner. We bought the entry tickets near Amar Singh gate also called as Lahore gate and entered the fort.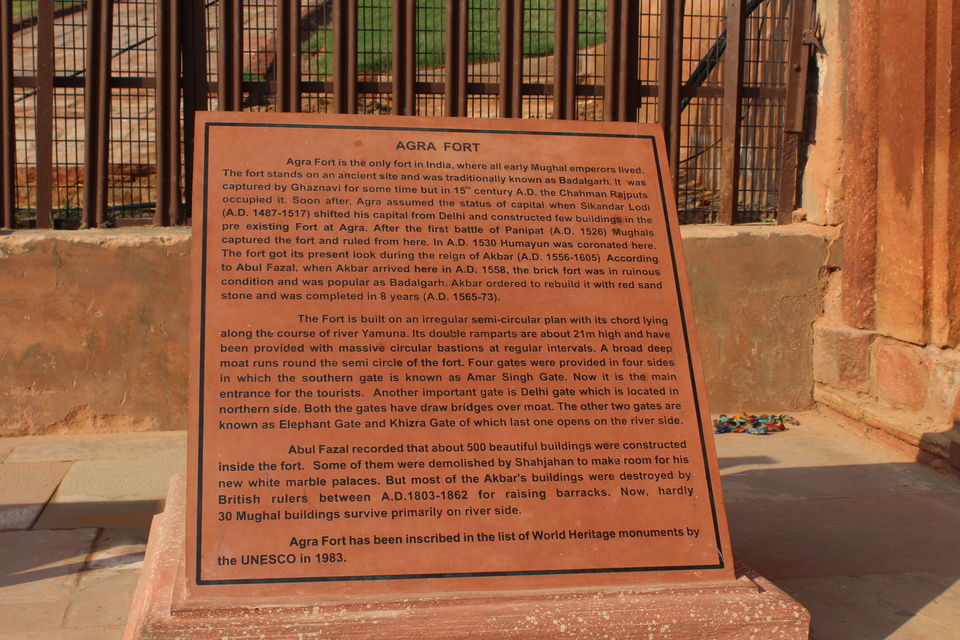 You could see Diwan-i-Am, the Hall of Public Audience once you enter the fort. This hall has numerous pillars to it and gives an elegant feel to the one who sees it. Then we visited the Jahangir's palace which is the largest building in the complex. This was built by Akbar to his son Jahangir. This building has fine carvings from inside and takes you to a whole different era when you are inside the fort. The Taj Mahal can be seen from the upper Diaz of this fort.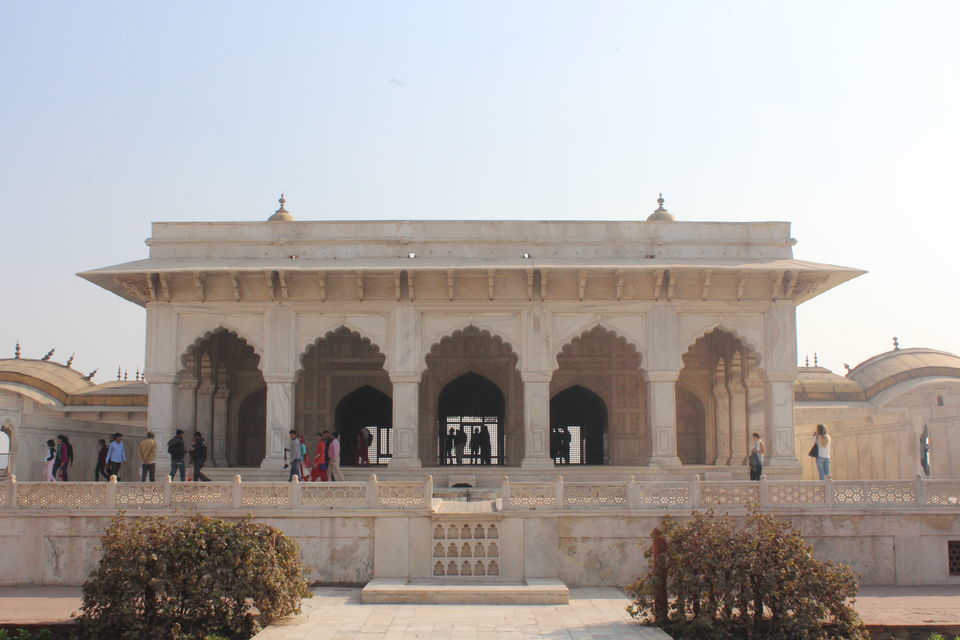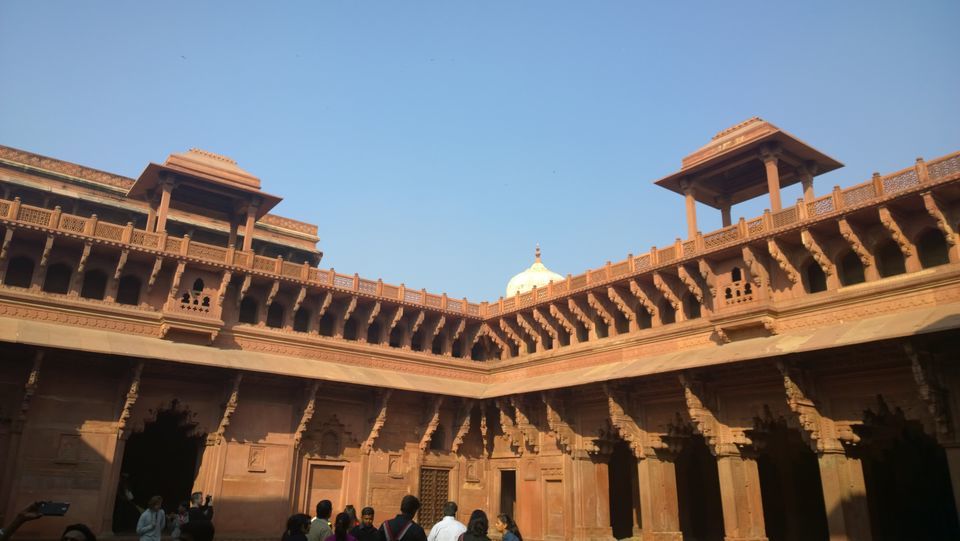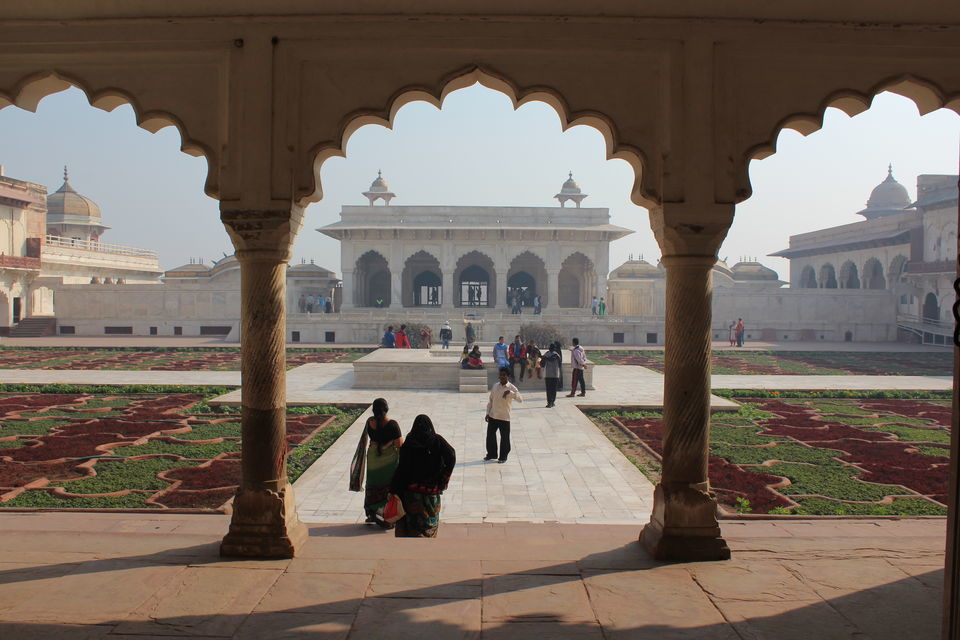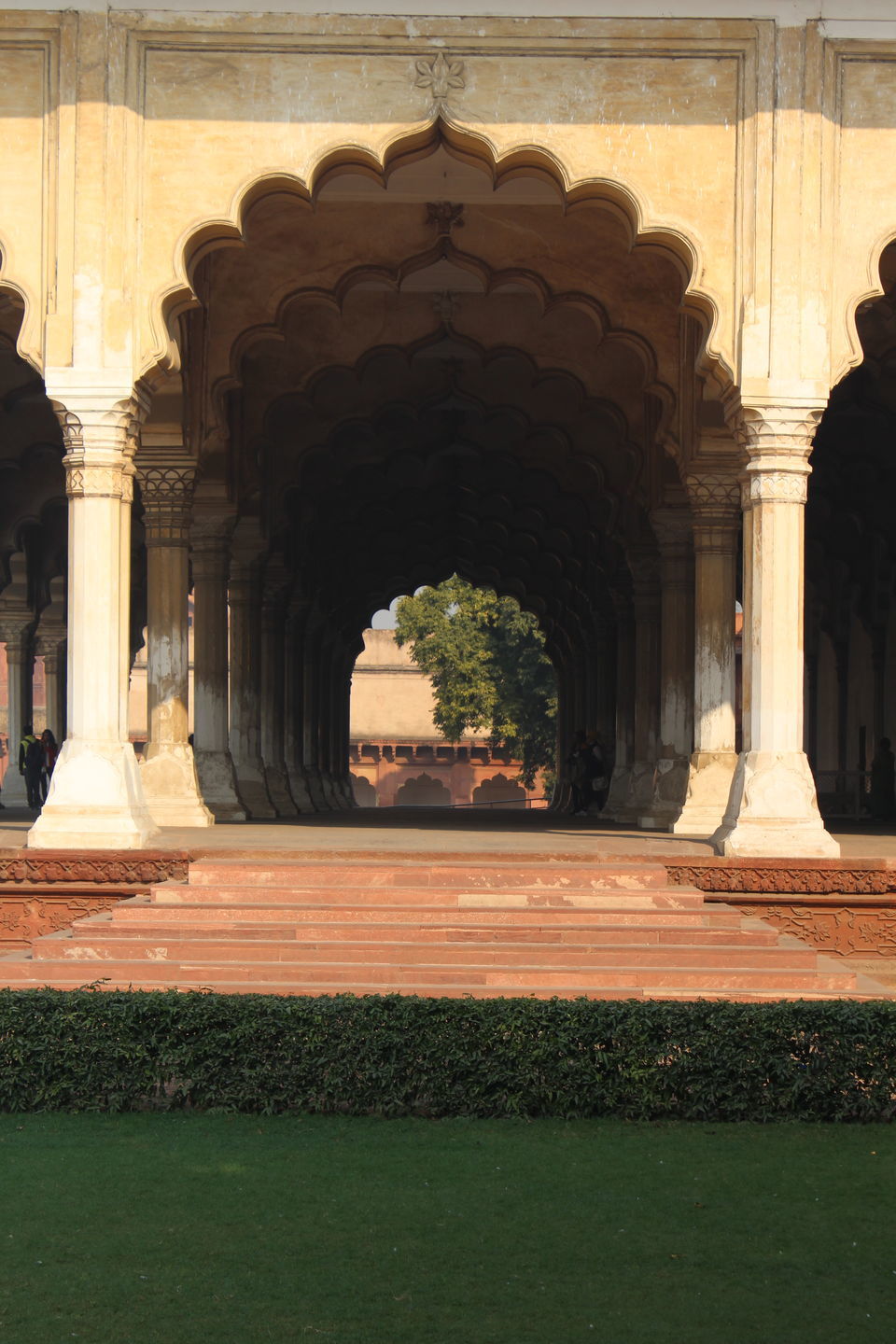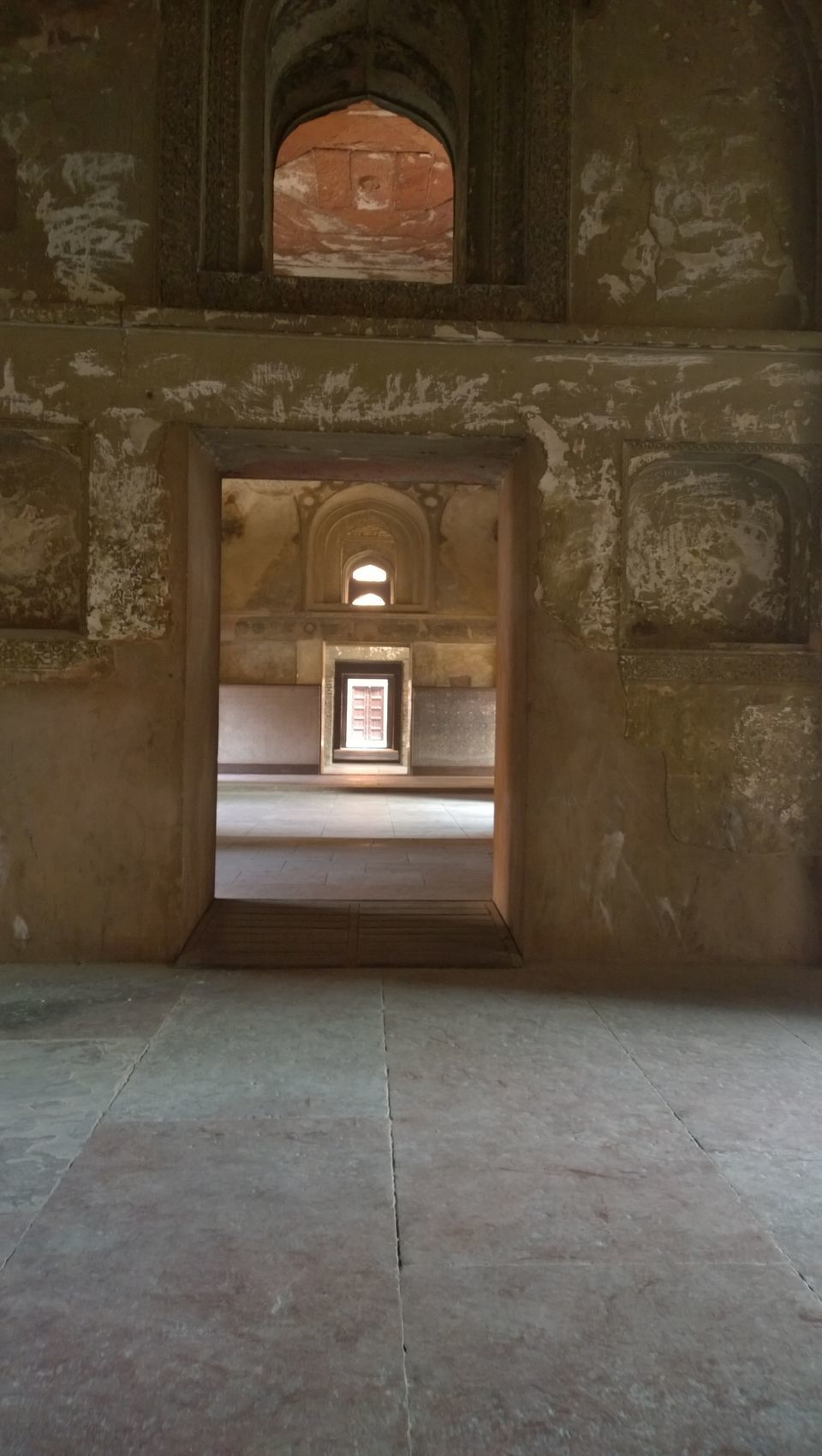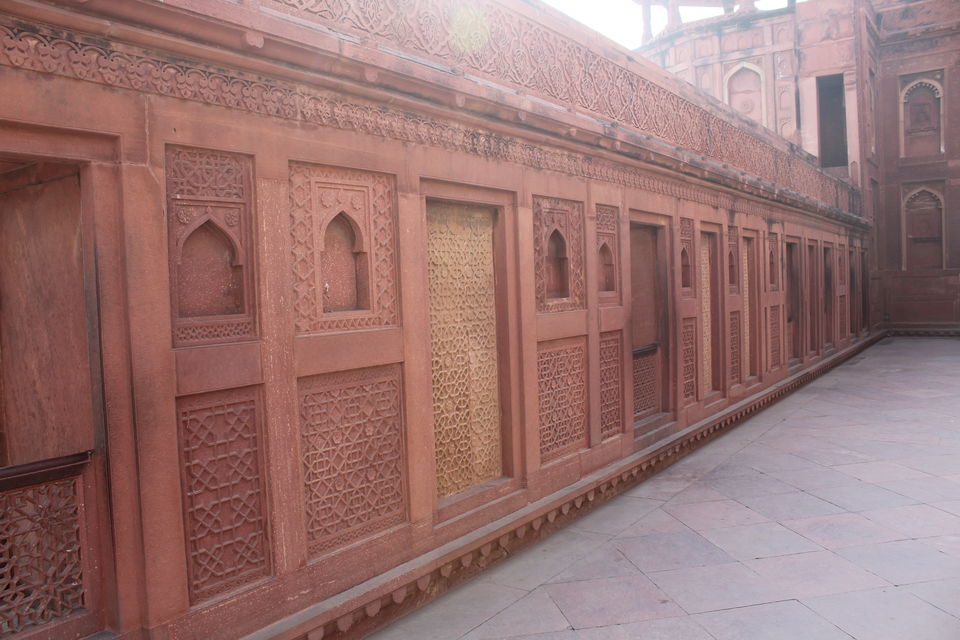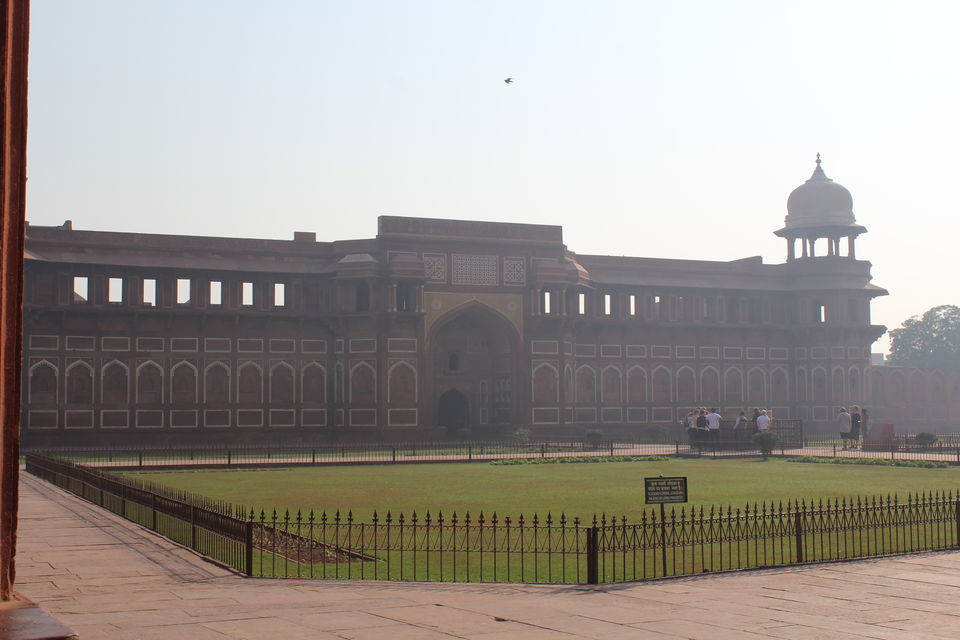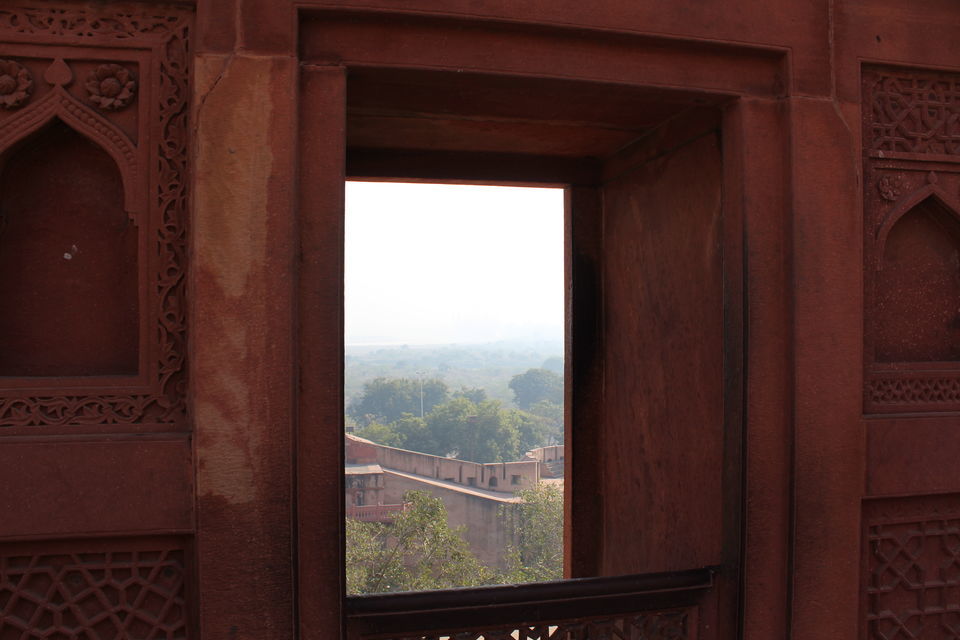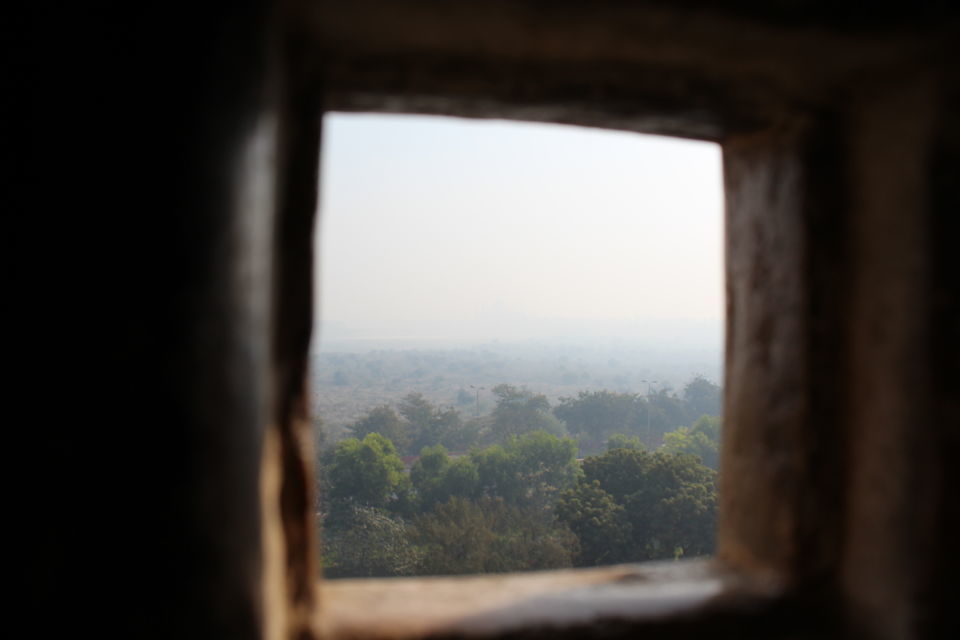 We headed towards Delhi after this half day trip to Agra. All over this trip was worth taking and even though we spent only 5 hours in both these heritage sites we relish the feel even for today.
Happy Travelling!!!