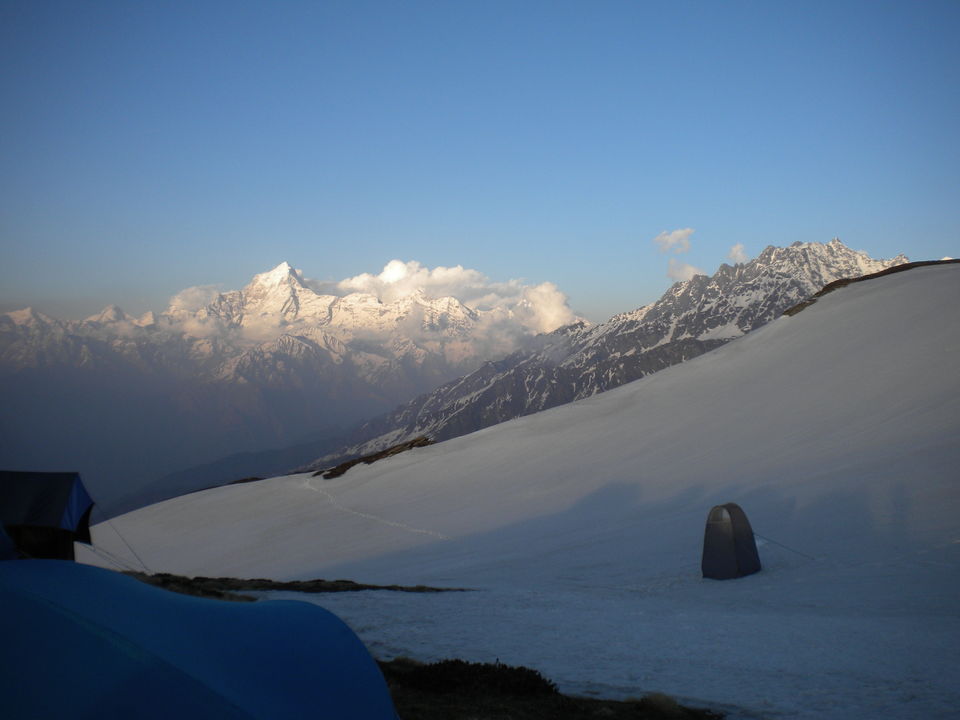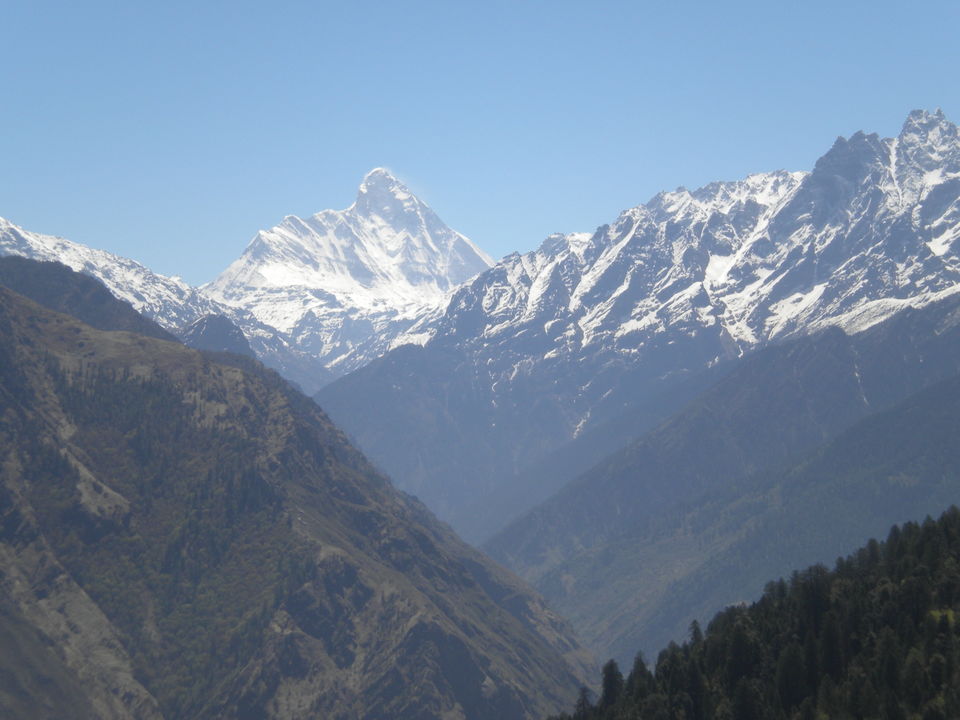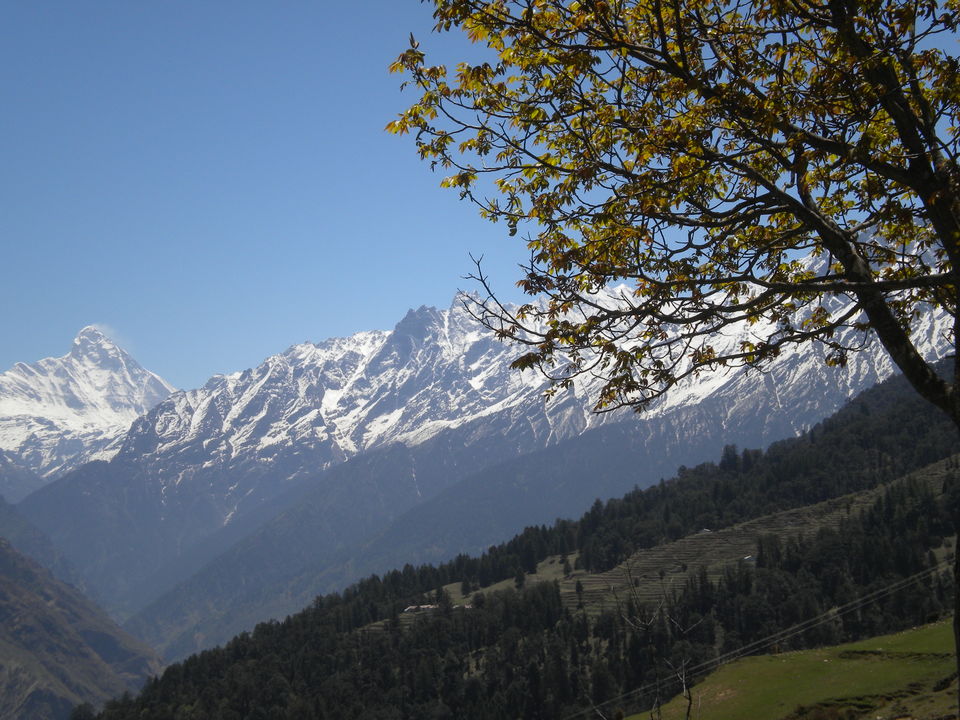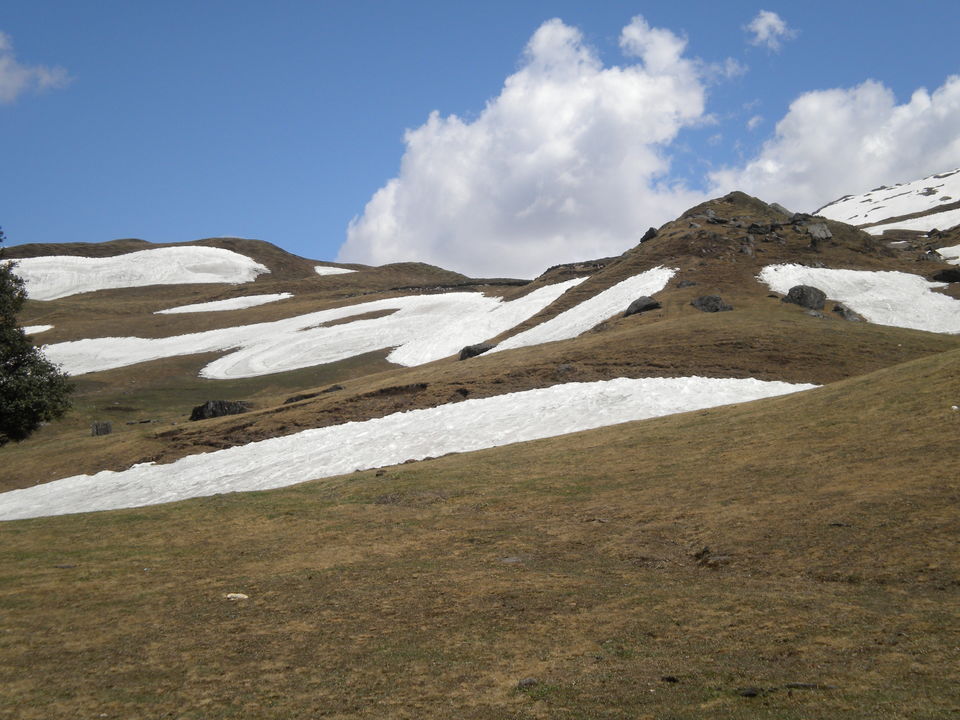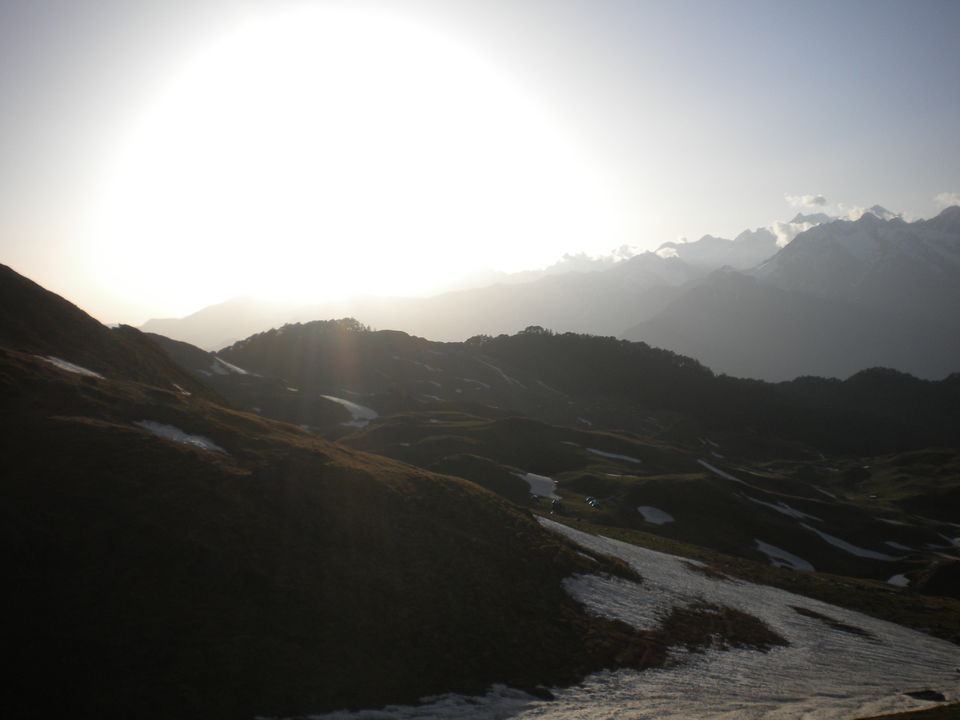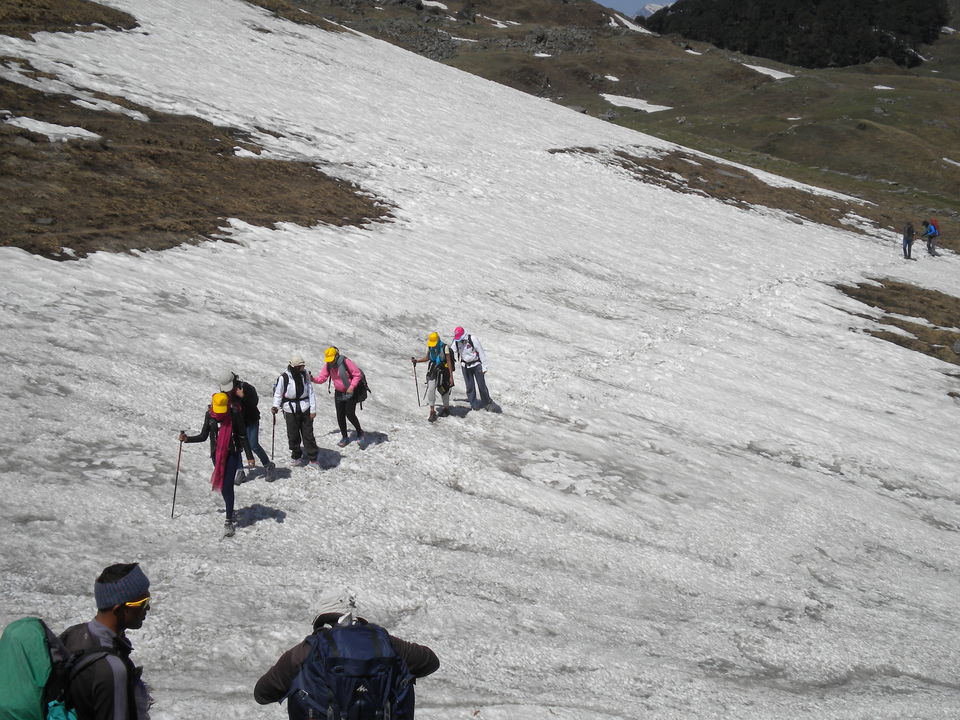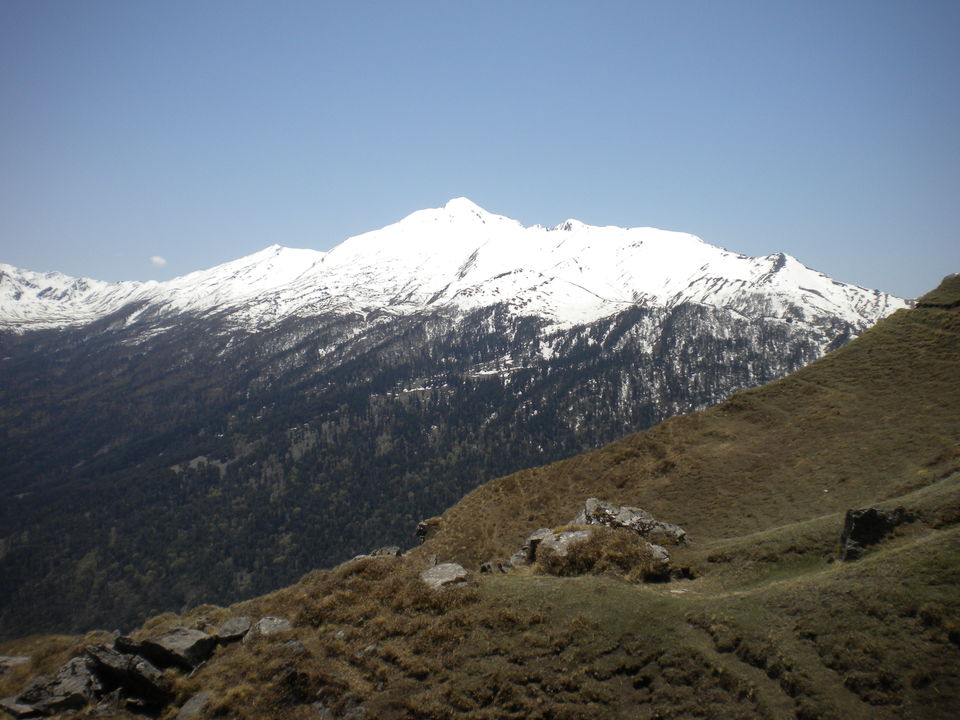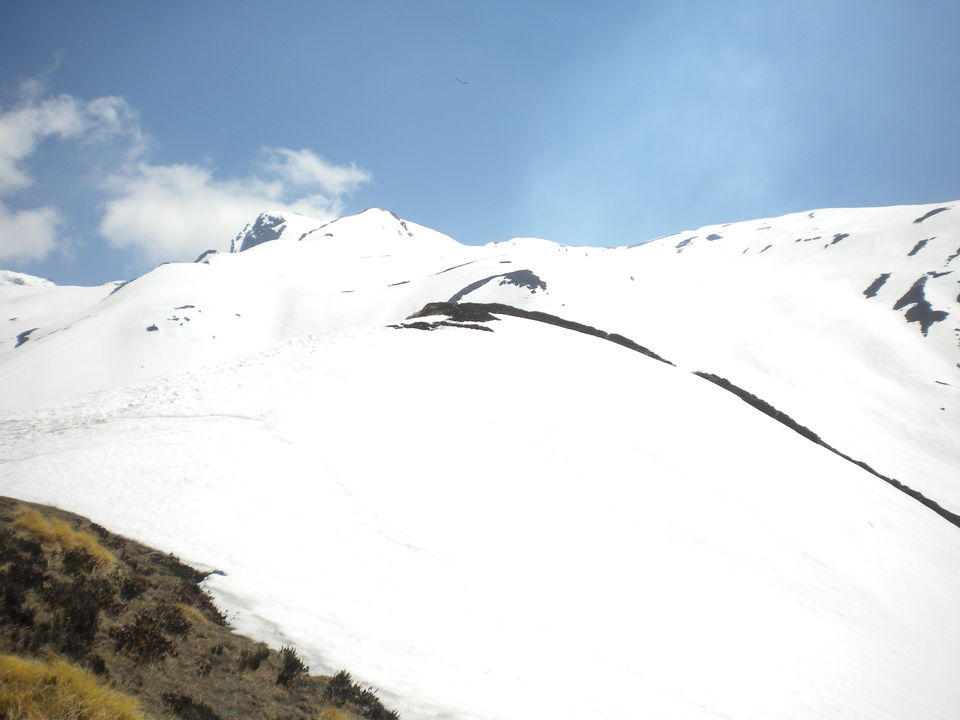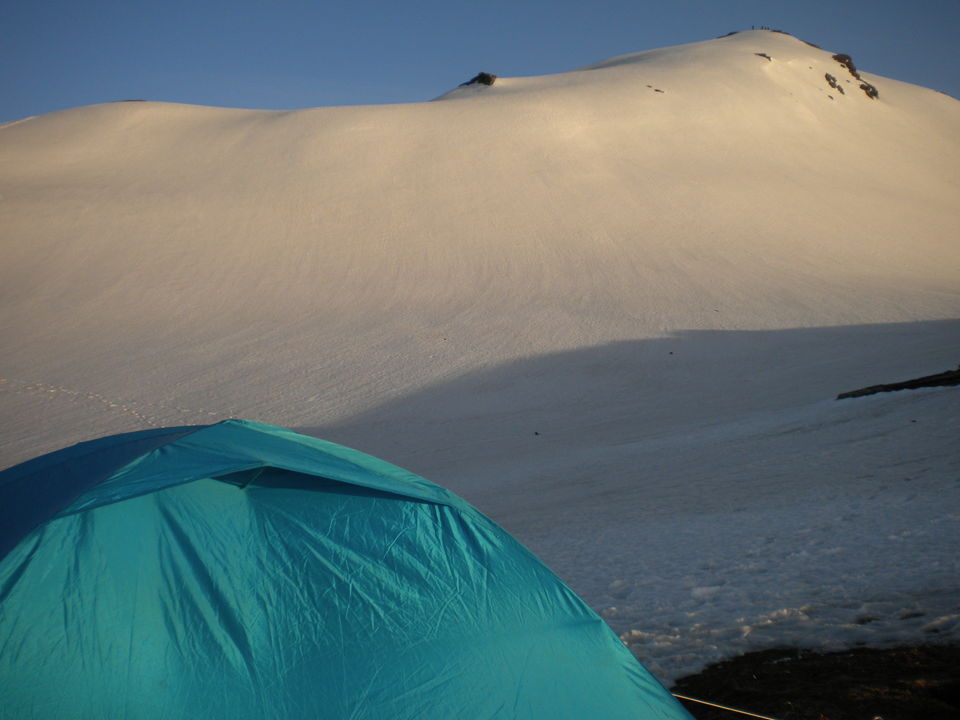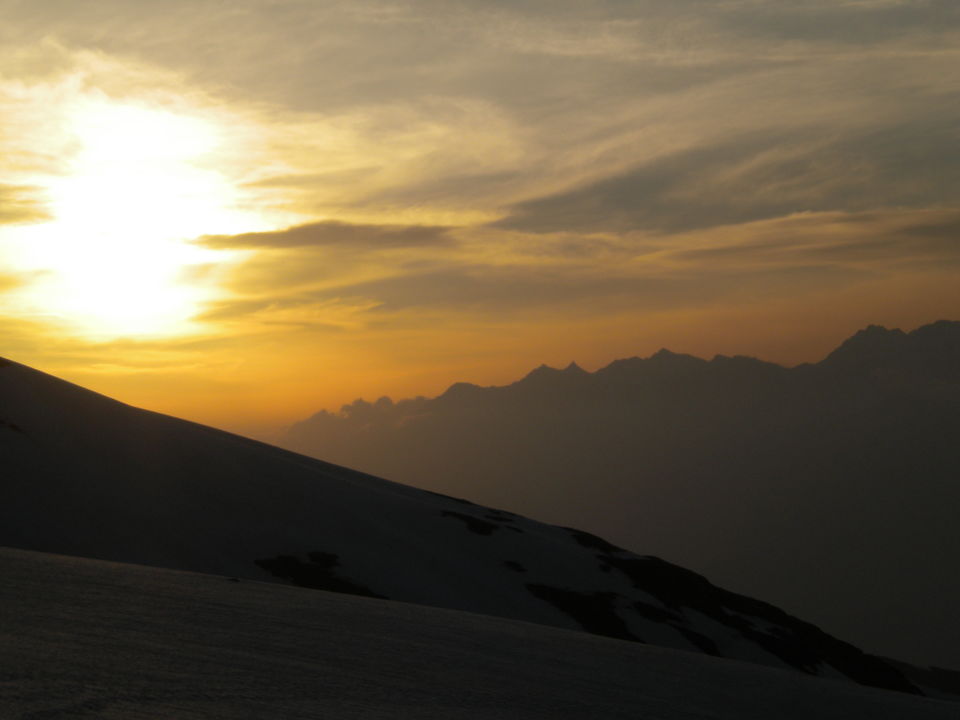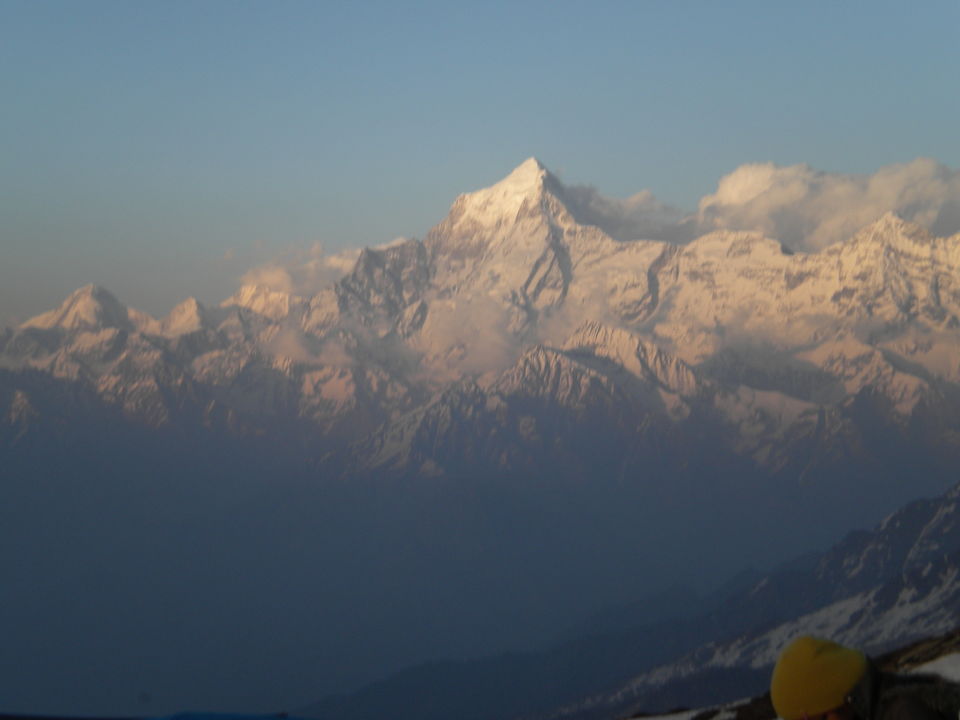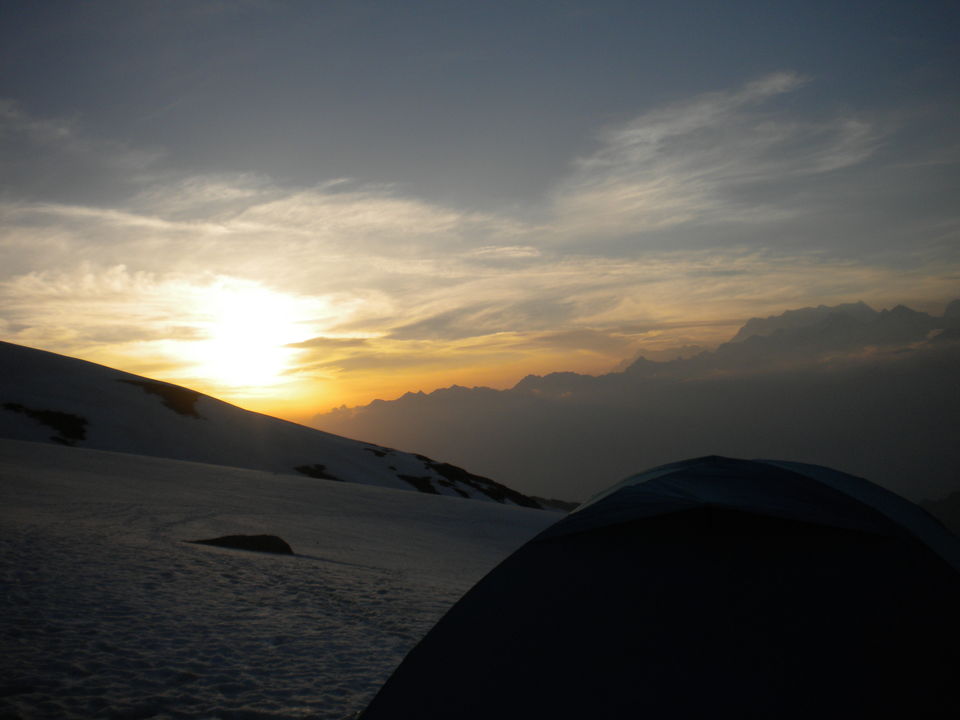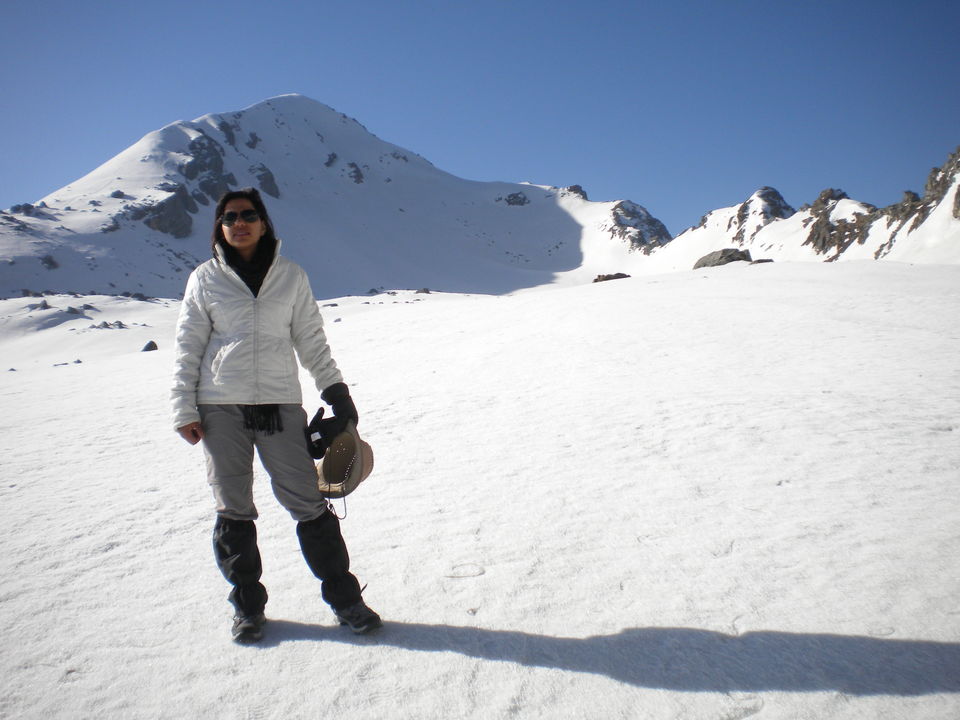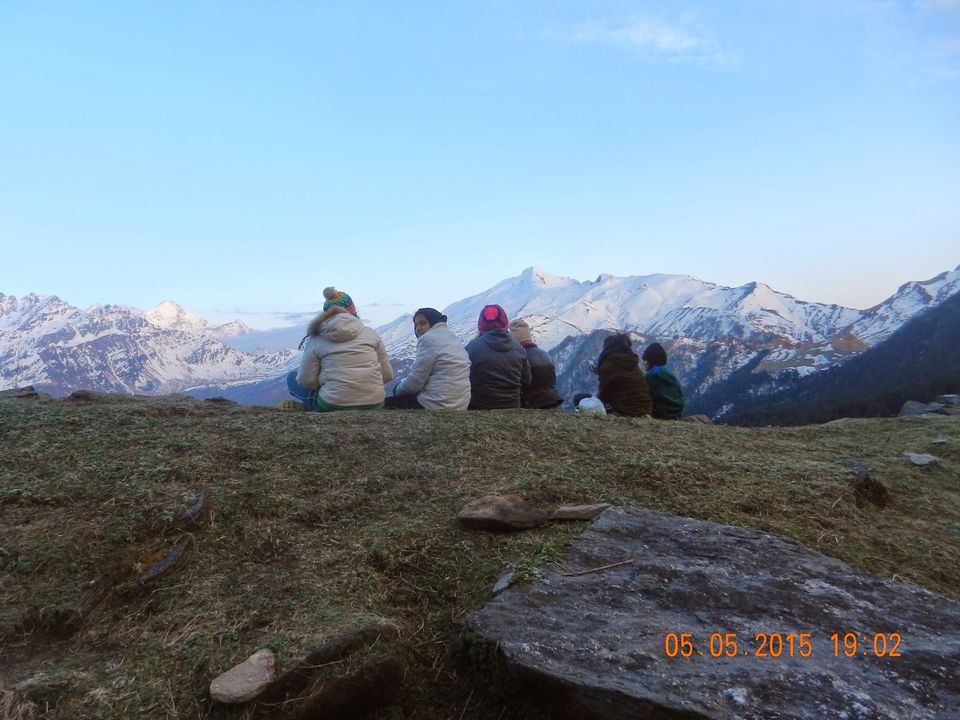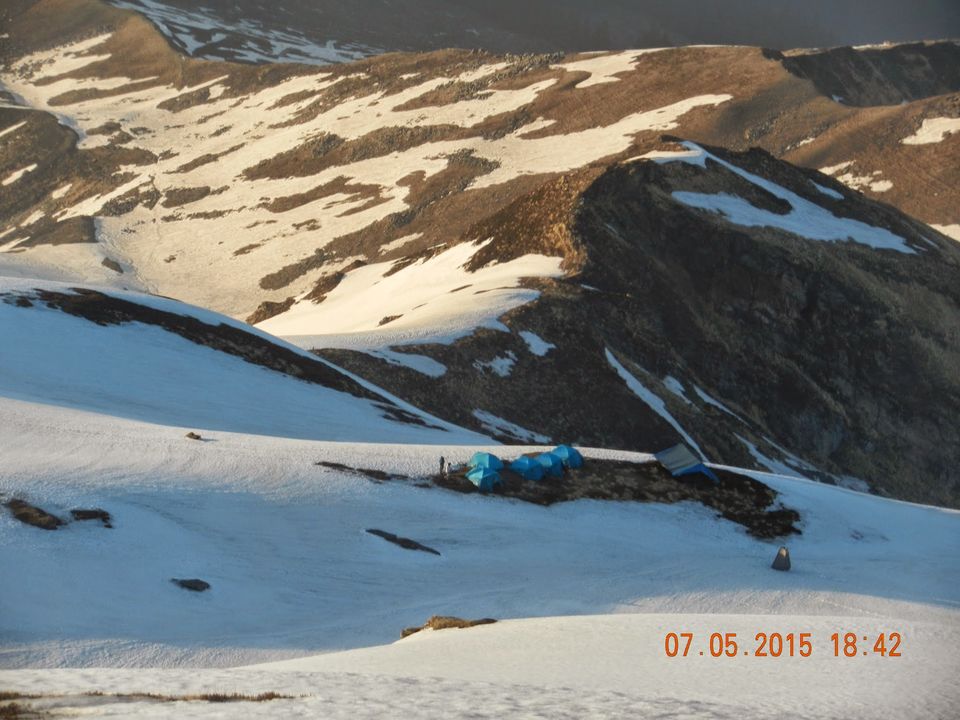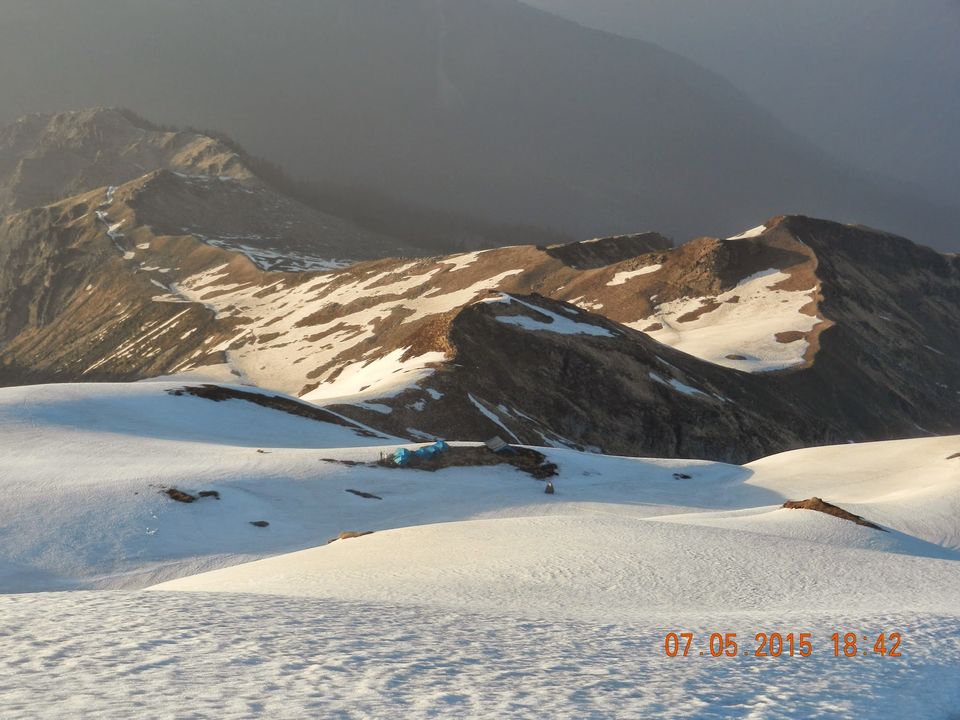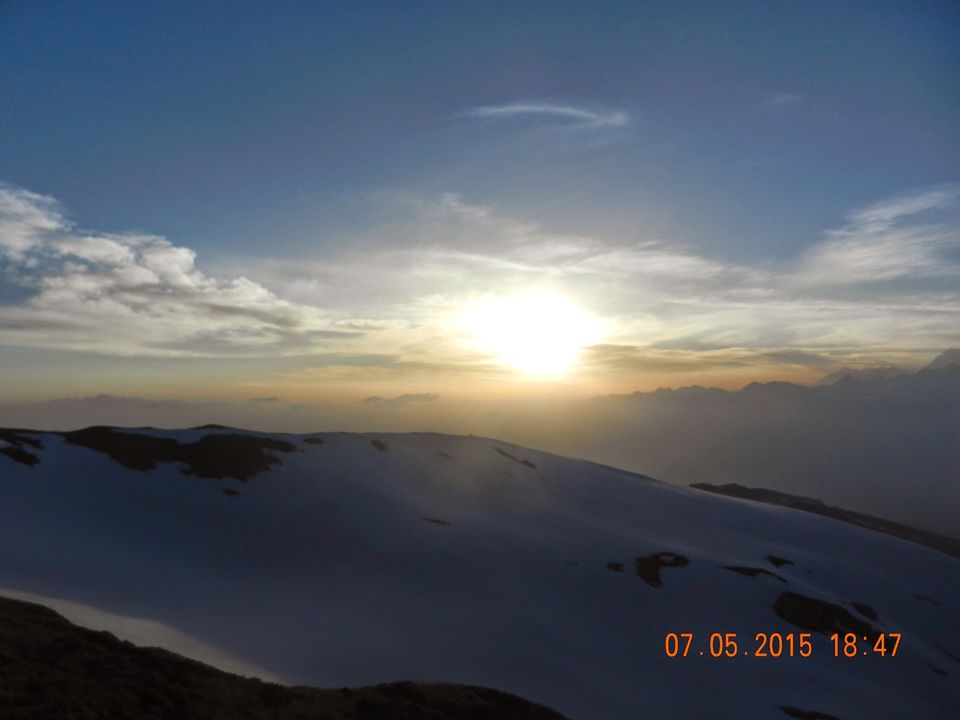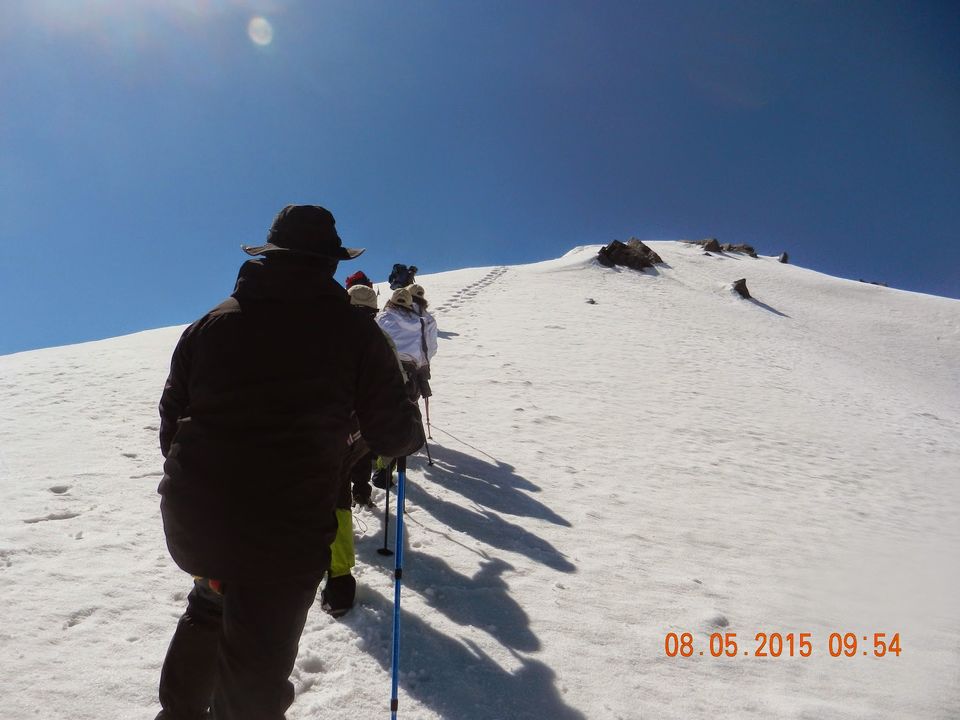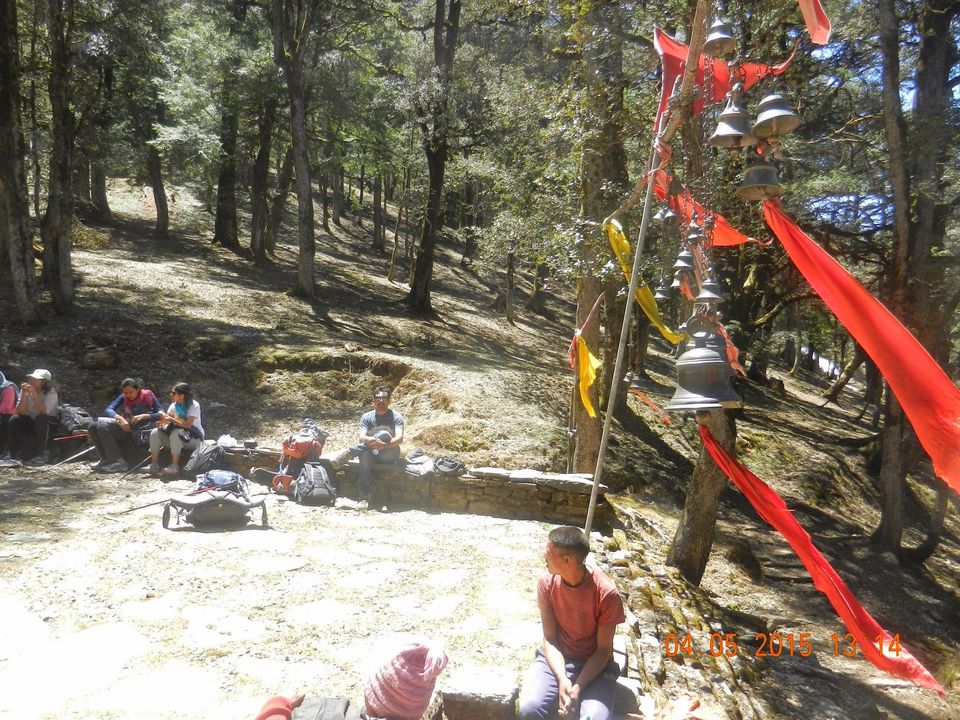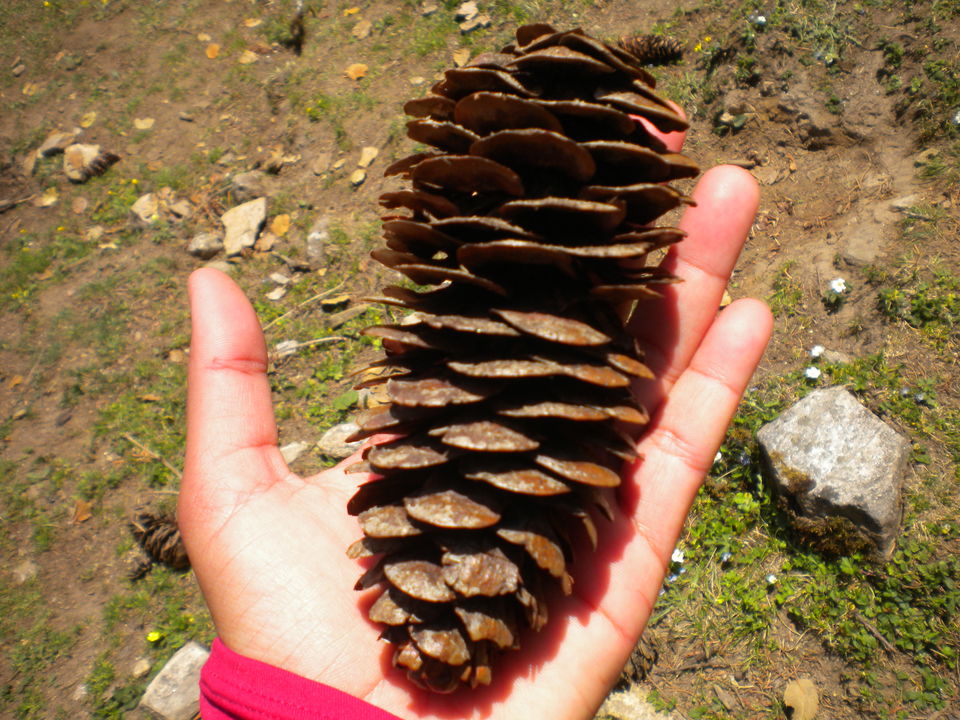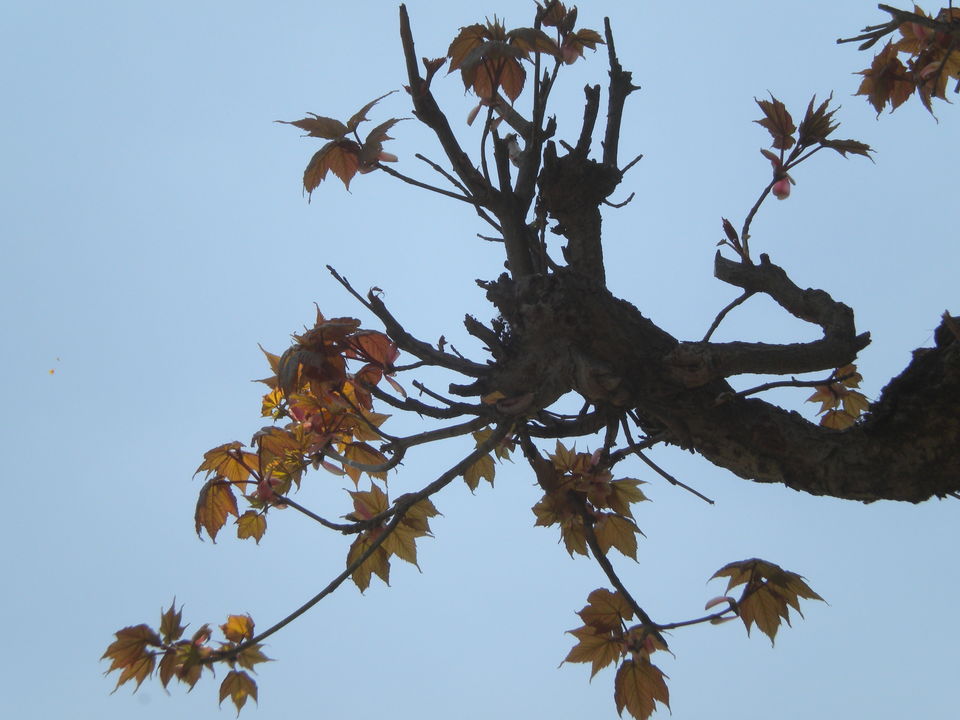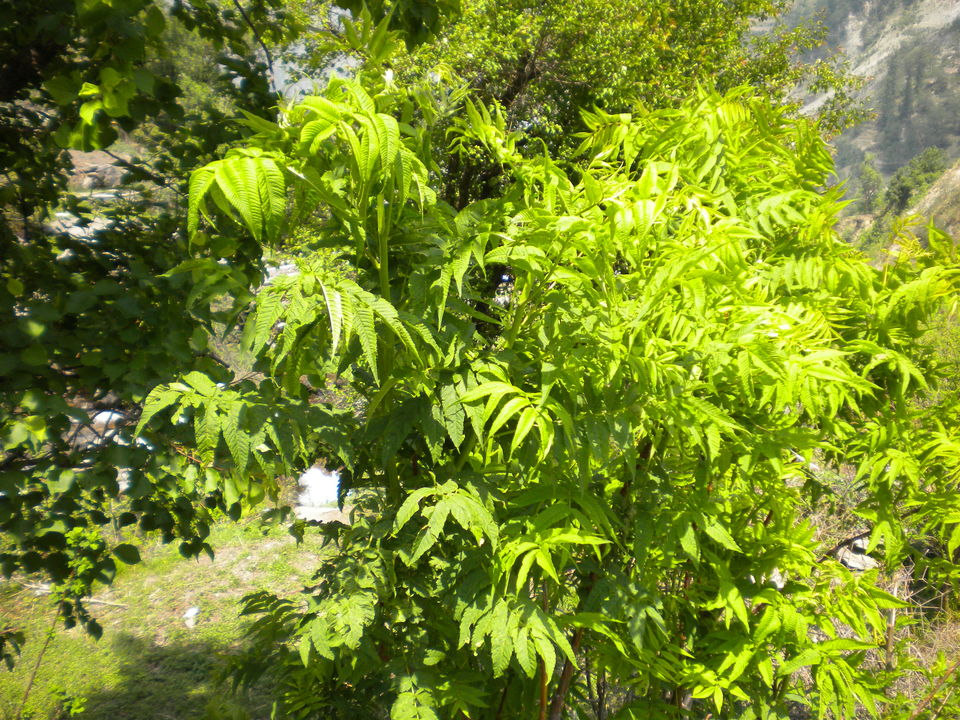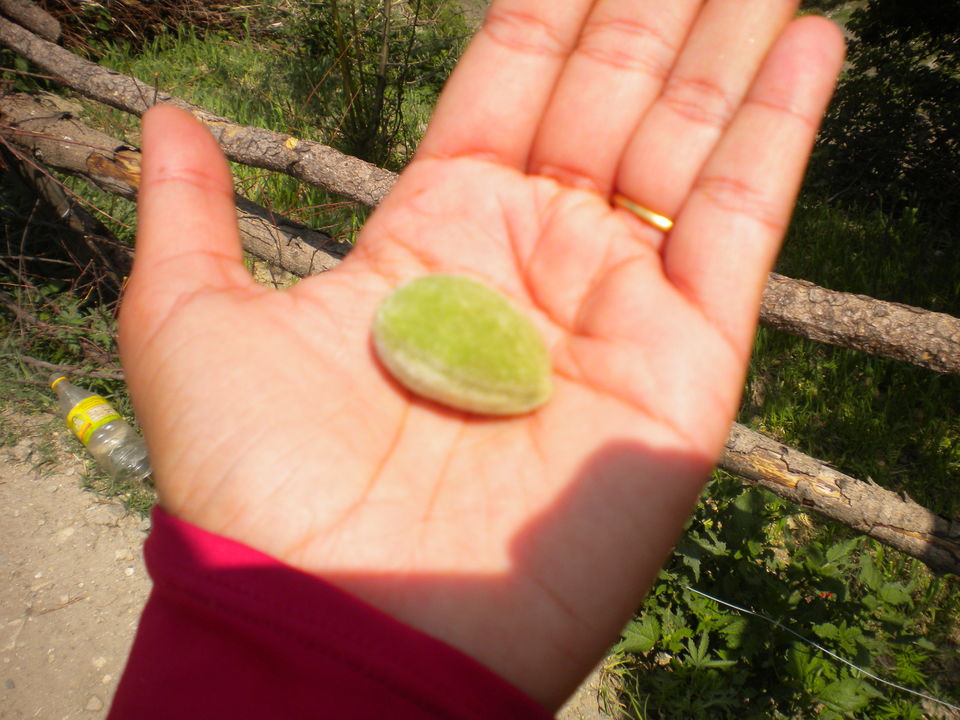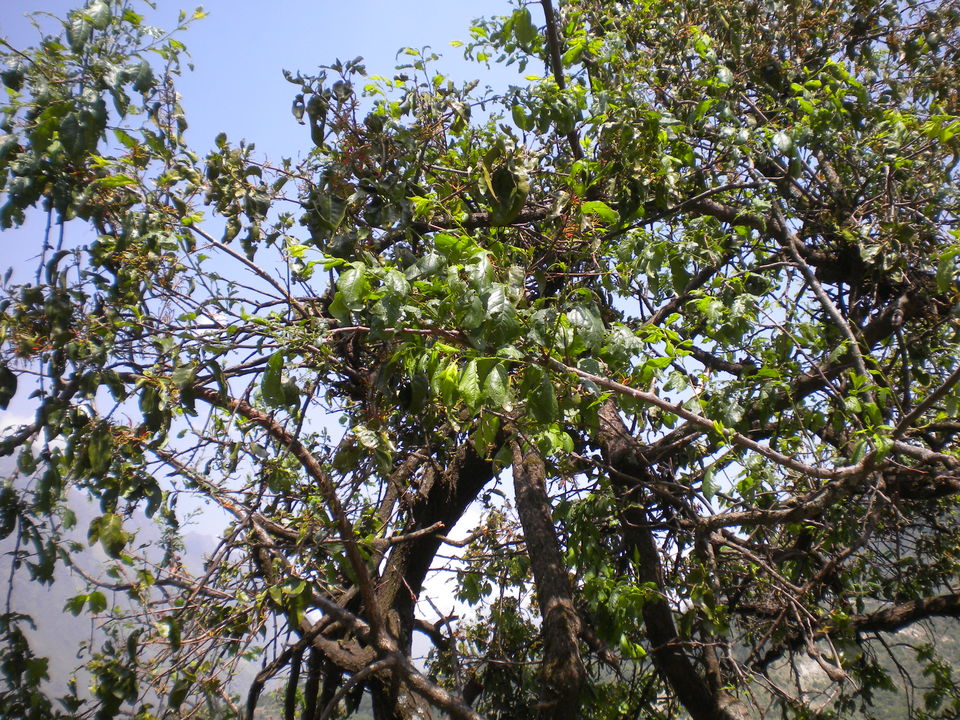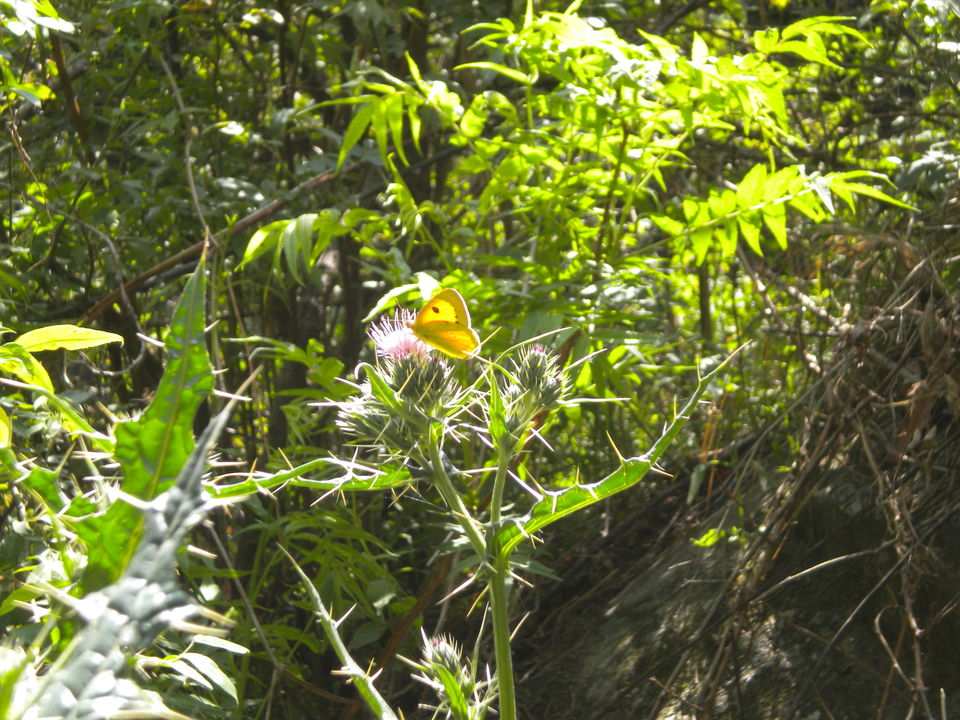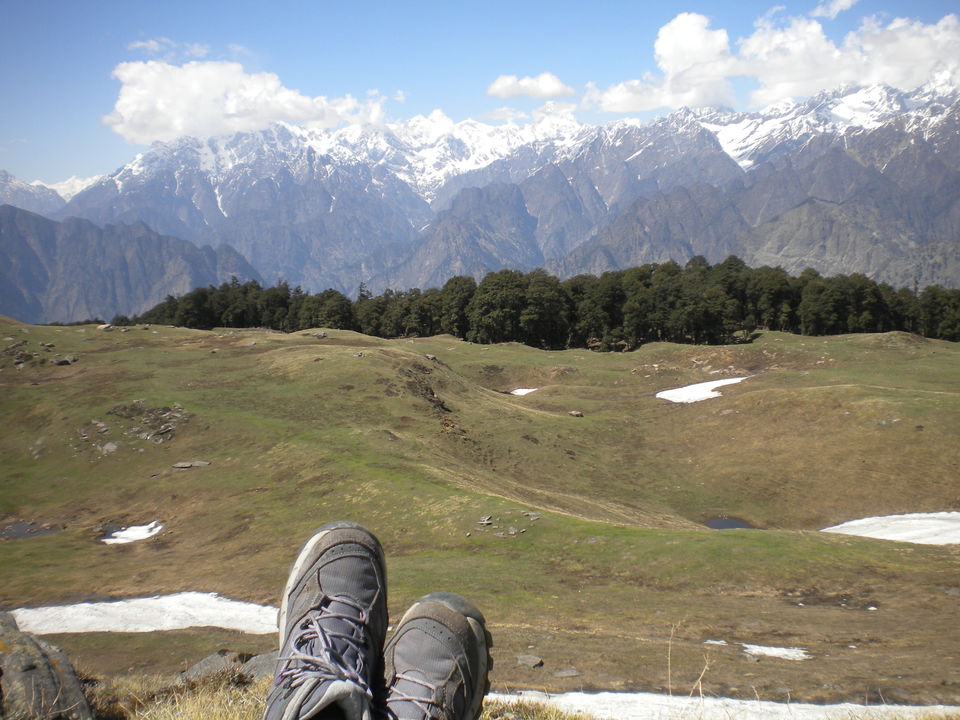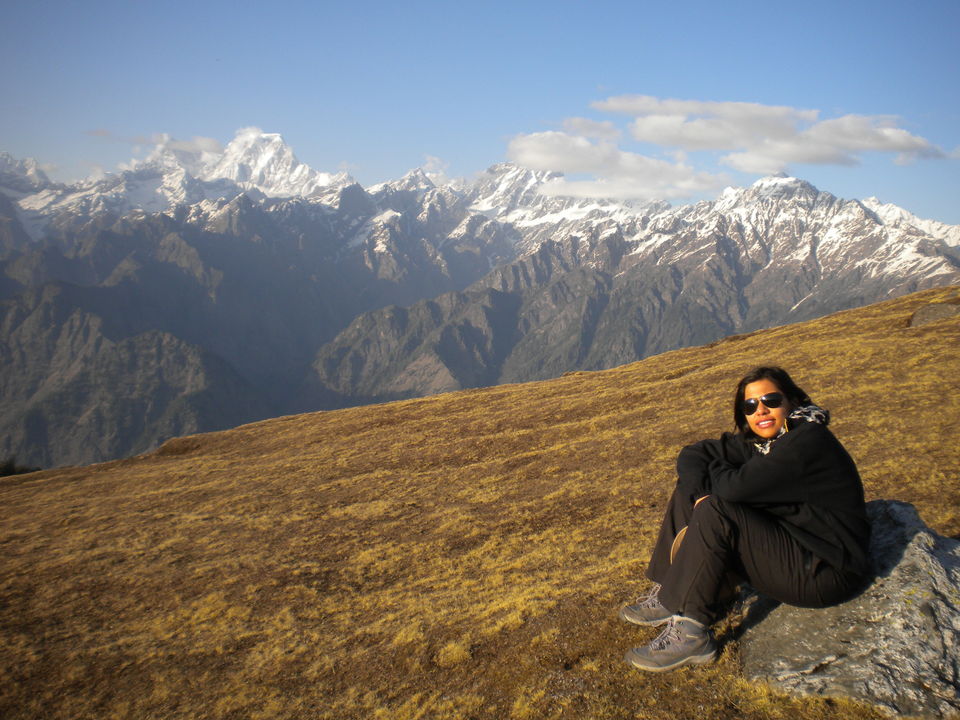 In mountaineering language, you always attempt to summit the peak. It is never sure whether you will be successful in reaching the summit. It is like, if that peak/mountain god is happy with you or wants you to reach the summit, you will; otherwise you can't. Maybe that is the reason, locals around the peaks, be it the Everest or any one in India, worship the peak. Also many peaks in India have Lord Shiv temples like Badrinath, Kedarnath, Tunganath, Chopta etc. Locals also scale Pangarchulla barefoot in spring time in August to get "Brahma Kamal" which only grow on these heights, as told to me by a local shopkeeper.
So despite of my best attempts, I missed the summit by some 40-50 mts just on the lip of the mountain. We were told by our guide to not go further because while coming back during the descent snow would have melted and there was risk of us falling. There was steep 80 degree wall on one side of our path and some 60 degree steep wall on another.
Before this trek I never understood the numerous videos in which people abandon their teammates to die in Everest Expedition especially in death zone. I mean how could scaling the 8878 mt mountain more important than saving a human life. Maybe I am not right in comparing Everest expedition to this peak as the level of difficulties are far more. It is not about scaling a peak or the view from that peak but it is about the preparation that has gone into completing a goal and not completing that goal staying with you forever. Since I am an "Inception" fan, I would quote that an "IDEA" once planted in head is more important than anything. So once, I have this idea of scaling the summit, it becomes more important than anything. I would always remember this trek as the summit, I could not climb.
Before the trek
Well, the adventure for me started even before the trek. One week before the trek was scheduled to commence, Nepal was jolted with earthquake of magnitudes of 8 on ritcher scale. Even a month after the quake, aftershocks were felt in the region. When I heard the news, I was watching avengers –Ultron and my first reaction was "Gaya trek paani mein" (Forget the trek). If this was not enough, it was followed by heavy rains in the earthquake affected regions.
Now one thing I hate in life is to cancel a travel plan. I like travelling and seeing new places. Either I am planning for a leave or holidaying during a leave or documenting the travel after the leave. This is how I scrape through my daily mundane routines of my job and life which also happens to pay for these plans. And as soon as the plan is fixed, leaves approved, the plan is sealed by booking tickets in irctc or makemytrip. And then I look forward to the travel plan. Now probably you can understand how heartbreaking it is to cancel such plans for me at the last moment, especially to cancel irctc confirm tickets for which you need extremely good luck. I remember crying the whole day once when I had to do this because of last moment cancellation of my leave.
After the movie, I contacted the trek lead also the owner of the agency operating the trek. Little did I know that I would be bugging him in the coming days seeking refuge and arguments to counter my parents' statements.
The fact of the matter was that fortunately Uttarakhand was not in the affected areas and even the weather forecast for the trek duration was quite sunny and favorable. Among all this came a video of an avalanche at Everest base camp. All these visuals leave very bad psychological effect on the mindset of people especially parents. Also the Kedarnath, Badrinath yatra in the same region as the trek got cancelled due to heavy rains.
I don't know what is right or wrong in such circumstances, but what I did know was that I wanted to go for the trek. Somehow my parents also let me go with thousands of warnings. I agree I took the risk, but where it isn't? Isn't living in a highrise in Delhi a risk, in case an earthquake comes?
Amidst all this going on, I was simultaneously preparing for the trek. Since I had majority of stuff from my last year trek, there wasn't much needed to be bought. The last two days of this trek was to be done on snow (temp as low as -10 degrees), I needed to sort the woolens out.
During Trek
The trek was on the extreme end of comfort for me when compared to the last two treks that I have done. The route chosen was pretty comfortable with some 4-5 hour comfortable walk daily except for the last day of summit and avoiding the other route which involved steep climbs on day 1. Your bags were being carried by horses. The food was lavish and when you have 6 Gujju people on your trek, 'lavish' takes a new meaning. The guides, horsemen, cook and other local people were very friendly and helpful. You have to sacrifice your bath for a few days because of extreme cold but I did wash my hair in absolute, just melted cold water from a stream. Believe me, it was amazing and chilling.
It started from ITBP skiing center in Auli, Joshimath. Rather than describe the itinerary day wise I would like to record mentioning worthy things about the trek. To know more about the trek you can visit the website http://www.team4adventure.com/pangarchulla-peak-climb
1) You get to see many important peaks of Himalayan range like Nanda Devi, Hathi , Godha, Chaukhamba, Neelkanth, Dronagiri etc on day 1 itself.
2) This trek gives you the experience of a climb using technical gears during the summit climb. So the last day, the whole group is roped in together with guide in front and back of the group.
3) This was my first trek where I actually walked on snow for last full 2 trek days. So now I am a pretty comfortable in ascent, descent on a hard surface (morning snow surface) or soft snow.
4) What I liked about this trek was that we did rappelling on snow while coming down because the descent was pretty steep. Also we had slides on snow which were pretty scary. I actually gobbled up like a snow ball while coming down one of them. One of the slides was some 5-6 storey high and some 60 degrees incline.
5) The last day of trek was descent and was through a jungle. It was as usual beautiful with many trees like Walnut, almonds, plum, ganja, pine, oaks and sounds of streams and tweets of birds.
I only wish I could have had completed that summit successfully, but I will also always cherish the beautiful journey.
Maybe it is human to remember the negative incidents, incomplete goals in life, but life could be more beautiful if we enjoy the journey.