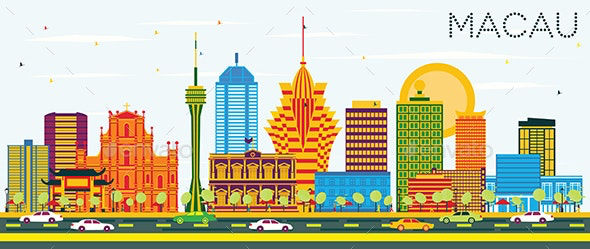 For someone like me who's never set foot in the city known for its economy's boom, majorly through its Casino Buisness, the outer look of Macau is all painted in cash raining from the sky. But as dramatic and beautiful that picture looks, that alone is NOT the reality that makes Macau one of the most desirable places to be in.
Rich for its heritage and History, Macau received its name from the Chinese Ama-gao, or "Bay of Ama," for Ama, the patron goddess of sailors. Having stated that, the very fact indeed is one of the #20ThingsILoveAboutMacao
1. History: A walk through the A-Ma Cultured Village, Coloane holds the story of how the city was named. Atop mountain, is the world's tallest statue of the Chinese sea goddess A-Ma (also known as Mazu). After whom the city was named but on the arrival of the Portuguese when asked for where they've arrived at the dock, they were told "A-Ma Gau" which was misheard as Macau and therefore 400 years of knowing and being called as Macau the land is now known to the world still by the same name even post 1999, after being officially handed over to Chinese sovereignty. So, what's better than knowing about this place through and through from where it received its name.
2. Food: They say the way to anyone's heart is through their stomach and what's better than a local cuisine to learn more about the city. If you're visiting Macau, do not skip on what is believed to be the city's first fusion cuisine, Macanese. A Perfect marriage between Portugal & South Chinese Cooking! Other than Macanese a few highly recommended places for food are Clube Militar de Macau(Portuguese), Albergue 1601(Portuguese), Riquexo(Macanese), APOMAC(Macanese), Restaurante Litoral(Macanese).
Other food items to be tried includes Almond Cookies, found almost everywhere on street-side and to be tried both warm and otherwise. Also, to be brought back for your loved ones. Chrysanthemum tea, pretty good for digestion & clearing heat. Steamed milk pudding made from only three ingredients, Milk, sugar and egg whites is considered to be really good for skin (give me, already.), Serradura is also known as the Macau-Pudding, the name itself should make you eat the dessert.
3. EGG TARTS! Every single time you put up Macau on your search bar, most sites and blogs would suggest you to try egg tarts from wherever and whenever you can. But the ones leading their way in the business goes by the name Lord Strow's Original Bakery, Coloane Island & Margaret's. Both businesses run by ex-couples!
4. Shop till you drop: Who said only Venice can give you the experience of a water boat and Canal with a view to die for. There is the Grand Canal Shopping Centre that gives you a whole new level of shopping with an experience to remember. All lush brands in one place packed for you.
The Senado Square, shop from UNESCO's Heritage Centre.
For those who love their haul in flee markets, Taipa Flee Market or Wanzai Macau Street is the go-to stop!
Moving on from my favourite department and the thing I love the most, there is a lot of history & architecture attached to Macau City.
5. Coloane: Known as the green belt of Macau, it is the to home to Seac Pai Van Park and Hac Sa Reservoir Park, heritage sites, great hiking trails, Macau's highest peak, a panda pavilion, and pastel painted Portugual homes.
6. Taipa Village: It is considered to be the best preserved village that embodies the spirit of old Macau with its spellbound architectural beauty. Stroll around the lanes and alley of Taipa for some art spaces, souvenir shops, a village Museum, temples, local restaurants and colonial churches. For a true essence of Macau.
7.Homestays: A lot of learning about any country be it about their culture, traditions, rituals, people and food can be mapped by being in a local atmosphere and environment where everything you learn about the country is all first hand. As also learnt, that to try authentic Macanese one must stay at homestays.
8. Hac Sa Beach & Hac Sa Park: Hac Sa is the largest, natural beach of Macau and one can enjoy the sun or swim on the black sand beach or indulge in BBQ activities or beach Volly. There's some local restaurants famous for it's Portuguese food at a budget price at the Hac Sa Park.
9. Adventure: When in Macau one must not miss out on Hiking adventures to Coloane trail and Grand Taipa or some biking tour to Taipa.
10. Ruin's of St. Pauls: Now only the ruins, this was once claimed to be the largest church in Asia back when it was made. The site originally included a college and the church, also known as "Mater Dei", a Portuguese church dedicated to Saint Paul the Apostle.
11. Ferry: I have a thing for ferry boats and the vastness of Seas and Oceans. The shuttle between Macau and Hong Kong is made easy, adventurous and scenic to top it all. The ferries leave every 15 mins to HK and from HK to Macau. The travel distance is 50-60 mins, and alone for the thrill of the waters I won't mind taking a ferry to-and-fro from Macau to HK and back.
12. Wine Tasting: Wine tasting in the Wine Museum located next to Grand Prix Museum, where you can enjoy and part take in wine tasting by paying a minimal amount for the tasting. The entry to the museum is free, though.
13. Cable Car Ride: Venture to Guia Hill Municipal Park where you can take a short cable car ride and take in some of the best views in the city. At the summit, you will find the Guia Fortress which was Constructed in the early 1600s, the fortress features a fort, a chapel and an adjacent lighthouse.
14. Panda Pavilion: Home to giant pandas, Kai Kai and Xin Xin, and their set of adorable twin panda cubs named Dabao and Xiaobao, two red pandas named Luo Luo and Tong Tong. Who wouldn't want to see these adorable furry goofballs?
15. Bungee Jumping: A leap from 233 metres (764 ft) above the ground. The world's highest commercial bungee jumping is here. You can just not skip this. Knock your adrenaline and mark this thing off your bucket-list.
16. Pink Dolphin Watching: The waters between Macau and Hong Kong are home to Indo-pacific Humpback dolphins, world's pinkest dolphins. I was sold at the very idea of watching dolphins in a non-captive way, exactly how they should be and then to top it all I have no idea what "PINK" dolphins look like and this is some sight, I wouldn't want to miss!
17. Ride the only figure of eight Ferris wheel in the world: A building with first of its kind, called the Golden reel. The place is pretty instagramable as well.
18. Do it for the gram: visit some Instagram worthy locations. Ruin's of St. Paul's, Fisherman's Wharf, Mandarian House, Travessa De Paixao, Venetian Casino, Rua da Felicidade to name a few and then whether or not you make it inside Grand Lisbo Hotel, you gotta get clicked with the landmark building, with a wide camera lens because, you have to. There is no not having the entire building in your frame.
19. Indulge in some cooking: One of the experiences that you can take back with you from any country is it's cooking experience and try and make it back at your home whenever you wish to refresh your memory of that country and like I mentioned earlier, the way to anyone's heart is through their stomach. Yass! So, get yourself booked for a cooking class.
20. Nightlife & Casino: Irrespective of how I am not big on Casinos and how I would like to keep my experience for Macau earthy and cultural, I would still like to go visit any of the nice Casinos just to have a look at it for 'em Macau feels and get a tinge of nightlife to complete my whole experience. After all it is the Las Vegas of Asians.
I hope this list would help y'all to plan out Macau in ways more than just Casinos. Hope you enjoyed reading my blog.
ci di gin!
[ Illustration: graphicriver.net | Pinterest ]