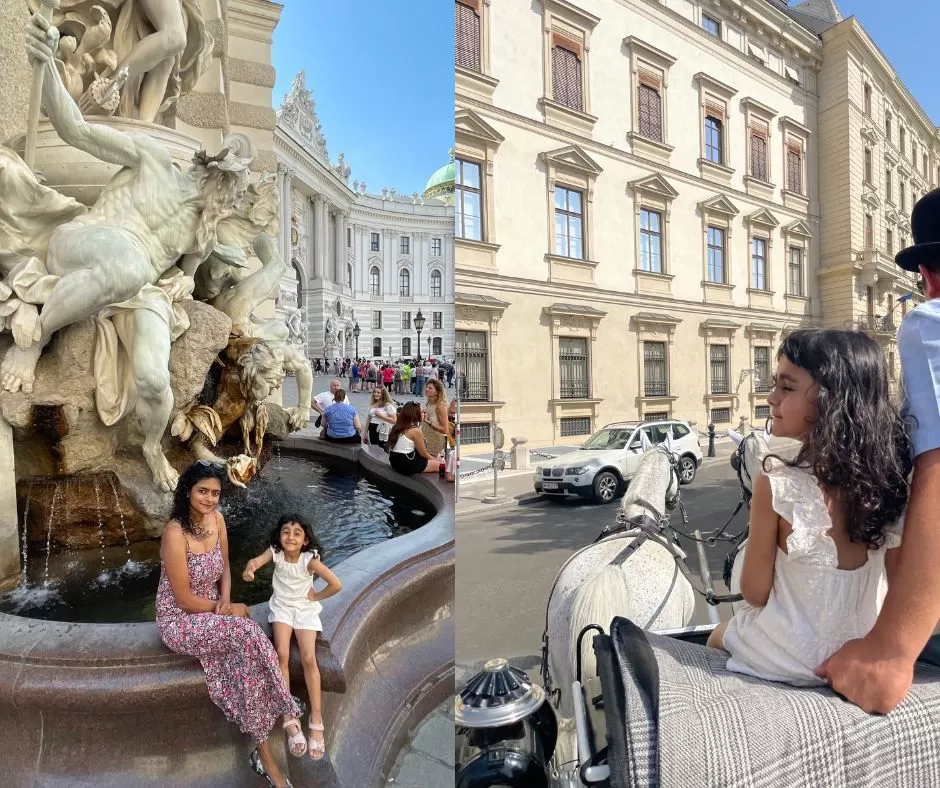 When I think of Vienna there are 3 things that dominate my thoughts - the Coffee house culture, Empress Sisi, Sigmund Freud. The truth is that I fell in love with the relaxed coffee house culture of Vienna. The Viennese have gone over and beyond the Cappuccino, Latte, Americano and espresso.
Coffee is served in combinations with varying proportions of cream, ice cream, frothy milk even with a dash of alcohol but always with a glass of naturally cool Alpine water coming straight from the mountains. I think this became the USP of Vienna for me. There are numerous fountains and water points. People have open access to clean naturally cool water from the mountains. I am not surprised that greats such as Empress Sisi, Mozart, Beethoven, Schubert, Sigmund Freud and many more are so deeply associated with this beautiful city rich in art and culture.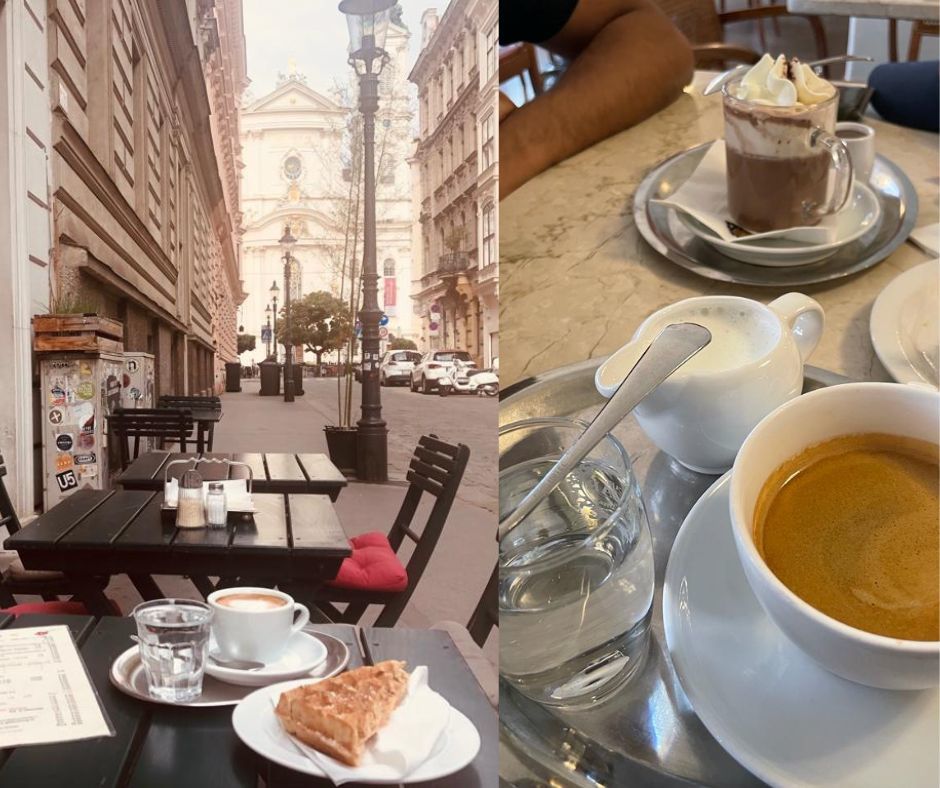 Here is why you should chose Vienna too.
Hofburg Palace
Presently this palace is the seat of the Austrian President. It has been the seat of every Austrian ruler since the 13th century. Within the palace grounds are located the main attractions - Imperial apartments, the Sisi Museum, Hofburg treasury, Silver chapel and the Imperial Collection.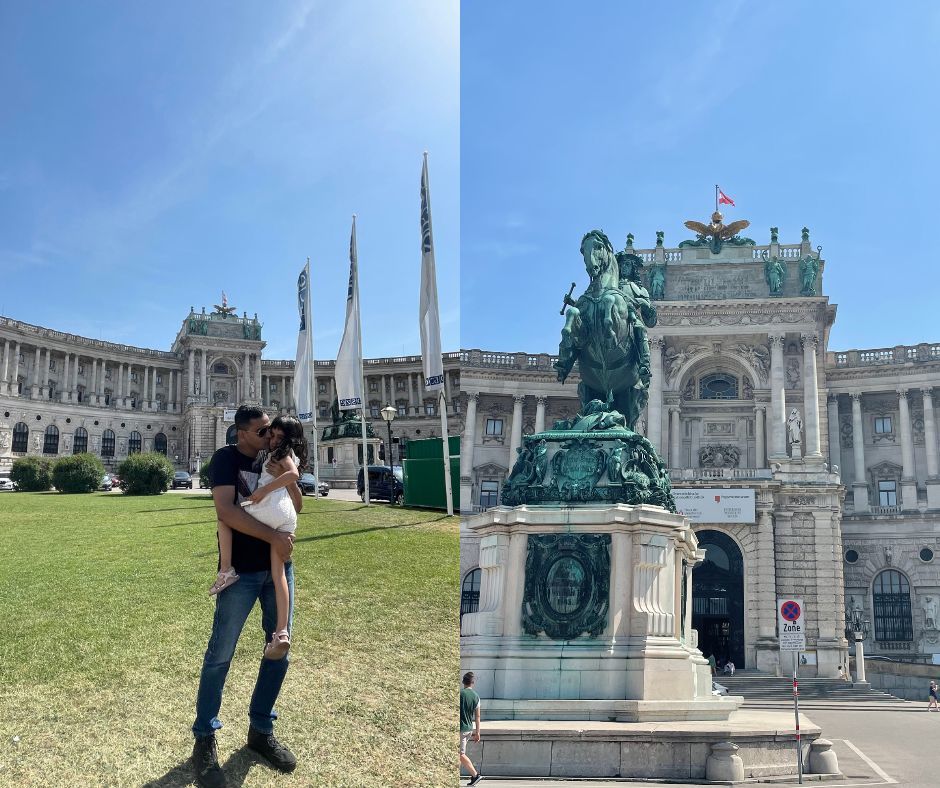 A walk further in the Hofburg grounds after crossing the Sisi Museum brings you to a beautiful lively square. Walking further through the ornate shopping lanes all lead you to the famous Spanish Ridding school, Mozzart residence, the legendary Central Cafe. Soak it all in, this is your chance.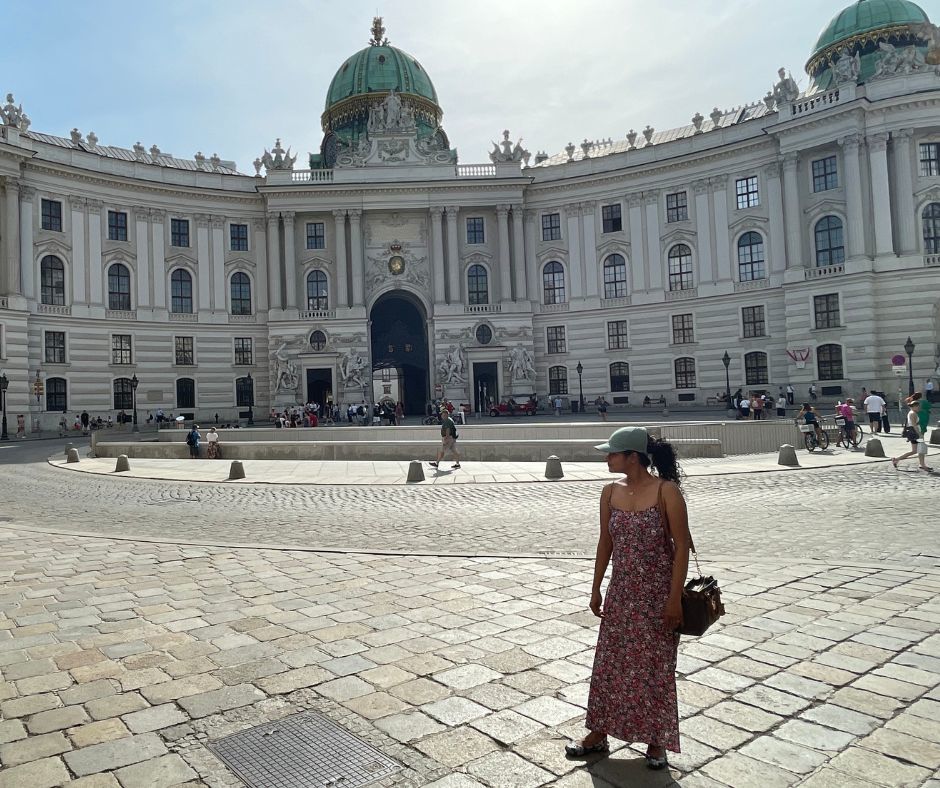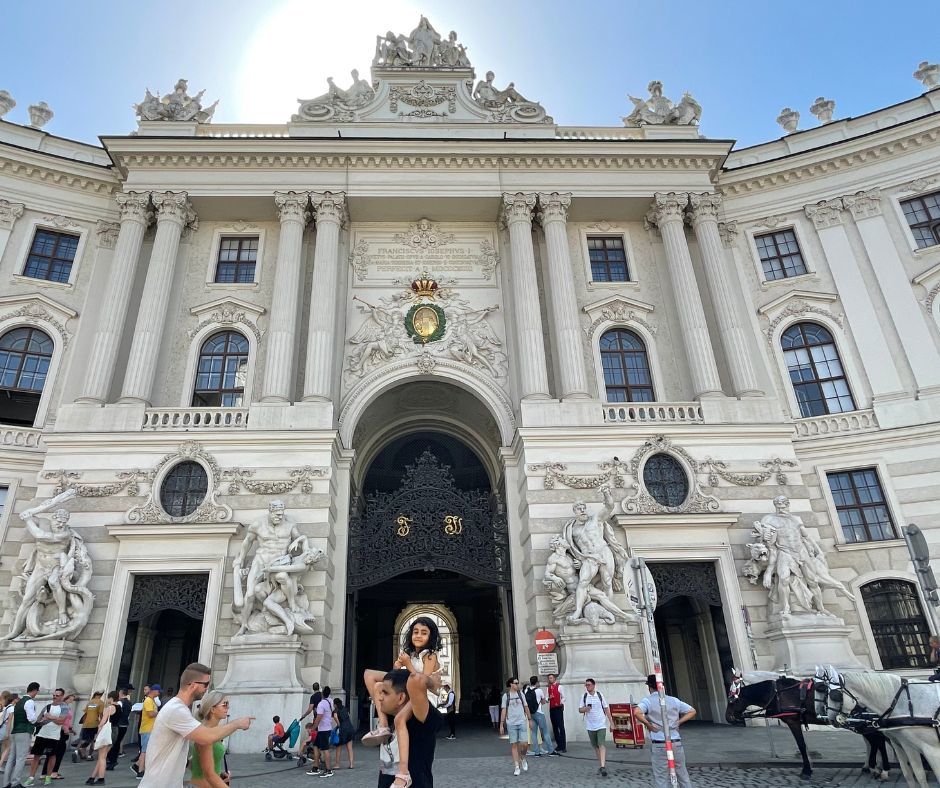 St Stephen's Cathedral
Vienna's most important gothic edifice sits in the historic city centre. This church is an architectural marvel and I would say one of the most recognisable feature of the city. The entire church was constructed continuously from the 12th century till the 19 th century. The special features to note are 343 steps (If you don't wish to climb the stairs a fast life takes visitors to the viewing platform) to the Setffl's Watch room for the views, north tower housing the Pummerin Bell.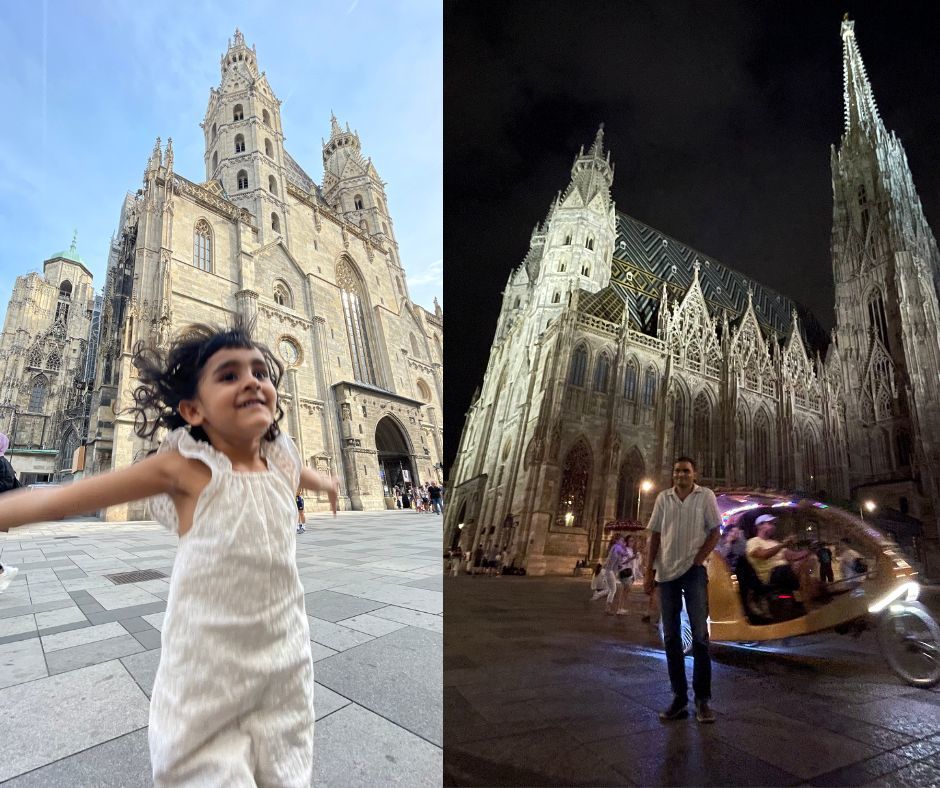 Cafe Central
This cafe opened in 1876. It was frequented by some of the most famous brains Freud, Trotsky and Stefan Zweig. You might encounter long queues before you get a seat but once you enter the cafe it will all be worth it. Sipping on some Vienesse Melange with their accomplished bakes along with a glass of soothing Alpine water listening to a musician play tunes on the piano makes it all worth it. The grandeur of the cafe with high domes and chandeliers is cathedral like. The servers are active and involved. The culture is to leave the customer to his coffee, desert and thoughts.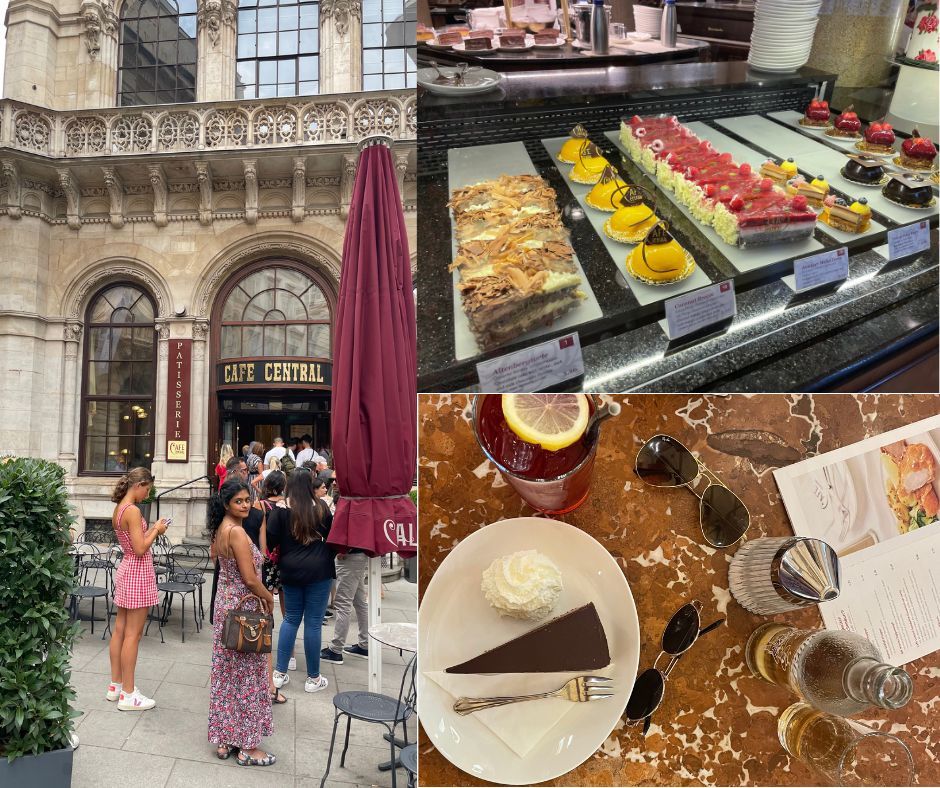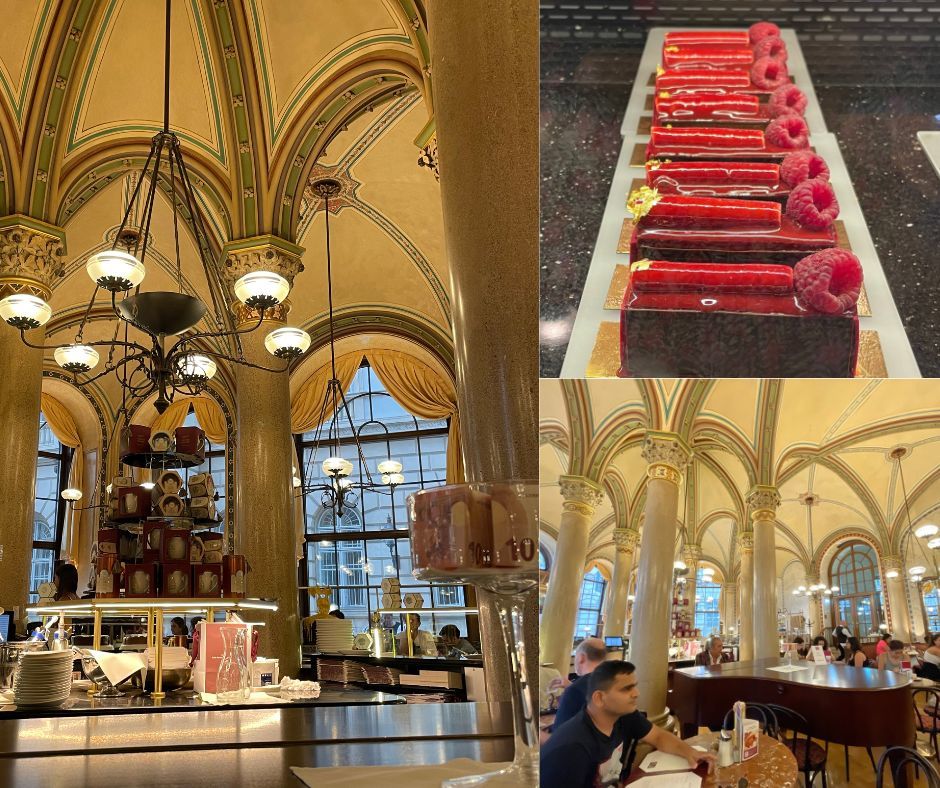 Volksgarten
On the way back to our Airbnb we walked in this park famous for its rose garden.It is situated in the Hofburg Palace complex. We took a stroll, rested a bit and enjoyed the beauty of the rose garden before our first break of the day.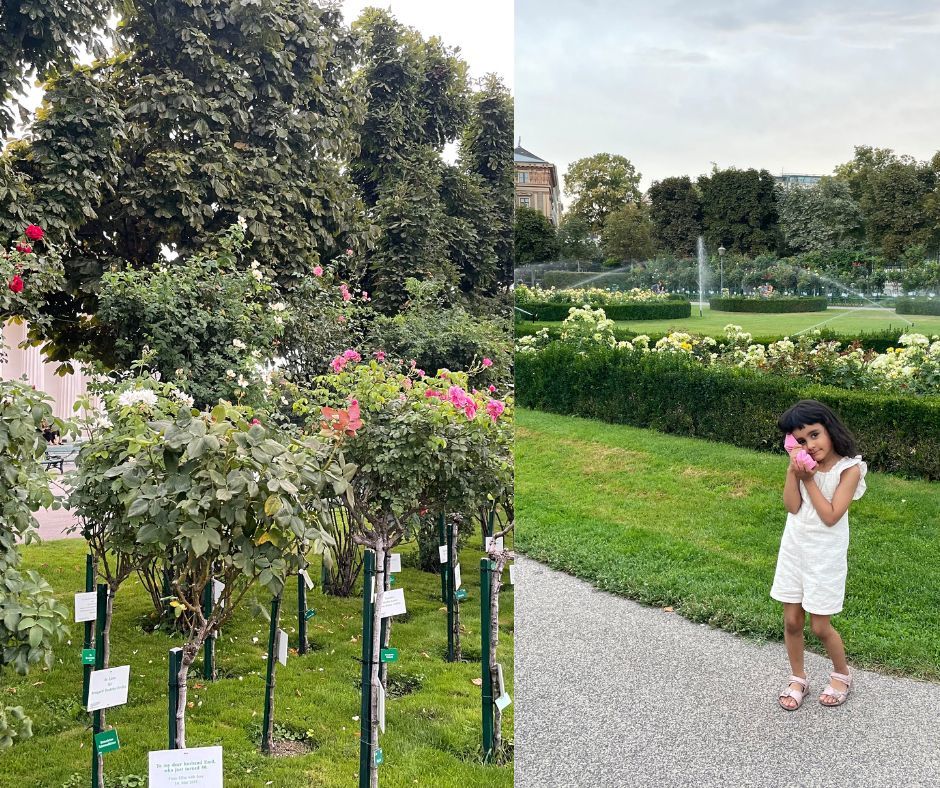 Vienna City Hall (Rathaus)
This historic building completed in the 1800's serves as the administrative centre. The spacious grounds in front are home to many concerts. Accidentally, we happened to attend the Europe's biggest International Film Festival in these grounds.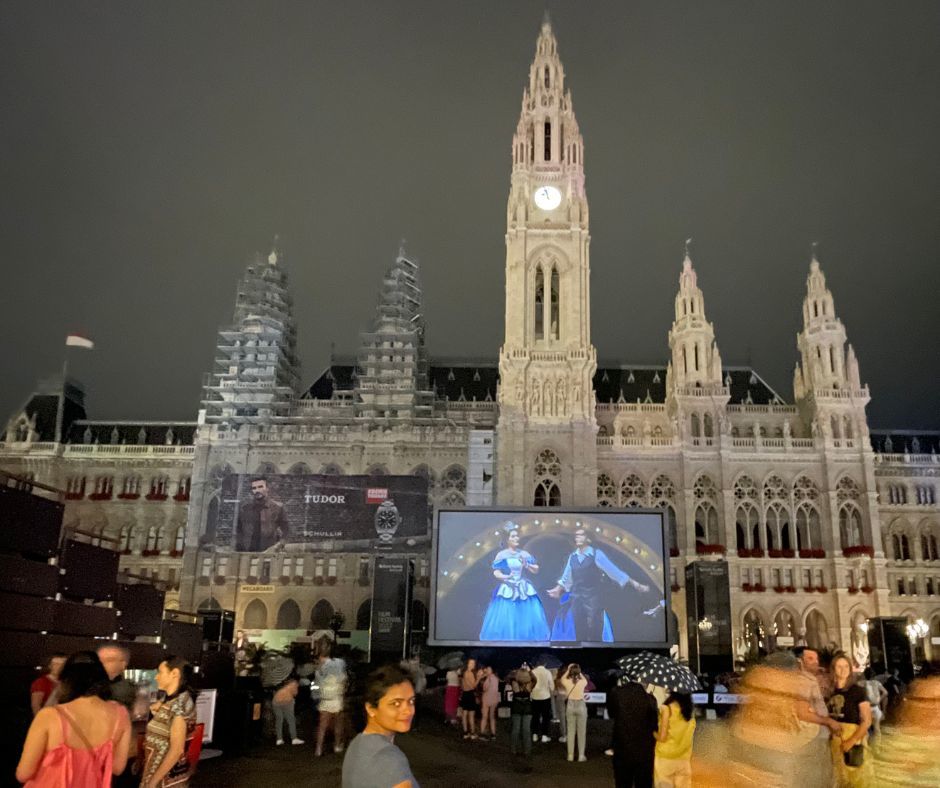 Schönbrunn Palace and Gardens/Schönbrunn Zoo
Visiting this UNESCO world heritage site is one of the top things to do in Vienna. The palace complex is known not only for its baroque architecture but beautifully patterned gardens. You can end the tour in the massive complex at the Belvedere Palace while looking at the art display specially impressionable being ''The kiss" by Gustav Klimt.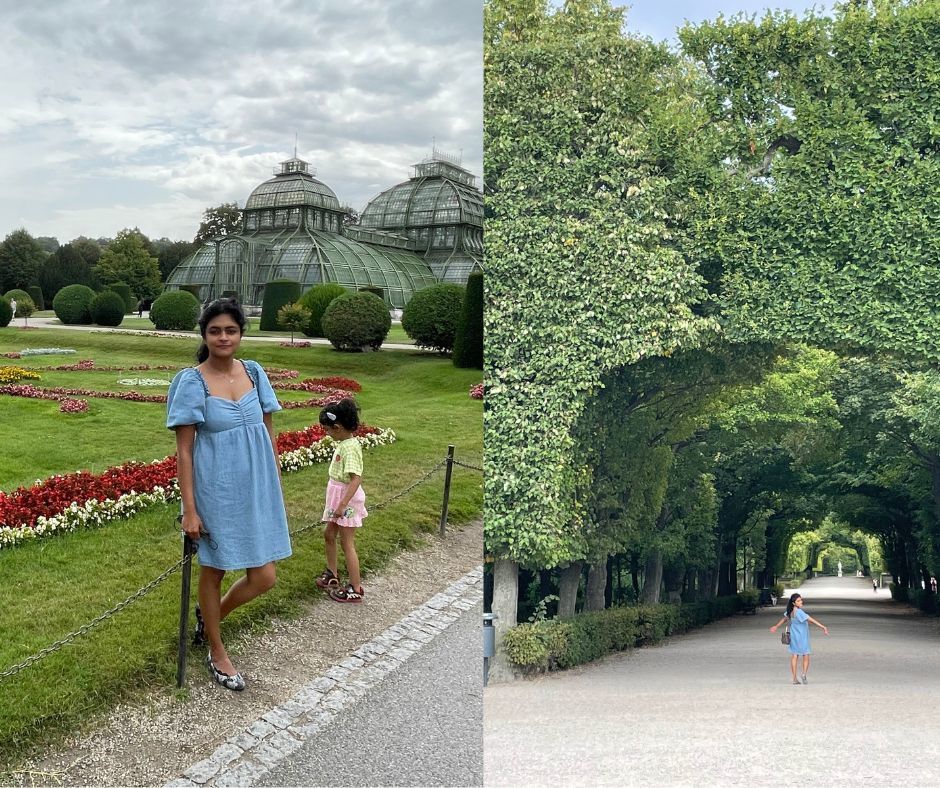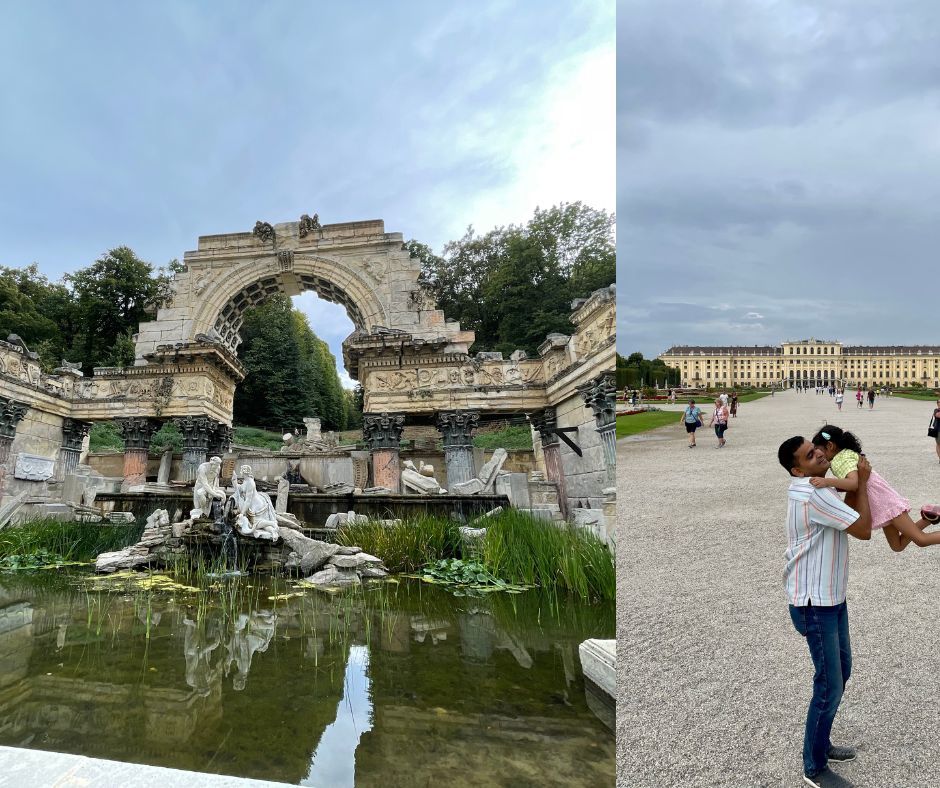 I cannot help but mention the expansive zoo. If visiting with kids the complex has many attractions like zoo with an interactive play area and opportunity to feed and be with farm animals. The palace complex also has the children's museum where kids can play "dress up" like the Austrian royals.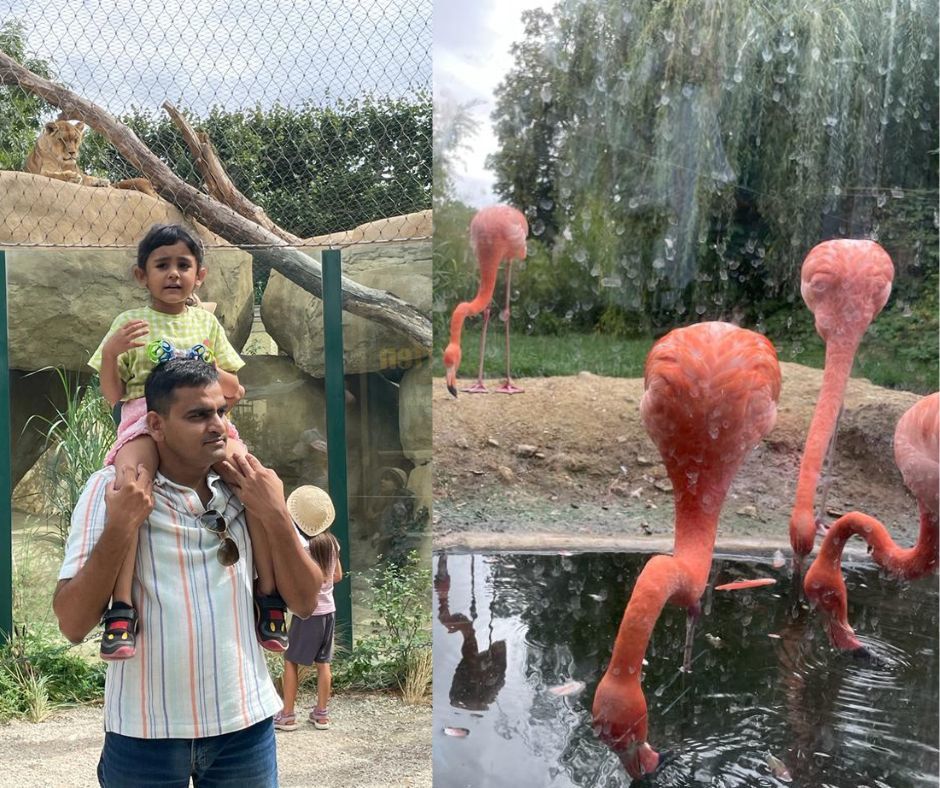 After a break at our Airbnb we decided to head to the Stephenplatz square to soak in the architectural beauty by night.
Cafe Aida
Called it a day at this PINK cafe that my daughter totally got attracted to. It was established in 1913. We ordered ourselves coffee and cake.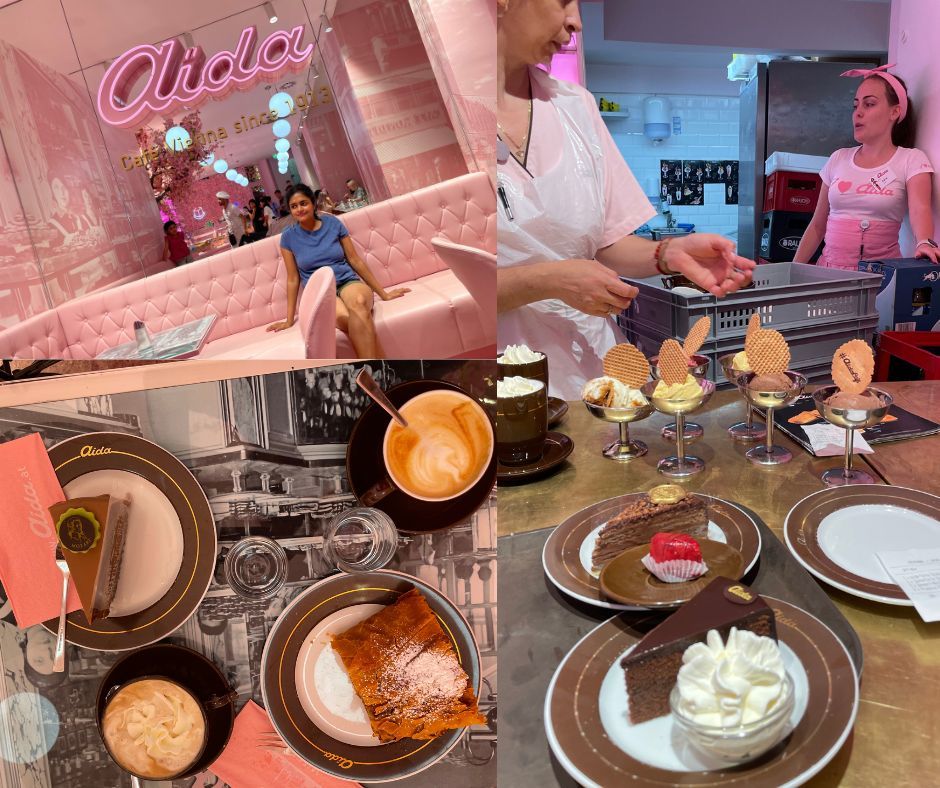 Day trip to Bratislava, Slovakia
Bratislava is the capital of Slovakia and occupies the banks of the rivers Danube and Morava. I took a bus from Vienna main bus station and reached Bratislava in approximately 2 hours. The other way is to take a cruise to Bratislava. I recommend taking the boat one way and the bus the other. I fell in love with Bratislava and its vibe the moment I arrived there. I had to take one more bus to the city centre from where I was initially dropped. The small city centre had my heart, it was lively, the cobbled streets were bustling with cafes, restaurants, ice cream parlours and out of the book souvenir shops. I happened to witness a colourful event supporting Ukraine and Peace in the World. For more details refer to my blog on Bratislava.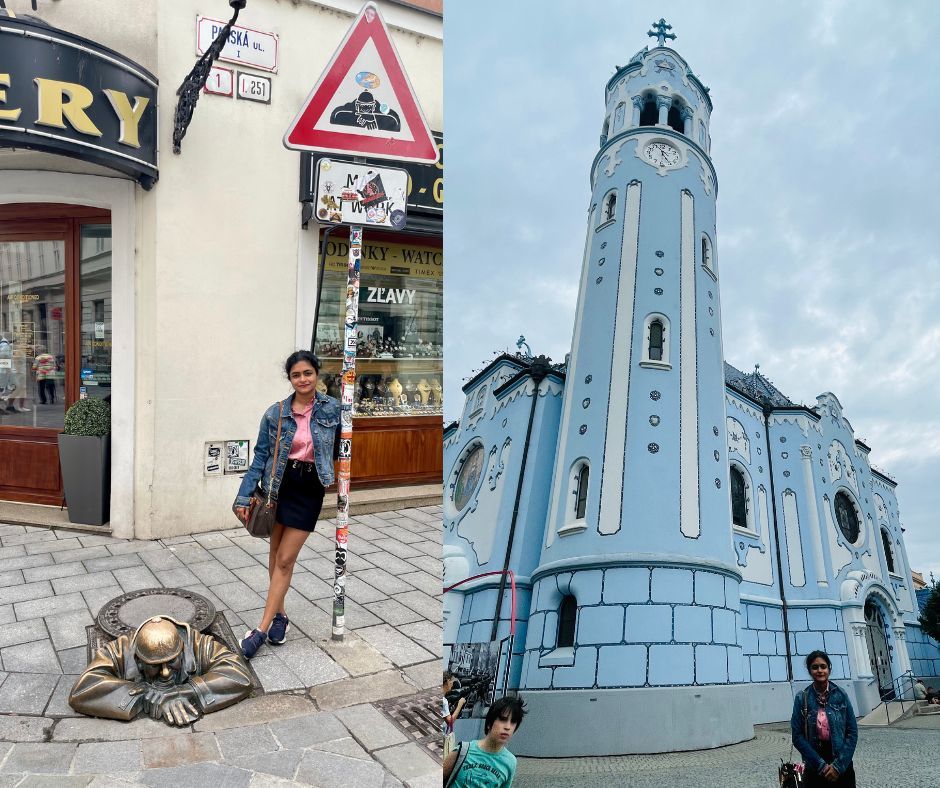 Vienna Museum of Science and Technology
While I was in Bratislava my husband took my daughter to this museum. This museum is super fun and interactive. Against popular perception of museums this one is great for kids!. It has a special children's area where they get to experience the fun side of Technology.With many unique exhibits the foundation stone of the museum was laid down in 1909.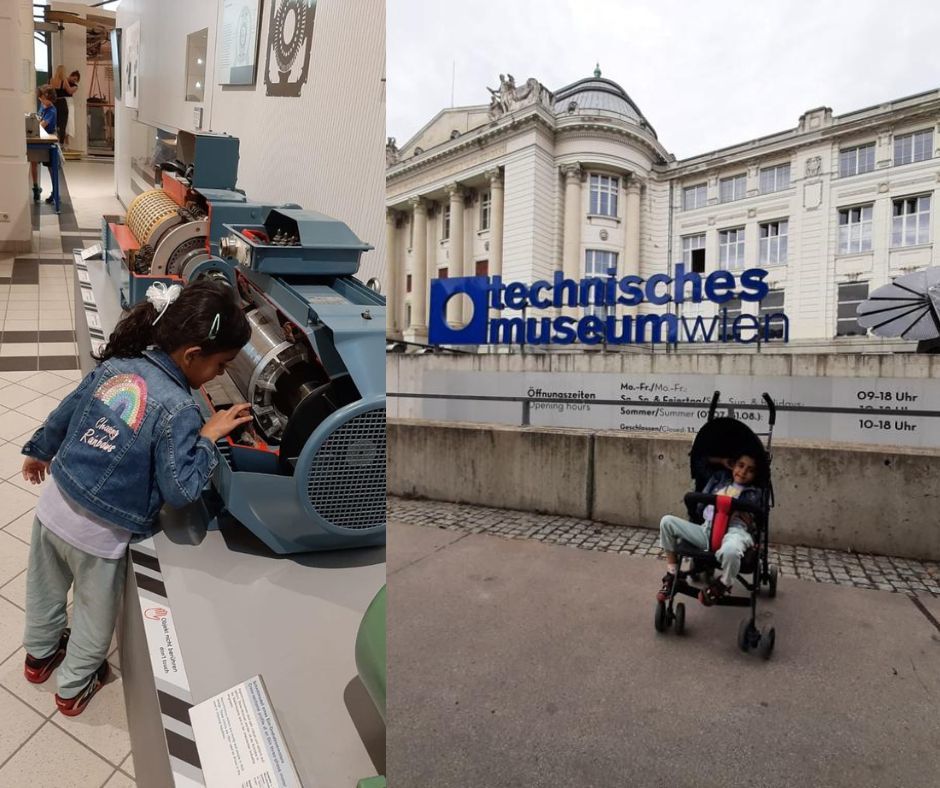 Prater Amusement Park
Prater was very high on our bucket list for Vienna. It is more than just an amusement park with 250 attractions and the historic giant wheel. It is an oasis of greenery with plenty hiking trails. It was the best day as a family for us. We came back with a heart full of memories and in high spirits.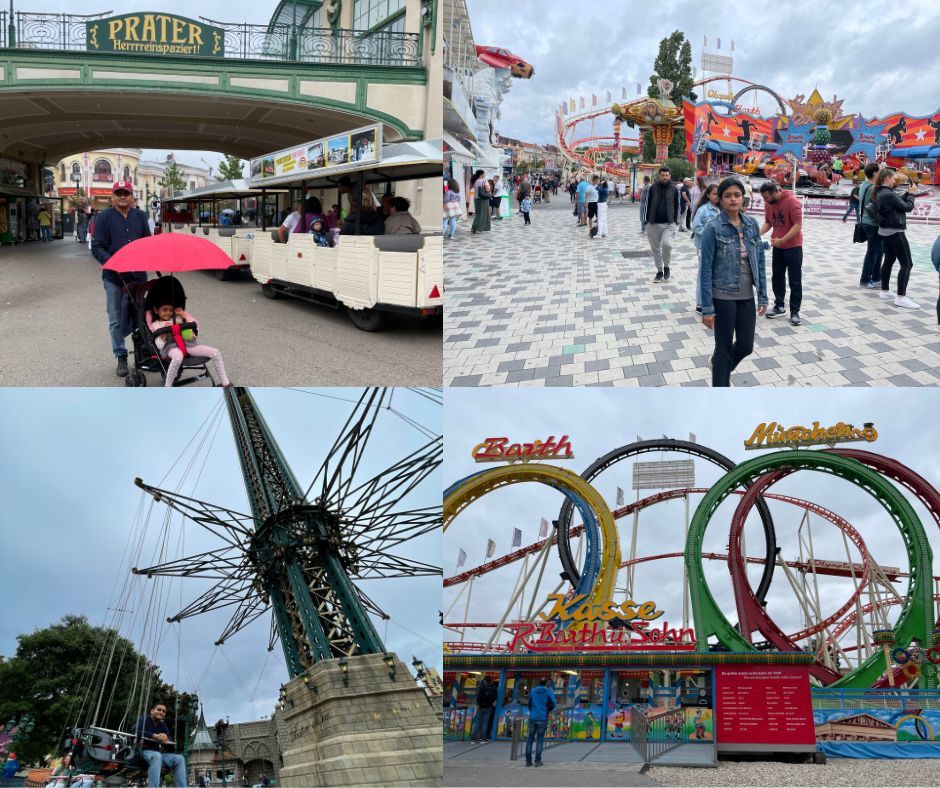 Danube Island
From the Prater Park we walked to the Danube Island. Walking along the Danube and exploring parts of the Danube island can be both a peaceful and exciting. One can imagine meditating and soaking in the quiet or having a fun day indulging in outdoor activities.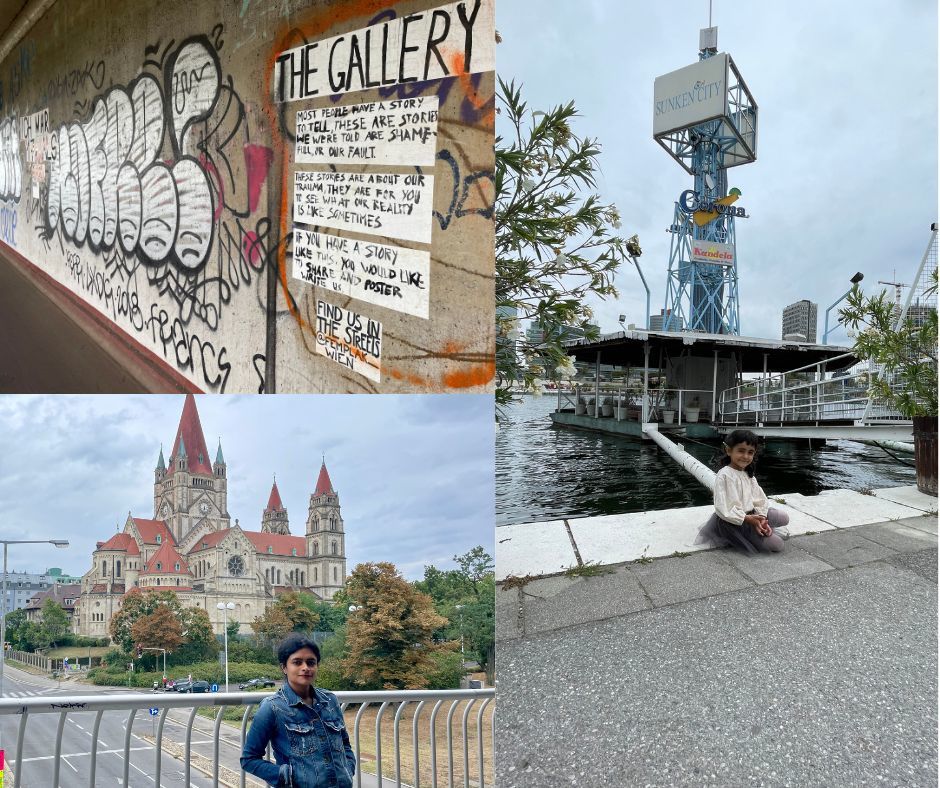 Museum Quarteir
Entering the MQ courtyard uplifted our spirits and we could feel the high creative energy quotient instantly. What we regretted was visiting this complex towards the end of our trip.The 5 most noteworthy museums to lookout for in MQ are - Austrian Architecture museum, Kunsthalle Wien, Leopold Museum, Mumok & MQ Libelle.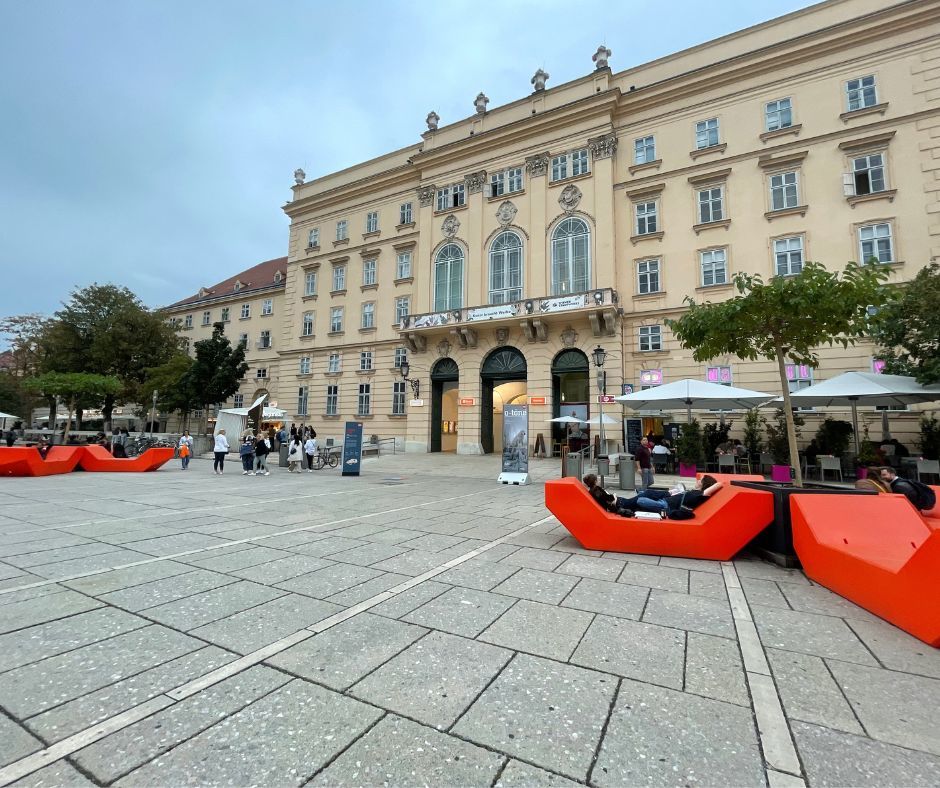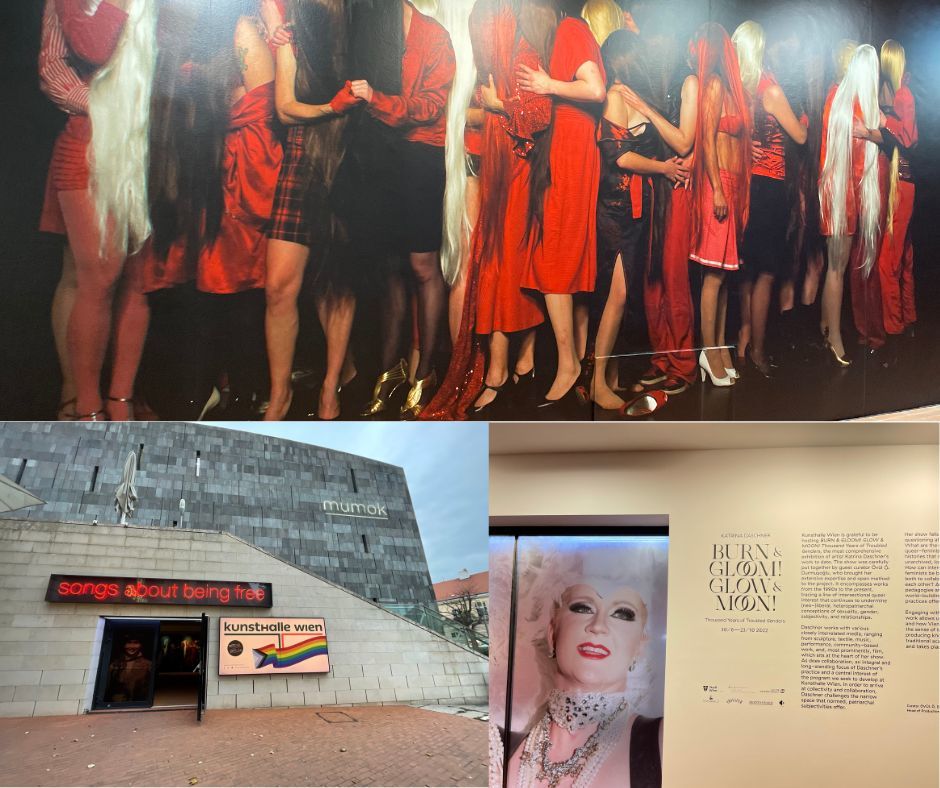 We retired to our room but not before treating ourselves to some Vietnamese food and beer at the NGO Kitchen.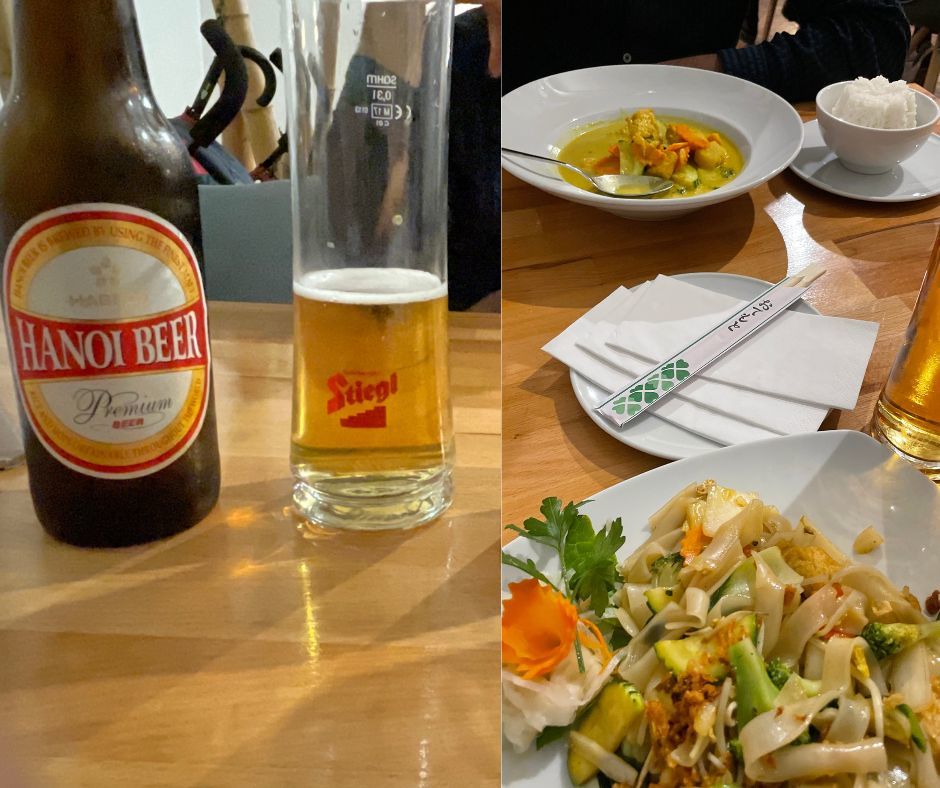 Do not go to Vienna without reading this - The coffee house culture and the livability ranking of Vienna.
Vienna has been ranked as the top most livable country of the world for the year 2022. Apart from the facts that the fundamental needs of food, accommodation, health and entertainment are satisfactorily met and contribute to the wellbeing of the people, I have to talk a bit about what I noticed as a tourist.
Vienna works from Monday to Friday and Saturdays with modified timings and routine. On an average the stores are open from 0900hrs -1830hrs, and when I say close I mean they are absolutely closed. Its is better to stock up whatever essentials you want to during the first half of the day during weekdays. Best to not leave anything for the weekends. This will be a good practice if don't want to be in a tough situation and feel cheated. The people take their holidays very seriously! This principle of strict weekends and off hours has its roots in religion but I can definitely see it making sense practically considering Vienna to be the most livable city of 2022!
Public transport- Buy your public transport pass (24 hour/48 hr/72hour/weekly, etc) as soon as you get there to make the most of them. They can be purchased from ticket wending machines placed in the U stations and even inside the trams. Enjoy unlimited travel using any mode of public transport within the city with this pass. Do not forget to get it validated this is something we figured out only a little later.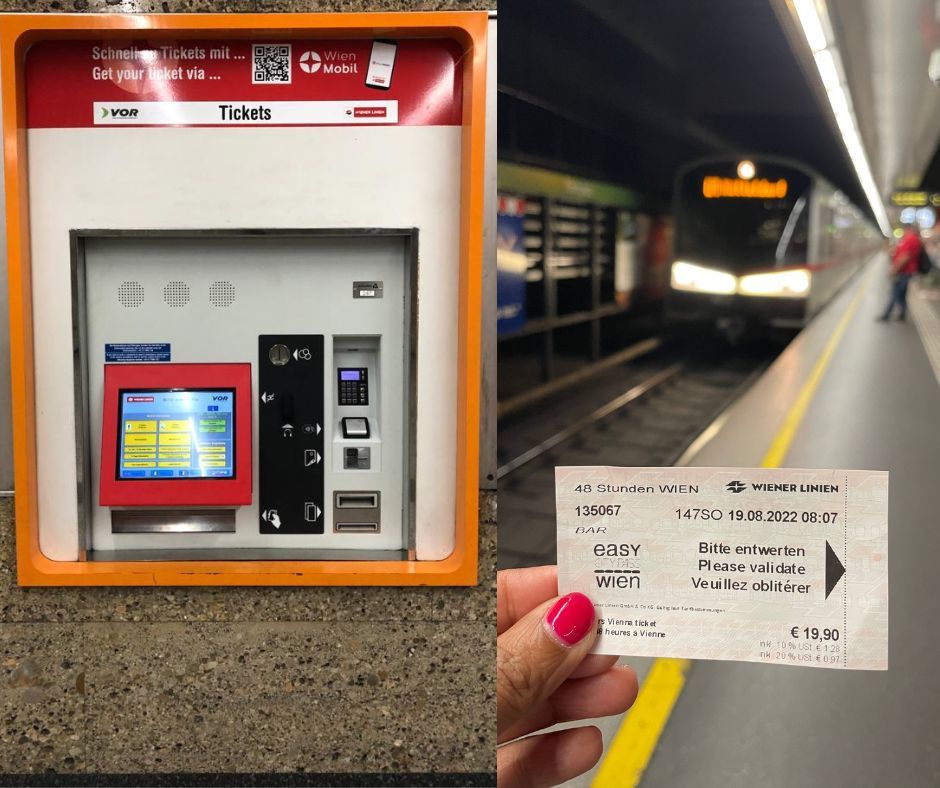 I cannot proceed without acknowledging The coffee house culture & the water. They go hand in hand. I was awestruck at the availability of naturally cool sweet water straight from the Alps in the various fountains and drinking points. Can you imagine the depth of benefits for generations of civilisation having access to clean unprocessed water?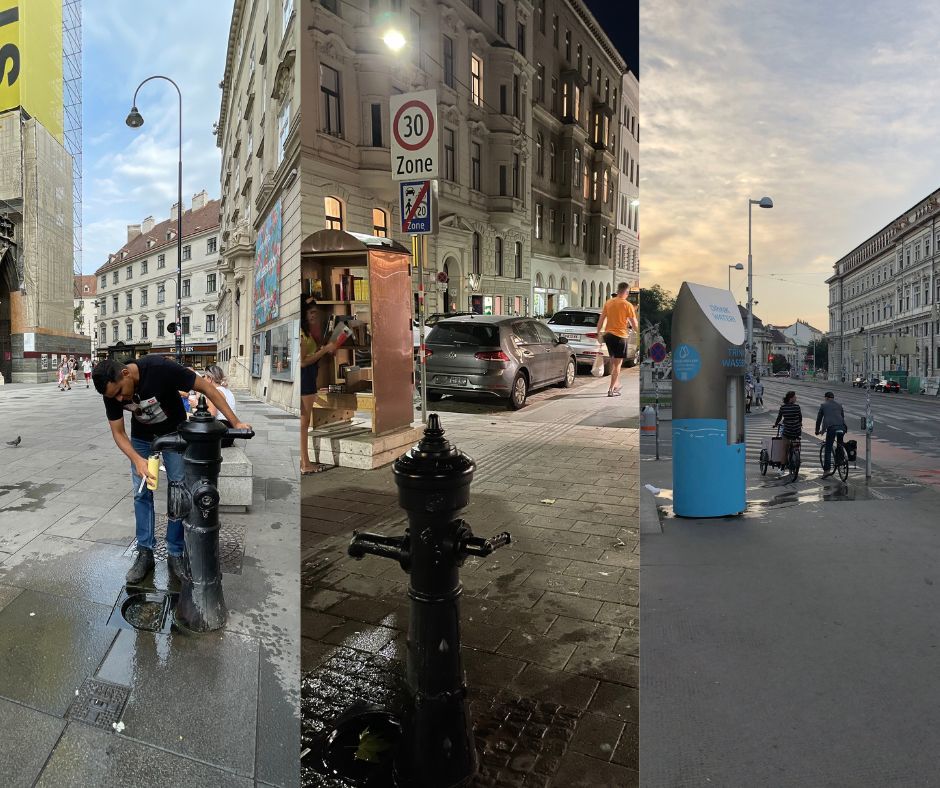 Moving on to Coffee, it did not originate in Austria, neither was it invented there. The oldest cafe of Europe has its roots in Venice. However, Vienna has some of the most historical cafes that were frequented by remarkable figures from the past. Every time I ordered coffee it was served on a metal tray with the matter of factly glass of water. Inside you will see the well behaved but forthcoming waiters, the news paper stands, the old and young enjoying some reading, breakfast and coffee for hours by their window seats. The waiters just leave you to it. The air inside tells you that you are not meant to just finish your coffee and get going. The cafe is a space to unwind. The word culture is apt for the cafes of Vienna.
Experiencing this joy should be on the top of ones list. It is easy to get caught up in the options available. However, I loved my mélange and no it is not just the normal cappuccino. To my sensitive tongue it was the exact right proportion of coffee to milk. A bit more than cappuccino and less than Americano with milk. I have found my coffee!
Food
The Sacher torte, The Apple Strudel and the Schnitzel need no introduction . Any place with coffee and good bakes has me. I have been enjoying Sacher torte which is a chocolate cake with an apricot jam in between its 2 layers for quiet a while. The feeling of Relishing it in its place of origin cannot be over exaggerated.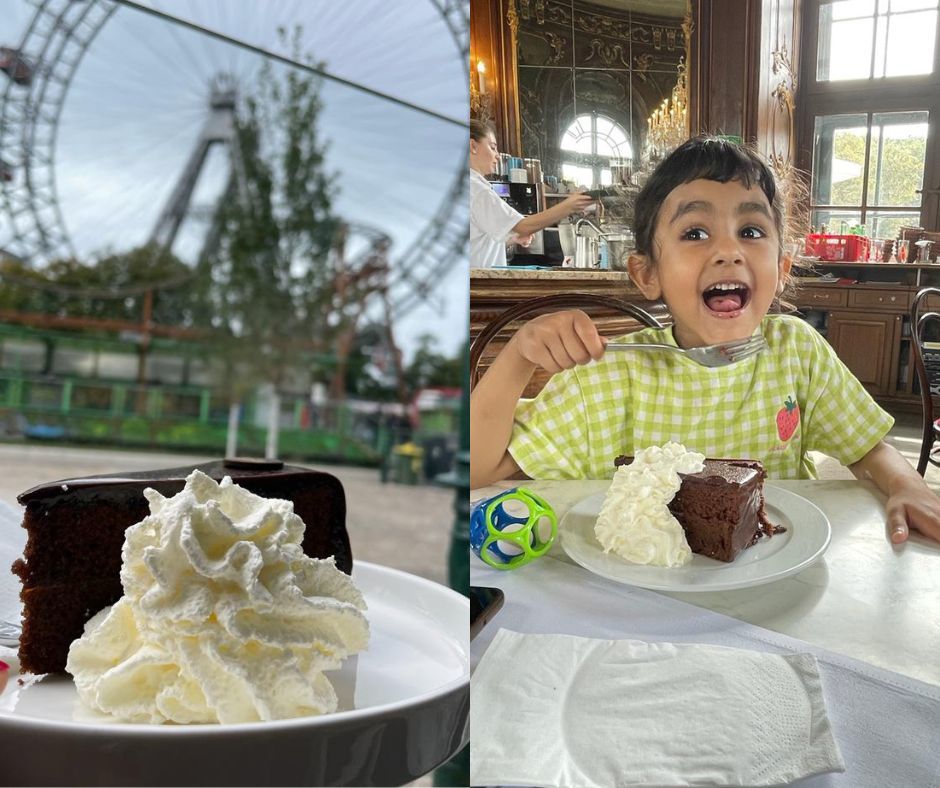 I have not had a better Apple strudel in my life. It came to me all warm and inviting. I loved the crispy fluffy lightly powdered pastry with the juicy fresh apple filling. I don't think I will ever be able to order anything of a lesser quality & taste.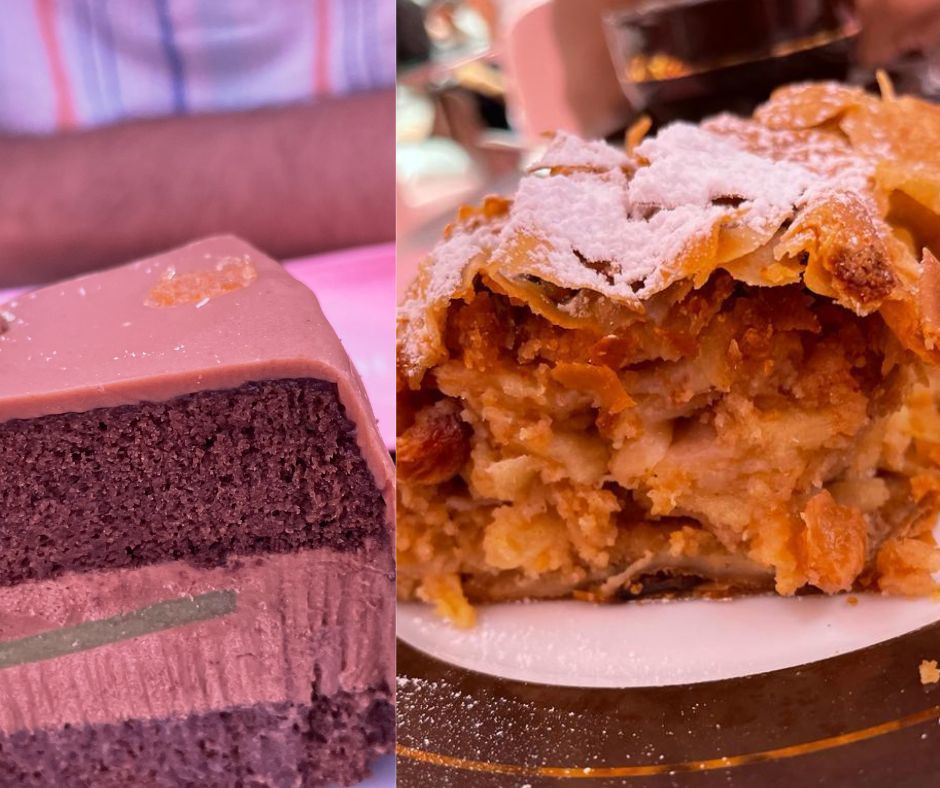 Life is "easy peazy" for vegetarians too. Most supermarkets are well endowed with filling Vege options like rolls, salads, bowls, etc. The "Billa" food mart in the Hofburg palace grounds also had a hot food station with plenty to offer. Vegans don't have to be disheartened for not being able to try the schnitzel because one is only a simple google search away from that experience. Some cafes that do offer vegan Schnitzel on their menu are- Landia, Veggiezz, The Augustin.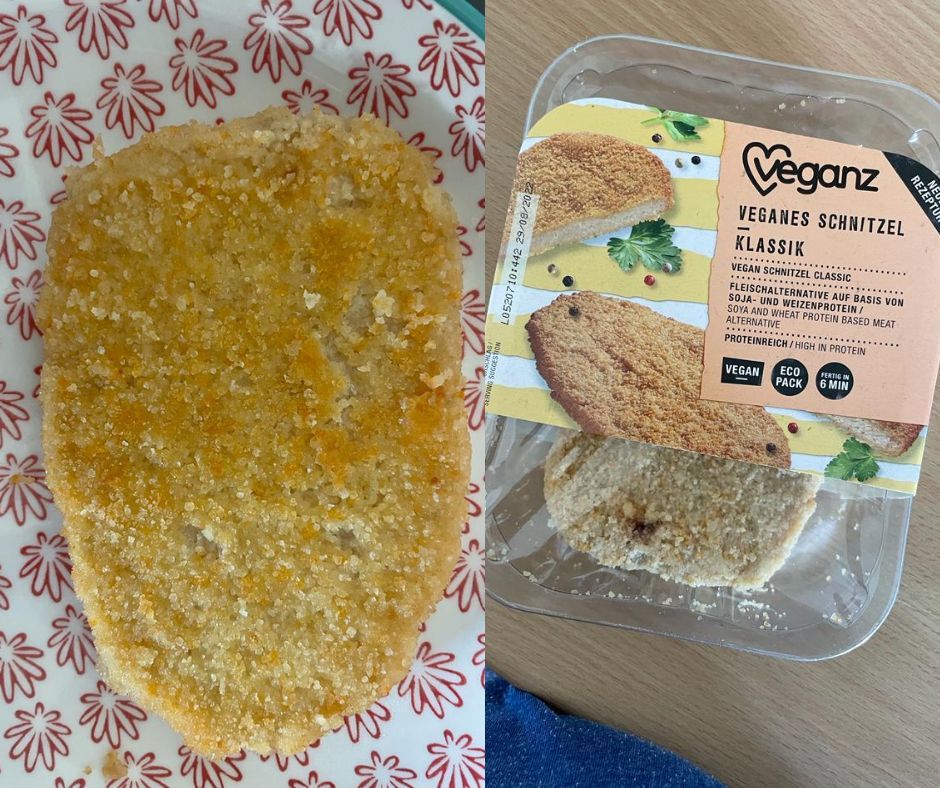 We stayed at this Airbnb in a heritage building. The location, the vicinity had packed all of the Viennese charm and magic in its yellow walls, the cobbled street & small street cafes, bars that sprung to life with an early evening post work vibe. There was something relaxing and therapeutic to see the Austrian people close shop strictly and celebrate life in no hurry at all.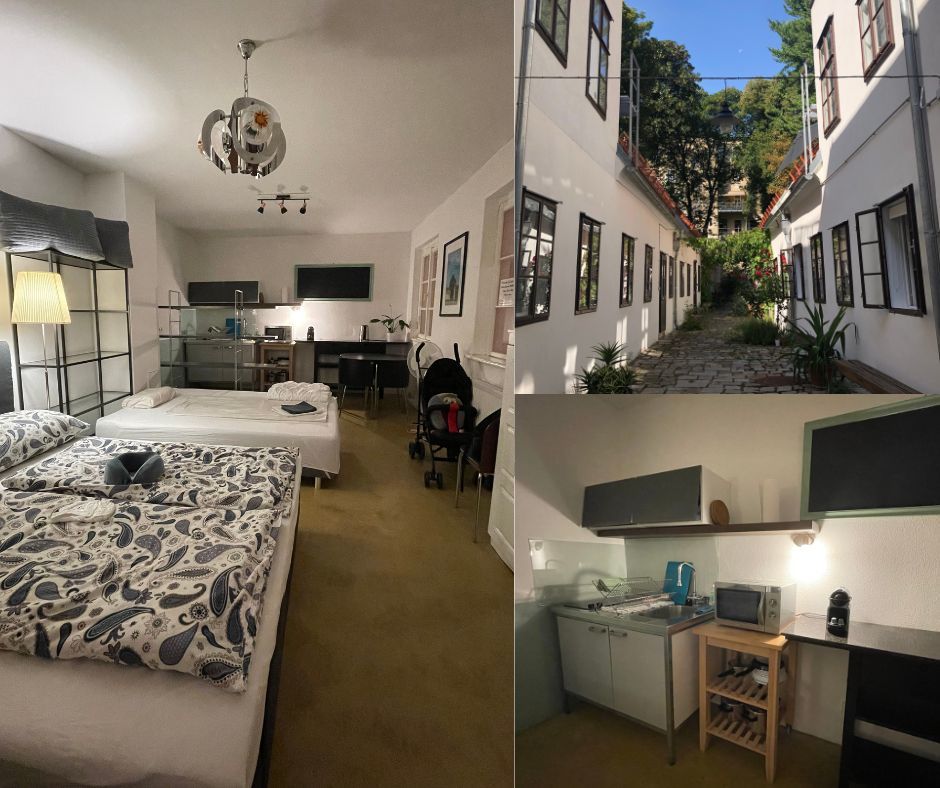 The host was forthcoming and helpful. We needed a stroller and he had it arranged before our arrival.
Shopping
The main shopping street of Vienna is Karentner Strasse. If you love indulging in some luxury shopping and high carat jewellery this is the place for you. This area houses some well known brands like Zara, H&M, Hugo Boss, etc.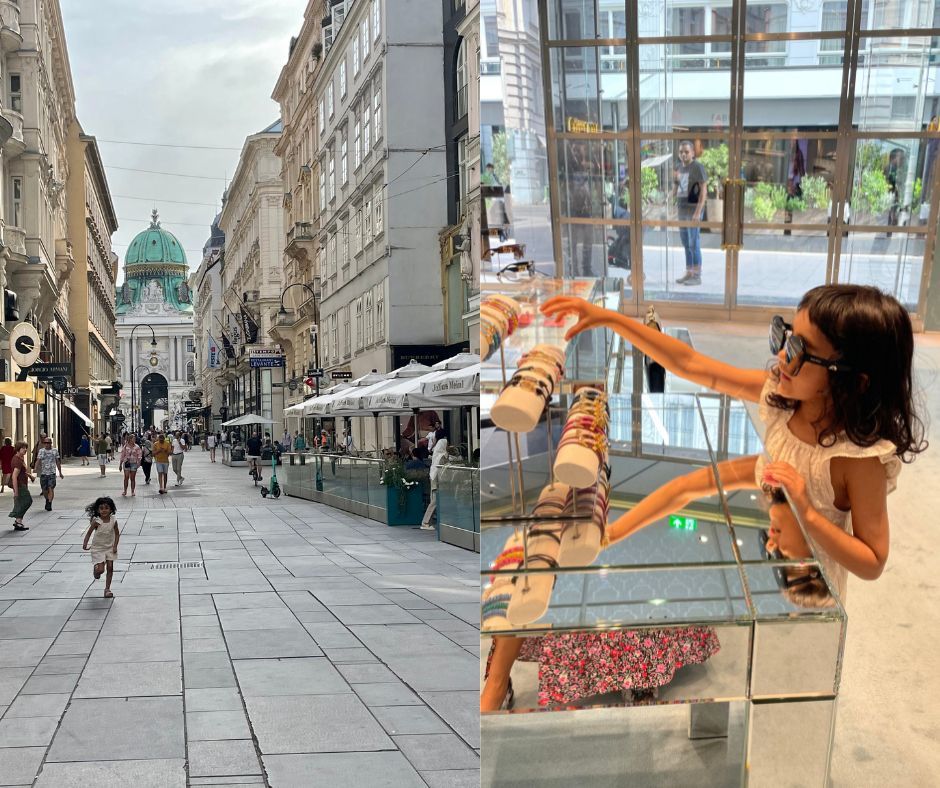 Naschmarkt is a farmers market selling high quality products from all around the world and from Austrian farms direct to the consumers. Rest your feet and relax at the many cafes and restaurants. This place is a foodie's delight.
One can think of picking up Sacher torte from the Sacher Hotel, Coffee, Chocolates, Swaravoski, snow globes, fridge magnets, Austrian Dirndl dresses as gifts for self and friends.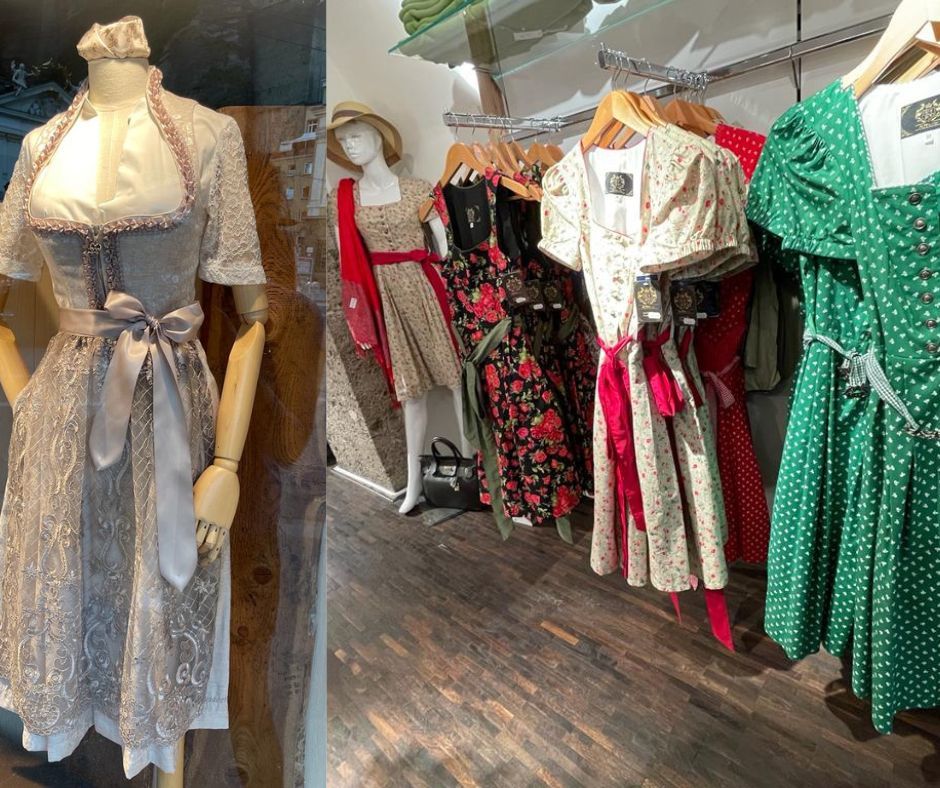 End note & what will take me back to Vienna ?
My trip to Austria - Vienna and Salzburg was fulfilling. I packed a lot of experience in whatever time and energy I had. Being with an active 4.5 year old draws that much more from your own physical and mental capacities.
I highly regret not being able to spend time in the Sisi Museum. Empress Sisi, The Rose of Bavaria lived an enigmatic life. She was born to loving parents and lived a free and happy childhood until she was married at the age of 15 yrs after which she was sucked into a suffocating life. She struggled with mental health issues. The problems caused to her by her mother in law and the torture she endured at the hands of the mother in law and a husband who was madly in love with her but not enough to protect her mental health. Her escape from real life to Hungary, Portugal and Greece and the natural love she felt for these places specially Hungary is so understandable. She dedicated her attention to maintaining an attractive countenance in order to feel in control. She exercised and rode horses passionately. I cannot imagine the hurt she must have felt when she was denied the right to love her own children without interference. The suicide of her 30 year old son pushed her into mourning for the rest of her life. Her pain struck a personal cord with me. I would definitely take a stop over at Vienna in my next Euro trip and spend a day alone getting close to her life without the distraction of my toddler playing around showing impatience .
Sigmund Freud Museum - I want to immerse myself in the life and work of Sigmund Freud, Father of psychoanalysis. Both Sisi and Sigmund Freud were ahead of their times. His theory on finding cures alternate to the electric shock treatment were laughed upon. He was a jew and had to flee to London after the Nazi occupation of Austria where he finally passed away.
That's how I got to spend my time with my family in Vienna. After this we headed to Salzburg. Keeping reading to find out more.
Have you been to Vienna? Tell us about it in the comments below. Or write about it here on Tripoto and earn Tripoto Credits!