The reason why I love the Western Ghats is because you can go on a trek anytime of the year and will return with an amazing experience. Western Ghats are one of the most gorgeous landscapes in India and the biodiversity here is one of its kinds. Filled with easy, moderate and difficult routes, the treks surely take you on a journey where everything is wild and green.

Surely, Western Ghats is amazing but when I first heard about going on a night trek, I started having my own reservations about walking in a hilly route by myself. More than that, upon speaking with the trek team leader, I was told that chances of getting lost on the route are common. Trust me, despite all my adventures and spending a major part of my life on road, I was not too fond of Blair Witching myself.

After certain conversations and considerations, I finally booked this trek that would go to Kunti Betta. We were supposed to start from Bangalore on a Friday evening and return home on Sunday afternoon.
Kunta Betta is a hillock located near Pandavpura. This trek is one of the popular night hike destinations in Karnataka and being closer to Bangalore, it is a favourite of many adventure seekers. One can reach Pandavpura by train which leaves Bangalore around 5:00 PM.
You'll be at Kunti Betta base by 8:30, from where your night trek will begin.
Toughness level
Kunti Betta is not a tough trek. Its unpredictability and toughness level increase up to some extent because the entire activity takes place in the night. The route requires good navigational skill and hence it is advisable to book the trip from a genuine trek company.

Without a guide to show you the way, it is kinda impossible to complete the trek. You can still visit this place on your own, but only if there are experienced hikers with you who know this route.
A unique landscape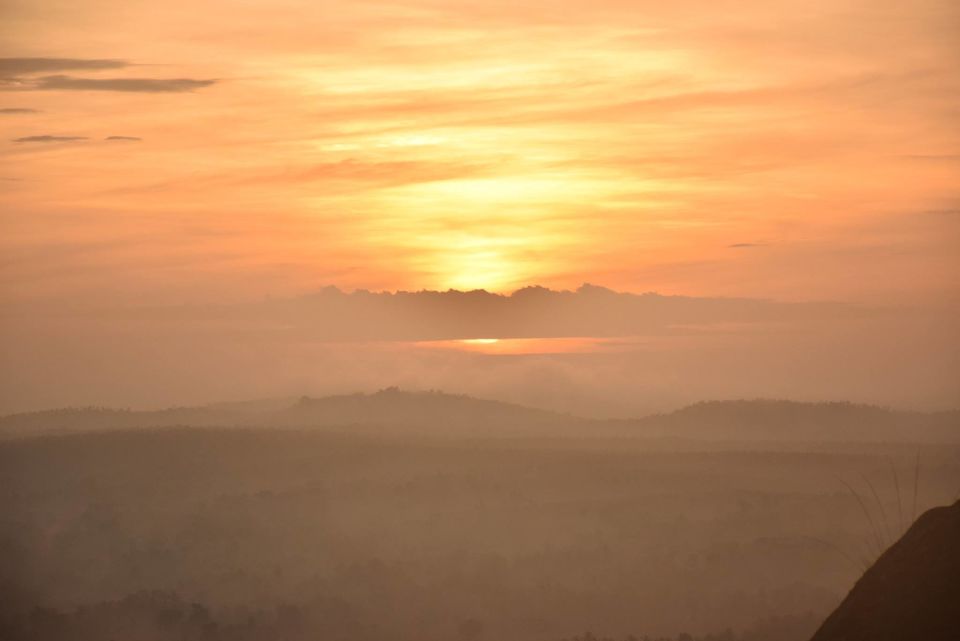 Karnataka is known for its countryside charms and Kunti Betta is not an exception. The point of trek comprises of two hills and lush green sugarcane farms, coconut trees along with paddy fields that are spread in acres and acres. It is believed that Kunti, the mother of Pandavas, stayed here during the exile period. When you trek here in the post monsoon season, you'll also find a lake called Kunti Kund located in a temple nearby. It is a popular area of pilgrimage.
Night Trek experience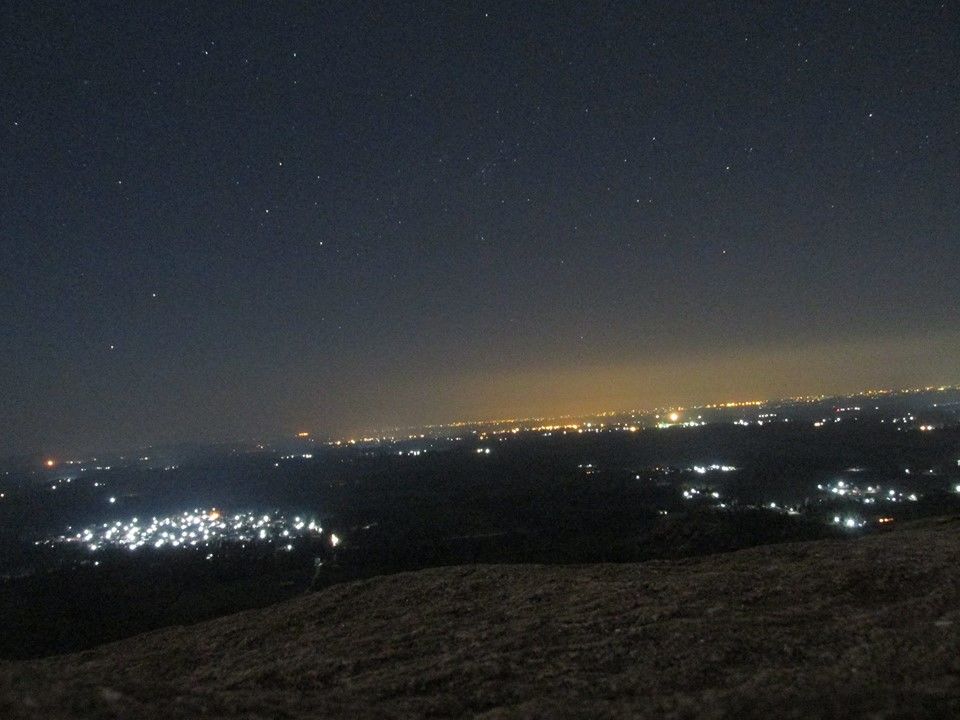 Once you start your trek from the pond which serves as the base of the trek, you'll start straight on a 60 degree inclination which increases the difficulty. The whole route is filled with huge boulders that resemble shapes of animals and giants in the night.

Finding the route and the point where you should start climbing is the most confusing part of this trek. There are misleading steps that are often confused with the starting point where it is not and will take you to another peak. If you are slow like me, then it becomes way more rigorous because the navigator cum guide has already gone ahead with the faster ones in the group. Another difficult part are the inclined rocks that make climbing tough. Because of it the chances of slipping and falling increase. After you are done with this challenge, you'll find a huge rock standing in the middle of your path. Passing is is another task that takes a lot of time and energy. Don't leave your group or you'll end up being stuck in the middle.
Half way through the trek (if you start climbing after 10 PM), you'll realize that morning is not that far. This was amazing how the peak started coming in sight and we realized at it is already 3 AM. In an hour you'll be on top of the peak.
Rampant irresponsible trekking
Major trek companies often take 50 to 100 people for this trek. Their presence makes the whole journey worthless because you come in search of peace and you end up getting subjected to loud music and drunk people causing troubles.
If you wish to do this trek in your own group then you can also hire a guide from the village. A better idea is to trek with one of the local companies in Bangalore. Make sure that you confirm about the size of the group first otherwise you too will end up seeing more people on your trek.
Last but not the least you must wait for sunrise after reaching the summit. The gorgeous view of the sun rising behind the paddy fields is a sight to behold.

How to reach Kunti Betta – Pandavpura is the near train station. From here shared autos will drop you at Kunti Betta base point. You can also book an auto rikshaw on your own.
Where to stay in Kunti Betta – Kunti Betta is devoid of any stay options. Trek companies provide camping options, while you too can carry your tents. There is a small cave on the route where you can spend your night after completing the trek.