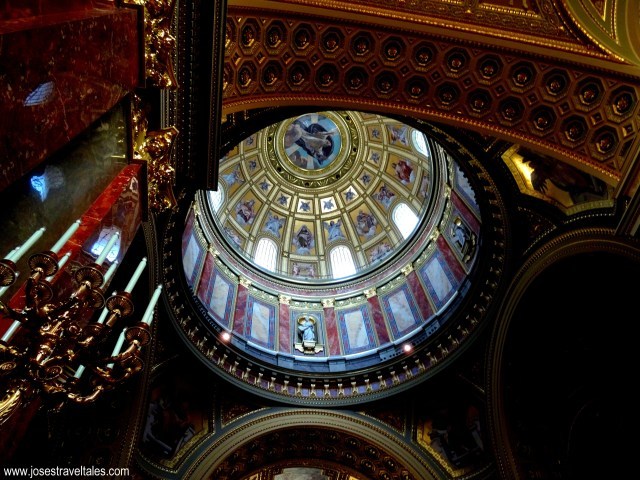 Hungary's capital - Budapest located in Central Europe is a must visit for its history, baths and splendid architecture. The city is really two towns in one - The West Side is called Buda and the Eastern side is called Pest. This beautiful European city is bisected by the popular River Danube. There is just so much to see and do in Budapest but in this blogpost we will only be covering 10 Things To Do In Budapest showcasing the Top Attractions of the city so that our readers can get a good idea on what to expect if they are visiting Budapest for the first time or if they are looking for a 3 Day Budapest Itinerary.
What is the best way to see Budapest?
On the day we arrived we made use of the 24-hour Budapest Travel card which allowed us to enjoy unlimited number of trips on public transport within Budapest. These cards come in huge variety and range from 24 hour to 120 hours. So you can make your pick depending on the duration of your stay. A good thing about these travel cards is that they also allow free entrance into 17 museums and you can also enjoy free entrance into Lukács Thermal Bath and Swimming Pool. These cards can be purchased from Budapest Airport Terminal 2A. In addition to using public transport, you can also try out the The Hop On Hop Off buses as they bring you to all the best things to do in Budapest. And to understand the history of Budapest and also to get a feel of the local culture, we also recommend you go for a Free Walking Tour.
What are the Top Budapest Attractions?
These are some of the Top sights in Budapest or Budapest Highlights which you must not miss during your visit.
Shoes on the Danube Promenade
From our entire Budapest trip, if there is one thing that will forever remain in my heart as a memory then it is this. This popular memorial is seated on the Pest side of the Danube Promenade and comprises of 60 pairs of 1940s-style iron shoes, true to life in size and detail, which is a symbolic tribute to the terrible times in history when thousands of Jews were expelled and brutally shot along the banks of the Danube River. Apparently the helpless victims were forced to remove their shoes and leave it on the banks before being shot mercilessly by the executioner and dumped into the freezing waters of Danube. We recommend you visit this spot just before sunset to enjoy the views of the city.
Take a Danube River Cruise
After the Paris Seine River Cruise, our next favourite has got to be the Danube River Cruise. Budapest looks absolutely beautiful during the day and a tad bit more magical during the night once the building lights are on and it leaves its glimmer on the banks of Danube. You can opt for the one hour long evening sightseeing cruises or settle for an elaborate buffet style river cruise depending on your needs and how much money you have to splurge.
Visit the Buda Castle
It doesn't matter whether you are a lover of art or not, you still ought to visit the beautiful Buda Castle which is otherwise known as the Royal Palace or Royal Castle. This Castle with all the intricate detailing and magnificent architecture is the perfect spot for photography. Inside the main building, you will find the art gallery and museum with stunning statues and works of art spanning centuries. It is Definitely one of the must places to see and visit while in Budapest. We enjoyed the Castle during both day and night time. During night time the Castle is lit and looks even more magnificent.
Fishermen's Bastion
This bastion building seated on a castle hill quite resembles the fairytale castles in Disney World. It is called a gem for several reasons- it is made up of special building materials and looks great and also gives fantastic views of the whole city. This is one of the best spots to view the Hungarian Parliament Building .It is recommended you go there early morning to avoid the crowds. There are several spots for photography and also you will find many local vendors selling trinkets which make good souvenirs. Fisherman's Bastion Entrance Fee is 800 Hungarian Forint ($3 USD)
St. Stephen's Basilica
This is a popular Roman Catholic basilica in Budapest named after the first King of Hungary- Stephen. This place of worship houses the right hand of the King in the reliquary. It is believed that this church has the largest bell in Hungary and the "ringing of the bell " is very popular among the locals and tourists. So if you are not scared of heights, then definitely do go on top of the bell tower. The views you get once you climb up the tower is a real treat to your eyes. Entrance to the Basilica is free and you need to pay a small amount if you wish to climb up the tower. If you want to get to the Top of St. Stephen's Basilica then you need to pay HUF 400 to access using the stairs and HUF 600 if taking the elevator. Also, If you are visiting Budapest in December ,then you must visit the St Stephen's Basilica Christmas Market to witness the fanfare and celebrations of the Christmas season.
Hungarian Parliament Building
It is the largest building in Hungary and has been constructed in the Gothic Revival style. It is an iconic landmark of Hungary and is a must see while in Budapest. The design is sheer architectural brilliance and the place itself holds so much importance owing to its rich history. There are guided tours that happen in every language and it is advisable to book tickets to the Hungarian Parliament Building beforehand. Only a limited quantity of tickets are available each day and may take a while due to queues to get the tickets. Advance tickets can only be purchased online. The guided tours last for approximately 50 minutes and gives you an opportunity to see the stunning interiors of the building and the very precious Hungarian crown. If you dont want to spend money to see the inside, then try to witness the change of guards which happens at around 12.30 noon. It is definitely worth seeing even though it lasts only for few minutes. If you want to visit the interiors of the building then you should buy your tickets online. The Parliament looks absolutely stunning at night time and should not be missed. The whole building transforms into a golden palace and will leave you spellbound.
Walk on the Chain Bridge
This iconic Szechenyi bridge was the first one that was ever built in Hungary to connect the two sides- Buda and Pest. If you visit Budapest, you should definitely take a walk over this beautiful bridge. It is easily walkable and is a great way to see both sides of Budapest.The views from the bridge are stunning and is best at dusk.
Tour the Matthias Church
This beautiful church which is seated on the Castle hill got its name as Matthias Church as it was the venue for the great Hungarian King Matthias ' two weddings. The church is located right next to Fisherman's Bastion and has attractive and colorful interiors that should not be missed at any cost. To visit the Matthias church, there is an entrance fee of 1,500 Hungarian Forint ($6 USD) which includes entry to the museum as well. If you would like to pray or simply enjoy a moment of silence, the sacred chapel is open all day, free of charge. We highly recommend you do not miss the panoramic tower guided tour that lets you climb 197 steps to the top of the tower.
Binge at the popular Central Market Hall
The Central Market Hall is home to varieties of fruits, vegetables, dairy products, meat, fish, pickles, spices , souvenirs, clothing and kitchenware . A visit to this market is definitely very touristy but it is one of the top Budapest attractions according to many Budapest guides. It is the perfect place to sample some local delicacies .Hungarian food is delicious and when you are in Budapest you have to try some of the traditional dishes such as Gulyás ( goulash) which is the most famous Hungarian dish. It is a stew made of meat and vegetables, and with lots of paprika. Goulash is very popular in other countries too such as Austria, Croatia, Slovakia and Czech Republic ( Prague ).Other dishes worth trying out are P aprikás Csirke (paprika chicken), Töltött K áposzta (meat stuffed in cabbage) and K olbász (sausage). For those sweet cravings try O mló i Galuska (chocolate and cream sponge cake), G undel Palacsinta (pancakes with chocolate and nuts), and D obos Torta (layered sponge cake with a hard caramel top).
Unwind and Relax at a Thermal Bath
Not only is Budapest famous for its history and splendid architecture but also for its natural hot spring spa baths/ thermal baths. In fact Budapest is known to be the city of medicinal waters and amazing thermal spas as can boast of having around 450 public spas and bathhouses Széchenyi Thermal Bath is the largest medicinal bath in Europe. Other popular Thermal Baths include LUKÁCS Baths , RUDAS Baths , GELLÉRT Baths , KIRÁLY Baths and VELI BEJ Baths. At these places you can pamper and treat yourself to massages, pedicures etc. GELLÉRT bath in particular is famous for its glass dome and mosaic workmanship.
Bonus Tips
If you didn't know already, Budapest has the second oldest underground railway in the world after London, United Kingdom. So if you fancy riding in public transport systems and also want to get a taste of train journeys in the good old days, then you must not miss commuting on M1 or yellow line which is the oldest line of Budapest underground system running below Andrassy street. Take a ride and bask in the pulse of the city. If you want to buy some authentic souvenirs from Budapest or looking for some "Must Buy Hungarian Things in Budapest" then you must look for hand crafted Porcelain, Painted eggs, Ajka Crystal, Hungarian paprika and Handmade embroidery( tablecloths, linens, curtains etc)
We hope you enjoyed this post on the Top 10 Things To Do In Budapest. We spent a little over two days in Budapest and felt that the above itinerary was just perfect if you are wondering what to do in Budapest in 2 days.
Follow us on Instagram, Facebook and Twitter too to stay updated on our posts.
This is a travel and food blog by Vini & Jose, a fun indian couple who are absoloute travel junkies. They have visited 27 countries so far and look forward to creating many more memories across the globe. Through this space ,they would like to share their travel stories and adventures with the rest of the world and also inspire their readers to set out and explore those paths less travelled.