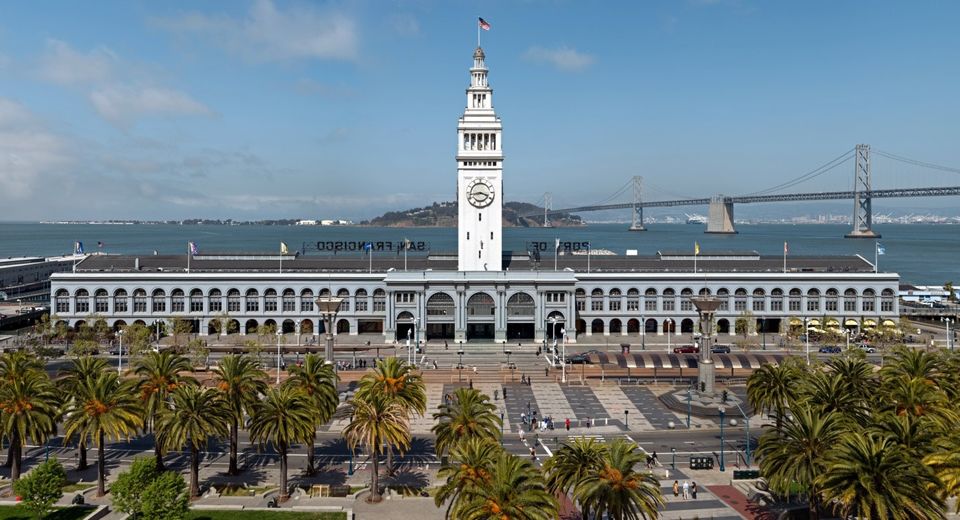 Ask Google what to see in San Francisco and the first one hundred pages will tell you about the ten most popular attractions. Golden Gate Bridge, Alcatraz, Pier 39, Lombard Street, cable cars and so on. That is, you will see only all the most obvious and commonplace. In addition, you are unlikely to really surprise someone with these sights. It's like coming to Los Angeles to watch the Hollywood sign.
It's much more interesting to be where there're no crowds of tourists with maps and cameras at the ready. After all, the city is much more than the top 10 places from TripAdvisor - it has a depth and history that can't be seen in the most typical local destinations.
It would be a great idea to find the cheapest car rental in San Francisco for under 25 and visit some iconic but little-known places in the city. Car is a perfect way of exploring the surrounding area. In addition, you don't need a lot of money, so that it's a good solution even for budget travelers.
1. Tenderloin District
Tenderloin is located in the very center of the city - between the commercial and financial areas. You won't find it in any of the tourist guides. But if this happens, this district is mentioned under the heading of 'particularly dangerous area'.
Everyone who gets there is impressed by what they see. Tenderloin is the most criminal part of the city. Beggars lie on the ground, while at the corners of the neighborhoods, dealers are looking for customers. Such diversity and contrast can't be seen in any other place.
However, the most striking is the geographical location of Tenderloin - in the very center of the city near the financial district. Therefore, along with drag dealers, and homeless people, you will see businessmen in expensive suits there.
Don't be afraid to visit Tenderloin. As in the whole of California, here a special rule applies: if you don't touch anyone, nobody will touch you either.
2. Marshall's Beach
A few indigenous people have heard of this place. As for travelers, they especially cannot know about this place. Marshall's Beach is a small, inaccessible beach with incredibly beautiful views of the ocean and the Golden Gate Bridge.
In order to get here, you will need to park a rental car at the exit of Lincoln Boulevard, climb over a small fence and walk down the path and stairs. The descent will take about fifteen minutes, but it's worth it. On this beach you rarely meet people. It's very cold, but every time you get here you are amazed by the incredible views of San Francisco opening from the beach. It's better to go there to watch the sunset.
3. Point Lobos Lookout
This place is located next to the popular attraction Sutro Baths at 1004 Point Lobos Ave. Earlier, right by the Pacific Ocean, there was a huge swimming pool building with a glass roof, which burned down in 1966 leaving only ruins.
Therefore, everyone goes to the ruins of the pool, but to Point Lobos, but as a rule, few people reach Point Lobos. This is a small patch on a rock, where you can enjoy the view of the raging ocean and ruthless waves.
4. Cafe Vesuvio
Vesuvio often hides from the eyes of the curious travelers. And this is understandable – it's located in Little Italy district, where there are dozens of more notable tourist establishments.
But that is precisely why the cafe is wonderful - the locals usually relax there, and the very atmosphere that prevailed in the city in the 1950s and 60s was preserved. Then, people came there to drink. Allen Ginsberg, Jack Kerouac, Bob Dylan and Francis Ford Coppola were among them.
5. Pier 14
In the tourist guides you can find a lot of information on Pier 39. That's why even on weekdays this place is greatly crowded.
So, take care of your nerves and enjoy the view of Alcatraz, Treasure Island and Bay Bridge from Pier 14. In addition, it's situated next to the Ferry Building at 1 The Embarcadero. It's well advertised, so if you miss the crowds, it will be at hand.
6. MoMa Museum
For those who like arts, it's recommended to head to the MoMa Museum. Here you can see everything: from brilliant paintings to absolutely crazy installations, which are sold at the price of several million dollars.
There's something to get inspiration and what to see. If you're lucky, you can see the works of authors such as Rene Magritte, Edward Munch, Diane Arbus, Garry Winogrand, and Walker Evans. The cost of admission is from $19 to $25, depending on age. Admission is free of charge for underage visitors.
7. Lover's Lane
The place is located in the heart of the Presidio Park and is carefully hidden from the eyes of strangers. This is a large and long avenue of trees where couples in love usually walk.
By the way, don't miss the Andy Goldsworthy art installation. This is a long zigzag artificial log right in the middle of the dense forest of eucalyptus trees.