Flashback to year 2009, when I first visited Namdroling Monastery. It was all about a sleepy village, quite surrounding, green paddy fields, less crowd and a kind of peace you will look for, when you visit a place like Monastery.
Now after 10 years, the Monastery is not changed but the surrounding. Its now well known in Coorg region, not a sleepy town anymore, hotels, restaurants, shops all around but the real pain is the crowd. Two different world, one side you will find many monks, quietly walking around, praying inside the temples and without showing any emotion looking at the other world where you have people making noise, excited to get clicked, posing, cars and buses honking at the outside of the road. A family picnic spot or some sort of adventure park.
Sad, isn't it?
But there is a reason for crowd. The Monastery, Its beautiful and well preserved, maintained. Also known as Golden temple because of its appearance.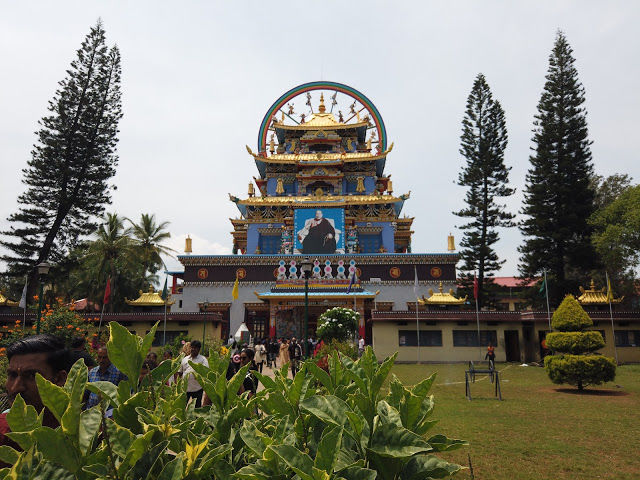 Deep dive in to history. Many of you are aware of how Tibetan people and monks led by Dalai Lama moved to India after Chinese invaded the Tibet region in 1959. It was forcefully and threaten to destroy the Tibetan culture. Over period of time many Tibetan fled to India as refugees and settled in different parts of India. In 1963 Penor Rinpoche established the Namdroling Monastery in Byrakuppe, Karnataka. Initially it was constructed with Bamboo and over period of time the entire complex was fortified and now its huge compound with many new structures, temples, hostels for monks.
Today its home to thousands of Monks and considered as one of the largest Buddhist teaching center in the world.
Its around 240km from Bangalore and 80 km from Mysore. 5 hrs drive from Bangalore, I reached at the Kushalnagar and then another 2/3 KM drive to small village known as Bylakuppe.
After parking my car (parking fee - 30 rs) I entered through a main gate. Outside of main gate you could see many shops and restaurants around.
In the temple complex the first you will get to see is the Zangdog Plari Temple surrounded by beautiful garden, plants and trees. A big picture of Penor Rinpoche. Rinpoche is honorific terms in Buddhist meaning respected, accomplished Lama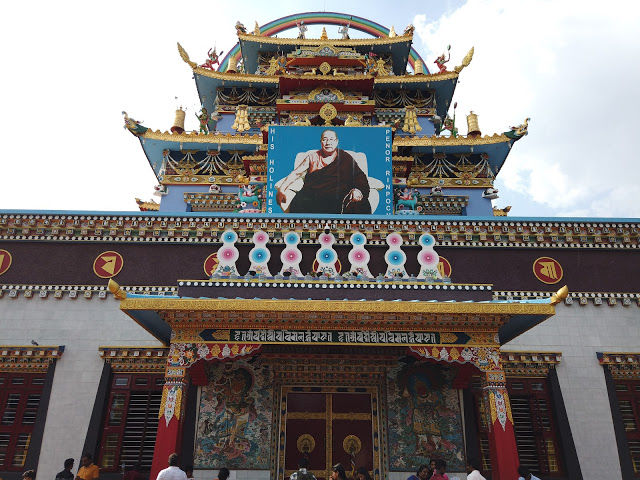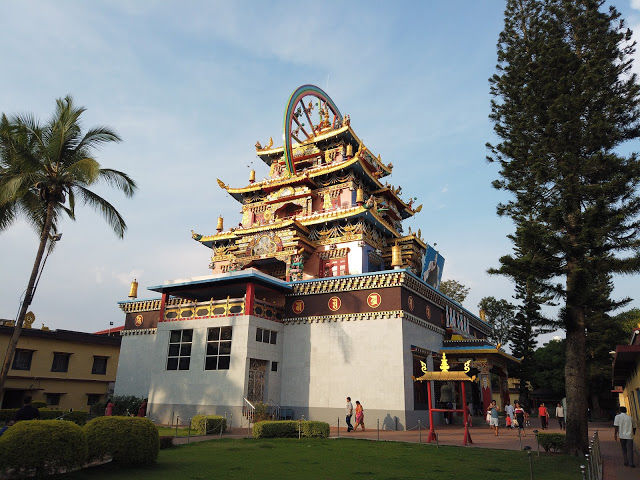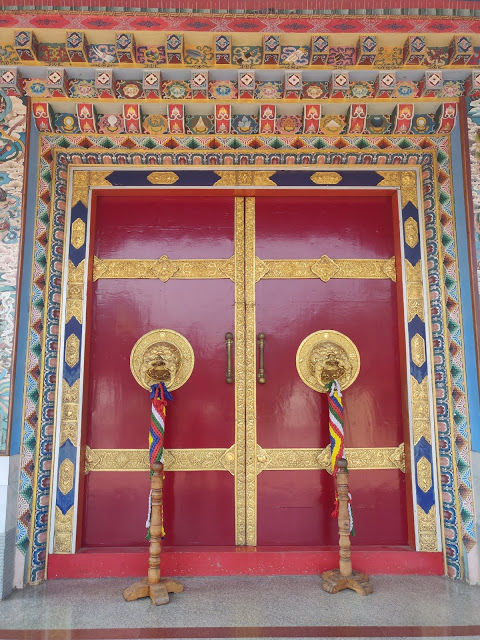 At the left side of Zangdog Plari Temple, you will see the most attractive and beautiful Padmasambhava Buddist Vihara aka the Golden temple.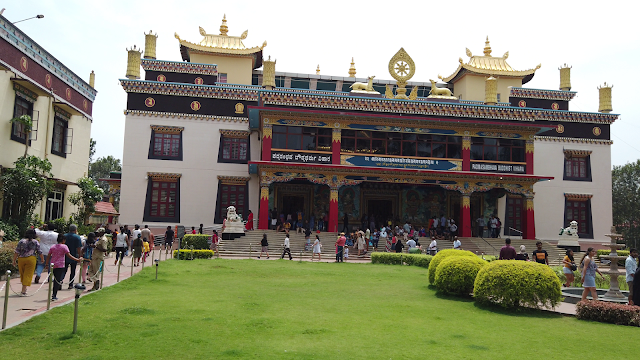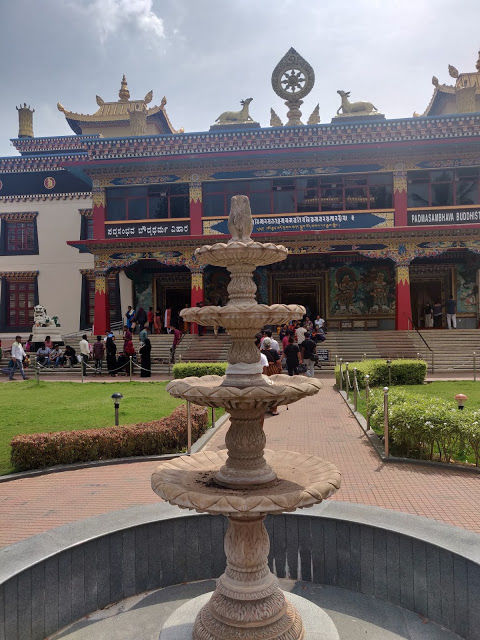 Inside the temple in the prayer hall there are three big statue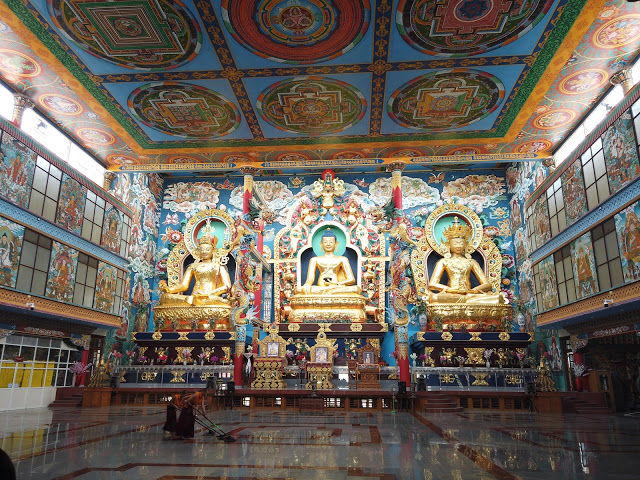 The center statue is Buddha Shakyamuni, the founder of Buddhism. The status of Lord Buddha is 60ft in height. The statue to the left of Buddha Shakyamuni is Guru Padmasambhava, also known as Guru Rinpoche. Guru Rinpoche not only gave various esoteric and secret Tantra teachings through his immense compassion for the beings of Tibet. All Tibetans consider him to be extraordinarily kind and revere him as the Second Buddha.
The statue to the right of Buddha Shakyamuni is Buddha Amitayus, the Buddha of Long Life.The height of statues of Guru Padmasambhava and Buddha Amitayus is 58 ft.All the statues are made out of copper gilded with gold. Inside the statues are scriptures, relics of great beings, small clay mold stupas and small statues,
Not just the three big status but the entire prayer hall is so beautifully designed. Looking up at the ceiling you could see Mandala (Circle of symbolic form). In Buddhist Mandala is most sacred form of art. The mandala represents an imaginary palace that is one has to look thoroughly for longer time during meditation. Each object in the palace has significance, representing an aspect of wisdom or some mandala represent the universe with an inner and outer world. .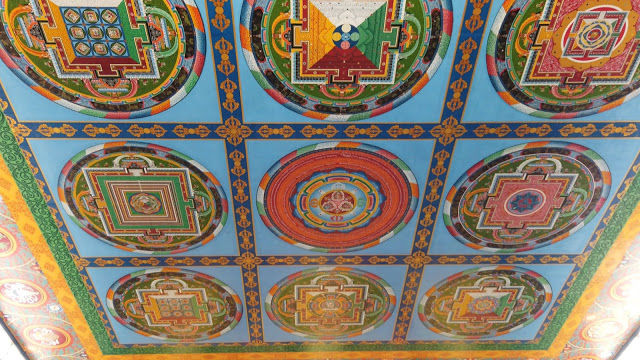 The walls have various many depictions of Tibetan Buddhism, pictures of smaller deities, traditional thangka painting. Apart from Golden temple and Zangdog Plari Temple, there is another temple known as Tara Devi temple, smaller compared to other two.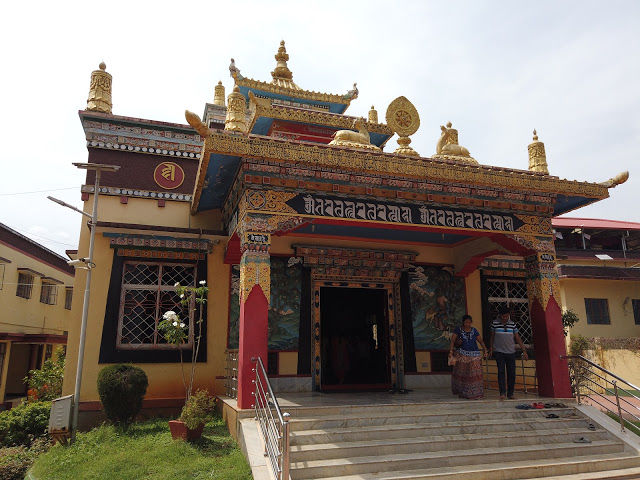 Inside and outside of all the three temples, you can see beautiful traditional Thangka paintings and designs.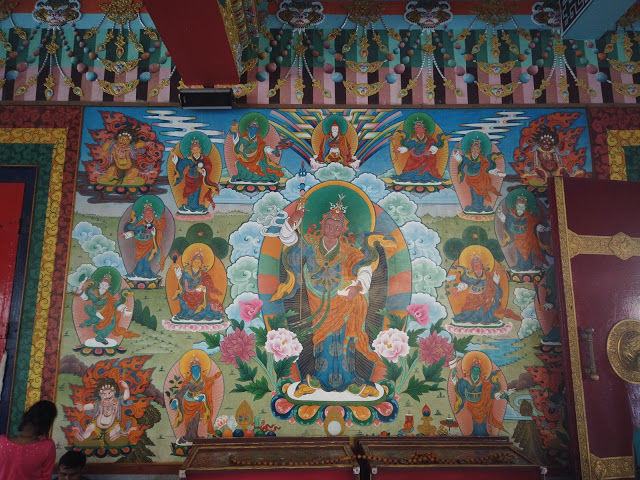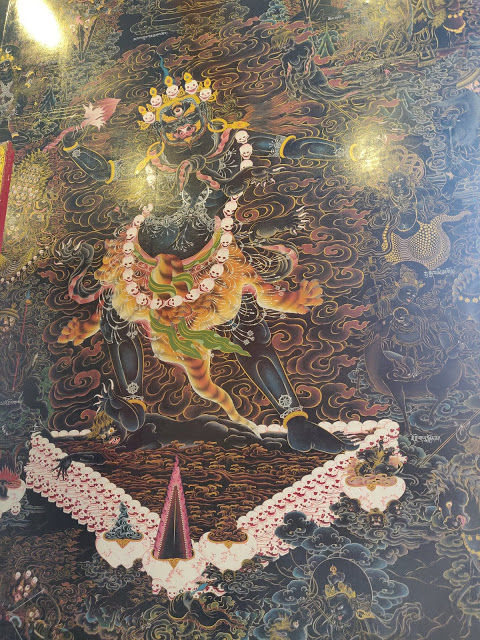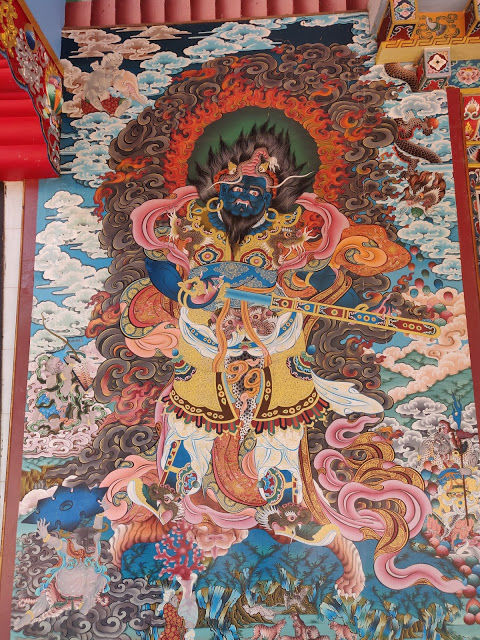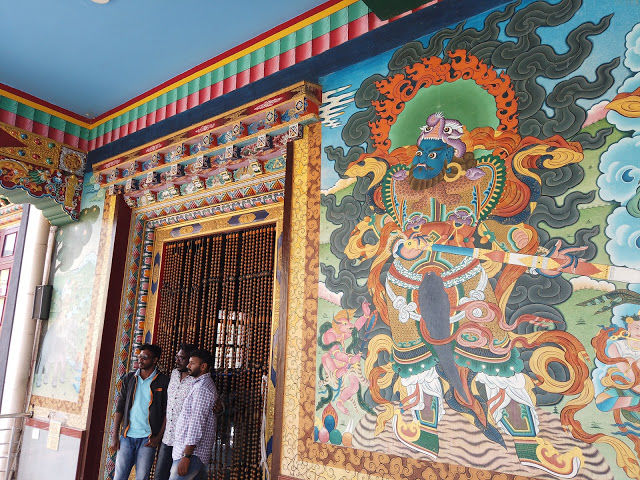 There many other monastery and teaching center around Bylakuppe, Kushalnagar. But I didnt get chance to visit those. May be some other time. Here is the video I made