What comes to your mind when you see colourful prayer flags fluttering with the direction of the wind, Buddhist monks in maroon robes, pagoda, prayer wheels, etc? Normally a picture of some Buddhist monastery or learning center from the northern or northeastern part of our country flashes. Right? It can be any of the above-mentioned places as similar such places are scattered across many hilly states of this country. Then what's special about this place? Well, this monastery is not situated in any of the usual hilly states of the country. In fact, this monastery is situated far away from cooler hilly areas down south at Bylakuppe, Kushal Nagar in Mysore district of Karnataka.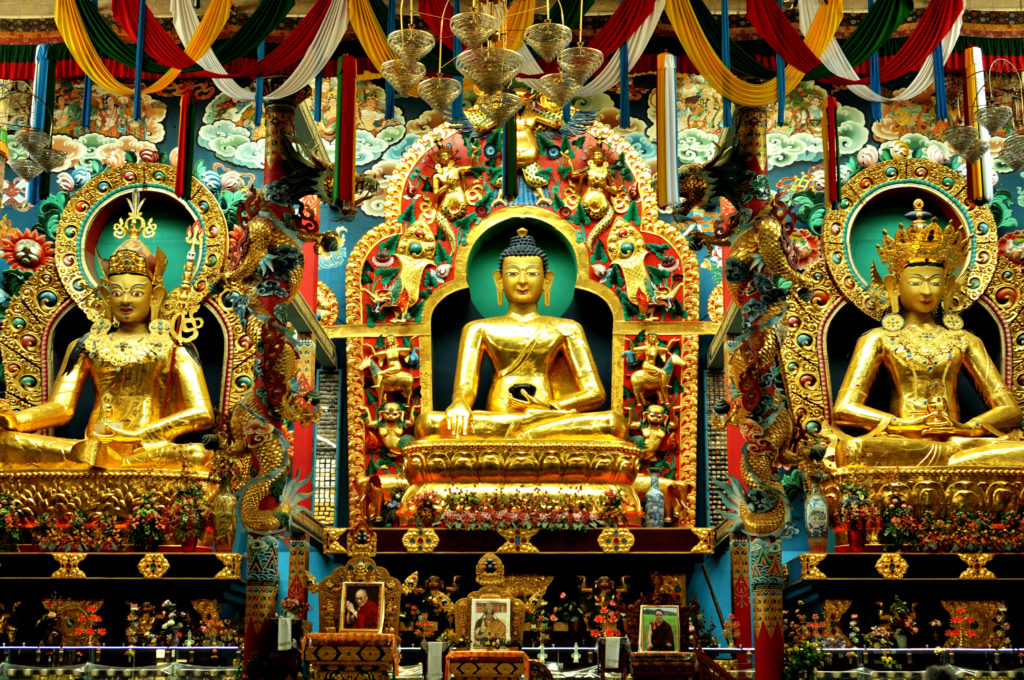 Statues of Buddha Shakhyamuni, Guru Padmashambhava and Amitayus at Golden Temple, Kushal Nagara, Bylakuppe, Karnataka.
Surprised? Well, I was when I visited the Golden Temple at Bylakuppe for the first time. That too during one hot summer afternoon, not an ideal time to be there as a tourist. Namdroling Nyingmapa Monastery is the largest of teaching centers in the Nyingma lineage of Tibetan Buddhism in the world. The monastery houses more than five thousand monks and nuns have several traditional learning centers with branches spread across the globe. The monastery was established by the Drubwang Padma Norbu Rinpoche the 11th throne holder of the Palyul lineage, as the second seat of Palyul Monastery, one of the six great Nyingmapa Mother monasteries of Tibet prior to annexation by China.
The statue of Buddha at Golden Temple at Bylakuppe, Kushal Nagar.
The earliest Tibetans arrived here in the year 1959 to save themselves and their cultural heritage from the invading Chinese army. They brought what they could in those days and established this monastery with modest means at Bylakuppe on a piece of land provided by the government. They had nothing but a burning desire to preserve their culture and heritage.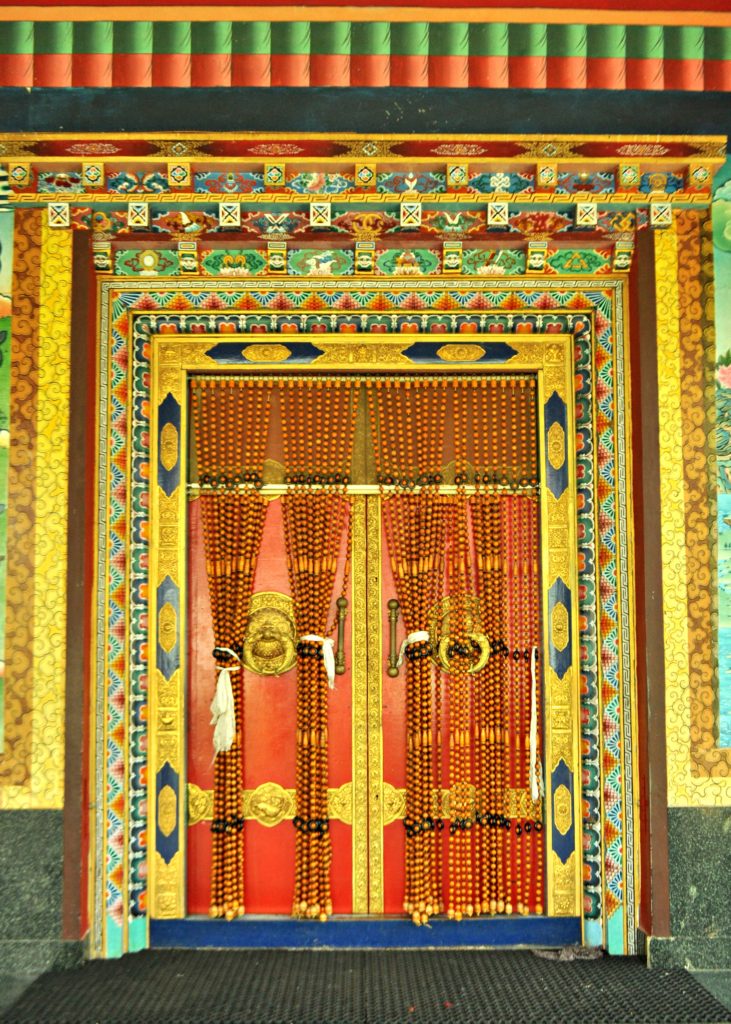 A colourful door decrated in traditional Tibaten style at Golden Temple at Bylakuppe, Kushal Nagar
Were they successful?
I think a cent percent! The small community that arrived here as refugees have now transformed into the second largest Tibetan settlement in India after Dharamshala with more than 70,000 Tibetans currently settled here. I was awed by the perseverance of this community in keeping alive their ideals even against all odds, at a place far away from their homeland!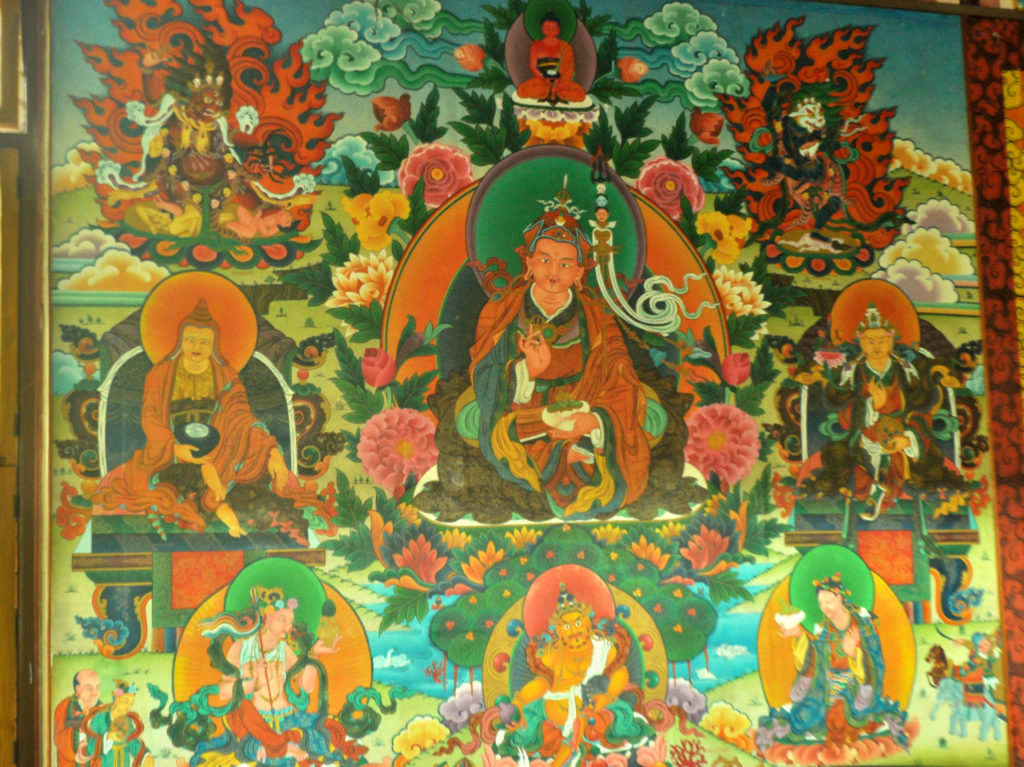 Vibrant traditional wall painting inside one of the prayer halls of the Golden Temple, Kushal Nagar
Am I dwelling too much into history? Can't help! This is only a short introduction. It's so rich.
I still remember my first impression of the place. It was very hot afternoon when we entered the monastery. The way to entrance passes thorough a street full of vendors selling everything from coconut water to handicrafts to toys to what not. But once inside all these cacophony suddenly vanished. The first thing observed by me after entering the premise was an imposing Tibetan style building, also known as the golden temple, in gleaming golden and blue colours with a huge smiling portrait of Pema Norbu Rinpoche, the founder of this monastery at the end of well maintained lawns on either side of pathway and the huge arch adorning it.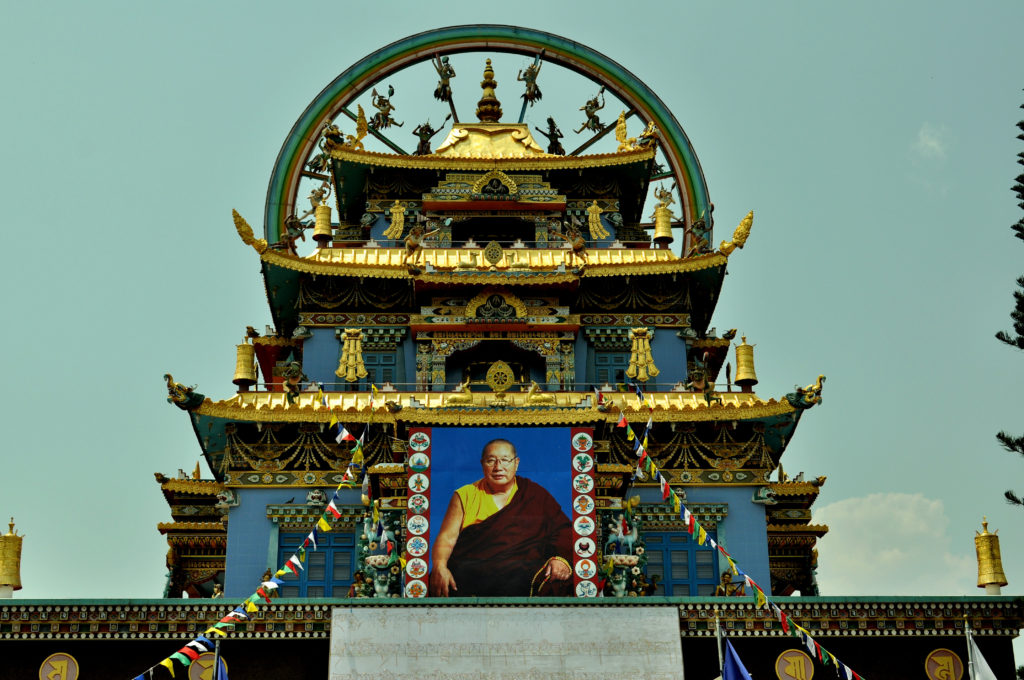 The portrait of Pema Norbu Rinpoche
Just round the left corner prayer chanting sounds in a chorus, with the occasional blaring of large trumpets were coming from one of the prayer halls where a large no of young monks under the guidance of elders was sitting in rows and reciting prayers from manuscripts placed over small wooden tables in front of them. The walls of this hall were adorned with vibrant paintings of Tibetan origin. All this arrangement was overlooked by three bright golden statues of Buddha Shakyamuni, Guru Padmasambhava and Amitayus. The experience was surreal. All exhaustion of traveling in the hot summer afternoon quietly vanished without even realizing it. There was this soothing environment prevailing amid the chanting of hymns by these monks.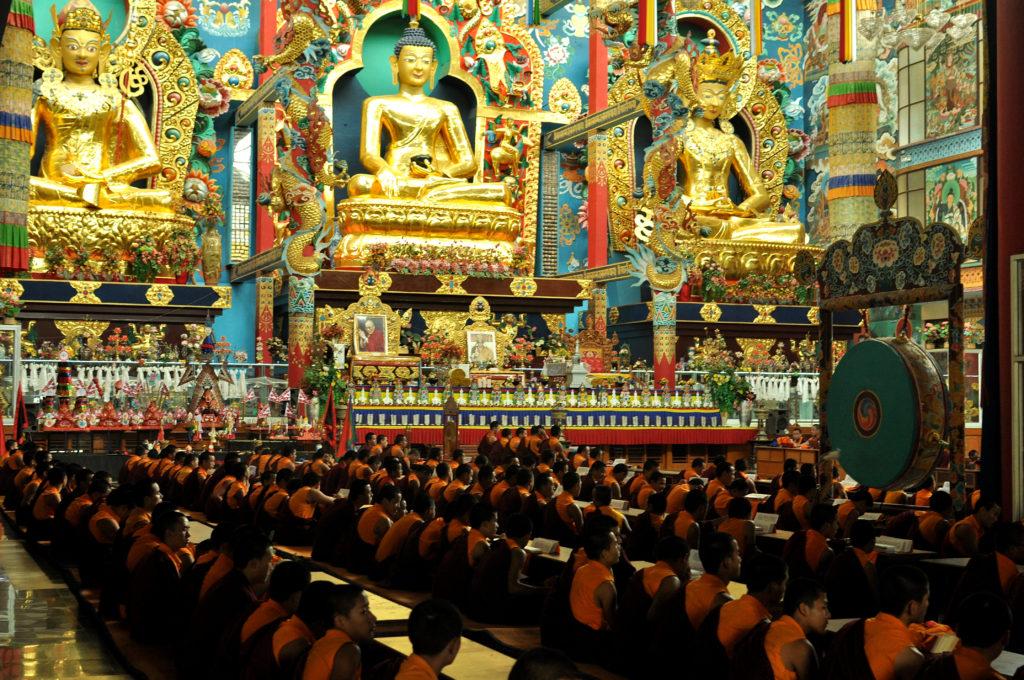 Young monks learning/participating in rituals at Golden Temple, Bylakuppe, Kushal Nagar.
Among all these beautiful monastery buildings, hostels for monks, prayer halls there is also a beautiful model of original Patola Palace of Lhasa. Though not as glitzy as other structures but its significance is no less for those who came from Tibet and the generations still living with a dream of going back there one day!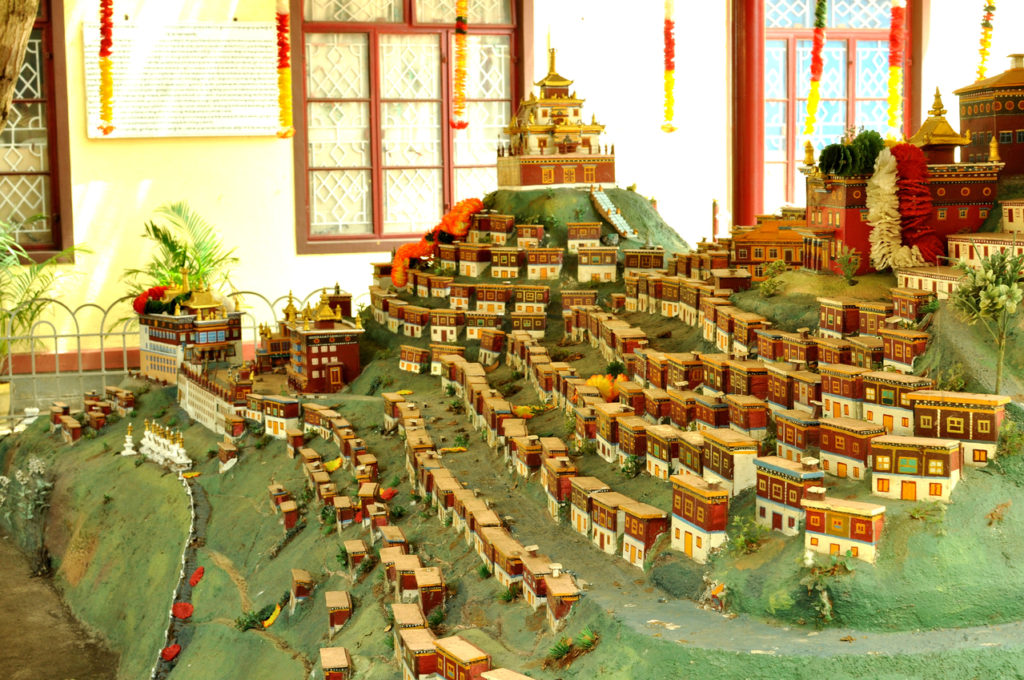 A model of Patola Palace, Lhasa, Tibet at the premise of Golden Temple, Bylakuppe, Kushal Nagar.
So what's missing? Well, nothing except the cool environs of the Himalayas where most Buddhist monasteries are situated.
******
How to reach-
By Road - Bylakuppe at Kushal Nagar is very well connected by road from major cities like Coorg (40 km), Mysore (85 km), Mangalore (178 km), Bangalore (215 km). Regular bus services are available from these destinations. One can also book cabs from these places.
By Rail - Nearest major railway station is Mysore (85 km).
By Air - Nearest domestic airport is Mysore (85 km). Mangalore (178 km) and Bangalore (215 km) operates both domestic and international flights.
Stay - Being situated close to Coorg which is a famous hill station of Karnataka there is no shortage of staying options. One can choose from budget hotels/home stays to luxury resorts. Prior bookings can easily be made online from any popular hotel booking sites.