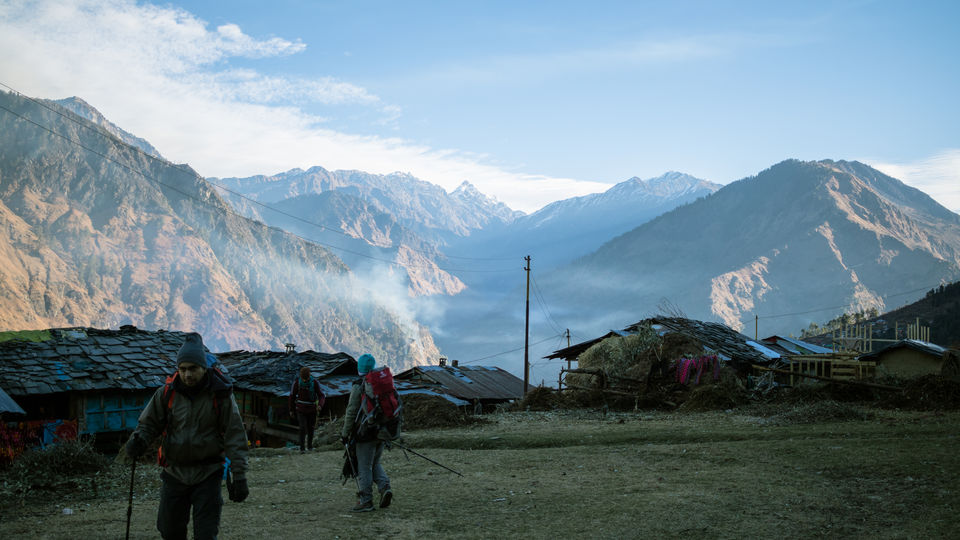 As a kid, seeing all those Hollywood movies, I wanted to jump around and play in the snow like the kids do in the above said movies. A dream that grew up with me to a point where the artificial snow found in the snow themed parks just wasn't enough. Thus came my opportunity when my friend talked to me about his winter trek. Inspired by this, I started checking online and decided to go for the Kedarkantha trek hosted by Indiahikes. And this is my story...
Day 1 : Dehradun to Kotgaon (6,800 ft).
Due to Indiahikes getting permission to start treks along this new route which takes us away from the crowd climbing from Sankri, we were the first batch to start from Kotgaon and hence the first step for that was getting to Kotgaon. Dehradun Railway Station was our rendezvous point where I met the other 23 people who were part of the group. It was from here where we were meeting the Indiahikes team and getting on the respective transports to get to Kotgaon. The team was split into 3 with one group in a traveller, another in a Bolero and the other in an Ertiga. Me, 3 other malayalees and one dude from Orissa was allotted into the Ertiga. We were to be on the road for about 11 hours with scheduled rest stops in between for breakfast, lunch and vehicle cool downs. After being informed that the trip would cost us around Rs. 6000 for the Ertiga, we set off to Kotgaon at 6:30am.
The long and winding road took us through views of valleys and cliffs once we left the city of Dehradun. Motion sickness being a huge issue, I allowed myself to doze off every time I felt nauseous.
After having our breakfast (coffee and bread with a side of an egg omelette, the poor man's English Breakfast) at a small restaurant where we saw a monkey steal a customer's food, we resumed the route. We soon found ourselves near a lake and I must say the colour of the water surprised me. We stopped to click a few pictures while the vehicles were allowed to cool off. Portraits for display pictures or posts for instagram was of high demand for everyone.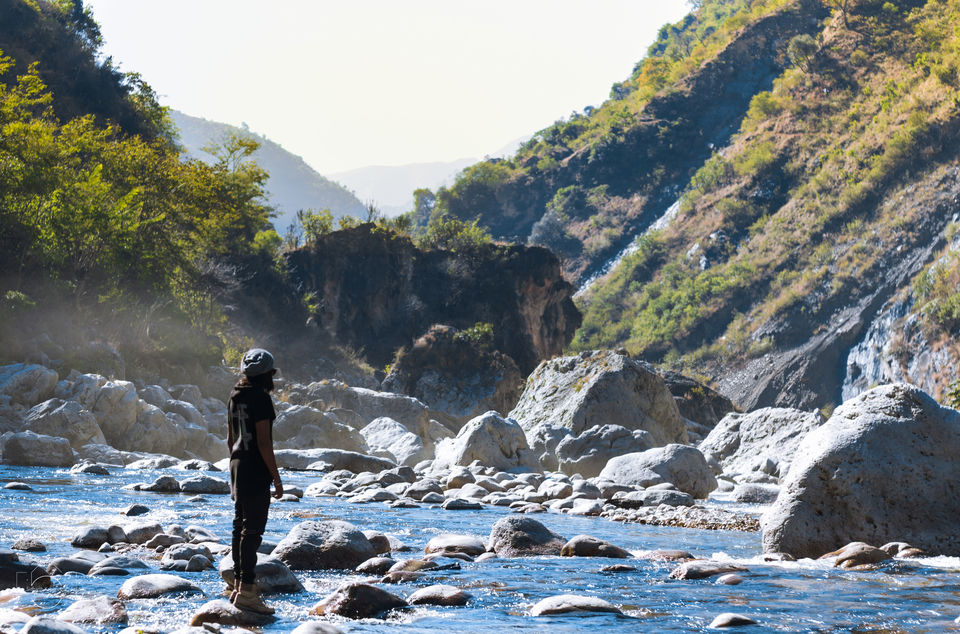 We then headed off to Kotgaon again only stopping for lunch and tea. Lunch was delayed because of the lack of seats available for the multiple trek groups coming in that day and hence we had to wait for about 2 hours for our thaali to come. After setting off from the lunch restaurant, we were on the road for a few hours until we reached a place for tea, where my friend managed to puke out only the veg curry that he had for lunch (Veg was 'haram' for his body as he elegantly put it). The tea we had was also not that great but the location was definitely amazing.
After the semi average tea, we headed off to Kotgaon and reached there at around 6:00pm. We were shown our sleeping area and then asked to meet the team and the trek leader at a tent placed in an open area. We met everyone, introduced ourselves, got the gear we had rented out from Indiahikes, and had a very tasty dinner there after exchanging pleasantries. We were asked to report at the same location at 9:00am the next day.
After our breakfast and the briefing for the days trek, which we were told would take us 5 hours to complete, we set off. The climb was steep and like every other trekking story out there, we too had a dog follow us. Fun fact, every dog out there is called 'Sheru' and every one of them is a 'Good Boy'. As we climbed higher and higher, I got to see snow on the trail and I started getting excited. This excitement kept me running to the front of the line where we were following our trek guide Dev Bhai who was a native and had a million stories about the place. Along the route, we came across a shrine for some deity and I realised that people's beliefs were strong even at those heights.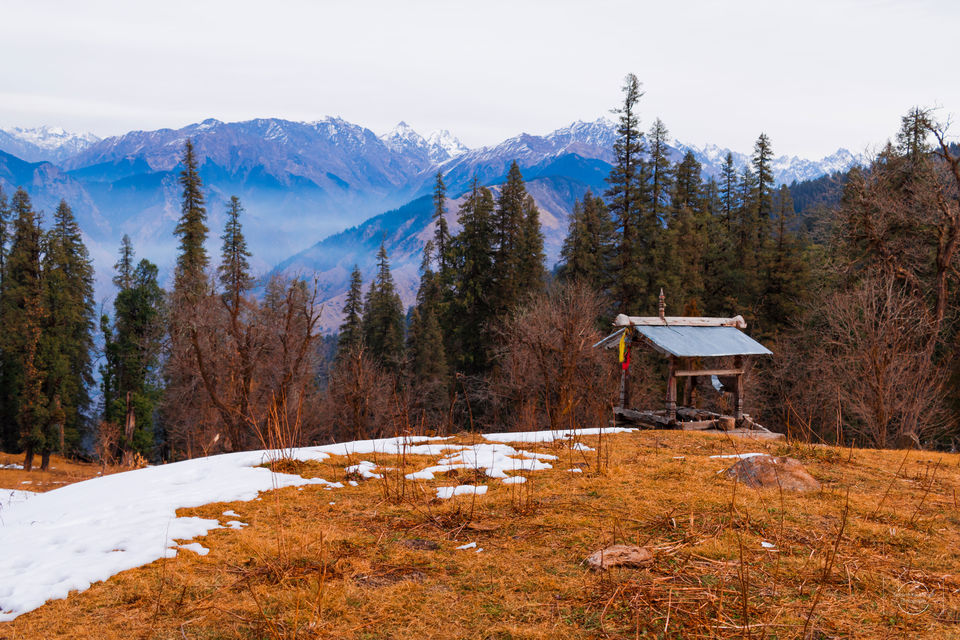 Everything alone the route just looked beautiful. We had a few rest stops every now and then and even those places looked beautiful.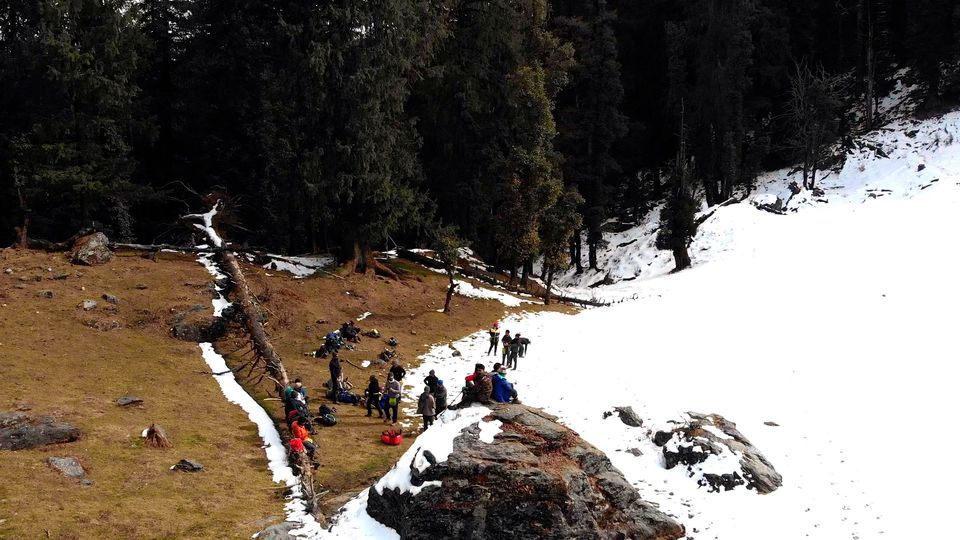 We continued along the trail for a few more hours and then we were greeted with locations like this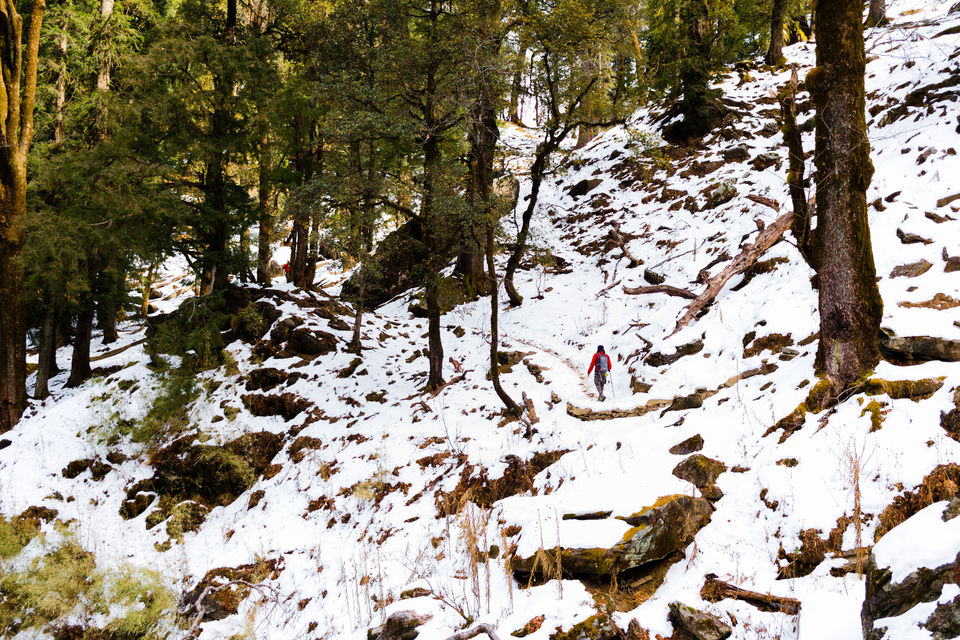 By lunch, we made it to the camp. Here, we had our lunch, took some photos, sat around talking to everyone on the team, and exchanged our stories. It was all fun and games until the sun went down and we started seeing frozen breaths coming out of our mouths. That's when I realised that it was going to get really cold soon. And soon after, it did! The so called boiling water that was brought for us to drink became drinkable water by the time it reached us from the kitchen tent. At around 7pm, we all had our dinner and we retired to our tents for the night.
The trek through this trail was made easier thanks to the spikes given to us which helped us get better grips on the icy floor. We had a rest stop in between where we took group photos and had a round of a fun game the trek lead came up with to help us remember everyone's name because he couldn't remember the names. We were greeted with a smaller campsite than the last but no less beautiful. I was extremely tired on reaching here and hence just fell into the tent till I was called out for lunch, dinner and chilling sessions. The sky that day looked beautiful because of the amount of stars that were out that night but couldn't enjoy it much as we had to get up at 4 am the next day to leave to the summit.
The descend was the easier part but being exhausted with the climb I had become slower and hence trailed the pack. After a short stop to have some refreshments, we continued downward towards our lunch area which took us about 2 hours or so to reach. Being extremely tired, I skipped lunch to get a chance at some shut eye against expert opinions. On waking up though, I was super energetic and hence rushed down to the last camp of the trek and was among the first set of people to get there. After having the evening snacks and little bit of dinner, we had a small cake cutting celebration for one of us and after that, I chose to sleep early as I was exhausted and hence headed towards the tent.
After a small exploration, we all had a small party at one of the restaurants where we all danced and had food. We had occupied all the seats in the restaurant and hence the owner let us close the shutter and have a private party of our own with our own music. After that, we headed back to our own hotel to rest and have dinner and spend the last day together after our big adventure after booking the bus back to Dehradun of course.
That night, as we were having our dinner, it started snowing. That was the first time I was seeing snow fall. And I never knew snow would fall in the shape of balls because I thought it was in the shape of flakes like they show in TV. Guess that's another fun fact!
Day 2 : Kotgaon (6,800 ft) to Khujey (9,400 ft)
After a good long sleep, we woke up, packed our bags and headed out to meet everyone to have our breakfast and start our trek. I went out and the sight I saw was the most beautiful thing I had seen till date.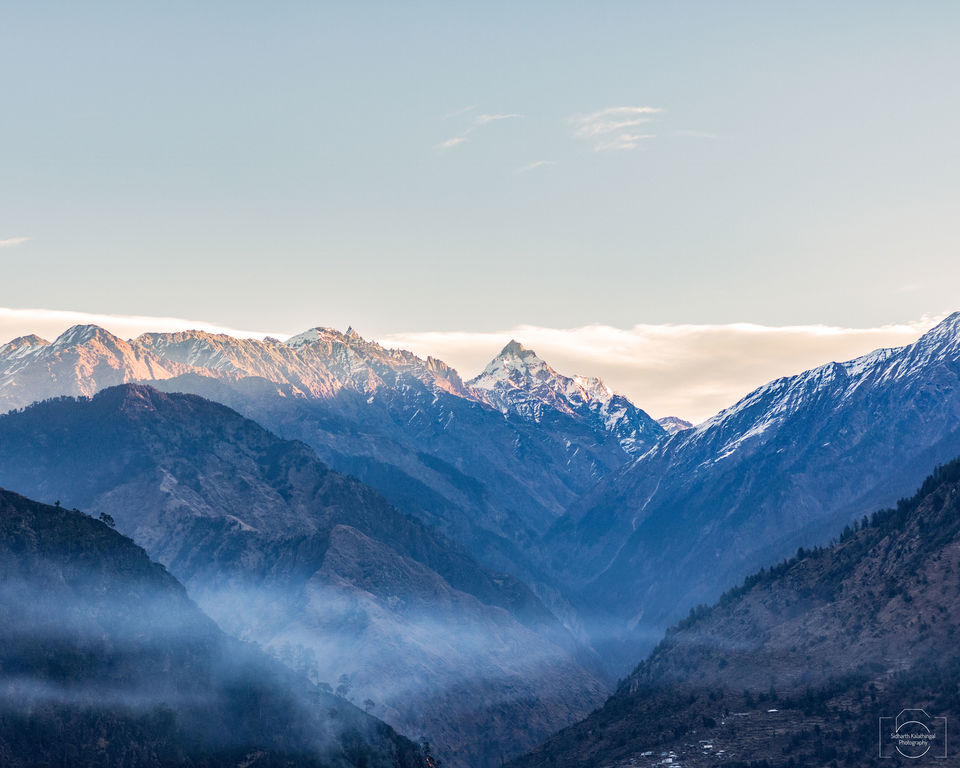 Day 3 : Khujey (9,400 ft) to Bhuja Dhadi (10,800 ft)
The next day, we were all up and ready by 8:30 am and we were ready to set off towards the next camp sight at 10800 ft. This was a steeper climb than the last and maybe Sheru knew this because he didn't accompany us after that camp site. With the sun as the only source of warmth and hence obviously the prayers that it never goes away, we all started walking through the trail to our next camp. I was panting within a few meters but I kept on clicking pictures of landscapes & people.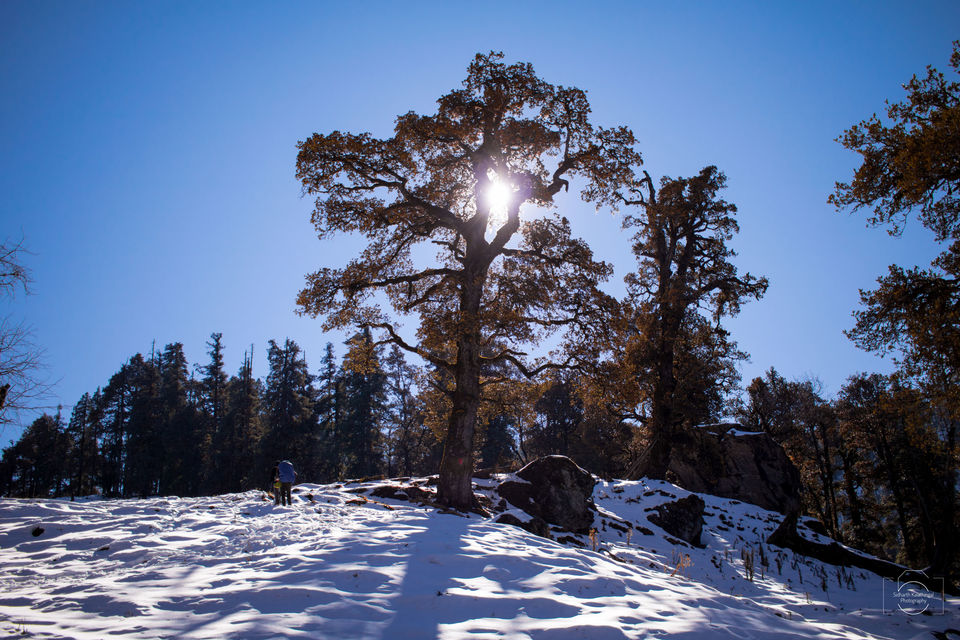 Day 4 : Bhuja Dhadi (10,800 ft) to Kedarkantha summit (12,500 ft) and then the descend.
THE SUMMIT DAY! This was the day we were all waiting for. After putting on our gators and spikes, we had a heavy breakfast. Armed with a fist of dry fruits and nuts, we set off to conquer the Kedarkantha peak. A steeper climb and most definitely tiring. Once we were out of the woods, the clearing resulted in winds that brought chills within the 5 layers I had. The mountains, the sights...what a wonderful treat it was to my eyes. My feelings at the top can't be expressed through words nor can it be understood. I do hope whoever is reading this gets to go there and then experience it on their own for that's the only way one can understand.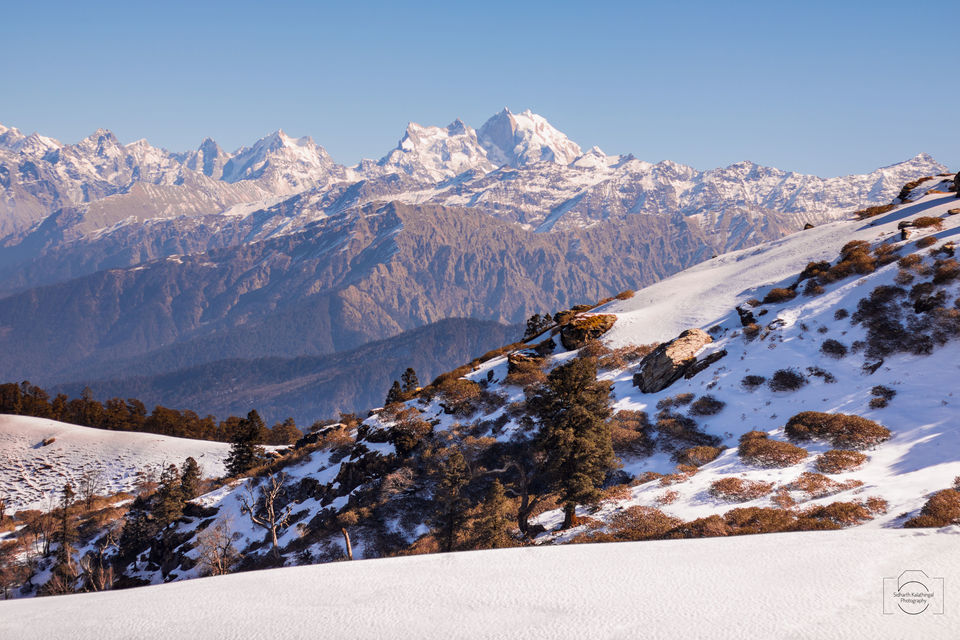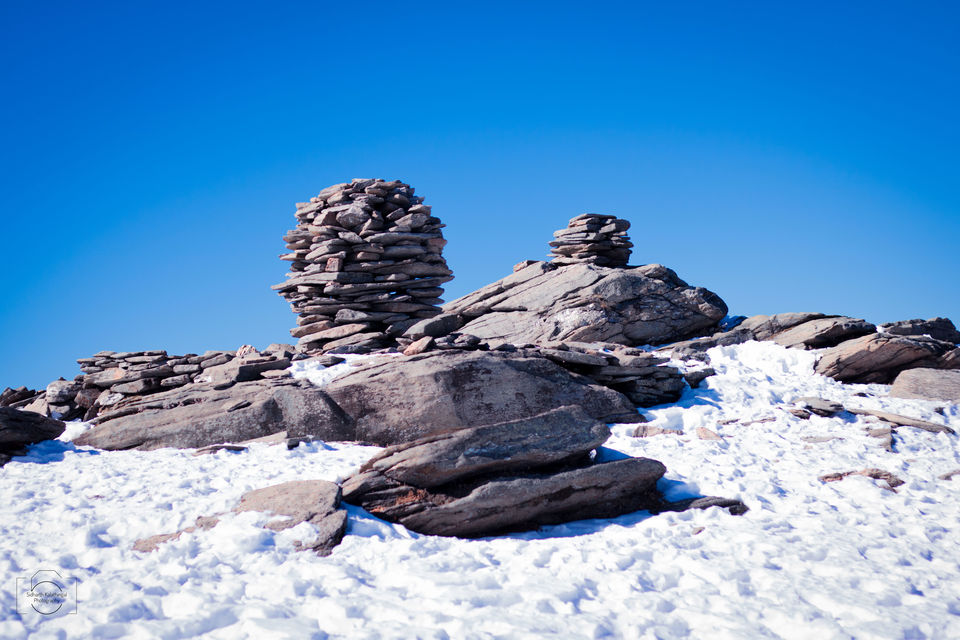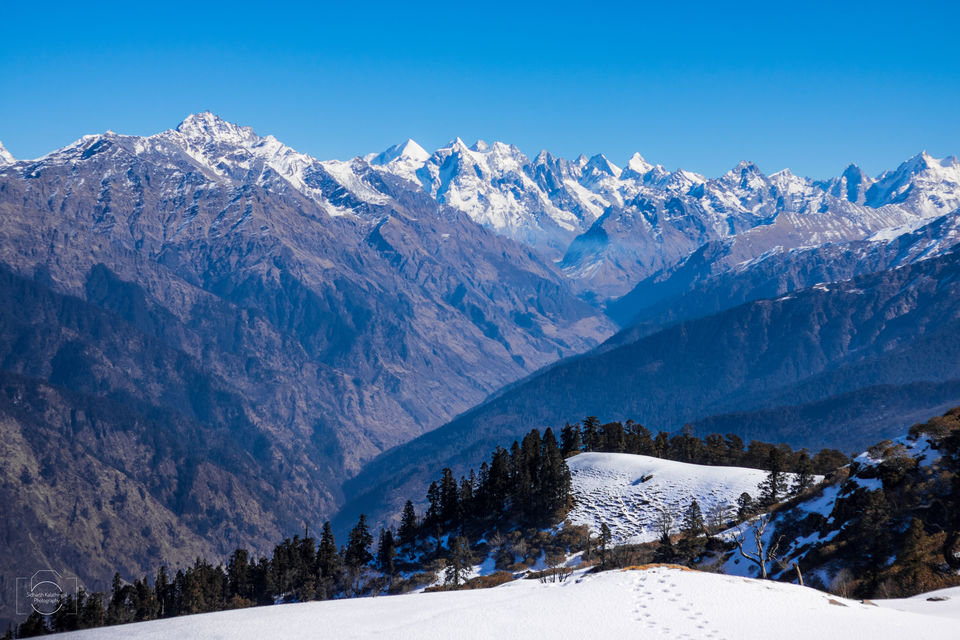 Day 5 : Towards Sankri
Day 5 had a well rested me who was up and about at 9:30 am descending somewhere in the middle of the pack and after enjoying Dev Bhai's stories along the way, we made it to the town of Sankri which marked the end of our 5 day long journey. The accommodation at Sankri was a hotel and it felt good to lay down on a proper bed as opposed to the sleeping bags. After a debriefing session we all went around the town sometime in the evening to experience what Sankri had to offer. I obviously used this opportunity to get a few more pictures.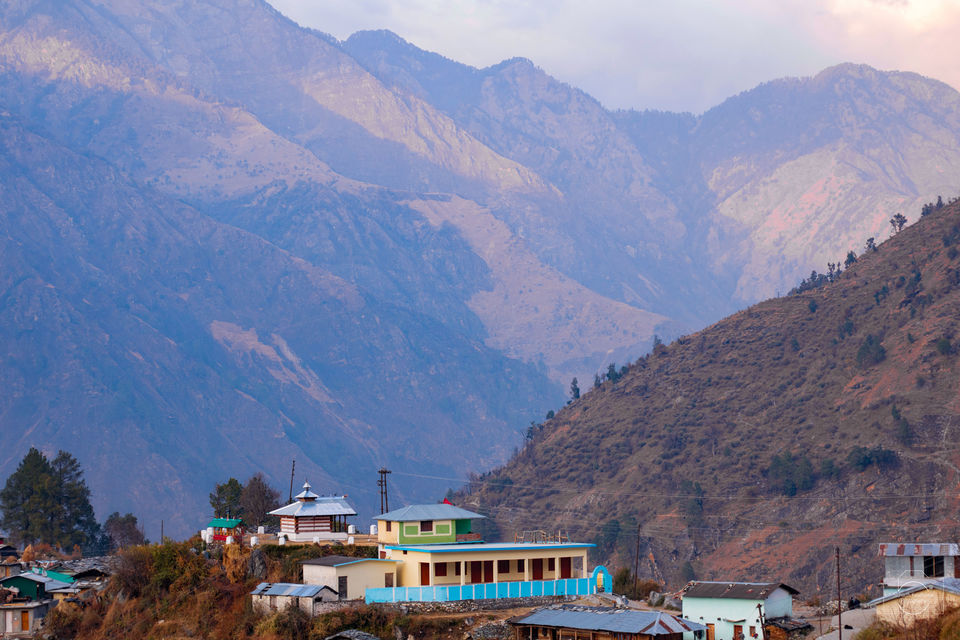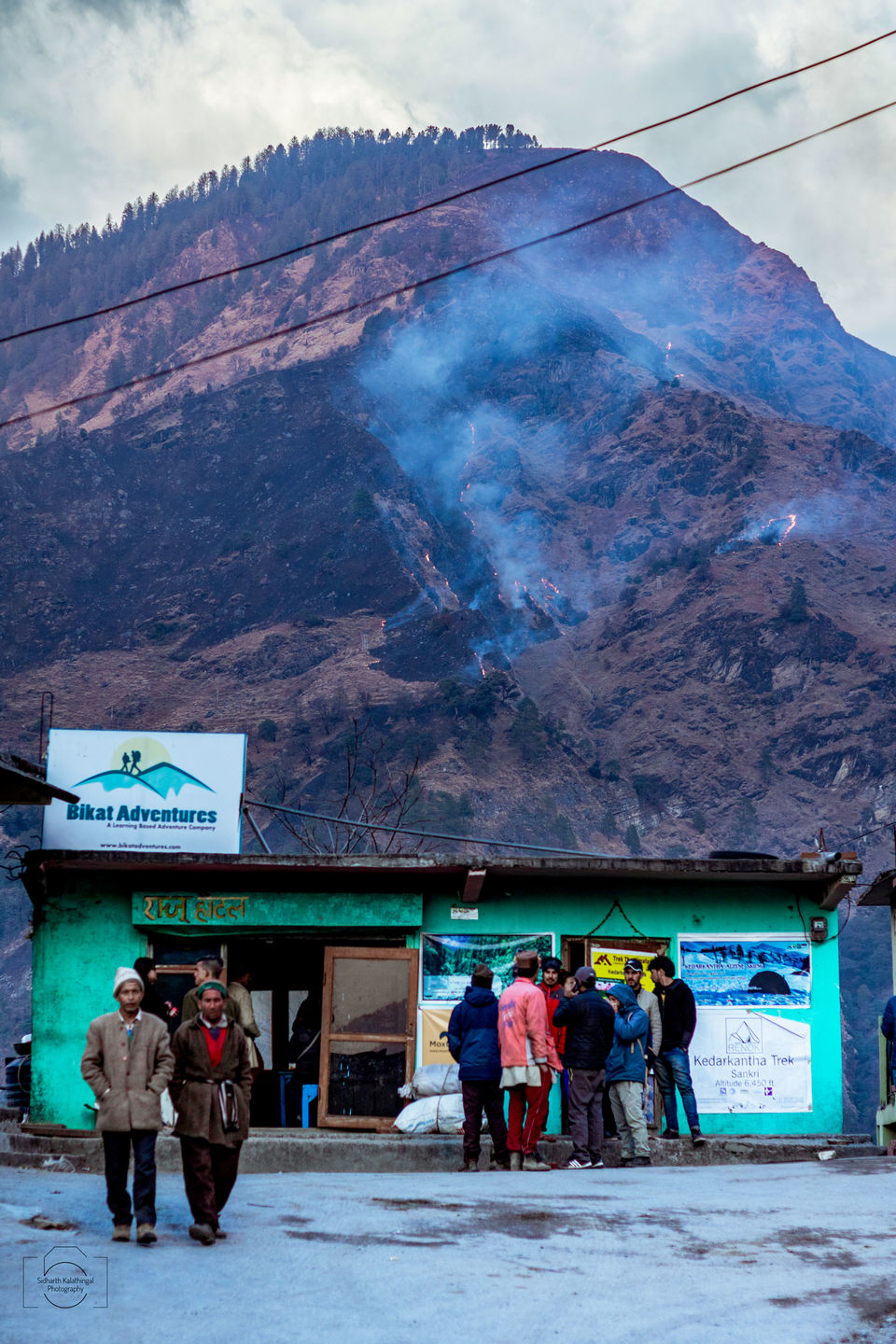 Day 6 : The Goodbye
We woke up early morning the next day to leave to Dehradun. This time we all were in one bus and it took us about 9 hours to reach. We all sat in the bus talking about our experiences and about how everyone was going to go back to their mundane lives. As I sat there hearing to their stories and looking out over the window towards the valleys below, I couldn't help but reminisce about the whole trek. About how I came there with a child's dream of playing in the snow, met 23 amazing people, saw mountains up close, walked, talked, laughed and enjoyed every moment up and down the path and about how I am going back wondering along the way about how somewhere along that path, I changed and how I now feel more fresher and happier. I guess that is what the mountain air will do to you... And I guess that is exactly why people say that "The mountains are calling".
I guess I can't wait for MY next call.