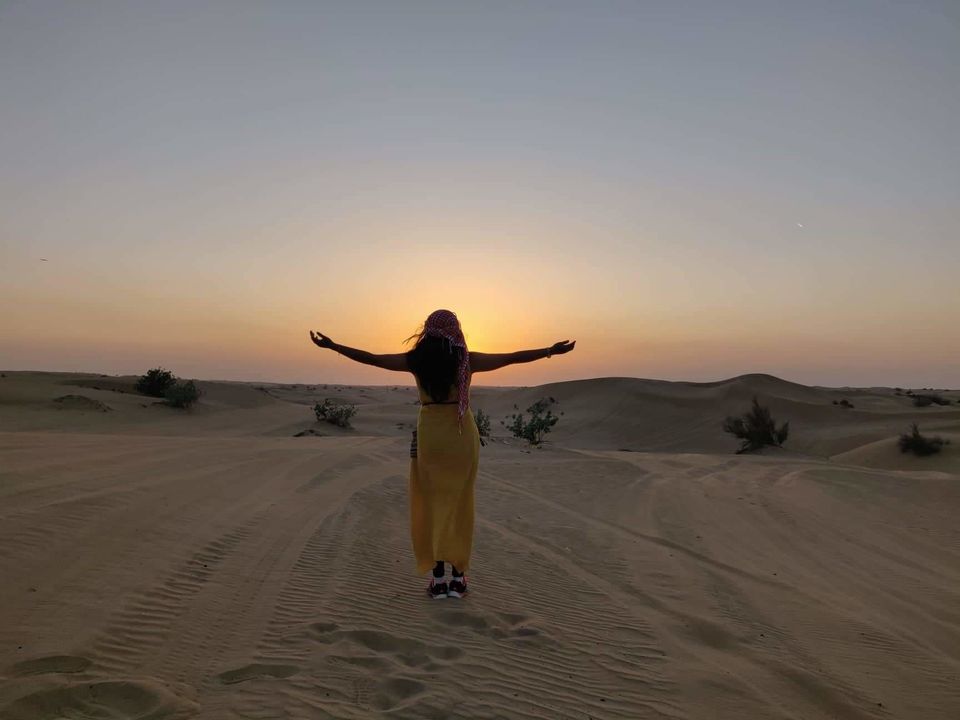 When we decided to start our Big Trip around the world in Dubai, there were a few things that had to be on our Dubai itinerary. Besides the obvious highlights (Burj Khalifa, Dubai Mall, Palm Jumeirah and the Burj al Arab) I really wanted to make a desert safari because I had never been to the desert before.
We were picked up from our hotel by driver nizam a Pakistani driver
i must say a gem of person he is talkative and funny.
Wide deserted landscapes are kind of my thing, so besides exploring the glitter and glamour of Dubai I really wanted to get out of the city and into the desert. And so we did! We went on a desert safari with Adventure Planet and it was awesome!
First up on the desert safari itinerary was dune bashing. I didn't know it until I did it, but I love dune bashing?. It was such a thrill to drive through the desert, drifting over the tall sand dunes and feeling your stomach lurch after a steep drop over the top of a dune.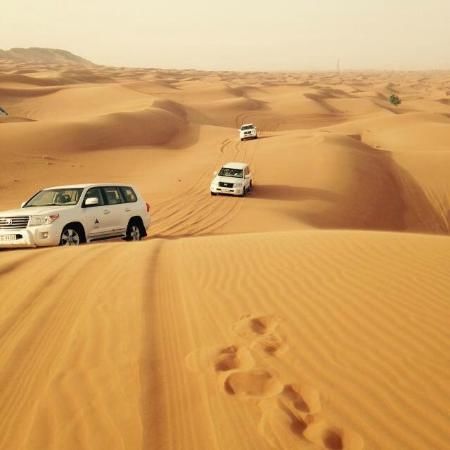 Our driver really knew what he was doing and rightfully so, this isn't something you can do yourself without proper training! It would be very cool to learn though…
Anyway, after the adrenaline high of dune bashing we drove to the desert camp where it was time for the next activity: quad riding!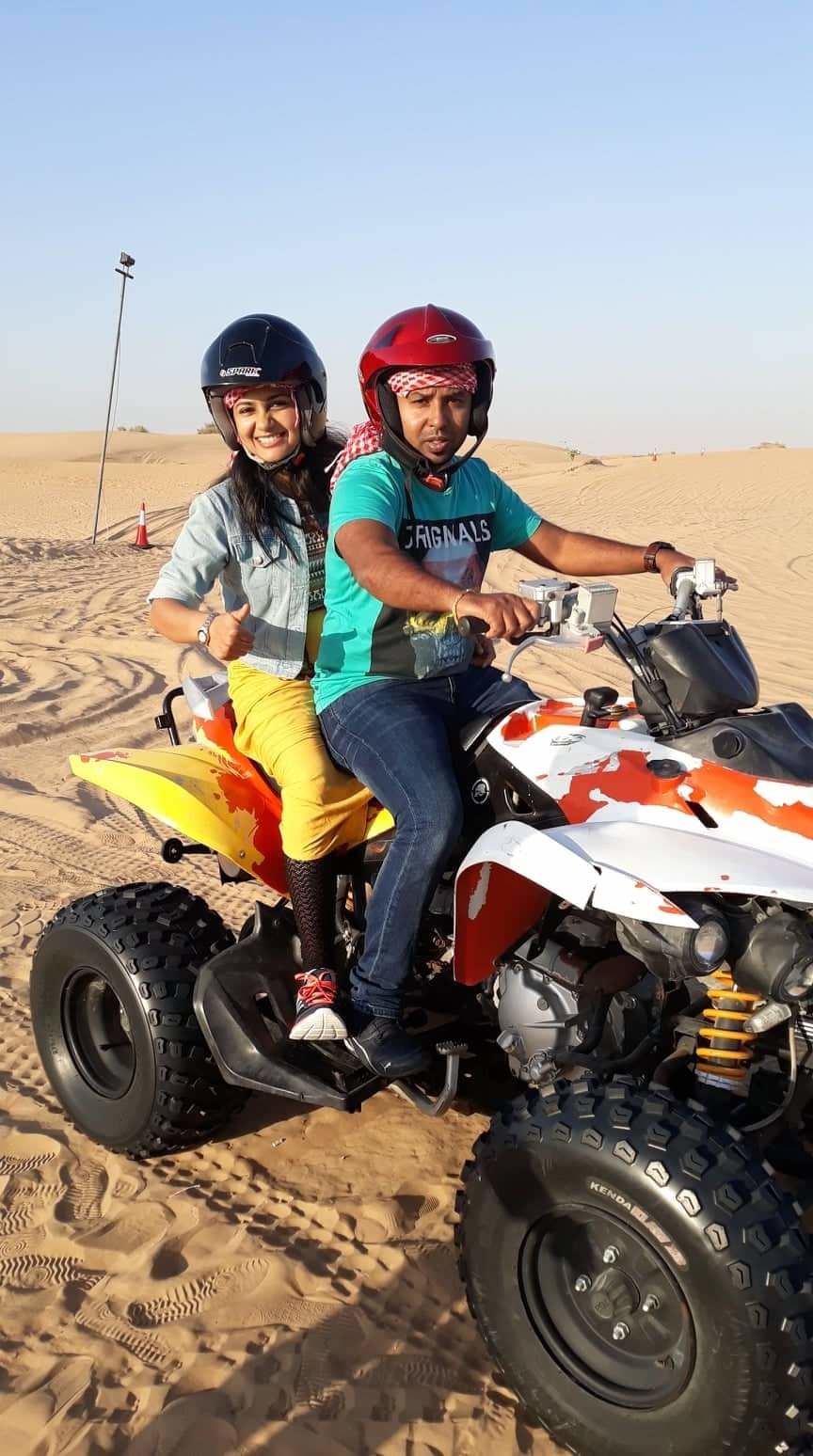 However, not wanting to wreck the quad on my first try, I kept my racing alter ego in check. I completely understand quad riding through the desert is a favorite pastime for people living in Dubai!
There was more riding to be done after the quad, from the mechanical race-monster we switched to a calmly swaying camel and got a bit of a feel of desert life.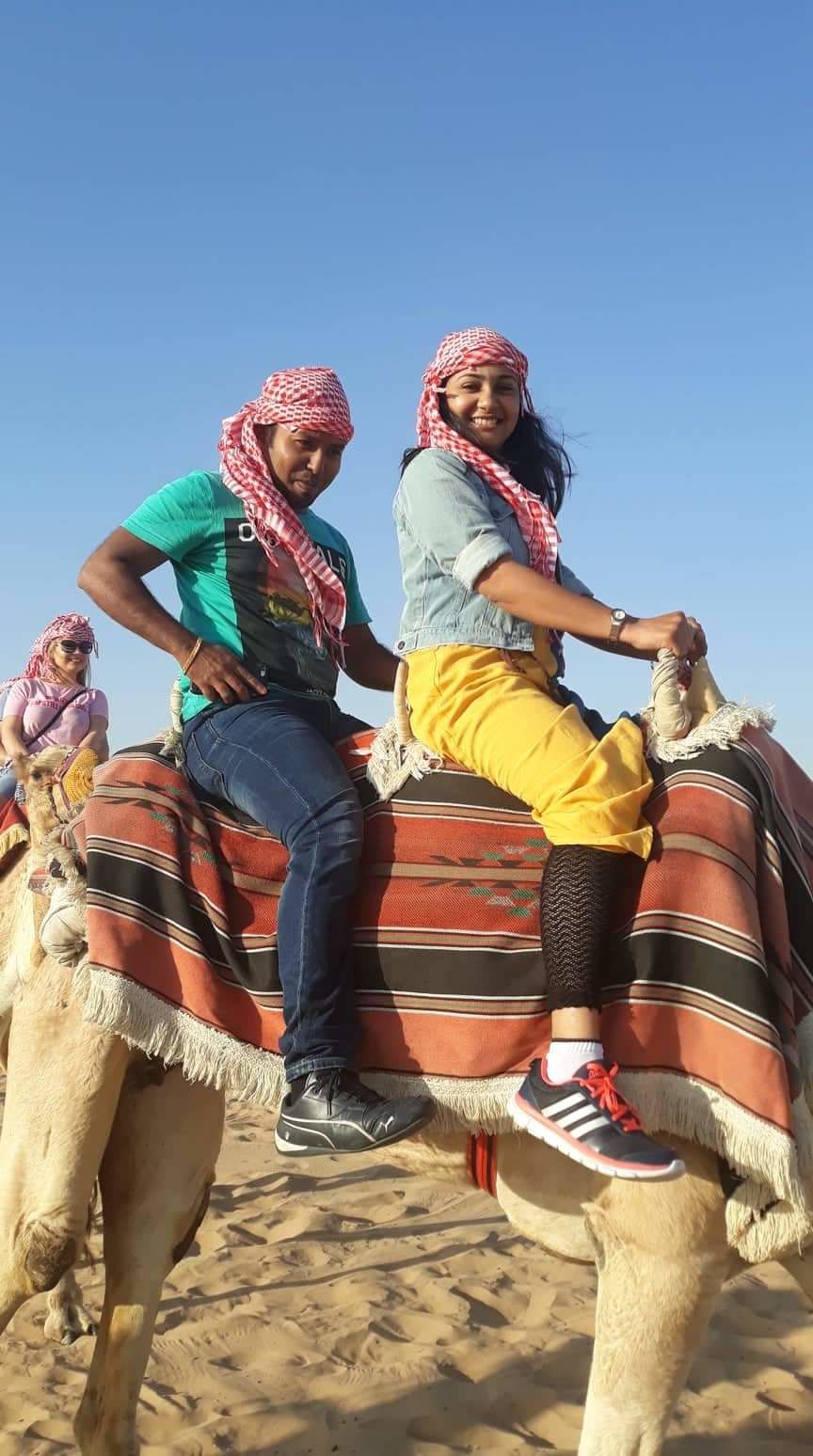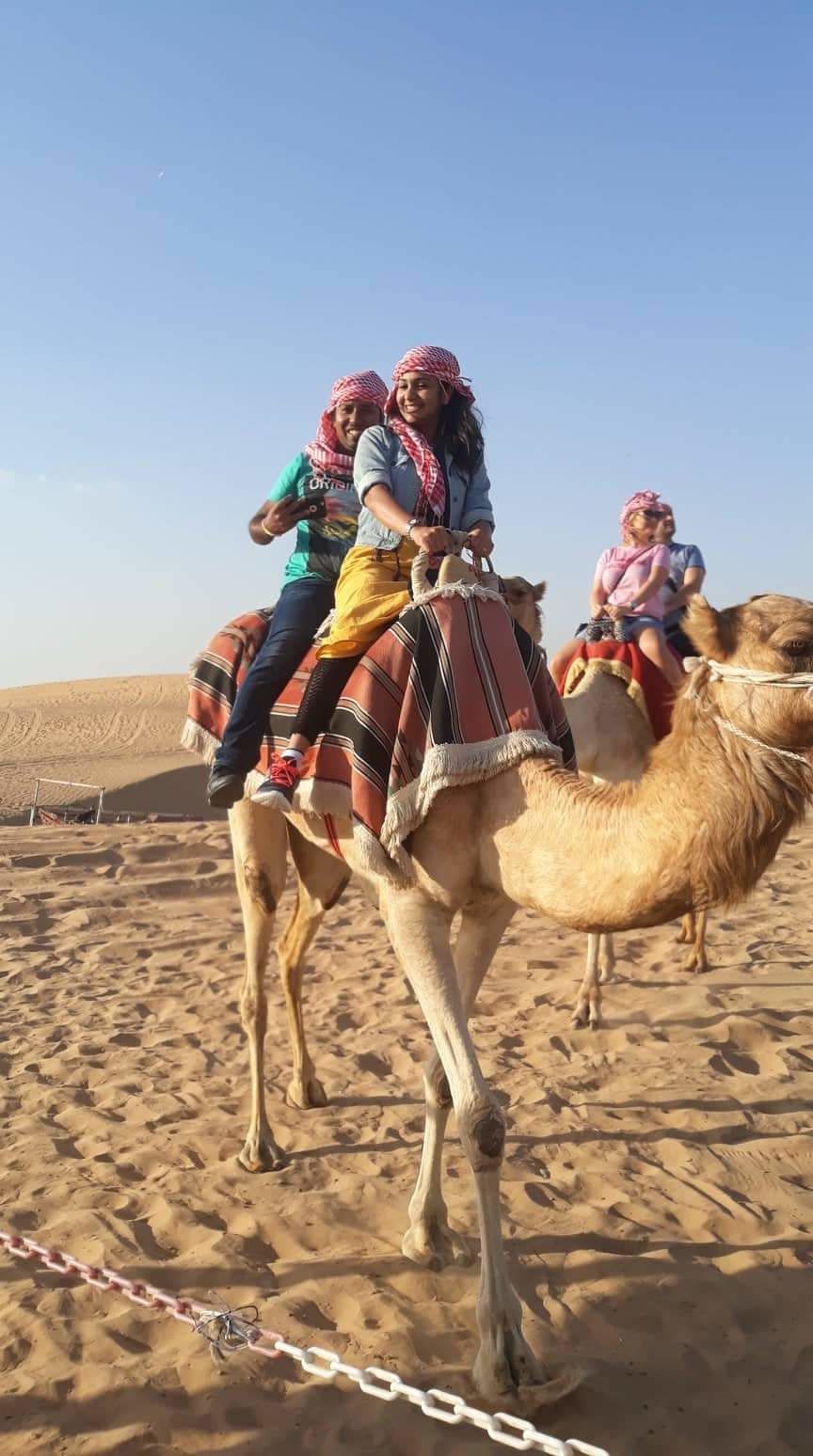 Having thanked the camel (well, mostly his handler) we explored the rest of the recreated desert camp.
My wife even got a pic clicked with falcon and we both got dubai style turban worn on our head by the staff there. these do come on extra expense.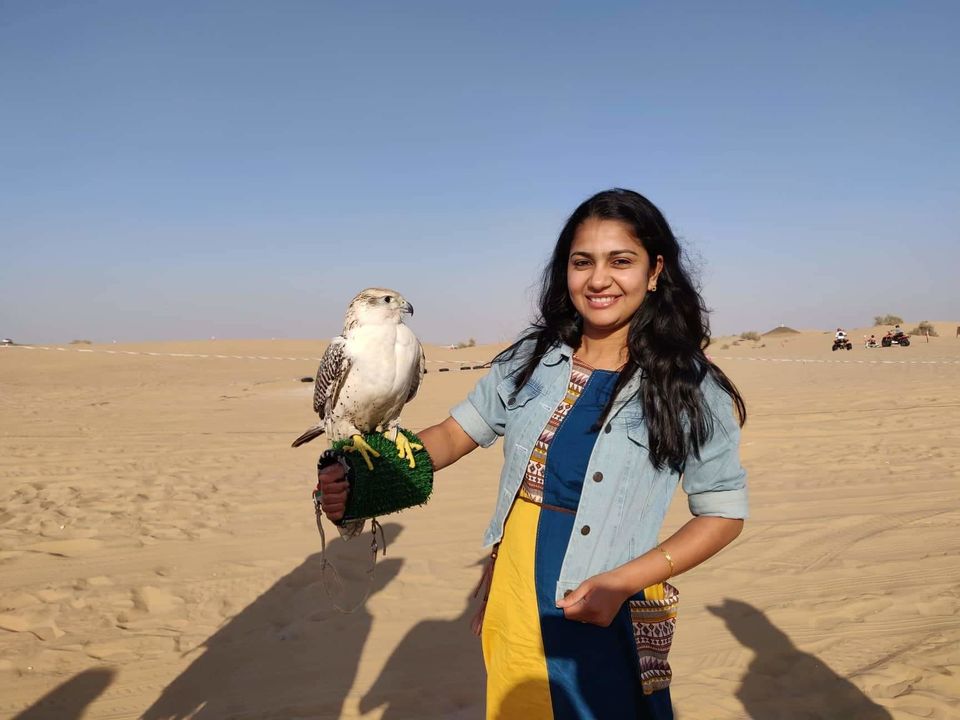 My wife didn't wanted a permanent tattoo but he was really digging her henna one, it's so pretty! The tattoo first turns orange but changes to a darkish brown after a while, it's supposed to last for approximately 2 weeks.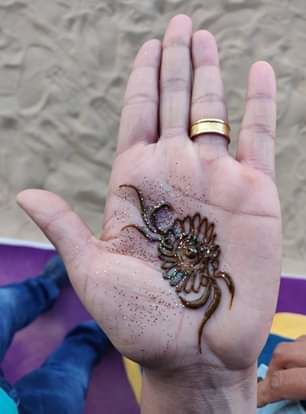 Behind the camp there were a few higher dunes and we installed ourselves on the top of one to admire the sunset over the stretched out desert. Sitting on a dune with Lidiya I realized again how lucky I am to be able to travel the world with my wife. It's a privilege for sure…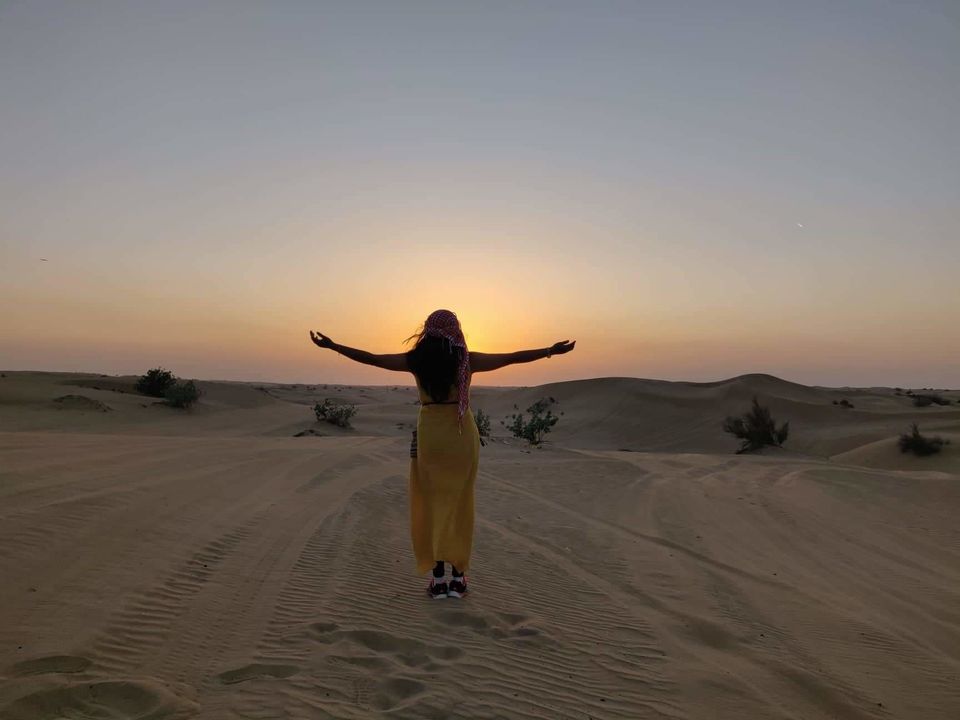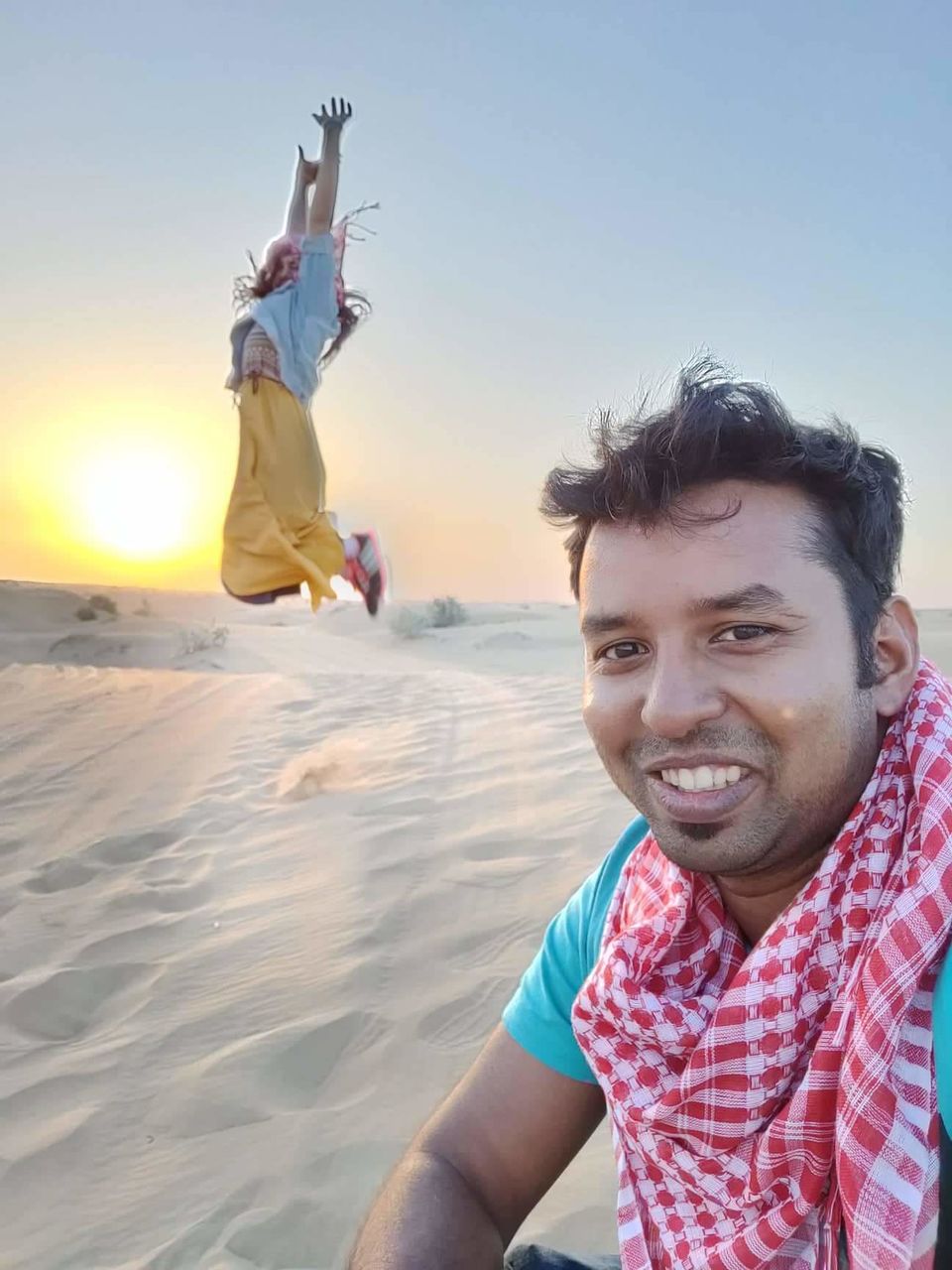 Darkness fell swiftly after the sunset and the temperature noticeably dropped. it was cold, but I was happy I brought a jacket.
We walked back to the camp and sat down on a slightly elevated platform with a table and benches dressed with beautiful table cloths. From our seat we had an excellent view of the stage.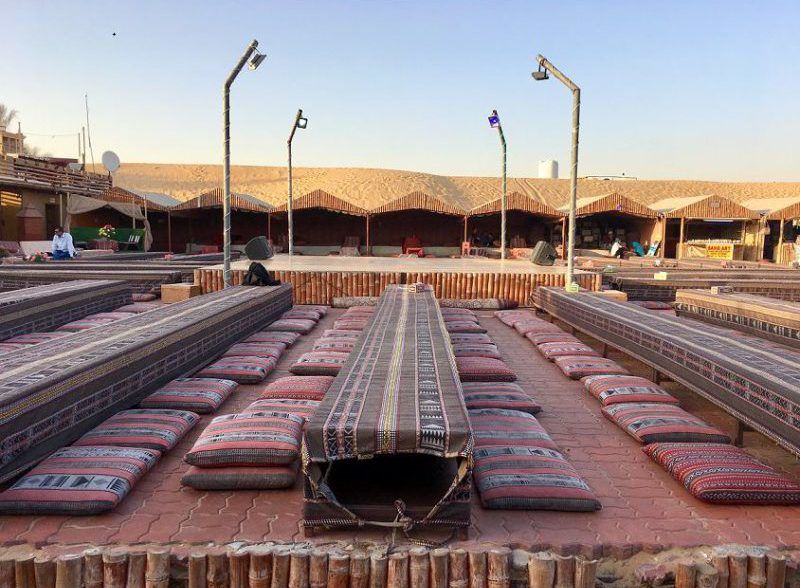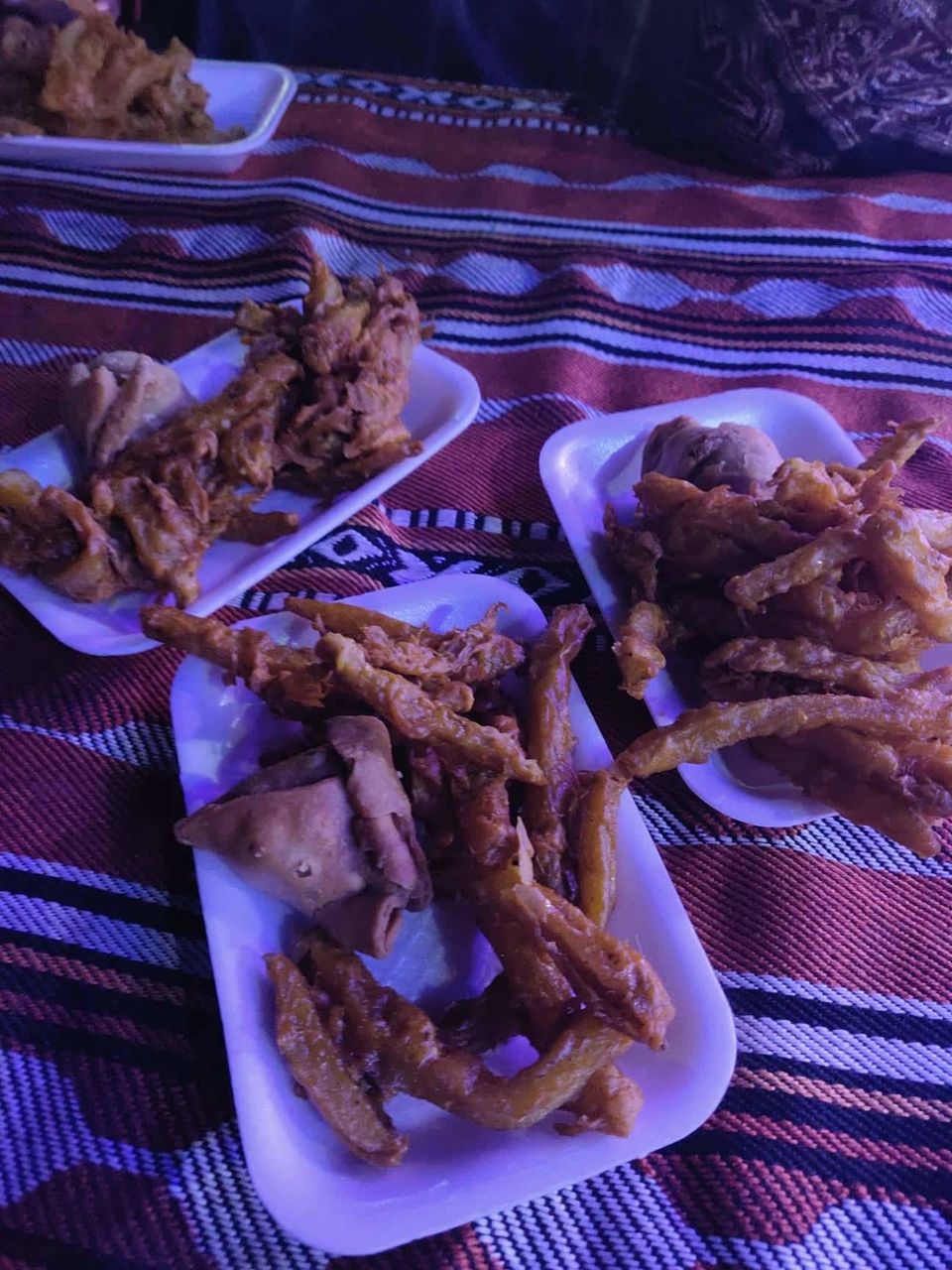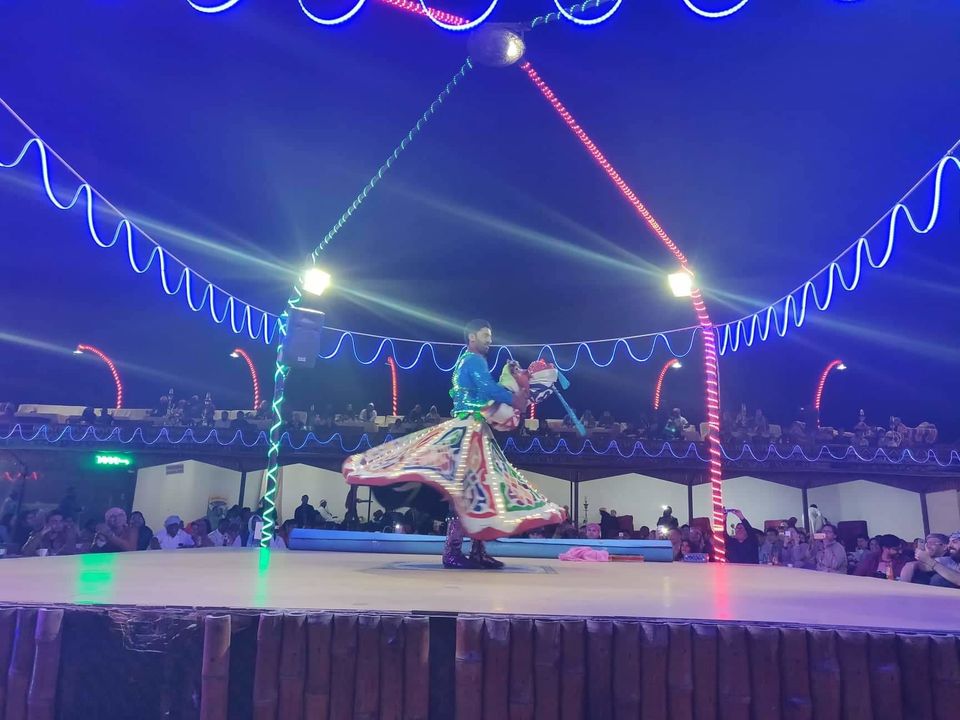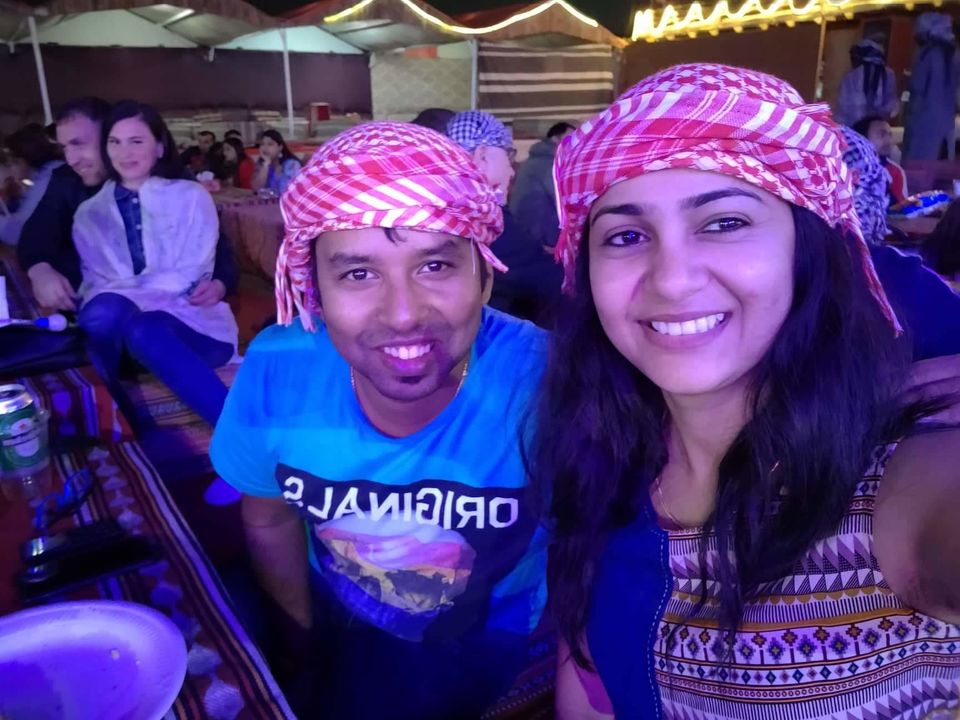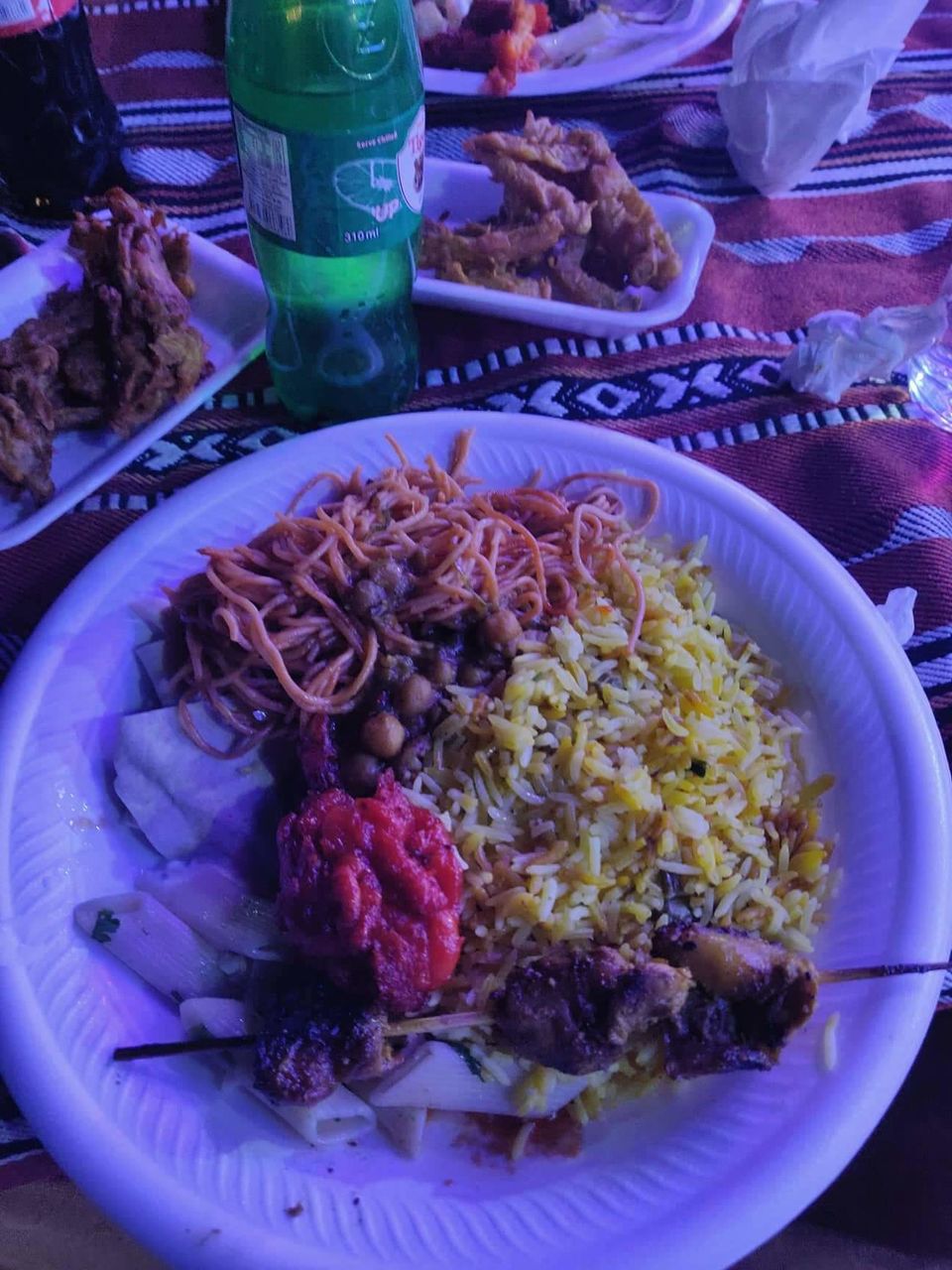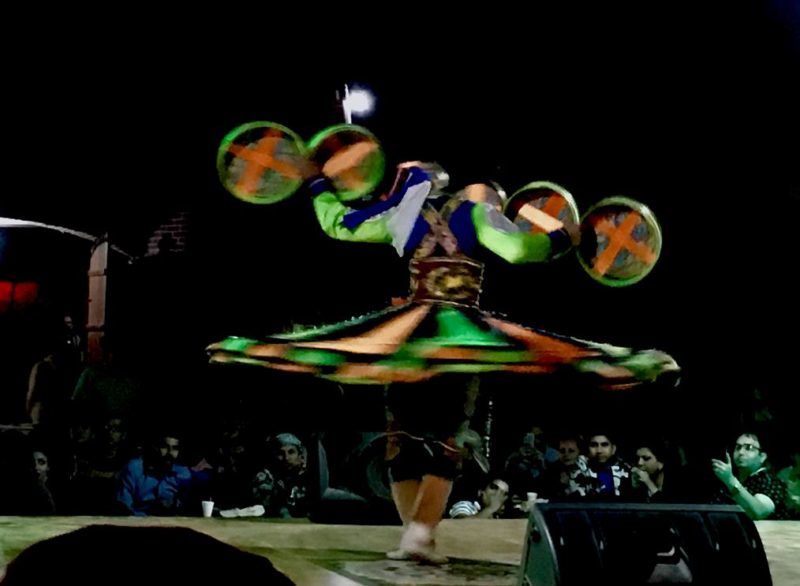 That was a good thing as there where several cultural performances: belly dancing, the traditional tanoura dance and a fire show!
While watching these cultural performances, delicious food was being served. Dinner consisted of samosas, BBQ chicken, salad, hummus, fresh fruits and more tasty treats.
When the performances were finished and our tummies were full it was time to leave. But not before looking up to the sky and admire the stars. I can only imagine what the sky must look like a little further into the desert where it's pitch black except for the shiny stars…
Altogether it was a wonderful day: it was my 1st time in the desert, the 1st time I went dune bashing, the 1st time I drove a quad and the 1st time I rode on camel. An awesome start of our Big Trip around the world!