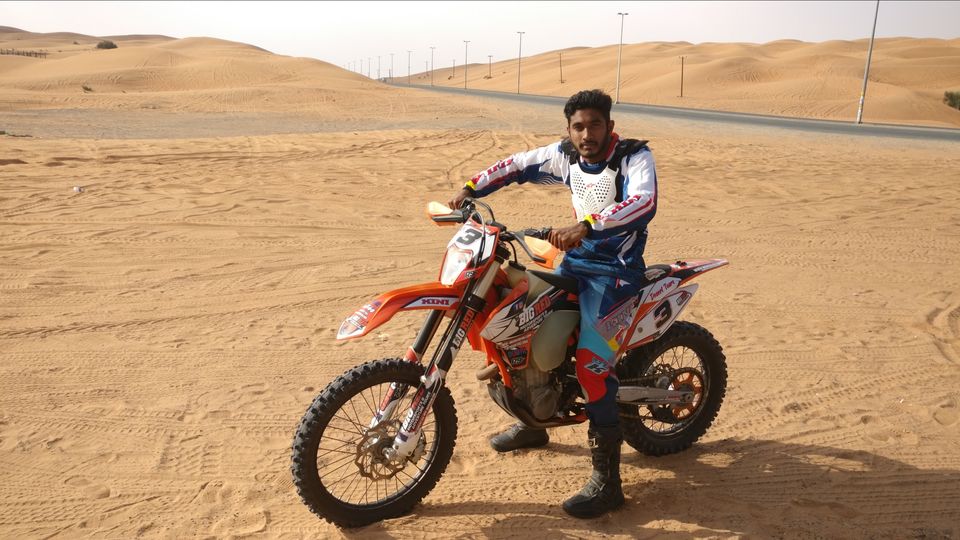 It's November in Dubai, a perfect time for dune bashing. This time with motorbike. I have been on a 4WD vehicle & ATV before, but my passion for motorbiking decided to hit a different terrain this time. I booked a beginner's guided tour with big red adventure tours. They had a variety of option like motorbike, quad bike, buggy with different tour plans.
This place is located in Dubai -Hatta highway called big red desert far from Dubai city. It's enchanting world of sandy experience, unusual and extreme activities only in this desert. The hight beauty is surrounded by buggies, quad bike, 4×4's.
Arrived at the Big Red Adventure tours after a 45min drive. We we're only 2 people booked for a motorbike tour so it's was nice to learn like one to one. We were briefed about about the dirt bike, the dunes and some obstacles to expect. After the briefing changed to dirt bike clothing with all safety gears. Hands on the dirt bike hitting the tarmac to the desert. So total 3 of us, instructor from England, a fellow rider from Spain and myself from India. The same passion bought us all together.
Once reached the sand dune I started to stumble at the beginning as a first timer. Having some experience with motorbike I managed not to fall & begin to understand the bike and the sand. After a few minutes of ride and taking some advice from the instructor, I'm confident and riding close enough to the other two. I always believe to feel the road or any terrain you got to feel the wind in your face. Very quick I learned the tricks to stable ride and hitting the dune like pro.
It was totally different from how you ride in tarmac or rocky off-road type. Since three of us were riding with the flow had some extra time to relax & also cover more area.
I have never thought I'll be riding good in sands. Even on halfway of the ride I thought what am I got into fearing of falling & hurting myself. But it all turned out to be a lifetime experience and what I'm capable of. We three met once for a lifetime experience.
Hope my experience encourages others in doing what they're passion about and can learn and explore the rich earth. Need any additional information on the tour provider or other adventurous sand activities PM me. Hit the like button if you really like this article. Learn while you travel. Happy Travelling. Cheers.