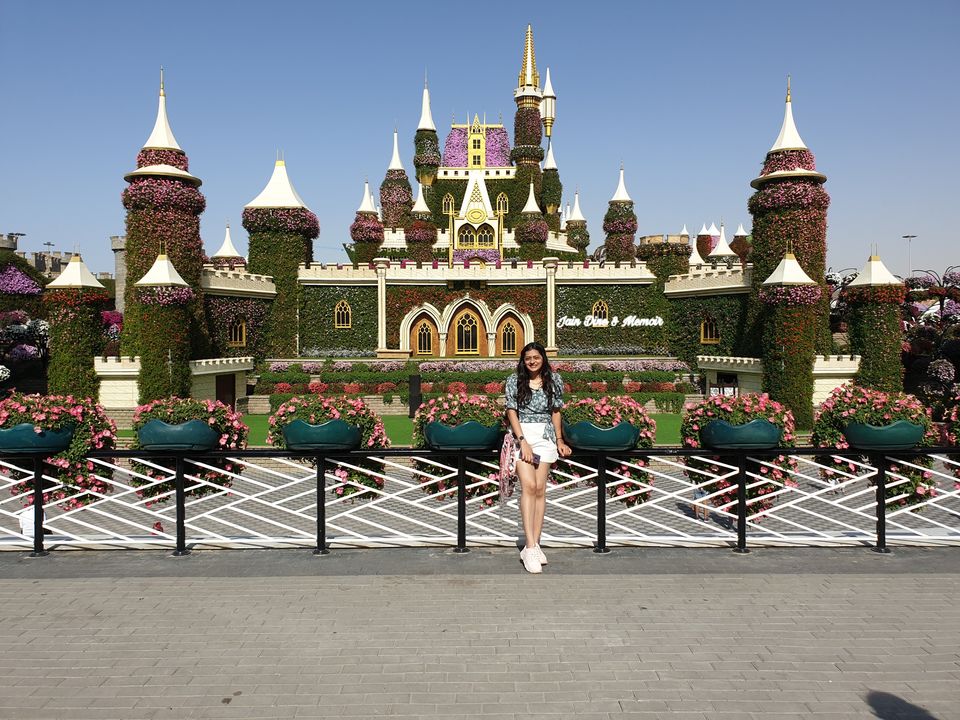 (Travel is not advised at this time. Hope this article helps your future travels.)
The first international trip for everyone has always been overwhelming and close to the heart and indeed we take in a lot of efforts to find the right destination to fit right in our budget.
Keeping that in mind, we did quite a lot of research in terms of beautiful places to visit, food (Jain), accommodation, budget controls, intracity travel and after all of it, we finalized the destination to be the luxurious city of DUBAI.
A destination which has demonstrated rapid development particularly in infrastructure is currently even pacing up as a destination for luxurious tourism. With a shorter flying time from India and economically convenient, Dubai has certainly topped the bucket list for travel enthusiasts.
Best time to visit?

While reading various feeds, we spotted that most of them mentioned Dubai having primarily two seasons – summer and winter; summers being scorching hot and winters being extremely chilling.
But with our travel journey (in the first week of February), we noticed that even beginning of summers were quite chilling in Dubai, especially the nights. Hence, we believe that barring the heated months of April to June, any other time during the year is a great time to visit this city.
Coming to our Dubai trip, it was for 6 days (including Abu Dhabi) and below is the itinerary which will help plan your Dubai vacation in a hassle free, fun going and simultaneously economical manner.
Overview of the Trip
Day 1 : Dubai Frame and Desert Safari
Day 2 : La Mer beach, Dubai Mall, Burj Khalifa and Dubai Fountains
Day 3 : Miracle Garden and Global Village
Day 4 : Palm Atlantis, Aqua Venture Water Park and Jumeirah Beach Residences ('JBR')
Day 5 : Abu Dhabi – Ferrari World and Grand Mosque
Day 6 : Old Dubai, Gold Souk and Spices Souk
Important cost effective tips :
- For the intracity travel, you will be amazed that Dubai is so well connected with the Metros that it will make your visits to all tourist attractions extremely smooth and cost effective.
Tip: Depending on the frequency of travelling in the Metros, opt for a tourist daily pass which will allow you to travel in the Metros across the red, green and blue lines effortlessly. This choice will turn up more cost effective than availing the NoI card. (NoI card is the electronic ticketing card which can be used across all public transports in Dubai)
Tip: With the smooth connectivity, be mindful to take up an accommodation close to either of the Metro stations.
Tip: While using the cab service, go for hiring a taxi by show of hands rather than using any online app. Through this you will discover that starting taxi fare in the latter way is much lower than while booking on any app.
Tip: Inspite of the smooth travel modes available, Dubai as a city has so much to explore that you should be prepared to travel on foot too.
- Jain food is easily available in the region of Bur Dubai. Local restaurants and certain food chains in the region such as Veg World, Saravana Bhawan, Kailash Parbat etc. are offering great Jain food.
(Mostly Indians prefer staying in the region of Bur Dubai owing to the easy access to food. However, we wanted to stay close to the modern infrastructure and hence, we chose an Airbnb apartment in Financial Center.)
Tip: Since you will be travelling throughout the city most of the times, it is manageable if you take up accommodation far from the region of Bur Dubai. Please ensure to take up some packaged Jain food which you can carry during the day travel to avoid situations of non-availability of Jain food. (This is specifically advised while travelling to Miracle Garden, Global Village)
- The currency of Dubai is 'United Arab Emirates Dirham' (AED) with an exchange rate of approx. INR 20 per AED.
Trip Details
We had an evening flight from Mumbai and taking into account the time difference, we reached the Dubai Airport late in the evening. Owing to the brilliant connectivity, from the Dubai Airport we easily reached the nearest Metro Station (i.e. Airport) and onward reached our apartment, which was just a 5 min walk from the Metro Station (i.e. Financial Centre).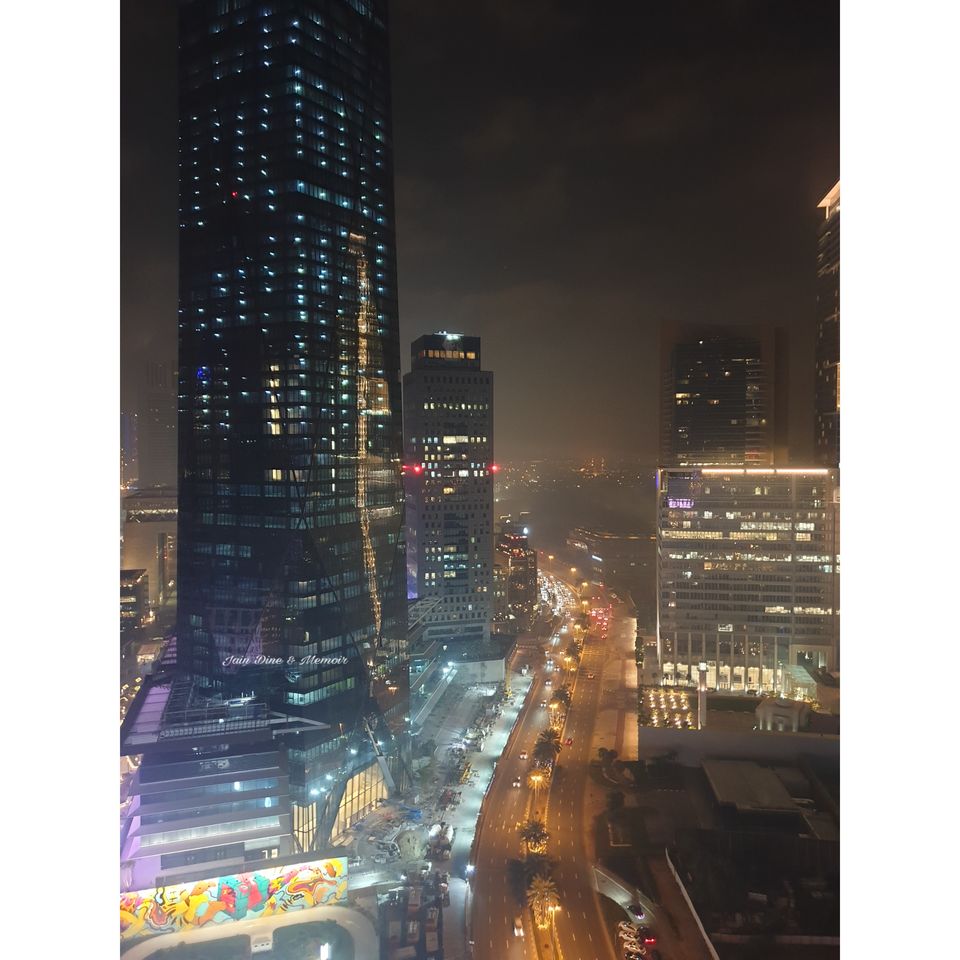 Considering it was already late night, our exploration in Dubai city begun from the next day.
Day 1: Dubai Frame and Desert Safari
Dubai Frame – Visiting the Dubai Frame in itself is synonymous to having a bird's eye view of Dubai. This architectural design holding the title of the largest frame in the world is positioned in a way that on one side of the Frame you can see the modern infrastructure i.e. New Dubai and on the other side you can see the Old Dubai.
Standing at a height of 150m and walking over the glass flooring while exploring the best views will certainly kick in the travel excitement. There is an entry fee to this Frame and it is certainly a must visit.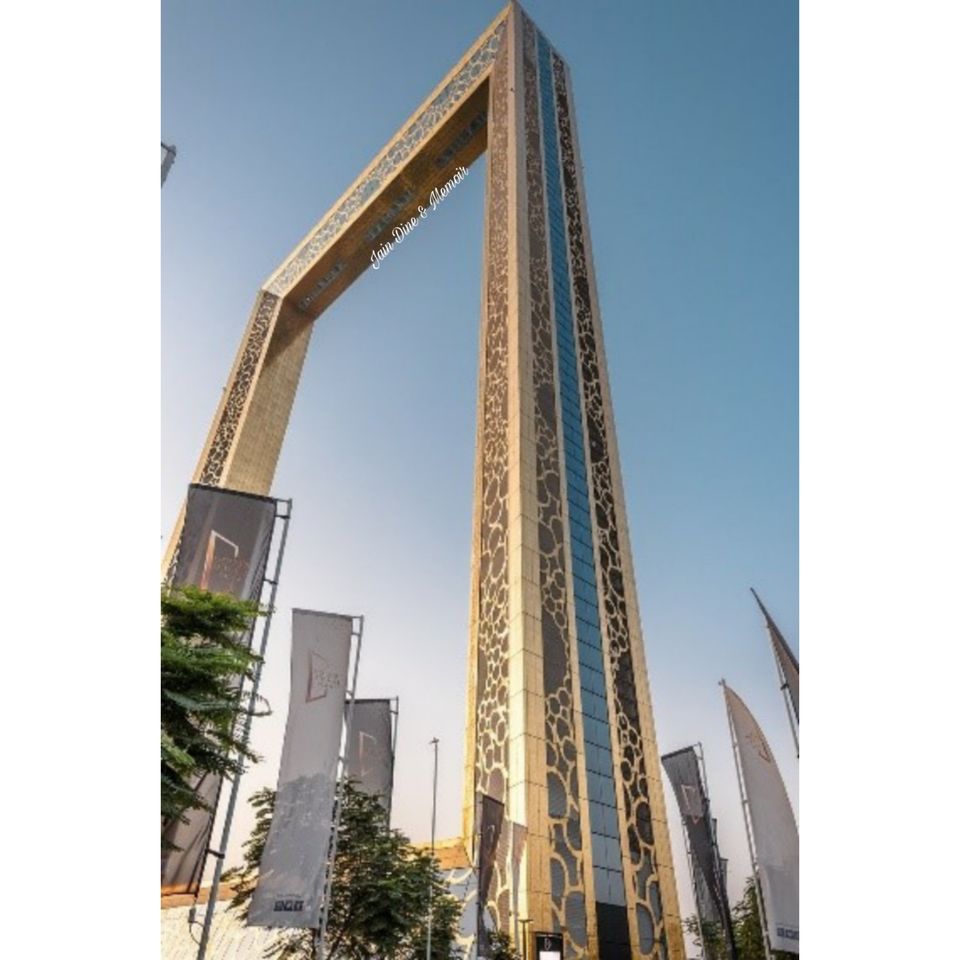 Desert Safari – Keeping along the excitement, we headed towards the next big adventure, the Desert Safari. There are numerous vendors offering Desert Safari packages with multiple combinations such as live entertainment shows – belly dancing, fire show, tanoura show etc., dune bashing, camel riding, heena designing etc.
We chose a package from MakeMyTrip which comprised of 4-5 hours of Desert Safari, pick up and drop facility, BBQ dinner and live shows. This package costed us approx. INR 2000 per person.
If you haven't done Desert Safari before, then you will be thrilled with the dune bashing which is absolutely like a mini rollercoaster.
(Our suggestion: We have done the open car desert safari in Jaisalmer and found that more thrilling and fun as compared to Dubai's. Separately, be mindful that for BBQ dinner at the desert, you will not find Jain food.)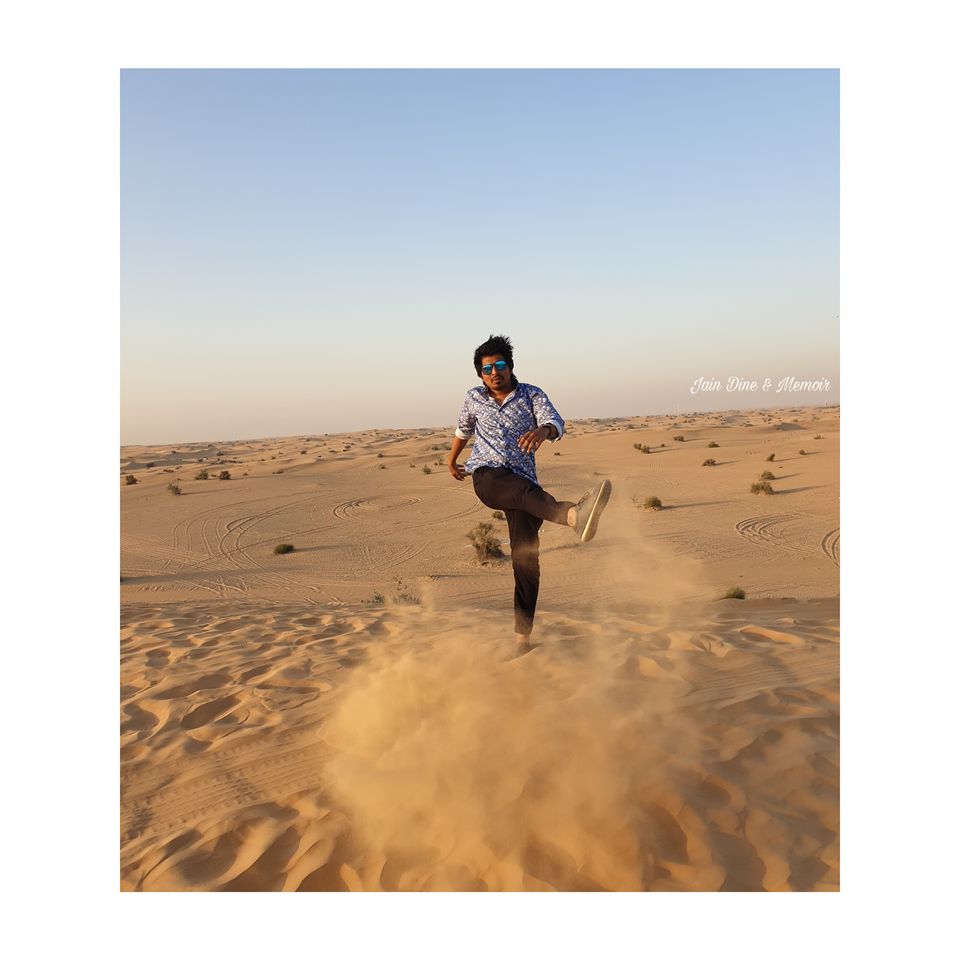 Day 2 : La Mer beach, Dubai Mall, Burj Khalifa and Dubai Fountains

La Mer Beach – Being forever lovers of clear waters and pristine beaches, we were astounded by the beaches that Dubai possesses. La Mer is one of the most beautiful and happening beach with clear waters, a waterpark, numerous cafes, pubs and mesmerizing graffiti all over. Don't forget to carry your swimming costume for a quick dive.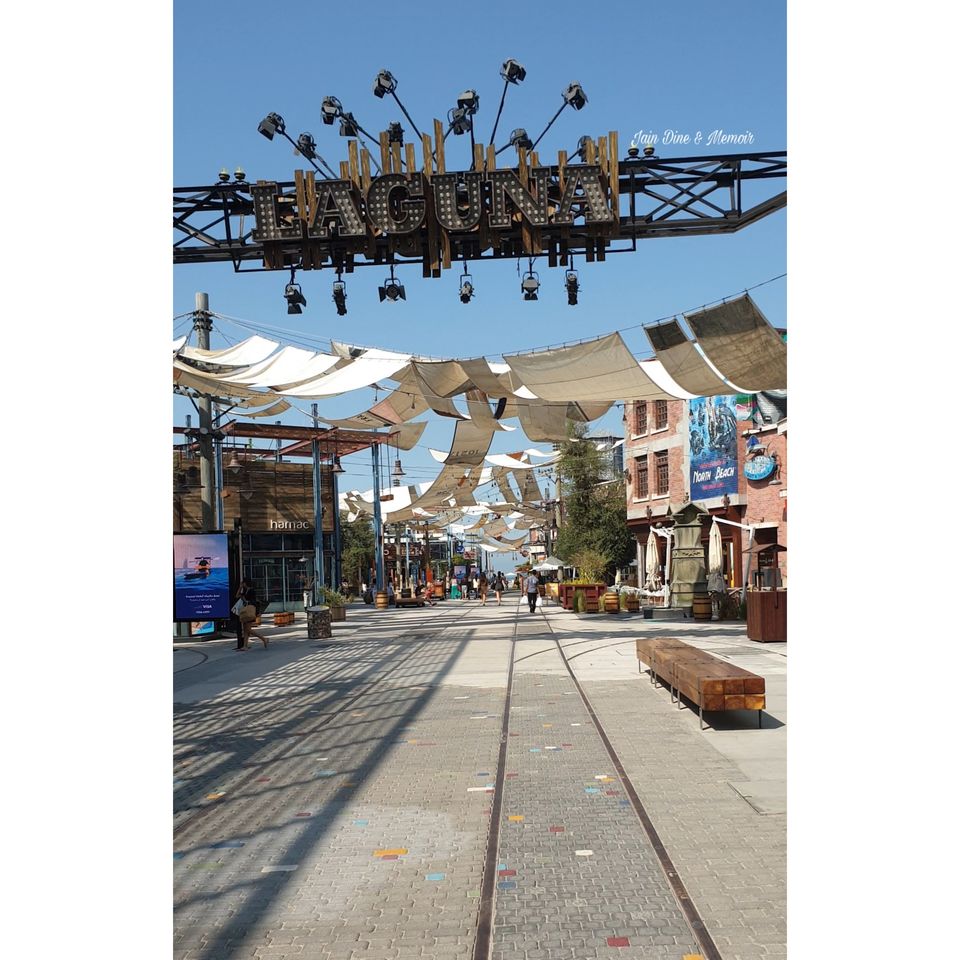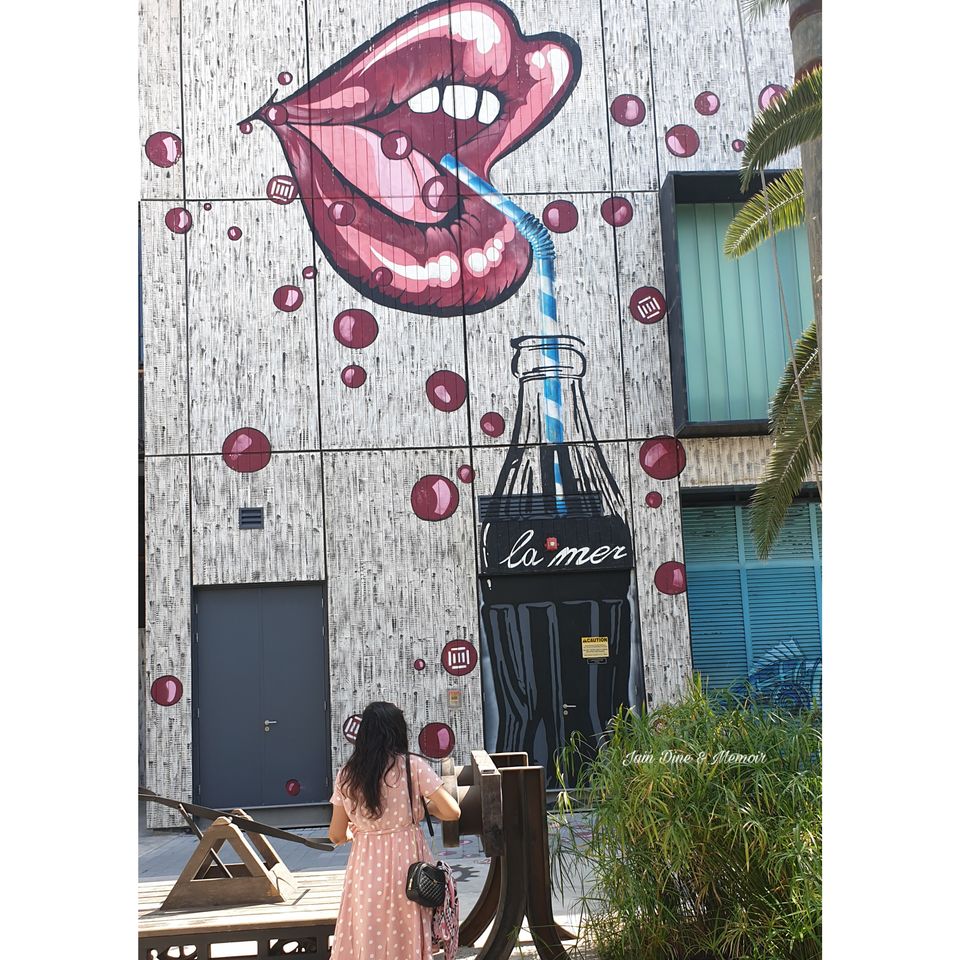 Dubai Mall – After a nice sun bath, we headed to the most prominent mall in Dubai – the Dubai Mall. Words can fall short of this huge shopping arena which houses all upscale brands, an underwater aquarium, the entry to the Burj Khalifa and the peaceful promenade. This is a highly recommended visit for all age groups.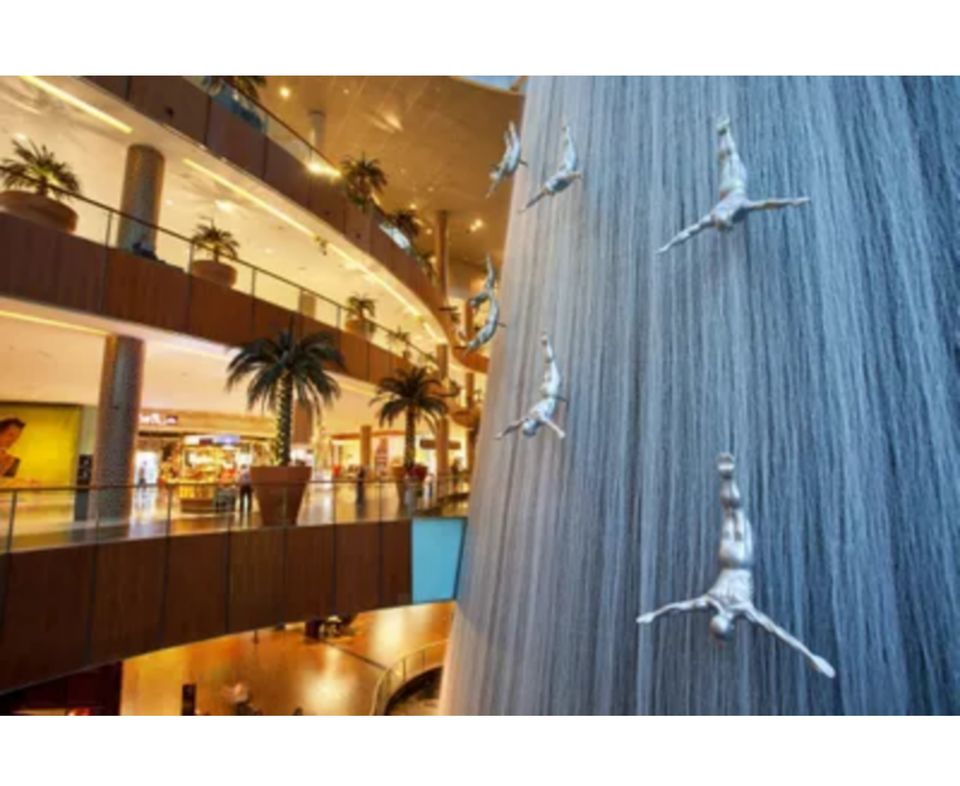 Burj Khalifa – Subsequent to a great stroll of Dubai Mall, we advanced towards the tallest skyscraper of the world, the mighty Burj Khalifa. Burj Khalifa is another marvellous creation that will give you a holistic view of Dubai. There is a visiting observatory deck on the 124th and 125th floor and to enter the same a prior booking is required.
(Our suggestion – Visit the observatory deck early in the morning or in the evening before sunset.)
Dubai Fountains – After clicking some mind-blowing pictures from a height of 828m, come down to experience the most spectacular evening with the Dubai Fountain shows. Truly, the beauty of Dubai lies here. The music, the aura created by these fountains is unmatchable. These fountain shows are free of cost and run in regular intervals till 11 pm Dubai time.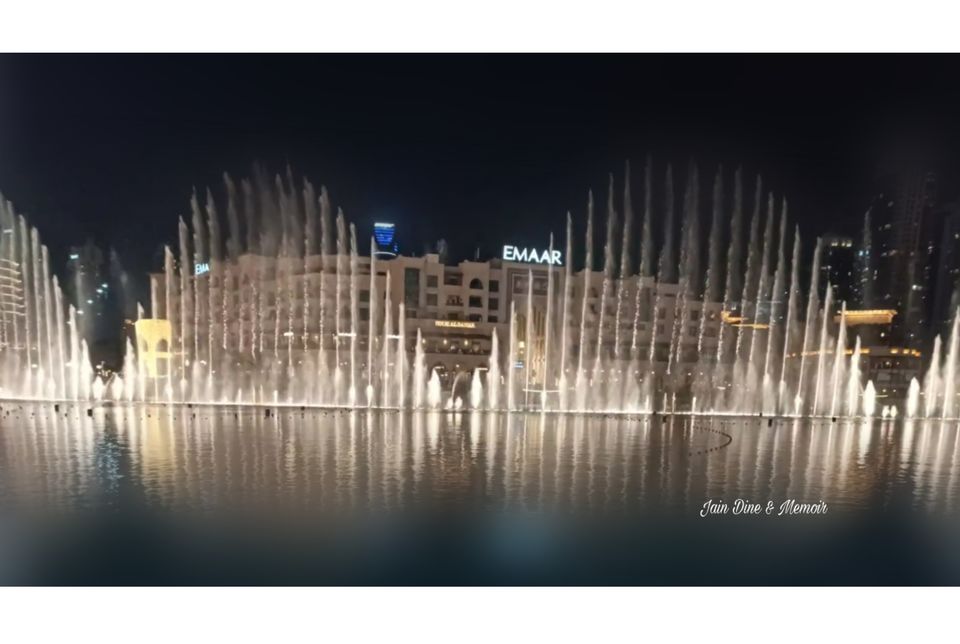 Day 3 : Miracle Garden and Global Village
Miracle Garden – Dubai Miracle Garden is a miraculous creation stretching over huge area of land showcasing characters and objects made full of flowers. The Garden is on the outskirts of Dubai and hence, you may be required to take a metro first to the station – Tower of the Emirates and then take the direct bus to Miracle Garden.
The Garden is recommended to be visited in the morning to avoid rush and a tour of the same will leave you nothing but amazed.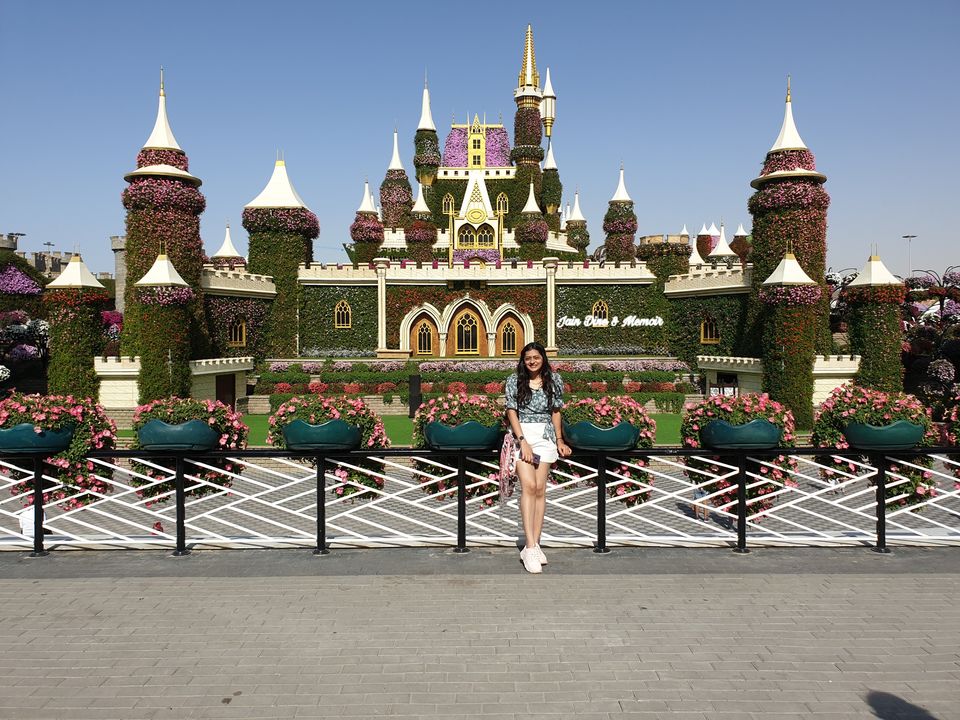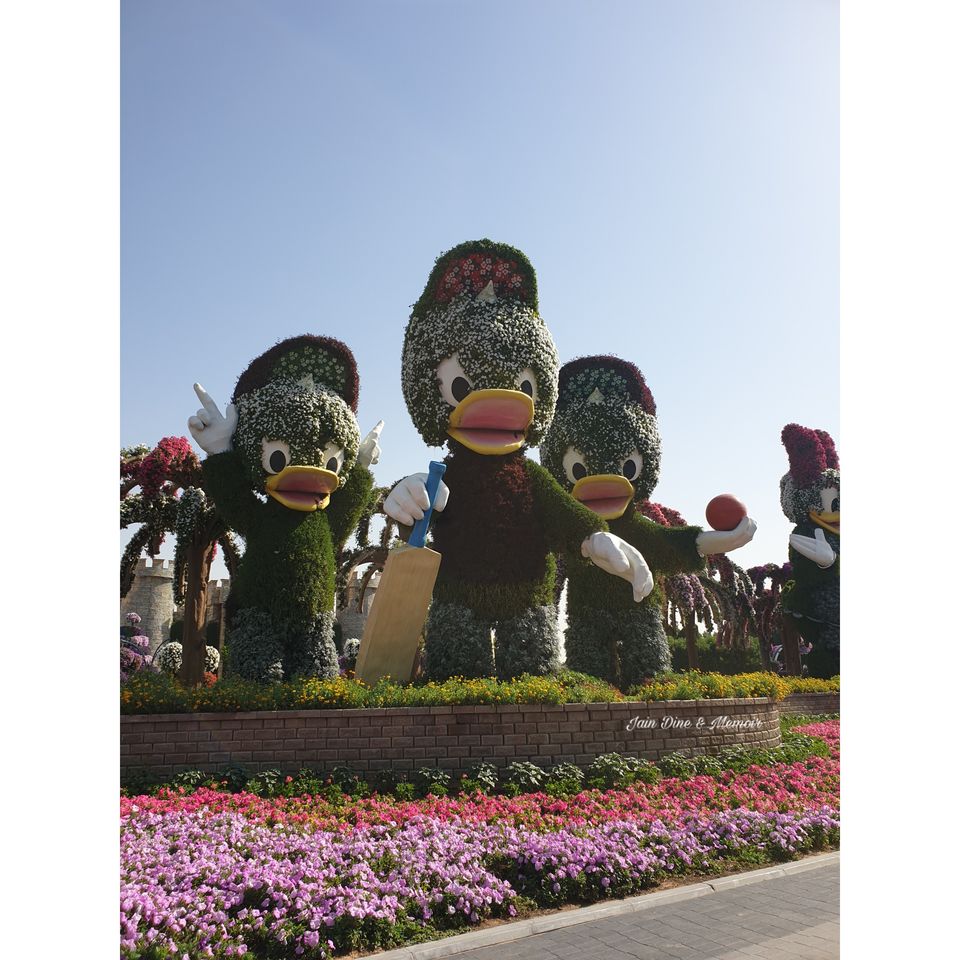 Global Village – Like Miracle Garden, Global Village is too on the same side of the outskirts, so we took a taxi to the Global Village. (Since, we were four people who travelled along, the taxi fare did not really hurt the pockets. However, if you are a solo traveller, you may want to change the itinerary to shift Global village to another day, since from Union metro station you will get direct buses to the Global Village.)

Global Village is the largest multicultural amusement park that combines culture of almost 90 countries. This astounding amusement park is spread over a land area of almost 400 acres.
On entering the Global Village, you will be awestruck with the concept of a huge structure created for each country and within each is a whopping eye-catching market selling famous items of the respective country. You may also pick up souvenirs of Dubai from here.
There is a concert spot in the centre where on Fridays if you are lucky, you may get to watch performances of celebrities including Indian celebrities such as Neha Kakkar, Rahat Fateh Ali Khan etc.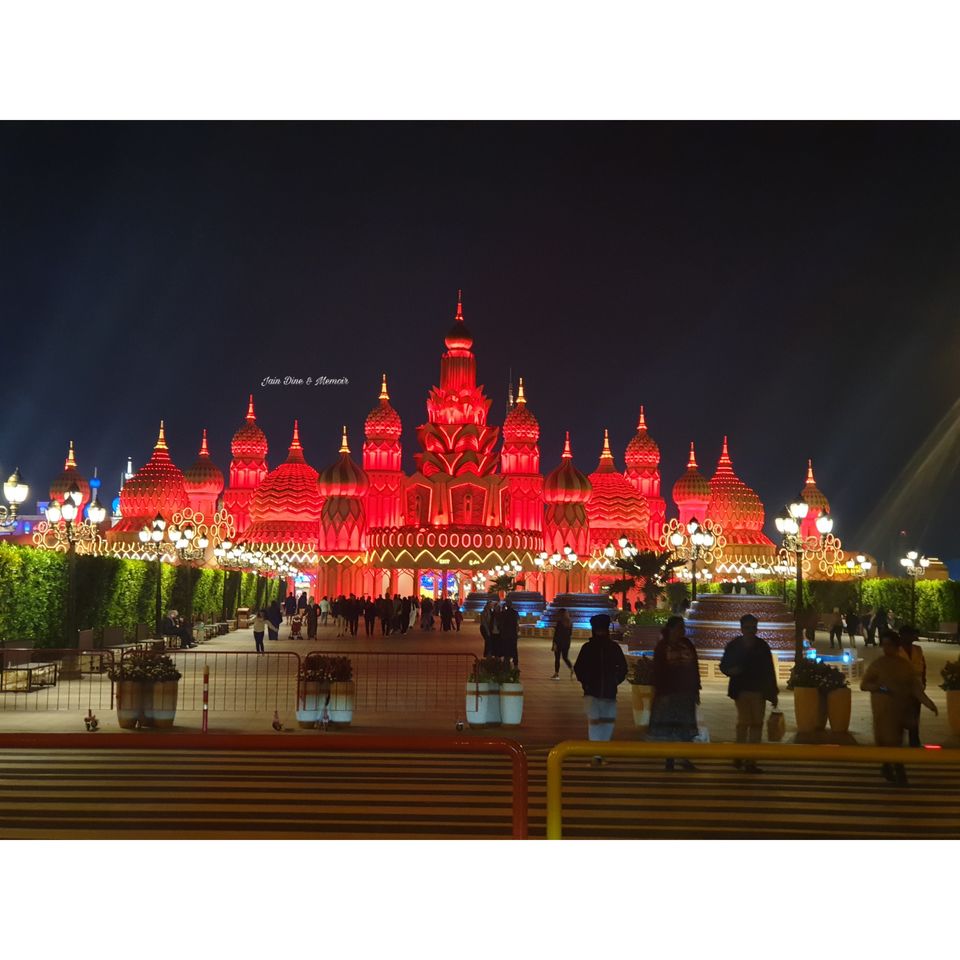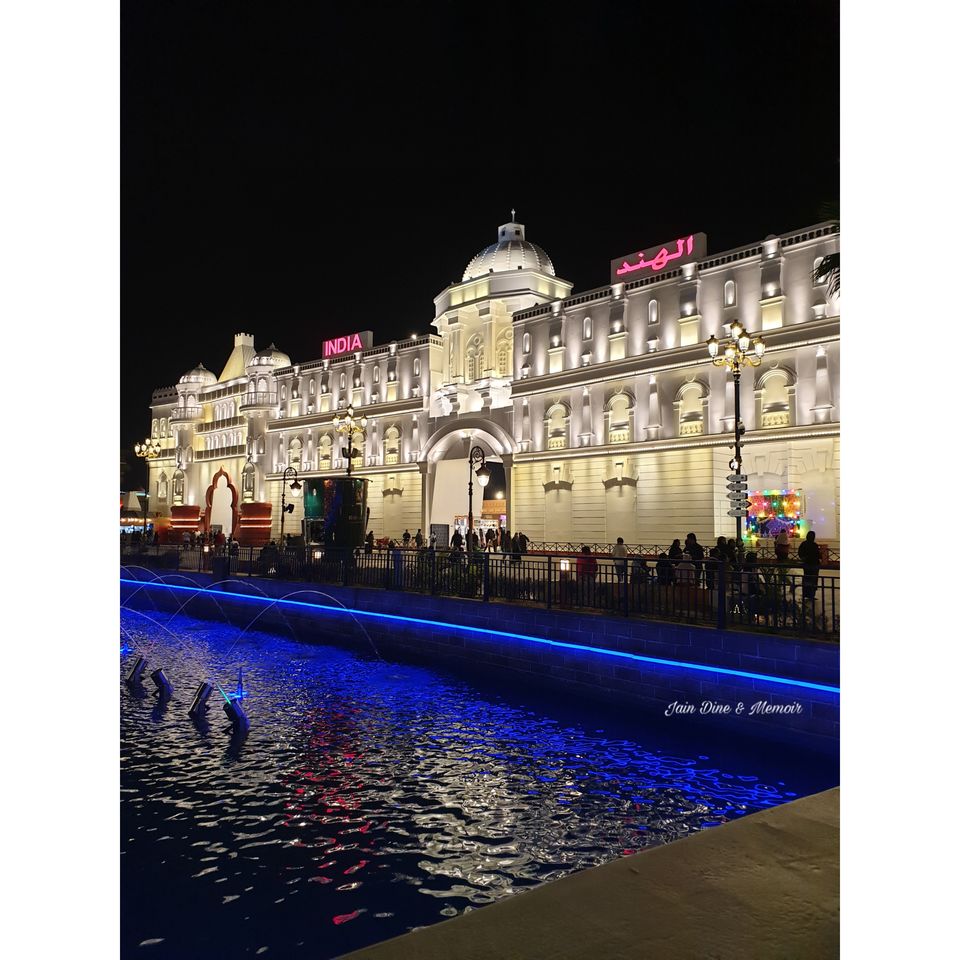 Day 4 : The Palm Atlantis, Aqua Venture Water Park and Jumeirah Beach Residences
Atlantis, the Palm – Atlantis, The Palm is a luxury hotel resort located on a beautiful manmade island called the Palm Jumeirah Island. The hotel is complimented with a waterpark – Aquaventure, an aquarium – The Lost Chambers and a dolphin pool. We used the metro to travel to the Damac Properties metro station and then took a tram from there to Palm Jumeriah station. Onwards we took the monorail to the Atlantis hotel and you will be surprised by the aerial views of Dubai from the monorail.
On reaching the hotel, we headed to the Aquaventure waterpark which has zip lines, thriller rides and is accompanied by a lazy river to bring out the couch potato in you.
(P.S. – If its your birthday month, you get a free ticket to Aquaventure waterpark)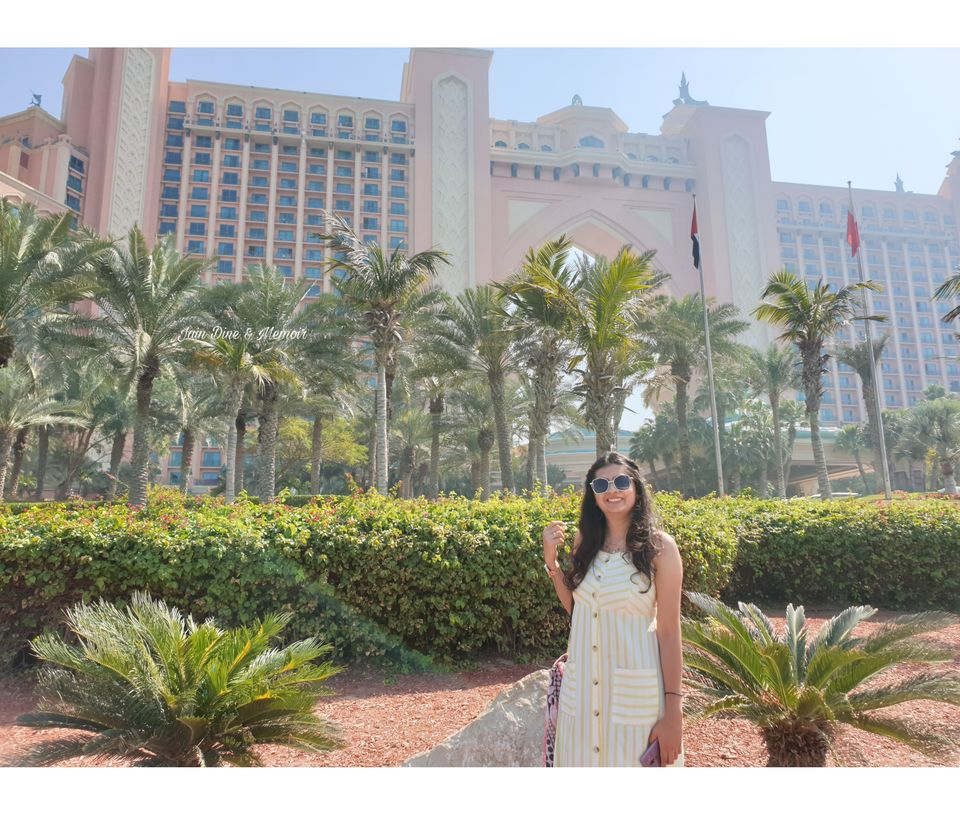 Jumeirah Beach Residences – After an extreme active day, we proceeded for a calm walk and night views to the Jumeriah Beach Residences. Apart from the residences, JBR is a host to white beaches and quite a lot of pubs. It is recommended to visit this place if you are a lover of some great panoramic views.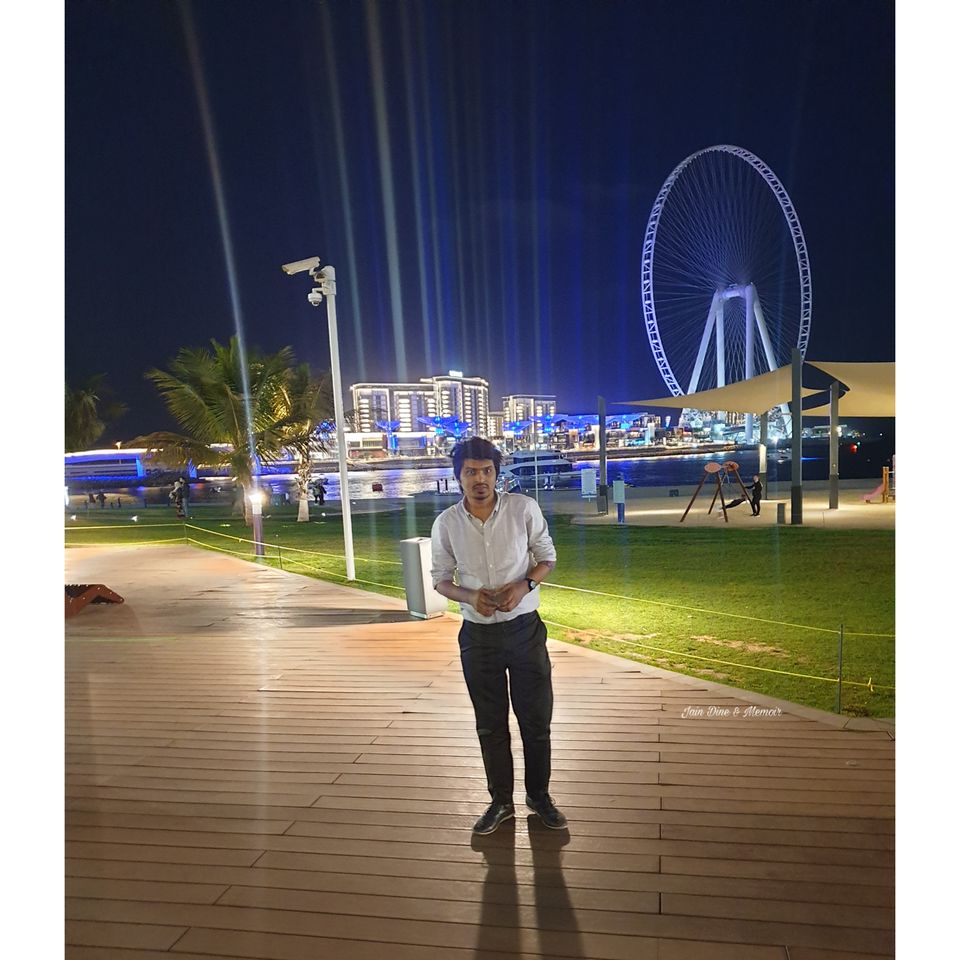 Day 5 : Abu Dhabi
Ferrari World – Abu Dhabi, the capital of UAE boasts some spectacular structures which are a must visit during travel to Dubai. Abu Dhabi is almost 100 kms from Dubai and hence, we reserved one entire day in the itinerary for Abu Dhabi. Abu Dhabi hosts 3 amusement parks – Ferrari World, Yas Waterpark and Warner Bros, however, Ferrari World is the most famous among adventurous enthusiasts.
Ferrari World Abu Dhabi is the first Ferrari branded amusement park and houses the world's fastest roller coaster. There are almost 5 extremely thrilling rides and multiple small rides for adults and kids. Be prepared to stand in a long que for the adrenaline rush experience.
Travel to Ferrari World can be in two ways, either via taxi or via metro, bus and then a taxi. The later method is very cost effective but might take a little longer time. We took a metro to Ibn Batuta station and then boarded a bus just outside the station and dropped at Shahama bus stop. From there, we took a cab to Yas Mall, from which you can enter Ferrari World. The lunch is sorted at Abu Dhabi with the Yas Mall having restaurants such as Kailash Parbat, where jain food is easily available.
Alternatively, you can book tours on Klook/MakeMyTrip which manage one day travel in Abu Dhabi.
(Our suggestion – If you are travelling with family and there are few members who want to skip Ferrari World, then they can visit Warner Bros or the Waterpark at Abu Dhabi)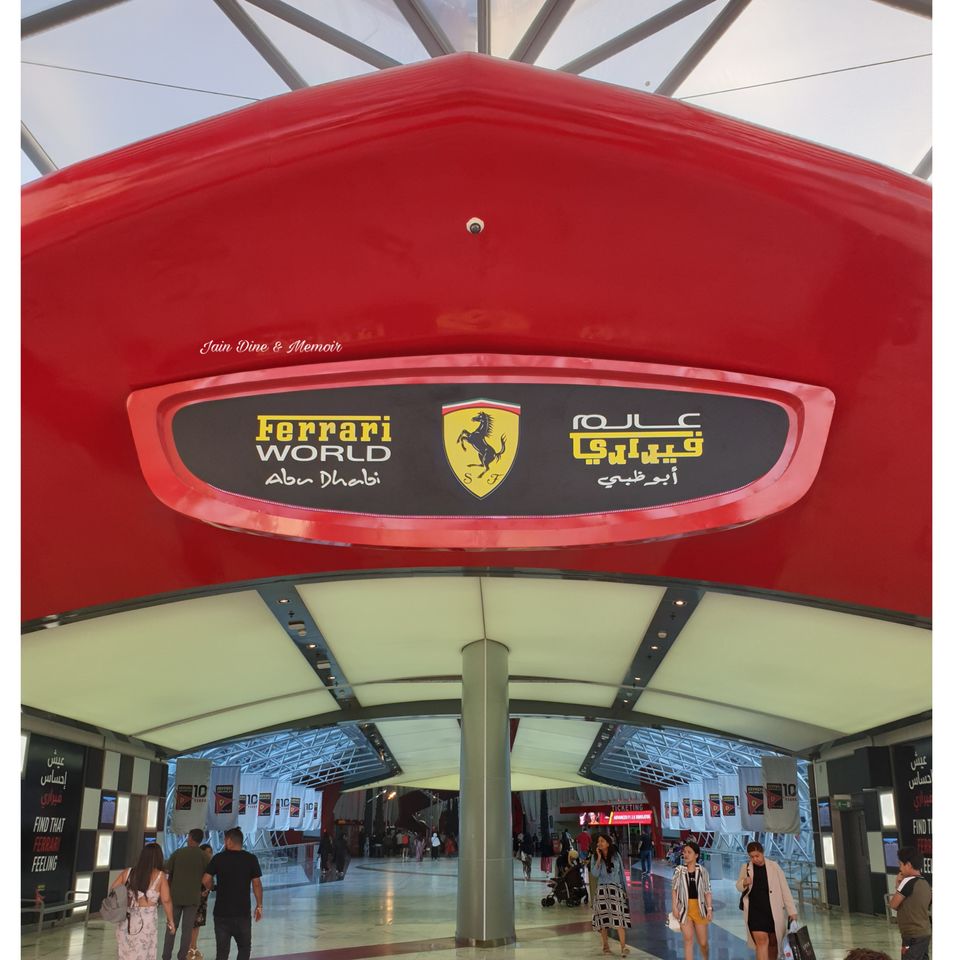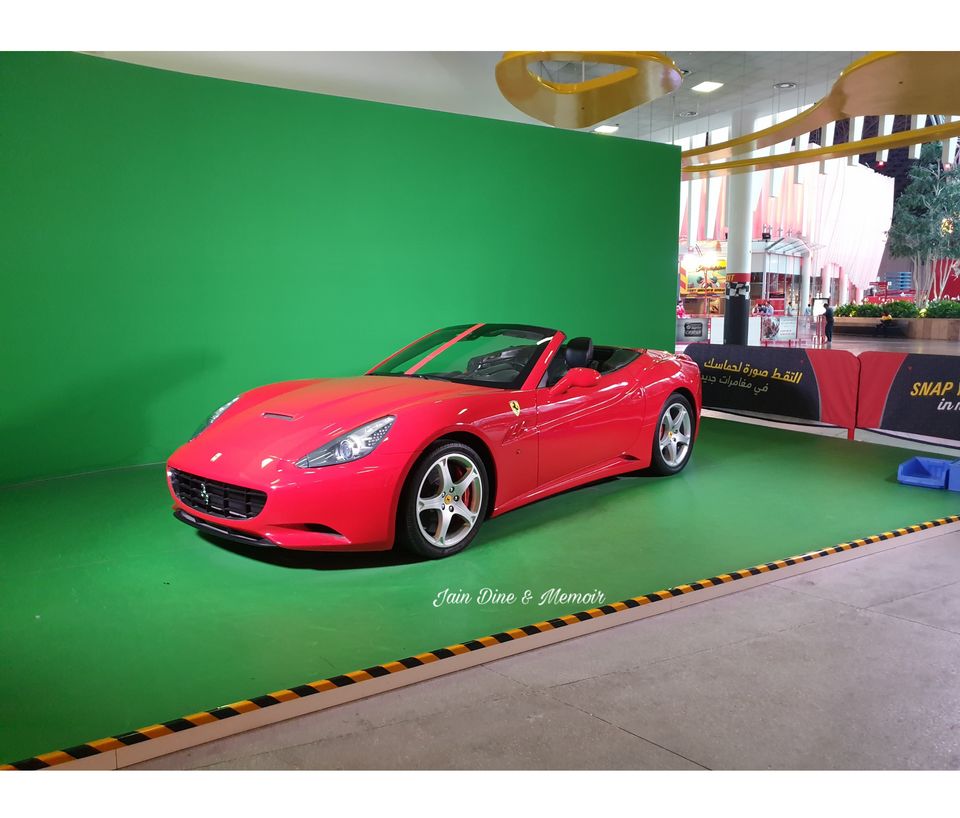 Sheikh Zayyed Grand Mosque – The largest mosque in the country is a remarkable creation which has created architectural styles from parts of Turkey, Morocco, Pakistan, Egypt etc. and indeed celebrated cultural diversity. Words are not adequate to describe this meticulously designed structure which includes the white sparkling domes, huge prayer hall, reflective pool side and gold leaves on the top of the dome.
We took a cab from Ferrari World to the Mosque and and reached there before sunset to adore the grand view.
(The entry to the mosque is free and loaded with visitors to appreciate the beauty. Abayas will be provided to the women inside the mosque as a respect to the culture. Please wear a little appropriate clothing while visiting the mosque.)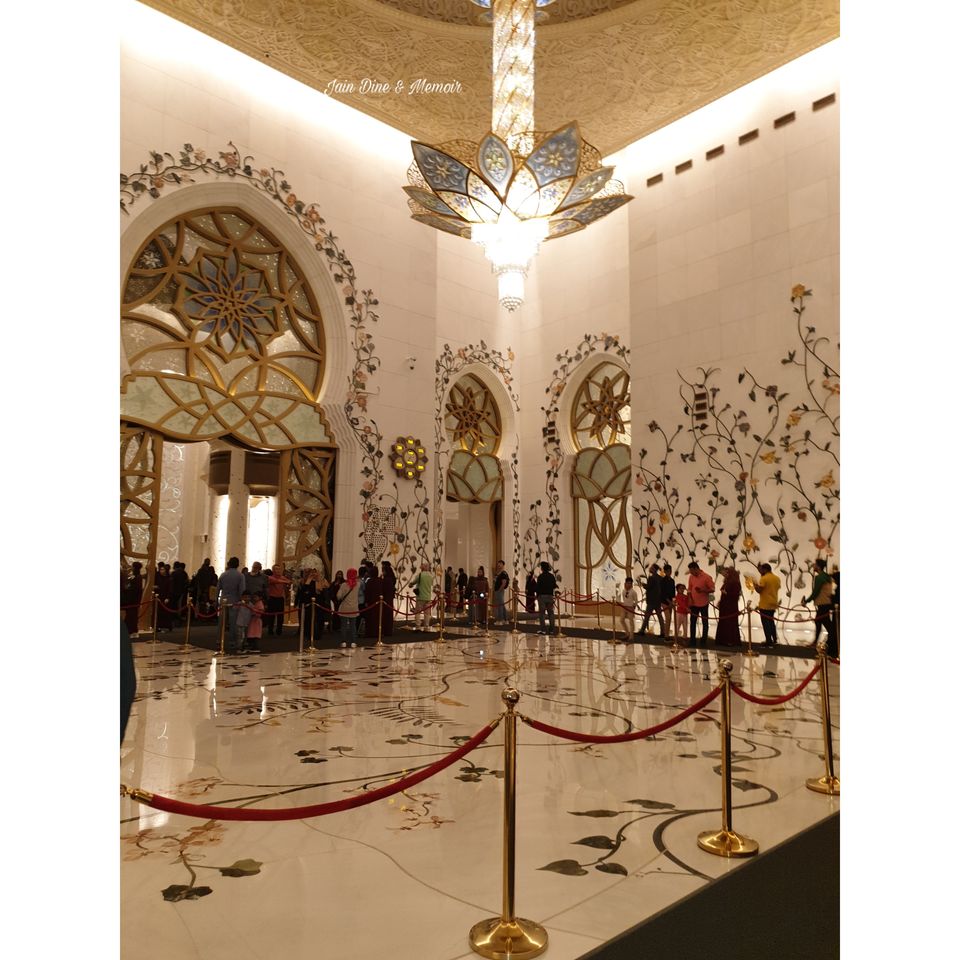 Day 6 : Old Dubai, Gold Souk and Spices Souk

Gold and Spices Souk – Fascinated with the talks on the purity of gold in Dubai, we were extremely intrigued for some shopping. Situated on the other side of Dubai, you are required to take an Abra ride from Bur Dubai to reach here. The 10-15 min Abra ride is extremely soothing and will drop you close to the Gold and Spice Souk. Reaching the Souks, we had a list of purchases specially because of the great quality of spices, gold and cheap souvenirs and hence we could not wait but bounce for some shopping.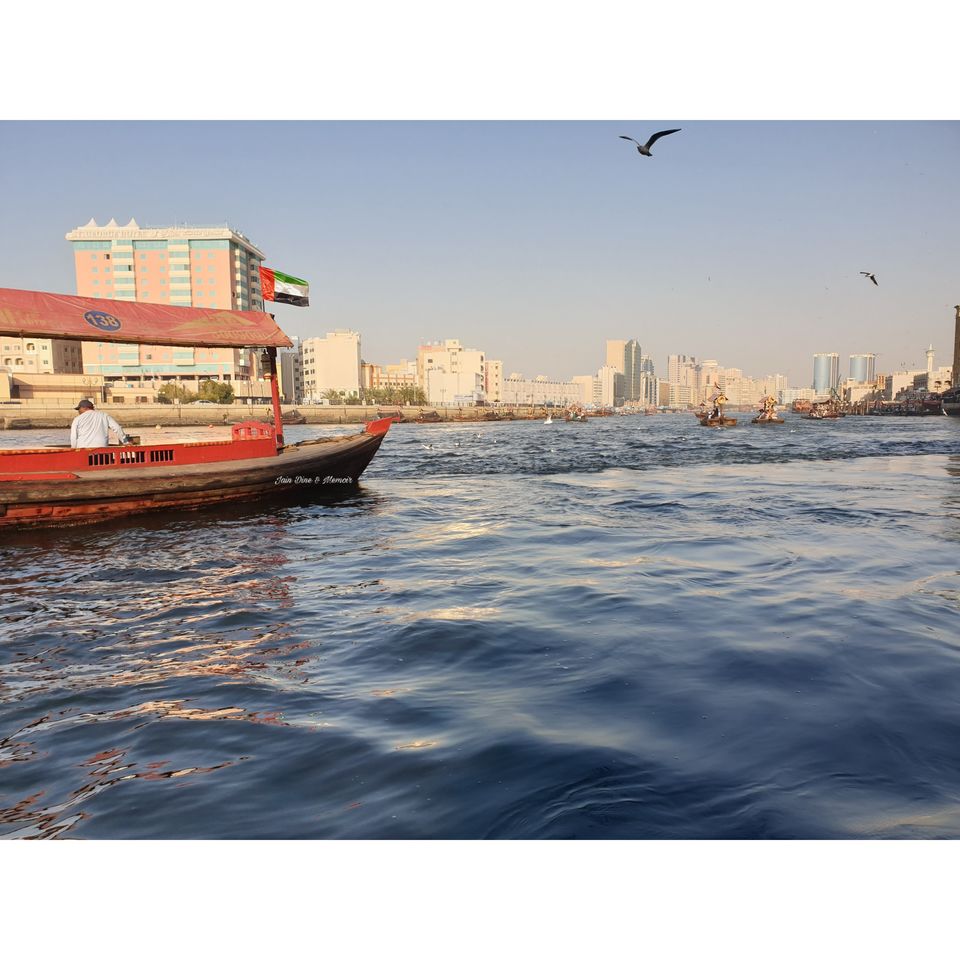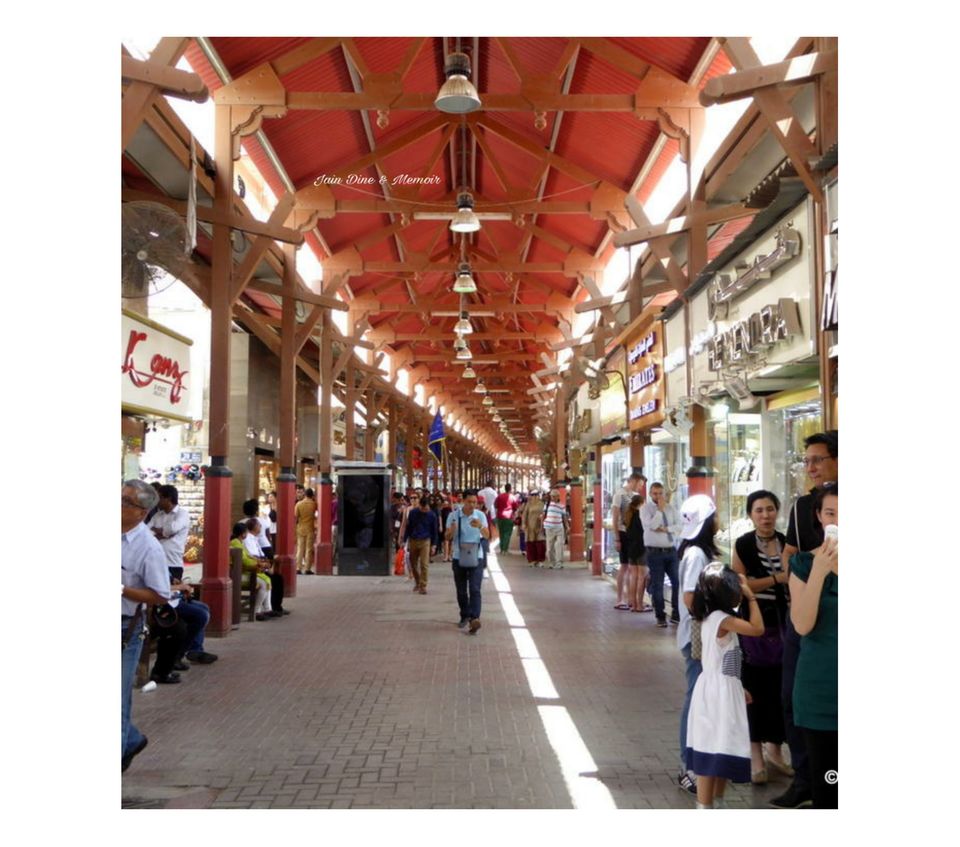 Old Dubai – Diving in the history of Dubai, there are plethora of places to visit such as Dubai Museum, Bastakiya neighbourhood, Meena Bazaar, Bur Dubai etc. Considering that our day was reserved predominantly for shopping, we went ahead and roamed around Bur Dubai including the Meena Bazaar (again famous for gold shopping), the various shops of perfumes, souvenirs etc.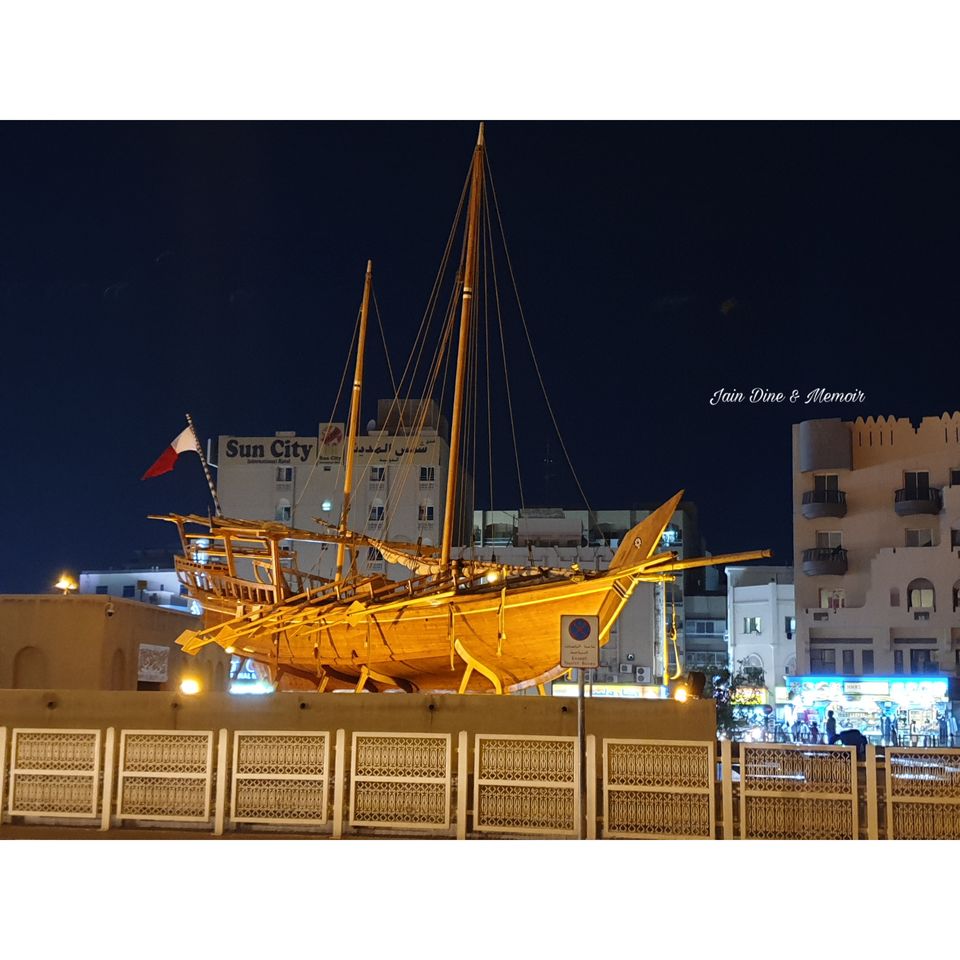 Owing to the paucity of time, we did not extensively roam the Old Dubai region, however if you are keen to appreciate the history of Dubai, then you can visit the Dubai Museum and Bastakiya.
We had a midnight flight, so immediately after dinner we left for the airport and this sums up our Dubai travelcation. While returning back to India, we all had so many emotions involved, so many learning takeaways and so much experience about culture that we had got along that my only advise to everyone will be to travel out of your comfort zone because only that makes you grow.
To give you a quick breakup of our costs – Flights costed us approx. INR 14,000, visa cost of INR 6,000, our accommodation was approx. INR 7,000 for 6 days, charges for tourist attraction entry was approx. INR 20,000, internal travel was approx. INR 3,500 and food was approx. INR 8,000.
Hope this itinerary will help you plan an amazing trip !
Incase of any queries/ suggestions, please feel free to write on jaindinememoir@gmail.com.