Dubai, the one stop travel destination for people of all age groups. May it be the Dubai shopping festival, World's tallest structure Burj Khalifa, the adventurous Desert safari or the cruise at the Dubai creek, Dubai will never disappoint. Not to forget the date market and the gold souk, the grandeur is one to look for!
I have always found travelers either searching for a Dubai tour guide or looking for a planned tour package. There is a major confusion about how to go about the trip.
Here's presenting my version of the Dubai itinerary for all you travellers!
We started with the flight bookings. We opted for a lowest cost flight to Abu Dhabi (generally Emirates or Etihad is preferred amongst travelers travelling to Dubai). Most of the travellers directly go to Dubai but we didn't!! We thought of spending the day we landed in Abu Dhabi and then continuing our journey to Dubai thereafter. This reduced the flight cost and the one way cost we had to pay if we had come back and forth to Abu Dhabi sometime later in the tour.
We booked the flights Pune
Onward Airlines: Jet Airways offering in flight food!!!
Time: 4:00 am
Return Airlines: Spicejet
Time: 1:00 am
Total cost 15,000 per head – booked 3 months in advance from www.via.com
Day 1:
We reached Abu Dhabi Airport at 8am (India Time). I had read about Abu Dhabi Airport being one among the most beautiful and grand airport among the top rated ones.
The time difference is one and half an hour between Dubai and India. Ideally our watch had to be set once we had landed. But we completely forgot!
We collected our baggage and decided to freshen up for a day long sightseeing. We kept an eye on our watch (that showed India time and we have completely forgot about it). Our pick up was scheduled at 9 am from Abu Dhabi Airport so we had to hurry. It was 8:55 am when we were ready and waiting for the pickup in the inside of the main entry area of the airport. Something clicked and I hurried to check my watch timing. I found the airport clock.....It was just 8am! We laughed on our absent mindedness. We now had to wait for an extra hour not being able to enter the airport main area but just while our time at the entrance.
Finally, at 9am, our driver had come to receive us. We then started off with the sightseeing in Abu Dhabi. I missed the chance to see the airport but every next time I travelled I made sure I get the clock ticking at the correct time........
Our below places of interest in series:
View of the Emirates Palace and the two famous towers debuted in famous movie series of Fast and Furious.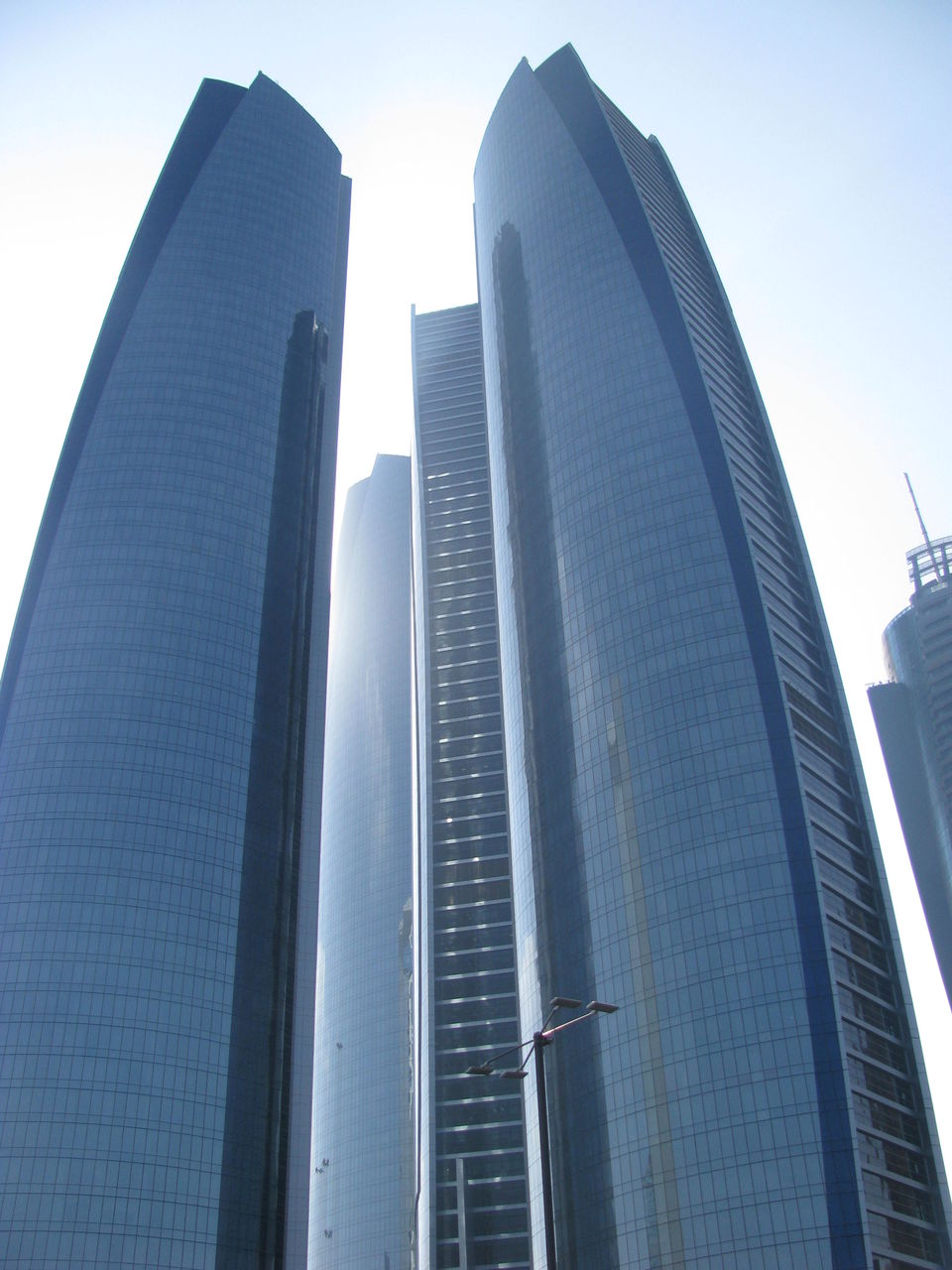 Abu Dhabi Mosque/ Sheikh Zayed Mosque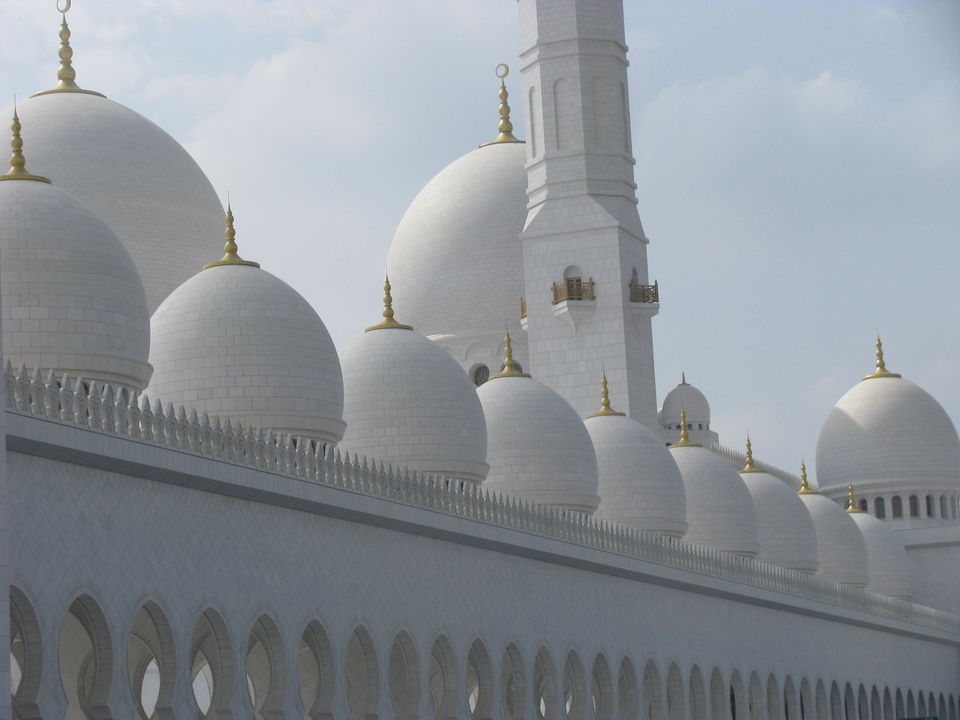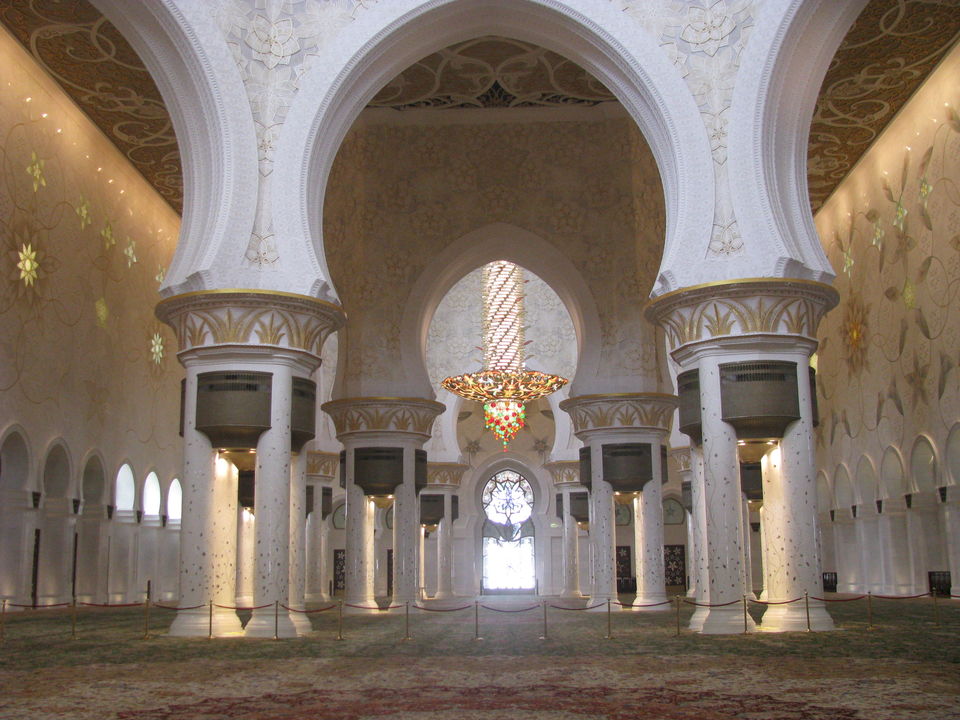 Dates market
Abu Dhabi city tour
After being enthralled by the modern skyline, the white marble domes, largest Persian carpet interiors and juicy dates in Abu Dhabi we continued our onward journey to Dubai via the famous Sheikh Zayed Road. The road to Dubai from Abu Dhabi is well engineered. UAE has a world class transportation infrastructure. Roads in particular are well maintained with speed limits of 140km/hr.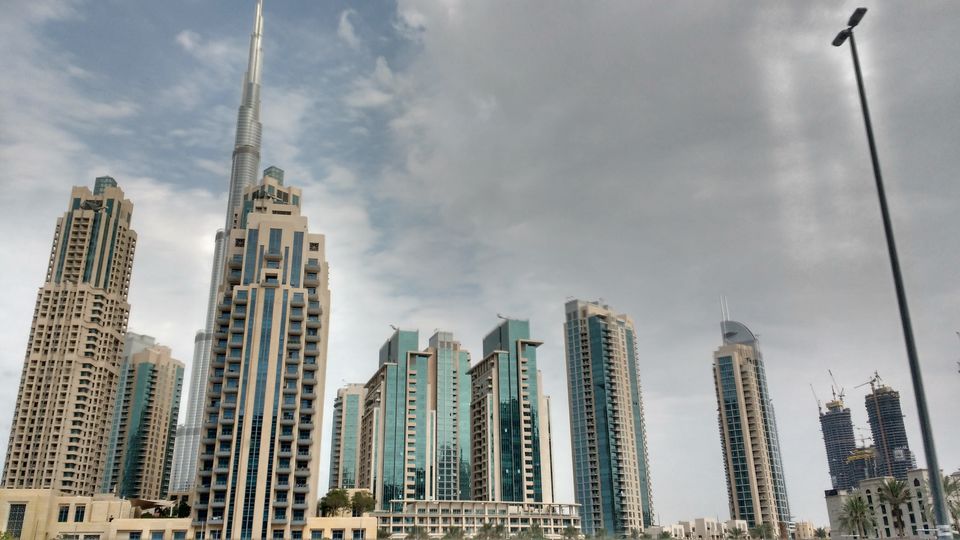 Travellers can wish to visit the Ferrari World for the fastest ever roller coaster ride experience. Cost per person: AED 275
We reached Dubai at 5 pm and headed straight to our Hotel. We chose Hotel Admiral Plaza in Bur Dubai, an area that has good accessibility. The famous Meena bazaar, Dubai creek, gold souk market, Indian jewellers' shop and the Indian restaurants were just a walk away.
Hotel stay costs: 30000 for 4 nights and 5 days for 3 persons. We booked this hotel 3 months prior hence getting a good deal.
Website for hotel bookings: www.booking.com
The breakfast was excellent having Indian, continental, bakery, cheeses, and fruits - overall a sumptuous affair!!
We got ready for the Dhow cruise dinner tour. Our pickup was waiting for us and we were at the creek at 8.30pm. The total cruise time is 2 hours with a sumptuous dinner, Arabic music, dance and magic shows. After a novel experience of the fascinating lights at the Dubai creek, we returned to the hotel at 11pm.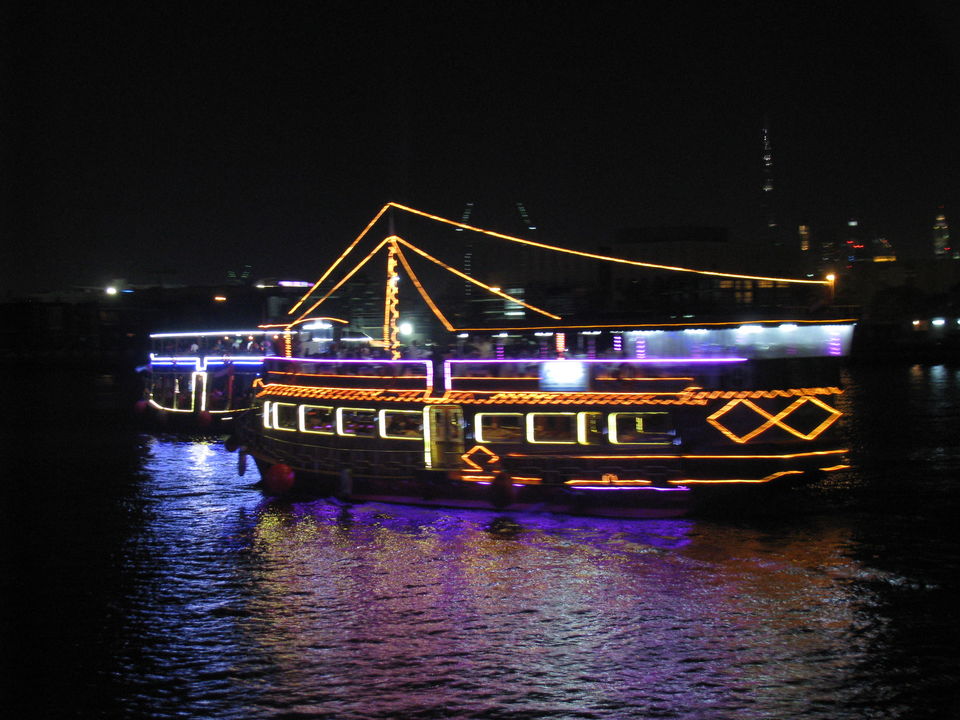 Dhow cruise tour website for booking: http://www.dhowcruisedubai.com/
Cost with dinner for 2 hrs : 145 AED
Day 2:
We started our day with a lavish breakfast at the hotel. Our tour car for the day came to pick us and we started off with our Dubai city sightseeing with the famous Dubai Museum
The Jumeirah beach.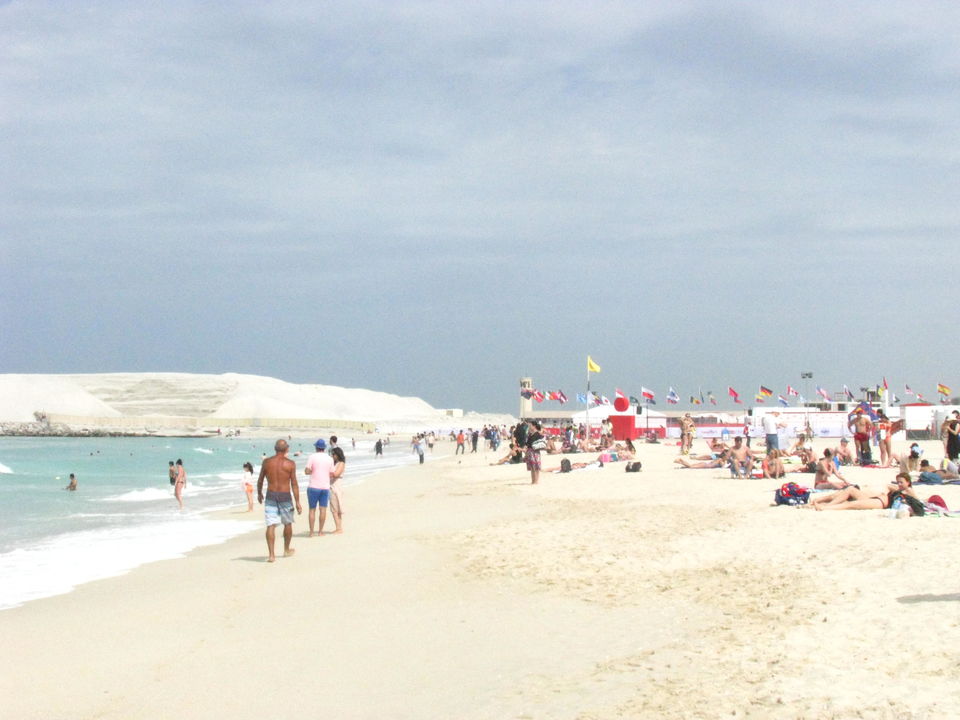 View of Al Burj Hotel and mini Europe.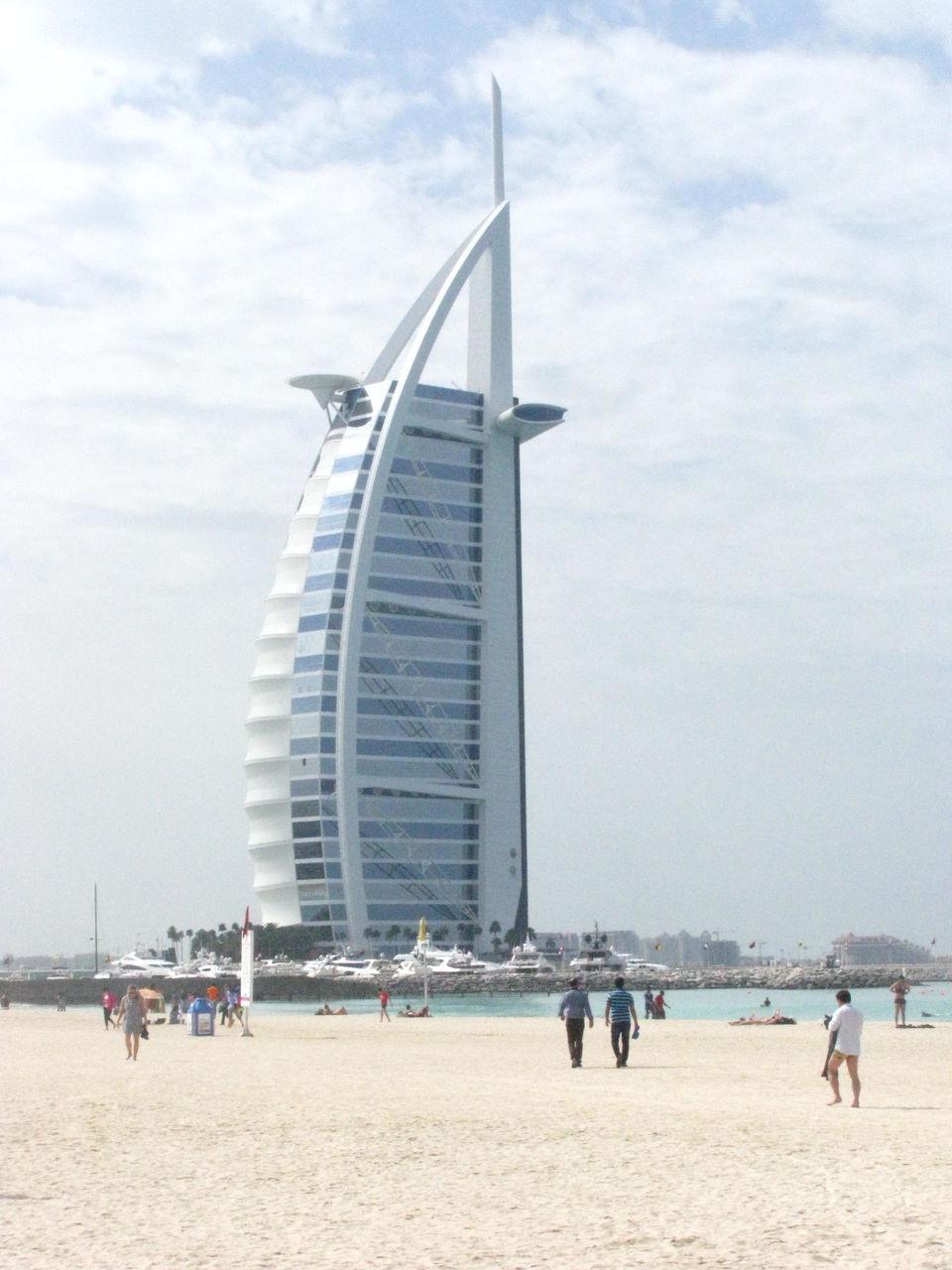 A round about in the Sheikh Zayed mansion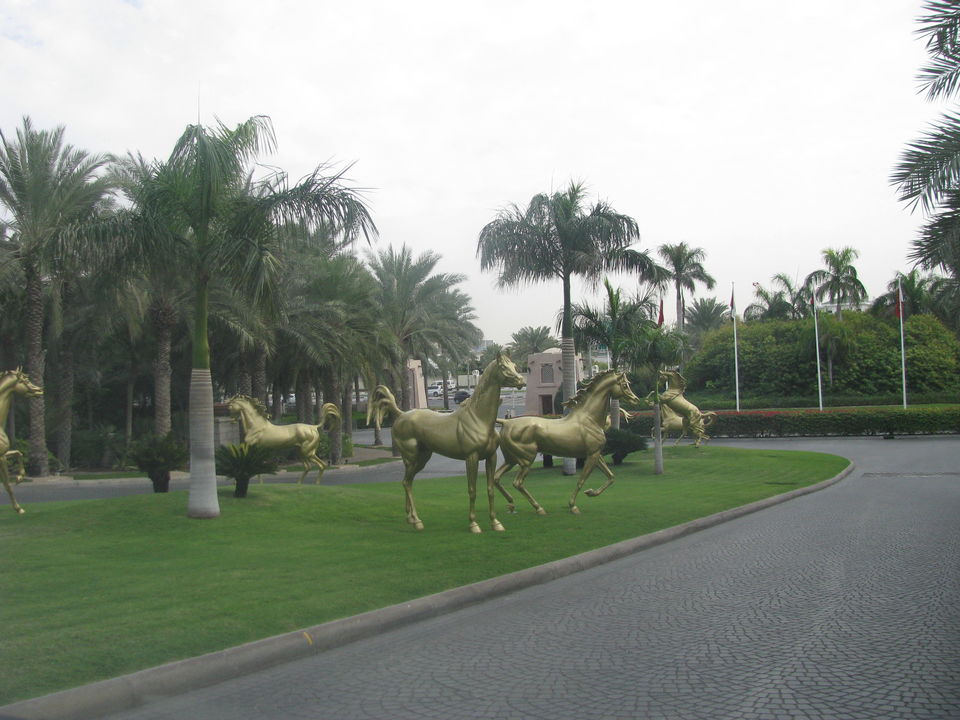 One way monorail ride to the Palm Islands and the Atlantis hotel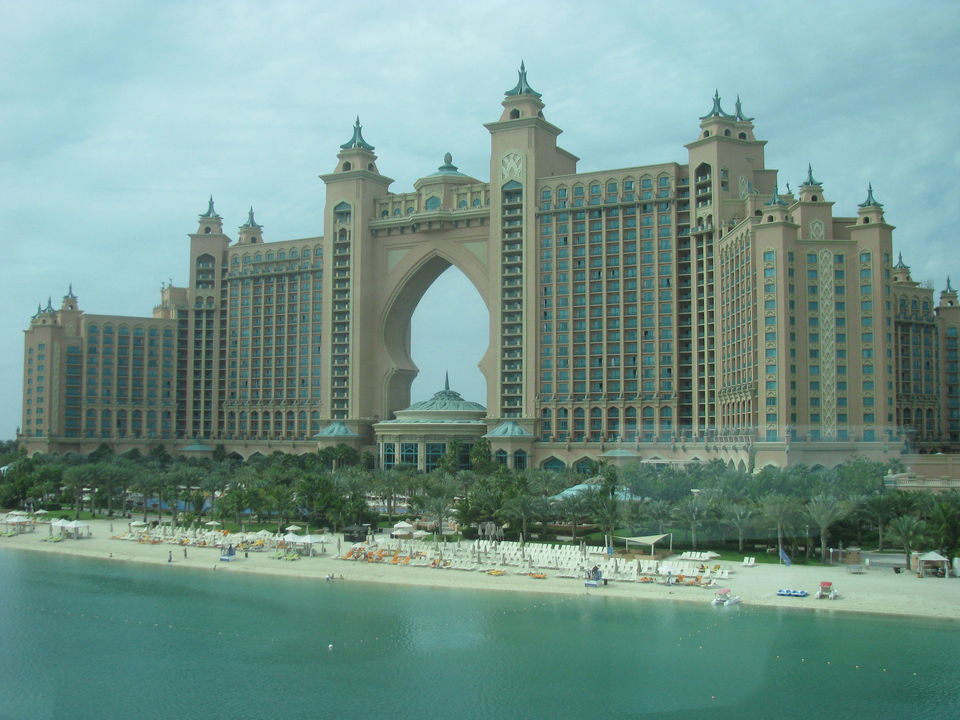 Travellers can also opt for Atlantis Aquarium at a cost of AED 100
For return, we opted for the car pickup as the road through the Palm Islands to the city is super awesome! You will be able to spot SRK's bungalow at the Palm Island too.
The city tour ended and we returned to our hotel for some rest.
In the evening we left for Dubai Safari tour at 5 pm. This adventurous experience was breathtaking and left us captivated with the roller coaster ride in the desert. They left us at the camp for enjoying the picturesque sunset, camel rides, desert scooter ride and mesmerising desert atmosphere below the starry sky. Not forgetting the delicious barbecue meal after enjoying belly dance on pulsating Arabic music.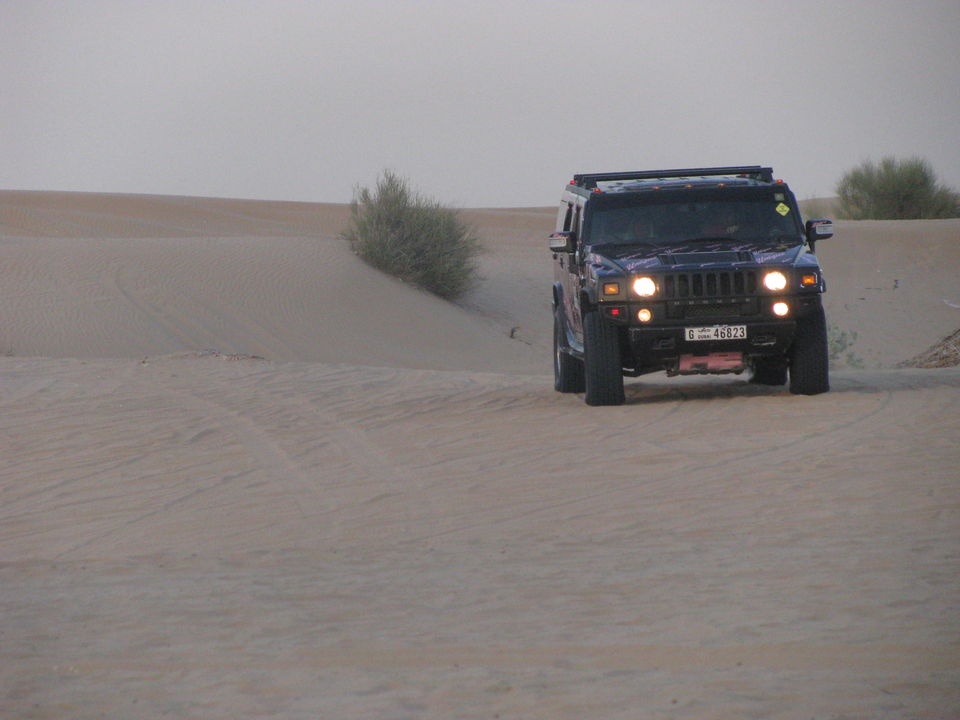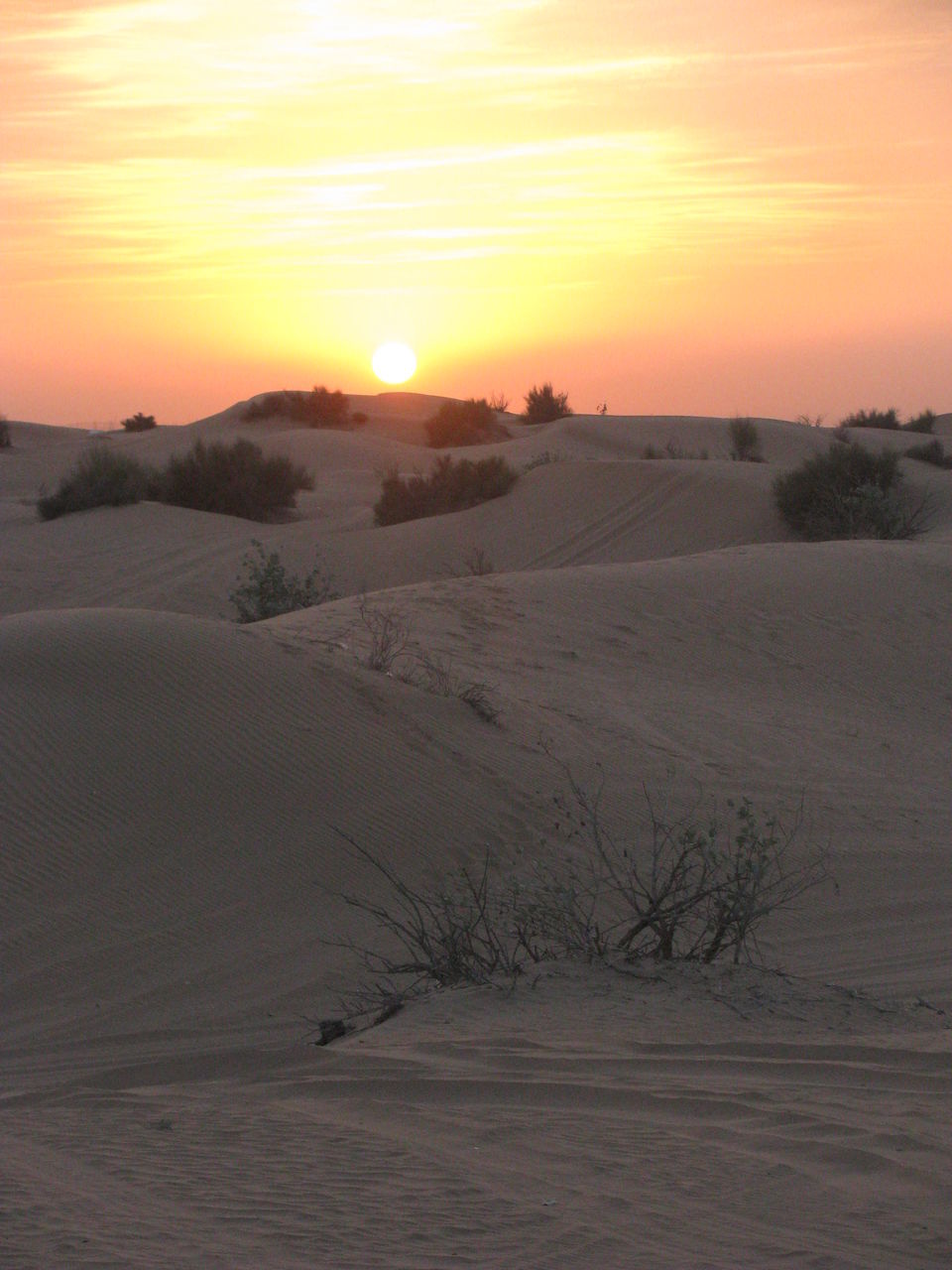 Desert Safari tour details:
Cost: AED 125 per head including dinner, pickup and drop back to the hotel
Day 3:
We kept this day a little relaxed. The whole day was dedicated to Dubai mall and Burj Khalifa.
We started at 10 am from our hotel. We had already booked our slot for Burj Khalifa for 124th and 125th floor view. We opted for a 3.30 pm slot as for the peak slot from 4 pm up to 6.30 pm, the rates per slot do top the charts. We decided to wait till the sunset and the view of Dubai fountain.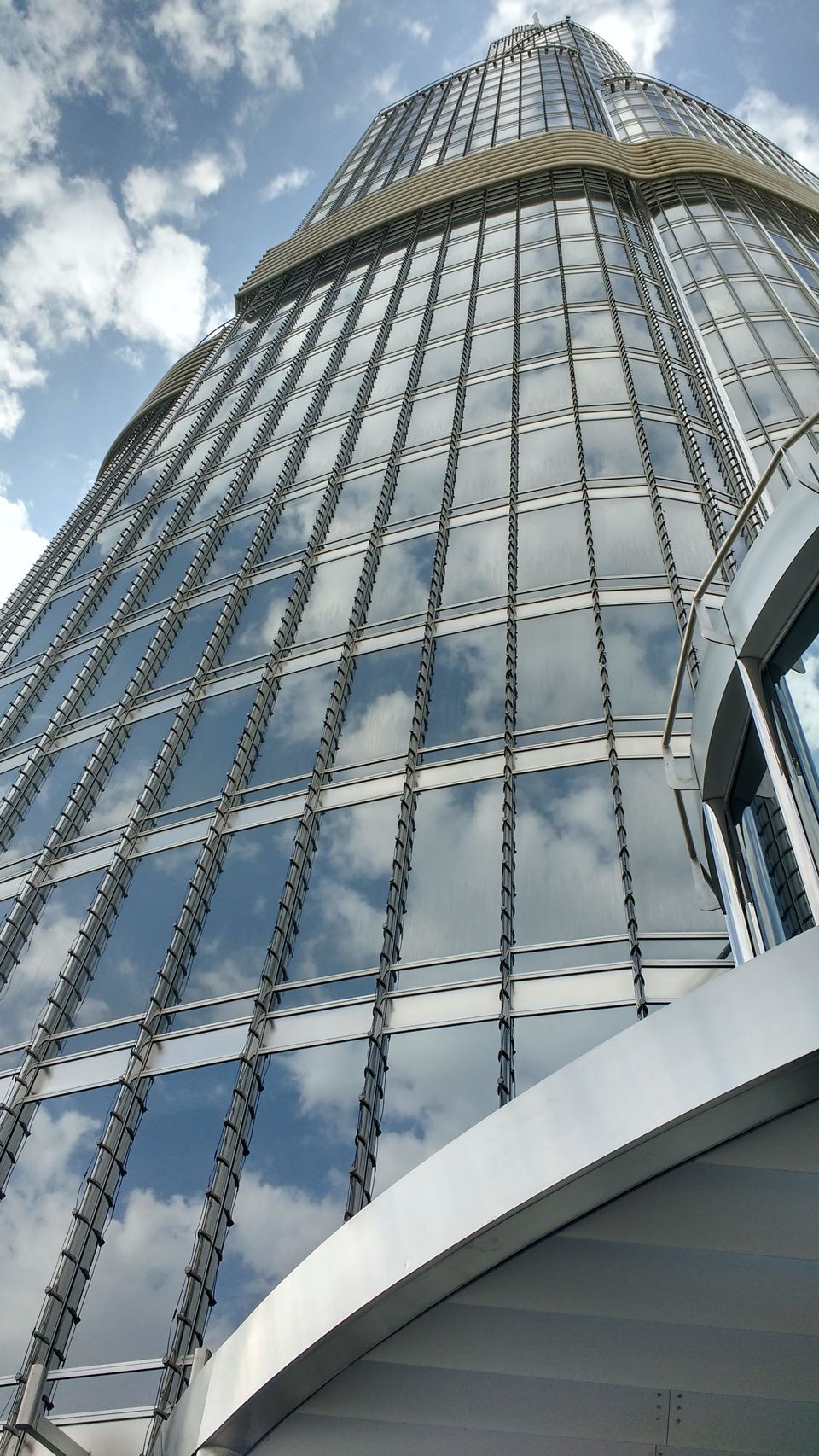 Finally, the light dimmed , the sun on its way to set, all cameras clicking from different angles, purely serene and pleasurable view made everyone immerse in its beauty. The view of Dubai fountain from the top was captivating.
Ah! Not forgetting the lift that took us to and fro the 124th floor in 1min....awesome!!!
Burj Khalifa booking details:
Website to book your slot: www.tiqets.com/burj-Khalifa/dubai
Cost: non prime hours : AED 125, prime hours : AED 200
We returned back to the mall and then to our hotel after dinner in Vasant Bhavan just beside our hotel.
Day 4:
We decided to spend this day at the Deira mall. After a quick window shopping, we were lucky to have the Miracle garden open. Visiting the Dubai Miracle garden was a special experience! A few kilometers away from the main Dubai city, Miracle garden is the world's largest natural flower garden featuring over 109 million flowers planted. This garden is open from October to April and remains closed from June to September due to high temperatures. In this period the garden is under maintenance with change of the flower arrangements every year.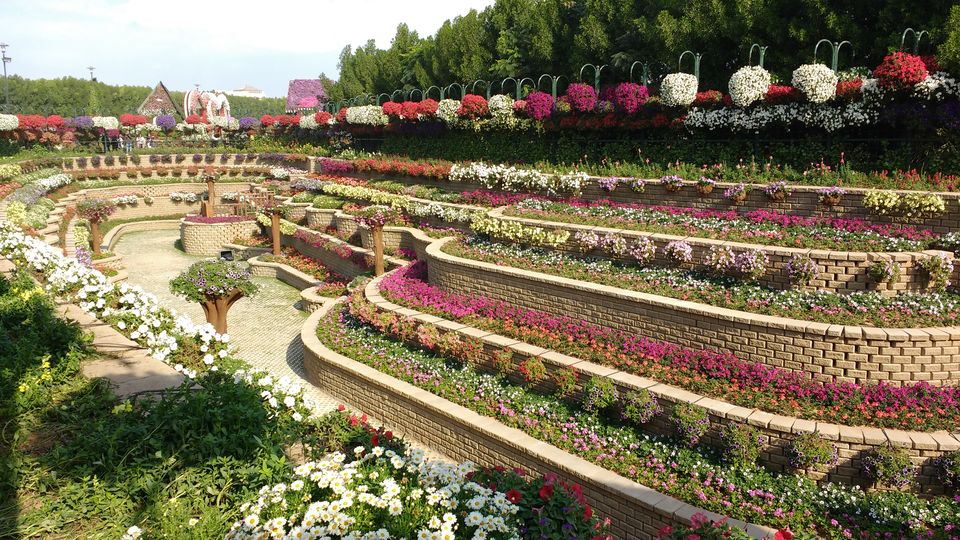 Cost of entry: 30AED per person
Bus details from Meena Bazaar: Bus route 105 ticket of 5AED.
We returned to the hotel after some awesome clicks at the garden for rest.
In the evening, we then headed to Gold Souk market. We had to walk down to the Dubai creek few distance from our hotel then take a ferry to the Gold Souk market at a nominal cost of 0.5AED. Even if you are not interested in buying the gold, a stroll through the dazzling Gold Souk is a must.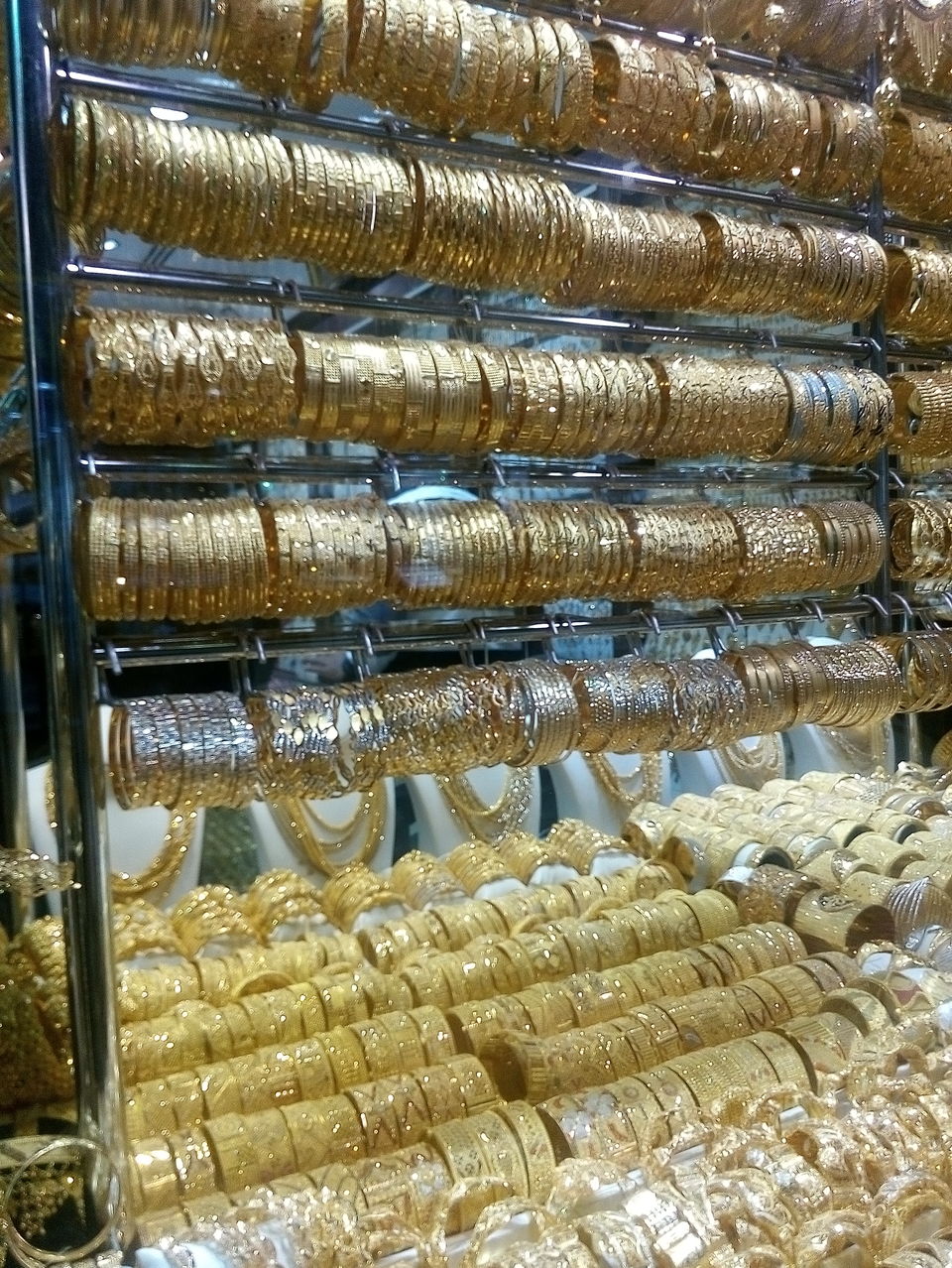 The day ended with Indian chat at the Hotel Puranmal.
Day 5:
This was the last day for us in Dubai as we had to head home in the evening.
We spent the morning lazily in the hotel with a slow paced breakfast, selfies and clicks featuring the hotel interior. We then shopped in Meena Bazaar buying souvenirs for our showcase. We were lucky to get some good cosmetics at a very affordable cost. Also a Burj Khalifa idol was a must take away.
We reached airport at 9pm to finally bid goodbye to Dubai.
The overall experience was spellbound and special as we celebrated my parent's 25th marriage anniversary in Dubai...!!!!
Total plan and cost for the trip:
In the plan, I also included places that we had skipped during our tour.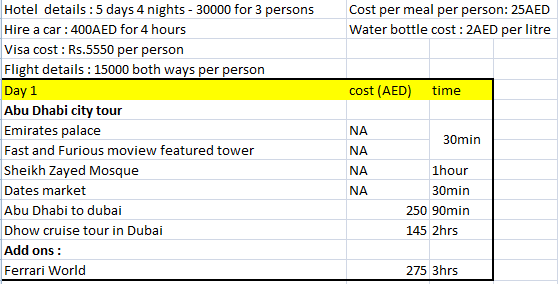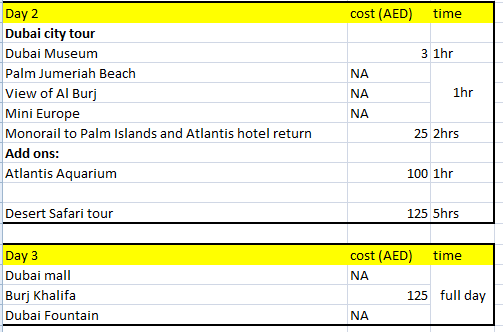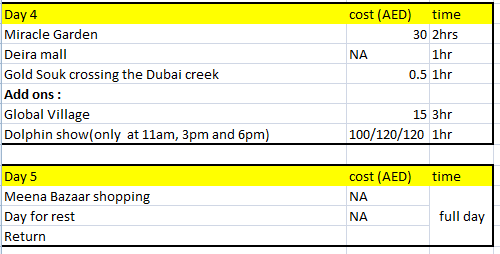 Like /share /comment if you find this useful!! Keep exploring!
Frequent searches leading to this page:-
Dubai tour packages from Delhi, Dubai tour package from India, Dubai tour package from Mumbai, Dubai tour packages from Ahmadabad, Dubai tour packages