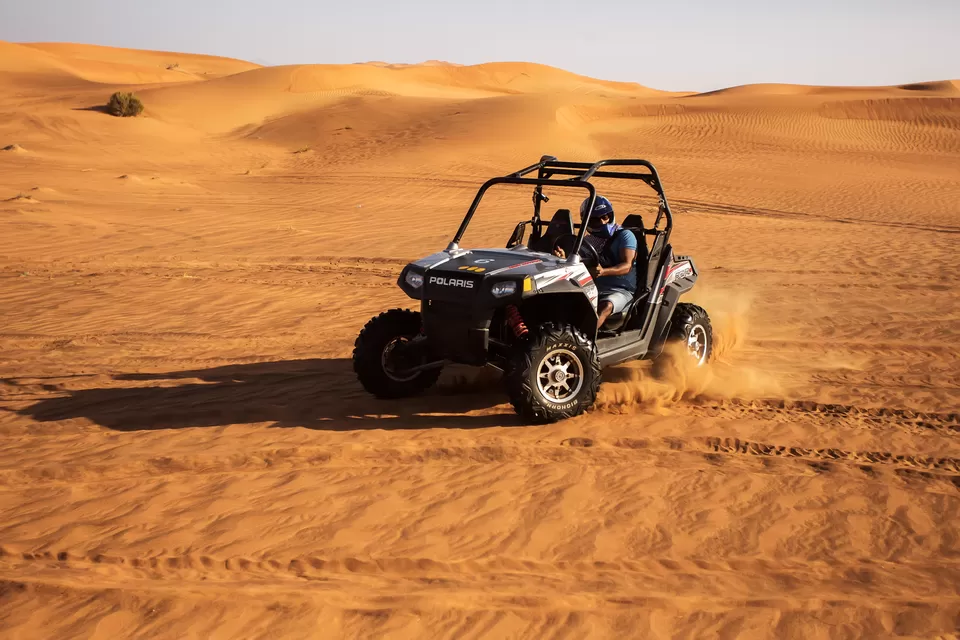 Glitzy skyline, sandy beaches, and a day as vibrant as the nightlife– Dubai is a scintillating display of extravagance and luxury that never ceases to attract travellers. Whether you want to sandboard down towering dunes or invoke your inner shopaholic at one of the world's most glamorous cities, this city in the Middle East has time and again wowed us with its splendour! Be it a family holiday, a romantic getaway or an adventure-filled solo journey, there's something in Dubai for everyone.
But let's face it, Dubai can be an expensive destination. However, with a little bit of planning and the right resources, you can make the most of this beautiful city without breaking the bank. Enter Go City – your personal concierge for discovering the best in Dubai. With their comprehensive passes, you can access some of the most popular attractions in town without having to wait in line. Plus, they even offer discounts on attractions so that you get more bang for your buck! With no entry fees and easy access through the Go City app, you can spend less time planning and more time enjoying.
Which pass should you choose?
The Go City Dubai Pass comes in two varieties – the Explorer Pass and All-Inclusive Pass. The former allows you to choose attractions you want to visit, giving you 60 days from the purchase date to explore. This is great if you're looking for a few must-see experiences without having to pay full price each time. On the other hand, if your idea of fun involves taking in all that Dubai has got to offer, then the All-Inclusive pass will be perfect for you! With this one, you can access unlimited attractions every day, allowing you to make the most of your time in this vibrant city.
So with the Go City Dubai passes in hand, you can now embark on your journey to explore the best of this glimmering metropolis. Skip the queues, take a dive into the city's culture and heritage, or shop till you drop – the possibilities are endless. And depending on the kind of traveller you are, here's how you can explore Dubai like a local. All the following attractions are part of Go City's unique offerings.
For families:
Rise atop the clouds at Burj Khalifa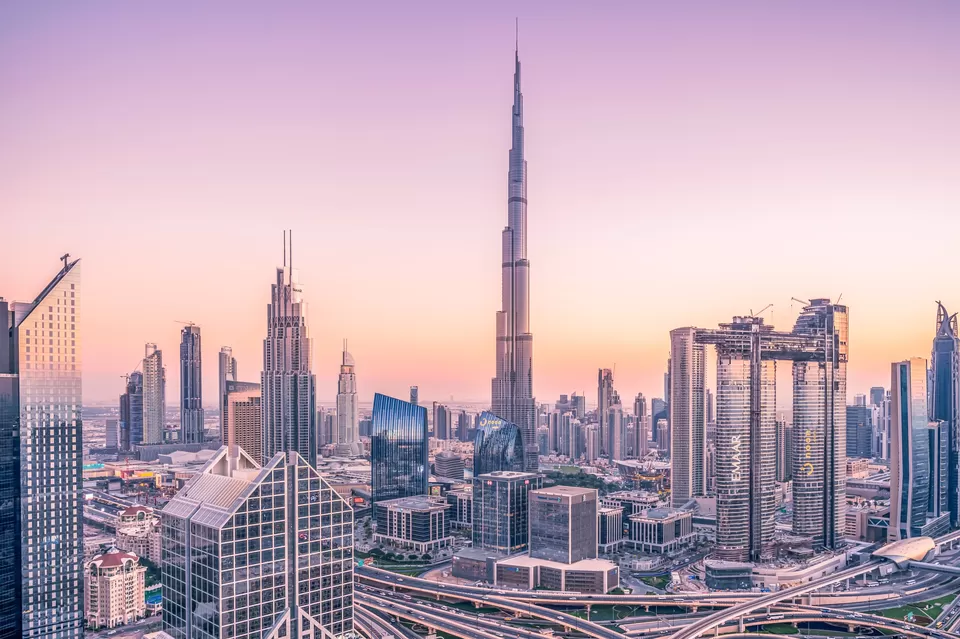 Ascend through the clouds with your family; step onto the 65-metre-long travelator and journey towards the sky at an exhilarating speed of ten metres per second. As you move forward, a unique media display will take you on a captivating tour from Dubai's earliest days to the present day, revealing how this iconic Middle Eastern skyscraper came into existence. Be prepared for your jaw to drop in awe as you experience breathtaking views of Dubai's cityscape that stretch out before you like a sea of twinkling stars. The observation decks are equipped with telescopes and full HD cameras, allowing you to explore Dubai's landmarks in a unique and interactive way.
Enchant your soul at Magic Park, Dinosaur Park and Glow Park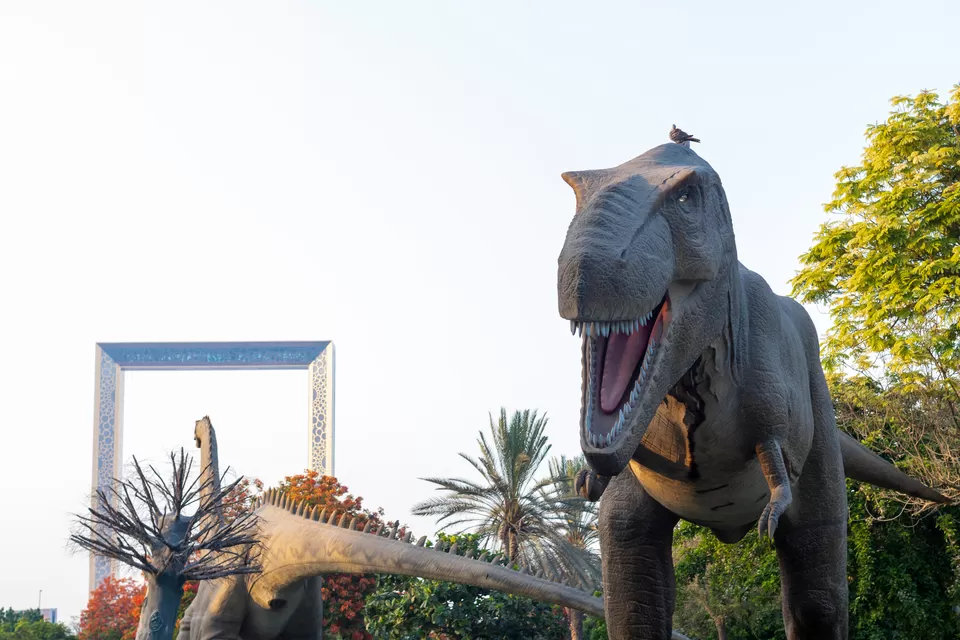 Step into the fantastical world of Dubai Garden Glow and be enchanted by its many wonders. Lose yourself in the Magic Park, where optical illusions and 3D art exhibitions will have you dancing on the ceiling! Greet two life-size monsters – T-rex and diplodocus, at the Dinosaur Park, alongside velociraptors, triceratops and pterodactyls. And when night falls, head to Glow Park to capture mesmerising selfies in its glowing tunnels filled with giant jellyfish, seahorses, peacocks and insects playing musical instruments! Experience a truly unforgettable evening at this one-of-a-kind theme park that promises something for everyone.
Uncover the blues at Dubai Aquarium and Underwater Zoo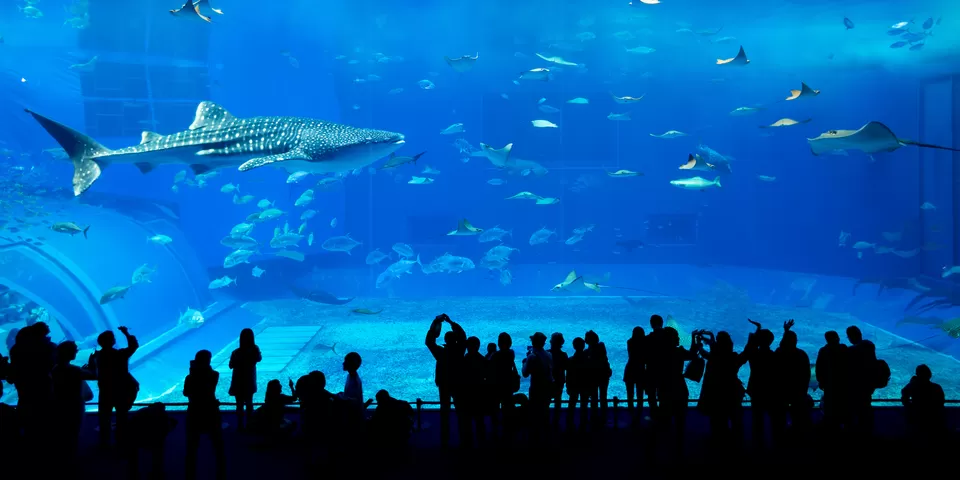 Marine life abounds in the depths of Dubai's wondrous Aquarium and Underwater Zoo. A mesmerising journey through a walk-through tunnel transports visitors to a world beneath the waves, where sand tiger sharks, piranhas, king crocodiles, giant spider crabs and more await discovery. Explorers can amble along the path with cameras in hand, capturing unforgettable memories of these majestic creatures. The Underwater Zoo provides an even closer look into the aquatic realm with over 40 display tanks filled with three distinct ecosystems – Rainforest, Rocky Shore and Living Ocean. You can marvel at the remarkable diversity within each habitat: from crocodiles to crabs, piranhas to playful otters!
Get inside a time capsule at the Museum of the Future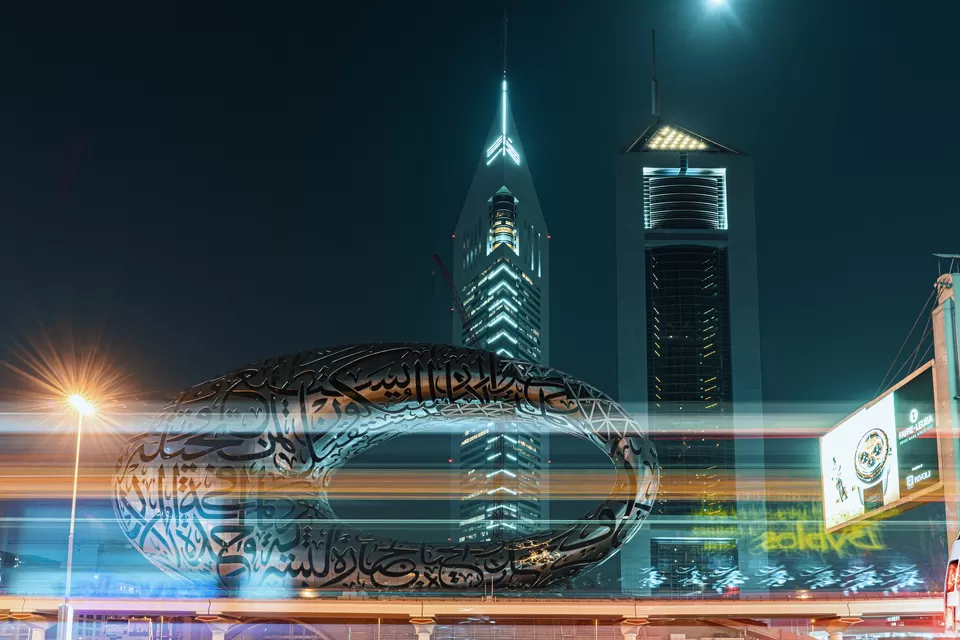 Step into a transcendental world of possibilities. An otherworldly experience awaits you at the Museum of the Future, where your imagination is unleashed to explore what could be. If you've always wondered what it's like to enter the space station, this is where you'll find your answers! Marvel at the stars as you discover renewable energy sources from beyond our solar system. Learn about groundbreaking missions that have pushed humanity's boundaries further and get immersed in an array of inventions that will shape our future. Delve into nature's secrets with a journey through the 'digital Amazon', as you encounter new species and uncover fresh perspectives on climate change.
For friends:
Have a splashing good time at Aquaventure Waterpark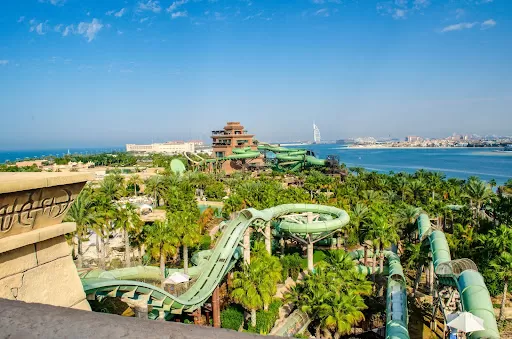 Gang up with your friends for a thrilling adventure at Aquaventure Waterpark! Dive into the depths of an exhilarating shark-filled lagoon called Leap of Faith, brave Poseidon's Revenge, and twist and turn through the Aquaconda slide, all while taking in breathtaking views of Dubai from above. Or take a leisurely float down the Rapids, meandering through 1.6 kilometres of fast-moving waters that will make you feel like you're in another world entirely. When it's time to relax, kick back and enjoy a day on Aquaventure beach with its 700 metres of pristine golden sand – perfect for sunbathing!
Take the off-road adventure with Morning Thrill Buggy Rides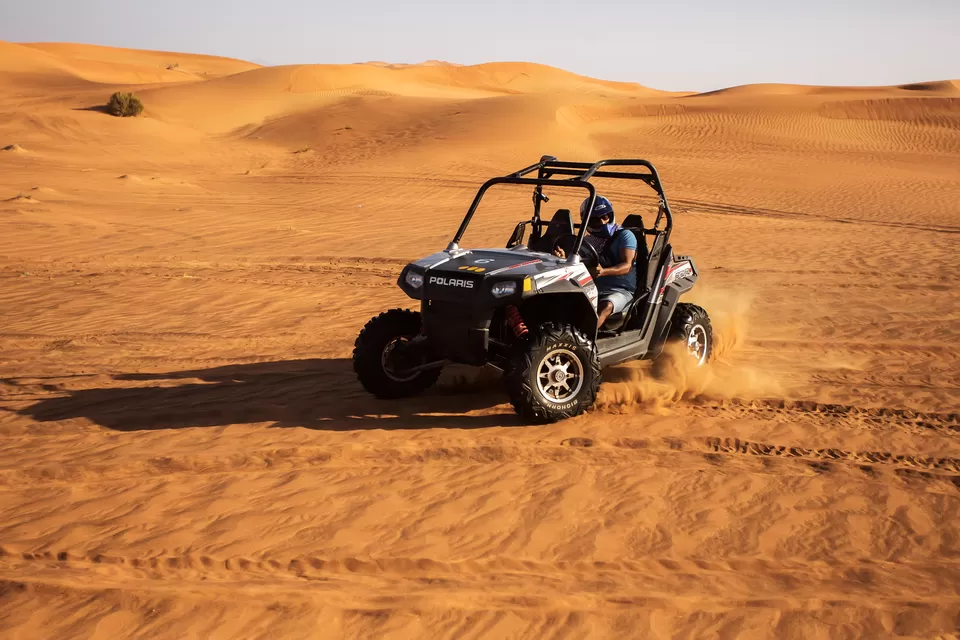 Don't forget to explore the wild in Dubai with your friends, a place where the sands whisper tales of ancient civilizations. On the thrilling dune buggy experience, you'll be swept away from bustling Dubai and into the spectacular desert landscape. Take in stunning views atop a 4x4 Land Cruiser pick-up, before embarking on an off-road adventure with your expert guide at the helm. When you reach camp, it's time to jump into those buggies for some serious fun. Feel the wind whipping through your hair as you zoom across sand dunes that stretch for miles!
Soar high over the city on Flying Cup VIP experience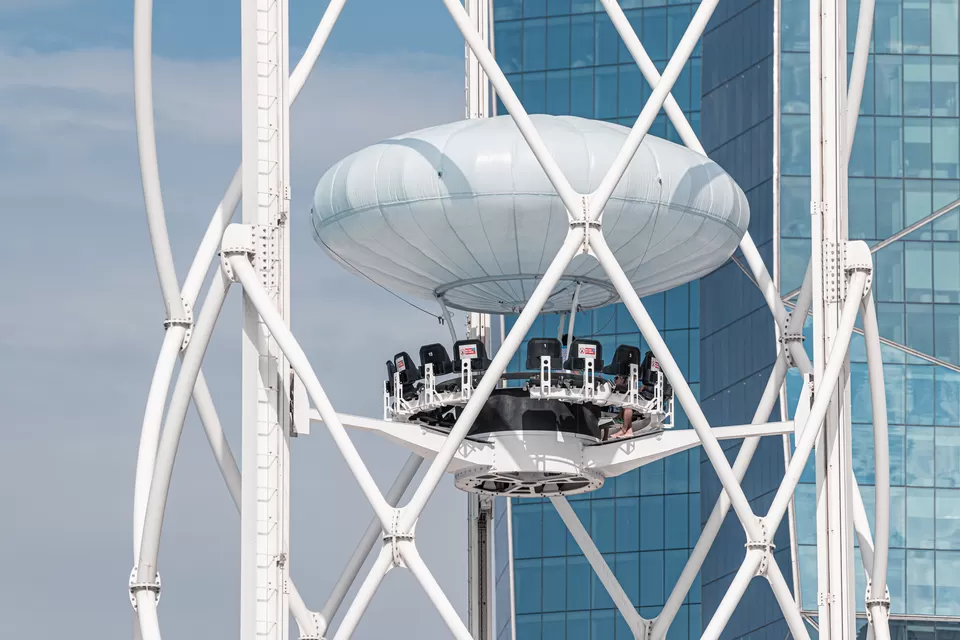 Ever wondered what it's like to take to the skies while you brunch or dine with your friends? The Flying Cup offers you a unique aerial experience with breathtaking views of the city, beach and marina. As your feet dangle in the air, let yourself be swept away by the gentle rotation of 360 degrees as you admire Dubai's beauty from a whole new perspective. Sip on a delicious premium soft drink and enjoy a selection of tasty snacks as you soar high above the ground. When your journey is over, you'll be presented with a special souvenir photo to remember this magical experience.
Gaze down upon Dubai from Sky Views Observatory and Glass Slide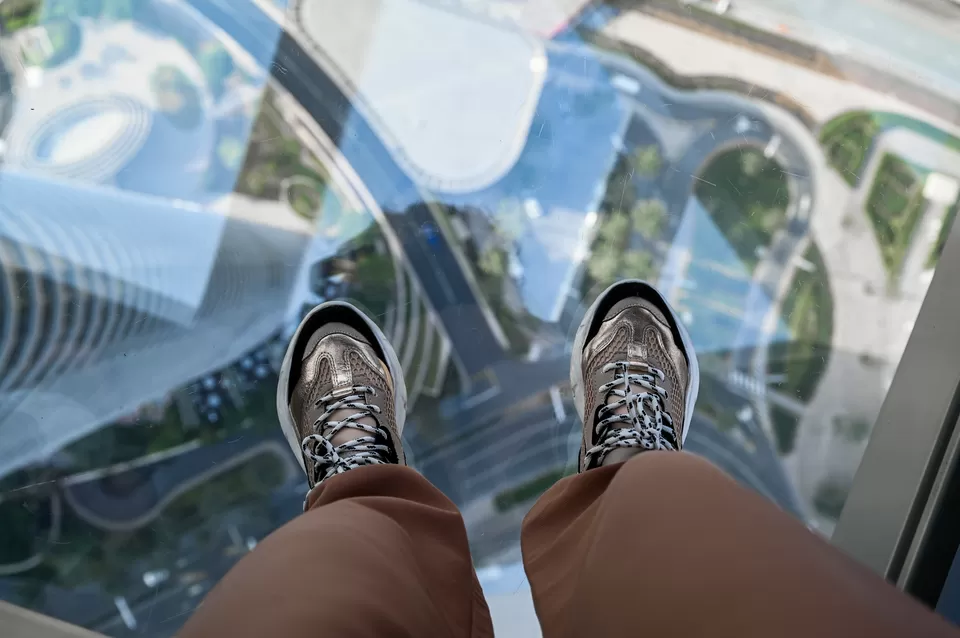 Dare to take in the magical panoramas of Dubai from the dizzying heights of its tallest tower? Climb up to the 53rd floor and prepare yourself for a truly unforgettable experience! Feel your heart race as you step out onto the 25-metre glass walkway, suspended high above ground. Gaze down upon the vibrant metropolis through a unique perspective, and if you're brave enough, slide down on an exhilarating ride that wraps around the building's exterior between levels 53 and 52. For those looking for even more thrills, upgrade your ticket to include an Edge Walk where there isn't any barrier or window blocking your view – just pure adrenaline!
For couples:
Sail away on a romantic Sunset Dinner Cruise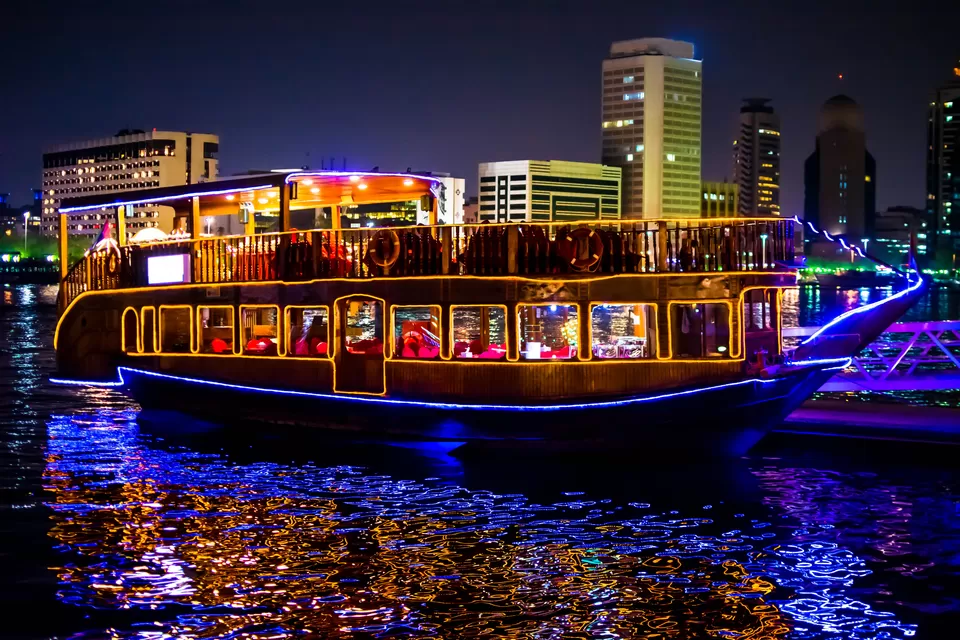 Get cosy with your partner and watch the sun dip behind the horizon as you board a luxurious sunset dinner cruise. As you sip on your welcome drink, take in the breathtaking views of Dubai's iconic skyline with its towering skyscrapers. Marvel at the marina, gaze upon the tallest block of towers in the world and be wowed by Cayan Tower's impressive architecture. Imagine indulging in a sumptuous buffet feast with your loved one as the boat sails past Jumeirah Beach Residence and its waterfront!
Have a blast with snow at Ski Dubai Snow Classic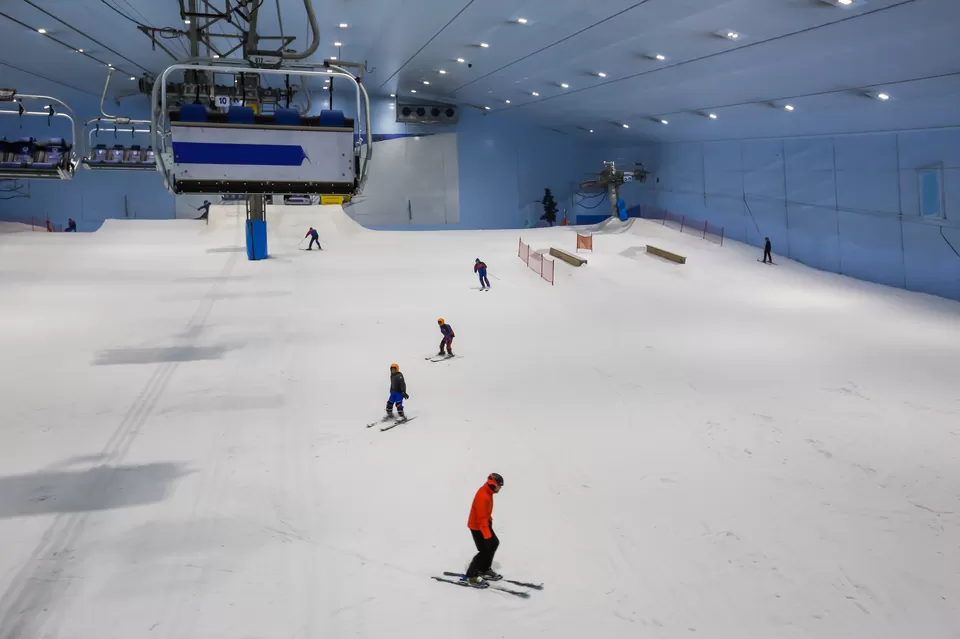 A fun day filled with magical snow and laughter awaits you and your partner at Ski Dubai Snow Park, the Middle East's first and the world's largest indoor ski resort. Enjoy a romantic day of tobogganing down the slopes together followed by breathtaking views from atop the chairlift as you admire snow-capped views amidst a gorgeous landscape. Take part in exciting winter activities such as snowball fights or sledging on giant inflatable balls, all while being snuggly dressed in warm jackets and pants provided to keep you cosy. Don't forget to watch real Gentoo and King Penguins waddle across the snow during their march.
Take to the seas with Black Pearl Sightseeing Cruise
Romance blended with adventure awaits as you and your beloved set sail aboard the majestic pirate ship. Let Jack Sparrow be your guide as he leads you on a breathtaking journey around Dubai, where the old meets the new. Feel the wind in your hair as you traverse the magical Ras al Khor (Dubai Creek Harbour), admiring its beauty. Pause to take in the awe-inspiring views of the Burj Khalifa from Mohamed Bin Rashid. Capture a moment that will last forever with an unusually romantic picture together atop this majestic pirate ship.
Fly away to romance at iFly Dubai Indoor Skydiving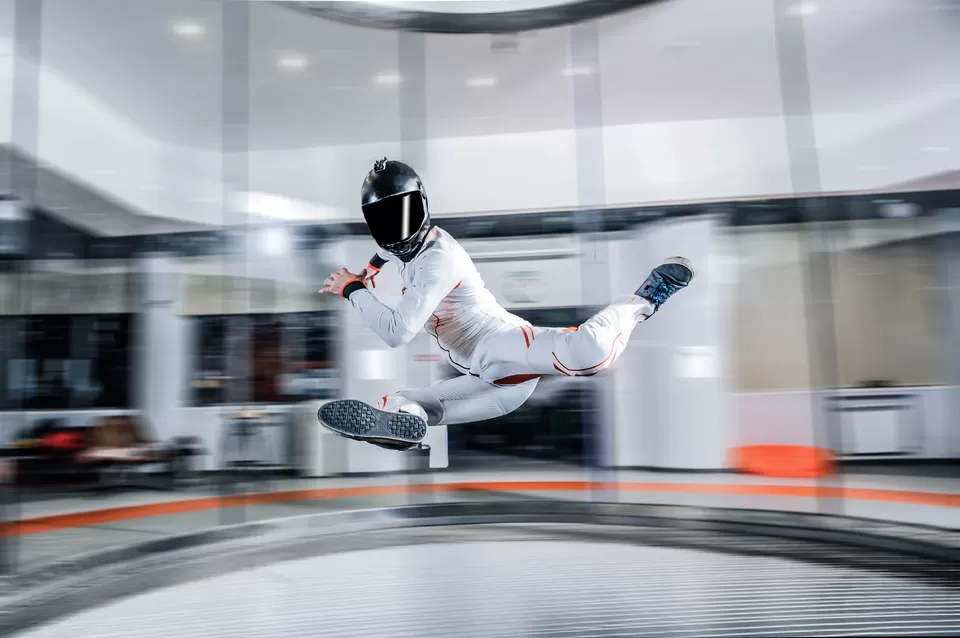 Mid-air romance? You bet! Take your love to new heights with a one-of-a-kind experience that will have you soaring through the air. At iFly Dubai, couples can enjoy a blissful flight in a safe and controlled environment. With wind speeds of up to 200 kph, this vertical chamber is sure to get your heart racing. Your journey begins with an introduction from a certified flight instructor who will equip you both with all the necessary gear and teach you proper body positioning for flying. Then let yourself be swept away as you take off – no plane or parachute needed!
For solo travellers:
Hop around the city with Big Bus Dubai Tour
Solo travellers, get ready to explore the wonders of Dubai in a unique way as you hop aboard the Big Bus tour. Along this hop-on hop-off route, you'll be able to admire Dubai's landmark places such as the Burj Al Arab, Atlantis The Palm, and catch glimpses of traditional gold and spice souks. With pre-recorded commentary in 12 languages, you can learn about each landmark with ease. Explore Heritage Village for a glimpse of Dubai's past, marvel at the Gold Souk and smell exotic spices from Spice Souk. Immerse yourself in the culture of Deira and explore its many attractions.
Admire the grandeur of the Louvre Abu Dhabi Museum and Grand Mosque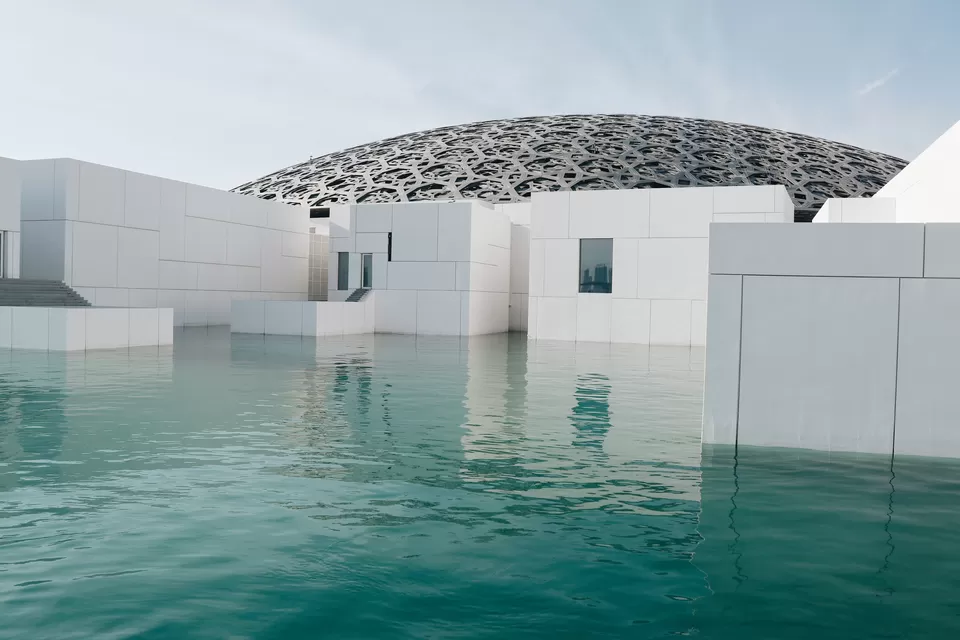 Peace, beauty and grandeur await in Abu Dhabi, a city of captivating contrasts. Start your solo journey at the magnificent Sheikh Zayed Grand Mosque – an exquisite fusion of Islamic architecture with glittering domes, towering minarets and Swarovski chandeliers. Spend your time visiting the courtyard's reflective pools, floral tiling and a quartet of 35-foot-high minarets for lasting memories.
Continue to Louvre Abu Dhabi where you'll find a breathtaking selection of Eastern and Western art from centuries past - including pieces loaned from France's renowned museums such as Louvre, Musée d'Orsay and Palace of Versailles. From Matisse to Manet, Van Gogh to Japanese ceremonial armour, the Louvre Abu Dhabi will take your breath away.
Captain your own ship on a Sea Camel Boat Guided Tour

Ever wanted to feel like the captain of your own ship? Embark on an adventure and explore the stunning Palm Jumeirah in one of Sea Camel's mini speed boats. After a short safety briefing, slip into your life jacket and get ready to set sail! Feel the wind whip through your hair as you glide along the waters past luxury villas and resorts. Following this, push the throttle to its max and zoom towards Burj Al Arab, followed by Logo Island that's owned by Sheikh Mohammed bin Rashid Al Maktoum, and finally pass his private mega yacht 'Dubai' moored behind it.
Dive into adventure with the Nemo Bubblemaker experience

Ah, the sweet smell of the salty sea air! While you're in Dubai, why not take a plunge into the depths of the blue? With Nemo Bubblemaker, you can experience the wonders of the ocean without ever having to come up for air. Let your experienced guide show you how to use the equipment and lead you through an underwater journey that will last 20 minutes. Spot a variety of colourful tropical fish while you swim up to three metres below the surface!
A Middle Eastern dream come true, Dubai is a city that offers the perfect trifecta of culture, luxury and adventure. And with Go City's comprehensive passes, you can unlock all the secrets this scintillating destination has to offer. So, what are you waiting for? Get ready to explore Dubai like a local and make memories that will last a lifetime!
In association with Go City