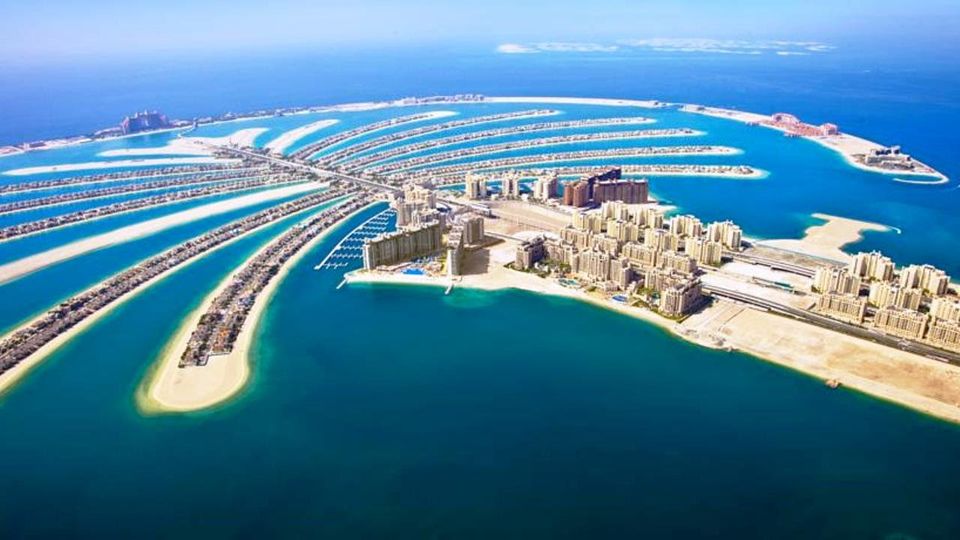 When it comes to planning romantic escapades, Dubai is one place that should undoubtedly cross your mind. A destination that comes with the promise of glitz, charm and countless fun activities, Dubai is certainly the perfect place for a honeymoon, or to whisk away your partner for a spontaneous vacation. While you are at it, check out the best beach 5 star hotels in Dubai for couples that will set the mood just right.
1. The Ritz Carlton Dubai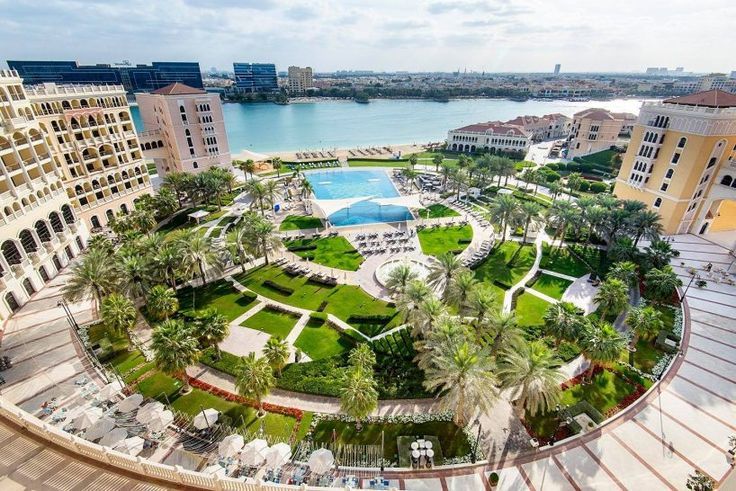 The Ritz Carlton Hotel in Dubai is a romantic beach resort in Dubai accompanying both modern and ancient tinges. This 5 star hotel for couples offers a private beach just off JBR walk and marques itself as a relaxing resort. If you would like to tan or swim in the Arabian Gulf, you can access the hotel's private beach anytime. It also offers spa facilities with signature treatments and therapies. The hotel also boasts a new gym and hammam area.
You are provided with numerous facilities at this beach hotel such access to various restaurants, Gym, Hammam Area, Spa, Private Beach, Supervised activities for children, Central Location and 6 outdoor swimming pools.
2. Le Royal Meridien Beach Resort Spa Dubai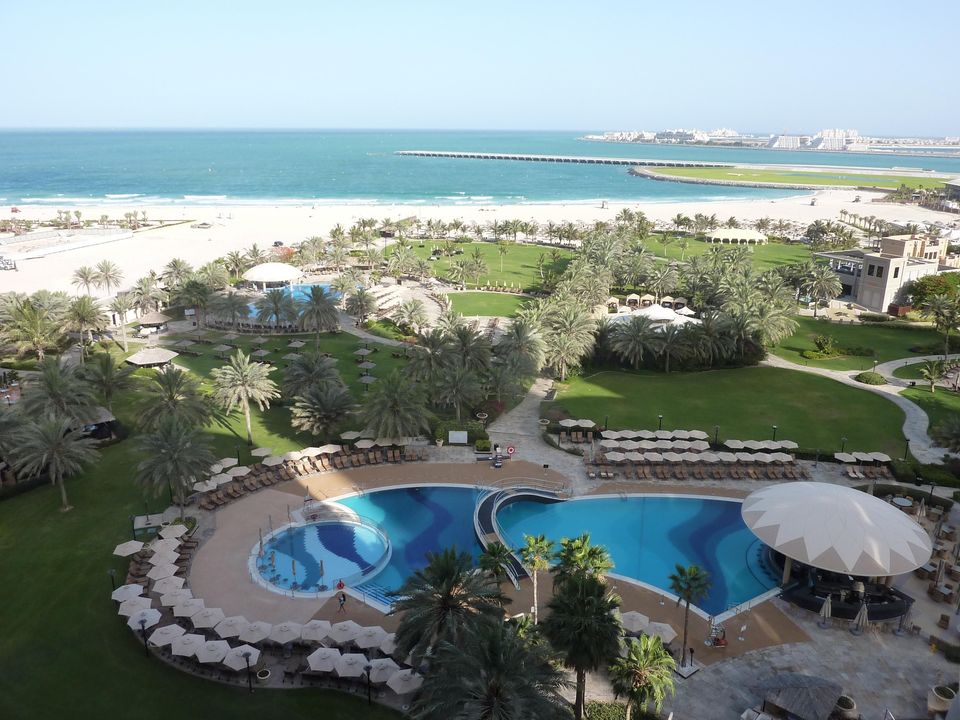 Le Royal Meridien Beach Resort & Spa Dubai is a 5-star hotel and resort for couples in Dubai overlooking the beautiful Arabian Gulf. This hotel and resort is a piece of heaven tucked away only a short walk from the ever so famous JBR. It is a beach fronted hotel and also has a roman-themed spa with saunas and no less than 5 hammam pools. An absolute romantic place to be at, this lavish hotel and resort provides all sorts of facilities a couple ideally looks for.
You are provided with numerous facilities at this beach hotel such as Private beach, 14 International restaurants, Spa treatments, Hammam Pools, Free Wi-Fi, water sports and the location being close to the mall of the Emirates.
3. Five Palm Jumeirah Dubai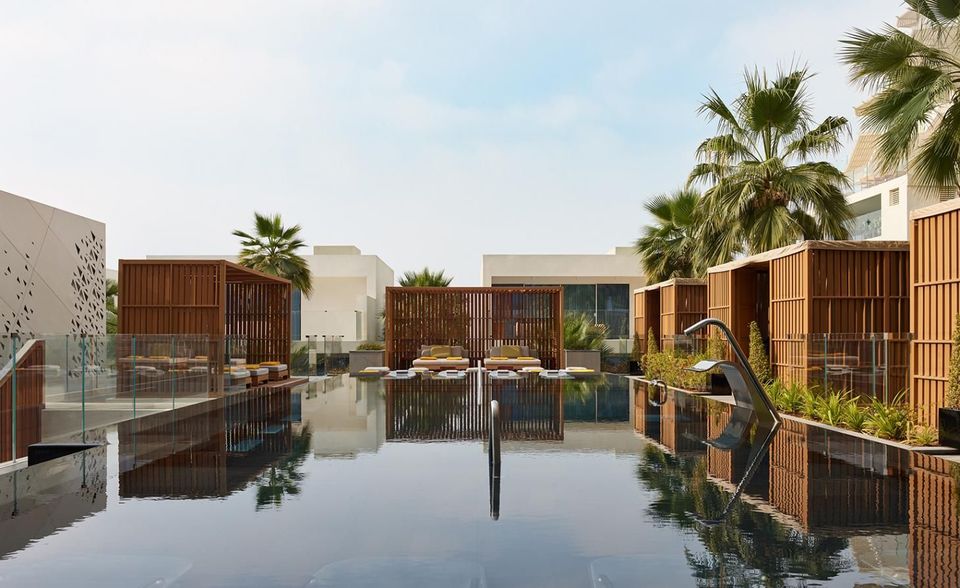 As the name suggests, this 5 star hotel for couples is surrounded by beautiful and tall palm trees. If you are looking for a world-class service on a private beach in Dubai, this is the hotel for all the blessed couples. The Palm Dubai no doubt is one of the most iconic spots in the world. It's beautiful and contemporary design is certainly an attractive feature about this beautiful and romantic hotel.
The hotel prides itself on delivering amazing and memorable experiences to all the couples who choose to spend their time here.
You are provided with numerous facilities at this beach hotel such as Private beach, Free Wi-Fi, 5 outdoor swimming pools, Spa, Rooms with private pools, accessibility to the business districts in Dubai and merely a 30-minute drive from both the airports of Dubai till the hotel.
4. Caesars Resort Bluewaters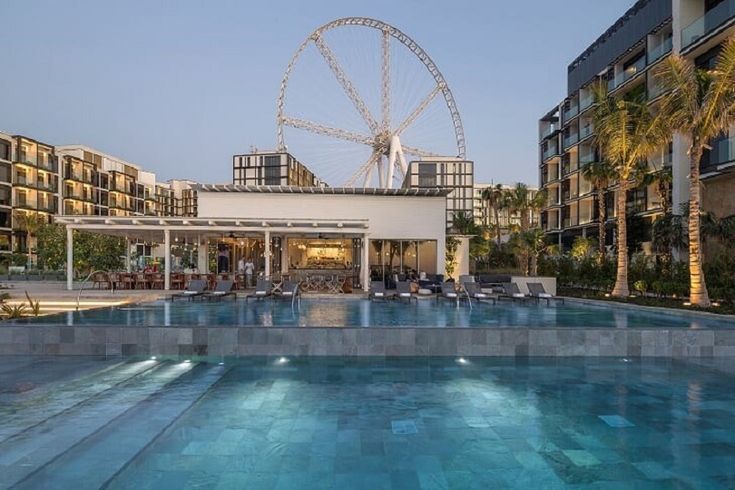 This lavish beach hotel in Dubai might not be as famous as its luxury neighbour, The Palm, but Caesars Resort Bluewaters is certainly known for its beautiful white beaches, great restaurants and amazing hotels. This 5 star hotel is a romantic place for couples and offers a great beach and ocean views which you can enjoy from your own private balcony. The hotel offers great food services. You will enjoy different types of food items such as Seafood, Mediterranean food infused with Arabic spices and flavours, freshly baked patisserie with a chai or a kadak tea or grab a cocktail at the pool bar.
You are provided with numerous facilities at this beach hotel such as Private beach, 200 dining and retail units near the hotel, a 5 minute drive away from the famous JBR in Dubai, Gym, Spa, Private Balcony and Central location.
5. Fairmont The Palm Beach Resort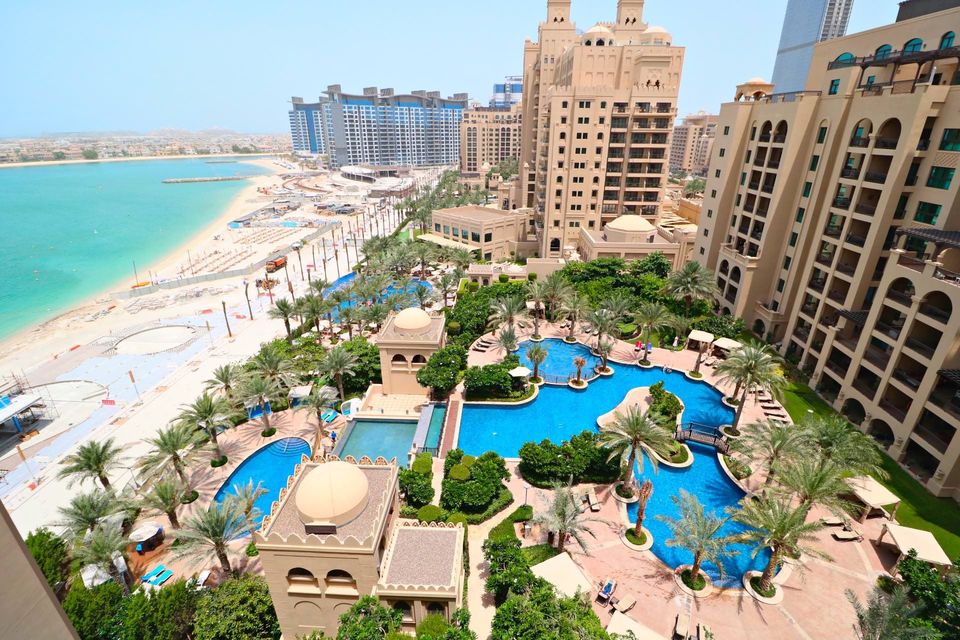 Idealized as a five-star hotel, Fairmont The Palm is one of the most sought after beach hotels in Dubai for couples. This hotel offers a luxurious beachfront stay with a fantastic view of the impressive skyline of the Dubai Marina. As it is well-connected with major city attractions and airports, Fairmont The Palm stands as an exceptional leisure point and an ultimate business destination. This is one of the best hotels in Dubai for spending the bae-cation.
You are provided with numerous facilities at this beach hotel such as Fairmont Falcons Kids' Club, Private beach, World-class restaurants serving Arabian, European and South American cuisines, swimming pools each with a temperature regulator, fitness centres, Health clubs, Spa centres and flexible rooms for conferences, events.
While these are the top 5 choices amongst the other fabulous beach resorts in Dubai, you can also consider checking out Dubai Marine Beach Resort, Dar Al Masyaf Beach Resort, Al Qasr Beach Resort, Waldorf Astoria Dubai Palm Jumeirah, The Westin Dubai Mina Seyahi Beach Resort & Marina, Rixos The Palm, Hilton Dubai The Walk Beach Resort, Habtoor Grand Beach Resort & Spa, Kempinski Beach Resort and Residences Palm Jumeirah, Sheraton Jumeirah Beach Resort, JA Jebel Ali Beach Hotel.
Follow Tripoto on Telegram to get early access to top travel stories every day.
Share your stories on Tripoto's Clubhouse channel!