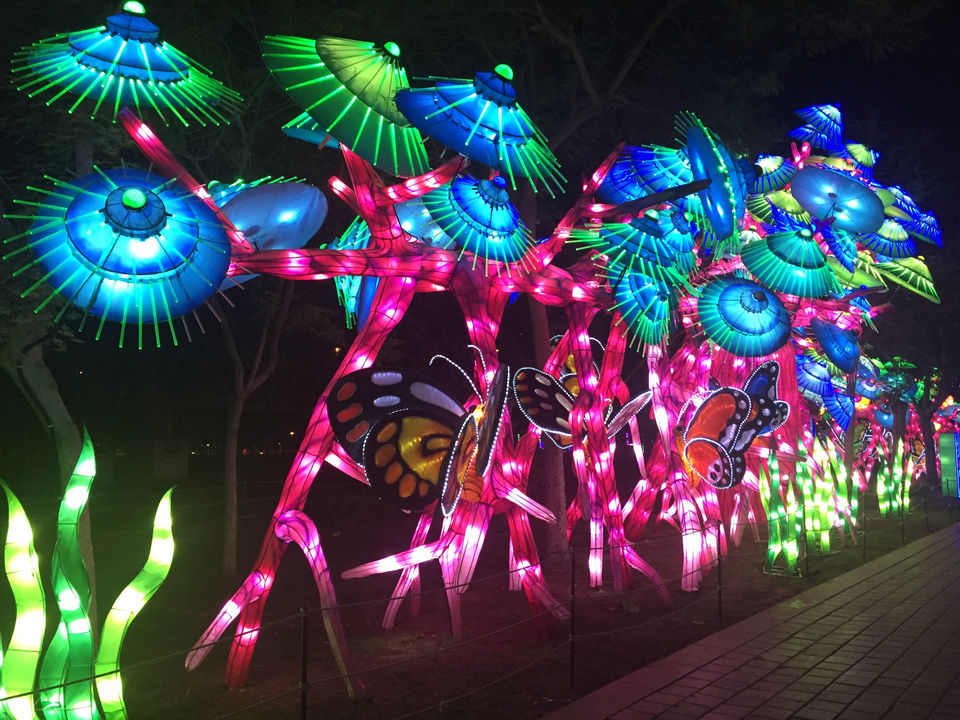 After a fair share of asphalt jungles in my travel experiences, I didn't think any megalopolis would amuse me as Dubai did! Dubai is different. There is an edge, some sort of fearlessness with which the city is built. In a short span of 50 years the city has an astonishing trajectory of transforming from a small fishing creek to the most glamorous city of the world. It built the world's biggest shopping mall, tallest skyscraper, a host of ultra-luxurious hotels, flower gardens, ski resorts, all in the middle of nowhere, in a vast empty desert that still surrounds the city.
After taking 3 trips to Dubai every alternate year I could not help but love it each time even more than before. In my first visit, I fell for its ultra-modernity, massive avenues, and skyscrapers and the next time for its desert sun rises from hot air balloons, views atop high buildings, water sports, and even driver-less metros. I fell for Dubai in a way I know I will keep coming over to continue this love affair. To confront the guilt of revisiting a place when there is a whole wide world to explore, I have plenty of reasons.
Proximity and ease of travel – Dubai has a direct flight from every nook and corner of the country. The flights are short, the tickets are cheap, getting a visa is a piece of cake, and I can spend as much or as little time I have in here. So whenever I want to think of a brief no-hassle escape that doesn't beg for too much of planning, Dubai is an obvious choice.
Things happen fast- Dubai is an ever-changing city, unlike other travel destinations that had been built and now just preserved to perfection, Dubai is actively competing in the race of making and breaking records, at times it's own and sometimes taking everything a notch higher from what mankind had already achieved. Not that long ago, Dubai was a sleepy backwater that was mainly home to fishermen and pearl-divers, when the rulers set out to strategically diversify from being mainly an oil-based economy by focusing on tourism and business, things have seriously picked up the pace. These days, new properties and infrastructure seemingly pop up overnight, and rarely a week goes by without an announcement of some new extravagant project. A tower taller than the Burj, underwater villas with artificial coral reefs beneath them, Mall of the world, the biggest animal safari, largest indoor theme park, biggest fashion street, a floating Venice with gondolas, I have just started naming them and they are already getting built. There is always something new coming up that is worth seeing in Dubai.
It's a shopper's paradise- shopping and being a tourist both, doesn't work in Dubai. The thing about Dubai is that shopping here is not just an item on my things-to-do list. It is practically the reason why I and other thousands travel to Dubai frequently. The malls are so exquisite, so surreal, that it feels like I have stumbled upon a slice of intriguing, all-encompassing fantasy. The Souk Madinat is a shopping destination with its own waterway to transfer people from one stop to another. The Dubai Mall is the biggest mall in the world with over a thousand stores, a gigantic, four-storeyed indoor waterfall, an aquarium, an Olympic-size ski-rink, and a mall app to navigate through all this. Moving on to other extensions of fantasy, The Mall of Emirates, with its indoor ski slope; the Mercato mall; a fusion of Europe and the Ibn Battuta mall; capturing all the destinations explored by the Arab explorers in the 14th century.
And once I am done with the fancy shopping malls there are local, exotic and unique shopping experiences to explore at the age-old bustling Souqs of Deira and Bur Dubai. These places are a treasure trove of things that Dubai had been traditionally known for, aromatic incense, spices, headscarves, textile and of course, gold!
Dubai has a month-long shopping festival in the month of December with concerts and giveaways where shoppers can win cars and gold. It's no surprise that visitors come to Dubai from far and wide for a bit of retail therapy during that time.
Use it as a stopover destination - Dubai international airport recently took over from London Heathrow as the busiest airport in the world for international passenger traffic with over 70 million passengers passing through its gates. Emirates airline, Dubai's state carrier, has also grown into the world's biggest international airline and, with more than two-thirds of the entire population of the planet within an 8-hour flight. No matter where I am in the world I can have a flight connection from Dubai. I try and take longer layovers, Leave the airport and make most of it by exploring some more parts of the city that I had missed before.
For the Art and Design- people are too busy in Dubai to cover the must-see wonders that they are sure to miss the diverse art scene of the city. From the gritty Alserkal Avenue art district that has sprouted up in the industrial Al Quoz area in the last few years, to the slick art galleries sprinkled through the Financial Center, Dubai is full of modern art. The Dubai Design District has just been opened, and with frequent art and design festivals like Art Dubai and Design Days hosted here, there's always something new going on for the aesthetically minded.

Drive to other Emirates-there is a lot more to UAE than Dubai. Dubai is definitely the most famous and liberal emirate, but it´s neither the capital nor the richest, and it doesn't even have the best beaches. With 6 more emirates to explore I have an ambitious plan to visit few of them at some point of time using Dubai as my base.
Fujairah is merely 90 minutes outside the city but the landscape makes it look like a completely different country altogether. There are luxury properties with private beaches where I can wake up to magnificent Arabian sea views from my room's terrace. These places host all sorts of water sports such as diving, snorkeling, and wakeboarding.
A road trip around Ajman, just 45 minutes from Dubai to check out historical sites such as the red fort, Al Mareer fort, Masfut castle, and the Bin sultan mosque is also on my list.
A stone's throw away from Dubai there's a major jewel, Abu Dhabi the capital of the UAE. The reasons to visit the place is the formula 1 race track and the great Sheikh Zayed mosque, the eighth largest mosque in the world.
Every time I see Dubai in the news is for something beyond my imagination. Just when I think it can't get any better, Dubai does it again!
Flying cars? Artificial rainfall? Air-conditioned bus stops? Gold vending machines, maybe? Amphibious cars (whatever on Earth is that)? Can any other country claim to be even working on that?
Okay, enough said. If it's not evident already I want to book a ticket to Dubai right now yet again!
"I want Dubai to be a place where everybody from all over the world meets each other, don't think of fighting or hate, just love it, enjoy their sport, and that's it".
Mohammed Bin Rashid Al Maktoum