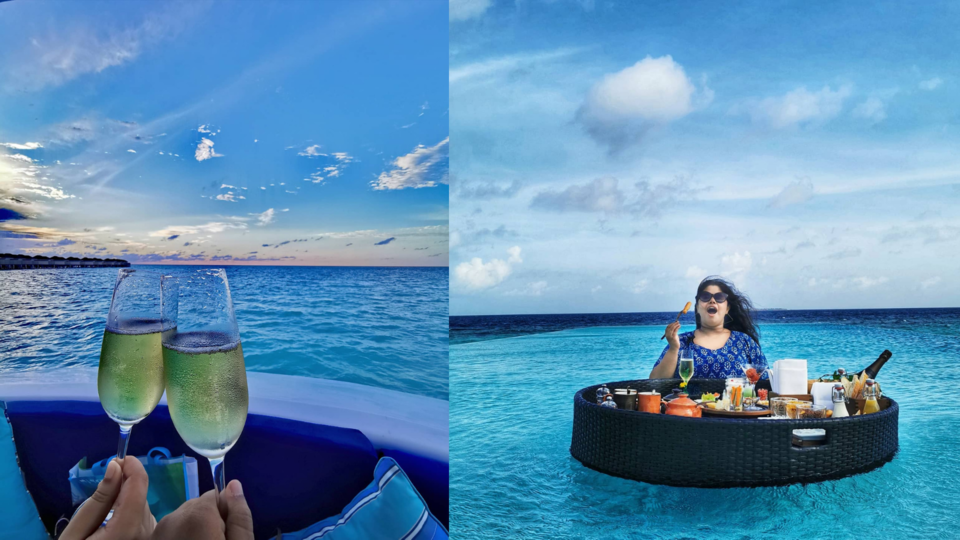 This is my definitive guide to the best resorts in Maldives that will give you your money's worth, one hundred percent. You can not only have the most picture-perfect honeymoon that you always longed for, but these resorts will indulge you in a transcendent vacation that you'd never ever want to end. The best thing about Maldives is already known to all mankind – it has the absolutely wonderful concept of one island-one resort. And just being away from the hustle and bustle and indulging in a non-stop dreamy siesta for a week, isn't it what a honeymoon should be all about? From special secluded ocean villas to personal beach villas, from sustainable back-to-nature style bedrooms to sexy modern LA-style duplex villas, Maldives will offer you every good thing you need. And what's more, the gorgeous sapphire blue Indian ocean along with the bountiful reefs – Maldives is an island that just everything for everyone.
Heritance Aarah
Maldives' premium five-star all-inclusive resort Heritance Aarah's website states "Wake up in paradise to the sound of the sea, dive amidst exotic underwater marvels and dine under a majestic star-studded sky over one of the finest Maldives luxury resorts." And every word of this statement is nothing but true.
Talking from a first-hand experience, Heritance Aarah with its sustainable endeavours and is the planet lover's hope, pride and escapade. Heritance Aarah has seven types of accommodation – the beach villas, family beach villas, pool beach villas, family pool beach villas, ocean villas, ocean suites, ocean residence.
A complimentary seaplane transfer from and to Male airport just makes the Heritance experience a whole lot gorgeous. They also have something like a 30-day long staying package, which is a don't-miss-out opportunity for anyone looking for a month-long escape to the blue paradise. And don't even get me talking about their dining experience. Their 6 fabulous award-winning restaurants will give you sweet dreams for days – French gourmet-style Baani, the multi-cuisine Haatha, Sri Lankan exclusive Ambula, decadent Ralu, or the exquisite sea-food experience at Ginifati – every corner of Haritance Aarah is a splash of heaven. Bonus point: Their floating breakfast in the infinity pool is something straight out of a fairytale!
Kandima Maldives
Kandima Maldives is peppy, sexy and thumping with a raw energy that is moulded with utmost sophistication. This jolly resort is located at Dhalu Atoll and is the largest island resort in terms of area. The Indian Ocena's gorgeous views changes from every angle at Kandima and their stylish island setting with some of the most extraordinary restaurants and bars just make your experience worthwhile. Bonus point: Do book their sunset cruise, it is divine beyond your imagination!
My stay at Kandima was eventful, packed with all kinds of activities one can dream of in a vacation. Kandima has the best category of villas, with everything to offer everyone. Their snorkelling session is complimentary, which is another reason to hooray! These abundant on-site activities keep you charged, make you relaxed and hooks you on for more. Only sad part: You won't be able to choose between staying in the oh-so-dreamy room or to indulge in the activities offered at Kandima. Kandima keeps on offering some gorgeous deals for families and couples and keep an eye on their website for some offer that might whisk you away. At Kandima, there is never a dull moment.
Soneva Fushi
A 30-minute sea plane ride from Male will land you at this dreamy paradise designed to blend in seamlessly with the natural surroundings. A very green resort in its every endeavour, Soneva Fushi is the planet lover's abode. This is probably the most frequented resort by celebrities worldwide, perhaps because of the service and the outstanding villas. Each room is assigned with a personal butler.
Talking about activities, there's kayaking, stand-up paddle boarding, diving, fishing, tennis, treetop yoga, stargazing at Soneva Fushi's private observatory and indulgent treatments from scrubs to hot stone massages at the Six Senses spa. Need a honeymooner demand more? And if you are a foodie, then prepared to be wowed by their bountiful breakfast spreads and delectable dinner scenes.
Meeru Island Resort and Spa
One of the popular resorts for its affordability and neat services, Meeru Island Resort and Spa will give you all that is expected from a Maldives trip. Despite its popularity, Meeru will give you feeling of seclusion, privateness with its beautiful ocean, beach and pool villas. This is a reliable resort, with some gorgeous views of the ocean and a range of activities to choose from. With 286 rooms, Meeru is one the biggest four-star resorts in terms of capacity with separate zones for families and adults. Imagine the scope of romance or mischievousness you have planned for your partner!
This beautiful resort is less bling but more barefoot in its feel with their friendly, polite service and lip-smacking food. "The stay was incredible. I don't think we missed anything at all… we enjoyed the varieties of food available for all meals, the comforts of the villa, the amenities and the politeness of the staff was commendable. We would love to visit the island again," said Sananda Chakraborty Roy, one of the honeymooners who were awestruck by Meeru's offerings. Meeru's different categories and assorted packages offer value for money with a nine-hole golf course, football pitch, tennis courts, all other ocean-related activities you can think of.
Lux South Ari Atoll
If you want a splash of Miami glamour, a glimpse of Hollywood lifestyle and a rustic setting clubbed with the most sophisticated amenities, Lux South Ari is the place to be. Lux South Ari Atoll is one of the top 3 five stars in all of Maldives with 193 private villas, "dotted at the water's edge along two miles of powder fine beaches and perched on stilts above a crystal lagoon."
Lux South Ari Atoll Resort and Villas has a 5-Star PADI dive centre and the resorts waters are abundant with friendly whale sharks. With a total of eight restaurants and five bars with an all-inclusive package deal, Lux South Ari screams out indulgence in every sense of the term.
They have some secret spots that are ready to spill if you give Lux a try, or you're also welcome to find them out on your own – it could be your own little adventure! The indulgent packages manicured to suit every traveller's needs is something to look out. The architecture and interiors at Lux are a designer's kingdom come, with decadent, urbane décor but with a hint of rustic flavour.