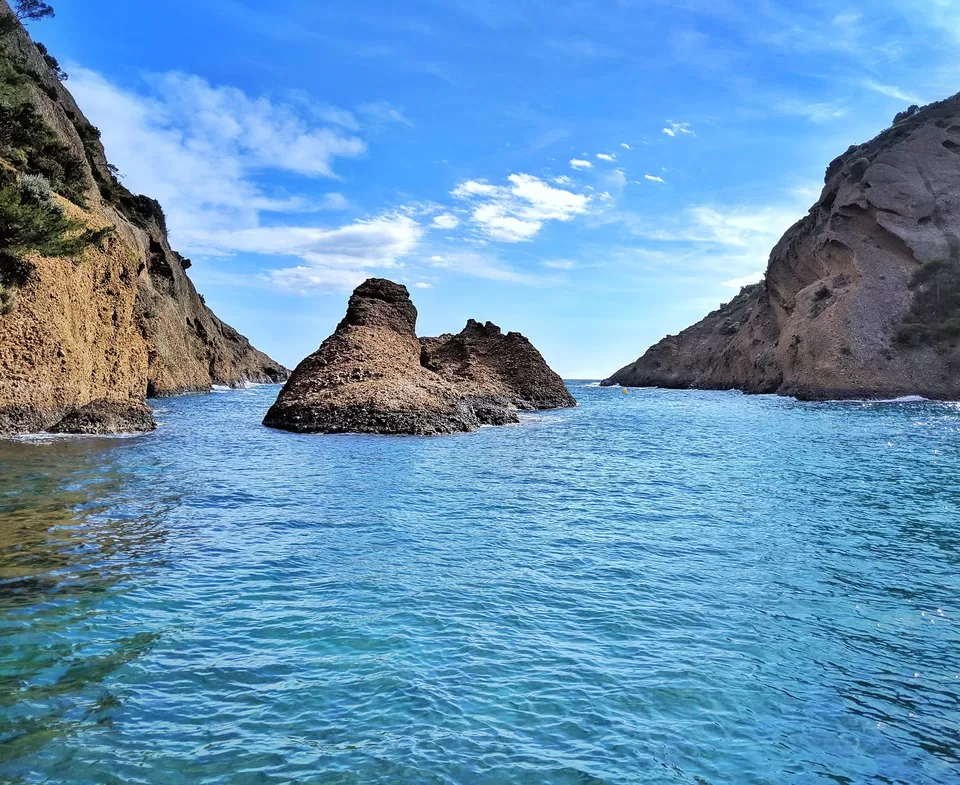 If you are visiting north Goa - a.k.a. the travelers paradise of the state, there's a heavy chance you have heard of, if not been to, Vagator beach. Lesser shacks compared to its neighbors Anjuna, Baga, and Calangute makes it easier to avoid the crowds and play safe in the virus-infested world. Fewer crowds translate into the bonus score of cleanliness.
Vagator beach is known for its late night rave parties in particular. So, if you are in the mood to explore the wild side in you, jump into this side of the Goan world to experience the city with a whole new set of eyes.
Best time to visit Vagator Beach:
The best time to visit Goa is anywhere between October to February. However, Goa is one of the most famous tourist destinations with people flocking like birds in and out, throughout the year. The Vagator beach in particular attracts a mass of international crowd (read Russians), especially from December to February.
How to reach Vagator Beach?
Panjim is located under 17 km from the beach. The easiest way to get here would be to take a taxi from the airport. It takes around 1 hours to reach Vagator from Dabolim International Airport. However, if you are looking for a cheaper travel alternative, there are plenty busses leaving the city too. On the other hand, if you have less carry on luggage, you could easily rent a bike or two-wheeler and get going.
Where to stay in Vagator Beach?
From ultra luxury properties to pocket friendly beach resorts, Vagator has an array of stay options for every type of traveler. Whether you are here for your honeymoon, or wiht a bunch of friends, or just a girl-gang wanting to splurge on a fancy stay with fancy cocktails, Vagator has your covered.
Here are some stay options in and around Vagator beach.
The ultimate daydream staycation option in all of Goa. This is one of the most unqiue, most lavish and luxurious property in the city. From evening unlimited cocktail hours to late night parties, to perfect brunches overlooking the sea and the beach just a walk down the stairs, this wholesome proeprty shouts everything luxurious.
Just another rocking spot known for its mouthwatering italian food and creative cocktails, Antares is a beach resort and a lovely cafe/bar by the cliff.
This is yet another gorgeous stay option that is perfect for smaller group of friends and for someone who doesn't wish to loosen the purse strings a lot. Stone Wood strikes the perfect balance between luxury and affordability. They have garden view rooms, ocean view rooms and large suite options.
This is a beautiful beach front property with comfortable rooms offering both garden and pool view. They serve delicious breakfast and has the beach attached to it. For someone looking at luxury stay options without spending too much, this might be the right place for you.
You can also check out Abhingya Patra's article about exploring the quieter side of Vagator.
Best places to eat in Vagator Beach:
Almost all of the happening restaurants and cutesy cafe's are coming up in Vagator. Vagator is the new hot-spot for all travelers and explorers alike. Here are some of the many up and coming restaurants in the area.
From a wide variety of continental to Italian to fast American food, Antares has it all. And let's not miss the ambience and the wholesome set up of this dreamy place. the charm just lights on even better post sunset. It is one of the best spots for a lovely candle light dinner.
This is one of the top players in restaurants offering multicuisine food options. It is particularly known for its sea food. As the name suggests, this place is famous for its rave parties.
This is another wildly known place in Vagator. A light café in the day, and an ultimate trance/techno party spot by night, Pinakin attracts crowd from across Goa. This place is also known for its late night rave parties.
Shopping in Vagator Beach:
Unlike other night bazaar's in Goa, this particular beach has something special to offer in terms of a shopping experience to the tourists. The Goa Collective Bazaar is one of the most happening shopping experiences lined up in Goa. It happens on Friday nights from 3 pm to 3 am at Hill top Vagator. This is a pet and child friendly bazaar with local musicians and live artists lined up to entertain their guests.
You can enjoy some flea market shopping alongside yummy street food stalls and beers stalls with live music on every corner. This is practically the only place where pets enjoy as much as humas do. They also have activities like face painting, tattooing, fashion shows exploring local designers, encouraging community living.
Other Activities in and around Vagator Beach:
Even though this beach is less crowded and less noisy than other north Goa beaches, there are some activities in and around Vagator beach, one can experience. The beach also offers tourists with a wide range of water activities. From paragliding, to parasailing, jet skiing and banana rides, you name them and you have them. Apart from these, here are some other places you can visit around the area.
Chapora Fort- Chapora fort is somewhere around 1-1.5 km from big Vagator beach. You will have to climb a little, but you know what they say, ' The best view comes from the hardest climb'. The aerial view of the big Vagator beach and the sunset is a treat to the eye.
This is less than an 6 minute drive from the Vagator beach. This beautiful, pristine white church is literally a hop and jump spot from Calangute beach too. The marvelous architecture speaks the ancient language of Goan culture.
Things to keep in mind:
With Goa, pick the right time and season to travel in. Monsoon is not the best season to travel in. Most of the beaches have dive limits and are usually on alert.
Goa is known for cheap and famous alcohol, but if you're driving or riding, its best to avoid being intoxicated. Also, there are police checkpoints in every area of Goa. Just a heads up!
Whatever your reason is to travel to Goa, this place has something for every body. From partying, to flea shopping, to good food and mesmerizing sunsets, Goa a something to offer for every body. So what are you waiting for? Plan a trip to Goa already.
Know of any other place that deserves to be in the list of best beaches in Goa? Comment your answers below!
And in case you're planning a trip to Goa, here's the best guide for you. You could also check out the ultimate list of places to see in Goa here.
If you liked the article, share the love <3 #Whereizmyboardingpass
Follow me on Instagram for some fun travel content. Be a part of the largest online community of travellers on Tripoto's Facebook page!