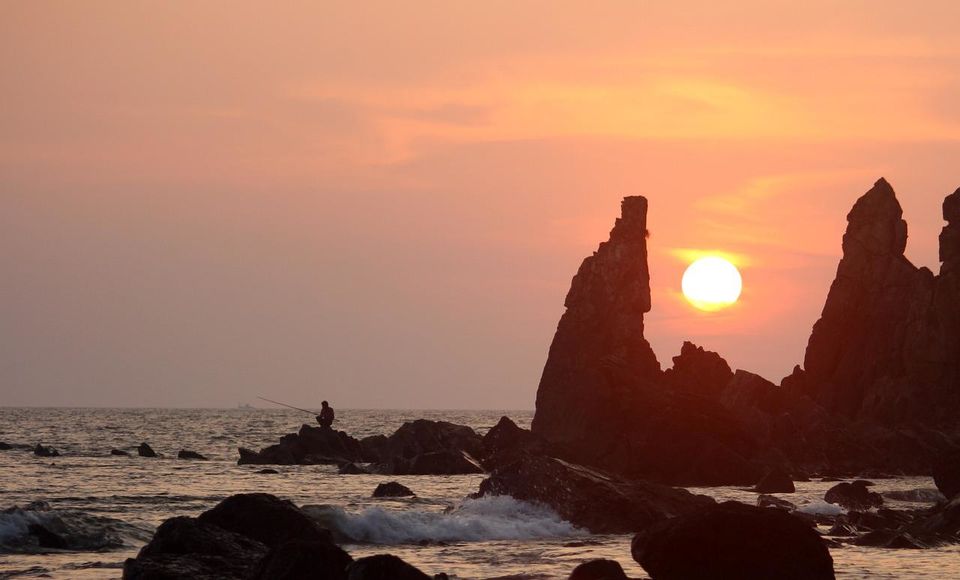 Known as the "Queen of Beaches", Calangute beach is regarded as one of the most popular destinations in Goa. The beach is about 15-18 km from Panjim, central Goa and is located in the the northern part of the city of Goa. There are also a number of very good holiday resorts out here and this makes the place even more popular. Besides, the Calangute Beach has to offer to its guests and visitors the golden sands, opportunities for water sports, awesome Goan cuisine and some lovely views too. The beach is steep and is thus not very apt for swimming but it can be done still if you do not go far off.
Best Time to visit Calangute Beach:
Calangute beach has a lot to offer to tourists and travelers. There is something for the solo traveler, the family tourists and the larger groups. The best time to visit Calangute beach is between October and February. Goa is good any time of the year. However, if you aren't a fan of monsoons or extreme hot temperatures, then its best to stick to the suggested months for travel.
How to reach Calangute Beach?
From Panaji, Calangute beach is under 15km away. You can hire a cab or rent a car or just take the local transport from Panaji. It may take 30-40 minutes depending on the traffic.
From the International airport, Calangute is around 40 km away. The fastest way to reach Calangute beach is by taking a taxi outside the airport. It would take you less than one hour. If you are looking for cheaper alternatives, then the public transport is your best option. It would take you 40 minutes to one hour.
Accommodation options in Calangute Beach:
There are endless accommodation options in and around Calangute beach. From the luxury five-star properties to the pocket friendly stay options, Calangute has it all. Here are some options for stay options right by the beach.
The thing about Goa and luxury properties is that most of them are located outside city limits. This sea front property showcases an exotic swimming pool, an open air lounge and a beautiful sunset view. It is luxury redefined. The basic category of room rates start from 8,000 INR. They also have a mouthwatering breakfast spread. The property is less than 4 minutes walking from the beach. It is the perfect option for ones who enjoy luxury and location at the same time.
Situated bang opposite the Lady of Piety Chapel, this beach property is a traquil haven for anyone who seeks the other side of Goa. It gives peace, and serenity to its customers. It is a peace nest during the day and a party anthem during the night. With the beach attached, the water sports and surrounding shacks are at a walks distance.
This hotel has everything to offer at mid-range prices. Overlooking the calangute beach, this hotel has a sky-bar, sky-lounge, restaurant and three categories of rooms. The basic category starts from
Best places to eat in Calangute Beach
Calangute has a wide variety of food options. From local Goan cuisine to class-apart Pan-Asian food, to North Indian and Vegetarian food, Calangute has it all. There are some lovely beach shacks to try too. Check out some of these food joints below:
This is an airy, widespread, spacious restaurant built with a nice rustic charm. It is a long-running beach front food joint/shack with perfect ombre sunset views and the beach at a foots distance.
This is a gorgeous little café by the beach. It is one of the many hotspots in the city to find Bollywood stars. It is also dog-friendly. They have the most stunning sunset views, a beautiful hammock to swing by and a wide range of cocktails to try from.
Its a simple, rustic setting by the beach serving some mouthwatering sea food, finger food and off-the-shoulder sunsets. A perfect way to unwind, with good music, good friends and a couple of drinks.
This is a quaint beach shack serving some mouth-watering finger food perfectly blending with their bottled beer options with stunning sunset views. What's better in goa than beaches, shacks and sunsets?
This place gives you a pleasant Goa vibe and is one of the most affordable places in the area. It is located in the heart of the bustling Calangute beach. They have some lovely Goa dishes, and also serve North Indian and Italian food on side with some bottled beers. For the ones on a tight budget, this is one place that won't disappoint.
Shopping in Calangute Beach:
The Saturday Bazaar
This is the most anticipated shopping bazaar in North Goa. Just like the Anjuna night market, this one has everything to offer. From pocket friendly clothes to footwear to cute artsy home décor, fresh handpicked fruits to groceries, fish and vegetables, this market has it all. It is located near the post office in Calangute. Some stalls here also sell pottery and textiles. Occasionally you may find a tarot card reader sitting amidst the crowd.
Tibetan Market
This isn't exactly on Calangute beach. It is located between Calangute and Bada beach. This market is known for selling things mirroring the Tibetan culture and lifestyle. You can buy flavorful incense sticks, aroma diffusers, candles, statues, prayer flags and so much more.
Other Activities in Calangute Beach:
Fly high up in the air with the vastness of waters underneath. Parasailing is one of the most common activities on this beach. This could be something to try if you are the adventure seeker.
Jet Ski is another water activity easily available on the beach alongside banana rides. If you are the thrill seeker or want to explore the waters in Goa, these activities are a must-do on your Goa list.
Dolphin Sighting was recently started in this part of Goa. There are many tours that take off from Calangute beach. Check with the helpdesk at your hotel to get the information.
Things to keep in mind:
When you visit a beach this famous, understand that it is going to be crowded, especially in the evenings. It is best suggested to carry as little cash as possible, and understand, lesser the belongings, easier the handling.
In case you end up doing the water activities, carry an extra pair of clothes, some sunscreen and a towel. If you are staying in one of the beach properties, you can ask your hotel for some spares.
Avoid indulging with strangers. Goa is a tourist attraction. there are people here, from around the world. Avoid taking or buying anything from strangers. It may get you in trouble. If you are travelling in a group, stay connected and try not to leave the group.
You can rent a two-wheeler. Almost everyone who travel to Goa rent a bike. But it is advised to stay sober and avoid drink-driving. There are numerous checkpoints in and around Calangute beach. You don't want to get in trouble on a holiday.
Avoid eating at unhygienic places. Ask people around, or check reviews online and only eat at trusted places. Oftentimes, people end up falling sick due to eating at local joints (speaking from an awful personal experience here.)
Always keep emergency numbers at easy reach. If you are out to explore the far ends of Goa, it is best to keep some local numbers in hand. There are some parts of Goa, you may fall short of network.
Whatever your reason is to travel to Goa, this place has something for every body. From partying, to flea shopping, to good food and mesmerizing sunsets, Goa a something to offer for every body. So what are you waiting for? Plan a trip to Goa already.
Know of any other place that deserves to be in the list of best beaches in Goa? Comment your answers below!
And in case you're planning a trip to Goa, here's the best guide for you.
If you liked the article, share the love <3 #Whereizmyboardingpass
Follow me on Instagram for some fun travel content. Be a part of the largest online community of travellers on Tripoto's Facebook page!