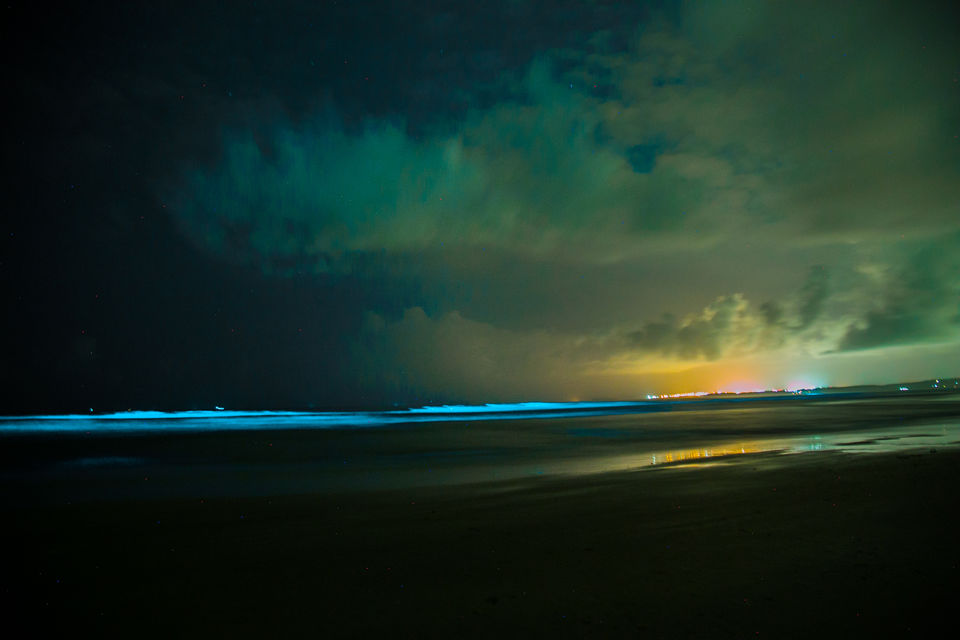 Do you know what it feels like to see the stars playing with the ocean?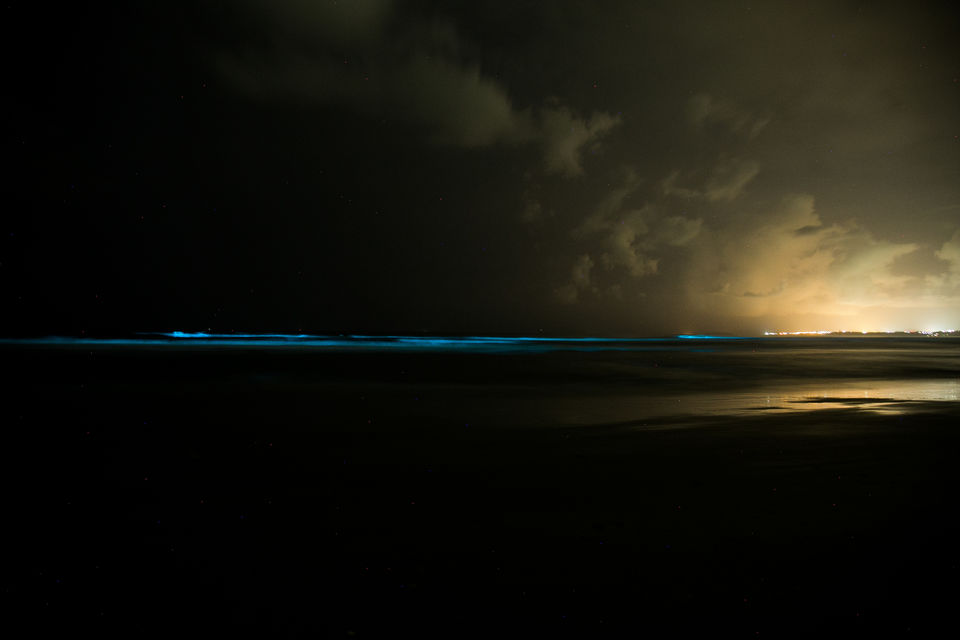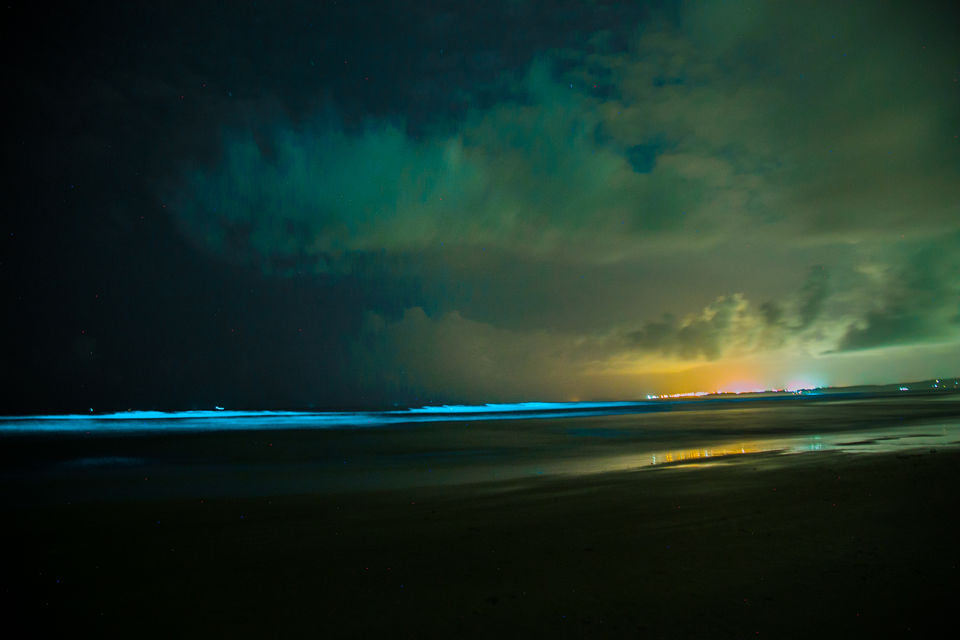 South Goa is so different from the north Goa. I sometimes cannot believe they both are a part of the same place. South Goa is less crowded, greener, has so many mountain ghats, quiet surprising lagoons, empty beaches and clean waters. Less shacks, less places to eat and equally fun! This trip to south Goa really did surprise us and how!
It was a monsoon evening on a beach in south Goa. 4 of us got to the Betalbatim beach on a Sunday evening to see a cloudy sunset. It's a calm and quiet beach. There's something so mysterious about cloudy sunsets and I love it. Lesser people and clear waters. As the sunset, we decided to try out some long exposure photography with some steel wool on the beach. The beach looked so calm. Almost everyone had left and we were all alone. I set up the tripod and we tried lighting the steel wool. The wool wouldn't light because of the wind and we were getting so restless.
Just then, I noticed a bright light on the waves and it looked like the moon reflecting on the white waves and ignored it the first time. But I saw it again. There was something lighting up the waves with a shade of blue every time a couple of waves hit the beach sand. I was in awestruck when I realized what it was. The Bio-luminescence! and I was seeing it in a south goan beach. People travel as far as south america to witness these beautiful natural phenomena.
What is a Bioluminescence?
Bioluminescence is the production and emission of light by a living organism. These living organisms are living in the currents and tides of the ocean. When the tides hit the shore, these organisms get disturbed and emit a light-emitting pigment. This causes the bright blue light on the beach.
Seeing us click pictures of the lights, a guy approached us to ask if what he is seeing is true. He was drinking with a couple of friends in a near by shack and also saw these blue lights. It looked so unnatural and he had to make sure he wasn't hallucinating. This goan boy had seen nothing like that in goa before.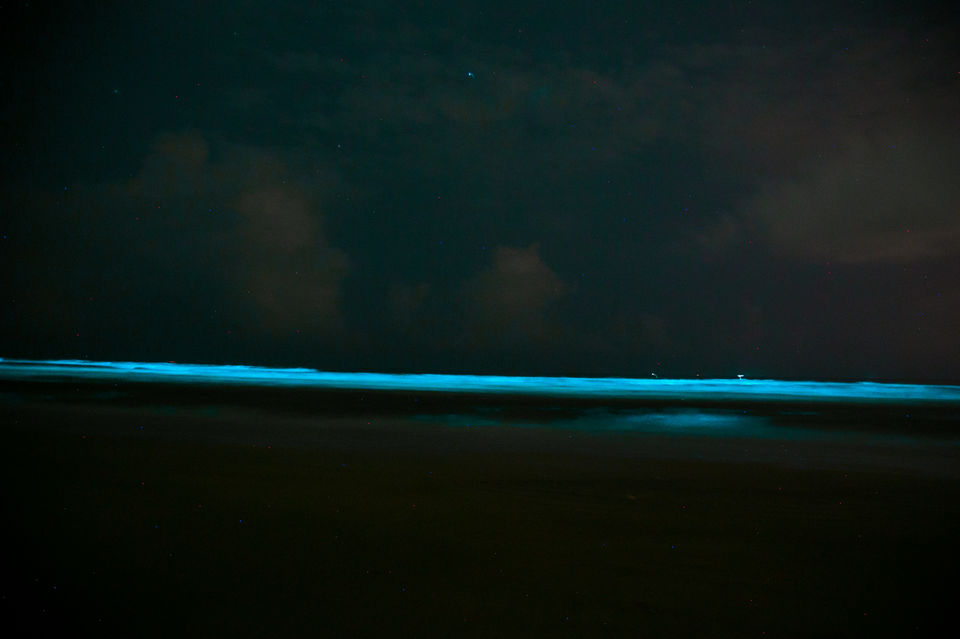 It got darker and we noticed that the lights were getting darker as well. Glowing like some LED lights were attached to the waves. It was starting to be more prominent towards the right side of the beach. We packed our camera and ran towards the right along the beach. One of my friends noticed that when we are walking on the sandy beach, and when we placed our feet, the surrounding area started glowing. It was like we are part of an avatar world. Imagine you are on a beach that glows, and there's nobody on the beach but you. Such a magical moment and would never forget that feeling.
We settled down and decided to enjoy the light show. The colour of the bioluminescence was a faint blue with a little green, It got stronger and wilder with time. It started spreading between the waves. The tide got higher and the lights got closer. It's always a mysterious feeling to see nature display it's art. These lights were one of the most beautiful thing I had seen in my life after the Northern Lights.
The world is full of beautiful things and gorgeous lights. What we saw that day seemed so ethereal and out of the world, quiet literally. We were at the right beach, at the right time, with right kinds of equipment to shoot something like this. Did we get lucky or did we get lucky? :)
Go out there. Make plans. Don't follow them. Stay a little longer. Wait for the crowd to leave. Do daring things. Protect the environment. The world will surprise you. It will award you with such brilliant things :)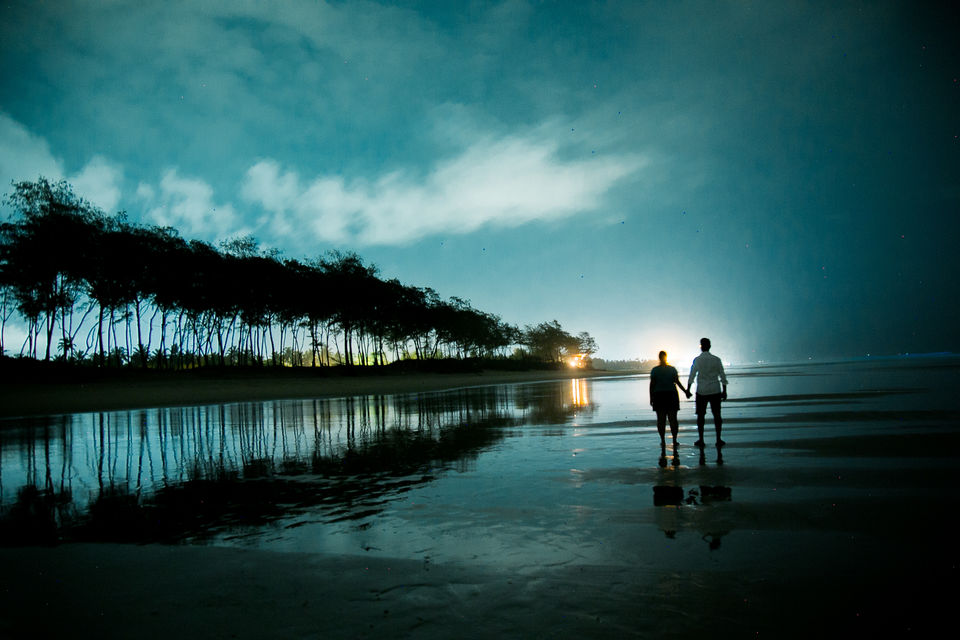 If you want to visit south goa and try your luck to see the lights, stay at Vivenda Dos Palhacos. It's roughly 10 mins from this beach and is a gorgeous place to stay. Every room has a history.
Love this blog? Do let me know by commenting below! If you have any questions please message away! Would be super happy to help! :) Follow my adventures here!
Frequent Searches Leading To This Page:-
Best Tour Packages for Goa, Goa Tour Package for Couple, Best Travel Packages for Goa, Best Goa Trip Packages, Goa Holiday Tour Packages, Top Goa Packages for Family, Goa Honeymoon Packages from Delhi