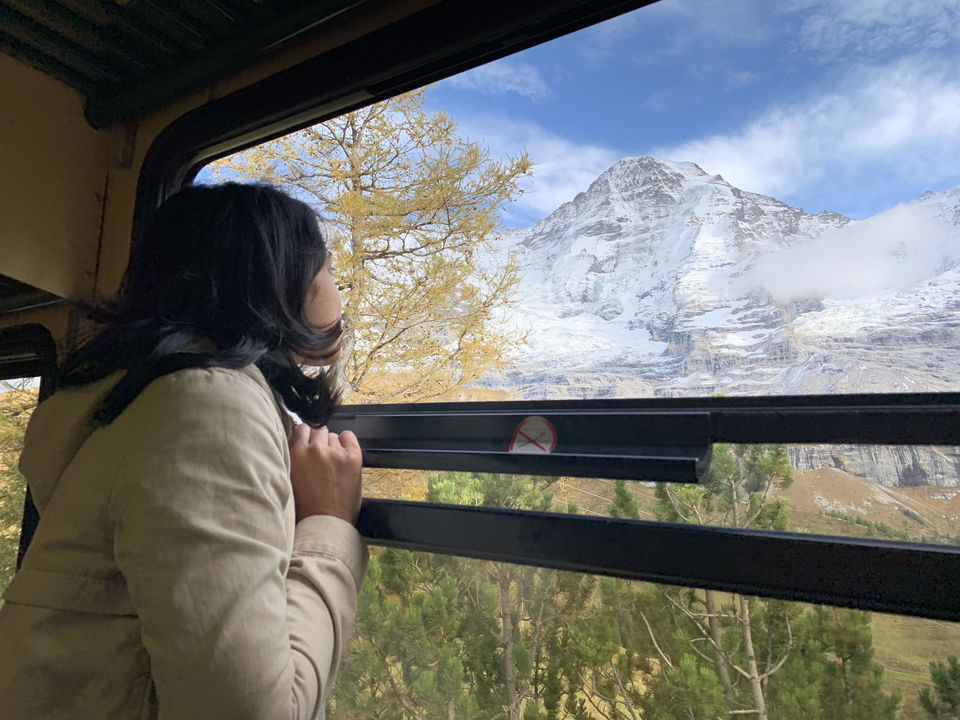 This beautiful train journey to Jungfraujoch, Top of Europe, filled my heart and i couldn't ask for more. The train ride gives some breathtaking views of switzerland's countryside and the calling mountains.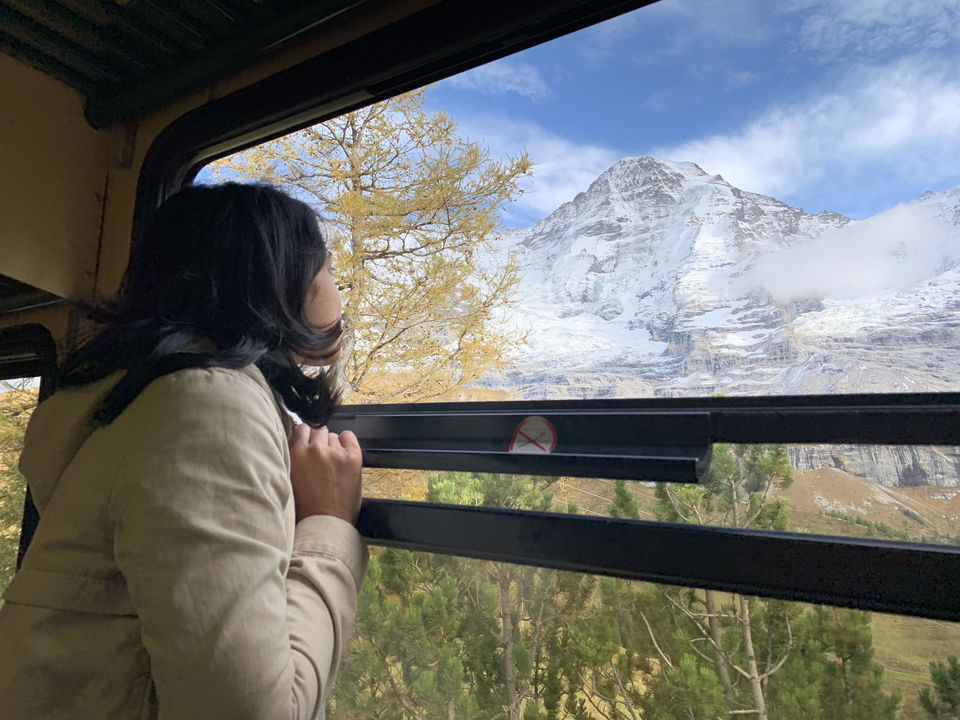 This train ride starts from Interlaken and one can opt to go either via Lauterbrunnen or Grindelwald. Once in Lauterbrunnen/Grindelwald, change train to Kleine Scheidegg. At Kleine Sceidegg, change train again to Jungfraujoch. This one side journey is about 2 and half hours.
I opted to go via Grindelwald, and got to see the amazing countryside. It was a chilly morning, and the sound of cow bells was so calming.
After about 30 min from Interlaken,we arrived at Grindelwald station. It was a 10 min wait before we boarded the train to Kleine scheidegg on the opposite track.
This ride to Kleine scheidegg mesmerized us with amazing mountain & Glacier views.
After a 25 min ride, we arrived at Kleine Scheidegg and the train was waiting to leave to Jungfraujoch. We settled ourselves and got ready for some amazing mountain & lake views before we rode off into the darkness of the tunnel to finally arrive at Jungfraujoch.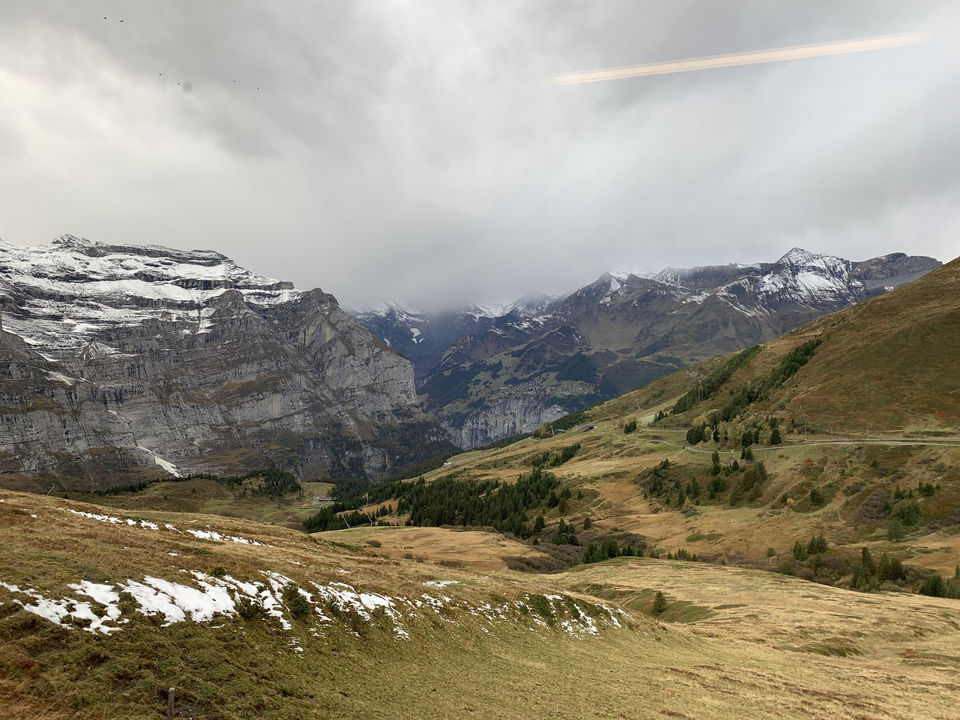 After a bit of freezing & wonderful experience at the top of Europe , we started the descent. The twist came here for what i call "A fantastic Adventure". When the train from Jungfraujoch towards Kleine scheidegg halted for 5 min for us to get off & quickly capture the views, we took a random decision to get off the train and hike back to Kleine. It was the best decision we made on that day which led us to experience the wonderful mountain & lake views up close. I pushed my fears away, and bravery embraced me through the trail.
We hiked for about an hour stopping by at this lake to relax and calm ourselves looking at the pristine blue water.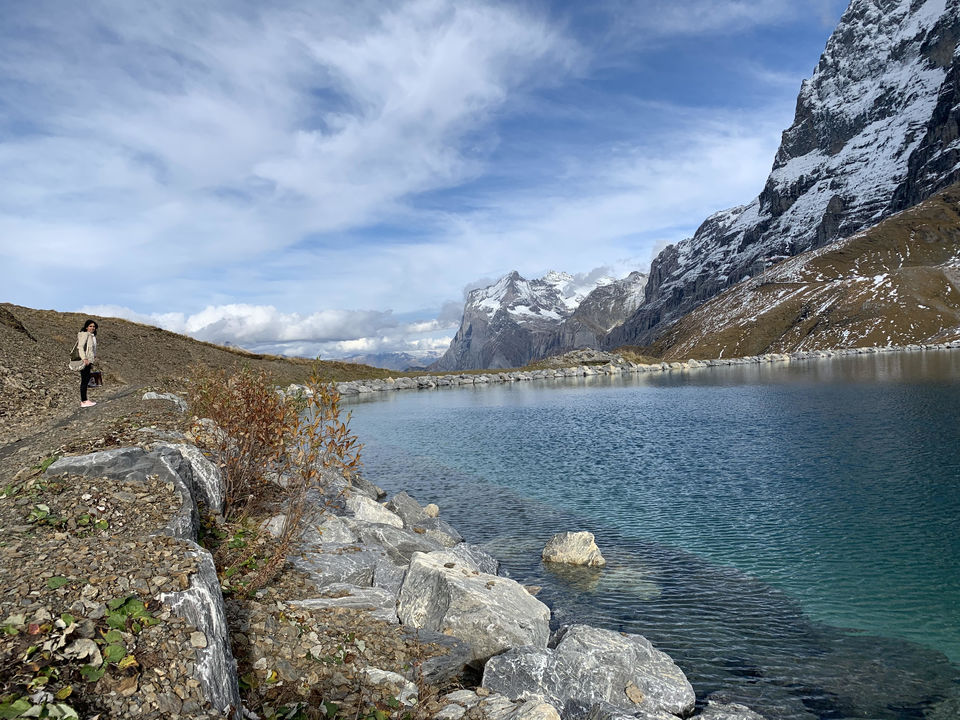 After this amazing experience, we arrived at Kleine Scheidegg and hopped on the train to Lauterbrunnen.
The train passes through beautiful forests and waterfalls with amazing mountain views. This countryside view of Lauterbrunnen is truly spectacular.
When we arrived at Lauterbrunnen, we roamed around the village to catch views of waterfalls and the cows grazing happily making the sound of the bells. We then got on the train to interlaken when it finally got dark.
This was definitely once in a lifetime train journey for me and i will cherish it forever!
#LifeOnATrain
Frequent searches leading to this page:-
weekend getaways near Europe couples packages, weekend getaways near Europe couples package from India, weekend getaways near Europe couples package from India cost, weekend getaways near Europe couples package from India