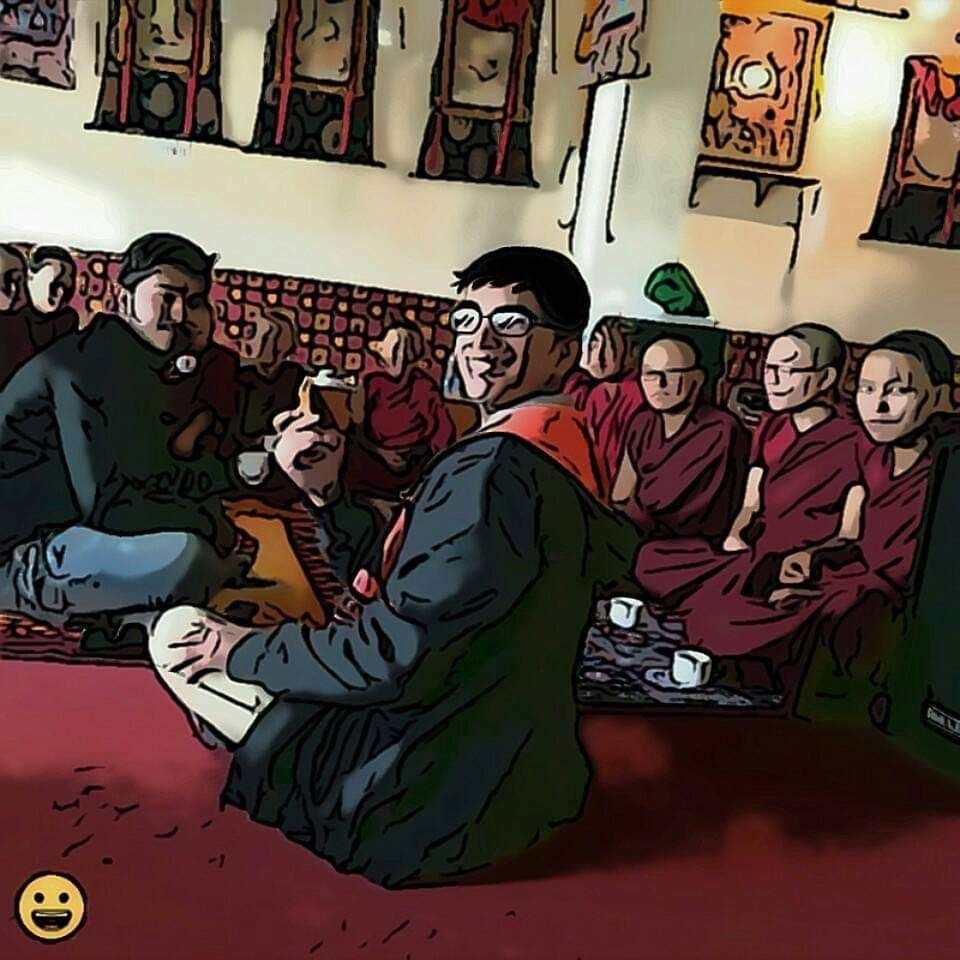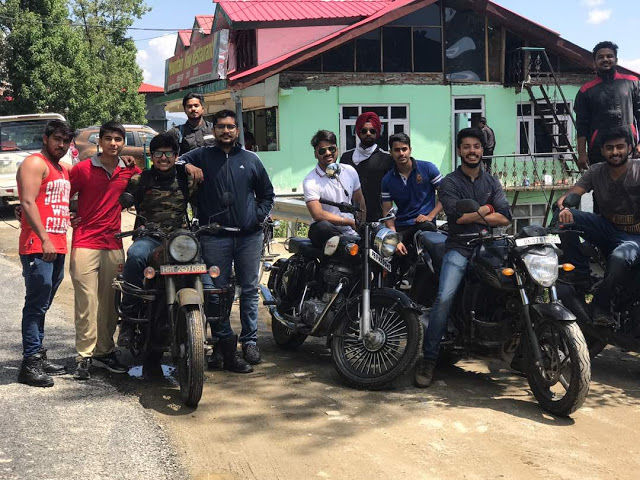 'The Road to Spiti has its own fame'
But what happens if there are 14 individuals on the trip, all from different caste, background and blood. Little did we know, this trip would change us forever and would change our status quo from acquaintances to pals. Nevertheless, we gathered one day prior to meet and discuss the route:
Panchkula – Shimla – Narkanda – Reckong Peo – Nako – Tabo – Kaza – Spiti – Kibber-Chandratal – Batal – Gramphu – Rohtang Pass – Manali – Chandigarh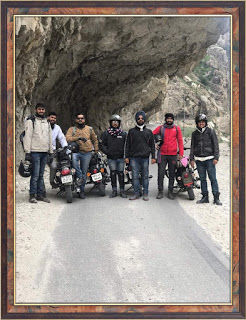 Day 1 (390km)

The trip started from the college ground at 5 am (means 6 am). So the people were ready; the vehicles were ready. Half of them on motorbikes and other half on a car. Little did we know, this bikes-car separation would lead to an unexpected situation other than no network within deep mountains.
Everything was good, everything was fine. That day our motto was 'Unity in Diversity'.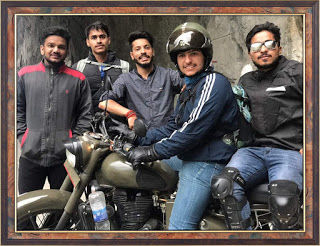 It had been a long journey and now it was gonna be midnight and we needed to halt somewhere, we took a little detour and halted at Reckong Peo for the night. The night turned into a long one because now there were conflicting opinions from 14 People on a continuous journey and this ultimately led to bikes vs car from bikes and car.
There was no turning back now. The journey had to continue, no matter what
Day 2 (547 km)
And yes it continued but not together this time
Still, we moved on irresistibly and passed Nako then Tabo and then finally to Kaza in a single day. We spent the evening at Spiti, the main destination and as they say, Spiti is surreal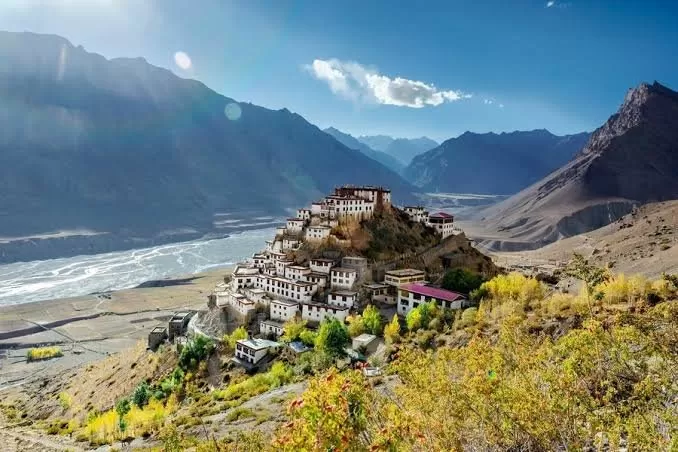 Its nothing but a small town located between valleys and sometimes known as 'Mini-Ladakh'. And here rests 'The Post Office at the Highest Altitude', Hikkim Post Office. And the land of famous Key Monastery.
There was so much to see, so much to explore but we couldn't afford one day more so we moved along the road on the very morning next day.
Day 3 (727km)
The morning came, with a new ambition which was to clear the other half of the journey, which happened to be the difficult one
The journey in the beginning was good as I got to see a monastery from inside for the very first time. Don't know the name though, as it came along the route.
They welcomed us with a kind heart, pretty sure we overstayed our welcome.But what surprised us, that there was not a sign of a single male monk there. At every other look, I could see only female monks which just made me curious but I never asked why.
After saying bye, we moved towards the lake, the famous Chandratal Lake and somehow we managed to miss the turn and went straight ahead to Batal. Our fellow Biker Comrades managed to get to the lake and decided to spend the night over there.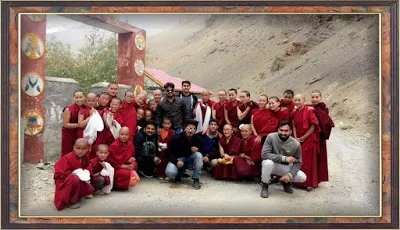 After a tummy full lunch, We continued. And from here everything started haywire. THERE WAS JUST NO ROAD AHEAD. Later we realized those River trails ahead were THE ROAD and we somehow managed to get on the trail praying to the HOLY RIVER WATER TO NOT TO FLOOD THE ROAD.
Day 4 (1160km)
Not a very Good Morning, still stuck in the MIDDLE OF NOWHERE wondering how to contact the fellow Biker Comrades and Alas! we came up with the idea of marking the big boulders to give them messages like:
- We were Here
- This Way
Hoping they would see and understand our crypto messages. Besides this, we had another problem on our way, The River. The river started to flow, flooding its trails that ended up with WE being stuck but it was no time to lose hope.
Somehow we managed to get out of the situation thanks to our optimist friends.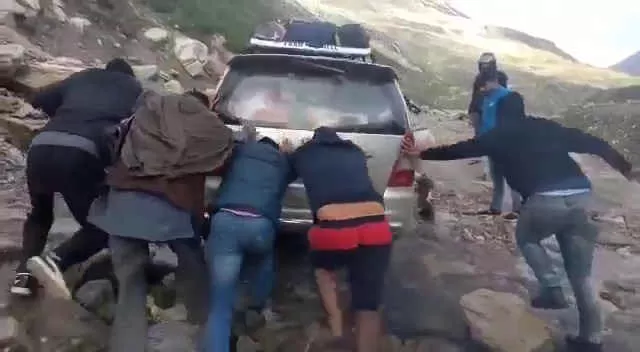 There was no holding back now, few kilometers more for the concrete road and yes, there it was, Keylong where we got our network back again on phones, then Rohtang Pass, then Manali where we decided to halt and wait for our fellow Biker Comrades
The wait for them was long for sure, it was noon and then evening
There they were on their raging bikes, so relieved to see them safe and sound despite the past conflict
Just entering Keylong we realized how much we missed roads and in Manali, we realized how much we missed having humans around
And the home was not far now and we had all night because The Night was Young So Were We.....