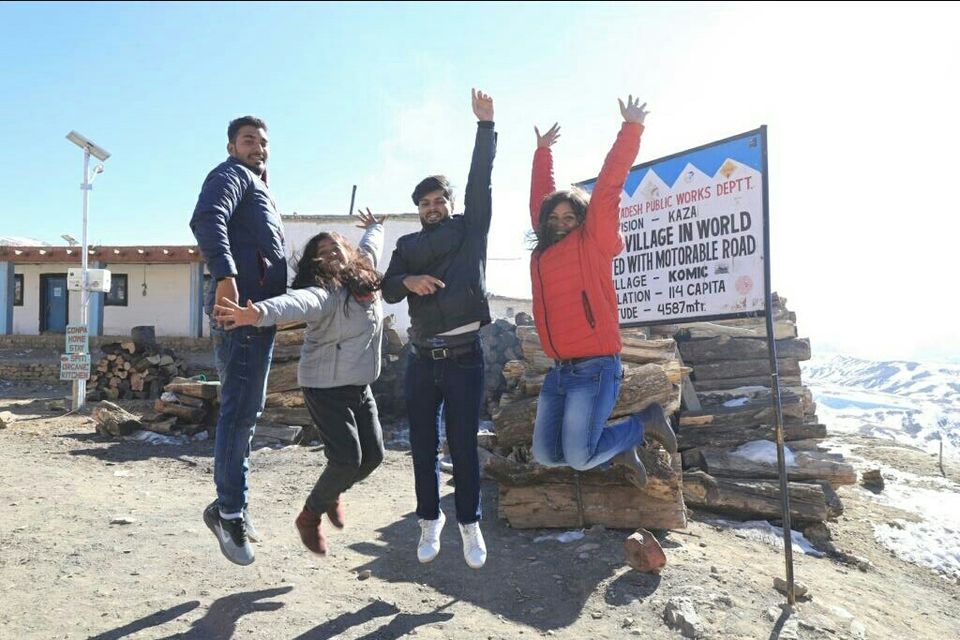 Finally my long time wish came true, trip to the Spiti Valley. I, along with my sister and two friends took off to Spiti Valley via Shimla from Delhi on 19th January, 2018. I and my friend finished our beer in the car itself and stocked the wishkey for the later part of the journey. At around 5 in the morning we reached Shimla and our journey to Spiti Valley continued from there; enjoying the sun rise. We stopped at Rampur to have breakfast, after which we took the Kinnaur Road. The trail of the Kinnaur road, also known as Tibet Road has sharp turns and tunnels. This road is considered as one of the Deadly Roads in India. We stopped at one such tunnel to admire the nature around. After a halt of 20 minutes we continued our drive via Pooh to Nako and soon our phones started showing no service (being out of coverage area made me very happy). We decided to spend our first night at the only homestay that was open in Nako where we were given rooms with limited water and home cooked dinner. Though the temperature was very low (around -14degrees) we managed to get freshen up and tugged ourselves under the blankets. Till the time dinner was served I and my friend enjoyed 2 pegs of whiskey each. By 9pm dinner was served, to have the meal we had to walk a distance of approx 1km. We gulped down our dinner quickly and returned back to our rooms to get good sleep.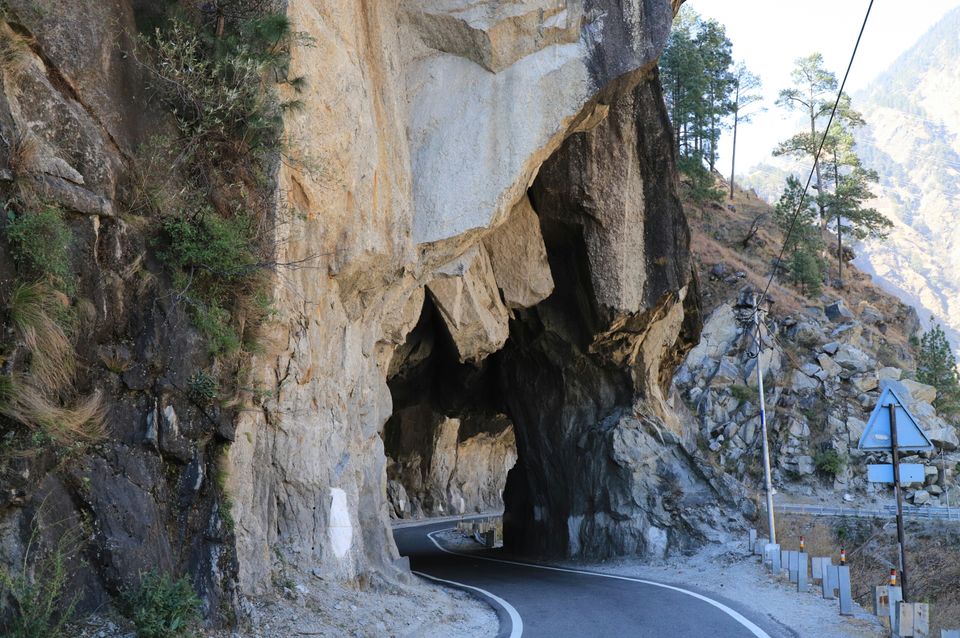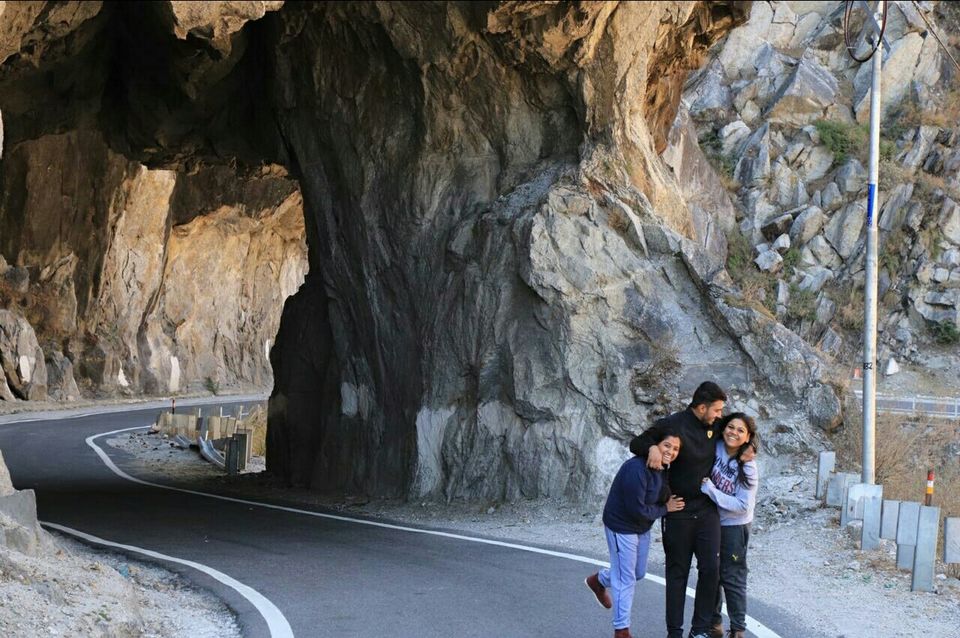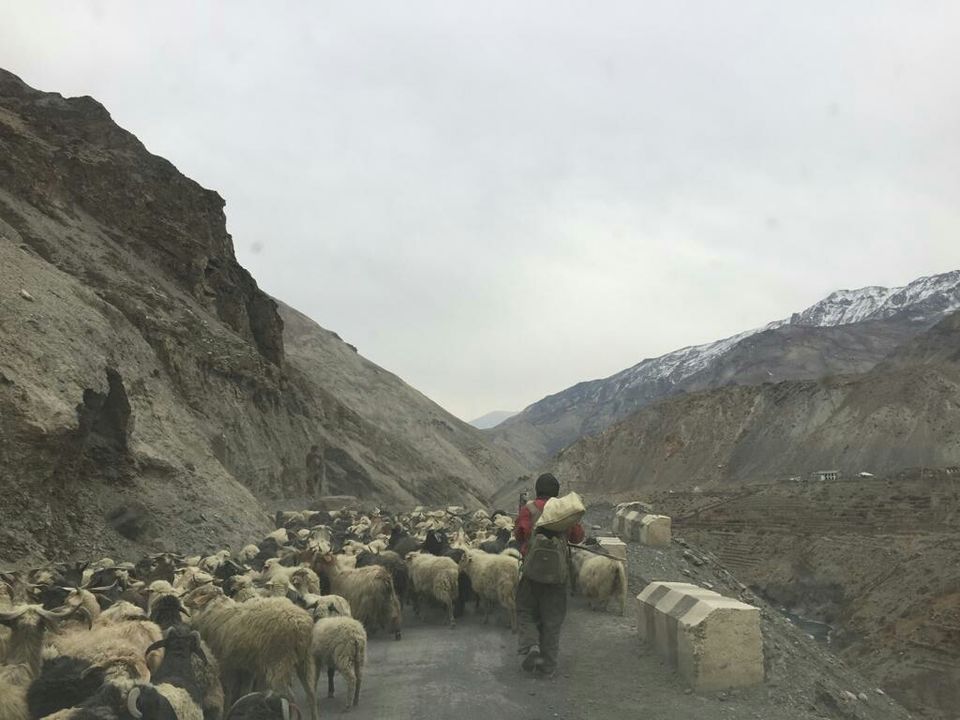 Next morning after getting freshen up (which includes only brushing our teeth and wiping our faces with wet wipes) we planned our drive to Kaza via Sumdo and Tabo, but because of the temperature out there we had a frozen engine and the car refused to start. The boys along with the driver somehow managed to start the car. However after a drive of approx 3km the car stopped again while taking a sharp turn. After a wait of 1-2 hours we saw four Indian Army trucks coming towards us who stopped and helped us with water for the engine as well for us to drink, also some snacks were offered to us which we readily accepted. They were the life saviours. Soon we started our drive to Kaza. In between we stopped to have a light breakfast at a place near to an Army base camp as we thought to take the advantage of both food and to make phone calls to let our parents know that we were safe. The drive from Nako to Kaza via Tabo was breathtaking. There were mountains covered with snow, we crossed many frozen lakes and frozen waterfalls where we even saw frozen waterfalls hiking. Finally we made to Kaza by 1pm, just at lunch time but we hardly found any open food joints. We wandered all around the place to have a good meal but unfortunately we found none and in the process I had a fall over on the snow which brought a lot of entertainment for my co-travellers. A guy helped us by opening his closed restaurant and served us with rice, dal, sabji, roti and omelette; thanks to the warm-hearted people of the hills. After the meal we took off to the Key Monastery which was a way of approx 45 mins from Kaza bus stand. The Key Monastery is a Tibetan Monastery which is the biggest monastery of Spiti Valley and a religious training centre for Lamas. As it was near to Republic Day we found no monk there; all of them left for Republic Day parade session. Still we stayed there for couple of minutes to enjoy the beauty around from the hill top (altitude of 4,166 metres above sea-level) where Key Monastery was situated. We took off from Key monastery and headed towards Kibber, which is a small village in Spiti Valley of around 80 houses and the Kibber Wildlife Sanctuary. As we found no homestay in Kibber we were back to Kaza to stay the night there. We found a homestay named Dolma homestay for us to spend the night. We checked in, got freshen up and directly went to dining hall which was way warm than any other place in Spiti Valley; alongwith wifi. We talked, drank, watched TV and did whatsapp call with our parents. After dinner we had a good and warm sleep, since we were provided with heaters in each room.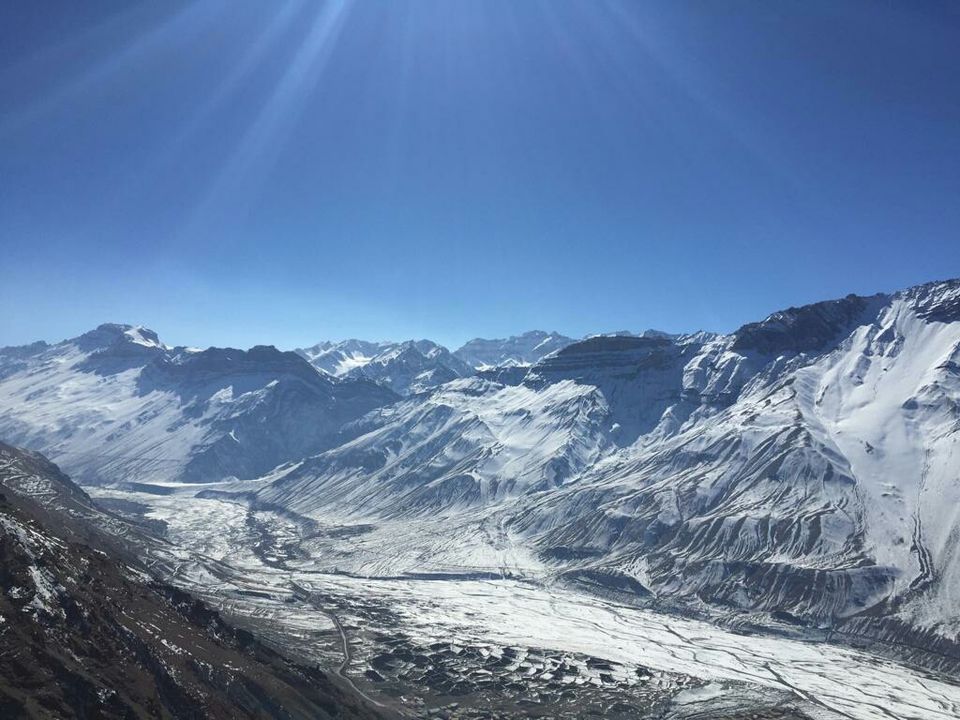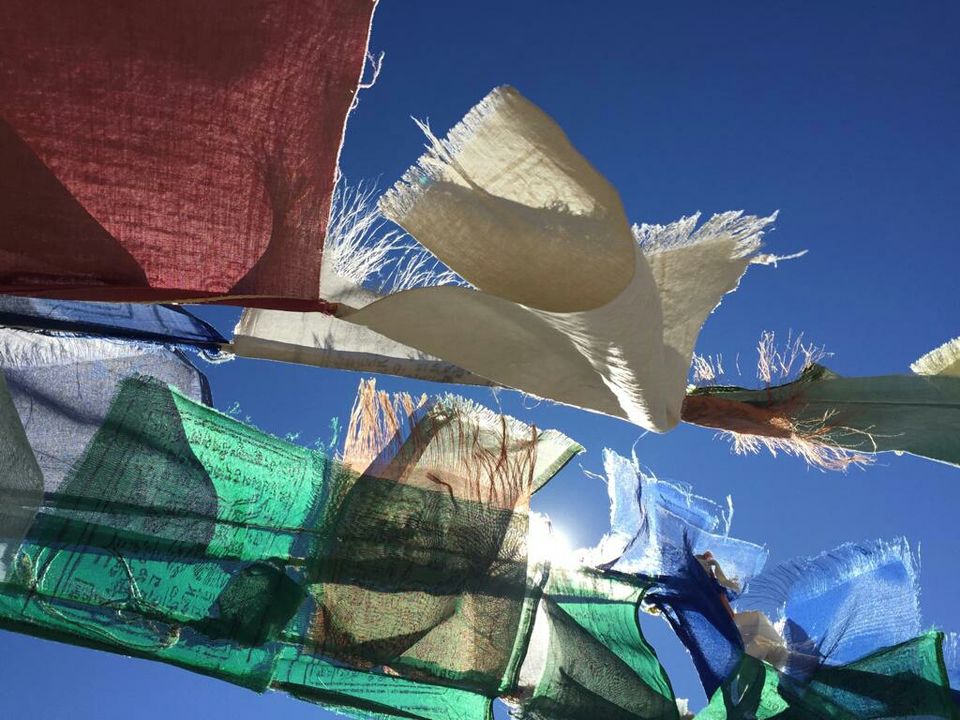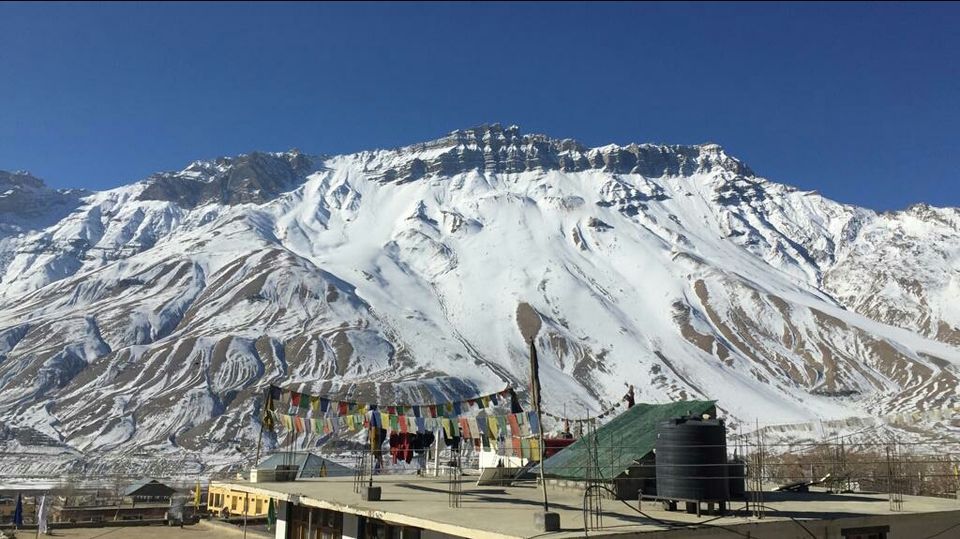 Next morning we woke up late, had our breakfast, washed our hairs (I would never suggest that to anyone). It was freezing in Kaza, the temperature was -18degrees. We left for Komic which was a route of near to 1 hour from Kaza. Komic which is famed as the highest village in the world consists of the Komic Monastery where we had a chat with a monk about their livelihoods in the winters specially. The place had a very pleasant view of the small village surrounded by the snow covered mountains. Soon we were served with meal in the monastery alongwith tea. We sat with the monks and enjoyed the food; we might never get another chance to have such an honorary meal again. After having a great time in Komic we took off for Hikkim to see the world's highest post office. It is around a 15mins bumpy drive from Komic to Hikkim. We started our trek downhill and uphill to the post office. On the way we stopped at a school where the children were practicing for Republic Day parade; we played with them for around 15 mins and left for the remaining trek towards the post office. It was a rough trek for us as we were unaware and unprepared for it. We finally made it to the post office; we could see smile on each other's face as soon as we saw the post office. We talked with the post office master who has been handling it since almost 25years. He offered us tea, such a kind hearted person. We left back to our parked car to see that our car had a flat tire. We somehow managed to drive down a few kilometres but then at one point we had to stop. The driver left us in the car in search of a new tire. It was way too cold to just sit there inside the car neither we could leave the car as there was cold wind blowing outside. We listened to music, sang, cracked jokes on each other, and ate whatever we had as our backup. Slowly it was turning dark and we could see the sky full with stars. We dared to come out of the car to smoke the last cigarette we had and to gaze the stars; unforgettable night sky view. It was just a matter of 10mins and all of us were shivering. The temperature dropped down to -24degrees. We got back to our car, sat there and eagerly waited for the driver to reach. After a wait of 4 hours our driver showed up with a different car which dropped us to same homestay in Kaza. After getting freshened up we quickly had our dinner and decided to sleep.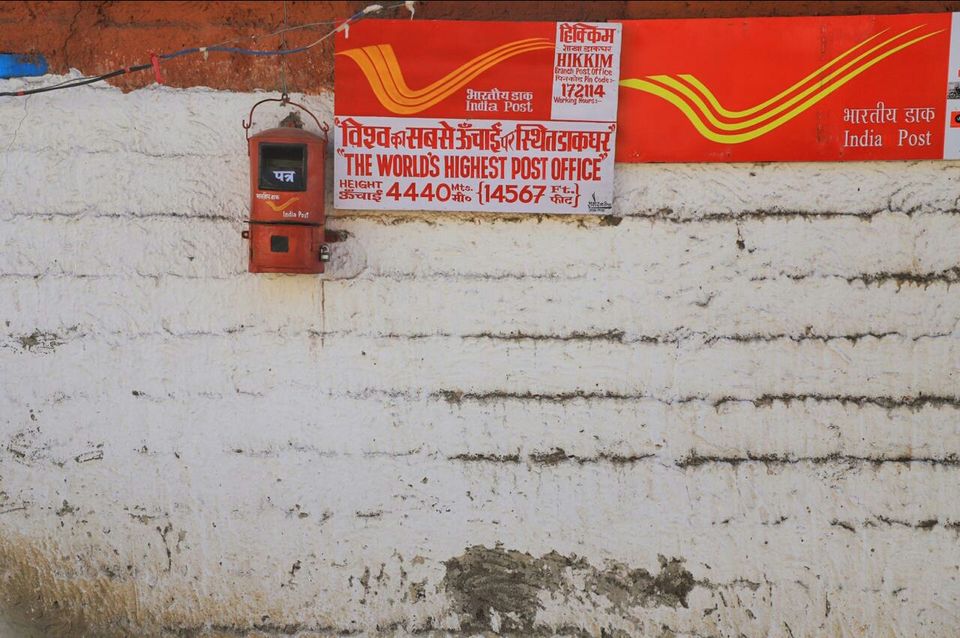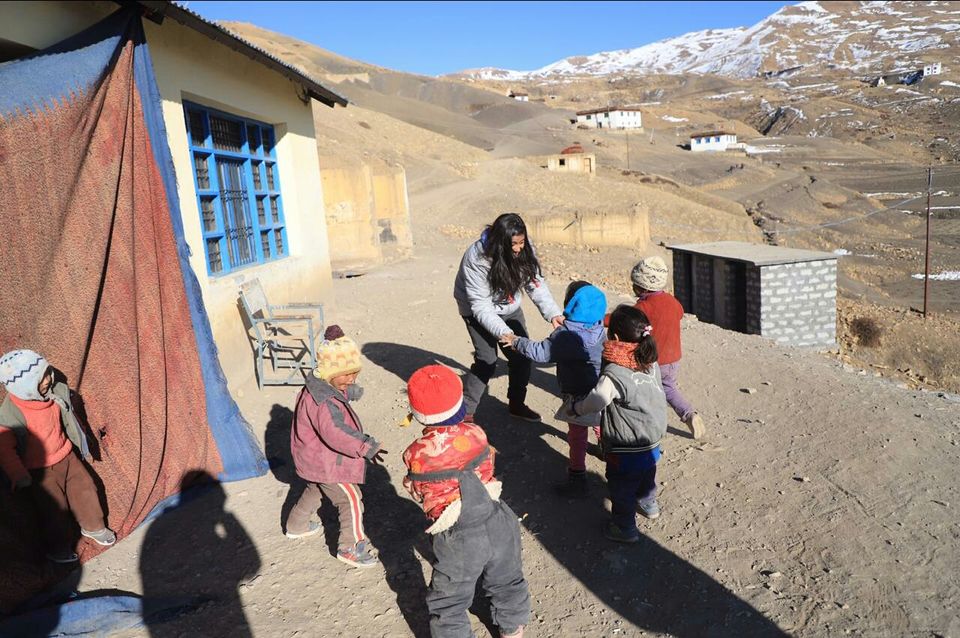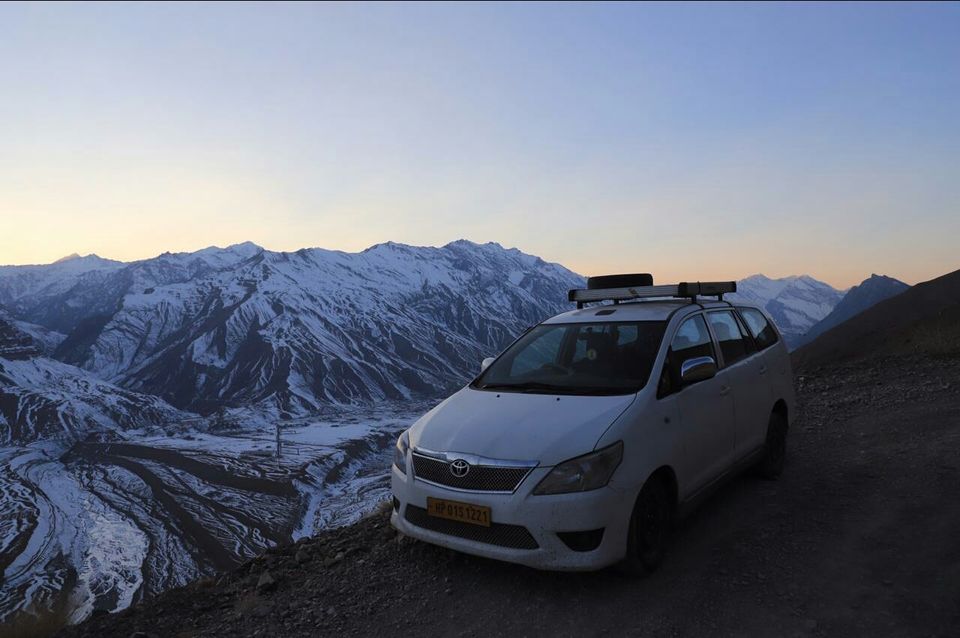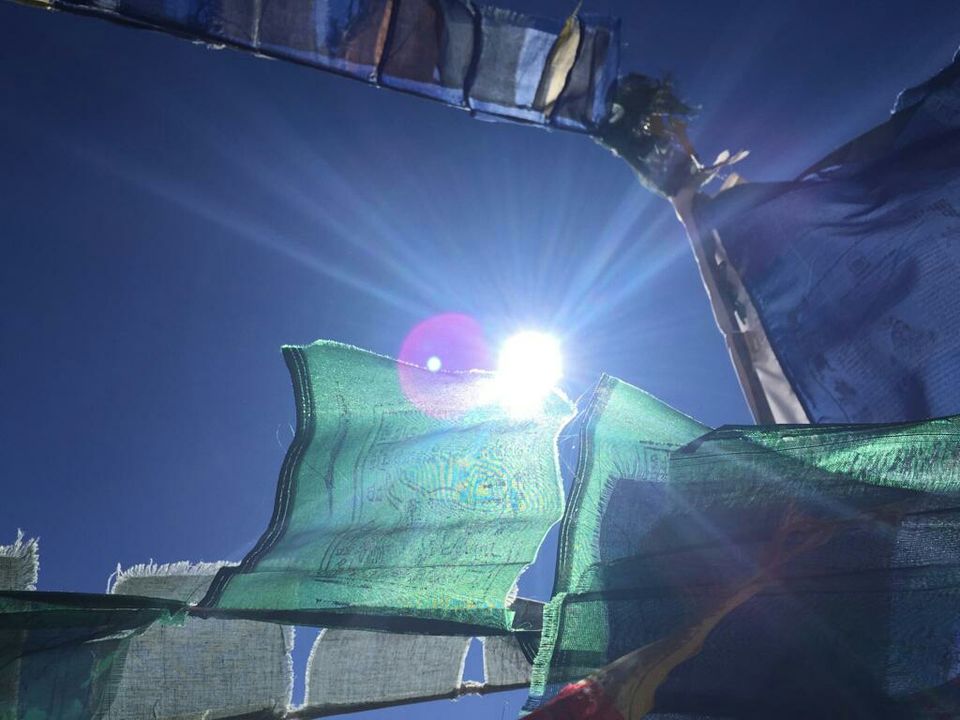 After a good sleep we checked out of the homestay; had something to eat and left for Shimla. So our trip was nearing to end when we had another flat tire. With the flat tire we managed to reach Tabo where we changed the tire and continued the remaining journey. We crossed the same Army base camp and stopped there to call our parents again; after that we had a non-stop drive to Narkanda where we saw roads covered with heavy snow. At one point our car stopped because of the snow and it became impossible for us to move ahead. We got down of the car played with the snow and later realised that it would be stupid to stay outside as it was freezing. We sat inside the car and were half asleep there for near about 3-4hours and then started to Shimla. After an icy drive we reached Shimla at around 11 in the morning. Shimla turned white after the previous night snowfall which reminded me of the movie Narnia and this mind-blowing beauty made us decide to stay our last night in Shimla. We drove directly to the Mall Road; had a good breakfast and checked in the hotel. On the fifth day we took bath and it felt like heaven. After a good shower we all took a short nap and then left in search of good food in the Mall Road. We ate like it was our last day. After the meal we took a walk to the Ridge; went to the Church; strolled around there and walked back to the Mall Road. As we have already been to Shimla before we did not want to go anywhere else, but to have good food. Soon we reached our hotel room; booked our bus to Delhi for the next morning and decided to get drunk on our last night. With that thought we left our hotel rooms again in search of drinks. We helped ourselves with rum and soon our party started in our hotel room with loud music, dance and rum. Everyone enjoyed that night with heavy heart as it was the last night of the trip and from the next day the daily life starts. We had a good comfortable sleep after the party.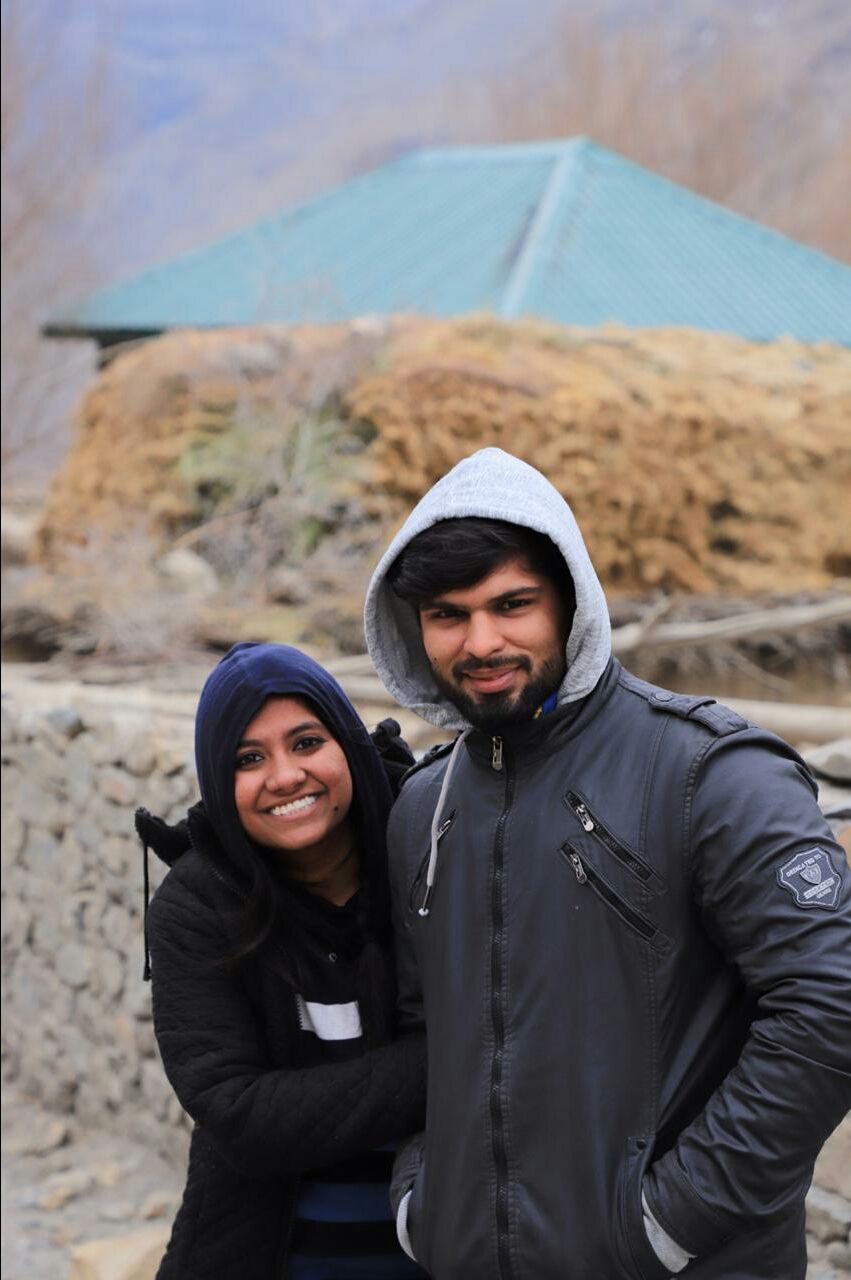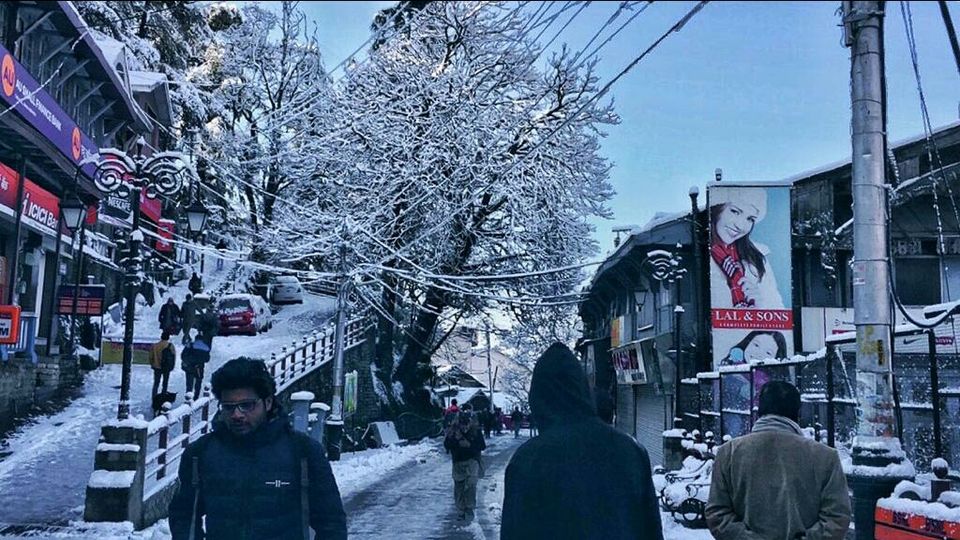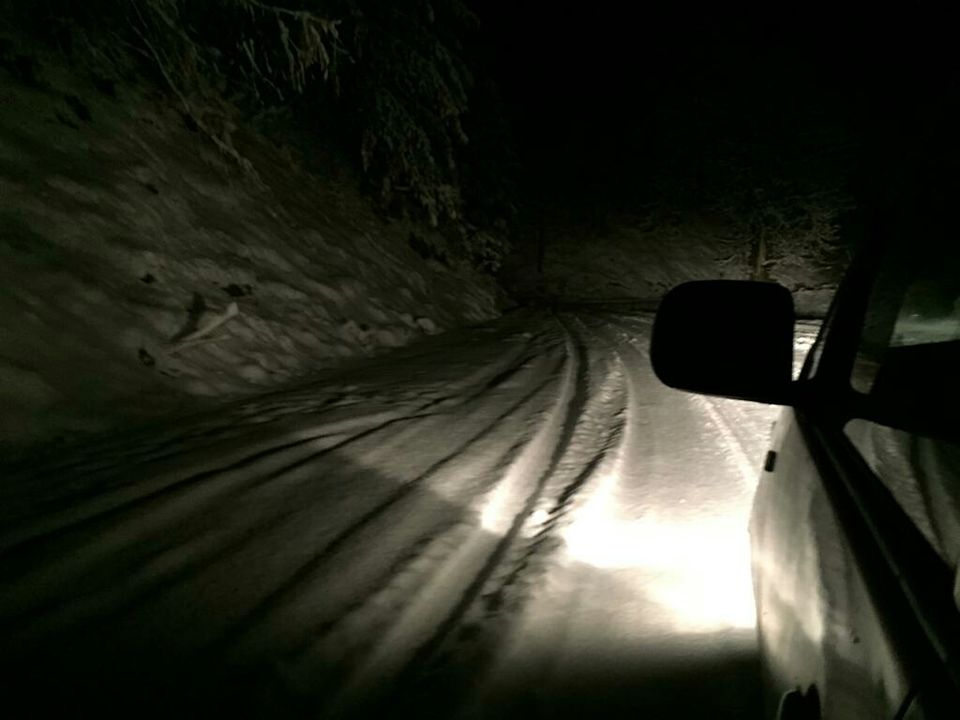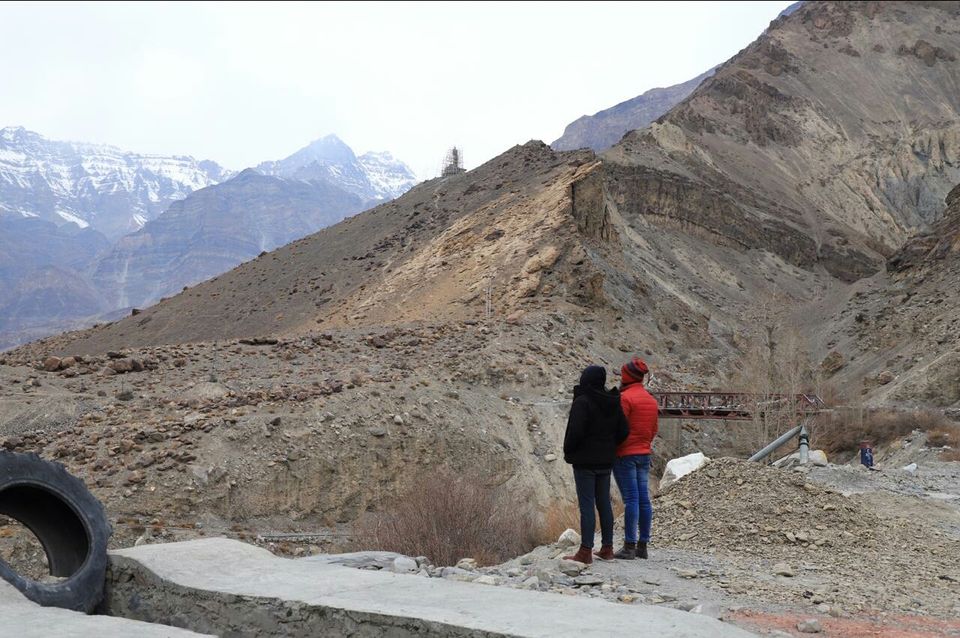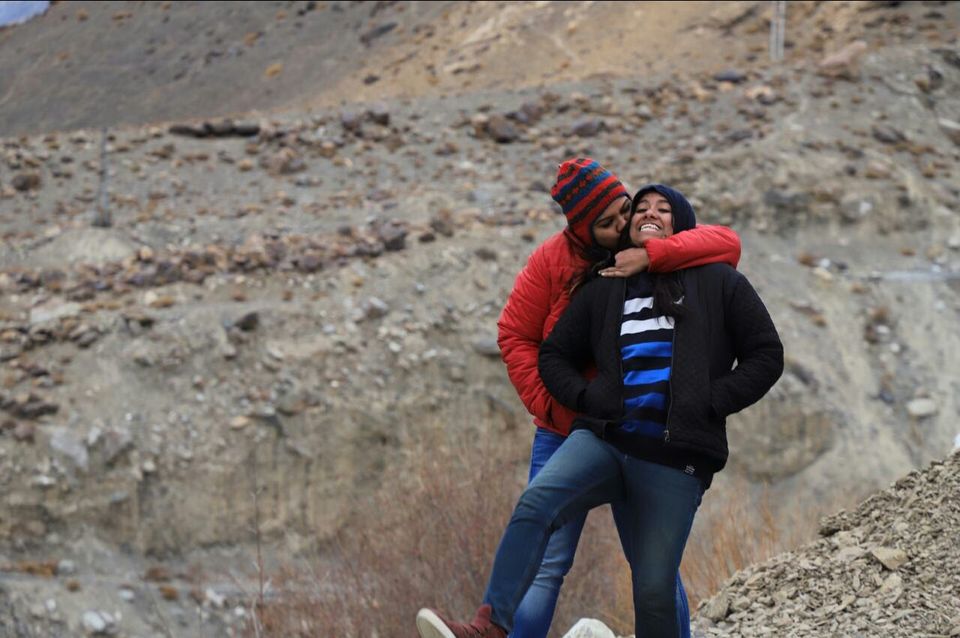 Next morning we woke lazily, took shower and checked out from our hotel rooms and took a drive to the bus station. After a light meal we boarded the bus at 11:15 am and left for Delhi. We reached Delhi at around 9:30pm. And our trip ended on 25th January, 2018. 
In this trip we had a lot of difficulties with the vehicle, weather, food, road still I had a delightful and memorable trip to Spiti Valley. The road to Spiti Valley is rocky and bumpy with sharp turns; it is a daring drive and you need to be careful all along the drive but the amazing view will definitely make you enjoy the drive. We had an expense of approximately Rs 11,000 per person, which i feel is worthy for such a heavenly trip.
As a suggestion, do keep a good stock of water and snacks with you because you may face challenges while reaching your destination and end up finding nothing to eat.