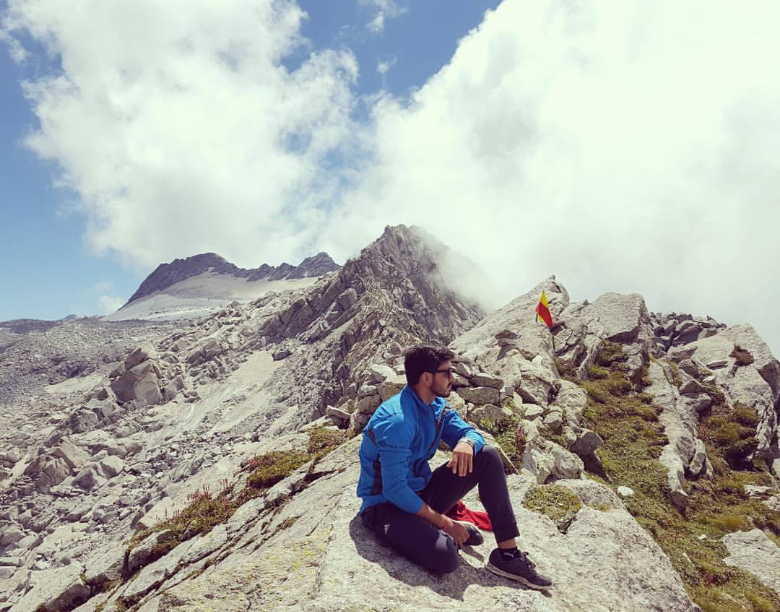 Indrahar Pass is in the Dhauladhar ranges of Himalayas. Indrahar Pass trek starts from Mcleodganj (near Dharamshala). The trail passes through the famous Triund, Ilaqa Pass and Lahesh Caves. Final destination, Indrahar Pass. Although for the trek lovers the pass continues to Chamba Valley that would need a guide with you. The trekkers on this trek explore the natural beauty and the charm of Indrahar pass and enjoy camping around the Lahesh Caves. The panoramic views of the Dhauladhar range and other Himalayan peaks are the extra perks of this trek.
Duration: 4 Days
Trek Type: Moderate - Difficult
Altitude: 4,324mt or 14,245ft
Indrahar Pass is a pass in the Dhauladhar range of the Himalayas, located 14,245 ft. above sea level. The pass forms the border between Kangra and Chamba districts of Himachal Pradesh.
Indrahar Pass trek will take you through green pastures, dense deodar,, and rhododendron forests and rocky ridge boulders. The trek is well marked by the Gadi Shepherds who use the trek to gaze at their frocks in summers.
Initially, the trek will begin with a steady climb through the Himalayan region and later turns into a steep climb, walking through rich wildlife areas. The pass offers you an ultimate adventurous experience as it comprises continuous climbing often over boulders.
Arrive at McLeodganj:
Arrive at McLeodganj a day earlier and give yourself a little rest before you start the trek. You can take the AC Volvo or HRTC buses, it will be an overnight journey. You can even travel by your own car. A parking facility is available at McLeodganj bus stand which costs around 300-400 INR per day.
After the overnight journey you will reach McLeodganj by 7:00 or 8:00 am and then you can rest. The entire day you can relax or go out to explore the small town which offers you a rich Tibetan culture. Also, you can pay your visit to Bhagsu Shiva Temple and waterfall. Other popular places are St John's Church, Dal Lake, Naddi Naddi Village and many more.
Later in the evening have your dinner. Go for a sound sleep because tomorrow would require extra effort.
Day 1: McLeodganj - Triund via Galu Devi Temple: 6184ft to 9760ft: 09 km
The trekkers should start the trek by 8:00 or 9:00 in the morning after a good healthy breakfast. The trek is 09 km. If you are willing to shorten the distance on the first day then one can take a taxi to Galu Devi temple. This would cut your trek to approximately 6kms. The total time from McLeodganj to Triund would be about 4-5 hours. But starting from Galu Devi temple would reduce the time to 3-4 hours. The trek is one of the most popular trekking routes.
The trail till halfway is a gentle rising one through the trees and traverses the steep and rocky section of the ridge. Past the Magic View cafe (which is the halfway point till Triund), the trail gets steeper. It continues with steep switchbacks as it climbs the altitude. Although the last couple of turns brings the extra efforts and lands you on a grassy ridge that stretches a good amount of area. You have some shops here for refreshments, serving tea, coffee, honey lemon tea, Maggi, etc.
The tough work for the day ends here and you can pitch your tents here for the night. Relax on the grassy ridge or take a walk and in the evening eat properly and sleep for the fresh start the next day.
Day 2: Triund - Ilaqa Pass: 9760ft to 11200 ft, 5kms
Wake up in the morning by 7:00 or 8:00 am. Take a deep breath and absorb the view of mighty Dhauladhar ranges because the morning view from Triund is fascinating. After breakfast, start your trek to Ilaqa pass. The next stop will take 3-4 hours but the trek will be quite similar to Triund till Snowline Cafe followed by a plain meadow of greenery.
Laka Got or Snowline Cafe is 2kms from Triund which is mostly uphill and the next 3kms to Ilaqa pass is downhill or flat plains. Once you reach Ilaqa Pass unpack the bags and put up the tents here. Have your lunch and explore nature. One can easily see the Indrahar pass from the Ilaqa pass yet the pass seems to be untouched from below because of the boulders trail. In the evening, you can notice many constellations if the weather is clear. But the best view comes with the sunset, when the red rays touch the top of the pass. This image which is drawn by nature is inexpressible. Though a little bit of clouds at that time would do the wonders and add to the beauty of the scenery.
You can easily notice from here that the pass would not be easy to trek on. The trail is full of boulders. Moreover, the trek gets difficult to walk on since the trek is not marked for the first couple of kilometers. After which it is marked but doing it the first time is not advisable without someone local or a guide. In the evening you can have your dinner and go to sleep because tomorrow is not going to be an easy trek for you. Trek till Iaqa Pass is considered easy to moderate but things change beyond this point. So get ready.
IMPORTANT: If you are traveling for the first time it is advised to go with a guide. Do not even try to go alone, the trail is filled with boulders and the wrong path may lead you in the middle of nowhere. Hiring a guide from McLeodganj would cost you about 1000 INR a day but you can avoid that. You can ask a local person in Ilaqa Pass or at Snowline cafe for the same. They would be happy to take you there for 500 INR per person.
Day 3: Ilaqa Pass - Lahesh Caves - Indrahar Pass - Ilaqa Pass, 11200 ft to 14.245 ft, 12kms
Today is going to be a tough day so be prepared for it mentally. Wake up in the morning as soon as possible because the trek needs to begin early ofcourse keeping in mind the light. You can start your trek by 7 am at most because the weather might get rough later on the day. And you don't want to get stuck there at any cost. The distance is also the longest today and also the most difficult of the entire trek.
Starting from Ilaqa pass and coming at the same point, you would cover a distance of about 12 km which means it would take around 8-9 hours that totally depends upon your speed. One important thing to keep in mind while climbing pass, make sure you take an adequate amount of water and some glucose biscuits or glucon-d with you. Water will not only protects you from dehydration but also helps from altitude sickness which is pretty common at this altitude.
The route from Ilaqa Pass to Indrahar Pass is steep and is completely uphill. The difficulty level varies from moderate to strenuous because at some curves you might wanna crawl and climb up because of the angle elevation. The vegetation on this trail is only during monsoon. Otherwise, it is completely dried out and terrains are rocky or boulders during summers. Likewise, the whole trail is covered in white with snow during winters.
While climbing you would come across Lahesh Caves which is about an hour away from Ilaqa Pass, you might wanna see how it is. The possibility of putting up a tent there is complete no because there is no space to do so. You might have to move on hands and knees to get inside the cave and be in the same position till the time you are inside. If you are planning to make a stop at Lahesh Caves instead make sure you don't do it near monsoon season because of the risk of insects and ofcourse rain. You only need sleeping mats and sleeping bags for the cave as it does not have the area to pitch a tent.
Another hour from caves is steep uphill but not that difficult. The difficult part starts after that where you might land up crawling and climbing at the same time which continues for 2 hours in bits and pieces. Once you reach the pass you would witness the Chamba Valley and the complete Dhauladhar range. All you can see would be the Himalayas all around and if going during the month of May can catch your eyes with snow on these peaks. After reaching Indrahar Pass, spend some time there and experience the majestic views and rest for some time.
While you are on top, make sure you start coming towards Ilaqa pass by 1:00 pm maximum since the weather at this height is completely unpredictable. You definitely need to take extra precautions while descending. It is advised to take some extra time instead of rushing down. The steep descent almost makes the angle of 70-75 degrees which is dangerous even for experienced trekkers. You have to maintain a gentle pace and make sure you watch your steps because few of the rocks are pretty loose and might fall down with extra weight on them.
Once you reach Ilaqa Pass have some water with sugar which would balance your low sugar level and if in case you suffered from altitude sickness then it would benefit that too. After a while, have your food and remove your shoes and wear slippers it would make you comfortable after 8-9 hours of struggle inside the shoe. Later in the evening take your dinner and today you would get one of the best sleep because of the hard work you did today. Take a sound sleep as tomorrow it will be a little easy but tiring too.
Day 4: Ilaqa Pass - McLeodganj 11200 ft - 6184 ft, 14kms
This the last day of a mesmerizing and wonderful experience. The trek today is all about the downhill experience. It will be easy but can get a little tiring because of the risk of twisting the ankles increases. You will go through a descendant and rocky trail so maintain a steady pace. The trail is for about 3-4 hours before you reach Galu Devi temple. Now from here either you can hire a taxi which costs around 400 INR. Else you can continue walking till McLeodganj which would take another hour at most. Once you reach McLeodganj, the trip comes to an end, you may decide to rest here for a day or may take an overnight AC Volvo or HRTC buses from here. You will find buses from 4.30 pm till 8.30 pm to Delhi.
Preparing For Trek
Planning a trek is exciting and needs complete preparation to make sure your trip goes well and you enjoy your days on the trek. We try our best to provide important generic essentials required on the trek for trekkers. But there are certain things that you need to carry with you in your backpack. You can find a list of personal essentials you must carry with you. Make sure you don't overpack your bags by keeping things not useful on the trek. Check out your fitness to make the trek comfortable for you and eliminate any chances of health issues.
What To Carry?Trekking Shoes:
As we pass through rugged mountains and rocky trails it's really important that you feel comfortable while walking. A good pair of shoes can do exactly the same for you. Try avoiding new shoes and if you have to buy one then make sure to wear them for some days in advance to get used to it.
Backpack:
Get a good backpack 40-60 Lt's with a supporting frame and good quality straps. Carry a small day pack in case you need one to offload your primary backpack while exploring nearby spots around the campsite. It is recommended but not mandatory.
Clothes:
Avoid wearing jeans on trek, carry at least 3 trek pants for the complete journey. Carry warm clothes such as a light jacket, thermals (2) to wear at night. Full Sleeves collar T-shirts (3-4) to avoid sunburn.
Accessories:
Sunglasses Cap Balaclava or a warm scarf Socks (sports socks and a pair of woolen socks) Gloves Led torch Trekking polePersonal Essentials:
Toiletries such as sunscreen, sanitizer, soap, moisturizer, lip balm, toothbrush and toothpaste, and a light towel 2 water bottles - 1litre each Plastic cover for wet clothes Toilet paperMedical Kit:
We advise you to carry a personal medical kit for yourself. Here is what all you should carry:
Avil 25mg - 4 tablets Combiflam - 4 tablets Disprin - 10 Tablets Eno - 6-8 sachets Digene - 10 tablets Crepe bandage - 3 to 5 mt Band-aid - 10 Moov spray - 1 Betadine Cotton rolls ORS - 5 Packets
IT IS A HUMBLE REQUEST TO ALL, DO NOT THROW ANY PLASTIC WHILE YOU ARE ON TREK. SAVE NATURE. BRING BACK ALL THE PLASTIC YOU USED AND DUMB IT PROPERLY.
For more - WorldTravelFeed