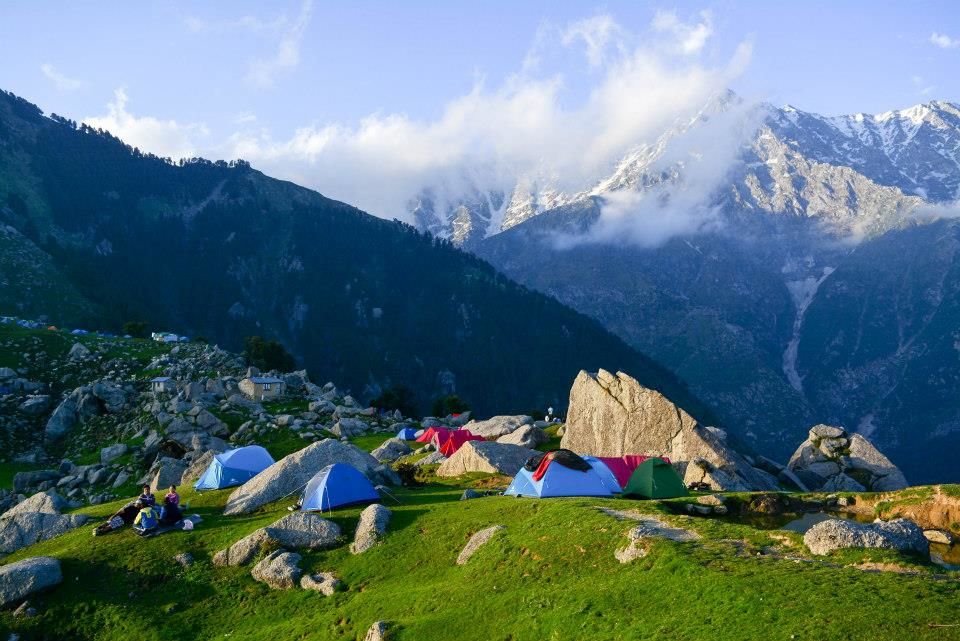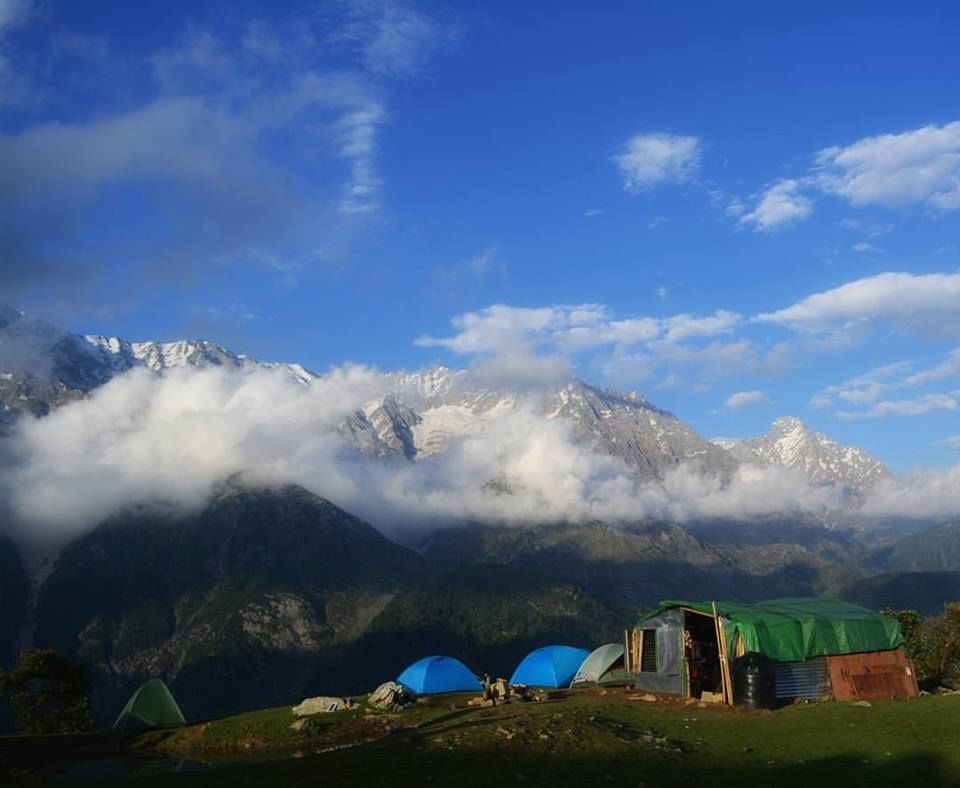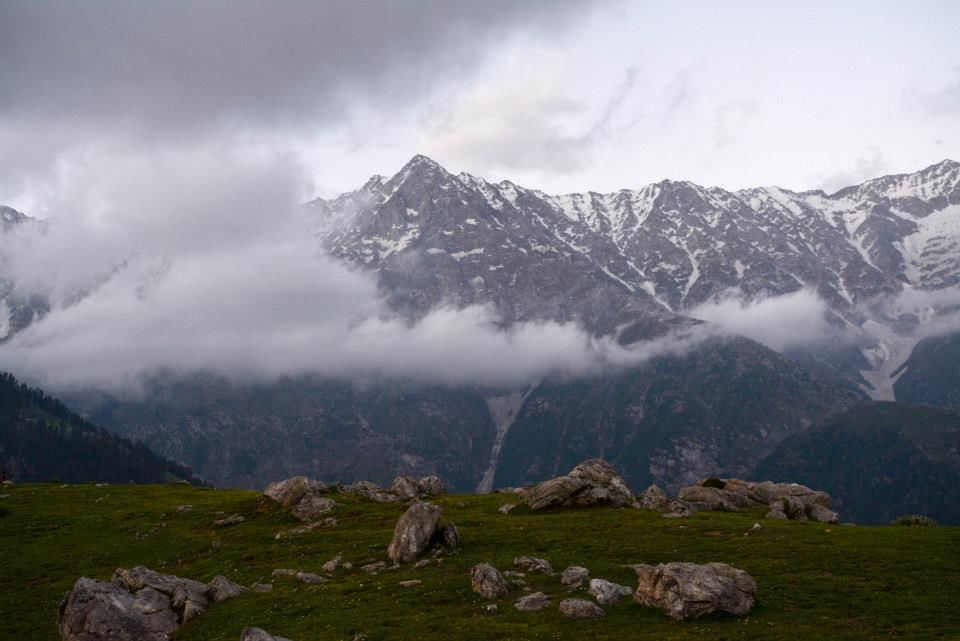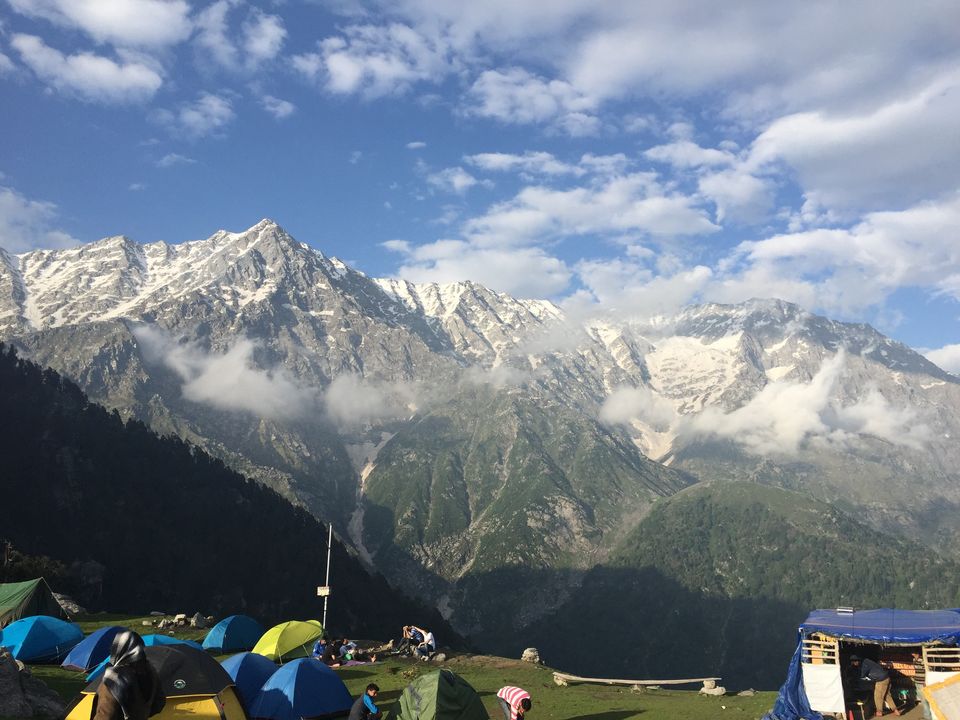 Triund trek - Triund is situated in Kangra region of Himachal Pradesh

Why should you go for triund trek - Triund is a green alpine meadow situated on top of a hill from where you have splendid views of majestic Dhauladhar mountains and of Kangra valley.
Triund is easily one of the most popular treks around Dharamshala. The best part about Triund trek is it can easily be done solo due to its well defined route. The relatively easy trail and with magnificent views of Dhauladhar ranges on one side and of Kangra valley on another side it becomes an easy introduction to the treks for beginners.
But, it doesn't disappoint the experienced trekkers as well because the trekking does not end at Triund. If you are a trekking enthusiast then you can trek further to Lahesh cave and then to indrahar pass.
Trek to Lahesh cave is another 5-6 km from Triund top and takes upto 4-5 hrs as the elevation increases. Lahesh cave is at an altitude of 3500 mtrs.
You can even trek further to Indrahar pass from Lahesh cave which is at 8-9 km from caves and takes about 6-7 hrs. Indrahaar pass is at an altitude of 4300 mtrs so the terrain gets more elevated and ascent gets steep.
The nights at Triund are so beautiful with star lit sky and the all lit up Kangra valley that it surely won't let you sleep.
The views of Dhauladhars are so close in Triund that it's bound to leave you astounded!
Trek difficulty - Easy
Duration of trek - 2 days with camping at the top but can also be done as a day trek
Nearest road/rail head - There is well defined road/rail/air connectivity to Dharamshala and then to Mc-leod Ganj from where the trek starts. The nearest airport is Gaggal airport which is at 18km from Mcleod Ganj. There are flights to Gaggal airport from all major cities. You can easily get buses or shared cabs from airport to Mcleod Ganj.
The nearest railway connectivity is at Pathankot which is 85 kms away from Dharamshala and you can easily get buses and shared cabs to reach Dharamshala. It takes around 3-4 hrs to reach.
There are a lot of train options available from Delhi to Pathankot – Delhi-Pathankot express, Delhi-Jammu to name a few. Train journey from Delhi-Pathankot is of 10-11 hrs.
Those who are driving from Delhi will take 9-10hrs to reach Mcleod Ganj and hence should arrive a day prior to trekking day. There are bus options available from Delhi, one can easily get buses from Kashmiri gate ISBT/Paharganj to McleodGanj and will take 10-11 from bus to reach McleodGanj
Total trek distance - Trek to triund starts from Mcleod Ganj with total trek distance of 8-9 km one way but you can also ride till Gallu Devi temple (1st check-point of trek) in a shared cab/taxi/ auto but they charge more due to bad road condition. You can save 1- 2 hrs by taking a cab/auto ride till Gallu Devi temple and then starting the trek
Best time to trek - March till December excluding the monsoon months of June-July. Jan and February is a heavy snowfall month and hence should be avoided
Average temperature - Pleasant summers with clear blue skies and an average temperature of 25-30 deg during the day but nights get colder with an avg temp of 8-10 deg so it's advised to carry few warmers for the trek. It's good to come prepared for chilly evenings and a slight possibility of rain during the summers.
But, Winters are unpredictable so it is good to check the weather conditions prior to the start of the trek as there may be a possibility of closed road midway in trail due to heavy snowfall
Highest elevation of the trek - Triund is at an altitude of 2800 mtrs
Handy tips for trekkers - Carry a lighter backpack with just few warmers as the temperature gets cold during the night but is pleasant and warm during the day.
Carry few snacks and a water bottle as you'll come across 2 cafes on your last 2-3 km stretch of Triund
Also, if one is not comfortable in carrying a tent then it can be easily rented for a night from the Triund top. If you reach early afternoon at top then you can easily rent a tent at 500-600 INR (do negotiate with them if quoted anything higher than this) with sleeping bags but the price increases if it's crowded so try and reach early
Forest permits required/ Entry or Trek fee? - No permits are required for this trek. There is no entry/trek fee needed for Triund trek
How to recognize the starting point of trek? - The starting point of the trek is Galu Devi temple , you can hire a taxi till Galu or trek from Mcleod Ganj to Galu. Trek from Mcleod Ganj to Galu Devi temple is a 1-1.5 hr walk on a smooth trail.
You can also trek from Bhagsu Nag, you can follow a steep trek on the left of German Bakery which goes through shops and a temple then to Bhagsu Nag village and finally ends on the back-side of the Gallu Devi temple, from where the trek to Triund starts
Stay/camping options for overnight treks- To camp at Triund top, there are a lot of stay options available. There is a government guest house at the top which can be booked either in advance at forest department office in Dharamshala or can be booked at the triund top subject to availability. Reserve forest dept. rest house for Triund Hill stay at the Forest Complex near and opposite to General Post Office Dharamsala and Police Station (If you plan to stay up in Triund for one or two days, you can reserve room for500 INR or 9 USD in forest rest house triund, from Divisional Forest Officer at this phone number 01892-224887 and email enquiry at dfodha-hp@nic.in but prefer to call or direct visit).
There are options to camp as well, as the tea/maggi shops at the top rent out the tents, so no need to carry tent if you want to make your backpack light. It would cost you 500-600 INR for a tent with sleeping bag, however if you reach late in evening they might increase the price so advised to reach in early afternoon
Food availability on the trail - A lot of small tea shops are there on the trail and in the last 2-3km stretch you'll come across 2 cafes – magic view café and Best view café
Ending point of the trek - Trek ends at Triund hill top but those who want to trek further can go further till Lahesh cave and then to Indrahar pass.
After the last 2 checkpoint (Magic view café and Best view café) and trek of 1-2 kms, you will see a vast empty green meadow surrounded with Dhauladhar mountains , some tea shops and a govt guest house and you know that you have reached the Triund top
Return route from end point - From the Triund top you can take the same trail back to Gallu Devi temple and from there to town of Mcleod Ganj. Since it is a well defined trail and with some cafes enroute you can easily trek back to the town.
Day to Day description of the trek -
Day 1: Trek from McleodGanj to Triund
Altitude: Triund top is at an altitude of 2800 metres
Time taken: 6-7 hrs if you start trekking from Mcleod Ganj. However, you can also take a ride till Gallu Devi Temple and then start the trek which will save you 1-2 hrs.
Time taken till 1st check point Gallu Devi temple is about 1-1.5 hrs and from Gallu Devi temple to the next check point Magic view café and best view café point, it takes about 2-3 hrs. The last stretch is of 1-1.5 hrs to triund top from magic view café.
Trek gradient: the start of the trail is simple as it is a plain road of stones and a flat walk but the last 1 hr stretch is a steep ascent, has tiring curves and tests the stamina.
Terrain type: Terrain starts with rhododendron oaks on side and leads into the forest. The trail takes you through the beautiful mixed forest of oak, deodar and rhododendron trees and gradually opens up with views of Dhauladhars. The last 3-4 km is a trail with splendid views of Dhauladhars and Kangra valley.
Trail description: the 1st check-point of the trek is Gallu Devi Temple which is a walk of 1-1.5 hrs from mcleodganj, the trail till here is a plain walk and takes you through the deodar forests and after this point the Dhauladhars comes into the view.
The next checkpoint are the two cafes - magic view café and best view café which comes after 2-3 hrs of walk from Galu devi temple. As the name suggests it sure does offer the astounding views of Dhauladhars and Kangra valley. The trail till here is also simple with elevation at certain points.
After these two cafes the ascent gets steep with tiring curves and the last 1-2 km is the steepest and consumes the most energy and time.
Landmarks on the way: Gallu Devi Temple to start the trail then after 5-6 km onto the trail you'll come across 2 cafes – Magic view and best view cafe
Water sources: it is advised to carry your own water bottle and re-fill it at the Gallu Devi check point; alternatively water bottle can also be bought at the cafes in the trail but you need to keep yourself hydrated till you reach the café so suggested to carry your own also.
There is no option of normal or filtered or stream water on the trail so apart from your own water bottle the only option is to purchase the bottled water at the tea shops enroute.
So, go solo and get closer to the mountains :)
Frequent searches leading to this page:-
triund trek starting point, triund trek guide, triund trek mcleodganj, trihund trek, triund himachal pradesh, triund himachal