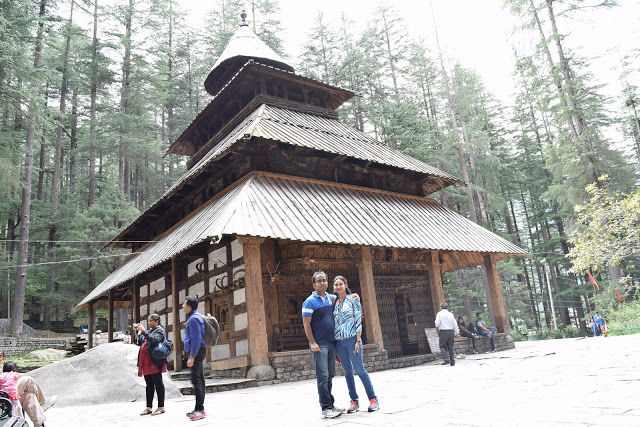 For corporate professionals, a three day holiday calls for a vacation, and there is nothing better than hill station to rejuvenate yourself! Hubby and I chose Manali in Himachal Pradesh for a short trip. The beautiful hill station is more than five hundred kilometers from Delhi, which takes 12 hours+ to reach. Book your Volvo tickets from Himachal Pradesh Tourism Desk in Himachal Bhawan, Mandi House (Delhi) or Chandra Lok Building in Janpath, (Delhi). The latter also books hotels for Himachal. Bookings can be made online as well from http://www.booking.hptdc.in/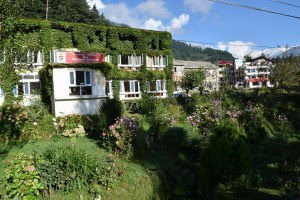 Carry food with you for the long 12 hour journey. Volvo leaves from Kashmiri Gate/Himachal Bhawan at 10:30 &10 pm respectively and reaches Manali next day around 11 am. Instead of hiring a taxi, we chose to walk with our bag packs from the bus stop to our hotel. Vibrant flowers, warm sunshine and fresh breeze (the perks of walking) welcomed us as we checkeRohtang Manalsu located on Circuit House road, a little away from Mall road.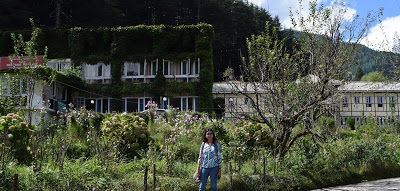 1-Himdimba Devi Temple
Post lunch, we left for the famous Hidimba Devi Temple, just 1.5 km from our hotel.
The Mahabharat History says, Bheema (the strongest Pandava) married Hidimba during the Pandava exile in forest. Hidimba stayed back in Manali and continued to meditate as Bheema left. The temple dedicated to Devi Hidimba, is believed to be centuries old, carved on stones and deodar wood. Make this place a must visit during Manali trip.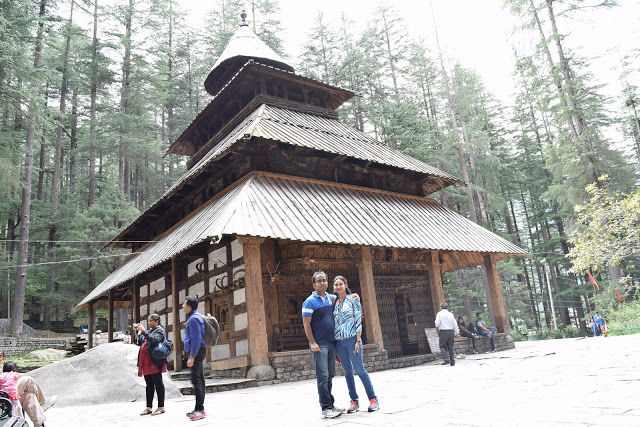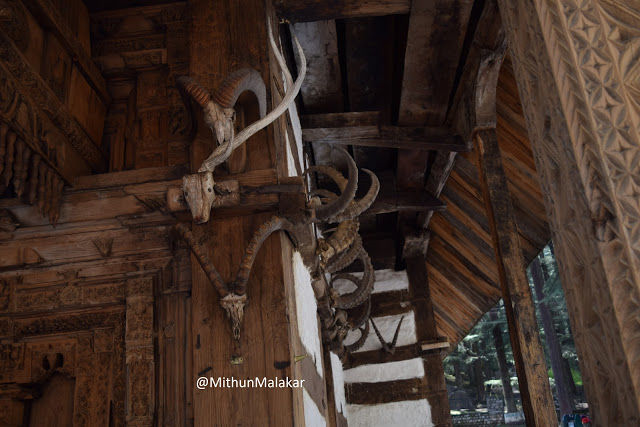 2. Great Himalayan Forest
Few meters away from the temple is the open worship place of Ghatotkach (Bheema's son). The tranquil place is surrounded by Dungri Forest, also named as the Great Himalayan Forest, entry for which is 5 rupees person.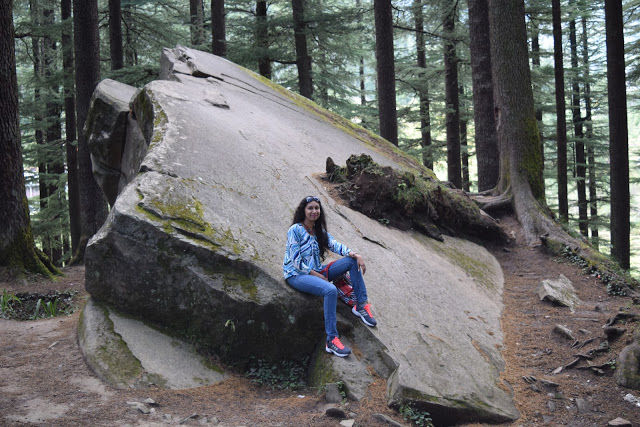 Walk through the forest trail, let fresh air wrap you while you soak the refreshing greenery. The sun shines through the thick tall trees, offering a marvelous natural view. Managed to get some amazing pictures as we spent quality time there.
Beware of hawkers selling saffron and shilajit to every couple they spot. Also, politely refuse the ladies loaning mountain rabbits at 20 Rupees to pose for a picture with you. F.Y.I. it is against Wildlife Protection Act, 1972. I did not raise a hue and cry over it because law & order is not strict in H.P, and the ladies were earning a living for themselves. Thirdly, I did not want to spoil my vacation. Seeing a white lady renting a python for picture, did not surprise me.
3. Mall Road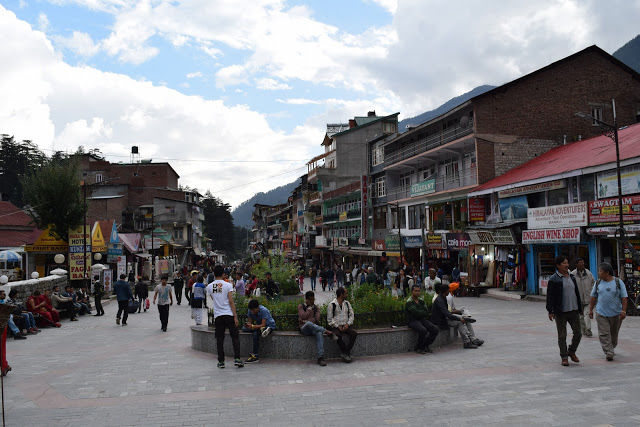 Mall road bustles with life all day long. Dotted with restaurants and travel agent shops, the entire stretch of road offers you everything from grocery to fancy clothes. There is also a flee market on the left where you can go shopping without burning a hole in your pocket.
Do buy Fruit Burfi there, which is a specialty made of fruit extract, very low on artificial sweets. You'd love the guava burfi for sure! Looks like aam-papad, but it is a pure fruit pulp extract.
Bought this delightful box of sweets from Nature's Hut, Mall Road.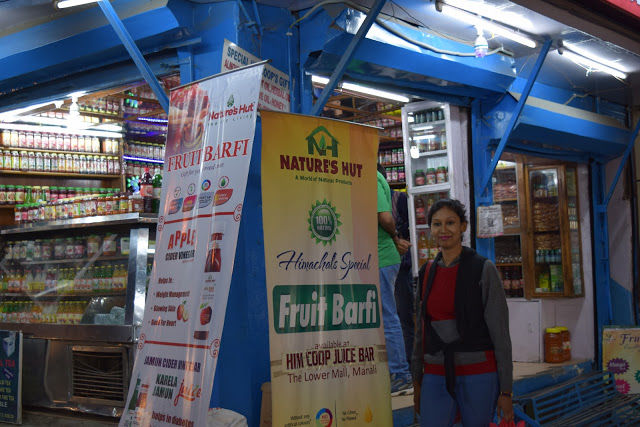 4. Tibetan Monastery
Take a right turn on Mall Road for Tibetan Monastery. The small neat temple houses a large Buddha statue and is decorated by Tibetan artefacts. (Photography restricted inside the temple)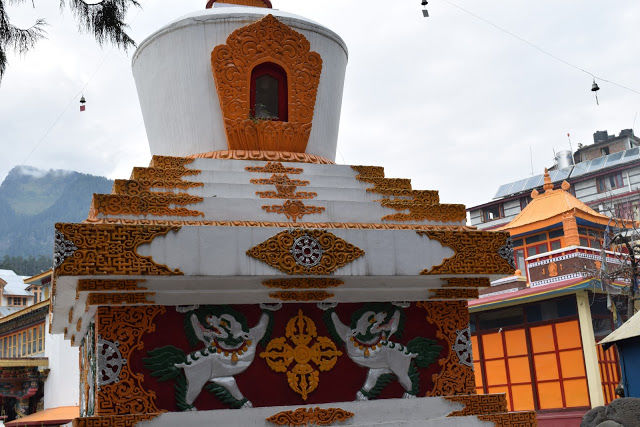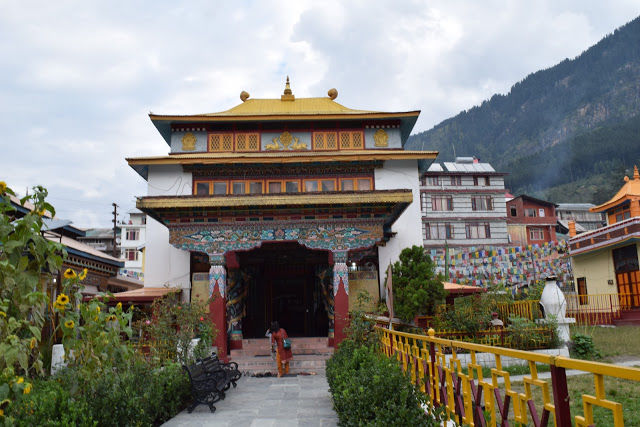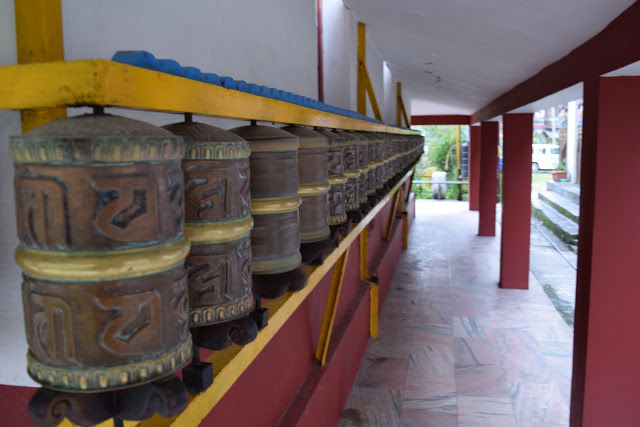 The rolling bells or prayer wheel surrounding the temple is said to bring good luck when rotated in the right direction, coupled with the chanting "Om Mani Padme Hum." A true delight to your senses.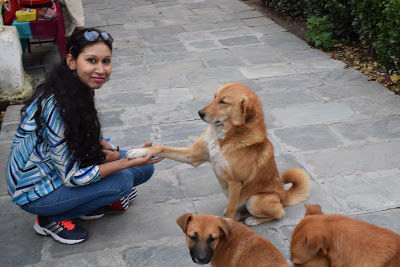 And not to forget my furry four legged friends who shook hands, err paws with me. This one made my day. They photo-bombed us as well.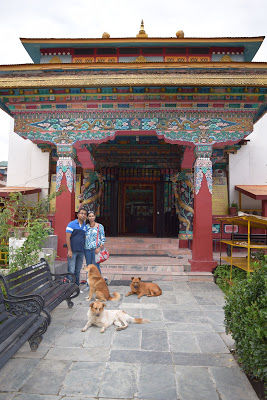 Late in the evening, we approached the Hiamchal Taxi Operators Office, Govt authorized place for tourist transport. The board on display clearly mentions the rates of transport to Rohtang and Solang. However, here is a fresh update. National Green Tribunal has recently banned all snow activities in Rohtang (skiing, snow mobile, horse riding) to curb pollution. Also, there is a limit to the number of taxis entering Rohtang. Against the fixed rate of 2400 (on display board), the taxi driver asked for 1500 INR to ferry us to Rohtang as well as Solang Valley. You need not book a taxi for early morning and leave at 4am for Rohtang. Though the ban may be lifted in near future.
This trip of mine was in September 2015.