The first time i went to Mcleod ganj was in 2010, I was doing my B.tech and my friend proposed me this place to go to in vacations. I had no clue about this place, i haven't even heard of the name before. So i looked it up on internet, not much info was available, it was a Tibetian place close to Dharamshal and has one famous waterfall, Bhagsu. That's what i went knowing about this place, so we had no idea about how to reach the place, so someone guided us about taking a train till Pathankot and thereon buses are available till Mcleodganj, so that's what we did.
It was early February,2010 and when we reached Mcleod ganj, it was a small town with hardly 100 buildings, we checked out the whole place in just 30 minutes. At the center of the town was Mcllo restaurant & one another North Indian restaurant and rest were 10-15 small almost empty cafes along the roads going up and down. We hardly saw any North Indians in the whole place, there were all foreigners and Tibetians. We managed to get ourselves a room for rs.400 only with a spectacular view of the Dhauladhar range.
We went to Bhagsu waterfall, there was a temple enroute to the waterfall and beyond that there was almost no construction at all. At the waterfall there was a small shop which was selling Maggi, Tea, Pepsi and other stuff. Next day the locals told us to visit Triund, we had idea about the place as there was hardly any information available online. This was probably the first trek of my life, we started from Mcleodganj and the trek was very lonely, we encountered not even a single person during the whole way. There was one small Dhaba just above Dharamkot and then there was Magic view cafe, where atleast 10-15 foreigner were just sitting and smoking up. Reaching the top was amazing, it was the most beautiful view i had ever seen, a wall of white snow covered mountain right in front of me. There was a forest guest house at distance and one small Tea shop, nothing else.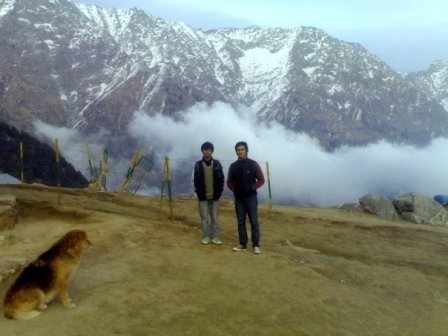 It was an amazing experience back in 2010 when i first went to Mcleod ganj and Triund. The level of peace and tranquility offered by the place was unmatchable.
I again went to to Mcleodganj/Triund in 2016. As soon as i got off the bus the first thing i noticed was that the bus stand has grown almost thrice the size it was before, so many taxis, so many autos. Back in 2010 there was not taxi stand as such, just the auto stand where 1-2 cars were parked. The place has almost turned into Manali, there was a Pizza hut in Mcleodganj. It was so crowded by tourists, hundreds of new shops and cafes opened up. Guides, drivers and travel agents will jump onto you as soon as you will walk into the city, it seemed there were more than 1000 establishments in the whole town now.
Bhagsu has grown into a whole new city, there were numerous cafes in Bhagsu area only. The place which was marooned back in 2010 was now home to a new subtown of Mcloedganj. Upon inquiring in found no hotel charging less than rs.1500 for one night.
Triund was no different story either, there was transport available almost till the halfway of the trek and there were at least 10 shops there, also i witnessed another 10 small shops/cafes along the whole trek route. The magic view cafe was still there, but it seemed like the place has lost its charm. The Triund top was equally changed, there was chattering sound of atleast 50-60 people. I saw 40 odd tents pitched and there was hardly any space to pitch a new tent. Two new building were constructed at the top, the vibe i was getting now was nothing like the first time i was there.
In 2016 Mcleodganj has almost turned into mall road of Manali and the place have no peace to offer, every inch of it is flooded with tourist and there were numerous new constructions going on. In search of peace i further went towards snowline, which did not fail to give me what i sought.